Facebook video advertisements are comparable to street performers.
Wondering how?
Well…they occupy a busy place and attempt to get your interest as quickly as possible, but if they do not provide what you are looking for, their performance will simply go unnoticed.
More and more businesses have become cognizant of this strong content medium and are fast jumping onboard the video ads trend to provide what their audiences are looking for.
But then, the question sticks…how does a Facebook marketer make their video ad stand out?
This is where we step in. After perusing and scouring several resources online and otherwise, we have come up with this ultimate guide for creating the best Facebook video ads from scratch.
Simply read until the very end to discover everything that you need to know about video ads on Facebook.
What are Facebook Video Ads?
Facebook video ads, as you may have guessed very well, are Facebook ads designed in the format of videos. Rather than composing a snippet of text and/or posting a picture, you will need to either produce a video in-house, collaborate with a professional filmmaker to create one or utilize a pre-existing video clip to submit to a Facebook page's dedicated video player.
You may then adjust the thumbnail, video description, budget, and audience to whom the ad is ultimately targeted for.
Why Run Facebook Video Ads?
Facebook video advertisements are the most effective strategy to ensure that your users remember your brand and return to your website.
Video ads are not merely a Facebook craze.It constitutes a well-rounded strategy for engaging with and converting website visitors to customers, funneling leads down through the email marketing campaigns funnel, and fueling interaction across numerous social platforms such as LinkedIn, Twitter, and Periscope (which made a social network out of live-streaming).
How to Create Video Ads for Facebook?
Now that you are convinced of the amazing power of Facebook Ads, we shall now discuss how to create a Facebook Ads campaign in this section.
Step 1
Select "Create Ads" present at the top of your profile page.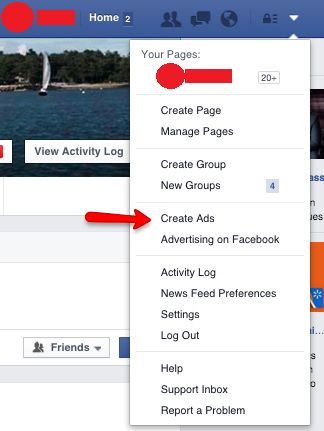 Step 2
Choose the campaign goal set to your current objective. For instance, one of them could be "Get video views."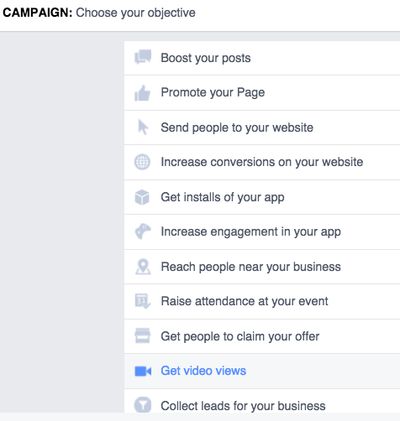 Step 3
Define your target market (or use a specified audience), ad budget, and advertising schedule.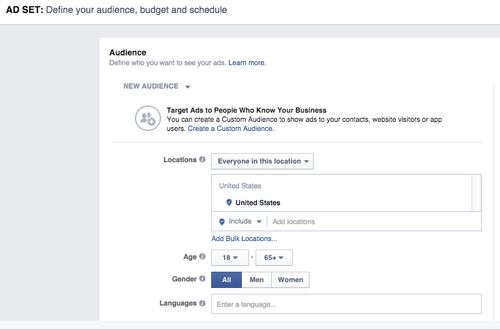 Step 4
Now comes the most fun part: creating your video ad!
You will find that there are limited alternatives for creating your stunning video ad. You may post a video, search your internal Facebook Library, or make a picture slideshow.
In most circumstances, you will want to push a video that you already shared organically or use a pre-crafted video ad from your device.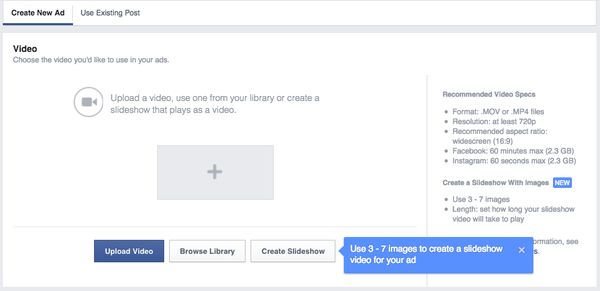 Before submitting a video, keep Facebook's suggested video requirements in mind to provide the best viewing experience possible. If your aspect ratio is wrong, a fluctuating format may lead to black bars or poor playback.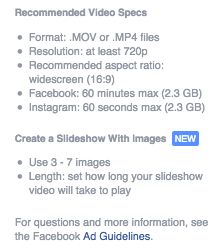 The Anatomy of a Perfect Facebook Video Ad
Now comes the most crucial part…crafting a Facebook video ad that is guaranteed to rope in the required views while fulfilling all metrics to be deemed successful.
But it is easier said than done.
How do you even begin to plan and design an ad (or an ad campaign) so compelling that viewers actually pause scrolling through their self-curated news feed embedded with other interesting ads to pay attention to yours?
Well, this is what we are about to discuss in this section!
If you don't know where to begin, you are in great luck: here are some pointers to help you design a compelling ad that gets you recognized and produces great outcomes for your brand on Facebook.
1. Optimize for Mobile Viewing
Facebook's video advertising compatible features are available in the mobile/desktop mode as well as on Instagram. With 65% of Facebook users reportedly said to watch videos on their smartphones, mobile devices are said to drive the most number of video views.
Now that mobile usage is essentially becoming the heart of Facebook's core business operations- growing 82 percent year on year and accounting for 80% of the overall ad revenue – it continues to draw an increasing number of users on mobile devices. This is only going to get accentuated with the addition of Instagram to Facebook's pool of video views!
Therefore, make sure that your video ad's specs are well-optimized for mobile viewing, lest they end up being a poor experience for your core video ad audience that accesses Facebook via their smartphones.
2. Prefer Silent Autoplay
Make entertaining videos that entice viewers to press the "play" button upon coming across your ad, and add attention-grabbing features right within the first few seconds of it.
Try selling without the sound – Because 85% of Facebook videos are watched on mute, employ text overlays and a crisp CTA for getting your point through to your viewer. Make your content unique and accommodate more silent autoplay.
3. Refine Your Conversion Funnel
Video is an excellent medium for researching and analyzing, but don't allow your strategy to stop right there! Drive your ad viewers further down your sales funnel and turn them into actual clients that pay.
Establish an audience of viewers who have watched your video on Facebook within the criteria shown in the image below: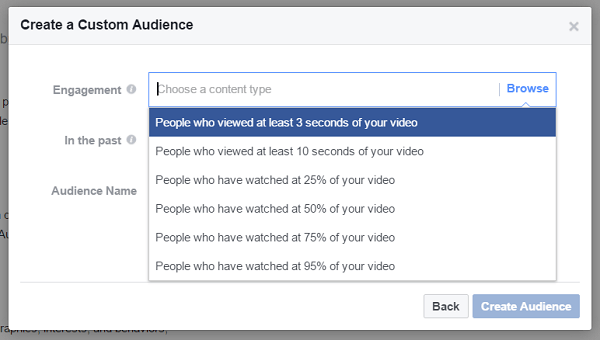 Use these pre-defined audience categories to better target users who have expressed an interest in your brand on the platform. People who have already seen your video will convert into a more engaged audience and will be likelier to take the required action.
Getting your messaging correct, and, as previously noted, taking your audience on a strategic trip through the funnel will get you the returns you are looking for. If you presented them with generic advertising at your initial touchpoint, make sure to respond with a targeted product message and an opportunity to purchase immediately.
The purpose of this type of retargeting is to keep your brand at the forefront of clients' minds while they are still in the decision-making process.
4. Design Interactive Poll Ads
For video advertisements, Facebook now provides engaging polling stickers similar to those used on Instagram.
Polling stickers enable you to communicate directly with your audience. You frame the questions, while your audience responds. This exchange invites audience participation by posing a question. It also tells you more about your target audience.
Poll stickers and other interactive components are popular across all social media platforms in general. In fact, 60 percent of companies on Instagram employ some form of an interactive feature, such as poll stickers, and 63 percent of those polled had used a brand's sticker.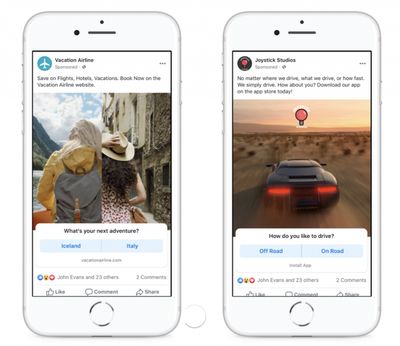 Poll stickers are only accessible for Facebook video advertisements. Fortunately, they are simple to set up, and Facebook explains to you just how.
5. Test and Retest
Test, test, and test again. Make sure to experiment with all of your advertising's creative features, including multiple video variants as well as text overlays. The range of possible ad variations may rapidly pile up, so it's preferable to produce these en masse to save your time.
Refine your focus depending on your primary goals and customer profiles. You may segment your viewers based on their demographics, geography, interests, and activity. If your market is large enough and you wish to reach several areas, run your ads in different campaigns to make optimization easier and evaluate what works best for you.
Lastly…
With new possibilities to run video advertisements on Instagram and the Facebook Audience Network, social media marketers may now promote their ads outside of the News Feed.
As soon as your Facebook video advertisements have received a substantial number of views, you should take a step back and evaluate if the money invested is generating the return you always wanted.
You should be able to get clear answers to questions such as "How many views did the ad get?" "How many clicked on the ads" and most importantly – "How many visited your website after clicking?"
You can use SocialPilot to analyze your Facebook post performance and optimize your campaigns accordingly. The tools offered by SocialPilot not only help you make accurate Facebook analysis but also help you publish and schedule content, among several other features.