Facebook has been in use for online marketing since 2008.
But here's the thing: Facebook Ads still works!
It works because the platform has over 2.89 billion monthly active users, which makes it an excellent platform for paid advertisement (if done right). You can also use Facebook's ad manager or a Facebook ad tool to effectively target your audience on Facebook.
Facebook is the best way to retain your existing customers and to acquire new customers. But it would help if you made your Facebook ads unique. And you need to make sure that your site is mobile-ready before getting started with the campaign.
This post will help you know how to make a Facebook ad that boosts sales.
Let's get going!
How to create a killer Facebook ad for boosting sales?
1. Create images for your visual brand
Before you start designing your Facebook ad image, you need to remember one thing – Facebook 20% rule. According to this rule, your ad should not have more than 20% text. Once you have your image ready, upload it on Facebook's text overlay tool.
Now the next is the designing part; you need to remember a few things. Your design must match your visual brand aesthetics and should be able to connect with your audience.
There are some powerful tools like Canva or Venngage, that you can use for designing a killer image.
Now you can use 3 types of ad formats to display your image posts in Facebook feeds.
Single Image or video post ads
Single image or video ads are the most common form of ad formats on Facebook feeds. If you are placing the ad for a single product, or landing page, go ahead with a single image format.
Carousel post ads
The carousel post is a unique way to display multiple images in a single post with each image carrying their own headlines, descriptions and URLs. Using this format you can gain more engagement as Kinetic social suggested that carousel posts ads tend to do 10 times better than regular ads.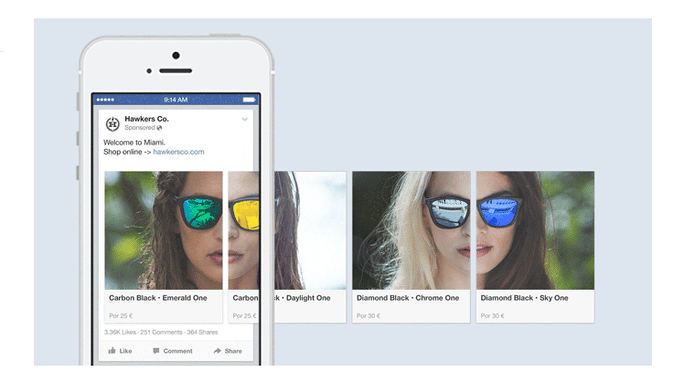 Carousel is especially useful for e-commerce sites; you can use it to create unique images for your FB ad campaign.
Collection ads
It is an instant experience by Facebook helping people discover, browse and purchase the product instantly. The post has a cover image or video that, when clicked upon, opens up to a new window showing multiple product images associated with the cover image or video.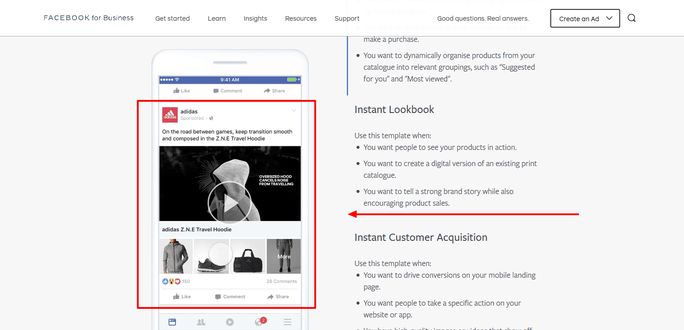 The collection format is more sophisticated and should be used for promoting multiple products from the same niche.
2. Create eye-catchy content using Cliffhanger and bucket brigades
Most of the copywriting stuff is pretty standard among all the Facebook ads. They either use facts and figures, make controversial statements, or ask questions. All these are used to an extent where a user will ignore such headlines. And marketers are thus shifting to hook/cliffhanger.
It is a part of the skyscraper technique used a few years before. However, unlike the latter, you can use the former in headlines as well. But what is a cliffhanger? Simply put, Cliffhangers are story-endings that leave your audience in suspense. This is kind-of similar to what scriptwriters use in TV series.
Internal cliffhangers are seen in personalized newsletters for email marketing or blog posts, external cliffhangers, on the other hand, are less common; only expert marketers use them.
Another thing that you'd often see in ad copies is a bucket-brigade technique. Bucket brigade makes the content conversational to keep up the flow.
Tip: Write your Facebook ad copy in a conversational form and use a cliffhanger within the content or in CTAs. Here are a few examples to help you understand how it works.
Example-1 Adext AI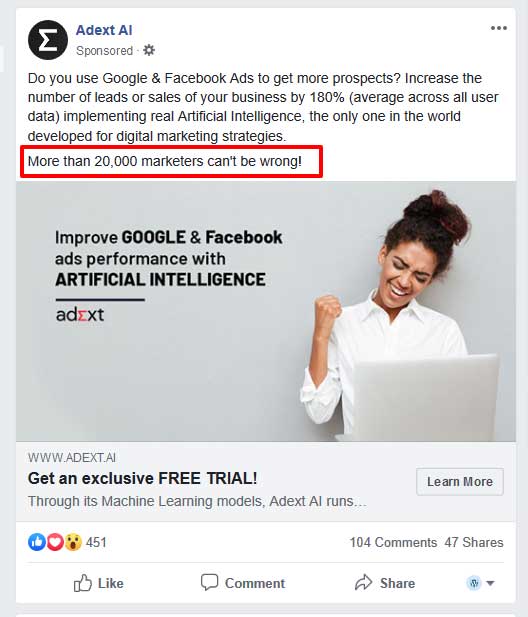 ADEXT is an AI-based company. They used a cliffhanger at the end of ad content to create suspense among the audience using a fact-based statement. These strings smoothly connect with Facebook users and make them curious to click and know more.
Example-2 Eyeson business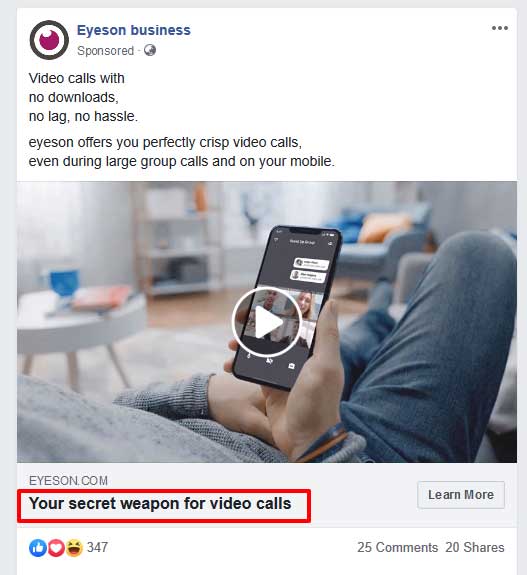 This example is precisely how you can implement a cliffhanger in your ad headline.
Example-3 Revamp
The description is a great way to tell your readers a bit about your service and for building curiosity. Cliffhanger is all about making the users curious to know more.
3. Use Robert Cialdini's Persuasion principle for CTA
In Dr. Robert Cialdini's book titled Influence: The Psychology of Persuasion. He mentions that if you want to persuade your audience, you'd have to include one of the following things:
Reciprocity– Visit this page and get a free ebook.
Commitment– We offer a 100% money-back guarantee, Get a 50% discount.
Social Proof– Expert opinion, friend/family recommendation.
Authority– Specialized in a particular niche.
Liking– A pet blog with pictures of pet lovers as staff.
Scarcity– Only X pieces left.
Tip : You can implement any of the above in your Facebook ad content. Use it in headlines or content to boost your CTR and get better conversions.
4. Target specific audience using Facebook
Once you have created your Facebook ad, don't forget to perform a few tests to help you target a particular audience. Fortunately, Facebook makes it easy to publish a low-cost ad without any worry.
Geo-targeting is comparatively more comfortable, but if you want to share it across multiple regions, you'd have to keep your behavior-based targeting and Interest-based targeting more focused.
Start by searching for Interests that are relevant to your niche. If there is a popular website in your niche, mention that too. Popular sites have a set audience base that you can use for targeting better on your Facebook ad.
Create 4-5 ads with different audience combinations and test to find out which one performs better. If you don't get enough data with Facebook analytics, you can even use the third-party Facebook analytics tools for in-depth ad analysis.
5. Use Facebook Ad Relevance Diagnostics
Creating exciting content for your Facebook ad is not enough. You also need to ensure that the material is relevant to the Facebook audience. And this is where Ad relevance diagnostics come in action. Think of it as a way to revive your ads.
Facebook previously had a relevance score system, but it is now replaced with ad relevance diagnostics. It can help you understand the specific areas you need to make changes to improve quality, relevance, and conversion rating.
It evaluates each ad's past performance over a set date range. It is a default column in the performance preset but must be added manually.
In addition to the above, add Facebook Pixel to your website to improve overall tracking.
Tip: Using ad relevance diagnostics along with Facebook pixel will help you understand your customer life cycle, which is the ultimate way to ensure conversion for your Facebook ads.
Conclusion
Creating a Facebook ad is all about creating engaging, personalized content that connects with your audience.
There are many Facebook marketing tools that you can use to boost your Facebook campaign performance.
Also, don't forget to craft engaging posts for your Facebook page. It will improve user engagement on both the page as well as sponsored ads.