Facebook is a platform that offers brilliant reach. Therefore, when it comes to building a brand's presence on Facebook, every single step counts.
While some may think, Facebook cover photo is nothing but an image that sits at the top of your page, others may have a more holistic view.
With the potential to act as a tool for brand awareness, Facebook cover photo is not something you can ignore.
Whenever a person arrives at your page, the cover photo is the first thing that they see. The cover photo, then, becomes the source of the first impression of your page and, subsequently, your brand.
Now, without much delay, let us try to discover how you can magnify your page's appeal by the best practices of Facebook cover photo makers.
What is a Facebook Cover Photo?
Sitting at the top of your page or profile, the cover photo can be signified as a larger photo above the profile picture.
The cover photos are public, and anyone who opens your page or profile can see them. Your cover photo must be at least 720 pixels wide. The display width is 820 pixels, and the length is 312 pixels for computers, and about 640 pixels wide and 360 pixels tall for smartphones.
To keep the display right across both places, the suggested size is 820 pixels by 360 pixels.
How Can I Set a Cover Photo on Facebook?
Open Facebook on your device, and head over to your profile page.
Once you are there, you will see an option saying "Edit cover photo" on the bottom region of your cover photo.
A drop-down menu will open up. Within this, you will see the option to "Select Photo", "Upload Photo", "Reposition" and, "Remove".
If you wish to select a picture already present on your Facebook in one of the albums, click on "Select Photo".
If you wish to select a photo from your device album or gallery, for "Upload Photo".
Select the image you want as your cover photo and click on "Open".
Once the image opens, drag and drop or crop it to adjust. When you are satisfied, click on "Save Changes".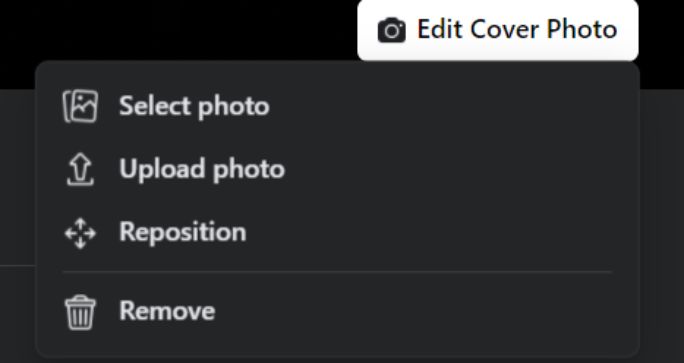 Best Practices of Facebook Cover Photo
Trust us when we say that your Facebook cover photo is important. So, the way in which it resonates with the message of your brand is crucial. You can embark on the journey of making the finest Facebook cover photo with some best practices in mind.
1. Be Mindful of the Guidelines
Before you start making your Facebook cover photo, go through the Facebook cover photo guidelines.
For this, head over to Facebook and read all the guidelines thoroughly. Here are some of them for your convenience:
The cover photo on your page or profile always stays public.
The cover photos should not be deceptive or misleading.
Your cover photo should not infringe on anyone's copyright.
You must not encourage people to upload the cover photo on their timelines.
If you violate these guidelines, Facebook can take strict actions against your page. It can also remove your page, so be mindful of the guidelines.
2. The Right Size is Important
The size specifications must be considered while making the Facebook cover photos. You already know that opting for a cover photo that is 820 pixels by 640 pixels is a safe bet.
A smaller size might generate a different display of your cover photo across platforms. If fabulous branding is your goal for setting a cover photo, then this is truly unwanted.
You can find templates in good Facebook cover photo maker tools that already account for the dimension specs.
3. Text Restriction Doesn't Matter
Facebook for Business wanted to maximize value for people and businesses. To do so, they conducted research and found out that images with less than 20% text tend to perform better than their counterparts.
Based on this, Facebook recommends pages keep the text in their images concise.
Earlier, there was a text overlay tool introduced by Facebook that restricted text usage, but there is no such tool anymore preventing any limitation.
While the final call to whether your cover photo should have less than 20% text or not is yours, we recommend you to unleash your creativity.
4. Add a Hook
Cover photo is the first thing people see as they navigate to your page. If your cover photo seems unappealing or irrelevant to the theme of your page, the person may leave the page without scrolling down.
This is why you must do everything in your power to keep your cover photo interesting. One way is to add a hook. This "hook" can be anything. For example, it can be a CTA, an awesome color scheme, or a captivating, clever use of text.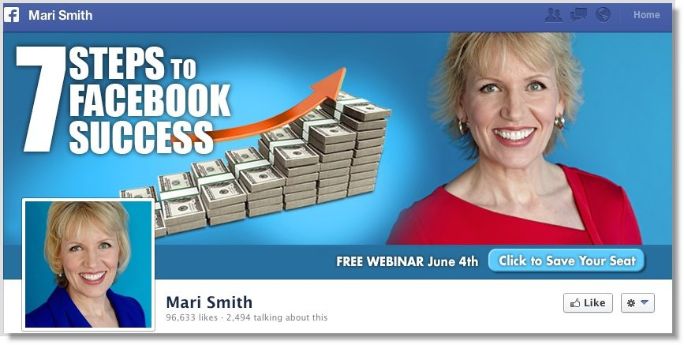 As you can see in this cover photo of Mari Smith's page, there is a CTA to a free webinar. This is a good way to attract attention and get enrollment instead of simply rolling out a post.
To stand out, let your imagination run wild and learn from the best to find out what might work. Scan a few accomplished Facebook pages to discover what has a wider appeal. You can even make a list of do's and don'ts.
5. Align Things Towards the Right of the Photo
The profile photo on your Facebook page is towards the left side of the page. So, to make your cover photo contents stand out, right align the elements of your photo.
This is done to balance the graphics.
While this is not a rule, looking at content crowded towards the side of a profile photo may divert the viewer's attention from something essential.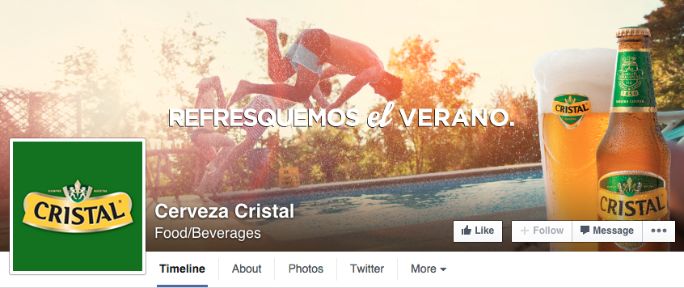 For instance, this cover photo by Cerveza Cristal, features the Cristal bottle drink and two people diving into the swimming pool. Both the things are aligned towards the right to make them visible.
But do not shift things far too right, as that may pose the risk of jeopardizing the phone version of the cover photo.
6. Your Cover Photo Should be in Sync With Your Profile Photo
Your cover photo and your profile photo go hand in hand. If your profile photo is the south pole and cover photo is the north pole, you might not be using the highest potential of both.
While you should not create an art technique that merges both the cover photo and profile photo, as the display may be tampered with later, you can always make the cover photo and profile photo look similar.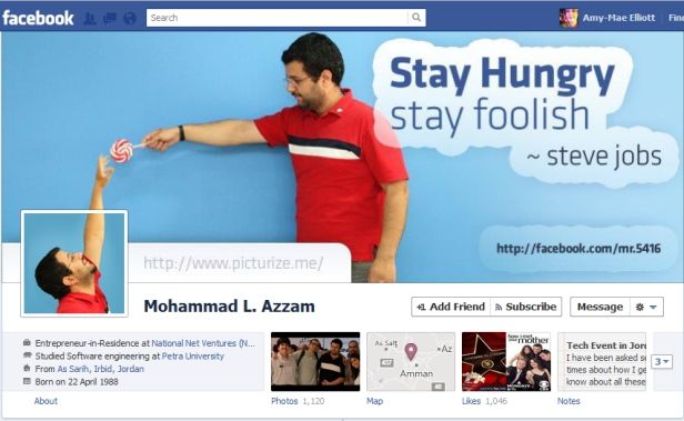 For instance, the above image is a clever technique of blending the cover photo and profile photo, but this technique works well with desktop browsers, but not with phones.
7. Set the Latest as Your Cover Photo
If your brand is a dynamic one that keeps on coming up with new products and/or services, then stay relevant with the latest cover photo.
For instance, Marvel Studios has the cover photo of "Eternals", the upcoming movie of Marvel in 2021. It is a highly anticipated movie and looking at its poster as the cover photo might just imbibe a feeling of thrill in Marvel fans.
Best Facebook Cover Photo Makers
Now that you understand the best practices on how to make a fabulous cover photo, the next stop is to know more about the Facebook cover photo makers that will help you make a memorable cover photo .
We have collated a short list for you to see.
1. Canva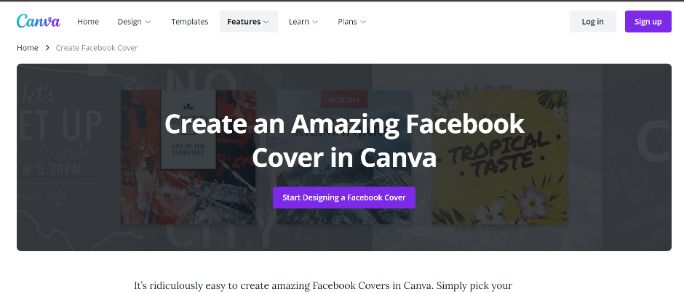 As claimed by Canva, "It's ridiculously easy to create amazing Facebook Cover photos in Canva", and we agree with this claim.
Canva is a platform with a pretty great user experience. You can pick a layout or template and further use your imagination to come up with a blend of superb text, colors, and images.
You can also create a design from scratch. You can access a premium library with millions of stock images, graphics and illustrations.
In no time, you can create a fantastic design, and you do not have to pay!
---
2. Adobe Spark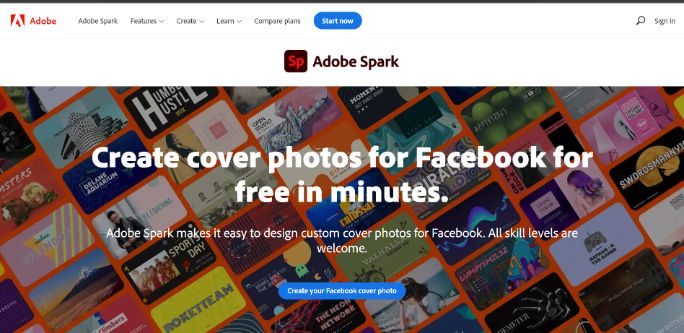 You can commence by creating your dream design for your Facebook cover photo via Adobe Spark. Here, you can find free cover photo templates which you can further design to meet your expectations.
You can personalize your cover photo by changing the copy and the font. Many images are provided on Adobe Spark, and you can fish out your own fill of images.
You can also create your own graphic and brand logo by getting a premium plan.
---
3. Fotor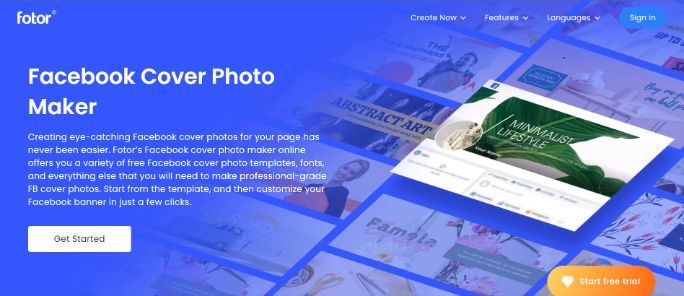 From offering you a library of templates to providing high-quality images, Fotor has got it all covered to help you make good cover photos.
All the templates on Fotor are already in compliance with the size specifications required by the Facebook cover photo. You can simply personalize the templates as per your creativity and get a timeline-ready cover photo in the matter of seconds.
You can also add stickers, resize the image and text, add photo effects, and enhance visual patterns using Fotor.
---
4. Crello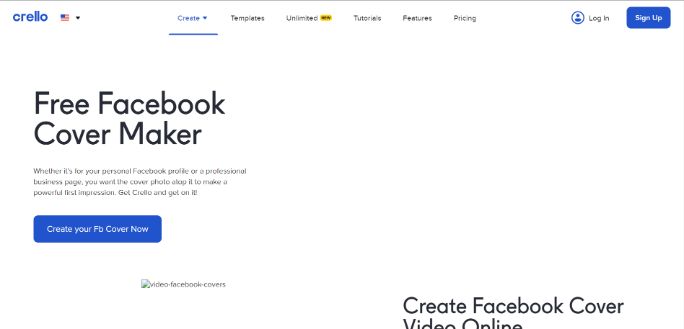 With Crello, you can design the perfect Facebook cover photo for your personal profile as well as professional business pages.
Here, you get 5,000 photos available for free and about 80 million more in the deposit photos library built into Crello.
You can also create a cover video using the motion design feature by accessing videos in Crello.
You can choose different languages and select from about 250 fonts.
---
5. Creatopy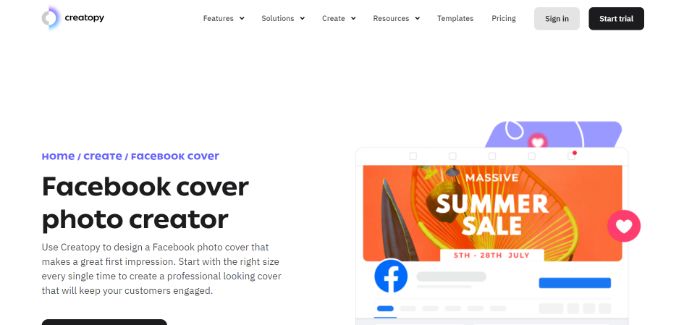 This Facebook cover photo creator can help you design a wonderful cover photo quickly. The workflow on Creatopy integrates the features of drag and drop to simplify your designing.
You can also access an auto-resize tool that helps you design various sizes based on the same Facebook header. This can also be used on other social media platforms.
The editor enabled in Creatopy is called a smart editor as it can generate entire design sets while editing sizes simultaneously.
Conclusion
Why be mediocre when you can be the best? – This is our spirit behind urging you to design the finest, mind-blowing, and most impressive Facebook cover photo for your Facebook page.
Now that you know everything that you need to know to make a fantastic cover photo, we trust that you will put all these things to the test, right away.
And if you want to go a mile further, get a comprehensive Facebook management solution with SocialPilot.
Now, go ahead and make some buzz by creating an amazing Facebook cover photo.