Being on a social media platform ensures you reach many people within a few clicks.
While that sounds very easy and rather attractive, it is not always that straightforward. On social media, there is always the pressure to stand out, to be different. This is why even the most minute details are crucial.
Creating visuals, like logos, that resonate with your brand holds the power to make a statement. A logo designed articulately might serve as a magnet to land more audience on your page or website.
The same applies to Facebook. As a platform with 2.89 billion monthly active users, Facebook is a giant social media platform.
Yet, making the most out of the intense audience base that Facebook offers is up to you. And this can be done by using the right set of creatives on your Facebook business page. Needless to say, one such creative thing is your logo.
So, without wondering much, let us dive right into understanding how to create the finest Facebook logos.
What is Facebook Logo?
For business and personal pages on Facebook, you can add a profile photo and a cover photo in the same way you can for your account.
Within the profile photo or the cover photo, you can easily highlight the logo of your company.
In creating a top-notch logo, you can let your imagination run wild. Maybe your brand already has a logo that you can highlight or create specifically for your Facebook page.
Either way, putting up a Facebook logo is not just the right way of branding for your Facebook page but also resonates a sense of professionalism.
Best Practices for Facebook Logo
We know just how badly you wish to stand out. After all, your uniqueness might just become the source of your page's success on Facebook.
With that idea, let us now discover how your Facebook logos can be one of the best:
1. Adorn it With Visuals
Logos are all about communication brand value in low space, fewer words and graphics. This is why selecting simple icons to depict the core value of your brand is a good idea.
Here, the idea of less is more works. Try to promote your brand with less or no words, with only icons and symbols to depict – what your brand wishes to say.
The logo by "foxpen", in which a pen looks like a fox, is a clever display of visuals in a rather minimal yet appealing manner.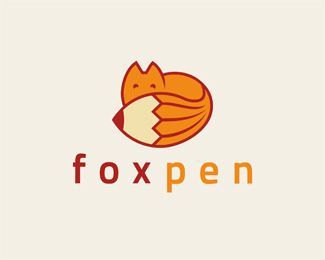 2. Empty Spaces Look Appealing
If your goal is to seem highly professional, opt for a minimalist logo that does not use too many colors and icons or words. Stay decent, and your appeal may be wider than you think.
Here, "Kaluma" has opted for a simple black and white logo with enough space to make it look professionally pleasing.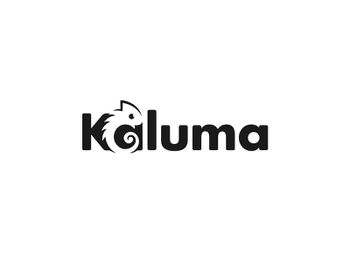 3. Your Color Palette Matters
The kind of colors you choose to put in your logo is important. The colors should speak volumes about the emotions and sentiments associated with your brand.
For instance, red signifies passion, purple represents mystery and sophistication, and the green represents freshness.
One of the most common colors for various brands is blue. This is because it is associated with trust, confidence and security.
Be clear about what emotions your brand channels and combine colors to represent the same.
Here, you know that "CODESHIFT" is a software-related company by simply looking at the logo color and brand name. The colors certainly complement the brand idea, and the gradient texture adds to it.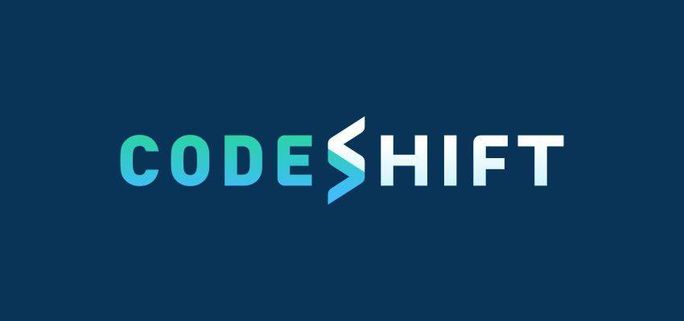 4. Use the Right Shape
You can also use shapes within your logo. Rectangle, for one, is a widely used shape for most logos. You can use a circle, square, diamond or even kite.
The notion behind using a shape is to make the logo seem more organized and professional. You might see various law firms doing this.
A logo with some shapes inserted might do better for branding across other social media platforms.
Take a look at this "Negative" logo to understand the wonders a decent shape can do.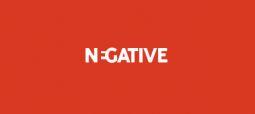 5. Think About other Uses
While designing your logo specifically for Facebook, you could also spread it across all other social media and physical world platforms.
For instance, your logo may be required to be printed on merchandise or a business card. Designing your logo from that perspective can make things easier for the future.
6. Think Beyond Brand Name
The words that you chose to include in your logo should not be just your brand's name. You can incorporate the year of establishment, a tagline or even a play on words with the name of your band.
You can also use smart graphics to enhance the way some words are designed in your brand logo.
For instance, this logo of "Pause" has the pause sign replacing the letter "u". It looks so clever and hooks the viewer instantly.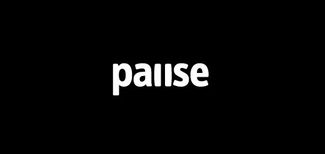 7. Monochrome can do the Magic
Monochrome may seem too plain a choice for a few creative heads. But the same is not true. In the spirit of minimalism and simplicity, monochrome reflects professionalism and clarity in communication.
Not to forget, if you choose to print your logo someday, a monochrome logo would probably cost you less.
For instance, this "LOVECLIP" logo is so simple as the use of plain red color is made to show the idea of love. So cliche yet effective. Some Logo Makers that You Should Use
While now you have a clear direction for Facebook logo making, you also need a platform to bring your ideas to life. We have some suggestions for you.
1. Canva Logo Maker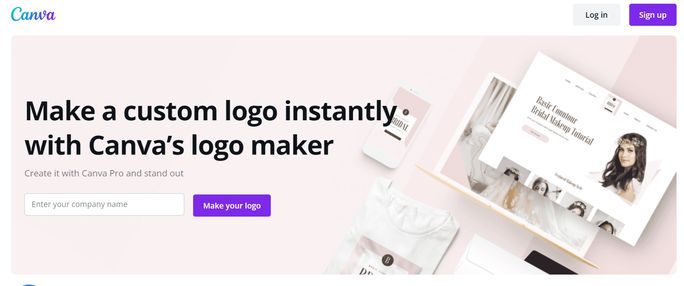 On Canva Logo Maker, you can design your professional Facebook logo via templates, millions of images, icons, and illustrations. You can also share and download the logo in high resolution and desired format.
You can choose from hundreds of fonts. The artificial intelligence on Canva can generate a custom logo for you.
2. Brand Crowd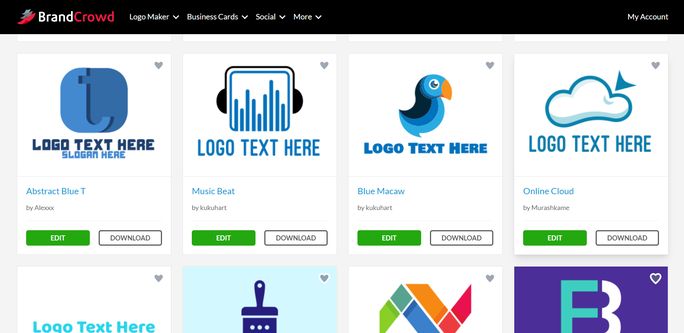 Through Brand Crowd Facebook logo maker, you can simply take a readymade template and enter your brand name to get a logo on the go within a minute.
You can also make Facebook covers, and Facebook event covers using this logo maker.
3. logogenie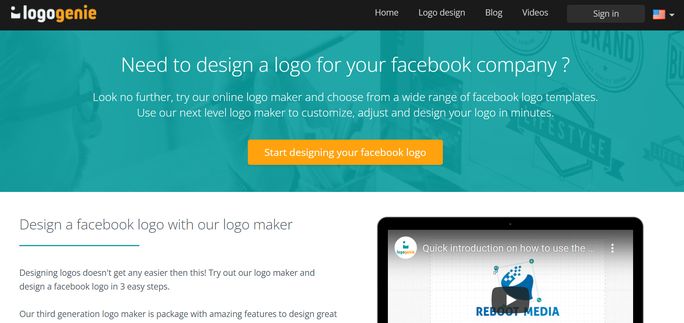 You can also make your Facebook logo using logogenie. This logo maker offers you logo making in three easy steps. You can also download your logo in black and white format.
If something does not work, this logo maker also offers you reliable and friendly customer service available at all times.
4. DesignEvo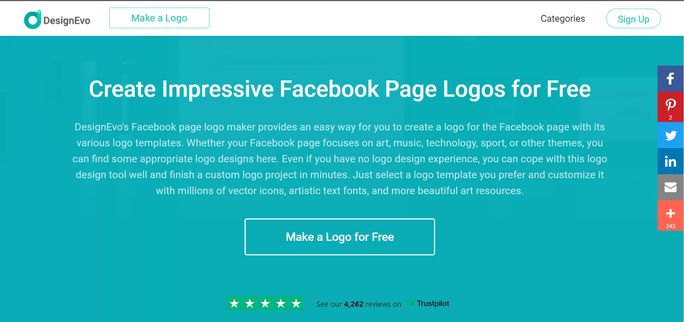 Design your Facebook page logos with DesignEvo for free. This logo maker also provides multiple templates for an easy logo-making experience. You can customize your template by using millions of vectors.
The editing and refurbishing tools are also very handy in DesignEvo.
5. DesignMantic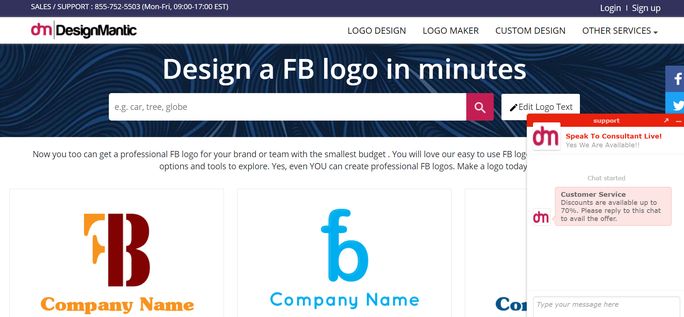 Another option for logo making is to use DesignMantic to make your Facebook logo. This logo maker has various tools and options for you to explore. You can create your dream logo within minutes.
You can also choose to make a logo from scratch with this logo maker.
What to Consider Before Adding a Facebook Logo?
Now that you have a design for your Facebook logo. Let us take a gander at the specifications to logos that must be considered:
The logo that you chose should be square in shape with 170×170 pixels at least. Optimum pixels are 180×180. This is because a picture having this size works decently for both smartphones and desktops.
Select an image smaller than 15 MB. For images larger than this size, you will have to compress the image. Make your actual logo smaller than 15 MB because compressing an image reduces the quality.
Logos that have a transparent background are detected as white background by Facebook. Therefore, try to keep your logo elements a darker color.
Make sure that the logo is saved in a PNG or JPG format to maintain good quality. Facebook also accepts other formats like BMP, TIFF, AND PDF.
In Facebook, there is the feature of auto-cropping of pictures to circle for ads and posts. The same will happen to your logo, so take that into account for your page. Ensure to have a negative space around your logo.
Steps to Add Facebook Logo
To add logos on Facebook page, follow these step:
Step 1
Open Facebook and sign in to your Facebook Page. Once there, click on the camera icon on the right corner below the square box on the very top of the page. You will see an option saying "Change Picture."
Step 2
Click the camera icon, and you will come across several options. These are:
Choose From Photos – In this option, you can select a picture from within one of your Facebook photo albums.
Take Photo – This option is convenient for a personal profile, wherein the user wishes to take a picture on the spot and upload it. This option is rarely used.
Upload Photo – Through this, you can upload an image from your system storage.
Remove – This option allows you to delete an image if one is already there.
Step 3
Ruling out the option of "Remove" and "Take Photo", you are left with the other two options to choose from. If your photo is already present in a Facebook album, then opt for "Choose From Photos", otherwise choose a picture from "Upload Photo".
Step 4
Your computer image storage album will open up. From here, select your logo image present in PNG or JPG format by double-clicking on it.
Step 5
The image will open up, and you will see a window saying "Create Profile Picture". Once at this window, you can easily adjust your picture as per your preference. You can drag and drop, zoom in or zoom out to make adjustments.
If you do not wish to make any changes, select "Skip Cropping," and the logo will show up on your page's profile picture area.
Once all this is done, make sure that you check the display of your photo.
And, it's a Wrap!
The task of creating and uploading your logo on a Facebook page does not seem much of a task now, right? It is very simple. You just need to be clear about your branding and your message.
You also need to have a creative flair. Once your logo is made, the uploading part is super easy.
Want to learn more about how to ace your Facebook marketing? Hop on the wagon of SocialPilot to get comprehensive Facebook marketing management and more!
Go for our free trial today to know more.