Do you want to hook your audience to your Facebook business page?
Then an enticing Facebook cover video can help you achieve that with effectiveness.
How?
Over 4 billion videos are watched by 500 million Facebook users daily, and it's a no-brainer if you want to attract a user's attention on your Facebook business page.
You might think, what's wrong with static cover images, right?
Cover images are great, but having a video on your Facebook cover will add versatility and an engaging quotient to your Facebook business page.
There are many aspects you need to keep in mind while creating a Facebook cover video.
We have finalized all the vital steps for creating an amazing Facebook video easily, keeping all the nitty-gritty elements in mind.
But before we jump onto that, let's get our basics.
What is a Facebook Cover Video?
It is a short video clip displayed at the top of your Facebook business page. You have the option to play a welcome message to your audience with your cover video or brief your audience about your business.
All the cover videos posted on the Facebook page are public, and anyone on the platform has the option to view your Facebook cover video.
It can be used as your frontline soldier to achieve the following Facebook business goals:
Make a Solid Impression
With an enticing Facebook cover video, you have an increased chance of creating a solid impression on your target audience. Anyone visiting your business page for the first time will view it before watching anything on your page.
If you get it right, you have the option to hook your audience and build a healthy relationship with them.
Introduce Your Brand, Product or Service
You can introduce your brand or your latest offers to the new audience; it will help set up the initial foundation to convert them into your future loyal customers.
Four times as many audiences want to watch a video related to a brand rather than read something from them, making Facebook cover video a great element to pitch in your solid first impression.
Give a Glimpse of Behind-the-scenes
You can give glimpses of your team and your in-house operations to present all the behind-the-scenes activities of your audience.
It will help you increase trust and build a healthy connection with your audience for all future transactions.
Now that we know the basics, there's little more you need to understand before handling the creation part.
What are the Facebook Cover Video Specs?
The ideal dimensions are 1250×312 pixels, or if you want some variation, it should be around 1250×463.
And the aspect ratio should be around 2.7.
If we talk about the Facebook cover video size, you need to keep it under 1.75 GB, and the length should be more than 20 seconds and less than 90 seconds.
The preferred format type is .MP4 or .MOV, and the maximum resolution you can use is 1080p.
How to Create an Engaging Cover Video for Facebook?
Video creation tools like Crello, Wave, Vimeo, among others, will help you access multiple video creation options to bring out the best cover videos.
All the steps we'll list below will be using Vimeo so that you get a clear picture of how to create one.
Step 1
You need to set up your project. Hover to the right-hand corner of the screen and click on New Video. Once done, select Create A Video, and then you need to select a pre-built Facebook cover video template to kick-start the process.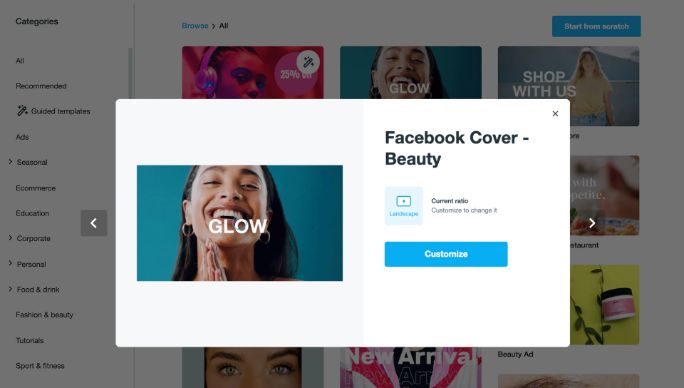 Step 2
Vimeo will automatically select all the sizes and dimensions of your video; you always have the option to tweak this setting.
Now you need to add the footage of the video.
Select the Tap option on the right-hand corner and select the stock images or videos from the tool or upload them from your smart device.
You have the option to edit your footage by tweaking the length, enhancing visual appeal and other editing features.
Once the clips are selected, now, on the left-hand panel, select the Format of the video. Select Landscape as the cover video is wide. It will be different from the 2.7 aspect ratio, but you'll get the best fit.
Step 3
Now it's time to edit your logo and leave a branding mark on your video. You need to select the Brand icon visible on the left-hand side and then upload your logo.
Select the brand color, watermark, and your branded Facebook video is ready.
Step 4
Click on Save and Preview, and the tool will process your video so that you can Save and Share your cover video.
Click on Download and select the quality of your cover video, and relax till the video is downloaded on your system.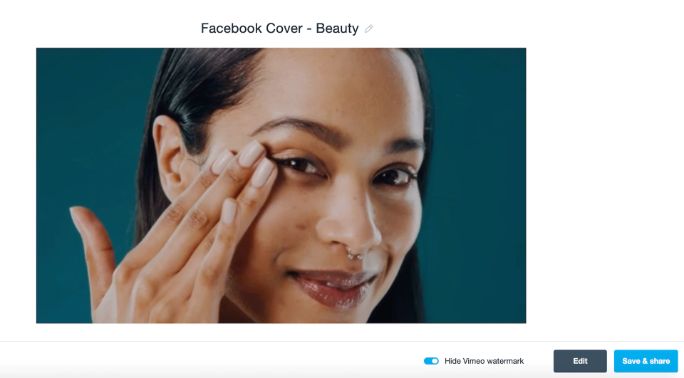 Step 5
Once you have downloaded your video, it's time you upload your cover video on your business page.
While uploading, you can edit a few features and use the Facebook uploader. Once you have uploaded the video, you can check the viewing experience of your video. If you feel any improvements need to be made, you can always edit your video and follow the same procedure to upload it.
Tips & Tricks for Crafting Amazing Facebook Videos
1. Use a CTA
If you include a CTA in your Facebook cover video, you will increase engagement and achieve your business goals more effectively.
Once a viewer has viewed your video, you can give a CTA to them to act on the value they received from your cover video.
2. Update Your Video
Once you upload a video, you need to keep in mind that refreshing your cover video will help you to give your Facebook page a fresh factor.
Don't forget about changing your video content once uploading it. You'll also get to know what type of video content people love by adding up variations to your cover videos.
3. It's OK to not Include Sound
While you can include audio in your cover videos, it will be a safer option if you decide to mute your cover video.
People won't be coming to you with their mics on to listen to the audio. They'll be coming to check your profile, and a silent cover video will add to the viewing experience of your overall business page.
4. Give Importance to the Resolution
Maintaining a proper and effective resolution is important; you don't want your cover video to look bland, stretched, or different.
You want to select the proper resolution, and once uploading it, you need to check how it appears on your mobile and desktop.
5. Be Brand-oriented
Represent your brand values and personality in your cover video. You don't want to present a boring and lame version to your audience.
Remember, a Facebook cover video is one of the first impressions that you'll put on your new visitors. It should be solid.
6. Don't Overdo
Be professional and smooth with the graphics used in the video. Adding too many hyper-visual elements to your video will do no good to your image.
It will sound unprofessional to the viewer, and chances are they might bounce from your Facebook business page.
So keep in mind these tips and tricks to make your Facebook cover video more soothing and attractive.
Conclusion
A cover video will set the base for you to convert your audience into future customers, and it will open the door for a lot of business opportunities.
So what's making you wait? Select one of the powerful video creation tools and create an enticing cover video.
If you need any assistance with your social media marketing management and optimization, you can use SocialPilot for a better approach.
With its content scheduling, creation, and content calendar management features, you can solidify your social media marketing efforts. If you want to be the best in the industry, you need assistance with the best tools and strategies.
All the best for your marketing efforts.
Update: As of June 2021, Facebook has removed the option of using Facebook cover video. You only have the option to choose a static Facebook image or slideshow for your Facebook cover.