"You never get a second chance to make a first impression" – Will Rogers.
When it comes to YouTube videos, your first impression is the title, description, and thumbnail.
Many businesses on YouTube underestimate the power of an engaging thumbnail, so they don't extract results from the marketing campaign.
A thumbnail represents the teaser of your video to the audience; it helps the user decide whether to watch the video or not.
If designed with creativity, thumbnails can help you trigger emotions and significantly impact the audience's mind to take one specific action, i.e., to click your video.
But can all thumbnails create the same powerful impact?
No, you need to be very specific about the technical and creative aspects while creating a thumbnail.
From checking YouTube thumbnail size and dimensions to adding filters and graphics, an enticing thumbnail is the pitch-perfect combination of all the elements.
But you don't need to worry; we did all the research on your behalf. To save all your time and energy, we have compiled all the important factors required to create amazing thumbnails matching the size standards set by YouTube.
Without further ado, let's get the discussion underway:
What are YouTube Thumbnails?
YouTube thumbnails are the preview images used to represent a video and its content.
One of the significant uses of YouTube thumbnails is to catch users' attention and persuade them to click on your video. It should be catchy, engaging, and express what the video contains.
So much to achieve with a single image, right?
You can also think of a YouTube thumbnail as a book cover. It should trigger curiosity and FOMO emotion.
Thumbnails are the first impression, and you should put conscious thought into creating the best one for your video.

Why are YouTube Thumbnails Important?
You might think, 'Don't judge a book by its cover.' But the reality is far different from this quote.
With no enticing cover for your YouTube video, it will be very difficult for you to grab the new user's attention. Creating an amazing thumbnail can act as a magnet to attract views, and an ineffective thumbnail can repel your potential viewers.
YouTube helps to filter out three still images from your video so that you can select one as your thumbnail, but creating your thumbnail is a better option.
You can use any powerful image-editing tool to edit, crop, or add additional elements to your thumbnail to have an enticing factor.
Why is this important?
Look at this thumbnail that YouTube selected for a video.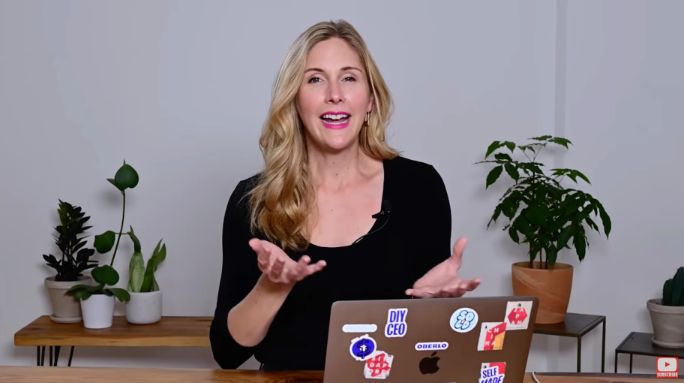 Now, look at the thumbnail image the creator created using a third-party tool.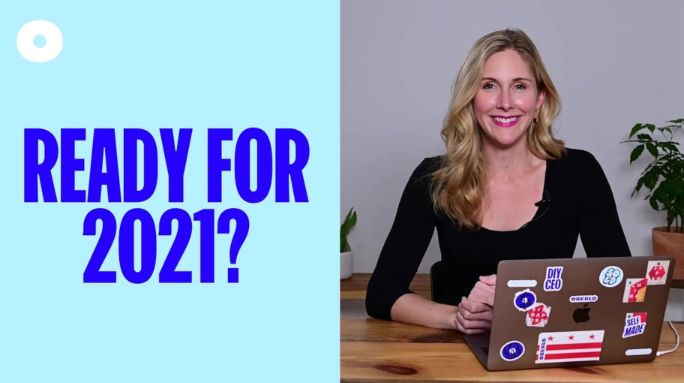 Which of the above images would have more clicks? Which has the element of being a better thumbnail option?
Of course, the second one. Right?
Custom thumbnails can help you achieve more of your marketing goals and make the most out of YouTube. It will make the audience curious to know more about what's inside your video.
In this example, you just saw a basic customized image, but you can explore more creative ideas and experiment with your thumbnails.
YouTube provides its creators the feature to edit their video thumbnails whenever they want.
It will hardly take you 20-30 minutes to create an amazing image, so don't give up on your last lap and turn your hard work into success.
Working on multiple platforms to customize your YouTube thumbnails and upload your YouTube videos?
SocialPilot is the only YouTube scheduling tool you need. Get unparalleled scheduling abilities with an in-built image editor to edit your thumbnail images at the time of scheduling your video or short. Add logos, crop your image to the right aspect ratio, add filters, stickers, text, and more.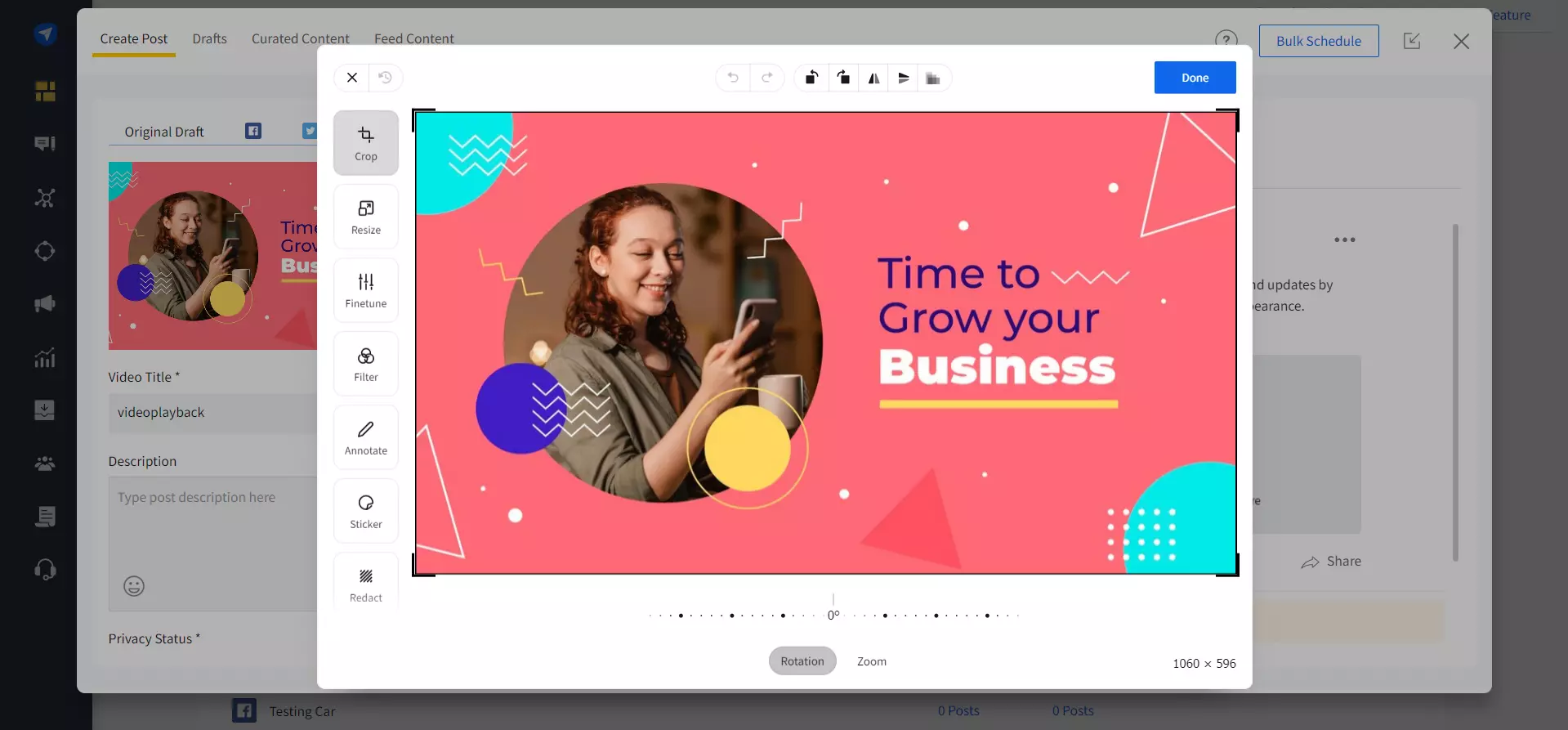 Now let's discuss one of the important segments of today's discussion, i.e. YouTube thumbnail standard size and dimensions.
Best YouTube Thumbnail Size
According to Google, your customized YouTube thumbnail dimensions should be 1280p x 720p The width of the pixel should be around 640px.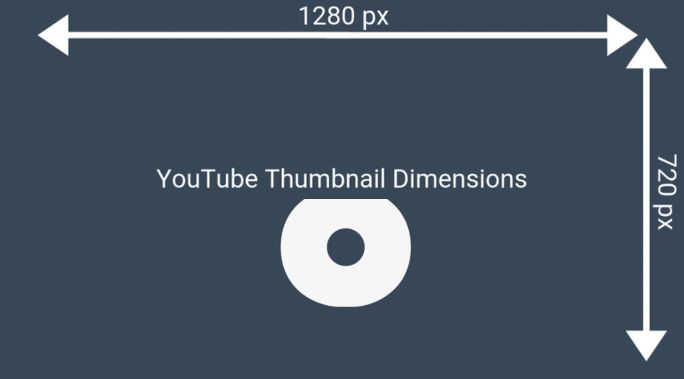 It is recommended that the image should be large as it will be used as a preview in the YouTube video player, so you don't want a small image to be displayed in the preview section.
It will only make the audience scroll down to the next video and not click your video at all.
The standard aspect ratio of the YouTube thumbnail is similar to the video 16:9. The image format that YouTube accepts for thumbnail images is GIF, JPG, PNG, or BMP.
There is also a size limitation on your YouTube video thumbnail; it should be no more than 2 MB.
These are some standards set by YouTube for uploading your custom thumbnail image. You need to adhere to these if you want to upload your favorite thumbnail for your videos.
How to Change a Thumbnail on YouTube?
YouTube will help you select it for you. But you always have the option to change the thumbnail later on.
It is important also because the results you'll get on your custom thumbnail will be better than those selected by the AI of YouTube.
Let's see what the steps are to change a thumbnail on YouTube:
Step 1: Click on your profile avatar and select 'My Channel' in the drop-down options. Your channel homepage will show up, then click on the video section on the homepage.
Step 2: Select the video you want to change the thumbnail for and select the 'Edit Video' option next to the Analytics option.

Step 3: Once you open the editing options, you need to select the thumbnail section and choose any auto-generated images that YouTube AI chooses for you. You can also upload your custom thumbnail if you are dissatisfied with the auto-generated images.

Following these three simple steps will help you change your thumbnail image easily. But how to create a thumbnail with the ideal dimensions and size?
Let's see the simplest steps for making an enticing YouTube thumbnail.
How to Create a Thumbnail on YouTube?
While creating a thumbnail, you need to keep in mind the standard thumbnail size and dimensions, i.e., 1280×720 dimensions.
If you don't keep to the standard size, it will increase your chances of the image being distorted, cropped, or YouTube will add black space on the side of your thumbnail.
We have filtered the thumbnail creation process to a few simple steps which will take all the load off your shoulders.
Take the Screenshot or Select an Image
The first step is to select an image that will be the core of your thumbnail. You can take a screenshot from your video but keep in mind to expand the video to the full length of your desktop to bring the best resolution image possible.
If you don't want to take the screenshot, you should select a relatable image of your video from the internet or click it yourself. But again, don't compromise on the quality and the size of your image.
We would recommend taking a screenshot as it will fulfill one of the important elements of placing a thumbnail, i.e., giving a glimpse of your video content.
Use an Image Editing Tool
You need to add all your creative ideas and make a simple static image alluring for your viewers. Use filters, text overlays, and other available elements important for creating amazing YouTube video thumbnails.
For this, you can use some of the top YouTube thumbnail creation tools such as Canva, FotoJet, or Adobe Spark.
Design a Custom Image
If you don't want any object in your image, you can create a design without any photographic element. It will remove all the complications and help you to keep the image and the creation process simple.
Check out the first and fourth images below. They also have a significant effect on the viewer without a photographic element.

Another important thing to notice here is that the text is similar to the title; this makes it easy and simple to create an effective thumbnail.
Just focus on the font and the color elements, and you are good to go with your thumbnail.
5 Tips for Creating Effective YouTube Thumbnails
1. Use a Still Image
Using a still image from your video or any other platform can help you escape all the discrepancies caused by a moving image; the quality will remain intact, and the image will be ready to be customized.
If you are lucky enough, YouTube's AI will assist with the pitch-perfect static image for your thumbnail to save all your time and effort. Another way you can capture a static image is while recording your video, make all the objects static, and just click the video for a better thumbnail.
2. Create a Custom Graphic
Adding graphics to your image will always help you to get that X-factor rolling in your thumbnail. You can use any photo editing tool available on the internet to add enticing graphics to your thumbnail image.
Editing tools can help you add graphics within the standard dimensions set by YouTube for a thumbnail without compromising the quality of the product.
3. Eye-Catching Text
Adding text that helps to catch the viewer's attention within the defined dimensions of your video can help you make amazing thumbnail images. You can use text attributes that are subtle and pleasing to the viewers' eyes; don't try to overdo stuff because that will make the viewer repel away from your video.
4. Avoid Misleading Images and Titles
Don't try to disillusion your audience. Remember, your audience is smart; you don't want to permanently lose your views if you disappoint your viewers with some clickbait images or titles.
If you choose a misleading title or visuals in your image, you'll only increase your viewers' bounce rate.
5. Test Different Thumbnail Designs
You can always try to implement A/B testing in the case of your thumbnails, as nobody knows what will work and what will not. The best way to find out what is best for your video is to test different thumbnails and go with one which performs well.
Testing is one of the most effective ways to choose the thumbnail for your videos and scale your YouTube channel to success.
This wraps up our discussion related to the YouTube thumbnail and its standard size and dimensions.
Hook Your Audience!
Thumbnails for your videos are like what headlines are to blogs – game-changing first impression. To design click-worthy thumbnails, you need to keep in mind all the important aspects related to thumbnails, including their size and dimensions.
It will help you speed up your marketing efforts and achieve your goals more swiftly and effectively.
If you also want to boost your marketing efforts on multiple YouTube channels, SocialPilot can assist you with content scheduling, management, and customizations. Simply connect all your YouTube channels to a single dashboard and start auto-publishing your Shorts and Feed videos.