YouTube has become an unparalleled platform for businesses and creators to connect with a massive audience, paving the way for immense growth and success.
With over 2 billion monthly active users, YouTube offers an ocean of opportunities to captivate viewers, build brand awareness, and drive engagement.
However, in this vast sea of content, timing plays a crucial role in maximizing visibility and reaching the intended audience effectively.
Understanding the best time to post on YouTube can significantly impact the success of your videos. By strategically aligning your content with peak activity periods, you can maximize your chances of gaining traction, increasing views, and boosting your subscriber count.
But when exactly is the prime time to release your videos?
Schedule videos on YouTube
at the best time, every time.
Post when your audience is most active
and grow your YouTube channel faster with SocialPilot
A quick answer would be there isn`t any fixed number. Multiple factors influence the best posting times, such as target audience, demographics, time zones, and video categories.
At SocialPilot, we conducted a study on over 50,000 YouTube accounts to decipher the best time to post on YouTube and reached some average time frames that can work wonders for you. The findings of the study are detailed in this blog. 
Additionally, we will help you find your personal best time to post on YouTube so you can make informed decisions and elevate your YouTube game.
Let's dive in!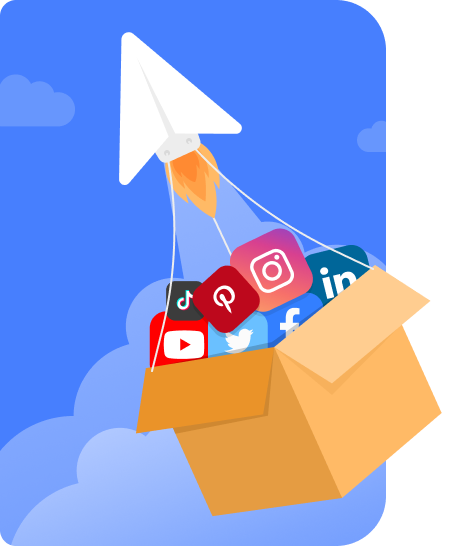 How does the Best Posting Time on YouTube Work differently?
Unlike other social media networks, the best time to post on YouTube has different math behind it.
On social media platforms like Facebook, Twitter, or Instagram, the minute you publish a video, it takes its place in the feed of your followers.
The case is not the same for YouTube.
YouTube, just like Google, takes time to index your video. Simply put, once you upload your video, YouTube takes time to understand and process it before unleashing it on people's home screens or search results.
Therefore, it is standard practice to publish 2-3 hours before the perceived best time to upload YouTube videos for you. So by the time your audience comes online, the video will be well-placed in their search results.
For instance, if your best time to post on YouTube turns out to be between 7 and 10 pm, then you need to post between 2 and 4 pm.
But all this wisdom comes in handy when you know the best time to post your videos. Let's find that out, Shall we?
What is the Best Day and Time to Post a Video on YouTube?
If you are here for a short answer, let me make it super quick for you.
The best time to post on YouTube is between 2 to 4 pm (EST), and the best day to post on YouTube is Sunday.
The data is based on the study we conducted on thousands of Youtube accounts to break the average best times to post on Youtube throughout the week. You can begin with these time frames to get more engagement.
How we've identified the best time to post on YouTube?
​​Our team conducted a comprehensive study to determine the best times to post on YouTube, analyzing around 3,00,000 Youtube video published from around 50,000+ YouTube accounts connected to SocialPilot. The study analyzed the performance of these Youtube video and the fans'activity, specifically observing how their engagement rates and the audience presence varied depending on the hours and days of the week they were shared. The findings pinpoint the best times to post on YouTube every day of the week.
Here's the breakdown:
| | |
| --- | --- |
| Day | Best time to post on YouTube (EST) |
| Monday | 2 to 4 pm |
| Tuesday | 2 to 4 pm |
| Wednesday | 2 to 4 pm |
| Thursday | 2 to 4 pm |
| Friday | 2 to 4 pm |
| Saturday | 9 to 11 am |
| Sunday | 9 to 11 am |
But there is a caveat!
It's possible that the above best times and days might not work for you. Such is the case because there is no one-size-fits-all best time. And this applies to all social media platforms. Look at our recent studies on:
Your best time depends on the location and behavior of your audience because every individual on YouTube has different content preferences, locations, and log-in times to use YouTube.
So, it is more suitable to test and find your own data than to stick to a fixed template of best times.
However, if you are a new channel and don't receive much traffic, using average time is your best option because YouTube doesn't provide the data necessary to define the personal best time for accounts that receive little traffic.
Nonetheless, the average time frames can be a good start before you set out to test for your personal best time to post. There are fair chances that these fixed times may work wonders for your brand on YouTube.
Let's check data from other social media marketing companies that also align with our numbers regarding the best times to post on YouTube:
Frederator Networks suggests posting between 2 to 4 pm (EST) on weekdays and between 9 to 11 am (EST) on weekends
Boosted concluded that posting on Sunday, either at 11 a.m. or 5 pm (EST) is best
HowSociable favors 2 to 4 pm (EST) as the most effective time and Thursday and Friday as the most effective days
InVideo InVideo suggests posting between 12 to 4 pm (EST) on weekdays and 9 to 11 am (EST) on weekends
Note: All the time frames provided timeframes account for YouTube's indexing, i.e., all the timings are a few hours before peak viewing times; best to publish your video and not the actual peak timings.
Key Takeaway from the Study
In a nutshell, based on all the data collected by multiple brands, we can say that the average best time to post on YouTube is between 2 to 4 pm (EST) on weekdays and between 9 to 11 am (EST) on weekends.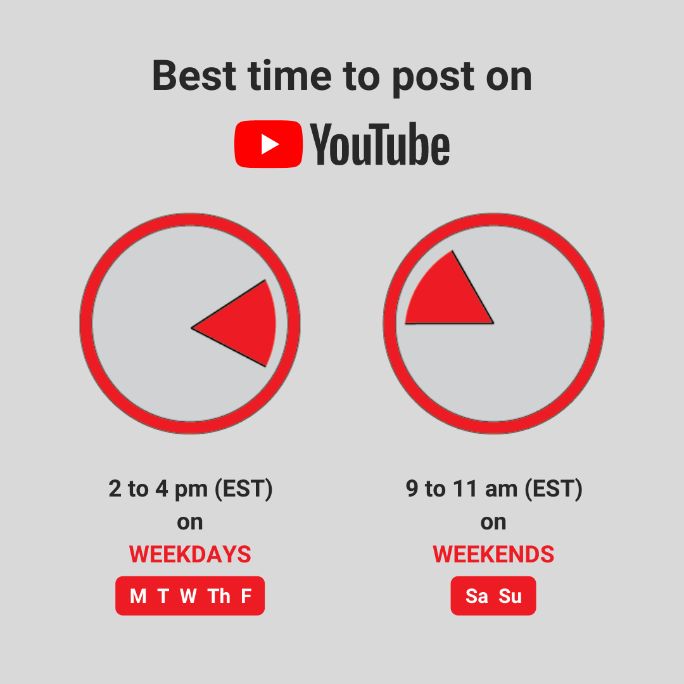 Since this posting time has come out after accounting for indexing time, it is obvious that the average actual peak time is in the evening.
This insight becomes more interesting when you realize that most people use YouTube during typical TV-watching time. Isn't that a win for streaming?
How to Find When is Your Best Time to Post on YouTube?
Now that you are well-equipped with the average best time to post on YouTube, it is time to find the best time specifically for your YouTube channel.
How do you do that?
The easiest way to find the best time to post on YouTube is by looking at the recently introduced 'When your viewers are on YouTube' report.
Let's go through the step-by-step process to learn the best time frames that can help you make the most of your YouTube video efforts.
Step 1: Access the Analytics section
Firstly, head to the YouTube studio.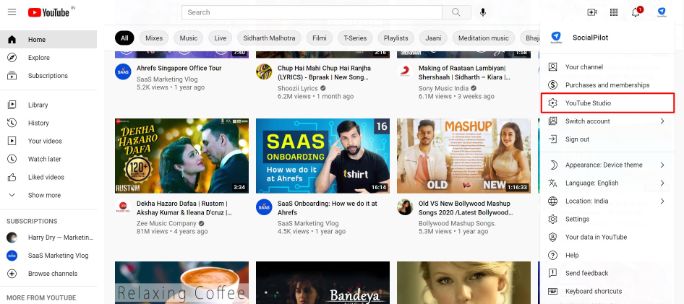 On your channel dashboard, find the Analytics section in the left-hand side menu. Click on it to access tons of data to understand your Page's performance.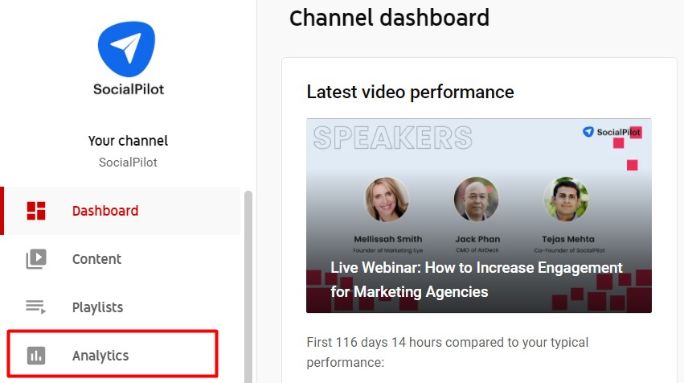 But we are looking for a specific graph. You will find it in the "Audience" tab of the "Analytics" section.

You will see a purple bar graph. That's our destination. Now the next step is to assess it.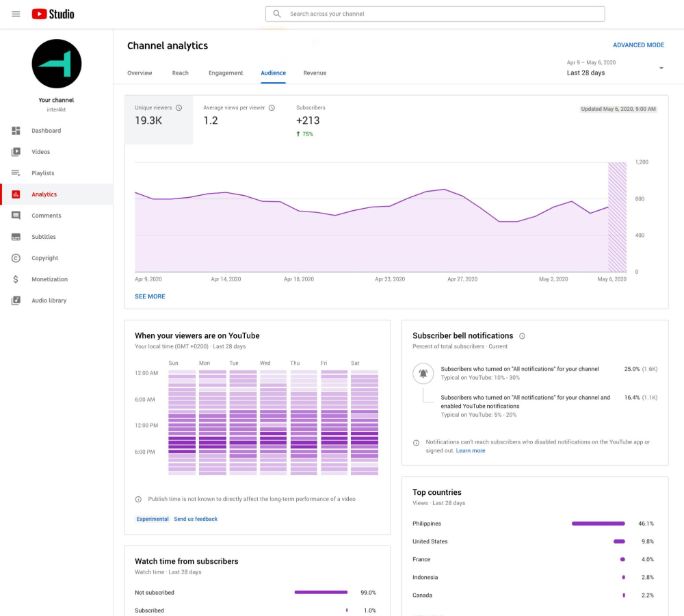 On the other hand, if you don't see the graph under this section, it is because your channel didn't gain enough viewer data in the last 28 days.

But don't worry, later in the article, we will discuss the ways to find out the best time to post videos on YouTube without the help of the audience graph.
For now, let's continue with the further steps.
Step 2: Find the Best Day and Time to Post
The "Where to find your audience" graph shows you the data for the last 28 days and is based on your time zone.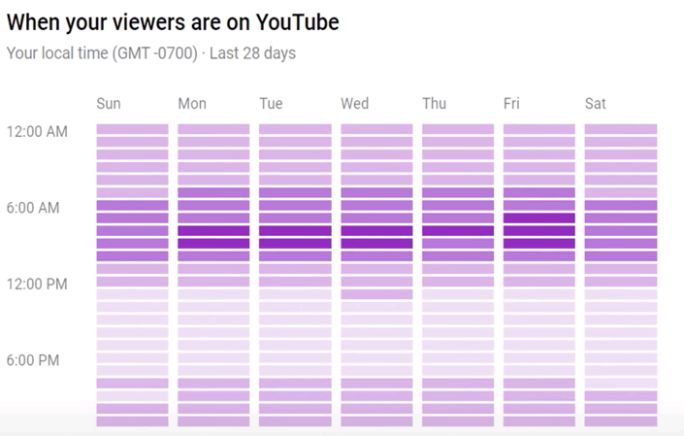 The dark purple bars in the graph indicate the timings on a specific day when most of your audience is present on YouTube.
Similarly, the lighter bars indicate the times when the presence of the audience is the lowest.
So basically, these reports tell you the time when most of your audience is present on YouTube to watch your videos.
It is helpful because the best time to post on YouTube is when most of your audience is live to see your video. If you post keeping these times in your mind, your video will appear on the home page when the most audience is present.
Unlike other social platforms, you can't post on YouTube every day, given the time it takes to make a single video. So you have to choose the best day.
What to do if you have multiple dark bars throughout the week?
In such a case, pick a day with a shade lighter purple bars that comes near your main day. It has been seen that videos tend to get most of their views in the first 2 days. So it's better to align your posting with the two peak days.
For instance, in the above example, Friday has the darkest bar, and Thursday stands second. Now posting on Thursday will also get you a view of Friday. But posting on Friday will get you the views of Saturday, which is clearly a bad day according to the graph.
How to Find the Best Time to Post on YouTube without the Audience Report?
Alright, you are new on YouTube or don't have enough daily flux of audience for the "When your viewers are on YouTube" report to appear. How do you find your best time?
By crunching some numbers manually.
You will find another section in YouTube analytics, inside the 'Overview' tab called 'Real time' on the right-hand side.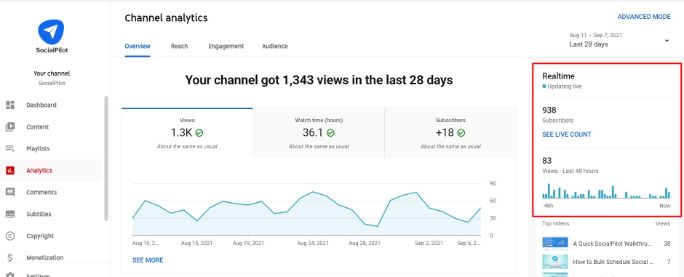 It provides the number of views you have got in each hour within the time frame of the last 48 hours.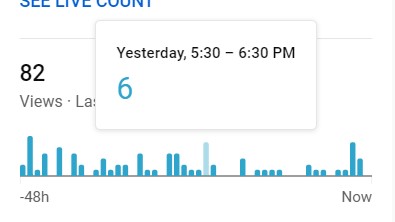 I'd recommend tracking this data for a month or quarter in a spreadsheet to spot the pattern of views across a week. This way, you will be able to find what day and time your audience remains the most active.
Also, you can use the average best time to post data we discussed in the beginning to kickstart the tracking process. See if the universal time works for your niche or not.
But how are you going to take care of so many posting times? We have a solution. Keep reading.
How to Stay Consistent on Multiple Best Times to Post?
Consistent posting is part and parcel of every marketer's job. Yet, it remains a distant dream for most of them. With multiple best times to post on Youtube at your disposal, it gets hectic to test out every time and choose the best one.
For one Youtube channel, it's okay, but imagine testing out times for multiple Youtube accounts while dealing with other social networks as well; it sends chills down the spine.
This is where SocialPilot comes to your rescue!
A one-stop solution to schedule your Youtube videos, shorts, and content on other platforms way ahead.
Take advantage of its scheduling feature to A/B test the best times so that you can find the perfect time for your audience.
Apart from A/B testing best times for your YouTube Channel, SocialPilot also comes in handy when you need to automate scheduling to post multiple times.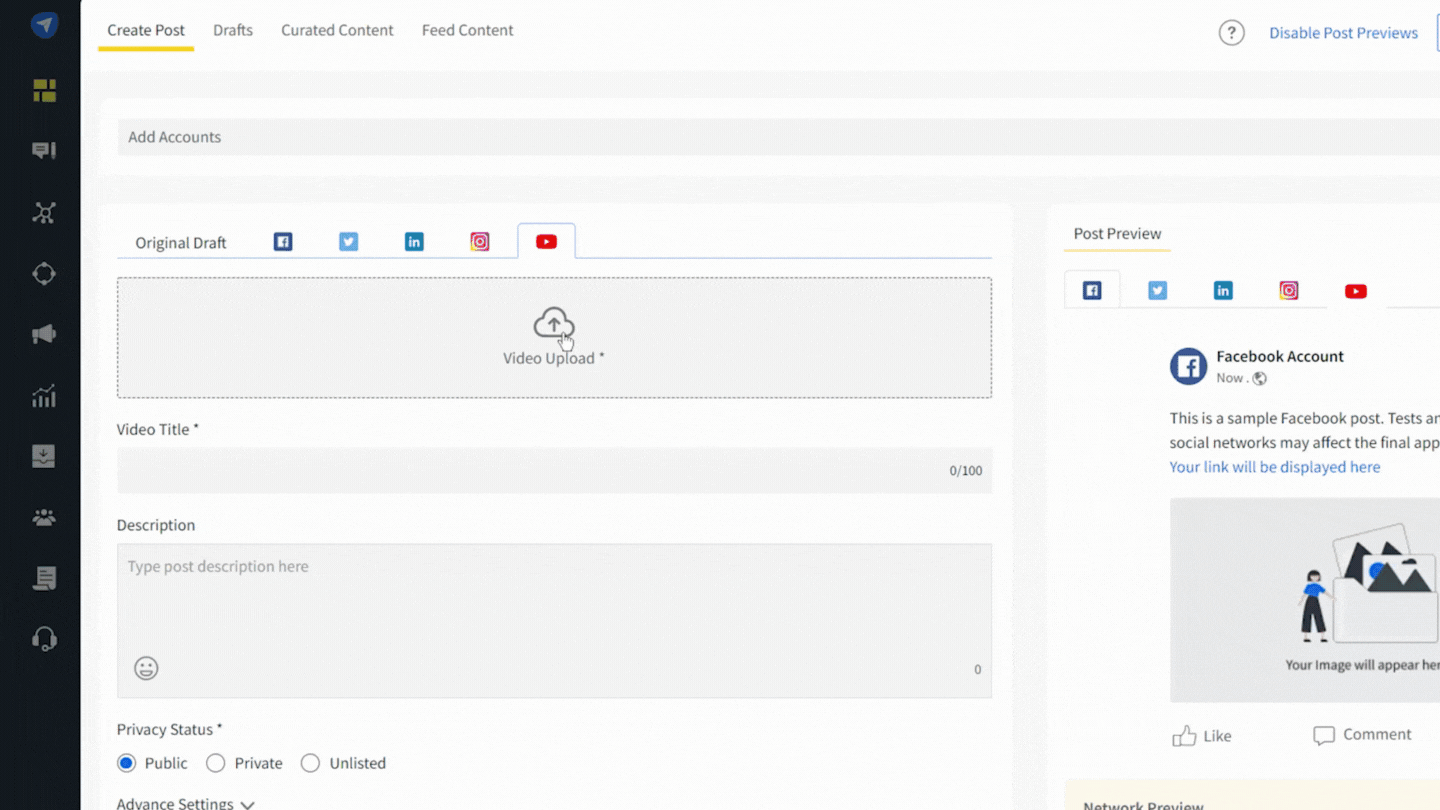 All social media marketers know that a social media automation tool can work wonders, from helping you post in different formats to posting on various accounts at different times.
SocialPilot also has multiple other features that can save you time, especially if you are an agency, social, or digital marketer.
Why don't you try it yourself for free?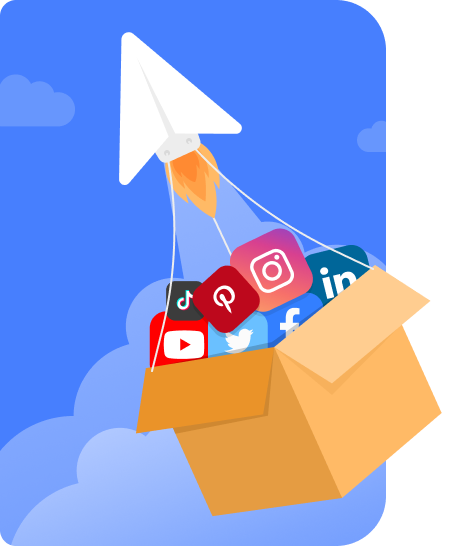 Wrapping Up
Video marketing is not easy. The excruciating amount of effort and time it takes to export a single video is a lot.
That's why it's important to turn every stone that can get your hard-made video its due success, including finding the best time to post on YouTube.
With the methods discussed above and the finding of our study on over 50,000 Youtube accounts, you will find the best time to post YouTube shorts as well as videos.
So take inspiration from general popular time, analyze your data with YouTube analytics, and kickstart your successful YouTube marketing.
Keep in mind that posting at the best time is just one factor in getting you in the spotlight. Consider it more as a chance to show the high-quality content you have tailored. In the end, it all comes down to one thing – creating quality content for your audience.
Don't forget to use SocialPilot to schedule your Youtube videos and shorts to boost your Youtube marketing results.