In 2021, riding the waves created by TikTok and Instagram, YouTube plunged into the short-form video space with its dynamic feature, YouTube Shorts.
Fast forward to now: While TikTok might hold the crown in the Reels vs. TikTok vs. Shorts showdown, the other contenders are rapidly closing the gap, racking up staggering engagement.
Today, we turn our full attention to YouTube Shorts. To give you a brief idea of the potential reach of this media type, 50 billion Shorts are viewed daily.
Tapping into the audience, a strong YouTube Shorts strategy can help you attract millions of viewers in no time compared to your regular YouTube video content.
How, you ask?
Essentially, as people love consuming short videos, the algorithm is also helping boost the reach of YouTube Shorts.
But how to get more views on YouTube Shorts and leverage the massive opportunity they bring to your business?
What are the tips and tricks for using Shorts?
Most importantly, how to get started with YouTube Shorts?
We have covered the answers to all of this and more in this amazing YouTube Shorts guide.
Without wasting any time, let's understand how to make YouTube Shorts and grow a successful YouTube channel.
What are YouTube Shorts?
YouTube Shorts refer to the bite-sized vertical video format of YouTube. The feature allows you to craft, edit, and publish brief, vertical videos using the dedicated Shorts camera experience on the YouTube app.
Like Reels and TikTok, YouTube Shorts gives you the flexibility to speed up or slow down your recording speed, add filters, string videos together, add captions, remix audio or video clips, and more.
The feature also enables you to add an audio clip or song from the YouTube audio library for personal, non-commercial, and entertainment purposes only. Remember, you have the limit of creating a 15-second clip only if you add audio from the YouTube audio library to your video.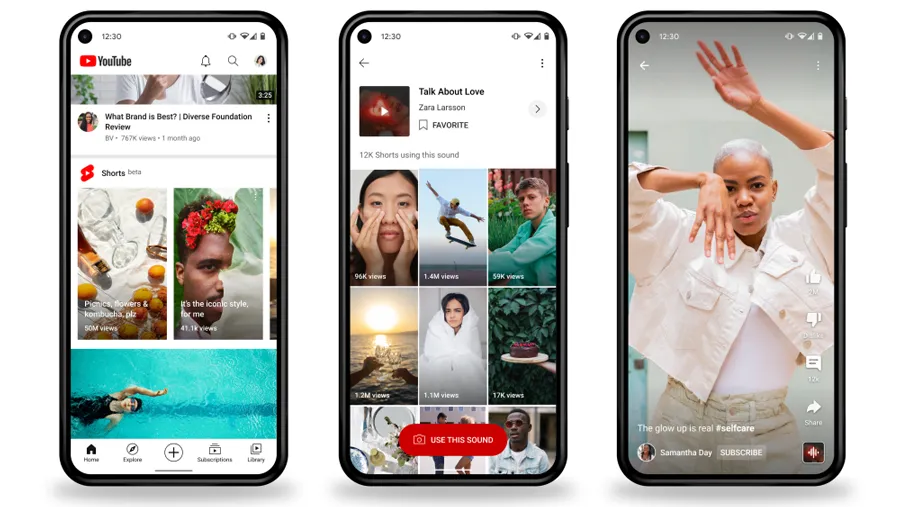 As for discovering and watching YouTube Shorts accounts, users can either tap into a dedicated YouTube Shorts tab and binge Shorts from different accounts on a loop or catch them prominently featured as a "Shorts carousel" on YouTube's homepage or in search results.
Viewers can also share, comment, like, dislike, or subscribe to your channel while viewing a YouTube Shorts.
How Long are YouTube Shorts?
YouTube Shorts can be up to 60 seconds long. Now, you can reach this limit by using a single video or stitching together multiple 15-second-long videos. However, you only have the limit of publishing a 15-second clip if you add any audio from the YouTube audio library to your video.
Here are all the YouTube Shorts specifications you need to keep in mind:
| | |
| --- | --- |
| YouTube Shorts length | Up to 60 Seconds |
| YouTube Shorts resolution | 1920 pixels by 1080 pixels |
| YouTube Shorts aspect ratio | 9:16 |
Why Do You Need YouTube Shorts?
If you run a YouTube business channel, you already know how difficult it is to grow your subscribers. The market is becoming saturated as the big guns cater to most of the audience.
With the introduction of YouTube Shorts, businesses have a golden opportunity to scale their YouTube channel growth and boost their engagement rate.
When any marketer asks "how to grow your YouTube channel," YouTube Shorts is the answer. It can help you attract new subscribers more effectively and efficiently than any other marketing strategy on YouTube.
Because of this segment's newness, YouTube wants to grow it and make more people aware of YouTube Shorts. That's why you can count on the YouTube algorithm to boost your YouTube Shorts more than your long-form videos.
YouTube Shorts is among the content types with the best organic reach on the platform. If you know how to make a viral Shorts video on YouTube, nothing can stop your engagement numbers. To boost your chances at success, you must make it creative and engaging with all the SEO-focused tags and keywords.
One more thing.
To succeed on YouTube, you need to have a mix of both YouTube long videos and Shorts; this will help you get more views and make the most of the platform.
If you focus solely on YouTube Shorts, you'll record substantial engagement, and your numbers will go up. However, you won't see any tangible outcome for your business, like getting subscribers or directing viewers to your website.
On the other hand, if you choose to ignore Shorts completely, you'll miss out on the magic of the Shorts algorithm that can help you scale your channel and achieve your goals.
So, regular video and Shorts, it is!
But you will notice while implementing your YouTube Shorts strategy that it is not as easy as it sounds.
You need to be aware of all the ins and outs of YouTube Shorts to extract the most fruitful results.
Don't worry; we've got you covered.
In this blog, we have captured some of the best tips and tactics you can use for YouTube Shorts so that you can scale your channel growth and outshine your competitors easily.
But first, let's learn how to make Shorts.
How to Make YouTube Shorts?
Now, let's get to the fun part: making your first YouTube Short. In order to create a YouTube Short, you must have the YouTube application downloaded to your phone.
You can download it from the iOS App Store or Google Play, based on your device. After downloading the app, log in and start your journey by following our step-by-step process to create a YouTube Short.
Step 1: Open YouTube Shorts Camera View
Open the YouTube app on your mobile
Tap the '+' icon located at the bottom bar
Select 'Create a Short' from the list of open options. If it's your first time, grant the necessary camera access permissions.
Step 2: Start Recording with Multiple Recording options
Inside the camera view, by default, you're set for a 15-second duration. If you desire to create a longer duration video, tap the '15' on the top right and adjust it to 60 seconds.
Now, tap the red record button to initiate recording. A single tap begins the recording, and another tap will pause it.
On the recording screen, you will see a sidebar with intuitive tools designed to elevate your Short's quality and creativity. You can use these to make your recording more dynamic. Here's the breakdown of every editing tool:
Camera Flip: Use the flip option to switch between front and back cameras to effectively make vlog-style content or showcase different viewpoints within one Short.
Effects: Incorporate a plethora of effects, such as mirror images, motion trails, and fisheye effects, to give your video a unique touch.
Playback Speed: Give your video a fast-paced thrill or show the captivating slow motions by modifying the recording speed with options like 0.3x, 0.5x, 1x, 2x, and 3x.
Timer: Turn the timer on for self-recording scenarios using a tripod.
Green Screen: Use the green screen effect to superimpose a photo as your background.
Retouch: Consider this option as a visual makeup, auto-enhancing the quality of your video by making the frame more crisp and clear.
Filters: Set the tone and mode of your video by adding color filters.
Lighting: Adjust brightness levels to capture the right mood.
Flash: Toggle flash on/off as per need.
After including the desired effects, move forward by tapping the white checkmark at the screen's bottom right.
Step 3: Add Sound and Text
You will be led to a preview screen where you can
Add music, voiceovers, or text overlays to your video and adjust their color, style, and alignment on the screen.
You can also control when your text appears and disappears on the screen using the timeline option.
To proceed, tap 'Next' on the top right.
Step 4: Choose the Final Settings and Upload
The final step is to add captions and choose other settings before having your Short go live. Here's a detailed breakdown of the final touches you must consider before your content goes live:
First, add a captivating caption to enhance the discoverability of your Short and captivate your audience by providing more information.
Next, pick a cover image by clicking the pencil icon in the top-left corner and selecting any desired frame of the video.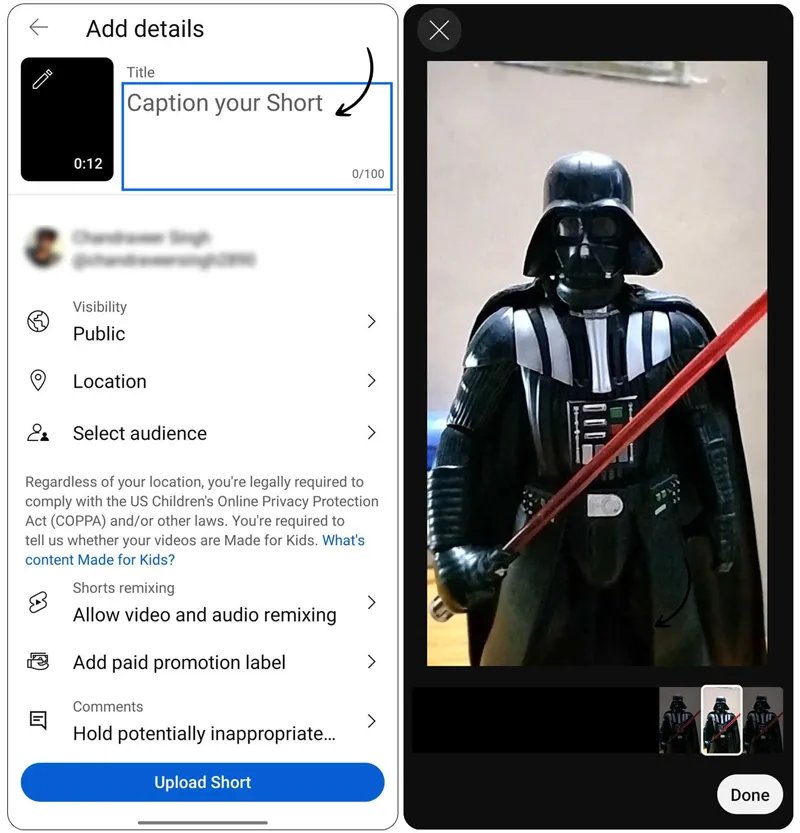 Once you are done with the primary updates, it's time to take care of some of the advanced settings: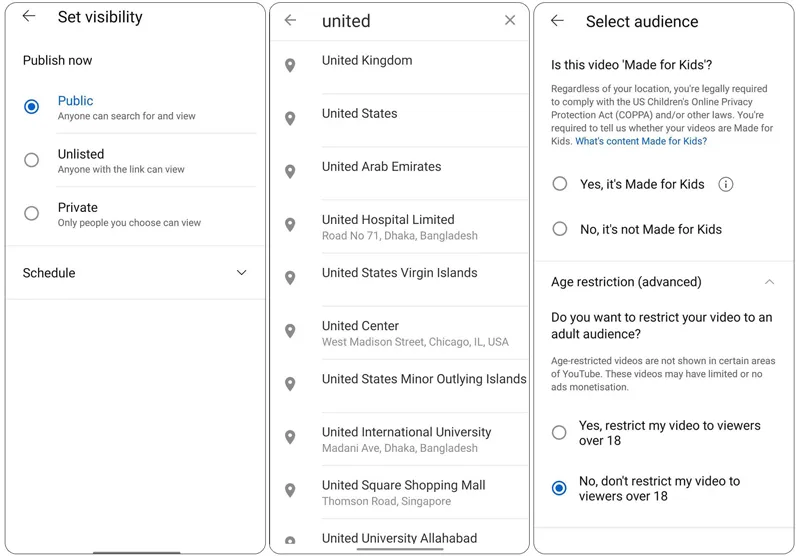 Go ahead and decide if you want your Short's visibility to be Public, Private, or Unlisted.
Then, decide on the location and audience you want to target with the 'Location' and 'Select Audience' options. You can type in the location you want to target, and for audience selection, YouTube requires users to specify if their content is designed for kids or a general audience.
Lastly, choose whether to permit remixing of your content, indicate paid promotions, and set filters for spammy comments.
Once you've fine-tuned the settings, hit the 'Upload Short' button. Within moments, your crafted YouTube Short will be published, set to entertain, educate, and engage viewers.
How to Upload YouTube Shorts?
If you already have a video ready to be published, then you can avoid using the Shorts camera interface for shooting and editing your video and just directly upload the video from the local storage.
Here's the step-by-step process to upload your YouTube Shorts video: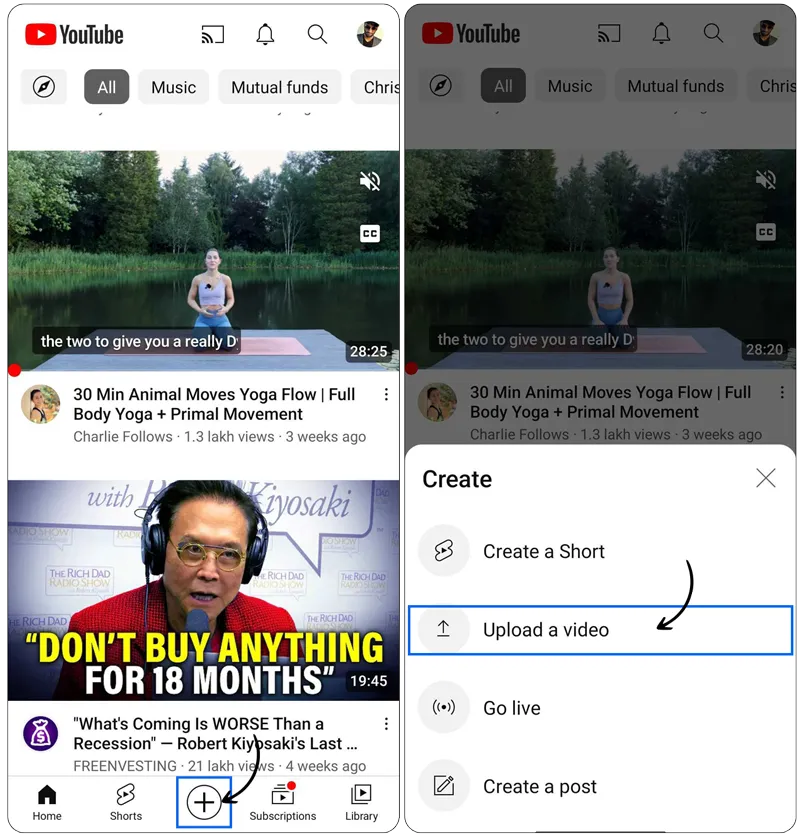 Launch the YouTube app and tap the '+' icon on the bottom.
Choose 'Upload a video.'
Pick a video from your camera roll that's under 60 seconds; it'll automatically be recognized as a Short.
Add necessary details like caption, visibility, and audience, then hit 'publish.'
How to Schedule YouTube Shorts?
Manually uploading YouTube Shorts can be super easy when it's just your personal channel you're looking after.
However, when managing content for a flourishing business's channel or navigating the YouTube accounts of multiple clients, you will be losing much of your time in switching between accounts and uploading videos.
Wondering how to streamline this process and make uploads a complete breeze?
Well, here's the secret: Integrate YouTube Shorts scheduling into your daily routine. This nifty trick lets you plan out your YouTube Shorts in advance and line them up.
After that, the scheduling platform shoulders the burden, ensuring your content gets automatically published at the exact moment you want while you're off planning your next hit Short.
You're basically future-proofing your content game!
There are two methods to schedule your YouTube Shorts:
So, which is the best option?
Well, if you're looking for a one-stop solution, you need not look further than SocialPilot. Not only does it allow you to schedule both YouTube videos and Shorts for numerous accounts seamlessly, but it also empowers you to schedule posts across all your go-to networks.
And all this magic from a single, ultra-intuitive dashboard. Why juggle multiple platforms when SocialPilot offers everything you need and more?
9 YouTube Shorts Tips and Best Practices You Need to Know
Now that you know how to create YouTube Shorts, let's dive deep into the best YouTube Shorts tips that will help you make the most out of this content format.
1. Use Shorts Length Wisely
The recommended duration of a Shorts is up to 60 seconds, but you need to understand that it's not compulsory to use the entire minute duration.
Your focus should be on delivering your message as concisely as possible and valuing your viewer's time. The example below shows how a popular Shorts channel, Block Facts, only posts 27-second videos and gains millions of views.
You need to ask two questions while deciding on the length of your YouTube Shorts:
How much time do you need to make your point in the video?
Is there any part of the content you can eliminate or cut to minimize the viewing time and maximize the effect?
Once you answer these questions, you'll automatically tailor your content to the most compact version possible, thus increasing the effectiveness of your content.
2. Publish Valuable Shorts
Though bite-sized in nature, YouTube shorts are still a powerful medium for delivering valuable and informative content.
You need to ensure that your Shorts aren't just fleeting moments in a viewer's day but impactful messages that invite them to connect more with your channel and brand.
If the viewer doesn't find value in your Shorts, chances are they won't engage with your channel further. You'll just extract a view from the user, and that's it.
You should be aiming for a continued interaction between your content and viewer instead. Think of each Short as an invitation to explore more of your content.
Here are some YouTube Shorts content ideas that can be super valuable for your audience:
Product teasers
Behind-the-scenes
Tutorials and how-tos
Customer testimonials
Flash sales and promotions
Quick tips
Events and launches
Trending challenges
FAQ sessions
Brand stories
3. Always Record Vertical
Of course, you can upload horizontal videos on Shorts, but creating your Shorts vertically is the only way to do justice to the medium.
Vertical videos seamlessly fit the full screen, drawing viewers into a completely immersive experience. In contrast, horizontal videos sit somewhat out of place in the center. With noticeable blank spaces on both sides, they can't quite offer the same level of engagement, potentially leaving viewers feeling a tad underwhelmed.
So, aim for a 9:16 aspect ratio and stick to a resolution of 1920X1080 pixels. This is the sweet spot for Shorts.
Now, with the technical aspects sorted, let's shift gears a bit and look at the heart of it all. Are you ready to showcase the real you?
4. Show Your Authentic Side
No matter the size and the nature of your videos, never forget to show the authentic side of your personality and brand.
How does your audience perceive your content currently? Is it quirky like Oreo's, adventurous like National Geographic's, or downright hilarious in line with meme-centric pages such as @memezar?
Authenticity enables you to turn casual viewers into loyal followers.
This authenticity becomes even more pivotal in compact formats like YouTube Shorts. YouTube Shorts enable you to present information in a quick, fun, and raw manner and are, therefore, more 'transparent' mediums of content.
As you venture into creating YouTube Shorts, weave in your brand values and guidelines, ensuring every video remains consistent with your overall message and purpose.
Take a look at how American Eagle effortlessly showcases their new cap, all while staying true to the lively spirit of their brand in this engaging Short.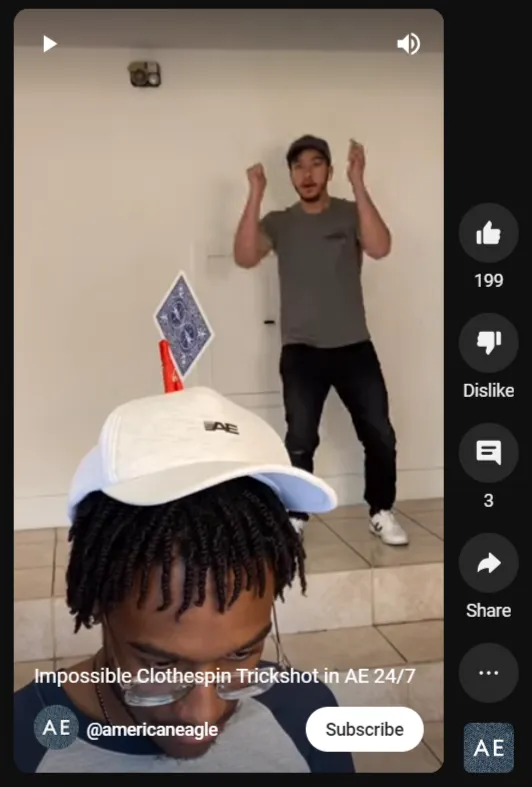 5. Hook Your Audience From the Beginning
The never-ending feeds of content have made scrolling second nature for humans. To make them stop at your YouTube Short, you need to make it engaging from the beginning.
What can you do? Here are some strategies:
Start with a Powerful First Frame: Grab attention immediately with compelling visuals.
Include Engaging Audio: Use catchy music or sound effects to set the mood instantly.
Pose a Question: Kick off with a question that resonates with your audience.
Reveal a Teaser: Show a quick sneak peek of the exciting stuff to come in the video.
Use Captivating Text: If it's a text-based start, make it snappy and compelling.
Show Movement: Include quick transitions or animations to break the scrolling monotony.
Evoke Emotion: Start with a scene that triggers an emotion like humor or awe.
6. Leverage Latest Trends
Leveraging current trends, trending audio, and challenges can be a great catalyst to amplify the reach of your Shorts.
You can find trends by checking the YouTube 'Trending' page. This can give you insights into what's catching viewers' attention.
Remember, while following trends is great, being genuine in your content is key. Trends will change, but authentic content stands out. So, get creative and make your Shorts relevant and engaging.
7. Pay Attention to the Video Loop
Whenever a YouTube Short ends, it loops back to the beginning of the clip and starts playing again until the viewer scrolls to the next one.
This looping can be a fantastic tool if used correctly in some instances.
Let's say you've got a catchy tune or a funny moment that gets even better with a second view. Or perhaps the Short displays a story that seamlessly transitions from the ending to its beginning, creating an infinite loop that keeps viewers hooked.
8. Make Your Titles Count
The titles of your YouTube Shorts are another vital aspect to keep in mind if you want to catch the user's attention. Just like a thumbnail, you need to work on the title of your YouTube Shorts.
Your title should make the viewer aware of what content you'll provide with your Short video. Don't try to fool the user with misleading titles; you'll only lose their trust, which will result in a loss of future engagement.
9. Be Consistent
Maintaining consistency is crucial when uploading content on YouTube, regardless of the content type. Regularly uploading Shorts will hook your audience onto your content and build brand recall and loyalty.
The key is to plan and create your content ahead of time with a posting schedule for your YouTube channel.
However, maintaining a consistent posting schedule can be a herculean task. This is where YouTube Scheduling tools equipped with a content calendar to plan and publish your videos prove handy.
For instance, with SocialPilot's social media content calendar, you can plan, create, schedule, and overview months of YouTube posts from a single place.
You can leverage the platform's easy scheduling and auto-publishing capabilities so your subscribers can always look forward to your timely uploads.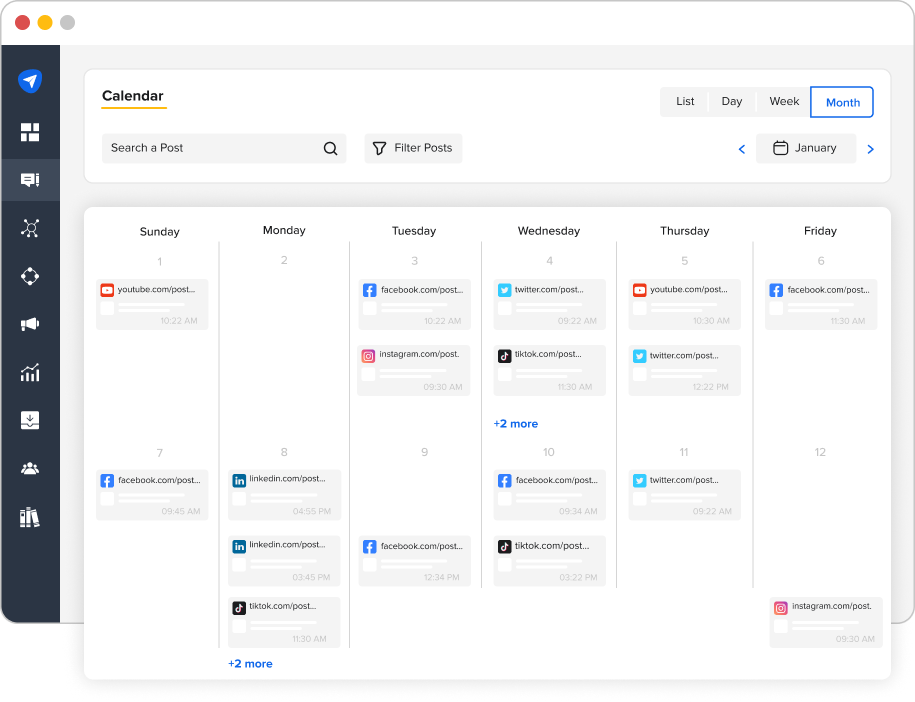 There You Have It: Quick. Short. Engaging!
YouTube Shorts are an essential tool in your YouTube marketing arsenal. But having a tool just isn't enough. You need to know how to utilize it effectively.
With all the tips and tricks we've shared, you can easily start leveraging YouTube Shorts and give a massive boost to your subscriber base and engagement rate.
In a nutshell, beyond just creating Shorts, there's immense value in meticulously planning valuable content that not only capitalizes on trending topics but also encapsulates the core values and unique characteristics of your brand.
And yes, as you navigate the realms of YouTube marketing, you must adopt a tool like SocialPilot to empower your daily planning and publishing tasks
Level up your YouTube strategy by using SocialPilot to plan and schedule your YouTube videos and Shorts well in advance, starting today.