Sometimes words are not enough; sometimes, you need videos. And every search for videos starts and ends on Youtube.
With over 2 billion monthly active users, YouTube has become a massive force in the world of digital marketing. From viral videos to educational content, there is something for everyone on this platform.
Youtube has also shifted its gear by updating YouTube shorts and new features to stay relevant to the new generation of social media audiences.
And marketers can't afford to miss that opportunity.
But to really leverage the power of Youtube, marketers need to analyze recent YouTube statistics to make decisions that are coherent with the growing trends of the platform.
Here, we have curated the latest Youtube statistics to help social media marketers make informed decisions about their 2023 YouTube strategy.
Let's go!
Youtube Demographics Stats
With more than 2.6 billion active users, Youtube stands as the second most-used social platform, just behind Facebook, in the world.
Youtube has also managed to get the eye of every age group. Did you know that 96% of Gen Z and 87% of Millennials users in the United States have a YouTube account? It is safe to say that Youtube will continue to be one of the favorite social platforms for a long time.
Here are a few more Youtube Statistics to understand the region which drives the most viewership, the age group contributing the most, and the language choices available on YouTube.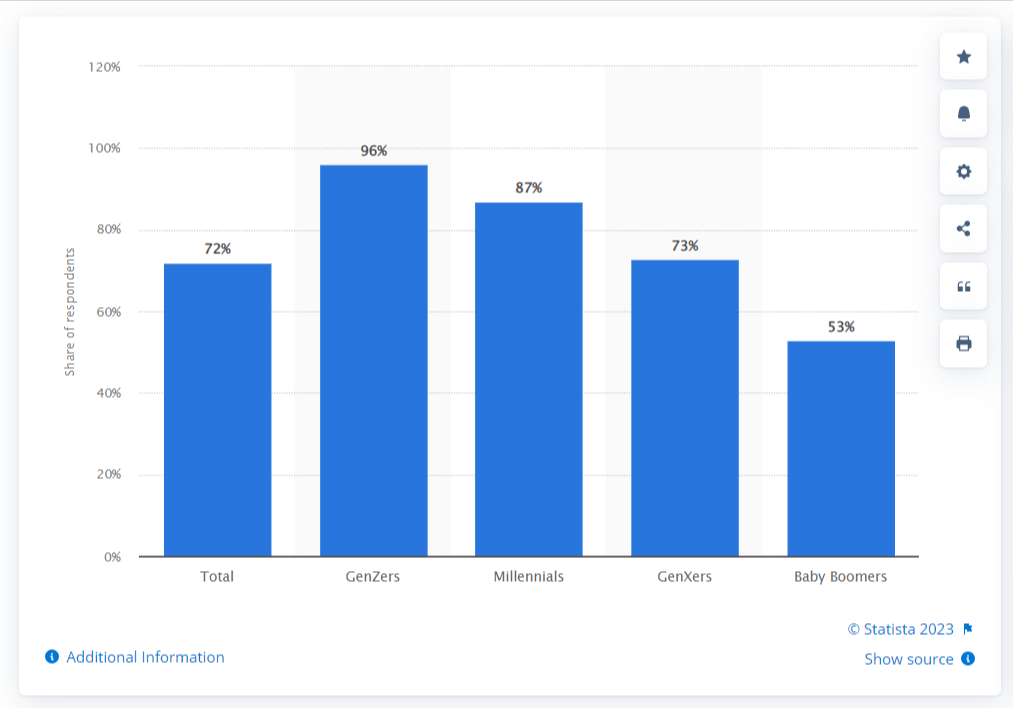 As of the third quarter of 2022, YouTube has over 2.6 billion monthly active users.
53.9% of YouTube users are men, and 46.1% are female.
12% of YouTube's global audience aged 25-34 years old is male, and 9% is female.
9% of the total audience was 35-44-year-old male users, and 7.5% were female users of the same age.
An online survey conducted in May 2022 revealed that 96% of Gen Z users have a YouTube account, while 87% of Millennials are registered on the video platform.
YouTube is the world's second-most visited website, with more than 74.8 billion monthly visits.
There are localized versions of YouTube in over 100 countries around the world across 80 languages.
As of April 2022, India has the most prominent YouTube audience of 467 million, followed by the US with 247 million and Indonesia with 139 million viewers.
Youtube Usage Stats
Youtube is still the hottest place to binge-watch videos.
The platform is a goldmine for marketers, with billions of people tuning in daily – especially Gen Z, who rely on YouTube for a good time and to boost their mood. And with a constant flow of fresh content, there's always an opportunity to catch their eye.
Moreover, people are always on their phones these days, and a massive chunk of YouTube consumption happens on mobile. So, optimize your videos for mobile, and the traffic will follow your content crumbs.
While speaking about the traffic, you can't ignore the US market – with so much traffic coming from there, it's definitely worth considering as part of your strategy.
Take a look at the below statistics to understand the user behavior of the platform better.
On average, people watch over a billion hours of video and generate billions of views on YouTube daily.
For Gen Zers, YouTube is the top relaxation and mood improvement platform.
Over 500 hours of new content are uploaded to YouTube every minute.
In November 2022, YouTube had approximately 71.66 billion visits from mobile users and 8 billion from desktop users.
21% of YouTube watch time comes from mobile devices.
15.9% of YouTube traffic originates from the United States.
Youtube Engagement Stats
The latest engagement statistics suggest that people avidly watch YouTube videos, so much so that video watch time has grown by 270%. Do you think your video content has the potential to catch people's attention?
It all lies in creating content that connects. The platform has seen double-digit growth in watch time for content that aligns with users' interests. So, focus on identifying and creating content that resonates most with your target audience.
Embracing tutorials, how-to videos, and live video streaming can provide a unique and engaging way to connect with the audience.
Why?
Look at the below recent Youtube engagement statistics to find out.
In the past 12 months, watch time for videos has grown by 270%.
YouTube shorts now has 50 billion daily views.
Double-digit growth is seen in watch time for content that aligns with users' interests.
33% of internet users reported watching a "tutorial" or "how-to video."
30% of internet users have watched at least one live video stream weekly.
Over 1,000 years of watch time has been recorded for "shopping spree" videos in the past two years.
Watch time for "wildlife videos" increased by 40% last year.
Youtube Business Stats
There's no doubt that with such a large and engaged audience, YouTube presents a massive opportunity for businesses to market their products and services.
But is that audience receptive to business content? You'd be glad to know that they are. 84% of viewers have made a purchase from a brand after seeing it on the platform.
Moreover, shopping-related videos have become increasingly popular on the platform, with a growing number of watch times on "shopping spree" videos and a significant increase in the watch time of shopping videos with the word "sale" in the title.
Understand the business dynamic of Youtube better with the below Statistics.
Nielsen reports that in 2022, YouTube accounted for 8.7% of total TV usage, surpassing other streaming platforms such as Netflix, Hulu, and Prime Video.
33% of shoppers have reported purchasing products that they discovered on YouTube.
84% of viewers have made a purchase from a brand after seeing it on the platform.
Over 70% of viewers say that YouTube makes them more aware of new brands.
The popularity of "shopping spree" videos has resulted in over 1000 years of watch time on the platform in the past two years.
The watch time of shopping videos with the word "sale" in the title has increased by 400% in the past year.
Most YouTube channels earn $0.5 per 1000 video views.
Youtube Ads Stats
Despite the 8% decrease in Youtube's advertising revenue in Q4 2022, the platform still has the potential to reach a massive 2.56 billion users globally.
This presents a tremendous opportunity for businesses to reach a vast audience and drive their marketing efforts forward.
The platform becomes more important if your target audience is younger. YouTube is dominated by males aged 25 to 34. If your target audience falls within this age group, then there's no better platform to advertise on.
Understand the Youtube advertising statistics better with the insights given below.
In the fourth quarter of 2022, YouTube's worldwide advertising revenue amounted to $7.96 billion, which is an 8% decrease from the previous year.
YouTube ads have the potential to reach 2.56 billion users globally.
The biggest demographic on YouTube is males aged 25 to 34, accounting for 11.6% of the platform's user base.
India has the largest advertising audience on YouTube.
Conclusion
Despite a challenging year for revenue growth, Youtube remains a dominant force in the online video space and a valuable platform for content creators and advertisers.
We all know Video as a medium always attracts more eyes than any other form of content. With more and more people turning to Youtube for entertainment, information, and baby sleep tunes, it's safe to say that Youtbe will continue to soar.
As we move forward into 2023, it is crucial for businesses and individuals alike to stay up-to-date on the latest Youtube statistics and trends to optimize their presence and reach on the platform.
We hope these YouTube stats have added value to your understanding of YouTube and its potential for assisting brands and businesses in scaling their growth.
If you are looking to understand more social media statistics, refer to the below list: