Most people do not search for videos, they YouTube them.
YouTube is to video search what Google is for searching any sort of information. In fact, YouTube is the second-largest search engine in the world after Google.
There is no doubt that YouTube has massive potential as a social media marketing platform. It presents opportunities galore for marketers and content creators.
Ask any serious marketer planning a marketing strategy if they find YouTube videos valuable for their campaigns. The response will always be in the affirmative.
However, you must always consider statistics and facts before selecting your video marketing platform.
Relying on word of mouth is obsolete. In this hyper-evolving world of social media-driven consumerism, it's statistics that highlight the accurate picture.
Statistics help you develop marketing strategies that resonate with your audience and drive success for your brand.
In this blog, we will take you through the 50 most important YouTube statistics that will broaden your understanding of the scope and reach of YouTube and the platform's prominence in the digital world.
YouTube User Statistics
YouTube was started as a pure video-sharing platform. Its users, including content creators and viewers, were and still are at the center of everything they do. Thus, it is imperative for marketers to understand how users interact with the platform.
Understanding user statistics allows marketers to get greater visibility of what people expect from brands and helps them in preparing meaningful and impactful YouTube marketing campaigns.
1. 2+ billion logged-in users
According to YouTube Press, the platform has more than 2 billion logged-in users every month. That's more than 40% of the global internet user population which currently stands at 4.66 billion users.
What's interesting is that people also view YouTube content without logging in, so the actual YouTube user base is much higher. It is impossible to predict, but a couple of millions more is anybody's guess.
2. YouTube is the primary source of video for 78% of users
According to a study by Think with Google, 78% of users prefer to watch video content on YouTube rather than on cable TV or other social media services.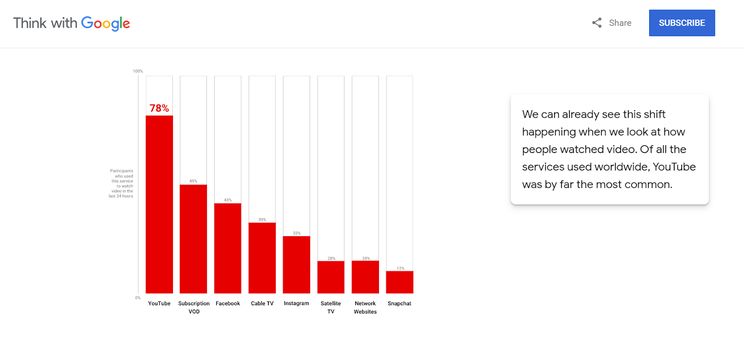 3. It's 'the' preferred platform among adults in the USA
YouTube is the favorite social media platform among United States adults, with 74% actively using YouTube.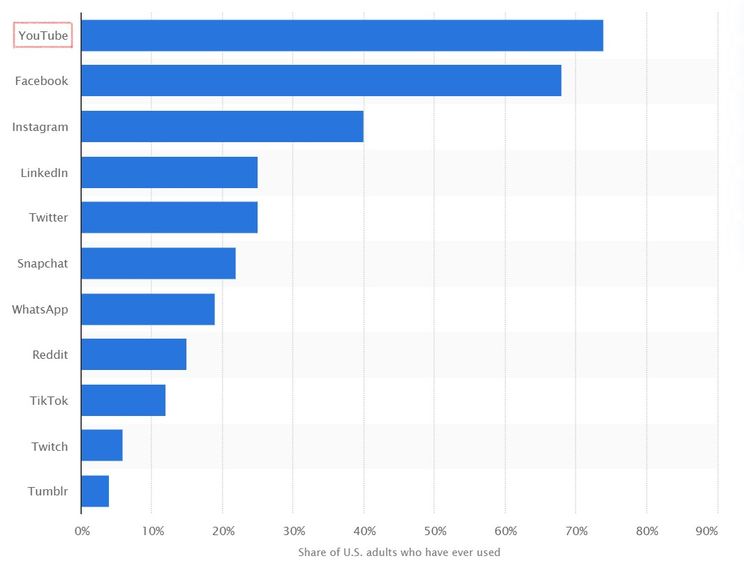 YouTube ranks 1st among social media platforms used by adults in the United States
4. 90% of digital video viewers use YouTube
According to a 2019 eMarketer report, 90% of digital video viewers in the United States use YouTube to watch digital video, followed by 60% using Facebook.
5. 26% of the adult population gets news from YouTube
According to a study by the Pew Research Center, 26% of all adults in the United States get their news from YouTube. 59% consider YouTube an important source of getting news, while 13% consider it the most important way of getting the news.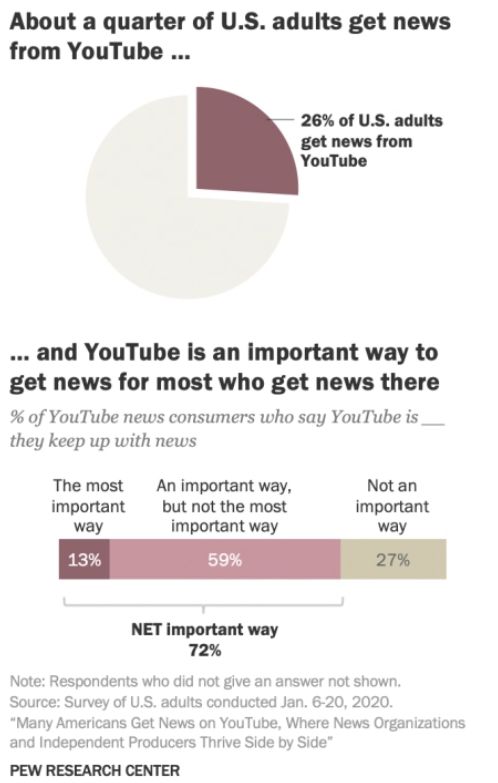 6. 70% growth in user engagement
According to Think with Google, there has been a 70% y/y increase in YouTube users who follow content creators and engage with their channels every day.
Such an increase in engagement presents enormous opportunities for companies to collaborate with creators and push their brands by leveraging the loyal fan base of these YouTube creators.
Getting more user engagement is a science. The sooner brands learn it, the faster will their marketing ROI improve.
7. Age no bar for the majority
58% of YouTube users are comfortable with watching content made by content creators of any age group.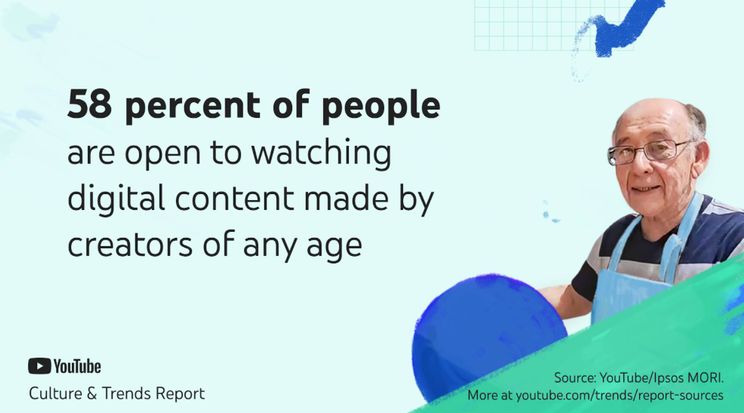 8. 51% of users find YouTube important for learning things they have never done before, while 68% find it as a good way of passing their time
The past year of 2020 has made us do many things which we may have never done before. Among all adults in the USA using YouTube, 51% find the platform extremely important for doing something they have never done before.
19% find it important to review products and decide whether they should buy a product or not, while around 68% find it somewhat important for passing some free time.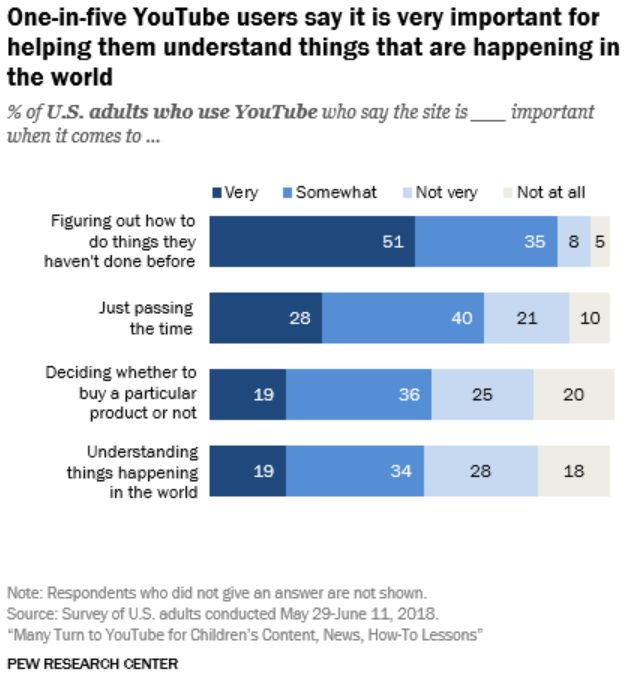 9. 34% of parents allow their children to regularly watch YouTube
34% of parents in the USA with children of 11 years or younger regularly allow their children to watch YouTube. 47% of parents allow their children to occasionally watch YouTube videos while the remaining 19% never allow their children to access YouTube.
10. Live streaming trend is picking up
YouTube Trends reports suggest that 56% of YouTube users agree that live streaming is as enjoyable as being at the event in person.
YouTube Demographics Statistics
Before you plan your YouTube content strategy, it is necessary to understand the region which drives the most viewership, the age group contributing to the highest views, and the language choices available on YouTube. These demographics help you understand your audience better and chalk up content that resonates with them.
11. Presence in 100 countries
YouTube has established its presence in 100 countries across the globe and continues to be one of the most sought-after video platforms for entertainment.
12. Used by 77% of internet users in the USA
YouTube is used by 77% of internet users between the ages of 15-35 years and 73% of internet users between 36-45 years. It also enjoys heavy penetration in the age group of 46-55 years (70%) and 56+ years (67%).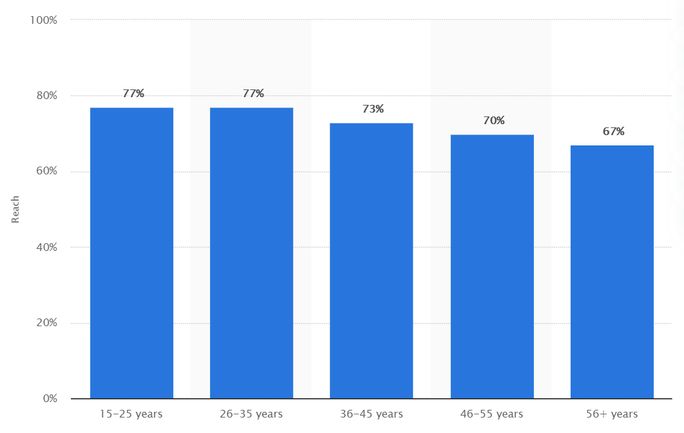 13. India has the highest population of YouTube users
India is the world's second-most populous country and has the highest number of YouTube users (225+ million), followed by the United States (197+ million users). Brazil ranks third, followed by Japan, and then Russia.
14. USA drives the highest YouTube traffic
At 15.5%, the United States contributes the largest towards driving YouTube traffic, followed by India at 10% and Japan at 5%.
15. In the USA, YouTube is used by 77% of adults in urban areas, 74% of adults in suburban areas, and 64% of adults in rural areas.
16. Available in 80 languages
YouTube has taken due care of its diverse user base and has developed its platform for being navigated in 80 languages.
17. Gender-wise YouTube use
There is no concrete data regarding the gender-wise use of YouTube worldwide. However, in the United States, it is seen that 72% of men and an equal percentage of women internet users use YouTube.
18. Gen Z and millennials prefer YouTube over TV
YouTube Press states that the platform reaches more people in the age group of 18-34- year-olds in the USA than any other TV network.
YouTube Usage Statistics
With a user base of 2+ billion, YouTube has achieved significant milestones and experiences surprising user behavior patterns.
19. Number 1 website worldwide
YouTube enjoys the tag of the most visited website (in terms of search traffic) globally while it ranks second in the USA. Now that's something for a video-only platform.
20. Website with the highest daily time on site
Among the top ten websites in the list of the top 500 websites published by Alexa, visitors on YouTube spend the highest average daily time on the site compared to the other nine sites (18:52 minutes).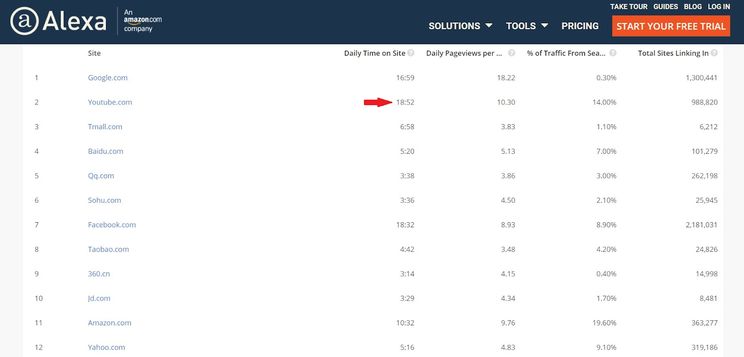 YouTube visitors spend an estimated average of 18:52 minutes on the site daily.
The exponential growth of smartphone users complemented by the widespread reach of fast internet connection has made the online video industry adapt its technology for mobile-first services.
21. Mobile usage ranks higher
According to YouTube Press, more than 70% of the platform's viewership comes from mobile devices.
22. Average viewing session of 40 minutes
YouTube watch-time on mobile phones has grown multifold, and the average YouTube viewing session stands at more than 40 minutes.
23. Is YouTube a social media platform? Of course, it is unless you live under a rock.
YouTube is a buzzing social media platform where people actively engage over video content through comments, likes, and dislikes.
With 2+ billion active users, YouTube ranks second only to Facebook in terms of social media usage and active users.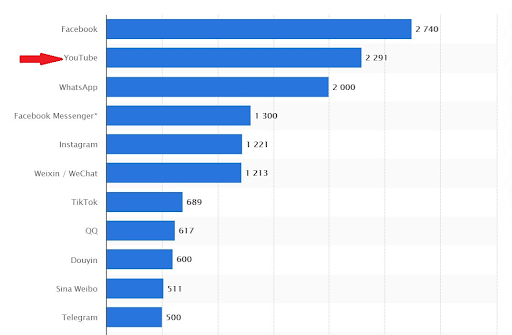 24. It accounts for the maximum mobile internet traffic
YouTube is the largest traffic driver with a 37% share of all mobile internet traffic.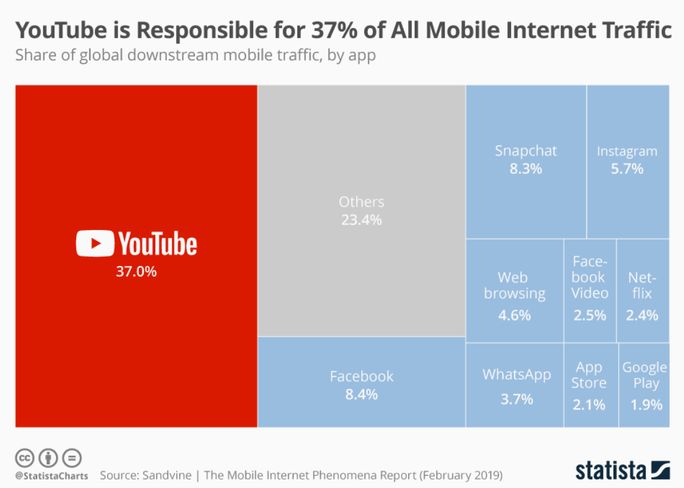 25. Used by 50% of marketers
According to a 2021 Social Media Marketing Industry Report, YouTube is the first choice of video channel for 50% of marketers, with Facebook ranking second.
26. Second-highest ACSI
YouTube enjoys a high customer satisfaction rate with an ACSI score of 75/100, the second-highest for a social media platform.
A YouTube presence gives you the advantage of marketing on a platform that is already preferred by users. All you need to do is post engaging content and focus on improving user interactions to scale your brand.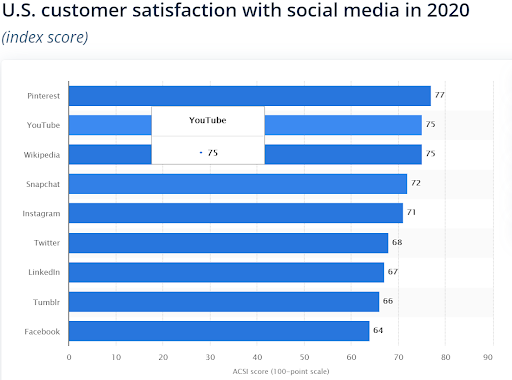 27. Visitors check 10.30 pages on YouTube daily
It's not just external links that drive traffic on YouTube. Users organically visit YouTube for searching video content too. On average, visitors check 10.30 pages on YouTube every day.
If they want to learn how to cook something new, they YouTube it. If they want to cook a new dish, they YouTube it. And the list goes on and on. You might have done that too, right?
28. 92% of YouTube users exhibit weekly usage pattern
According to Statista, 62% of YouTube users use the platform daily, 92% use it weekly, while 98% of users use YouTube monthly.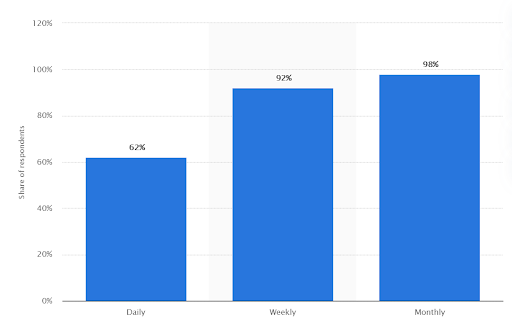 29. The most popular mobile app in the United States
In terms of the mobile audience reach of smartphone apps, YouTube ranks first in the United States. 71% of all mobile phone users in the United States access the YouTube mobile app.
30. YouTube steers 70% of your views
Neal Mohan, the CPO of YouTube, revealed that algorithmic video recommendations drive more than 70% of what you watch on the platform. According to Pew Research Center, a fact tank studying various subjects, the YouTube algorithms are known to recommend progressively long videos leading you to gradually increase your watch time.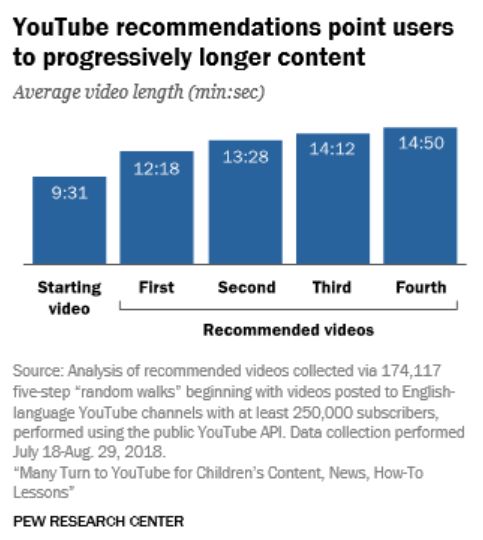 YouTube Video Statistics
Now, comes the most exciting aspect of YouTube statistics… Videos!
Read about the average duration of YouTube videos, categories with the largest viewership pie, and data suggesting what should be your focus while planning YouTube videos.
31. The average length of YouTube videos
Of the 720,000 hours of content uploaded on YouTube every day, the average length of videos across all categories is 11.7 minutes.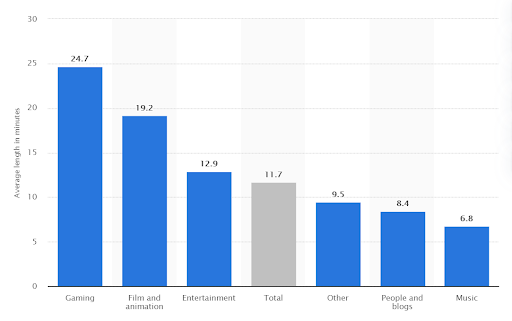 Gaming videos have the highest average length at 24.7 minutes
32. Music videos make up 20% of all views
According to Billboard, music and music-related videos generate 20% of YouTube viewership while forming only 5% of its video uploaded volumes. The average length of music videos on YouTube is 6.8 minutes.
33. The first YouTube video to reach a million views
Nike's promotional video of its Tiempo Touch of Gold boots featuring the Brazilian footballer Ronaldinho was the first YouTube video to get one million views. Uploaded back in 2006, the video made quite a sensation with the football legend's unimaginable soccer tricks using the Nike boots.
34. 2x growth in 'which product to buy' videos
According to data provided by Think with Google, there has been a 2x growth in the watch time of videos focusing on the theme of which product to buy.
35. Video quality is not the most important factor
It is 1.6x more important to relate to the viewers' passion than to have high production quality for generating more views for your videos.
36. The shark danced its way right to the top!
The 'Baby Shark Dance' video on YouTube is the most-watched video with 8.5 billion views at present. What a dance!

It is followed by the music video 'Despacito' with 7.3 billion views.
37. The fastest viral video
According to Statista, the 'Facebook: Rings- Hidden Camera Prank' amassed the maximum views in the first 24 hours after its upload. Guess how many views?
200 million views!
38. 9.31 million videos removed in Q3 2020
YouTube has established some community guidelines which all videos must follow. Videos that violate these guidelines are either auto-flagged for removal or removed by non-automated flagging methods.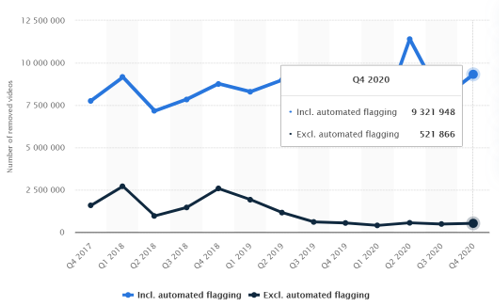 39. Most liked YouTube video
The video of the song 'Despacito' by Luis Fonsi featuring Daddy Yankee has received 44 million likes, the highest number of likes for any YouTube video.
40. 'Axed its own leg' statistic
The most disliked video, YouTube Rewind 2018, belongs to the official channel of YouTube itself. Bit of an embarrassment, isn't it?
It has 216 million views and around 19 million dislikes.
A high number of dislikes can dent your marketing efforts and be fatal for your brand image. You can avoid such embarrassing moments and create successful video content strategies by being aware of the latest user trends and following smart video development strategies.
41. It will take you 23 days to watch YouTube's longest video
The longest video made on YouTube lasts for 571 hours. Let that sink in.
But why would someone make such a long video?
22-year-old Jonathan Harchick uploaded this video in 2011 to test his technical skills of compressing such a large file to make it ready for uploading on YouTube.
YouTube Channel Statistics
YouTube provides an equal platform for showcasing content to all categories of content creators.
All are welcome to use it, be it MNCs, marketers, or individuals. You can display what you want to a content-hungry global audience without paying anything to YouTube.
The simplicity, reach, and affordability of YouTube encourages more and more content creators to make YouTube channels.
42. 23% growth y/y growth in channel count
We already know that there is no dearth of new content on (P.S. 500 hours of video uploads per minute) YouTube. What generates new content are the YouTube channels which have seen a 23% jump from 31 million in 2019 to more than 37 million channels in 2020. This statistic has not considered channels with very low subscribers (5-10), and thus the actual number could be a lot more.
43. The largest subscribed channel has 176 million subscribers
T-Series, a music network company in India, has the largest YouTube subscriber base globally with more than 187 million subscribers.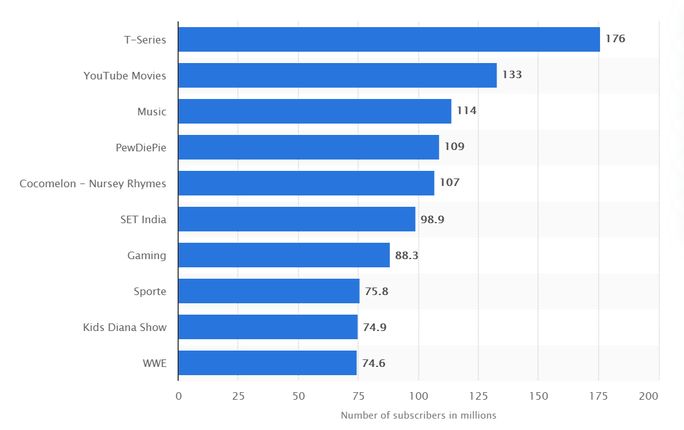 44. 15 million channels upload videos every month
Given the non-stop video uploads by millions of YouTube creators over several years, one cannot estimate how many videos are on YouTube. However, it is estimated that 15 million creators upload an average of 80 million videos on the platform every month.
45. Gaming channels generated 100 billion watch time hours
Gaming channels had their most significant year in 2020, generating 100 billion hours of watch time through live streaming of games, game reviews, and other gaming-related activities.
46. Highest earning channel in 2020
Ryan Kaji, the nine-year-old YouTuber and toy reviewer running the channel Ryan's World, was the highest YouTube earner in 2020. According to Forbes, he earned $29.5 million just through YouTube earnings.
47. 65% growth in the number of channels
YouTube has witnessed a 65% y/y growth in the number of channels with more than one million subscribers.
48. 40% increase in channels earning in six-figures
YouTube presents attractive earning opportunities to its channel partners. Number of channels earning six-figure sums per year grew by 40% y/y, whereas the number of channels earning in the five-figure range increased by 50% y/y.
49. 9000+ Content IDs
YouTube Press states that more than 9000 partners use Content ID. Content ID allows partners, such as movie channels and news broadcasters, to protect their copyrights among the millions of videos circulated on YouTube.
50. 95% rise in channels trying to build an audience
According to YouTube trends (Chapter 1), there has been a 95% rise in the number of channels vying to build an audience base on YouTube.
In Sum
Successful marketing requires in-depth knowledge of how the marketing channel behaves and operates. We hope these YouTube stats have added some more value to your understanding of YouTube and its potential for assisting brands and businesses in scaling their growth.
Use SocialPilot to efficiently manage your social media presence and meet your marketing benchmarks!