We know why you're here.
You're looking for free music or free stock audio for your upcoming YouTube video project but do not know where to start. Well, let us give you a suggestion. The YouTube Audio Library is one great place to get royalty-free music!
That's correct, the YouTube Audio Library is a massive digital library of free music for YouTube, created by YouTube, and hosted on YouTube. So, how do you get started with it?
This is where you must allow us to assist you. In this comprehensive guide, we'll show you how to use the YouTube Audio Library to include the best music and audio clips into your video.
Read on to get more knowledge on access to free music for your YouTube videos via the YouTube Audio Library.
So, let's get started.
What is the YouTube Audio Library?
Let us now start with the fundamentals of the YouTube Audio Library. This library may be found in the Creator Studio of your YouTube channel, but you can also explore it separately on its own as a website.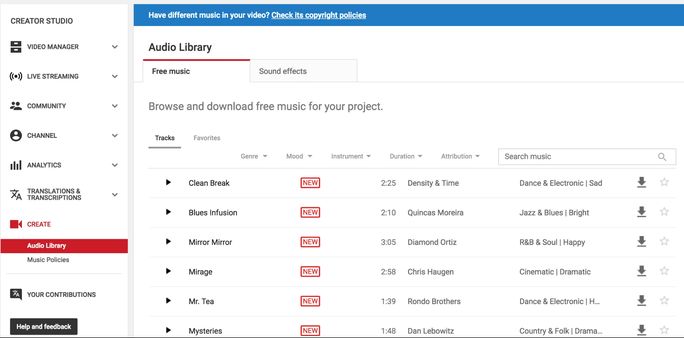 The YouTube Audio library has a very simple user interface with many copyright-free tracks. In order to sample a song or audio track, you need to simply click on the "play" icon next to the track's name.
If you decide that you want to include the track in your video based on what you hear in the sample, you may download a high-quality MP3 file by clicking on the download icon. You may even look up copyright regulations for music that cannot be used for free.
We will walk you through the entire process of using the YouTube Audio Library so that you can weigh the benefits and utilities of this feature before getting started.
Pro Tip: If you sample a track and would like to use it for another video instead of your current one, you can "star" it. This adds that track to your "Favorites" for later use and reference.
Types of music available on the YouTube Audio Library
There are basically two different categories under which music is available on the YouTube Audio Library: "Free Music" and "Sound Effects," as shown below:

Let us now discuss what each of these categories encompasses.
Free Music
You'll discover a specified list of music under the Free Music tab, with a Play icon on the left and additional filter bars on the right. There are many accessible filters just above the Music list, such as Genres, Instrument, Mood, Attribution, and Duration (these will be discussed in detail in the later sections of the blog.)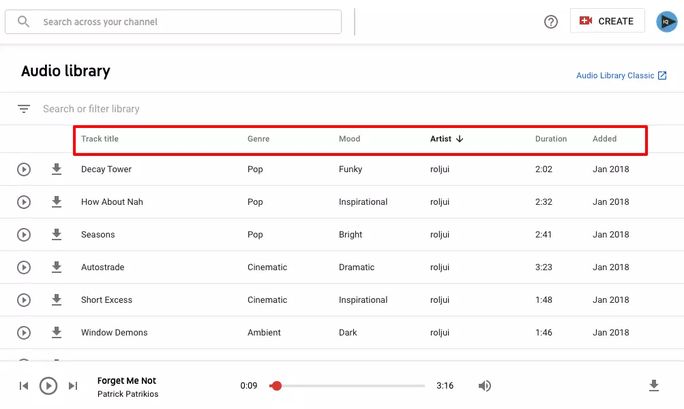 Aside from the filters, there is also a search box wherein you may manually look for your favorite music by name, genre, or by utilizing additional filter choices such as mood and instrument.
You may find your song by using one of the available filters. Alternatively, you may use as many of these filters as you like simultaneously to make your results perfect. Assuming you're seeking a vibrant dance tune that is longer than 30 seconds in duration, contains synthesizers, and does not have any third-party attribution.
You may adjust all of these factors to acquire results that are suitable for the standards of the YouTube free audio library and are also suitable for your requirements.
Now for the 4 filters available in the YouTube audio library:
Genre

In the YouTube library, there are several advanced high-level categorizations. You may want to start with something lively, such as Dance & Electronic, for an explanatory video.

Mood

If your requirements are wide, such as placing the appropriate background music for all of your YouTube videos, then the Mood filter allows you to zero in on the type of mood that you would want your videos to reflect.

For instance, if your explainer video needs to be upbeat and fast, you can start searching in the Bright category. Likewise, other categories that you can consider are Sad, Romantic, Inspirational, Angry, and more.

Instrument

Sorting by this category might help you limit your options to the essentials. For example, if you desire your videos to reflect a modern, sleek, "techie" atmosphere, you may start with Synth.

Attribution
Attribution implies that the artist, who contributed the music to YouTube's free audio library, desires credit in the video's description. If you wish to circumvent this for brand reasons, just avoid the tracks that demand it.
After you've done exploring and have chosen the track that you would want to incorporate in your YouTube video, click on the downward pointing arrow icon next to the file name for downloading the track in top-quality 320kbps.
Sound Effects
By adding a filter to the Category bar and selecting the sound effect that best matches your video, you may freely explore and download sound effects for your films. Alarms, Sports, Tools, Weapons, Cartoon, and more sound effects are available under this category.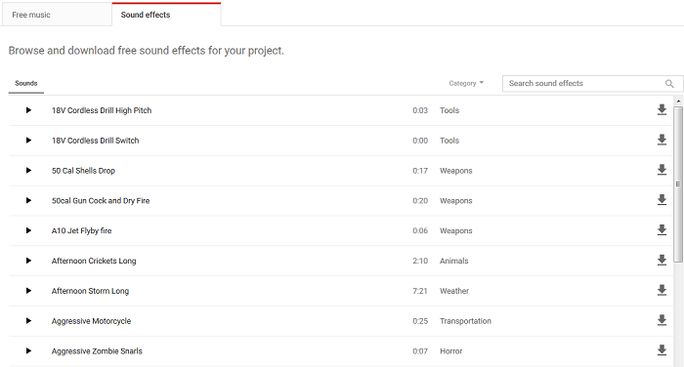 Limitations with the YouTube Audio Library
If you want your videos to reach the next level of YouTube's metrics of success, you'll need a little more than music from someone who's just learned to master Ableton Live. You'll want to incorporate professionally crafted music that will make your subscribers feel the impact that you are trying to deliver.
However, there are certain limitations involved with music obtained from the YouTube Audio Library that might leave you dissatisfied with your experience. Listed below are some of them.
1. Learn Your (Copy)Rights!
YouTube Audio Library advertises that it hosts "no copyright" music; however, its usage of the term is a bit deceptive. To be more specific, YouTube Audio Library provides you with a free license to utilize its music as long as you obey its regulations.
You will be deemed in violation of the license if you are found to violate the rules set by YouTube's Terms of Service. If found guilty of breaking the license, which means you are technically utilizing the music without the consent of the copyright holder, might get you in some legal hot water.
As per the directions set aside by the official YouTube Audio Library channel, here's what you need to know:
In your video description, you WILL HAVE TO include all of the credits to the original artists
You cannot claim ownership of the song
You are not allowed to sell the song at any place without the prior permission of the artist
You are NOT permitted to modify and republish the song without the creator's permission
It is not possible to delete or add elements to/from the credits
Any third-party tool must not be used to download the track you want. Always utilize the YouTube Audio Library download option for downloading songs.
If you want to use the song somewhere outside of YouTube, then you must contact its creator first for the requisite permission
It is important to follow the guidelines listed above. Failure to comply, as YouTube Audio Library describes on the channel's website, may result in a copyright strike. Although these guidelines are not difficult to follow, any ignorant violation of these could end up costing you heavily.
2. Using The Music for Other Platforms
There are a few things you should know if you wish to use the Audio Library songs on other sites, such as Instagram or another video-based social media platform.
A few of the tracks are marked as needing attribution, although they are all files released under a Creative Commons license. This implies that you should be able to utilize them on other sites as well, such as Instagram. However, you should always double-check since there may be times when you cannot.
On the other hand, several tracks on YouTube are marked as not needing attribution, and in this case, it is entirely up to the copyright holder to judge the way in which you use their creation.
Firstly, you'll need to find out who the copyright holder is and then contact them to see if they'll let you utilize the tracks in the audio collection elsewhere. It's possible that YouTube merely compensated them for the rights that only enable them to have their track used on YouTube alone.
3. Technical Limitations
Enlisted below are a few more of the limitations users often cite with the YouTube Audio Library:
You will not be able to see and monitor the waveforms on the screen that display the song's dynamics.
The search feature is restricted. You will have to go through the options and test a bit of everything until you hit the jackpot and discover something that works perfectly for you.
Since a lot of YouTubers make use of the YouTube Audio Library (because it is free), your videos' soundtrack may become buried in the sands of sameness, unable to stand tall in the crowd.
Some Remedies for Limitations of the YouTube Audio Library
Despite the restraints associated with the YouTube Audio Library, you can still enjoy a seamless experience while sourcing audio from this feature. Given below are some of the ways by which you can do that:
1. Monetization
The greatest thing about using the YouTube Audio Library is the ability it provides you to monetize your video without claiming any rights. Since YouTube's Content ID will not dispute videos with free music, this is feasible.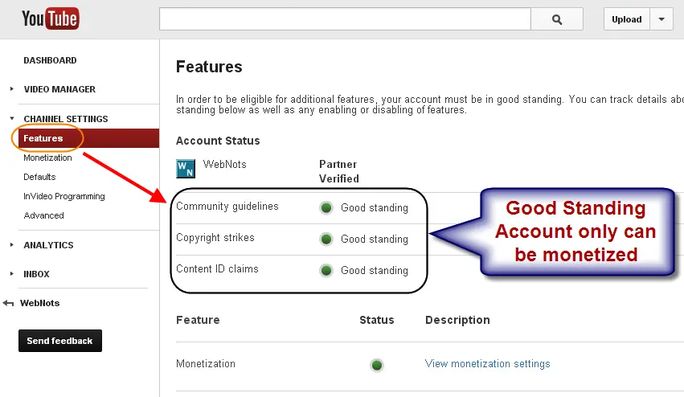 When asked to demonstrate the rights of commercial usage of the audio that you have used in your video, make sure that you mention the title of the audio track word for word, along with the fact that you obtained it from the YouTube Music Library.
2. Use an Attribution License
Certain tracks are accompanied by a Creative Commons Attribution or just a simple "attribution-needed" symbol, as shown in the image below.

Such pieces of audio in the YouTube Audio Library are free, but you will have to credit the original creator in your video's description to be able to use them legally.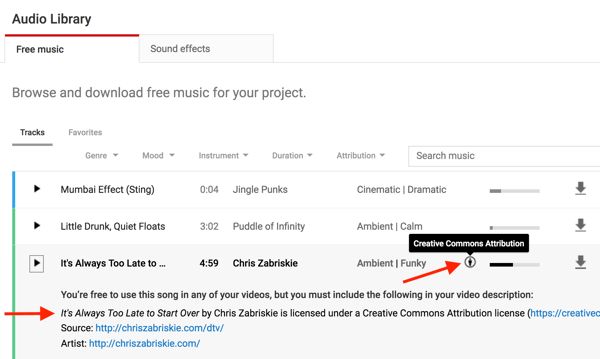 Conclusion
We've almost reached the end of our blog on the YouTube Audio Library. Hopefully, with all the information dispensed here, you'll be able to find and use the most appropriate audio track from YouTube's free resource for the same.
Chances are you'll end up finding exactly what you're looking for. Because truth be told, not all YouTubers on a budget have access to professional sound designers, and with the YouTube Audio Library, they needn't have to!
Do bear in mind the limitations and remedies associated with audio usage from the YouTube Audio Library and you'd have a high-end audio track in your hands for your YouTube video, minus any legal troubles!
Regularly publishing content is key to success in social media marketing. You can stay ahead in the game and never miss your posting schedule with SocialPilot. Try it to know more!