So you've taken the plunge to start a YouTube Channel.
Awesome!
YouTube is indeed a powerful platform for independent content creators and business owners alike. With its exponentially expanding viewership, you can be sure of sending your message far and wide; across geographical locations and demographic boundaries.
But the moment of truth arrives when you sit down to ponder: how to start a YouTube channel?
Especially one that is successful enough to stand tall in a crowd offering similar content as yours.
Fret not. We've got you covered!
From channel ideas to technicalities, you're going to discover it all here.
How to create a YouTube Channel? A step-by-step guide
We will run you through the basics of how to start a YouTube channel in this section. So, gear up.
First things first, you need to set up a Google account for creating a YouTube channel. If you don't have a Google account, we recommend you get that in order.
Here's how you can set up your Google account real quick: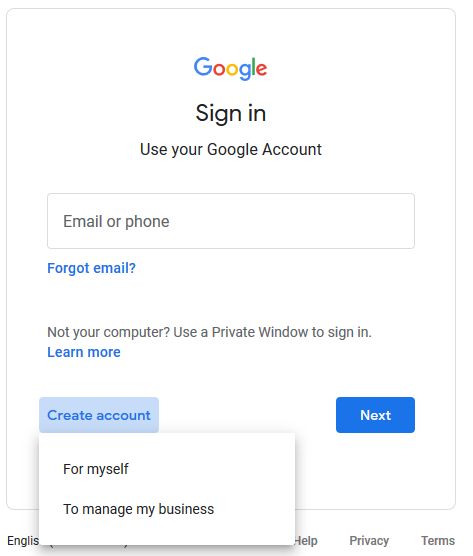 Click on the "Sign-in" button at the top right corner of Google's homepage.
Next, click on the "Create account" button below the login-credential field. Choose either of the two options in the dropdown menu according to your YouTube channel's requirements.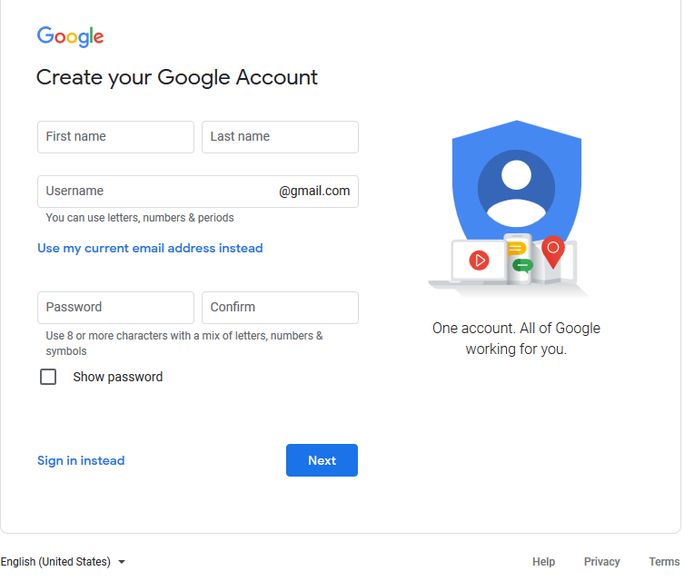 Fill in your name in the next step of the process. Ensure that you choose an appropriate username and password for your account.
Note: Your username should be easy for people to remember.
Finally, click "Next" again to finish off the whole process.
Et, voila! Your Google account is ready. Now let's get back to what we were here for, that is, setting up your YouTube channel.
Immediately head over to YouTube's homepage for setting up a channel. Once there, click on your account's icon and then click on "Create a channel."

Clicking on the "Get Started" option will lead you here.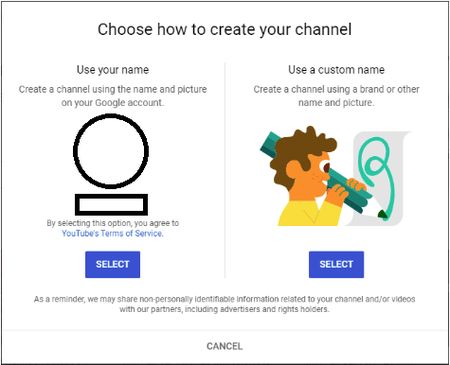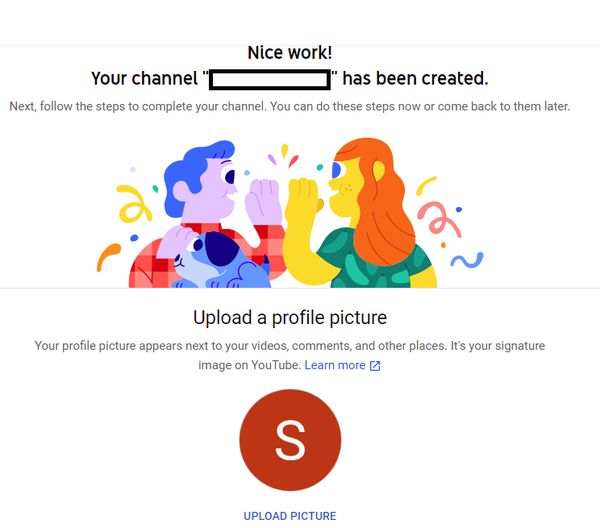 Choosing the first option will bring you here (the one where you use your pre-existing Google account to create your channel)
The second option that asks you to select a custom name will get you here: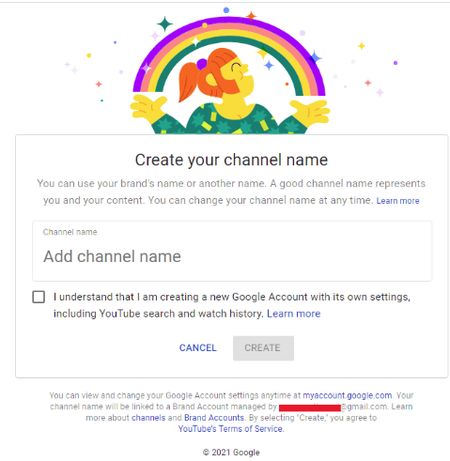 Upon scrolling further down, you will find field boxes for filling in your channel description and attaching social media links: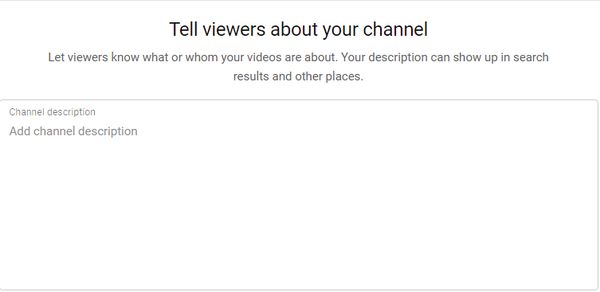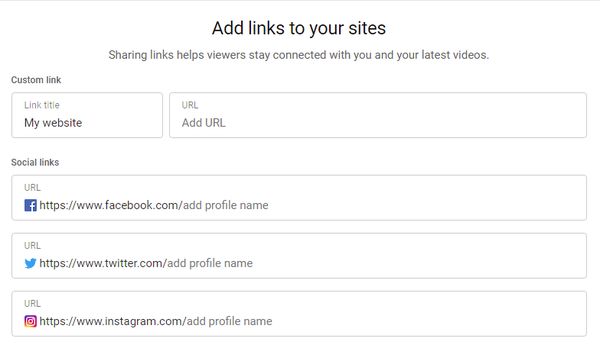 A good YouTube channel description can go a long way in promoting your YouTube channel.
Furthermore, attaching links to your business' various social media platforms can divert sizable YouTube traffic to other portals of your online presence. So make sure you complete the last step of the process with the seriousness it deserves.
YouTube Channel Ideas: A Creative Challenge
Here's the most intimidating step of setting up a YouTube channel, which leaves even the most seasoned veterans jittery.
There are approximately 300 hours per minute of video content uploaded on YouTube. It's challenging to get noticed with so much content getting uploaded on the platform by the minute. That's why you must be very imaginative to help your channel claim distinction among the cacophony.
Let us help you decide with a list of YouTube video concepts we compiled. It's for companies wanting to get discovered on the second-largest social media site in the world.
1. Give them a tiny Sneak-Peek
Giving your channel's viewers a glimpse of how your company operates is a brilliant way to display your business' vision and objectives. Taking them behind-the-scenes with a special tour of your business's inner workings will lend a human touch to your brand.
Doing this, in turn, shall inspire your audience to engage more with your offerings.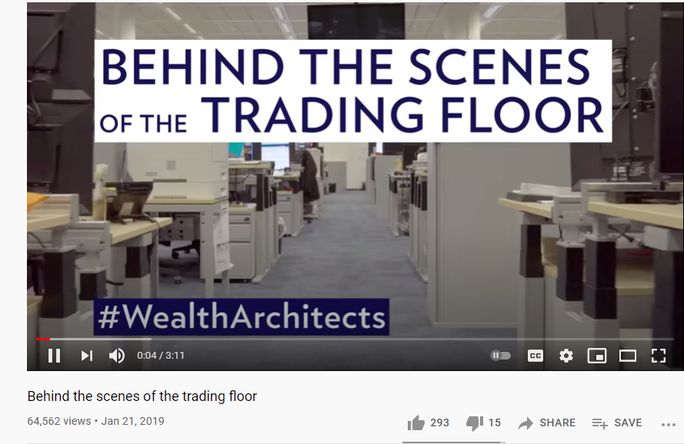 Here is Julius Baer's excellent video in the "Behind the Scenes" genre for your reference.
2. Vlog your way to glory
Another successful YouTube video idea is to create a video highlighting your organisation's work culture, especially if you are into vlogging.
Unpacking your company's priorities, principles, and objectives is an excellent way to show why your company ticks. Your video must not be snobbish or excessively corporatised. You can experiment with styles, templates and formats to make it as charming to your audience as possible.
If your organisation specialises in remote work, then this method can act as a much-needed breather. Kitsch, quirk and fun are all the rage today!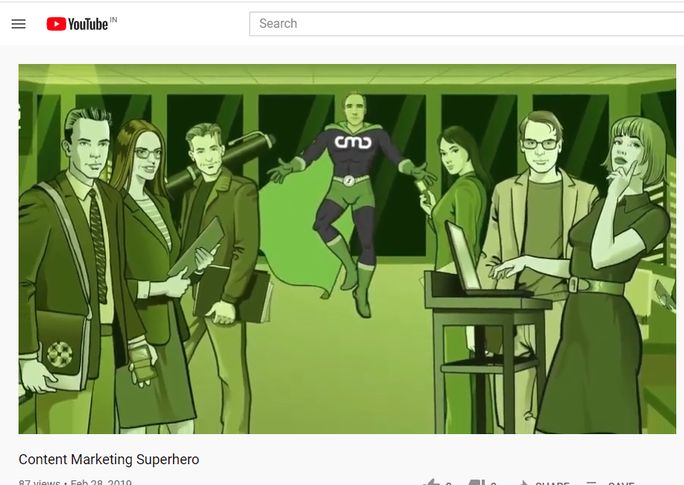 Speaking of fun, self-explanatory videos, here's a snapshot from SocialPilot's video titled "Content Marketing Superhero."
Moreover, a semi-animated explanatory video is enjoyable in itself. It emphasises on your company's expertise – akin to a textbook illustration of the "work hard, play hard" culture!
3. Offer handy Tutorials
A demo video is an ideal strategy to get attention to your business' product or service. You can walk through the complexities of something that you offer and provide insightful ideas into the right way to use it. You can learn how to go about this from many app/product walkthrough videos on YouTube.
If you can sync the appearance and feel of your demo video with your product's basic concepts so that your audience understands everything that they have to, then you shall emerge a victor.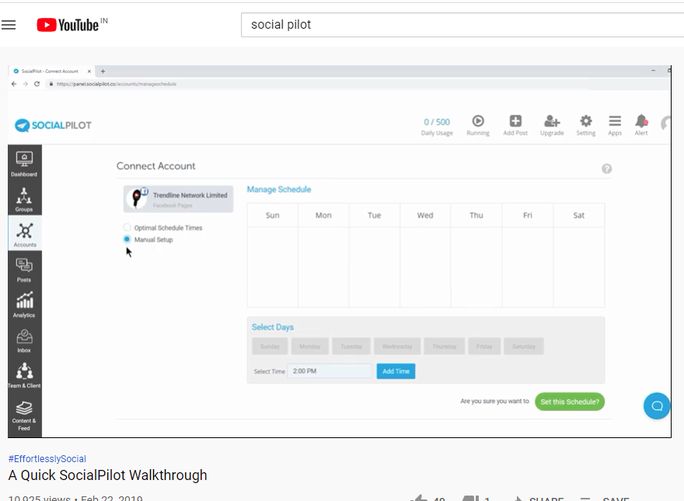 Consider watching SocialPilot's walkthrough video to get an idea for your own.
4. Upload Webinar Videos
You should post recorded footage on YouTube for those unable to participate in your company's virtual events. You can create traction for a whole different audience once you have hosted an informational webinar.
Webinars are designed to be immersive and such experiences can be translated into the video format exceptionally well. Posting recorded webinars is one of YouTube's most affordable and straightforward video-content concepts to pursue without excessive spending.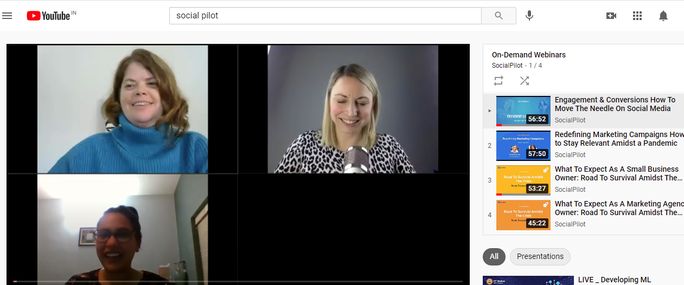 SocialPilot has mastered this technique with considerable finesse, as its channel boasts of one webinar after another with industry stalwarts.
5. Upload "How-To" Videos
What's the very first place you go to when you don't know how to do something? YouTube! The video-sharing giant is packed to the brim with tutorials, and this is one genre that you can utilise for your benefit.
It's about sharing actionable information with your audience via the video-content concept. You are a specialist in your profession, so why not emphasise this point by giving your audience helpful tips and hints?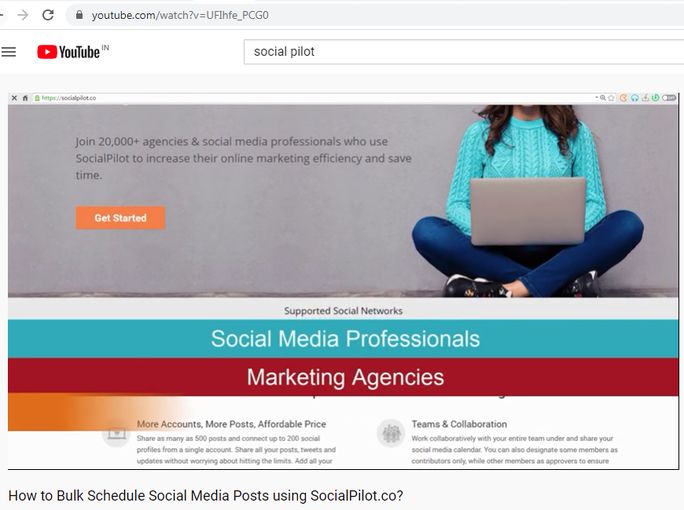 How to create the perfect Banner for your YouTube Channel?
Have you noticed a common thread binding most well-established YouTube channels? Apart from their subscribers and view-count swelling at the seams, that is.
It's their bold and attractive YouTube channel banner art.
Look closely, and you'd find all successful YouTube channels boasting of a custom, meticulously designed banner. Naturally, you might want one such for your own YouTube channel too.
But creating a banner from scratch might seem daunting, especially if you do not have any prior design experience.
Don't worry. Save yourself the stress by following our definitive guide for creating your perfect YouTube channel banner art from nothing.
What is a YouTube Banner exactly?
YouTube banner (also known as "Channel Art" or a "Channel Header Image") is the large (and sometimes bold) graphic banner present right across the top of your channel. It is generally used to communicate your channel's personality and brand visually.
Here are a few examples of YouTube banner from popular YouTube channels:

The large picture right above the channel name and icon is known as the "YouTube banner."


As illustrated from the examples above, your channel's banner is the first impression your visitors get. So ensure that you make the most of it by creating an attractive design.
What does Google have to say about the ideal YouTube Banner?
Google suggests the following dimensions for the perfect YouTube banner:
Recommended dimensions: 2560 x 1440 pixels
Minimum dimensions for uploading: 2048 x 1152 pixels
"Safe area" dimensions wherein your logos and text will not get cut off: 1546 x 423 pixels
Maximum width: 2560 x 423 pixels
File size: Maximum 6 MB
First, to upload your banner, click on your YouTube channel's "Customize Your Channel" option, and then click on "Branding."
You'll see something like this.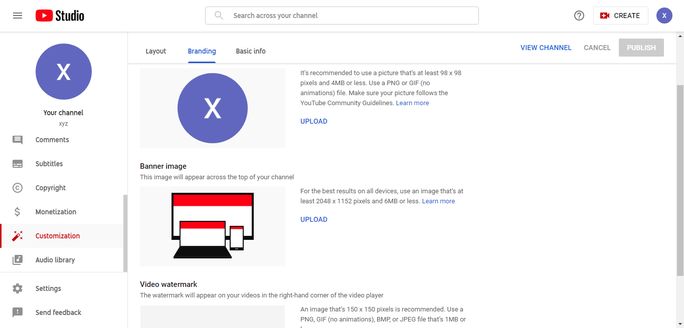 Beneath the "Banner image", click on "Upload" to upload the desired banner art for your channel from your device.
But, if your banner art is too big for YouTube's dimensions, it will automatically be cropped. See for instance: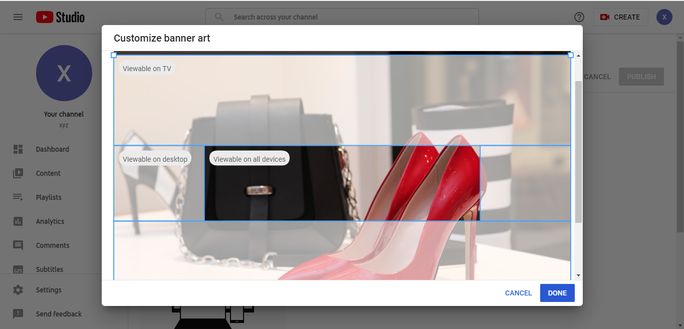 The discoloured regions in the example above indicate where the picture will get cropped after uploading due to the dimensional boundary constraints.
Furthermore, different device-specific tags indicate the banner's viewability through that device, in case you have a device preference for your channel's viewership.
But for best results, choose optimum visibility by adjusting your image size to fit within the central "Viewable on all devices" space.
Now that we're through with the numerical aspect of designing, pay attention to the artistic sensibilities as given below:
Choose a template that inspires you: From Canva to Adobe, tons of graphic design sites offer free (and specific paid) templates for your YouTube channel's banner art.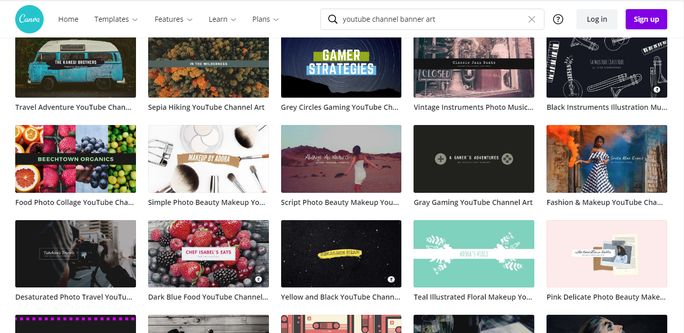 For instance, Canva offers an assortment of YouTube banner art templates for you to pick from. You can select a template best reflective of your channel's personality and content theme.
Remix it to suit your style: You can customise the channel art designs in several ways—changing copy and font—Subbing the design's imagery with your pictures, etc. You can also add the company's name, colour scheme and fonts along with a subscription plan to show that you are #onbrand!
Notice how the banner of "Charisma on Command" is simple yet effective with its bold arrow redirecting to its other social media accounts? Plus, uploading a picture of yourself lends a nice personal touch to your design, just as how this channel's creator did. You can add similar elements to your banner for better visual messaging.
Amp up your banner art personality: Attach animated stickers, or use short graphic gif animation for that extra razzmatazz. You should also consider collaborating with designers for your project so that you can bring your idea to life.
Here's Code Revolution TV's detailed instructional video on how you can create an animated YouTube banner.
Choose the ideal YouTube channel art size: If you struggle with the dimensions of the banner art size mentioned above, you can use several design editors (such as Adobe) for resizing your banner art to scale.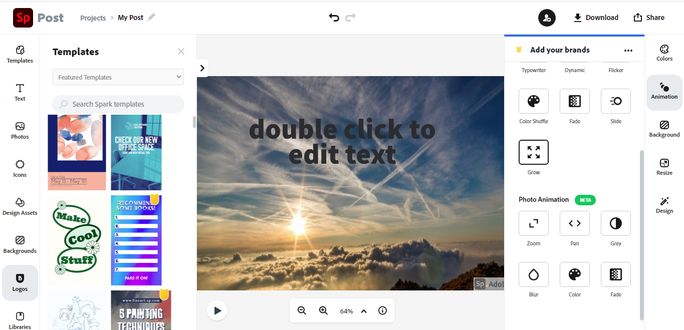 The Adobe photo editor provides an ideal portfolio of templates, logos, stickers, animations and other features to create the best YouTube banner art of your choice.
You're good to go! Once you're satisfied with your results, you can share your newly created design masterpiece to promote your YouTube channel.
How to promote YouTube Channel?
By now, you may be done setting up your YouTube channel (Phew! At long last), but your job is far from over (sorry).
It has only just begun.
Now, your channel's real success would rely on your ability to promote it far and wide. If you've already assumed that spamming your contacts' private/professional inboxes or DMs will do the trick, you're gravely mistaken.
Far from promotion, you'd do an immense disservice to your meritorious content-creation process by pushing your YouTube channel down people's throats. Trust us; nobody ever wants that to happen to themselves.
So how do you effectively promote your private YouTube channel without it looking like a blatant attempt at plugging and promotion? Again, we've got your back.
Enter SocialPilot
Unless you're too keen on going down the rabbit hole of generic Internet advice on YouTube channel promotions, we've got a shortcut. And an industrially approved, top-notch one at that.
SocialPilot enables you to promote your videos even on sites where they cannot be featured. Fantastic, right?
That's not all! If your video file's size exceeds the network's parameters or if it doesn't support video files at all, then your file gets automatically uploaded to SocialPilot's servers. Plus, a link to the original video will be shared in your post. Your video will consequently get opened on a separate page hosted by SocialPilot.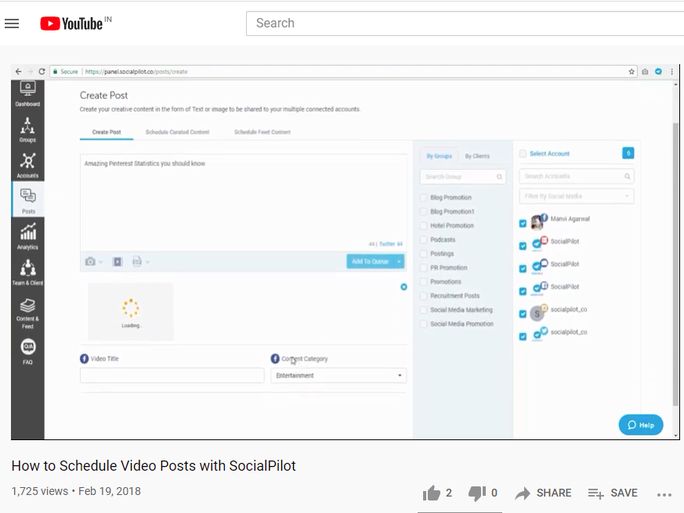 A screengrab of SocialPilot's Video Scheduling tool
Here are some other "must-remembers" to enhance your channel's reach via audience retention
Create catchy video titles catering to your ideal audience persona
Include relevant keywords in your video (so that they're included in the transcript and enter the SEO channel)
Actively engage with your audience in the comments section.
Attach suitable tags while uploading your video to give a general context to YouTube's algorithm.
Routinely interact with the YouTube community in your niche via video collaborations, shoutouts, and comments.
Keep Google Search Results in mind.
Cross-promote.
Never, ever, ever, spam.
How to delete your YouTube channel?
Google provides the option to temporarily or permanently delete content from your YouTube channel (Or delete your channel entirely.)
Both actions require the same initial processes, which are as follows:
Sign in to your channel's YouTube Studio.
Click on "Settings" from the menu on the left.
Next, click on "Channel," followed by "Advanced Settings".
​Then, click on "Remove YouTube Content."
Enter your Google account's sign-in details as prompted.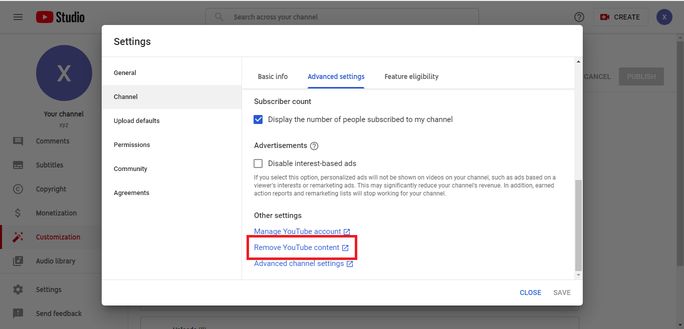 You can choose to either hide or permanently delete your YouTube content by clicking on the "drop-down" icon present in either tab.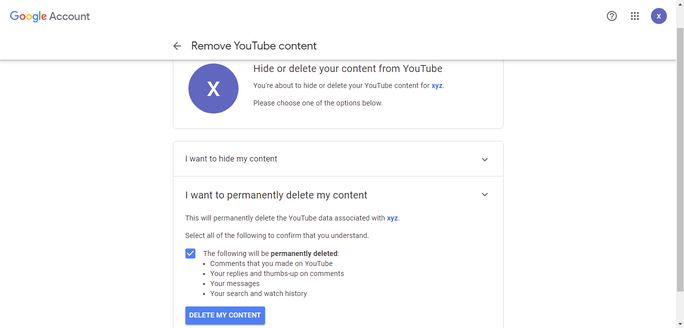 Going forward with how to delete a YouTube channel, you would simply need to tick the box to give your approval. Next, click on "Delete My Content" to permanently delete your channel.
Once deleted, your channel name and URL will no longer be visible on YouTube Analytics. Your YouTube channel stats would get permanently deleted as well.
Wrapping Up
You must create your YouTube content with your audience and the algorithm in mind. Ensure that your audience finds your thumbnails attractive.
To keep your videos exciting, start with a good hook and deliver what your audience expects. In general, you would want to construct an experience that allows your viewers to explore more.
Fortunately, doing all this will also increase exposure for your videos and your channel through the YouTube algorithm to draw clicks and retention. Interesting content leads to a decent watch time and organic shareability.
For all your other social media marketing management needs, there's always SocialPilot!