Have you ever wondered how your favorite YouTubers got started?
What was their inspiration to launch a YouTube channel? Did they follow a seven-step process on how to start a YouTube channel? How do they continue to find the balance between creativity and platform practices to build channels?
Well, the truth is, they were once in your shoes, looking to launch on the biggest video-sharing platform.
YouTube offers content creators and brands a gateway to share their content with its massive 2.6 billion audience. With a bit of creativity and hard work, you can also start a YouTube channel and make your mark on the platform.
But it's more than just picking up a camera and hitting the record button. YouTube marketing is all about crafting your identity, finding your niche, and connecting with a global audience eager to hear your story.
Amidst the endless sea of opportunities, where do you begin?
In this blog, we will walk you through the process of starting a YouTube channel from scratch in 2023 and how to do it brilliantly.
From crafting your unique identity to optimizing your videos for YouTube SEO and discoverability, this guide will help you navigate the vibrant realm of YouTube.
Let's get started!
How to Start a YouTube Channel: Step-by-Step Process
Starting a YouTube channel is the first step in your content creation journey, so it becomes necessary to do it the right way. This is going to be a comprehensive guide, so don't forget to follow us along to avoid any stumbling blocks.
Here are the steps to creating a YouTube channel:
Step 1: Sign In or Create a Google Account
First things first, you need a Google account to create a YouTube channel. If you already have one, skip this step and jump straight to Step 2.
If you don't have a Google account, don't worry. Here's how you can set up your Google account real quick:
Go to accounts.google and click on 'Create account.'

Choose either of the 3 options according to your requirements.
Fill in the details and click on 'Next.'
Add your basic information, like date of birth and gender, and then hit Next.
Pick a Gmail address or create your own, and then click on 'Next.'
Choose a password and fill in the remaining details.
Done – you're all set for the next step!
Step 2: Create a YouTube Account
Once done with step 1, it's time for the main task.
Head over to YouTube and click on 'Sign in' from the top-right corner.

Select your Google account and enter your password.
Tap your profile icon from the top right and click on 'Create a channel' from the drop-down menu.

Now, add a profile picture that represents your YouTube channel.

Enter the name of your YouTube channel. If you don't know what to call your channel, don't stress out. This is something you can change later. Name your channel handle.
Click on 'Create channel.'
Tip You can customize your YouTube channel handle as per your branding to make it more memorable and professional.
Step 3: Customize Your Channel
This is what your new YouTube channel dashboard will look like.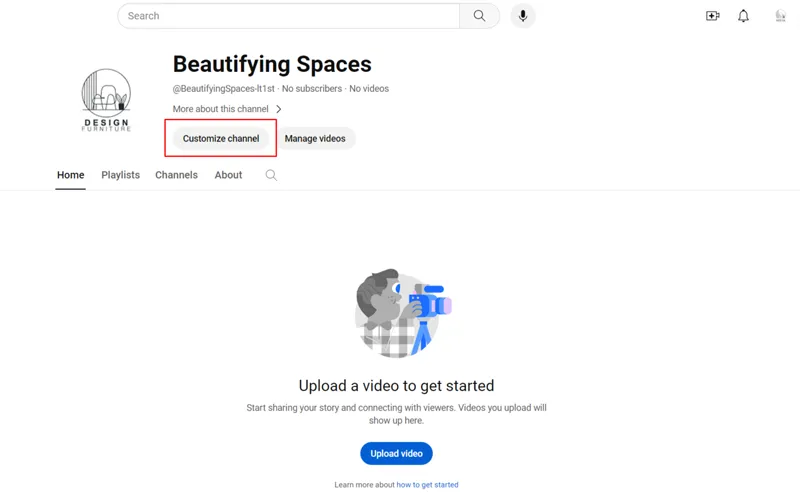 Don't you think it needs a little makeover?
Now, let's see how to customize your channel.
First, click on the 'Customize channel' button. This will redirect you to YouTube Studio and take you to the Channel customization section.
You'll see three tabs: 'Layout,' 'Branding,' and 'Basic info.' Through these three tabs, you can customize your channel.

In the 'Layout' tab, you'll find two sections, 'Video spotlight' and 'Featured.' From here, you can add a channel trailer, choose a featured video for returning subscribers, and add up to 12 sections to your homepage
Note: YouTube may change the dashboard layout, but don't worry. If it changes, simply navigate the options.
Step 4: Add Basic Information to Your Channel
Let's start with adding basic info to your channel that can help enhance your discoverability. Click on the 'Basic info' tab to get started.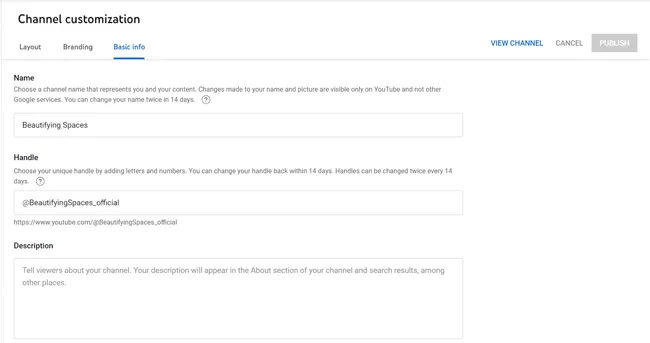 If you're okay with your selected channel name, go ahead. But if you have mistakenly entered the wrong name, you can update it here.
The same goes for your YouTube handle. You can leave it unchanged or update it.
The 'Description' is the place where you tell your viewers what your channel is about. You can add some relevant keywords and hashtags in your description to help your target audience conveniently find your channel.
Click on 'Add Language' to select your original language, enter the channel description, and then select the translation language. Add the channel name and channel description in that language, and click on 'Done.' If your channel is in multiple languages, this is something that you would want to do.

Share links to your social accounts, websites, and more here. You also get an option to display links on your channel banner.
At last, add your contact info. This is a great way to display your email address so that if any brand or collaborator wants to contact you, they can directly reach out to you.
Step 5: Upload Branding Elements for Your Channel
Now, it is time for branding. Tap the 'Branding' tab to open the section. You will find a way to add a profile picture, banner image, and video watermark here.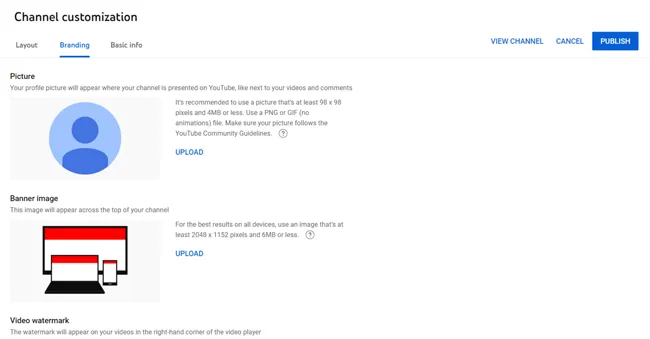 Profile picture: You need to add a PNG or GIF picture that's at least 98 x 98 pixels and less than 4MB.
Banner image: YouTube channel banner, channel header image, or YouTube channel art is an image that appears at the top of your channel. While uploading the file, ensure it is at least 2048 x 1152 pixels and less than 6MB in size.
Video watermark: A watermark appears on the bottom-right side of your video player and is generally used for branding. Upload an image of 150 x 150 pixels for the best results.
Note: After adding the details, don't forget to click on the 'Publish' button at the top-right corner of the page.
Step 6: Update YouTube Channel Settings.
Let's quickly run through the YouTube channel settings.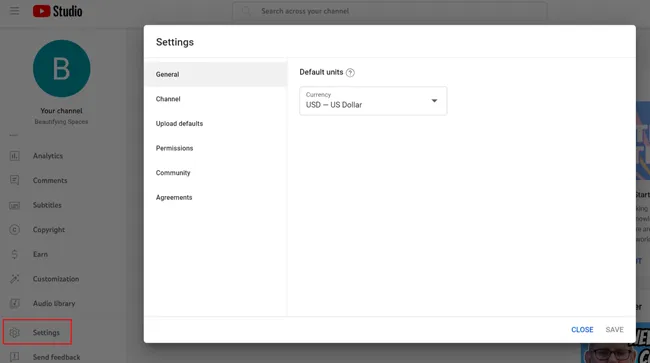 From your YouTube Studio dashboard, click on 'Settings' from the bottom-left corner.
In the popup, you'll find multiple sections. From General, select your Currency.
Under 'Channel,' you'll see 'Basic info,' 'Advanced settings,' and the 'Feature eligibility' tab. Under 'Basic info,' select your country of residence and add keywords for your channel.
In the 'Audience' tab, for "Do you want to set your channel as made for kids?" you need to specify whether your channel follows this criteria or not. This is mandatory.
Fill in all the remaining details that are required.
If you need any assistance, you can watch this YouTube video, 'How To Create A YouTube Channel! (2023 Beginner's Guide).' Here, you will find out how to verify your YouTube channel in 2023 to unlock more features that can help you grow.
Step 7: Upload Videos and Carry Out SEO
Finally, with your channel set up, you're ready to start adding videos.
Click on the 'Upload video' button at the bottom or at the top-right corner and tap 'Upload Videos' to start uploading your content. Check if your videos follow YouTube's community guidelines and don't violate copyright policies.
Congrats! You have successfully uploaded your first video.
Now, it's time to get your video optimized.
In the popup window, add the video title and description, and select the thumbnail.
You can also add tags for your video, select a category, and fill in the required fields.
But this goes beyond adding titles, descriptions, or thumbnails. These need to be optimized to maximize the reach and effect of your videos.
ICYMI: Check out our YouTube SEO guide to better understand and tackle this step.
Hit 'Next' once you wrap up the above process. You'll be taken to a menu where you need to add cards to promote related content during your videos. Again, hit Next.
This section shows you whether your videos violate any YouTube guidelines or not. If everything is okay, click on 'Next.'
It's your final hurdle. In this window, select whether you want to publish a video or keep it private. Finally, click on 'Publish,' and voila, your first video is out there for the world to see.
8 Actionable Tips for Starting a Successful YouTube Channel
Successfully creating and launching a YouTube channel means you've come midway through the process. Still, to scale up your channel in the competitive milieu, you need a helping hand.
We have crafted these actionable tips for you, which, upon correct execution, will offer tremendous growth benefits to your channel.
1. Find Your YouTube Niche
Starting a YouTube channel can be exciting, but it can also be overwhelming. With millions of creators already on the platform, standing out and gaining a loyal following can be challenging. This is where finding your channel niche comes in.
Your niche is essentially the topic or theme of your channel. It's what sets you apart from other creators and helps you attract a specific audience.
For example, if you're passionate about cooking, your niche could be creating recipe videos. If you're into fitness, your niche could be sharing workout routines and healthy lifestyle tips.
Here are some of the popular niches on YouTube currently:
Gaming
Beauty and makeup
Tech and gadgets
Lifestyle and blogs
Cooking and food
Fitness and health
DIY and crafts
Fashion and style
Parenting and family
Education
Wondering where to start? What niche to pick?
Here are some questions to answer that can help you zero in on your niche:
What am I passionate about? What do I do in my free time?
Look at what's already out there. Take some time to browse YouTube and see what kind of content is popular in the niches you're interested in.
Think about what you're good at. What are your strengths?
Keep in mind your target audience. Who do you want to watch your videos?
Have you picked your niche? The next step is all about your audience.
2. Identify and Understand Your Target Audience
Identifying and understanding your target audience is a pivotal step in the success of your YouTube channel.
Start by defining critical demographics like age, gender, location, and interests. Ask questions like:
Who are they?
What age group do they belong to?
What are their interests, hobbies, and pain points?
Where do they spend their time online?
Understanding these aspects helps you tailor your content to resonate with your audience effectively. Analyzing your channel's viewer data and engagement metrics can reveal valuable insights.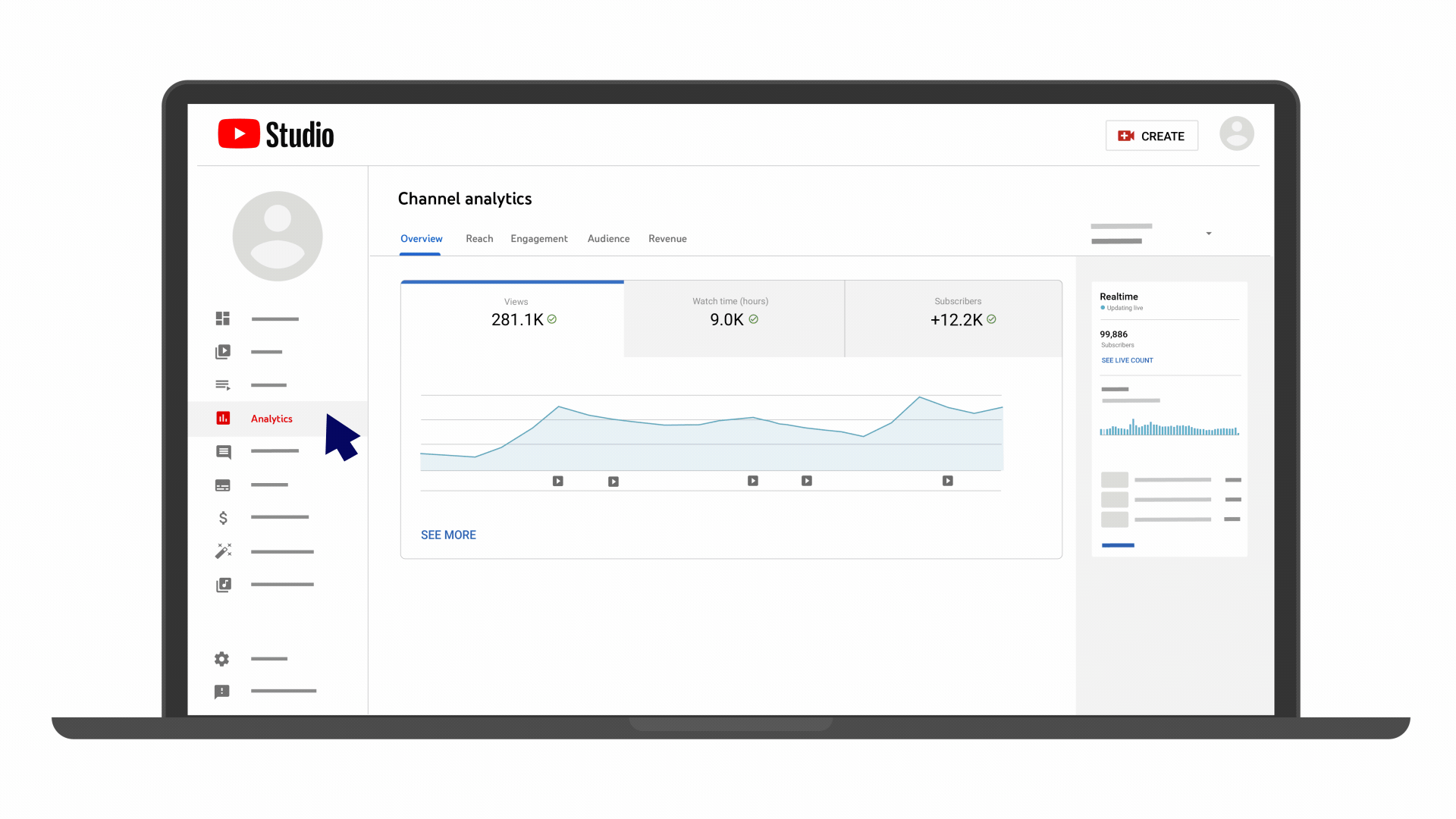 Source – Youtube Help
Look into your YouTube Analytics to track these demographic metrics and analyze what content is currently well-received by your audience.
3. Create a List of Video Ideas
After understanding what niche you want your channel in and who your target audience might be, it's time to start generating some video ideas.
Working on fresh and unique video ideas beforehand is crucial to keep your content flow streamlined. For a new channel, getting growth in the early days might look hard at times, but this is precisely when you get to try out multiple video ideas.
One popular YouTube channel that excels in producing new video ideas is BuzzFeedVideo. They consistently craft engaging content that resonates with their audience and keeps them coming back for more. Their channel handle is '@BuzzFeedVideo.'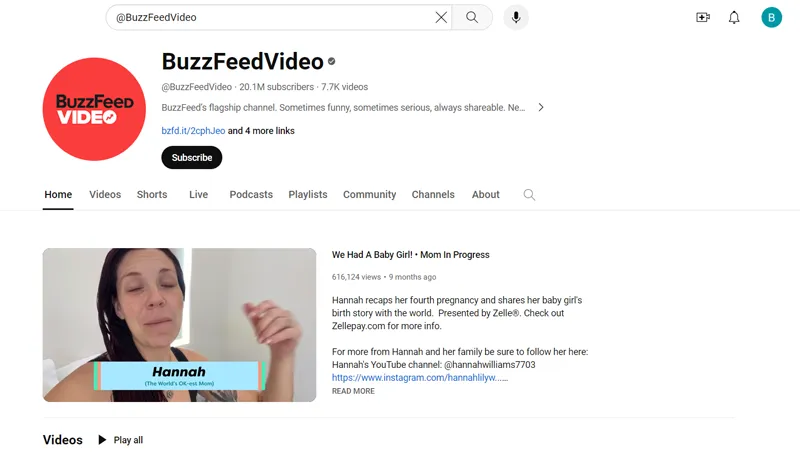 Bringing new content ideas to life as part of the exploration phase can help you reach different segments of your target audience, attract new viewers, and grow your subscriber base.
But how should you approach it?
Understanding your audience gives you an idea of what content they like. Try asking yourself what problems you can help them solve.
Take a dive into your competitor channels. See what content they are posting and if it is something that you can also do. Avoid copying the entire content and just take away ideas.
Look at what content is trending in your niche periodically.
As for the tools you will need for this task, here are a few suggestions:
Google Trends: This tool gives insights into the popularity of search queries over time, helping you identify trending topics.
Keyword Research Tools: Tools like Google Ads, Ahrefs, and Vidiq, which is a Chrome extension, can help you find keywords and phrases that are in high demand.
YouTube Search: YouTube is itself a search engine and also a keyword research tool to get new ideas. You can use the search section to type out your queries and analyze what video suggestions show up. This way, you will be able to craft your ideas effectively.
4. Create Content that Adds Value
Creating a few good videos for a new YouTube channel is crucial for its success. They will constitute the first impression that viewers will take away from the channel. A well-crafted video can reach and captivate a larger audience and boost engagement, while a poorly made video can turn viewers away.
For newbies, it is essential to focus on creating high-quality content that is both engaging and informative. One way to learn how to create a great video is by studying successful YouTube channels that have done it right.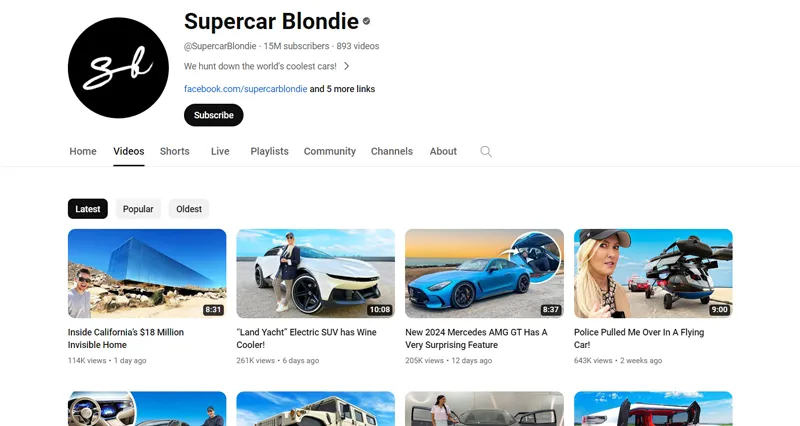 For example, channels like MrBeast, Shane Dawson, and Supercar Blondie have all built large followings by consistently creating engaging and entertaining content. New YouTubers can learn from their strategies, such as using humor, storytelling, and relatable content.
5. Optimize Your Videos for YouTube Search
After getting done with the creation part, it is time to optimize your videos.
Why optimize, you may ask?
Because YouTube has a ginormous library of billions of videos available to stream.
Nearly 500 hours of video are uploaded to YouTube every single minute. Consider this: an average individual can spend their entire lifetime trying to watch all the videos uploaded on YouTube in a single day.
Competition is stiff, and if you want your channel to thrive, optimization for discoverability is the key.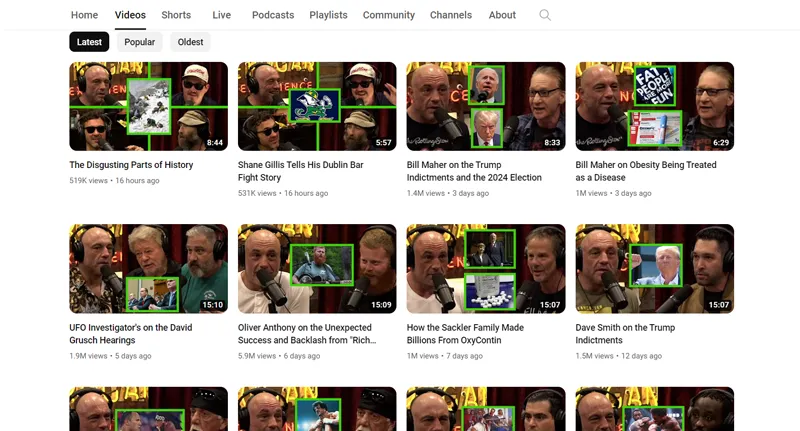 Tip Ensure the video title and description are clear, accurate, and concise and have the target keyword in them. The title should be attention-grabbing and provide additional context and information about the video.
6. Try YouTube Shorts
Here's our premium tip: ride the new Short video content wave.
A bit obvious when you think about it, isn't it?
YouTube Shorts are the latest addition to the platform that helps you connect with a more targeted audience. It has become a more popular trend among content creators and viewers alike.
YouTube Shorts are videos less than 60 seconds long and can be uploaded directly from the YouTube app. Similar to TikTok and Instagram Reels, these videos are designed to capture attention quickly. These are perfect for those who want to make engaging content without having to invest a lot of time and effort into longer videos.
In setting up a YouTube channel for businesses, YouTube Shorts offer an added advantage as they open up a new avenue for marketing and promotion. By creating engaging Shorts related to their products or services, businesses can effectively capture the attention of potential customers quickly.
Quick tricks for creating YouTube Shorts:
Create attention-grabbing content
Utilize trending topics
Experiment with different formats
Optimize titles and descriptions
This is just the tip of the iceberg. If you want to learn more about YouTube Shorts and how to grow your channel using it, check these 7 Quick Tips About YouTube Shorts to Grow Your YouTube Channel.
7. Schedule and Post Consistently
Consistency is key to building a dedicated audience and achieving long-term success on any platform.
So, our next tip would be to schedule your videos and post content consistently.
This will set viewer expectations, earn algorithm favorability, and cultivate a loyal subscriber base, and you will see your platform registering substantial growth very quickly.
As a beginner, you should create a content calendar and set realistic posting frequencies. Consider batch filming to ensure a steady flow of content while keeping the quality of your videos high.
A related tip is to keep the optimal timings in mind while planning your content calendar to maximize visibility and reach the intended audience effectively.
If you find scheduling and consistently posting content tedious, you can try out SocialPilot. This user-centric tool lets you schedule your videos and Shorts by day, week, and month and publish them automatically at your selected times.
Plus, if you wish to reschedule for any reason, simply drag and drop your video to a new slot and keep track of your entire schedule with a bird's-eye view from the content calendar.
8. Promote Your Channel
Finally, the make-or-break moment.
Scheduling and posting your videos consistently won't suffice. You should also be going all out to promote your YouTube channel. Start by sharing your videos on social media and tailoring the post for the platform.
You can use SocialPilot's unified dashboard to create and cross-promote your content across social media platforms, integrating a range of platform-specific features.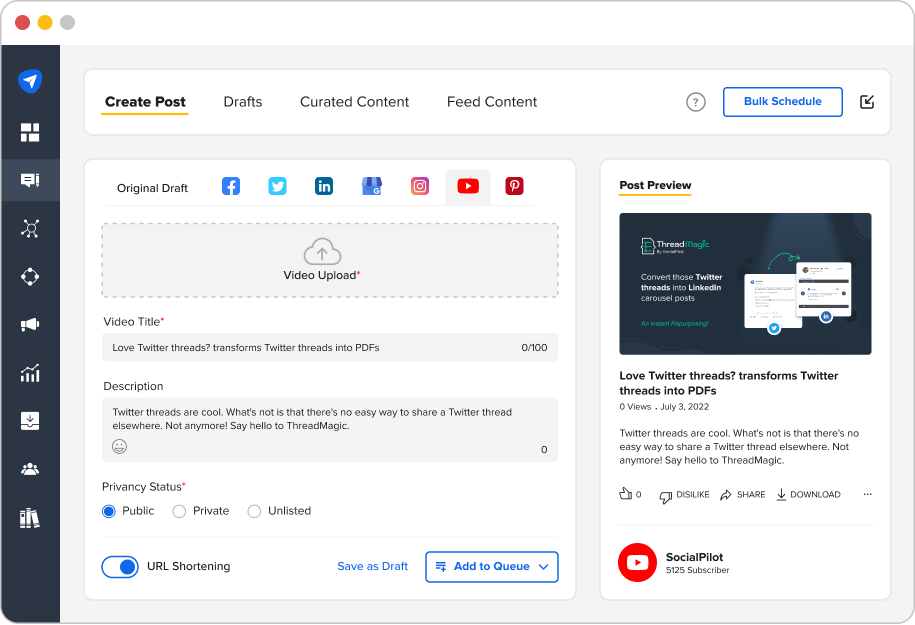 You can also experiment with collaborations with influencers to tap into new audiences and amplify your channel. Also, engage with viewers through comments and encourage interactions. Optimize your video descriptions for search, group content into playlists, and embed the videos on your website.
If you have the resources, invest in YouTube or Google Ads to target specific viewers. Prioritize creating share-worthy content to boost organic reach.
Wrapping Up
To aid your quest to start a YouTube channel, we've unraveled the essential steps, from crafting a unique brand identity to optimizing your content for discoverability. Now, equipped with these insights, it's time to embark on your YouTube journey.
Remember, consistency, creativity, and connecting with your audience are the keys to making your channel shine. So, go ahead and hit that record button, and get your videos and Shorts rolling.
Here's to establishing a thriving YouTube channel and your remarkable video marketing journey ahead!