Nobody can deny the importance of videos for social media marketing. People are getting more and more interested in watching videos rather than reading long paragraphs of content. Videos are becoming the new center of attention – to say the very least. Therefore, it is essential that you employ the right social media tools for the purpose of editing, cutting, and publishing any video that you wish to display on your social media accounts.
But, what makes a tool the "right" tool for you? Let's figure it out!
Although it depends on your personal preferences and the reasons you are using video creation tools, it is critical to determine if you are looking for a tool with as many features as possible – or just a few to suffice your needs.
Some of the features of social media video tools that you must look for are the following:
Enhanced editing opportunities
It is best to choose a video tool that allows you to freely and creatively edit sounds, pictures, and videos. It must give you enough room to add animations and effects to your videos. The editing possibilities are important when it comes to finding out the best and unique social media marketing solutions through videos.
Formatting possibilities
Format refers to the shape of the videos or animations. All the useful social media video tools allow the users to efficiently produce videos in landscape and portrait formats. Moreover, they offer you full control over clip optimization for different social media platforms and channels.
Direct importing channels
Tools that allow direct importing to different platforms – particularly the important ones – such as Facebook, YouTube, or others save you from going through a lot of trouble. Hence, they are some of the best solutions that you must make use of.
User-friendly and interactive
Some tools are particularly built for professionals. You need proper skills to use them. However, several other tools are relatively more comfortable to use, as they do not need any particular skill set.
Pricing
Last but not least, your best video production tools must have a delicate balance between the quality of services and affordability. It is by no means a right choice to go for expensive social media video tools when cheaper alternatives are available.
Top Social Media Video Tools for Social Media Marketers
Let's look at some of the best social media video apps that rule out the need for having a professional videographer for social media marketing.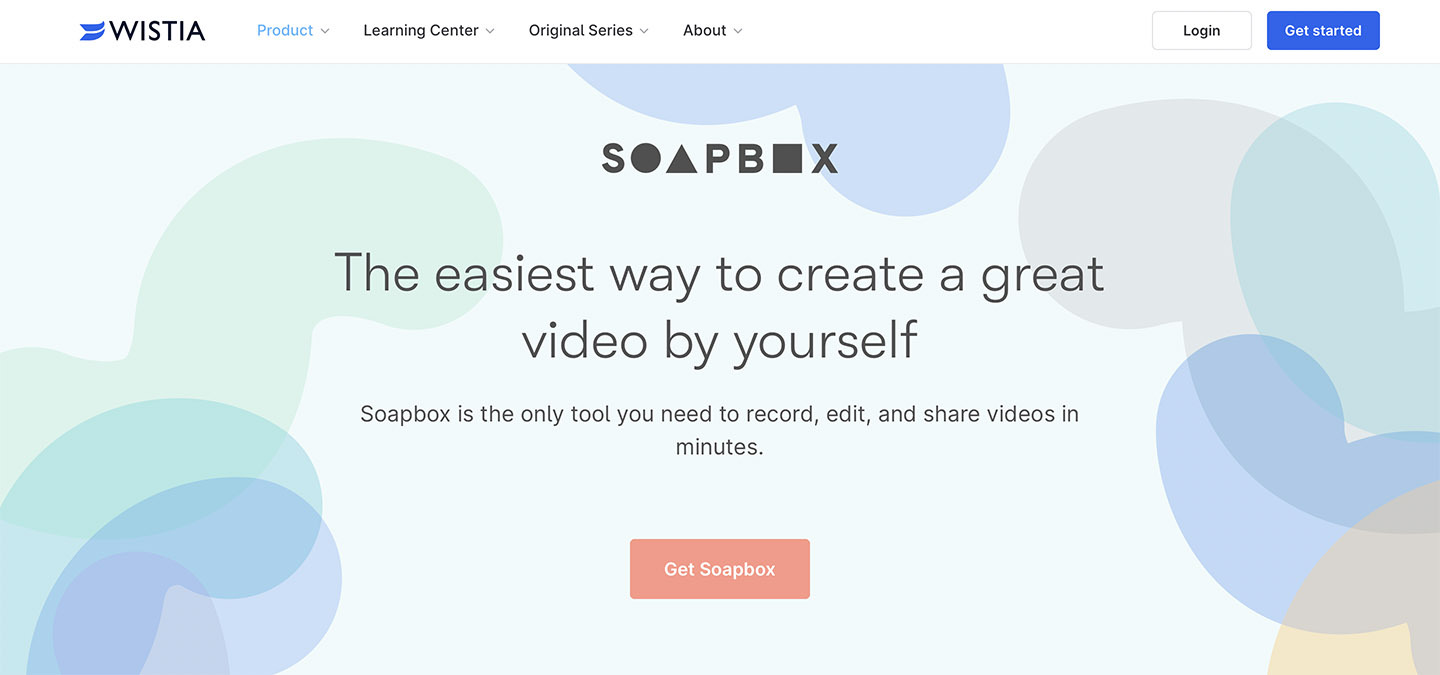 Soapbox by Wistia is a simple chrome extension that allows you to record, edit, and share videos for efficient social media marketing. It only takes a few seconds to install the extension in your browser, and you are good to go.
Soapbox enables you to be super creative about producing thumbnails. It can easily accommodate high-quality videos up to 4K. The analytical tools are quite insightful and give you very clear metrics and results. Moreover, it allows you to edit or record three videos each month for free. So, if that's your target, you can stay with the free plan.
Pros:
It allows for shared scheduling
Soapbox has an efficient meeting management system
The interface is intuitive and easy to use.
It has simple and easy editing options.
Steven T
I like the ability to record both yourself and the computer screen at the same time – then share it out. It's a lifesaver when trying to do quick product explainers. It allows me to use a personal touch in addition to showing complicated products on screen.
Cons:
Soapbox lacks some robust editing features
It lacks the survey system
The sound quality is not very fine
Soapbox does not have a good support system
Soapbox User
Export – often doesn't work properly. Meaning that edits made in Soapbox are often not reflected when we export them to Wistia
Editing – although it's a pro, it's also a con. Hubspot's video platform has the same functionality (even slightly better) and makes more sense as an add-on. Soapbox pro – I hate that we can't do everything on one platform. It makes no sense to have Soapbox and then a Wistia account.
Did I mention their support is horrendous? They aren't helpful at all, don't take ownership over outages, and just generally awful.
---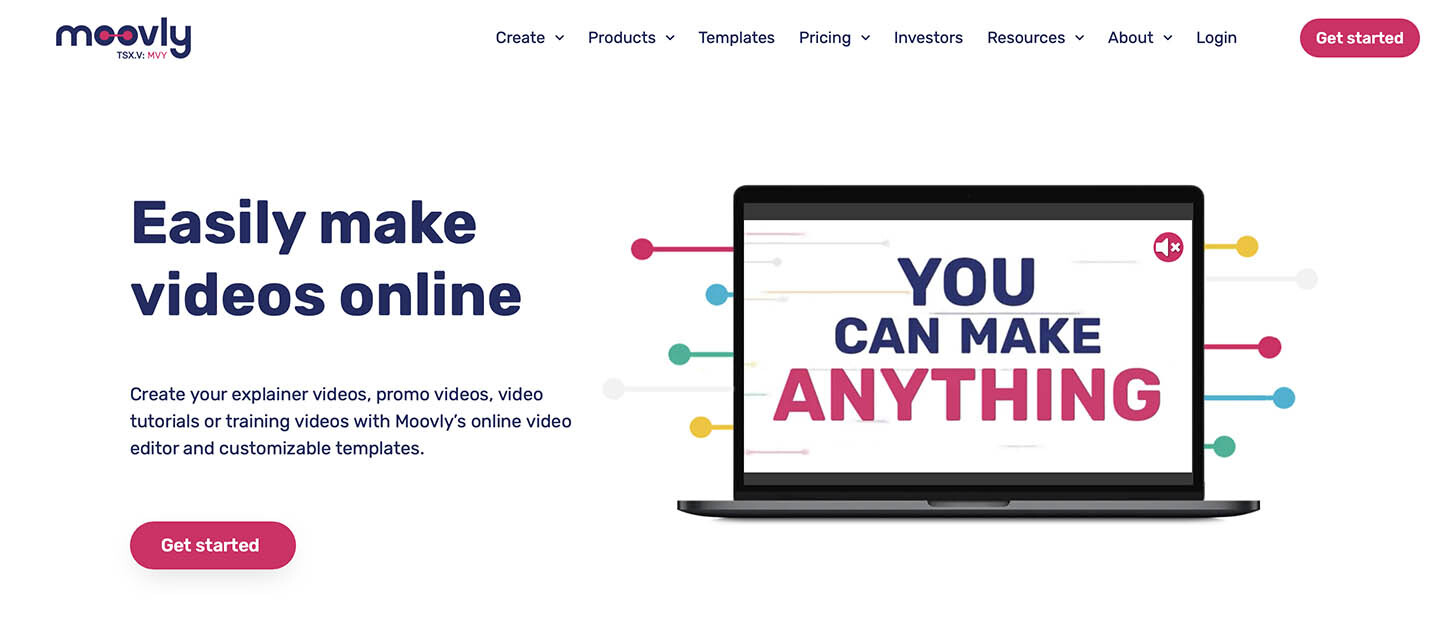 Moovly enables you to create amazing social media videos, promotional videos, explanatory videos, tutorials, training videos, and any other type – whatever suits you best. It has customizable templates for different events and scenarios such as personal, professional, and educational.
The most important Moovly features include subtitles, the ability to remove color, custom colors and fonts, white labeling, and text-to-speech capabilities. Moovly is undoubtedly one of the best social media video tools.
It has a free plan with very limited capabilities, but the pro plan starts from $49 per month, which is too much compared to SocialPilot that offers the packages and all the scheduling features for only $25!
Pros:
Moovly gives access to free images, sounds, and animations
The mobile application is user-friendly
It offers many options for video automation
Ownway K.
This is has been an incredible tool compared to many I tried before settling with MOOVLY The Quality of the templates is top-notch! The fact that you can immediately start playing around with the tool without sign-ups etc. I have little experience with video editing, but the ease with which I was able to start editing the template within a day or 2 was, for me, very incredible.
Cons:
It does not have a good customer support service
Moovly encounters some bugs and errors sometimes
Jessica S.
When I signed up, there was a technical problem with adding audio. Although the issue was resolved in a timely manner, my first video had to be published without audio attached to it. That was my only con so far
---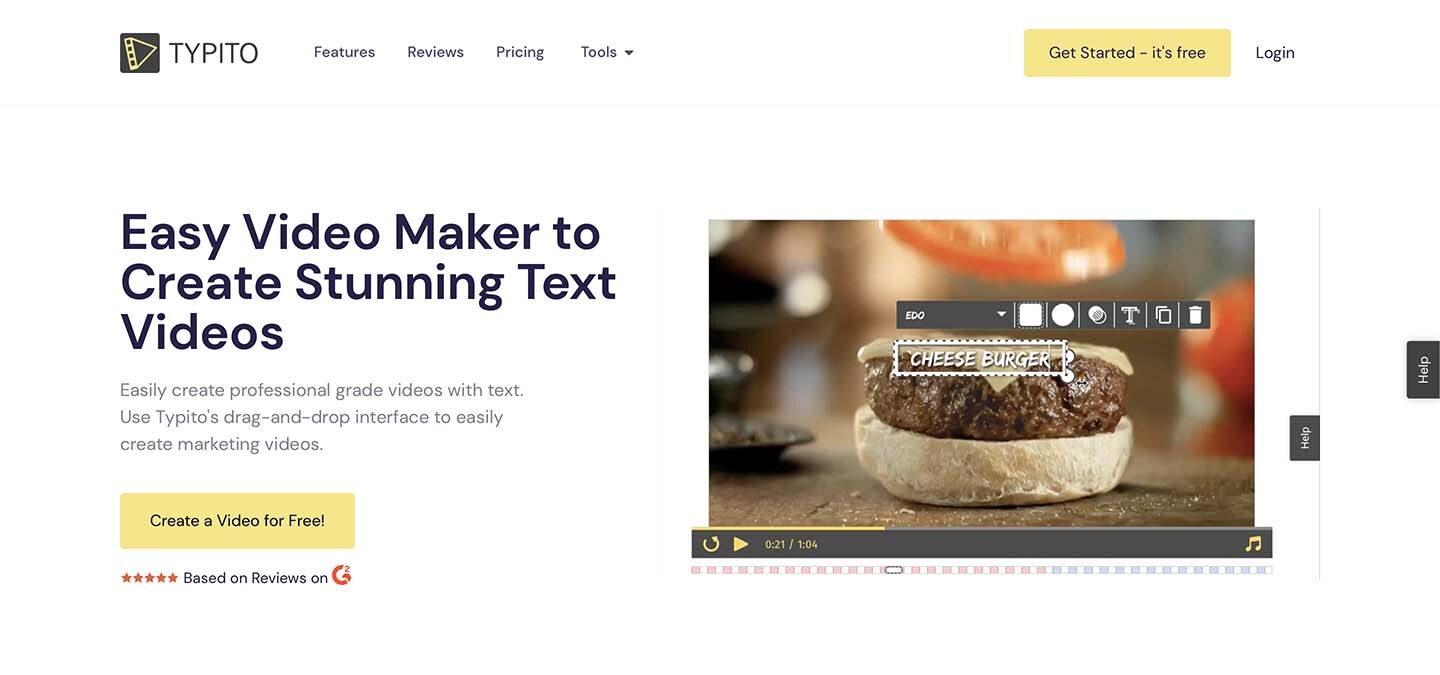 Typito is too good as one of the best social media video apps you can come across. It is a web-based tool that is simple to use. It has a drag and drop interface to make it easily accessible. It enables you to add graphics of your choice as well as text to the videos the way you want.
Typito is cloud-based software, so there is no need to download any software. All you have to do is to open it on the browser, upload media, add textures, styles, and animations, and upload it on the social media platforms in just a few clicks!
Pros:
Typito is easy to use
The tool offers drag and drop features
Excellent support – they reach out to you in no time.
It takes no time to implement effects and animations
Natalie M
Typito saves my team time and money. Can't recommend Typito enough. Plenty of creative templates and transitions and a wonderful selection of free-to-use images and videos.
Cons:
Audio insertion is not supported
It slows down with heavy videos
Typito User
Limited text animations to choose from. Video preview window lags if you don't have a good quality computer that can handle it.
---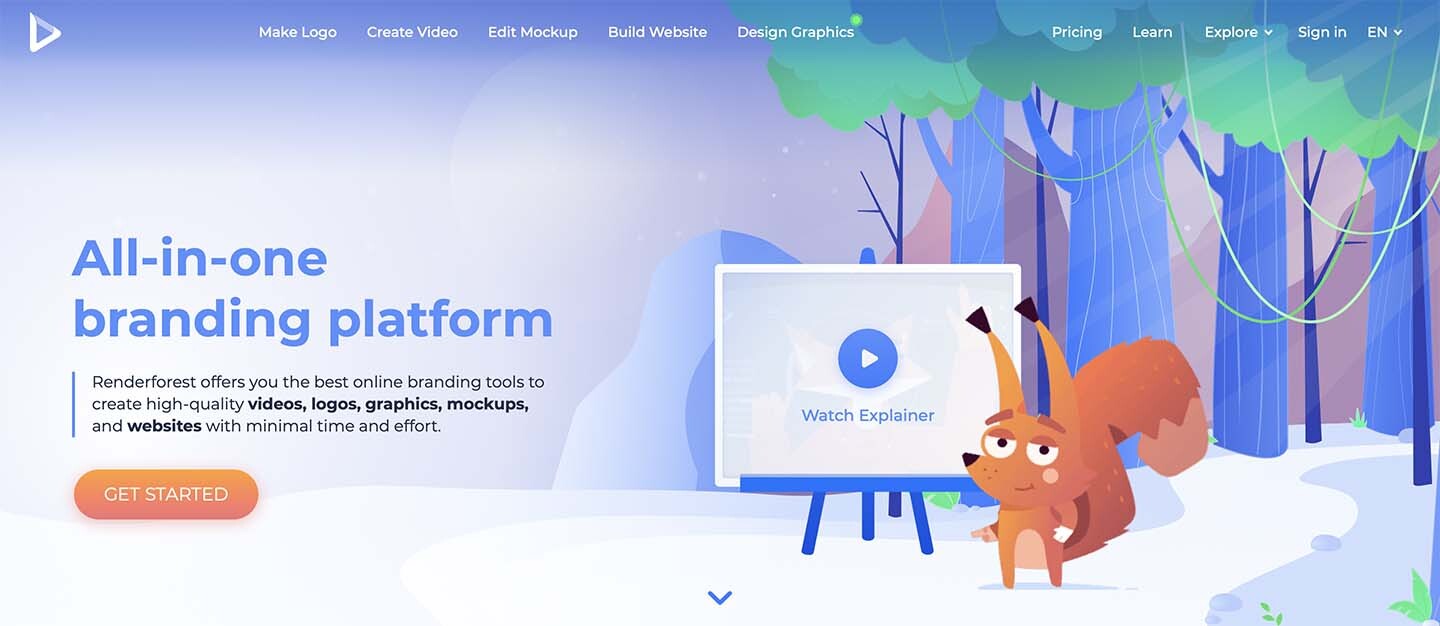 Renderforest is one video tool for social media that has made animated video making easy and fun! The tool allows you to post the videos directly to different social media platforms such as Facebook, Twitter, Instagram, Pinterest, Google+, and others.
In the free version, you are unable to access all the features. However, the plan that costs you around $49.99 per month gives access to all of them.
Pros:
Great variety of templates
Commercial music is available to add to videos
The tool allows for logo animations
It allows HD quality videos
Anant M.
Renderforest is used by us to create short video advertisements and intros for various campaigns or for business proof of concept projects and presentations. So far, besides a slightly high cost, it has been a great platform.
Cons:
It does not allow adding video fragments
No HD quality preview after editing
Very high pay-per-product prices
Kim D.
Frustrating. Presumably, I can add voice and animation, but I don't know how.
---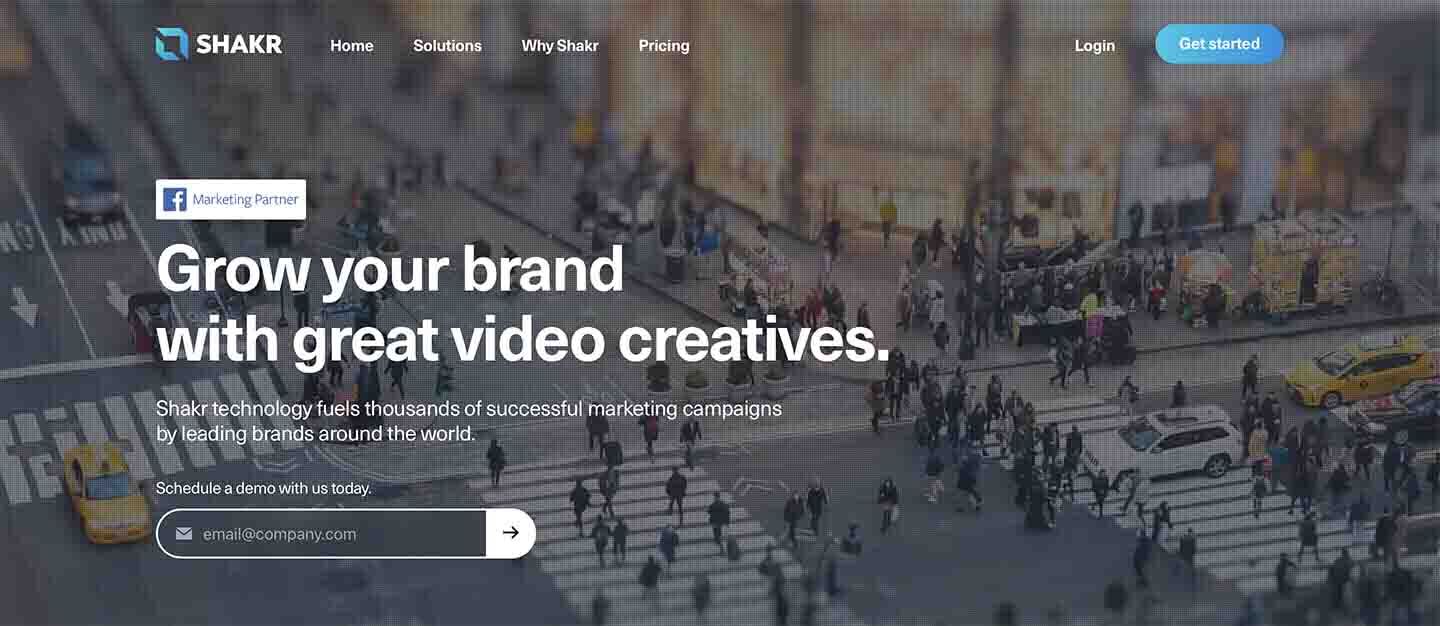 Shakr is a targeted video-making tool that helps to promote video marketing on Facebook and Instagram. It is a drag and drop video platform that enables you to create high-quality videos with more than 2000 templates and designs.
It offers a vast music library that you can easily navigate and choose from. However, it is a bit expensive option as its plans start from $99 and go up to $349 per month. Therefore, many marketers do not consider it as one of the best social media video tools.
Pros:
It is good in terms of the privacy
The tool is good at bulk uploading of videos
It allows for efficient social sharing
Francisco L.
I have found that it is a fairly intuitive video editor because 1. It is very easy to select the design for the type of video you need: either for Facebook, YouTube, or Snapchat and from there, you can modify it to suit your needs. 2. Collections allow you to select videos based on a particular theme or format. 3. Once you have selected the theme and format of your video, it allows you to choose the aspect (be it square, horizontal, etc.), the length of the video, the environment of the video (high or low energy), and the medium to use. (photos, text, videos)
Cons:
It does not offer analytics.
This video tool for social media is not mobile-friendly.
Video looping is not available in Shakr
There is no system for closed captions
The price is a bit higher compared to other video tools and set of features.
Miguel P.
It's a little expensive – you do not have many edit choices in the templates. For example, you cannot change the font of the template – you cannot have the chance to do a video from a blank slide.
---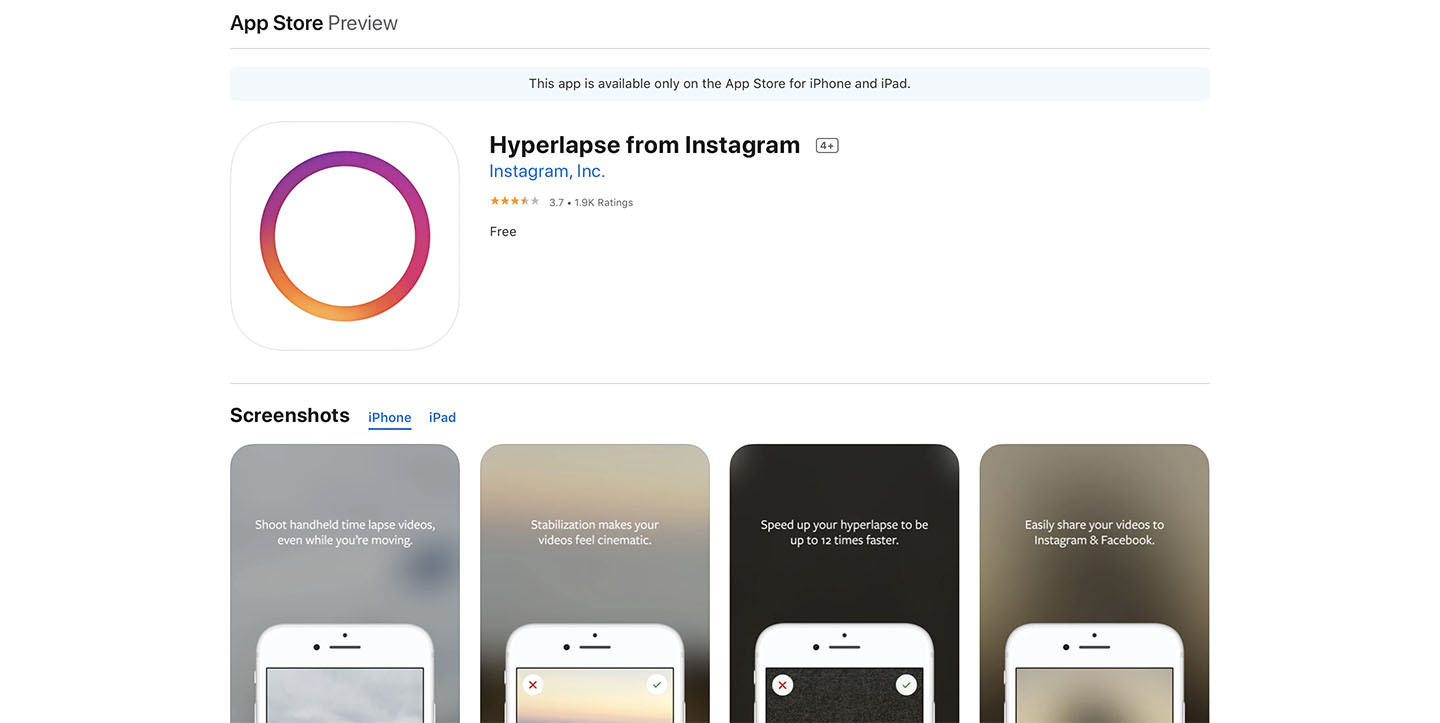 Many people do not have the idea, but Hyperlapse is Instagram's own app that allows you to speed up the videos up to 12 times. The advantage is that you can record in real-time and hasten it at the required speed.
Hyperlapse is a simple and easy-to-use free social media video maker that allows you to publish the video directly to Facebook and Instagram. The limitation is that it is not available on Android at the moment. Hyperlapse is free, and there is no premium or professional plan. However, it is not available for Windows, and Android users, which does not make it a recommended choice.
Pros:
The tool provides good video stabilization.
It has a simple interface.
Hyperlapse is a totally free video maker.
Dawn Johnson
Really good time-lapse app. Can choose from a variety of playback speeds. I have used my own already recorded video from my phone and turned them into time-lapse video clips with this app. It also will record a new video from the app in time-lapse. I've used it twice so far and been really happy with the results.
Cons:
Can't apply effects to existing video.
Only share directly to Instagram or Facebook.
Hyperlapse is only available on iOS.
Holly Vine
This is a good app, but most of my stuff gets wiped away by just one touch of my phone! I suggest maybe to have a draft section where you have saved drafts. Some of my stuff is really important that I need to do, and when it wipes away after all my hard work, then I have to do it again!! There is nothing more annoying. Please try and fix this!!
---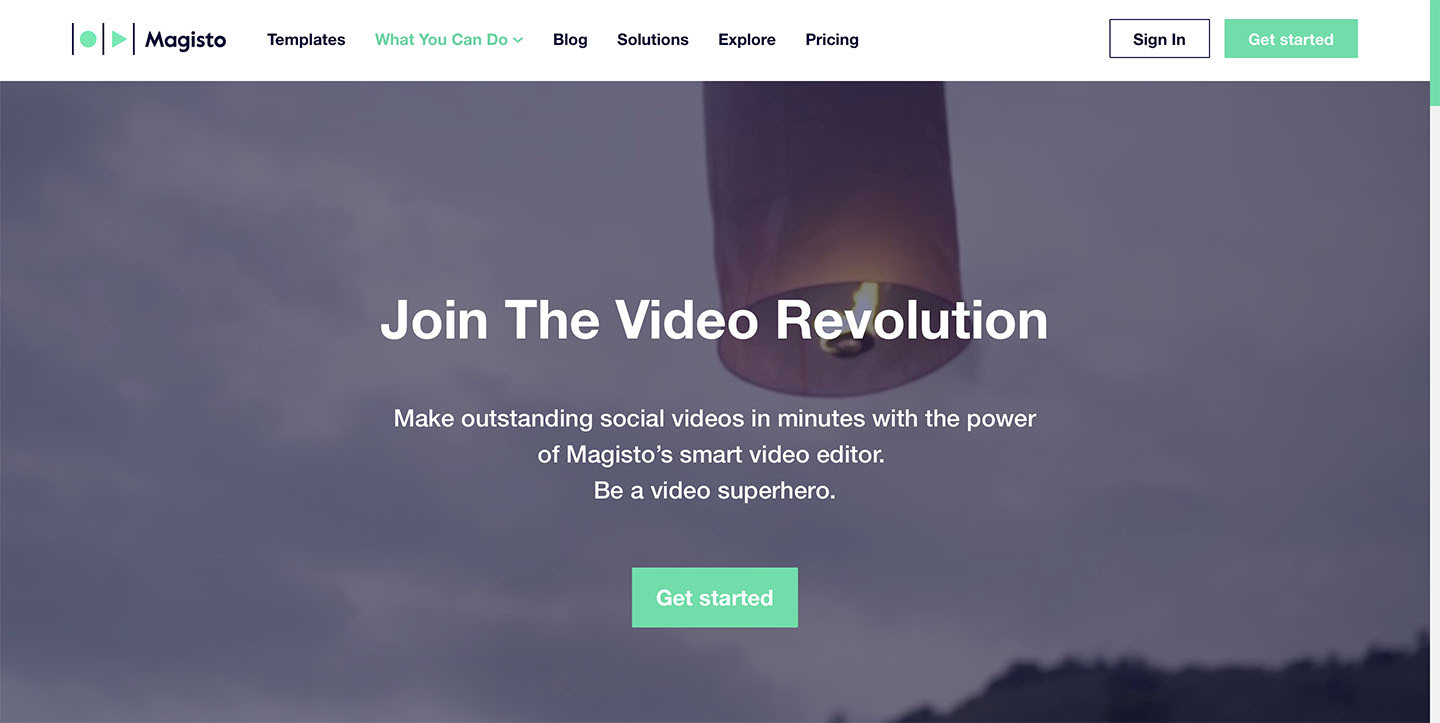 Magisto is very smart and one of the best social media video tools available that makes editing videos fun and easy. It really makes the process magical. The app is available as a web-based tool for PC and for Android and iOS devices as well.
You can easily choose the video clips and images and make changes to them by selecting an editing style and adding music. Magisto is super automated, and once you select the style and music, it will automatically adjust the video. It can easily post on Facebook, Twitter, Instagram, Google+, and Youtube.
Pros:
The tool uploads directly to the website
It is an automated app
It provides detailed analytics
Amanda S.
I love this program. Definitely my go-to out of all the apps out there. It is an awesome software to edit and create videos. You're able to add effects and filters. Cut and trim the video to your liking.
Cons:
It does not offer collaborative tools
The Voice-over is not very good
Shayna W.
They restrict users to ratio sizes like 1:1 or other ratios that do not allow users to get the full view of the images they're using, like the common 16:9 or even 4:3. Quite limited features!
All the social media video tools definitely have some advantages that help in social media marketing through animated or recorded videos. Select the best one that fits your needs and go ahead with it.
Although you have plenty of options available when it comes to choosing the video tool for social media, you need a tool like SocialPilot that will help you with promoting these videos you have created. Additionally, SocialPilot integrates with Canva so you can easily make last minute edits and set it up for publishing it through social media.
Moreover, it offers a free 14-day trial for you to try it out and test it thoroughly.