In the new age of digital media, videos are the most versatile marketing tool for promoting your business. The audio-visual element of videos is a quick attention catcher, immersing the audience and helping in building brand awareness.
According to a study by Wyzowl, 42% of marketers consider video marketing necessary for increasing brand awareness. 84% of customers feel convinced to buy a product after watching brand videos, and 78% of marketers experienced a direct increase in sales by integrating videos into their marketing strategy.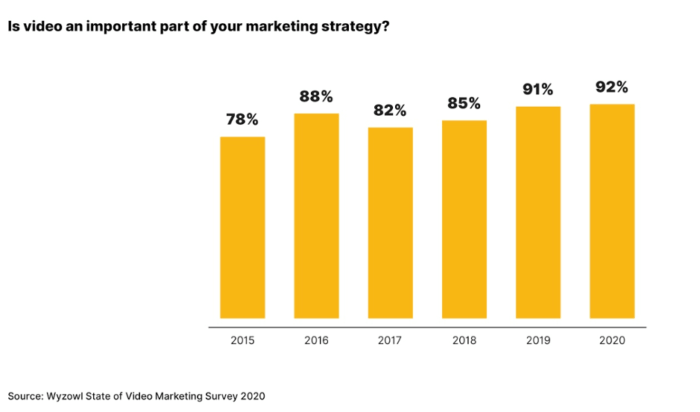 This graph represents how the demand for video marketing has risen in the past few years. The question is how to reach the audience effectively.
Well, using Instagram video!
Instagram, with its user base of over 140 million in the USA and 1 billion worldwide, is one of the preferred video marketing platforms for brands.
It allows you to post videos on its Feed, Stories, Reels, IGTV, and Live Streaming. Integrating the efficacy of videos with the influence of Instagram can work wonders for your business marketing plans. It helps you build your brand, attract followers, generate leads, and build traffic with its highly efficient engagement tools.
In this blog, we will discuss how to post a video on Instagram, ways to refine your videos, and a lot more. Stay tuned!
Instagram and Video Content
Simply said, video content gets the highest engagement on Instagram. A study by Hubspot shows that people prefer video content over anything else. 54% of content consumers engage more with videos.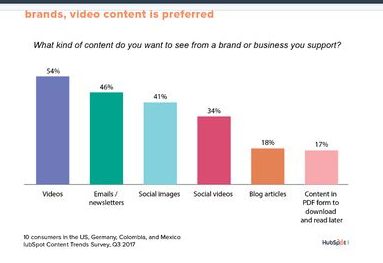 Video content is undoubtedly the next big thing. So the big question is, are Instagram videos worth the hype? Absolutely!
14.9% of the content on Instagram is video posts, with an average engagement rate of 1.45%. Isn't that a great number for you to include Instagram videos in your marketing plan?
Let's explore more!
Instagram Videos Best Practices
Before we get into the details of Instagram video placements and other features, let us discuss some of the best practices for making a video for Instagram.
Set a goal
Ask yourself why you are making a video in the first place.
Is it to increase engagement or show your product or skills?
Is it to share a memorable experience or just a random fun moment to spread some laughter?
Set a single objective for your video and let that set the mood of your video. Try not to infuse many goals in one video, but a specific one that you want to achieve.
This video clearly sets the mood for a funny reaction of the dog when this guy calls for his name. The goal of this video is to spread laughter and share a light moment with the audience to increase engagement.
These are some general rules you should swear by when you make and edit an Instagram video.
Choose an eye-catching thumbnail
The cover image or the thumbnail is primarily the attention-grabber when the viewers scroll through their feed. It has to be so interesting that it literally stops the viewers' thumb from scrolling.
Always choose an image relevant to your video that makes the viewer stop and ask questions. It should invoke enough curiosity for viewers to invest their time and watch your video. You can even distort an image or add a funny, fish-eye POV.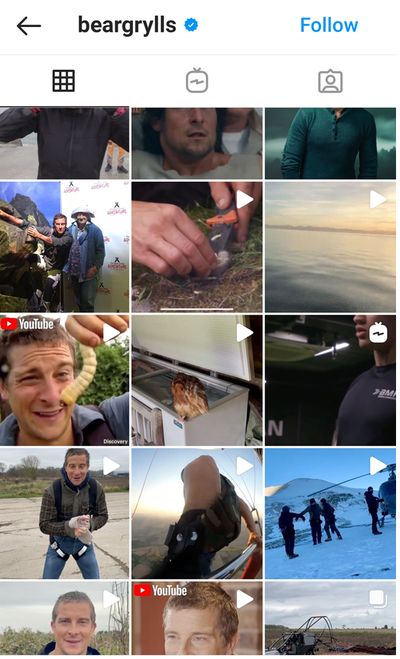 Check out the thumbnails from Bear Grylls's Instagram. They instigate the viewer to wonder what he is up to or if he will be eating the worm he is holding and thus prompt users to click on the video.
Generate instant appeal
The first few seconds of your videos decide whether the audience will watch the entire video or leave. The only way to ensure that they continue watching is to give the gist or a strong hint about the content of your video in the first few seconds. Dragging the video unnecessarily in the first few seconds is a complete no-no.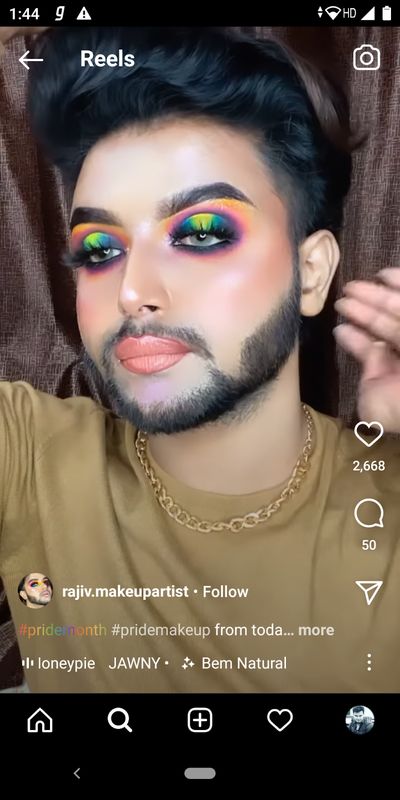 Take this video for example. It clearly shows Pride month celebration makeup. The viewers already know the end result, and they will want to watch the entire tutorial.
Make videos primarily for smartphones
Instagram uses slightly different dimensions and specifications than other social media. They support videos that suit the mobile interface as most Instagram users use their smartphones to browse through the app.
Though users have the option to flip their phone and view on full screen, they most probably would watch Instagram videos vertically while scrolling. The recommended aspect ratio is 9:16 for Instagram Stories and 1:1 or 4:5 for Instagram Feed.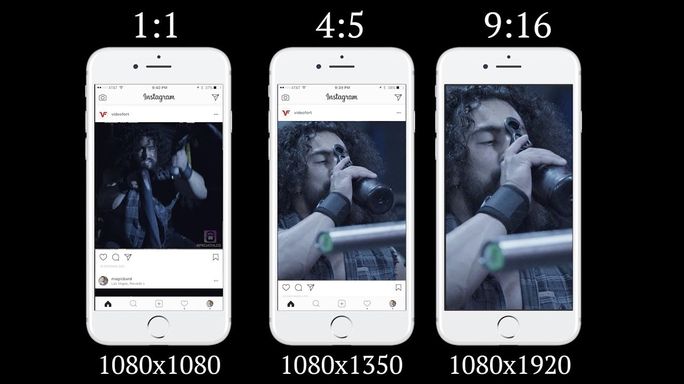 Don't ignore text in the video
Don't forget to use captivating text in the video, even if you have enchanting audio. Many users might not put the audio on while scrolling. The text in the video must provide relevant information and should complement whatever you are trying to convey.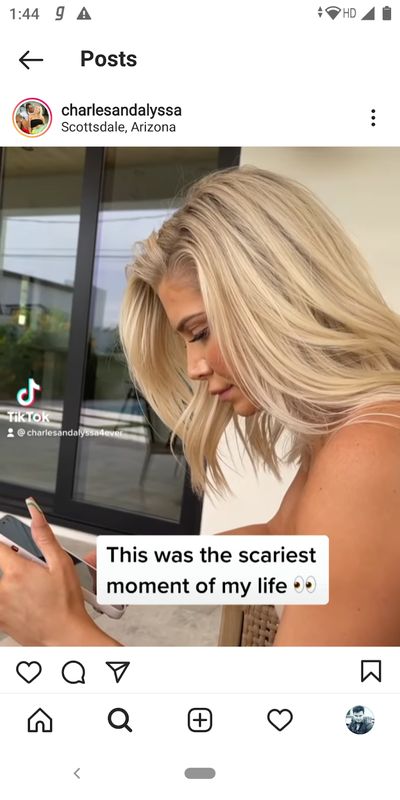 This caption from famous YoutTuber couple Charles and Alyssa's Instagram page will make their viewers curious about what Alyssa sees on her phone, which makes it the scariest moment of her life. That's the trick of capturing your viewers' imagination with witty texts and making them watch the video.
Add CTAs and other elements
Instagram offers different placement options for your videos that we'll discuss below in detail.
These placement options give various Calls to Action or engagement options. You can add fun elements like polls, ask a question, temptations, location tags, emojis, and more to engage and interact with your audience.
Followers like nothing more than the idea that their opinions matter. Use clear CTA buttons for your video ads to build engagement or redirect your potential customers.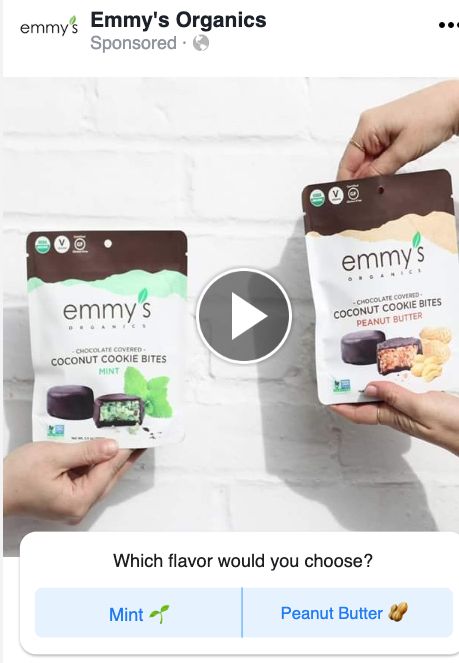 This video has posted a poll asking for the preferred choice of the audience. They will be highly interested in giving their opinion, increasing your post's engagement.
Placement Options for Uploading Your Instagram Videos
Instagram videos are gaining unmatched momentum in terms of popularity and engagement. With the proper content, you can expand your brand visibility, gain more followers, and use it as the perfect marketing tool.
However, Instagram provides multiple video sharing options such as Instagram Stories, In-feed videos, Insta Reels, IGTV (Instagram TV), and Live videos.
Don't get confused with these options.
Read the features of different Instagram videos and use what suits you best!
Instagram Stories
Instagram updated the Story feature in 2016, taking a cue from Snapchat's famous disappearing stories feature. Since then, there has been no looking back. Instagram stories let you share small videos in a slideshow format. You can post one or more Instagram videos in the Story feature.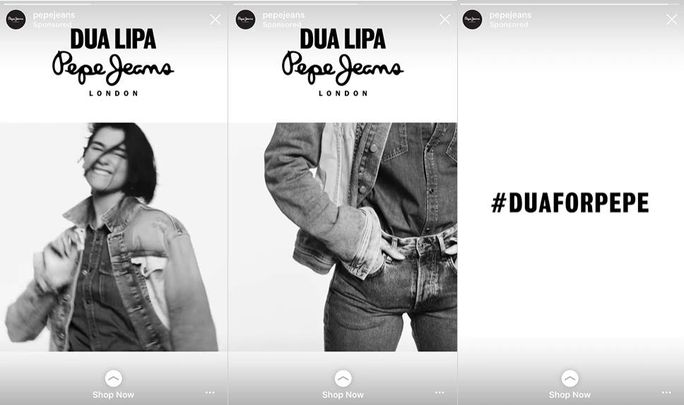 It's the first thing you notice when you open the app. The placement might have been attributed to its popularity. You just can't miss it, which makes it a perfect feature to share your Instagram videos.
That's that. Now let's come to the features of the Instagram video Story.
The video should be a maximum of 15 seconds duration. Short snippets and teasers work the best as stories.
It disappears in 24 hours. You can save it in your Highlights section.
You can directly shoot a video from Instagram's in-built camera or upload a video from your camera roll or gallery. Remember the YouTube video you downloaded? You can share that here (in the 9:16 aspect ratio).
Instagram's camera features come with uber-cool filters; Boomerang, Super Zoom mode, Multi-capture option, Level, Photobooth, and Hands-Free. You are spoiled for choices.
You can even select the layout in which you want to keep your Insta story.
Ask a question to your followers, create a poll, add music from a global playlist, add location, mention someone, add hashtags, gifs, stickers, texts, and much more to make it more fun and interactive.
In case you post a video longer than 15 seconds, Instagram will automatically trim the video into 15 seconds segments. Downside? It won't retain any edits you added in the first video. So you'll have to add them individually.
Now that you are aware of how Instagram Stories work, let's learn how to post one.
Step 1: Open the Instagram app. You will see a "+" sign in a blue circle on your Display Picture. Click on it.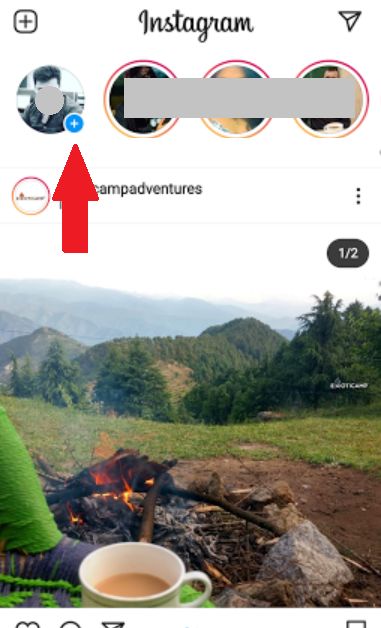 Step 2: Instagram's in-built camera opens for you to directly record your Story video or share video files from your camera roll.
Step 3: Explore and use the camera features if you are shooting your video directly.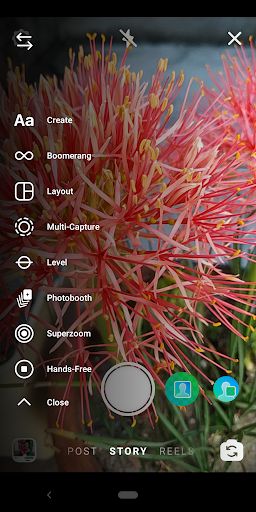 Step 4: You can trim your video, edit it with filters, add music, and so much more with these features. Select one or multiple, according to your choice.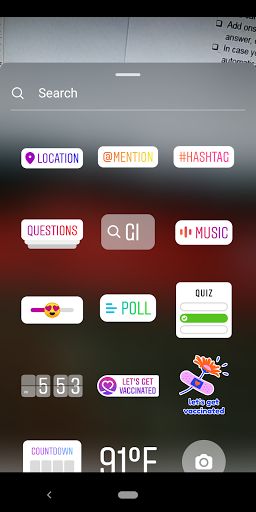 Step 5: Finally, share the video with your Story by clicking on the "Your Story" icon at the bottom left of your screen.
Step 6: If you want, you can delete, save Instagram video stories, share them, or even add them to your highlights section.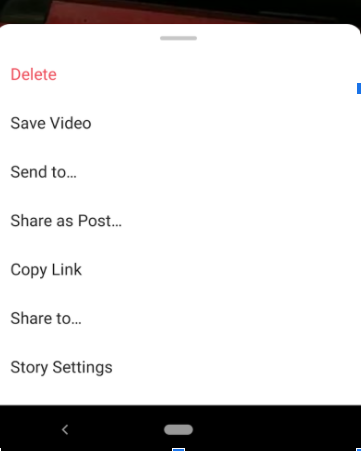 Instagram Story videos are highly entertaining and will surely drive traffic to your account. For its popularity, it acts as an effective advertising tool for your products too. Share interesting moments, interact with your followers, and much more with this fantastic feature.
Instagram In-Feed videos
Back in 2021, Meta announced the merging of IGTV and in-feed videos. Now, the in-feed video feature is the one and only long-form video format on Instagram.
The videos appear in the feed while scrolling and are added the same way as Instagram images. You can also find a dedicated space for videos on your profile.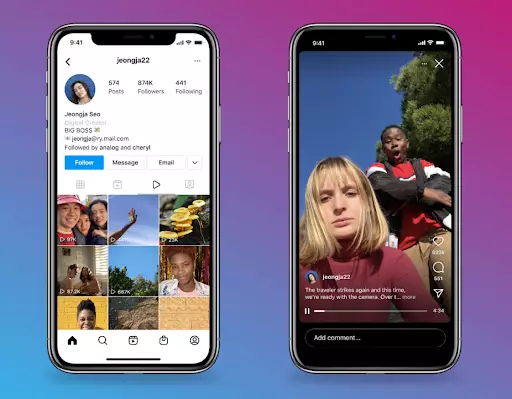 Let's talk more about the Instagram In-Feed video features and how awesome they are:
The maximum duration of Instagram videos can be up to 60 minutes, making it a great way to share long-form videos.
Just like Instagram Stories, you can shoot a video directly using Instagram's in-built camera or share a video from your gallery.
You can upload a video with an aspect ratio between 1.91:1 and 9:16.
You can add filters and trim your videos while posting.
You can tag people, products, and locations in your videos.
You can add a cover photo for your videos.
Since the videos show up the same as the regular posts, rest assured your friends and followers can react, comment, or share your Feed videos.
In-Feed videos are a great way of interacting and engaging with your followers. Don't forget to add an eye-catching cover picture for the video so that you can capture the attention of your viewers.
How do you post one? Let's get straight into it.
Step 1. Open the app and click on the "+" sign in a square shape on the top right corner of your screen.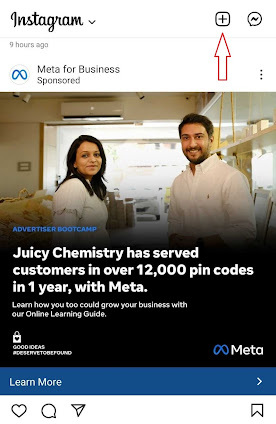 Step 2. A New Post option will open, showing your gallery pictures and videos. Select the video you want to post.
Step 3. Trim, edit, and add features to the video you have selected.
Step 4. In case you want to shoot directly, select the Camera icon above the gallery.
Step 5. Once you have shot your video or selected the video from your gallery, you can add filters, trim, add cover. Write a caption, tag people, and add a location.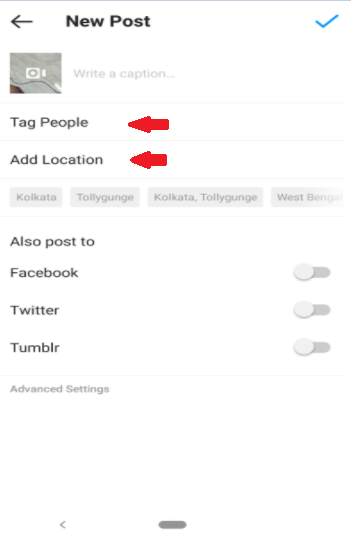 Step 6. Tada! The video is ready for sharing in your feed. Just click on the Right Icon on the top right, and Instagram will upload it.
Instagram Live videos
Do you own a business? Want to promote your product? Feel like sharing your creativity? Or do you simply want to interact with your followers?
If any of these entice you, Instagram Live should be your pick. Live videos on Instagram lets you connect with your audience in real-time. They can comment and engage with you, while you can respond to them instantaneously. Live videos appear in front of the story bar with a Live icon.
Without wasting your time, let us get into the features Instagram offers in its Live video feature.
Live videos on Instagram can last up to 4 hours.
You have to video stream from Instagram's in-built camera.
The number of your viewers is at your top left. They can like, comment, send emojis and interact with you.
No worries if your partner is physically away from you. You can even co-host the Live with your partner.
You can add filters, moderate comments using keywords, send direct messages, and even share photos and videos, all during your Live Broadcast.
You can even tag your product at the bottom of your broadcast screen.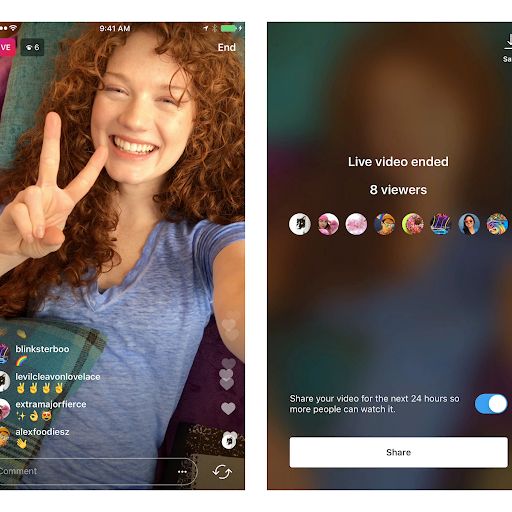 To start an Instagram Live:
Step 1. Go to the "+" icon in the top right of your DP.
Step 2. Swipe right from Post, Story, Reel to Live.
Step 3. Add filters and a Title and start the Record button. And Boom! You are live.
Step 4. To end a Live, click on the "End" button at the top right corner and select the "End Now" option.
Step 5. If you want to save the Instagram video, you can click the "Save" button to save it to your camera roll. You can also share it on your Insta Story for the next 24 hours. Instagram also allows you to share live videos on IGTV.
To get more engagement:
Create some hype around your Live videos.
Announce the date and time in advance.
Post about it on your Insta Story.
Create a countdown timer for the lLive videos.
The scope of this feature is immense. Just make sure you have a dependable internet connection before you start. Good luck!
Instagram Reels
Inspired by Tiktok, Instagram has added Reels for sharing peppy and lively video snippets. Reels give you a chance to become a content creator on Instagram with its easy-to-use contemporary features.
Instagram Reels follow the privacy settings of your Instagram account. If you have a private account, your followers can watch your Reels and engage with your content by liking, commenting, and sharing. If your account is public, your Insta Reels can reach a wider global audience through Instagram Explore.
What are its unique features? Here's the answer.
Reels are of 15 to 90 seconds duration.
They are in multi-video formats. It helps maintain continuity.
The Hands-Free mode works wonders if you are shooting yourself.
You can either shoot a video directly on the Instagram camera or share a video from your camera roll.
You can use the best hashtags to improve the reach of your videos.
Adding audio is fun. You can mix your own audio with another audio selected by you. You can also give real-time voiceovers in your video.
The creative tools are varied and give amazing results. From Slow-Mo to fast-paced videos, you can do it all here.
Let's show you how it is done, and pave the way for you to be a sought-after Instagram content creator.
Step 1. Click on the Reels button at the bottom middle of your Instagram home page.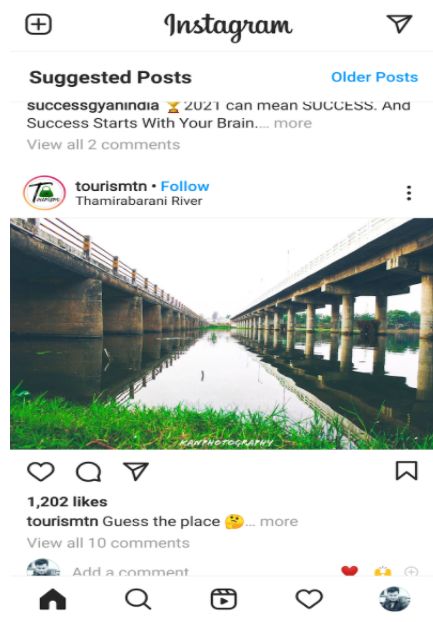 Step 2. If you want to shoot your video directly, choose the camera icon on the top right corner of the Reels screen. Set a timer for Hands-Free mode.
Step 3. Edit the video, add filters, put stickers, and write text.
Step 4. Add audio, mix two audios, or give a voiceover.
Step 5. Click on the Right Arrow button. Add an enticing cover picture and a catchy caption.
Step 6. Click on Next – Click on Share.
You can even save the draft for future use.
Reels are addictive. You lose track of time when you start watching these entertaining short videos. Use it well, and your brand could be the next big thing.
Instagram Video Editing – Adding Music, Trimming the Length, and More
Since Instagram offers multiple video sharing options, each has its attributes. You need to select what suits you the best and edit your videos accordingly.
If you are using Instagram's in-built camera to record videos, learn how to add music to Instagram video posts to provide a rich video experience to viewers. You can even pre-record audio and add it to the video. For In-Feed posts, voiceover is also available.
Edit the videos by trimming, applying various filters and stickers, using location tags, and adding fun features.
For videos in your gallery or downloaded YouTube videos, you can use any video editing app like FilmoraGo, InShot, etc. If you are editing your videos on your desktop, Adobe Premiere Pro is a good option.
Add audio, trim the duration, add transition effects, or speed up or slow down the video; the choices are vast.
However, Instagram has issued some guidelines on the fair usage of music. Follow them, and you are good to go.
Instagram Videos and Youtube
YouTube stands tall, with 2 billion logged-in users visiting the platform every month. People watch 1 billion hours of YouTube videos every single day. Yes, you read that right – every single day.
The result? An unparalleled global reach and millions of views. The icing on the cake? More than 70% of YouTube views come from mobile devices.
Wondering how is it relevant to you as an Instagram user? Instagram is majorly a mobile-based 'insta' platform. What if you share YouTube videos on Instagram?
Organic reach, more engagement, more followers. Yay! Since YouTube is so popular, some of its content will attract and engage your followers on Instagram too. Sums up pretty well, doesn't it?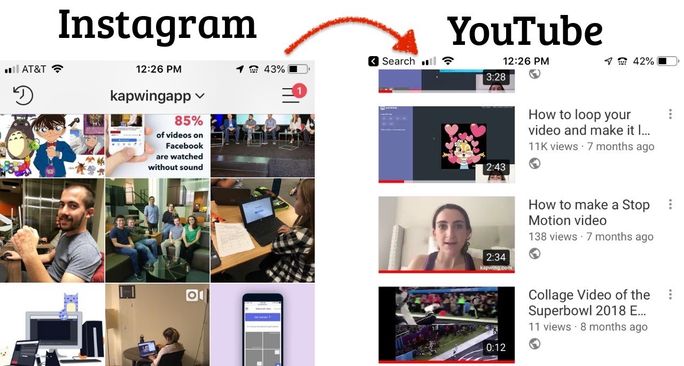 It's like two kings shaking hands.
Suggestions for using Youtube Videos on Instagram
Now that you know how beneficial it is to share YouTube videos on Instagram, we'll help you with some useful suggestions about the same.
It's not feasible to create unique content for each of your social media accounts. If you already have a YouTube channel, add snippets of those videos on your Instagram. You can maximize your reach and grow your following by content repurposing.
You can also use YouTube videos on Instagram as an affiliate marketing tool. Don't forget to experiment and find out what suits you the best.
Who doesn't love nostalgia? Take your followers on a trip down memory lane by making a mashup of older videos.
You can post educational tidbits in an illustrative video too. It might be an exciting way to learn for the viewers.
But, there is a small bump on the road.
Instagram is yet to come up with the feature of directly posting or sharing YouTube links on Instagram. It's a small challenge to link YouTube videos with Instagram.
Worry not. We will guide you through sharing YouTube videos on Instagram both from your mobile phone and PC.
How to upload a video to Instagram from your smartphone
Hey Instagram, start link sharing soon!
Till then, let's learn how to post a YouTube video on Instagram. For that, you have to download the YouTube video and upload it on Instagram.
Here is a step-by-step guide:
Step 1: Open the YouTube App on your android device.
Step 2: Go to the video you want to share on Instagram.
Step 3: Click on the 'Right Arrow' icon below the video. It lets you share the video to multiple external platforms.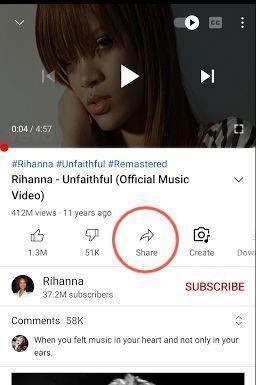 Step 5: Select the Copy Link option. It makes you copy the URL of the video.
Don't get confused with the Direct Insta link here. It lets you send the video to the Direct Message box of your Instagram contacts and not post it in your Insta feed.
Step 6: Now, open any browser, like Chrome or Opera.
Step 7: Search for 'YouTube to MP4 converter'. You will find plenty of them. Click on any of the converter links.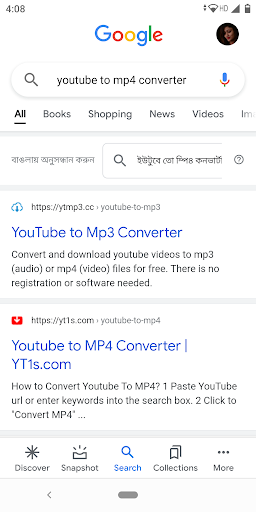 Step 8: Paste the URL link that you had copied from YouTube and click Convert.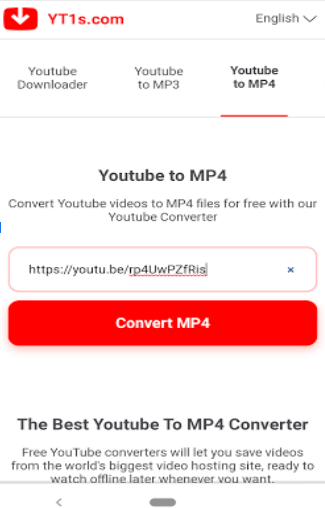 Step 9: After the video is converted to MP4 format, click on Download.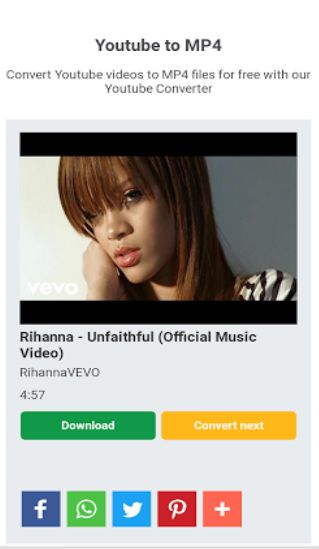 Voila! The YouTube video is now downloaded into your gallery.
How to upload a video on Instagram from PC
It's pretty simple.
Step 1: Open YouTube on your web browser.
Step 2: Open the video you want to share. Copy its URL from the address bar above.
Step 3: Open another tab and search for "YouTube to MP4 converter". You will find various links.
Step 4: Paste the URL address on the converter bar. Click on "Convert" or "Start".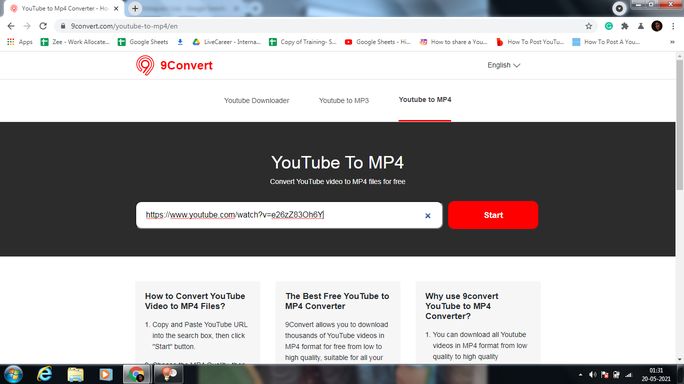 Step 5: Once it is converted, click on "Download". The video will be downloaded in a destination folder.
Now that the YouTube video is in your smartphone's gallery or your PC, waiting for you to share it as an Instagram video, we'll now get into all the particulars and features of Instagram video sharing.
Get Set, Go!
Now that you are ready to start making Instagram videos don't wait any longer!
Instagram offers a plethora of opportunities to scale growth and build a sustainable following for your brand. It is the place to be for marketers with a video strategy.
To jumpstart and maintain your Instagram video growth, you can use SocialPilot. Not just Instagram, but SocialPilot is also a single dashboard solution to manage scheduling, publishing, and analyzing Facebook, Twitter, LinkedIn, TikTok, YouTube, and all the other major social networks.
Start your free trial today!