Meta's TikTok-crusher, Instagram Reels, started spreading like wildfire in the US in August 2020.
But here's an interesting fact you probably didn't know:
The success of this Instagram feature is a result of the beef between two countries – India and China!
Banning TikTok in India – to discourage sharing data with the Chinese government in 2020 – was probably one of the best things that ever happened to Instagram.
Here's why:
Soon after the ban, Instagram saw the perfect opening to roll out its new feature 'Reels' in India, which was earlier in its beta stages in Brazil.
As the US proposed to follow suit, Instagram gave Reels an extra nudge by dedicating a section to it on the bottom taskbar of the app. That resulted in Reels getting anywhere between 13 to 51% more engagement than regular IG videos! And the rest is history.
And just like that, Instagram Reels became a huge platform for personal branding and collaborations. And it's doing unimaginably well, by the way.
What Are Instagram Reels?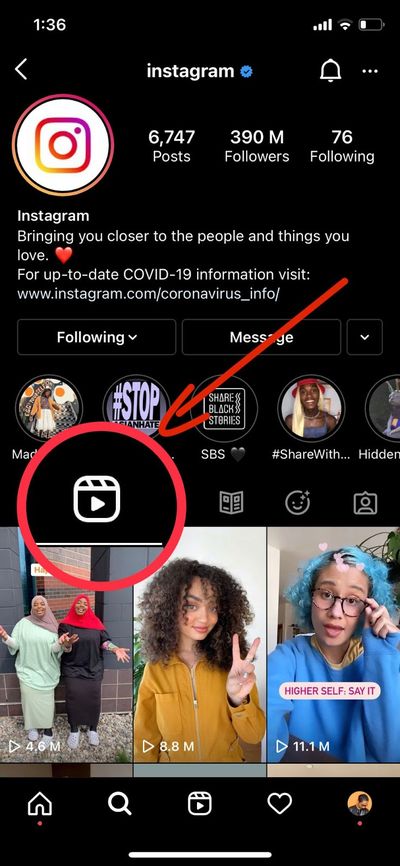 Instagram Reels are a new way to create and discover entertaining videos on Instagram. The feature lets you film 90-second-long videos that you can share with your friends or anyone on Instagram.
Think of Reels as the 21st-century version of Vine, where users can quickly and effortlessly shoot on the go.
Not only that, it gives you control over the playback speed of your video and lets you use incredible Augmented Reality (AR) filters.
You can even add your own audio or choose a song from Instagram's vast library for that extra oomph!
How to Use Instagram Reels for Marketing Strategy?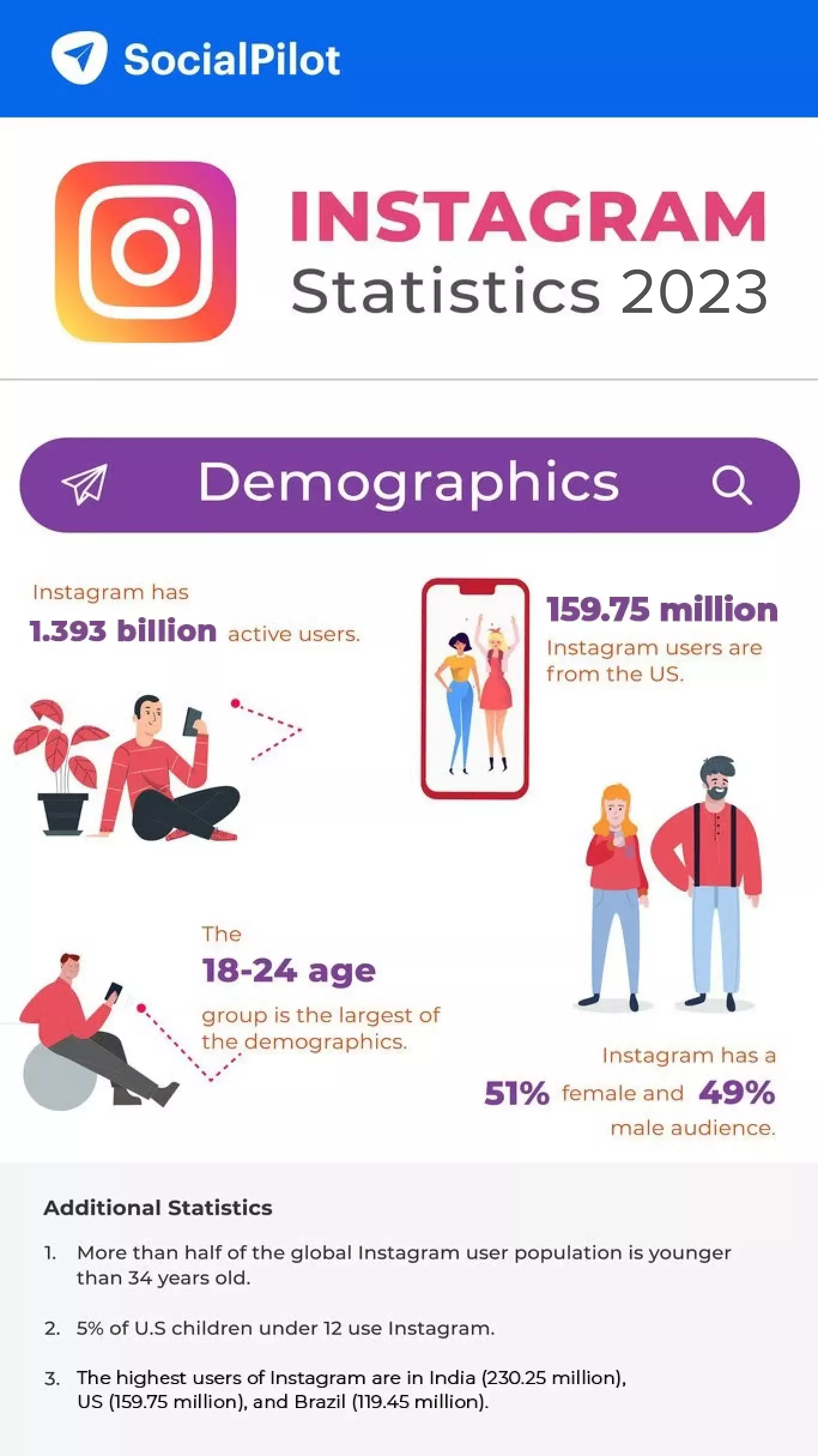 "Did you know that Louis Vuitton gets over 7 million views per Reel!?"
Instagram Reels are the way to acquire followers organically, particularly because it's being pushed to outdo TikTok.
It has set itself as a solution to fuel your page's growth and engagement. It's why brands prefer Instagram over other social platforms.
By leveraging their true potential, you could have your own Reels featured on the explore page. You just have to know how to use Instagram Reels for marketing the right way.
So, whether you're just getting started on Instagram or already have a loyal community, here are 6 tips that will help you make the most of Reels on Instagram.
1. Be Consistent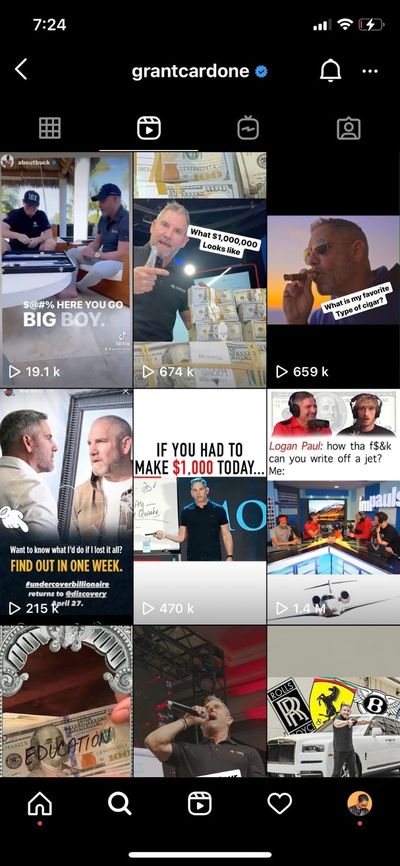 Here's a hard pill to swallow – the Instagram algorithm favors quantity over quality.
In other words, consistency is the key!
Of course, engagement metrics such as likes, shares, saves and comments also matter, but the secret to virality is regular posts.
Besides, you never know what kind of content will be picked up by the masses. Therefore, it is A-okay to experiment with Reels, as long as you're putting something out there every now and then.
More importantly, using a social media content calendar can help you be consistent and dodge creative blocks!
Maintaining a constant stream of Reels on Instagram can be a nuisance. Especially when you have to do so for multiple pages on a daily basis. Don't you wish for there to be an easier way to do this task?
SocialPilot is here to fulfill your wish! Here's an easy answer to how to Schedule Reels on Instagram and get them published directly from the tool itself. Set up your posting schedule in advance and keep a consistent presence with your followers from one dedicated space.
2. Share Your Reels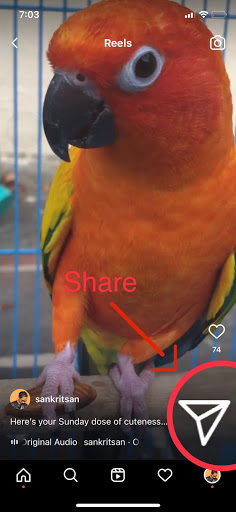 Don't just post and leave it dangling!
Just concentrating on how to post a reel on Instagram is not going to cut it.
You must go the extra mile and put in the efforts to share your Reel on Stories, direct messages (DMs), and groups.
You can also prompt your audience to look at your Reels by sharing them on your Story and having an inviting Call to Action (CTA) GIF. It's the easiest trick in the book!
If users like the Reels that you've shared, they will be compelled to check out the other content on your account. They're also likely to send it to their friends, allowing you the chance to connect to their followers!
3. Add Relevant and Trending Hashtags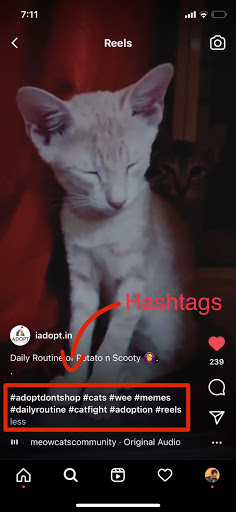 Did you know that most influencers and businesses aren't using hashtags correctly?
Adding the right kind of hashtag can make you viral. It plays a critical role in getting your content trending.
All you need to do is research the most trending hashtags. Tools like Hashtagify and Tweetreach can help.
Secondly, use unique hashtags for each post. Don't just copy and paste the same old ones every time. Never underestimate the power of a hashtag because it can help you stand out from the rest!
4. Use Trending Music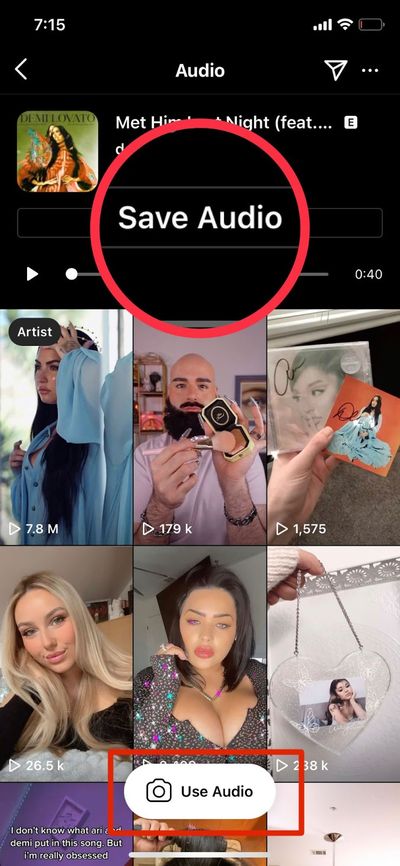 When you think of how to make a Reel on Instagram, you think about the music for sure!
Just like TikTok, picking a catchy song for your Reels can help you reach a wider audience.
The algorithm knows everything! It understands what your users enjoy listening to and what's trending. But it won't tell you: that's for you to figure out.
The trick is to head over to the Reels section on Instagram and swipe through 10 or 20 Reels. Make a note of all the songs and use the audio played most frequently.
Plus, you can take a stab at using custom audio from other popular pages. Just save the audio on Instagram and use it in your own Reel. That should definitely help you become popular!
5. Grab Attention Immediately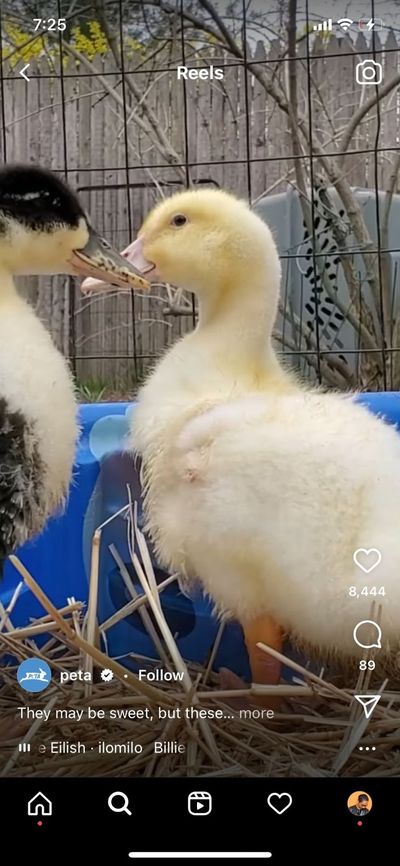 You only have about 3 to 5 seconds to grab the viewers' attention on Instagram. So, the first 5 seconds truly matter for your IG Reels!
Reels on Instagram are intended to be bite-sized pieces of video content. Don't make the rookie mistake of uploading content that is lengthy and bland.
Instead, you can do a little research and add some funk to grab the attention of your audience through said Reels.
How to Make Reels on Instagram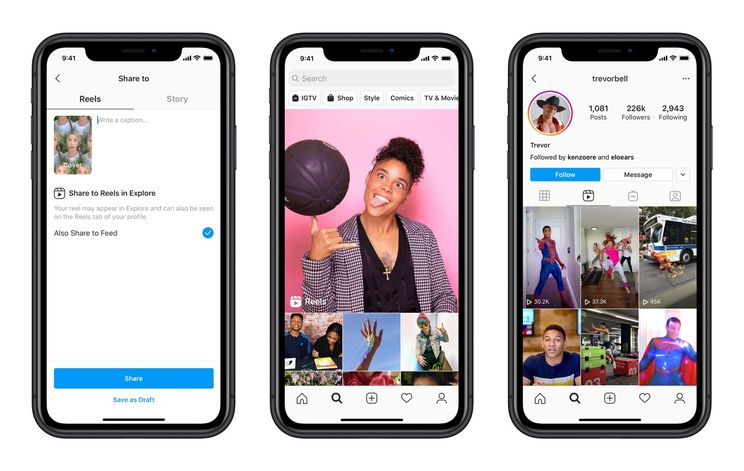 We are about to get to the fun part.
But remember – before you start making Reels, have a clear marketing strategy. Keep the points mentioned above in mind while creating a reel.
Also, it is important to set realistic goals. This will help build your brand's identity and ensure growth in followers.
And take down those milestones, one by one.
So how do you make a reel?
Instagram gives you two alternatives to make a Reel: press and hold the record button to capture or use any video from your camera roll. You can trim and stitch multiple videos together and make a single Reel.
But as you already know, it should not exceed the 90-second mark.
Here is a 5-step guide to make your Instagram Reels.
Step 1: Scroll to REELS at the bottom of the screen and tap it.
Step 2: Use the tools available to prepare for your recording. Tap Audio to choose a sound from the library and add it to your video.
Step 3: When you're prepared, tap and hold to record a clip. On the off chance that you set a timer early on, there's a countdown before the recording begins.
To watch, trim, or erase the previous cut, you can tap the clip and alter it.
Step 4: Once you're finished with the recording, you can add drawings, stickers, text, GIFs, and more to decorate your Instagram Reel.
Step 5: Lastly, tap on the ">" glyph to set a cover image for your Reel before sharing it on the feed or saving it as a draft.
You can also use web tools to download Instagram Reels videos online on your choice of device.
A couple of tips to keep in mind:
Make sure your cover images stand out. It should grab the attention of your audience and make them want to watch your Reel.
Try attempting challenges that are trending on Instagram. It definitely gets the attention you are looking for.
Catchy captions should put your audience on the hook.
Interact with your audience by responding to their comments and accepting their requests.
Saving Instagram Reels – Secret Social Media Hack!
Instagram allows you to save Reels to your phone's camera roll without a watermark. But it does not save the audio, so your video is on mute.
Luckily, there's a way around that.
Here's how you can save your Instagram Reels with music:
Share the Reels to your Story.
Use two fingers to fit the video to the screen.
Save the Story to your camera roll.
Now you have your Reels saved locally on your mobile device – with its audio intact!
6 Tips to Use Reels on Instagram for a Solid Marketing Campaign
You're posting consistently on Instagram and hashtagging your heart out; yet, somehow, your strategy does not seem to have an impact.
Here's the lowdown on running an Instagram marketing campaign to promote your business on social media.
1. Switch To a Business or Creator Account
Before you start working on your marketing strategy, it is important to create Instagram Business Account or Creator Account.
You can also simply change your present profile to a business account by choosing the "Change to Business Profile" option in the settings.
"With a business profile, followers can tap on your contact button and connect with you directly from your Instagram page – very much like they would from your website."
It opens up the world of paid Instagram marketing. More than that, a business account gives you access to powerful Instagram analytics tools called Insights.
Although analytical tools are not available for Instagram Reels, you can still use them to your advantage.
Here's how:
Use Insights to find out which of your Instagram posts are performing the best. And then, depending on the requirement of your campaign, create new Reels centered around those topics.
For example, if a post on 'best summer foods for dogs' is performing exceptionally well, you could create Reels that show dogs having the time of their lives with these foods!
2. Organize Your Campaign and Schedule Instagram Posts
Running an effective Instagram marketing campaign can be daunting, particularly when you're pressed for time.
But there's a way to put your Instagram growth on autopilot and help you manage all your posts without a hitch!
Whether you're a content creator, digital marketer, or business, you could benefit from a social media scheduling platform like SocialPilot.
Organizing your posts won't just help you bring out your A-game; it will also bring you closer to your follower milestones, day by day.
So, start scheduling your Instagram posts early on!
3. Create Evergreen Content
Impeccable organic reach is the dream of every business owner and marketer.
And the best way to realize this dream is to create content that withstands the test of time!
Evergreen content is relevant today, tomorrow, and even after several months or years!
Some examples of evergreen content are:
Educational content within your niche
Brand storytelling
Behind-the-scenes footage of your team
Product use cases
Video testimonials
Moreover, to reach appropriate audiences with Reels on Instagram, use segmented hashtags.
Here are some tips for segmentation
Interests
Location
Professions
4. For a Wider Reach, Partner-up With Influencers
Want to drive your sales high? Looking for a lead generation tool?
Then don't think of Instagram as just a place to showcase your products. You can use it to boost sales growth as well.
Having a popular face behind your brand can create an enormous impact. Thus, when it comes to Instagram Reels, influencers are hands-down the best people to go to.
Social media influencers are your best bet because:
They have already built a loyal community
Their followers love to hear what they have to say
They easily grab the attention of your target audience
They are skilled in handling social media
They make great content by themselves
Additionally, you get to network with people who have a profound impact on your target audience and leverage that in the long term as well.
5. Reel in Your Audience and Build Trust
Knowing whom to reach out to with your Instagram marketing campaign is one of the most critical things you need to stay on top of.
It's very simple – you can spend thousands of dollars targeting people who do not fit your customer persona but still end up with absolutely nothing in return.
That's why you need to know your audience, create your user persona, and target the people whom you really resonate with. Make your strategy around your audience.
"The more you know about your audience, the more you can tailor your missions to your audience's requirements!"
The difference between a mediocre business and a great brand is that a great brand gives more to its community.
Keep in mind – Everything need not be a transaction!
For example, if you own a sports brand, you can make Reels on Instagram that:
Address popular questions about various sports
Feature popular athletes giving sports tips on your Instagram page
Contain shout-outs to customers making a difference in sports and their careers with your products
By appropriately segmenting your audience and creating content around their interests, you can maximize saves and shares of your posts – the two most important engagement metrics on Instagram.
"Instagram saves are the new super like"!
6. Last, but Not Least – Use an App Like Socialpilot
If you are a social media marketer, influencer, content creator, agency, or even just an ardent user trying to up your social media game, then you ought to know why using a third-party tool like SocialPilot is great.
SocialPilot is one of the easiest tools to work with and it doesn't burn a hole in your pocket. But what really tops all this is just adept the tool is to change. SocialPilot has been on par with every update and feature rolled out by Instagram.
When everybody was wondering how to use Instagram Reels for marketing, the tool got busy gaining more features that support Instagram's Reels. That's right, you can post and schedule reels with SocialPilot.
But the fun doesn't stop there. You can also monitor your data using the Instagram analytics feature – it helps track data from your reels to your whole profile and also allows you to download reports for your other performance decisions.
Conclusion
Instagram Reels are the best thing for influencers and businesses trying to reach their audiences organically.
If you're ready to fast-track your growth on Instagram, an all-in-one comprehensive social media marketing tool like SocialPilot can help you in your marketing endeavors.