Launched in 2020, Instagram Reels was Meta's answer to the wildly popular short-video app TikTok. Fast-forward to today, Reels are stronger than ever!
Let's admit it. Reels can be appealing and highly addictive. Once you finish watching one, you cannot help but scroll to see the next. As these short videos continue to remain a hot trend this year, too, it is wise for businesses to use Instagram Reels templates to create better Reels content at a faster pace.
But what's the benefit of using these templates?
Well, these templates drastically reduce the time it takes to create Reels. With these templates, you don't need to select music and edit clips to match the music. This way, you save tremendous time creating the short video and increase the rate you post these videos on the platform.
Keep reading to know what Instagram Reels templates are, why and how to use these templates, and how to use Reels for your business effectively.
Plus, we have also a fix a set of Instagram Reels templates that you can use to generate great engagement on the platform. Take a look:
Benefits of Using Instagram Reels Templates
If you look at the latest social media statistics, two billion individuals interact with Reels monthly. These short videos get 22% more interaction than usual regular video posts.
All these numbers point to one thing – you need to leverage Reels if you haven't already.
However, to no one's surprise, creating Reels demands a significant chunk of your time. This deters many brands and businesses from creating them beyond a certain point.
An Instagram Reels template is a fantastic way for users to create engaging, high-quality content without investing significant time and effort in editing. These templates consist of pre-set clip durations and music selections from existing Reels on the platform, making it easier to join the bandwagon of popular trends.
With our Instagram Reels templates, you can quickly create and post these videos and establish a rock-solid presence on Instagram to simplify things further.
Moreover, these templates will help you streamline your content creation process while focusing on capturing the perfect moments without worrying about complex editing techniques.
All said and done; it's time we discuss how to use these templates.
Step-by-Step Guide: Using Instagram Reels Templates
1. How to Find the Perfect Instagram Reels Template
There are two ways to find templates:
Visit the Reels tab, choose the camera icon on the top right, then switch over from Reel to Templates.
Open a Reel in your feed, and look for the Use Template button. This button is located just above the Instagram account's name. You can use templates from a Reel that has at least three clips and music.
2. Adding Clips to Your Instagram Reels Template
After picking your template, click on Use Template. This takes you to a screen where you can add your videos and photos from your camera roll. Simply tap on Add Media or the placeholders you see.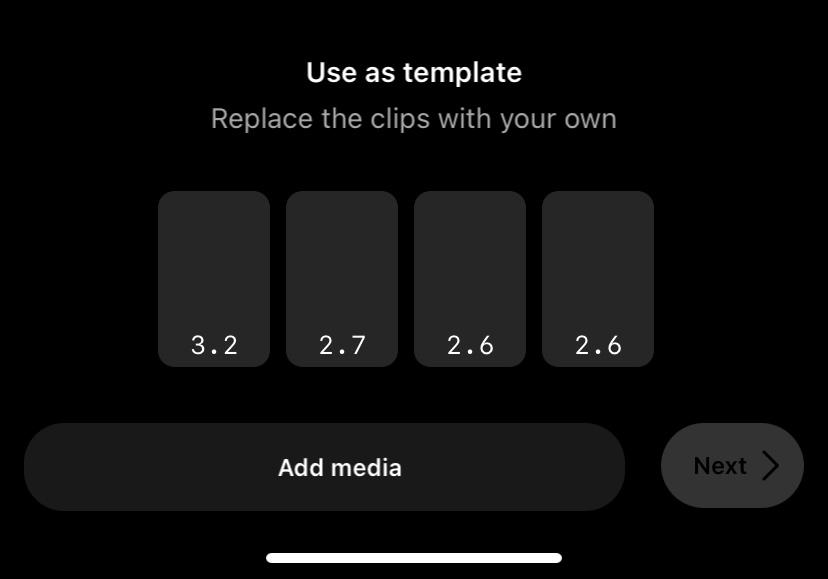 Then, choose the videos or photos in the order you want them to appear in the Reel.
Once you're done picking, tap Next.
3. Personalizing and Uploading Your Instagram Reels
Here is where you show your creativity and add stickers, text, drawings, or filters to your Reels. Once you do this, tap Next.
Now, add the cover, location, tags, and caption, and simply hit Next to publish.
Best Free Instagram Reels Templates
As mentioned, templates are a great time-saving hack.
Here's a bonus from us: Free Instagram Reels templates to help you get more views and stand out from the crowd!
Top 7 Instagram Reels Templates for More Followers
Let's talk about the most used Instagram Reels templates (the top five in this list are included in our pack):
1. New Collection Announcement Reels
Adding a fresh new product to your existing offerings? That is the kind of event you need to promote diligently. Use the template we have provided or find the one that suits you on Instagram to announce its arrival.
Many followers and fans wait for their favorite brands to announce any upcoming product arrival. Don't keep them waiting, and share a Reel on the possible and see the responses flooding in!
2. Inspirational Quote Reels
Reading an inspiring quote on our feed can flip our mood for the day or shift our perspective on certain things. Needless to say, we can all agree on this one thing – we love to read quotes, as they have the potential to stimulate our minds.
So, whenever you are in a dilemma about what to post in your Reels, go for the safer option of adding a motivating quote to a video that aligns with it. We assure you, you won't be spending a lot of time. You can also use our Reel template to save time creating such a Reel.
Tip: You can use quotes in your Reels that give a positive spin on running a business or help you showcase your hard work/ethics. Check this Reel below: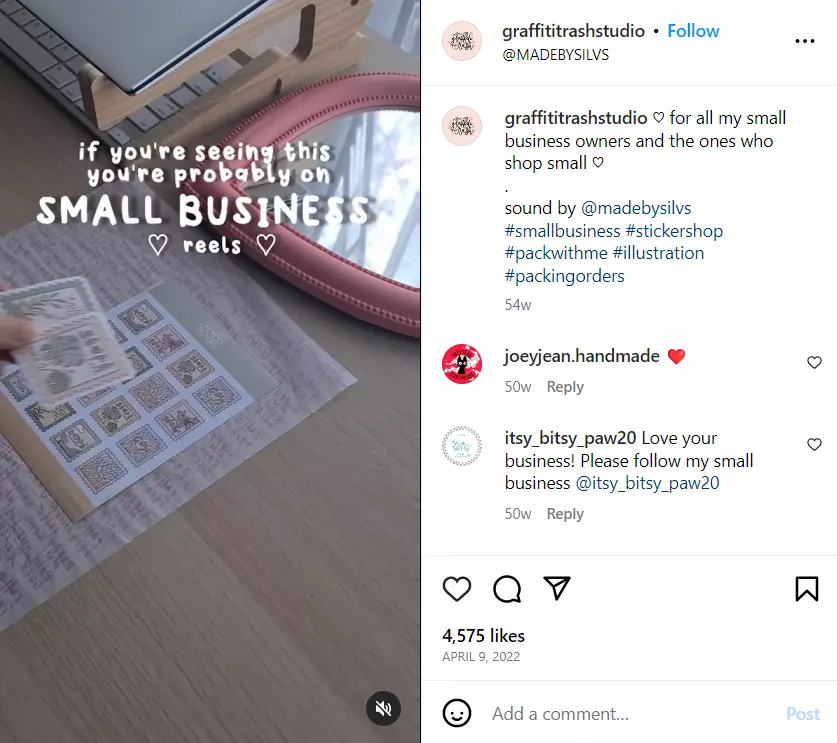 3. Sale Announcement Reels
Why create a whole Reel to announce a sale? Well, because it offers a feeling of exclusivity to your fans and followers.
Save time creating your sale announcement Reel by using a template in the video creation process. Also, don't forget to mention the name of the sale (if any), clear text highlighting the discount you are offering, and the date till the offer is valid. If you are offering the sale on a particular collection, mention that too.
End the Reel with a "Shop Now" call to action. Here's how Sephora promoted its sale.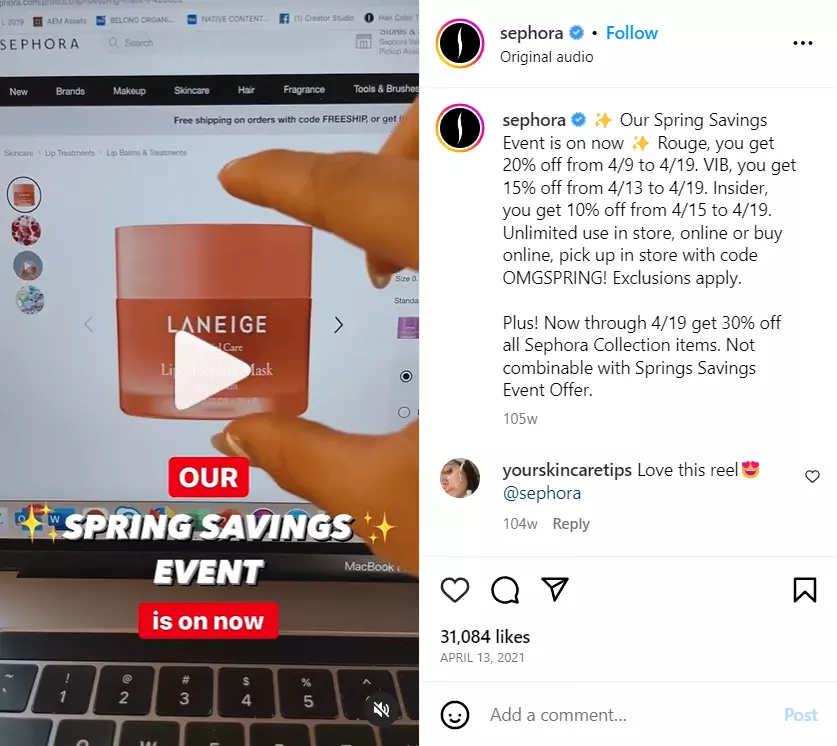 4. Tips-and-Tricks Reels
As an expert in your field, you possess valuable information and insights to share with your audience.
With the help of our templates, you can easily create a series of Reels providing useful tips to your fans and followers. This establishes your authority and engages and attracts potential customers to your brand. Start creating informative content now and make a lasting impression on your audience.
Here's how self-help creator Matt D'Avella offers tips related to growth and productivity.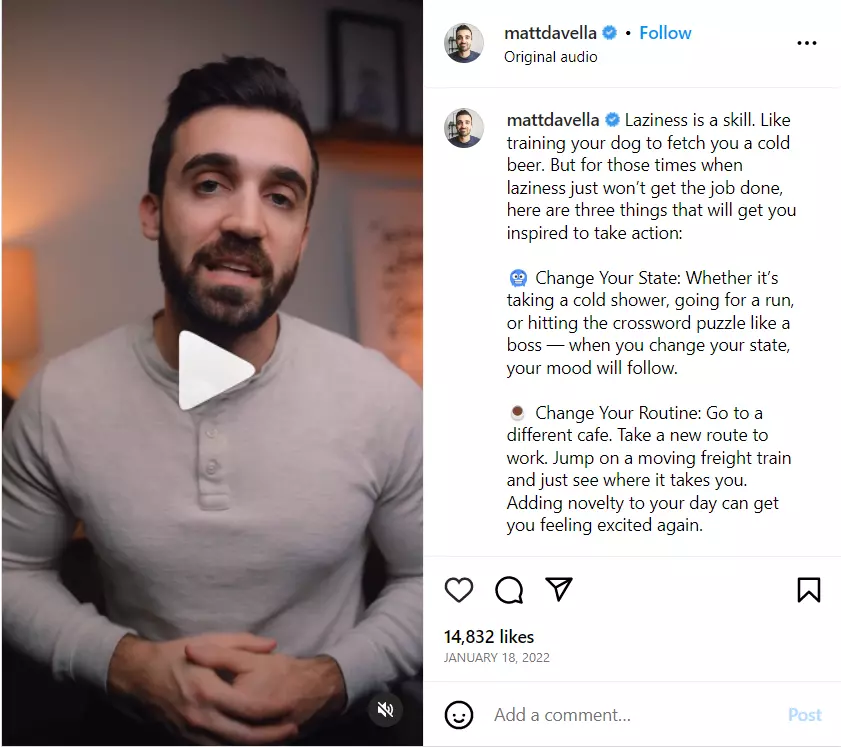 5. Conference Announcement Reels
Creating a thumb-stopping Reel for any conference you are organizing is important to grab your audience's attention.
Ensure you add all the conference details in clear, noticeable text so your followers don't miss any key details. Also, add exhilarating music to the Reel to increase the excitement of anyone who views it.
6. Listicle Reels for Engaging Content
Listicles are all around you on Instagram.
Having become a popular medium today, you can use them in your Reels to let your followers know what inspires you. For instance, you can share the list of entrepreneurs who motivated you to start your own business or the list of books in your field that helped grow your business.
7. Product Demo Reels for More Engagement
You can easily find an Instagram Reels template to create to-the-point, professional-looking demos for your product!
A product demo Reel is essential to let your audience know how to use your product.
Here you can see CoverGirl offering a demo of their products and discussing what makes them different from other products in the market.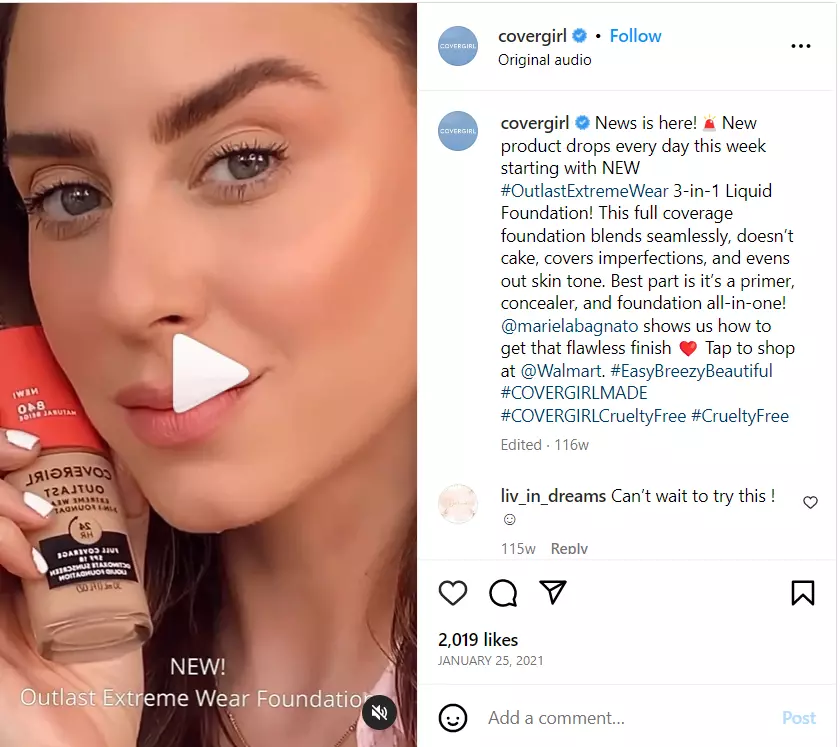 Want to avoid the hassle and schedule your Reels in advance? SocialPilot can help you schedule your Instagram Reels well in advance and ensure they're posted at times with maximum engagement. Save time and effort by scheduling multiple Reels simultaneously, and track your performance with detailed analytics.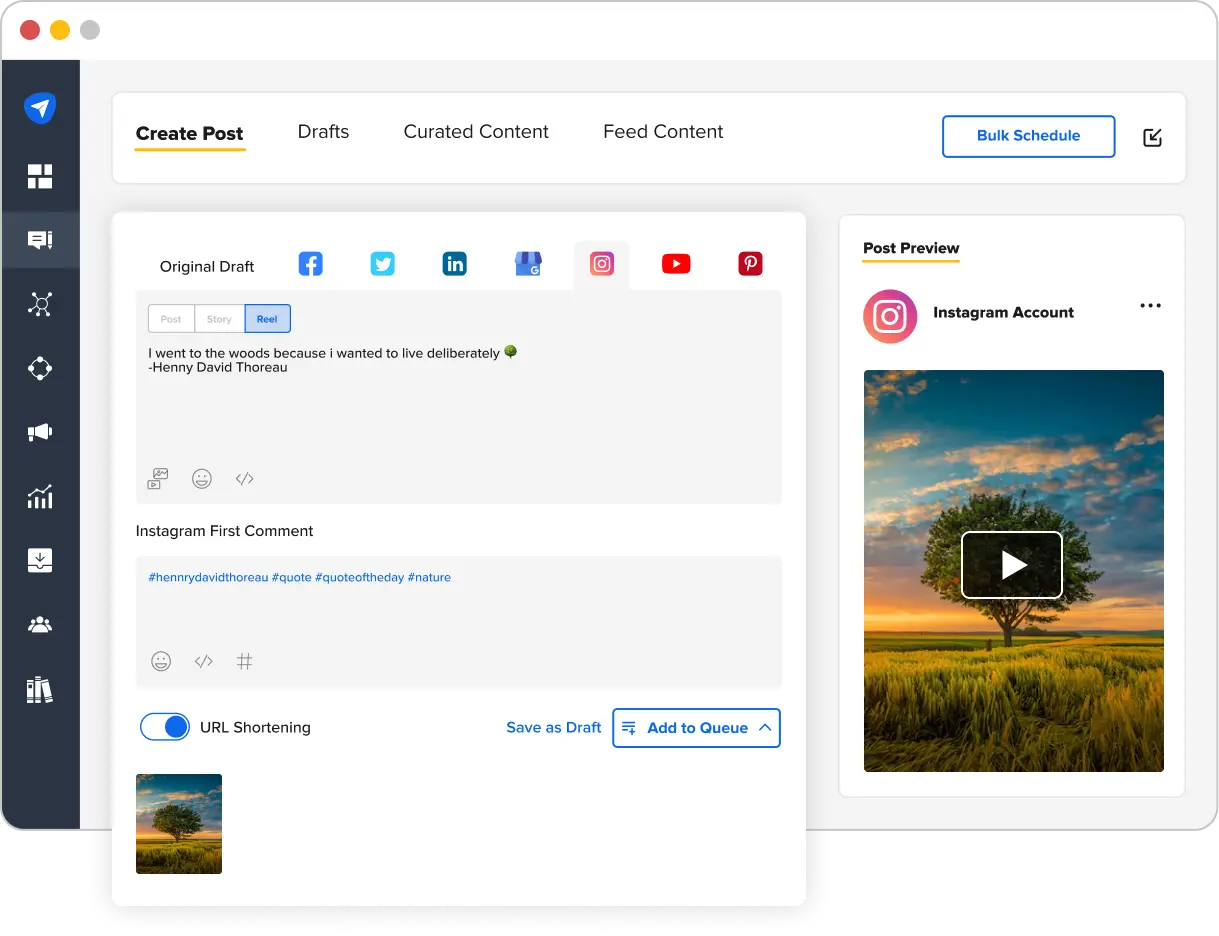 8. Behind-the-Scenes Reels: A Peek into Your Process
People love to have the insiders scoop on things, whether it's a reality show or behind the scenes of their favorite brands. And Reels are the perfect way for you to share behind-the-scenes of your service or product.
The creative journey of designing an outfit or the way a famous order of coffee is made, the audience finds it all very interesting. And if you add a voiceover to that, even better.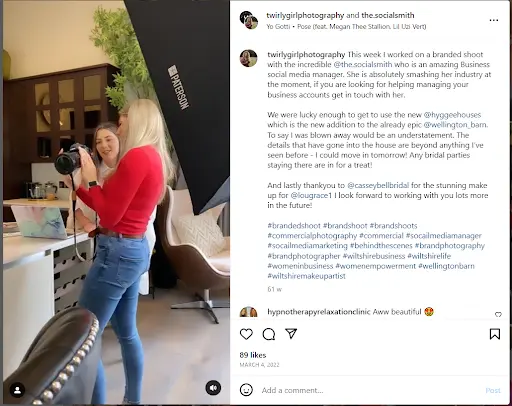 Here is an Instagram Reel a photographer has shared in which we can see her consulting with her client on the set of the shoot.
There are several styles you can opt from to make behind-the-scenes content. And if you are in need of a frame of reference, use our templates for Instagram Reels to get started.
Conclusion
All said and done; you must start using Instagram Reels templates to add speed to creating Reels for your brand.
Why?
Embracing Instagram Reels templates is a game-changing strategy for content creators and brands. With it, there's a higher propensity for more exposure and engagement and consequent exponential growth for your brand!
Instagram has a helping hand ready for you with its own set of templates if you want to get started making Reels. But how to find Instagram template Reels, you ask? Just go to your Reels section, and click on the camera icon on top of the screen. Here you can record your own videos or add from your gallery. By tapping on templates at the bottom of the screen, you can find the ones provided by the platform itself.
And yes, don't forget to download our inspiring Instagram Reels template bundle.