No one is surprised to see Instagram Reels for business on their feeds nowadays, as it has become a very common practice. The unparalleled success Reels has seen on Instagram in the short time since its inception in 2020 is nothing short of phenomenal.
Despite the content variety available on Instagram, Reels has shown the maximum growth compared to Stories and Posts. Here's what Google Trends has to say about it: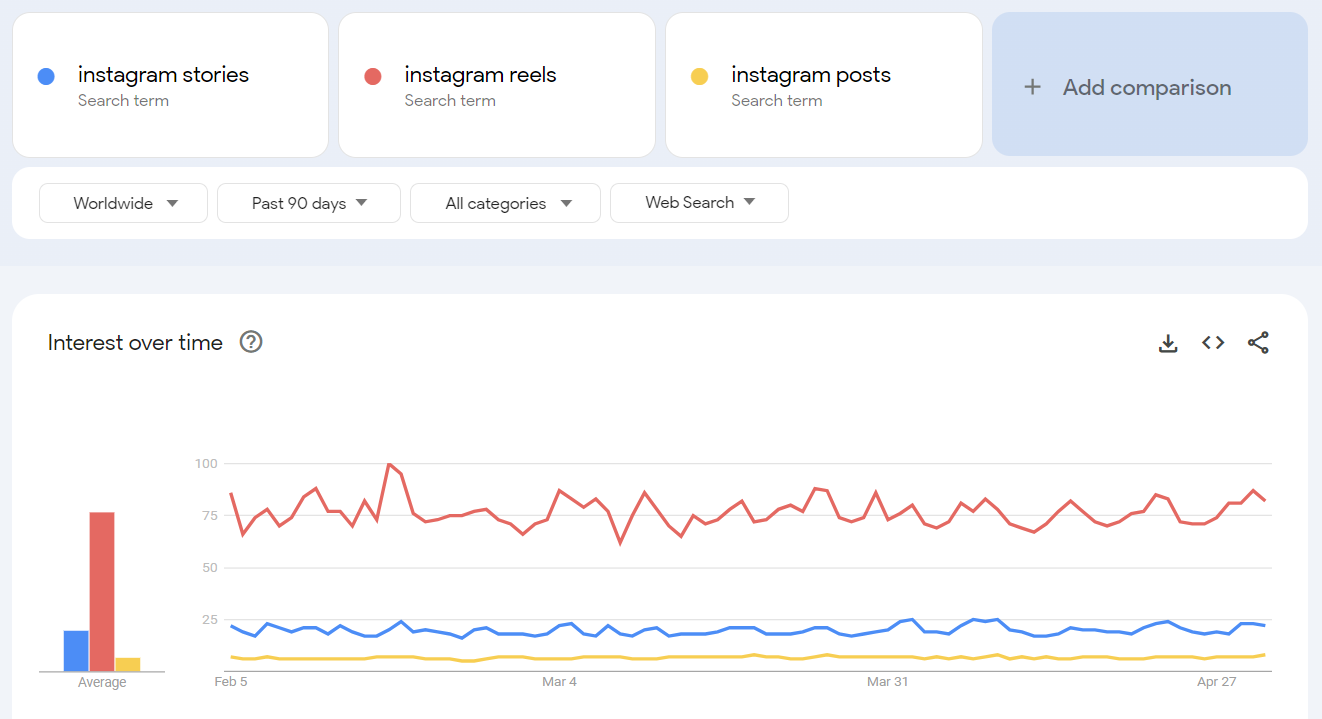 They were created to rival the content TikTok was creating, but it changed how people used Instagram. The audience spends way more time on Instagram because of this, scrolling through one Reel after another, engaging with them as they go.
So saying that Reels are one of the best avenues to reach and connect to your desired audience will be quite accurate.
That is why brands and businesses are making use of this feature to its fullest! Marketing through Instagram Reels has proven to be very effective as it fulfills marketing objectives while entertaining people, which they absolutely love.
Benefits of Using Instagram Reels for Business
Nowadays, you won't find any Instagram business profile without a full Reels section. Before you get your phone and start creating, you need to understand how Instagram Reels for business can be beneficial for your brand.
Here are the prime benefits of using Instagram Reels:
Reels Boost Reach and Engagement
It might sound repetitive at a point, but we can't stress this enough; Instagram Reels are a great source for boosting your reach and engagement. The Instagram algorithm is a fan of Reels, making them appear on more and more feeds. And since Reels are very snackable, they draw ample response from people.
Instagram Reels Can be Easily Created
What makes Reels feasible for everyone to create is you don't require big bucks or professional-grade equipment for them. Just a smartphone with a decent camera is enough to get started. And yes, a well-lit space can do your content wonders. The less-than-professional feel of Reels is what makes it so well-liked by the audience.
Promote and Entertain on the Go
Participating in trends is really important, especially for businesses wanting to create brand awareness for themselves. But bombarding your audience with product promotions just does not much difference to your ROI.
Instagram Reels are a great way to pitch your products to your audience without it being too in their face. Marketing with Reels gives you creative freedom like few other things can. Making DIY Reels with trending music as the background is a go-to for lots of brands nowadays. And entertainment is one of the best ways to hook your target audience.
These were only some of the benefits to encourage the choice of using Reels as a marketing tool.
But if you need some ideas, don't worry, we've got you. Here are some tips for Instagram Reels to help you get started.
10 Tips to Effectively Use Reels for Your Business
1. Introduce Yourself and Your Brand
New to Reels? Start with the basics!
Create a Reel that lets your followers know about you and your brand. Share important details such as your brand values, the work you do, and where you are based. Also, throw some trendy music into the mix – it will take the video a notch higher.
2. Introduce Your Team
After introducing your brand, it's important to introduce your team members. Let them share the spotlight in a Reel where they talk about the value they add to your team, their roles, and any quirks they have!
The benefit?
Your employees will feel a sense of solidarity, and your followers will get to know how much you value your team.
See how Arami Essentials has created a Reel to introduce their team.
Each worker is shown going about their day, waving to the camera. Their names and designations are indicated as they appear.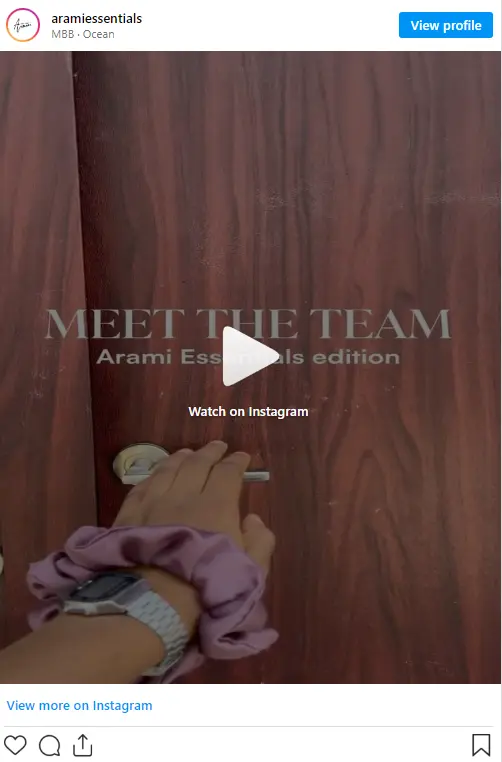 3. Give a Peak Behind-the-Scenes
Sharing behind-the-scenes content keeps your followers posted about the current happenings in your business and acts as an easy way to showcase your brand's personality. You can create Reels around topics such as your current projects, what your average day looks like, or simply put up a teaser video that can shed light on any upcoming work of your brand!
How does this help?
People like to understand how things pan out in real-time, so a BTS reel is a must on your feed! Thanks to these Reels, your customers better understand your business, your commitment to your work, and the value system you work on.
Today, BTS Reels are one of the most popular Reels among Instagram users. This is because it creates a personal connection between you and your customers, authentic storytelling at its best.
Let's look at the importance of BTS Reels with graphic designer Adam The Ill-ustrator's post. He has posted several BTS Reels depicting his process for creating fresh illustrations.
The result? He has a whole series of Reels totaling more than 100k views.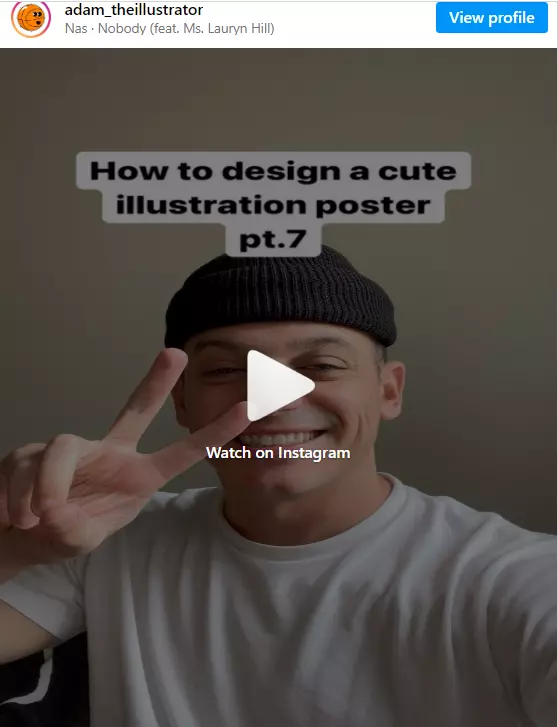 Another example includes a behind-the-scenes Reel by the brand Anima Iris showcasing how their bags get made.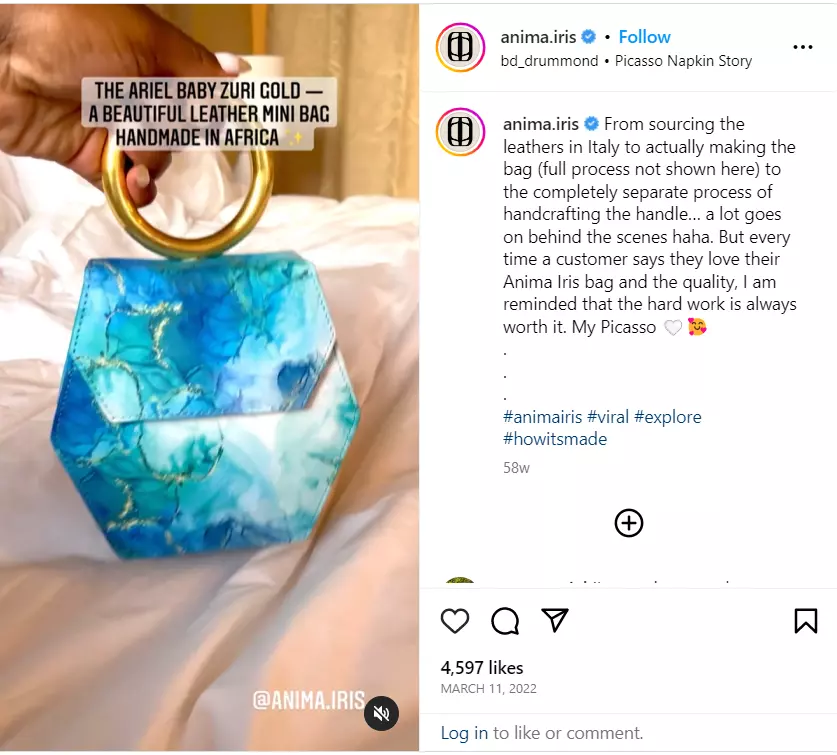 4. Post on the Best Times for Engagement
You need to figure out when your target audience is most active on Instagram to maximize Reels' engagement. As this may take time for you to ascertain, it's best to start with the already available data on the average best times to post Instagram Reels this year:
| | |
| --- | --- |
| Day | Best time to post reels on Instagram |
| Monday | 3 am, 7 pm |
| Tuesday | 12 am, 1 am, 6 am |
| Wednesday | 4 am, 6 am, 9 pm |
| Thursday | 6 am, 4 pm |
| Friday | 2 am, 11 am, 1 pm |
| Saturday | 9 am, 4 pm, 5 pm |
| Sunday | 5 am, 8 am, 1 pm |
SocialPilot, a robust social media management tool, enables you to post Reels straight from the tool to Instagram. You can schedule your Reels from the tool's dashboard at the best times to post for your audience and publish them at the exact time when you're likely to receive the most engagement.
5. Showcase Your Products
Another way to use Reels for your business effectively is to showcase your products fun and intriguingly while maintaining video quality. This has worked for numerous brands, such as Louis Vuitton (the brand has an average of 4 million views per Reel). Look at the views on these four Reels by the brand.

We're certain you won't like dull, blurry videos with low-quality editing, right?
So, make it a point to create engaging, high-quality videos. Also, ensure the videos are shot in good lighting, show the product in use, use good music and sound effects, and include text overlays. Lastly, add a CTA at the end as well.
6. Use Trending Templates and Music
There's a deeper reason behind using trending music and templates in your Reels. When you use music currently trending on the platform, you can boost your exposure via the music track's page.
The same applies to templates as well. When you use trending templates, your Reels start appearing in front of users who are familiar with the templates.
7. Use the Best Hashtags
After choosing any template and content for your Instagram Reels, don't forget one crucial last step. That is optimizing your Reels' hashtags.
We all know that it takes plenty of time to research hashtags. Hence, we recommend referring to our trending hashtag calendar kit, which includes hashtags for each day of the year and offers the best ideas for using them.
8. Create Memes!
We all can use a good laugh now and then, and memes are a perfect way to offer that. The good news is that you can turn memes into Reels for your page. To execute this, you can overlay a GIF, video, or image onto a 9:16 background.
Here's a hilarious Reel that contains a meme: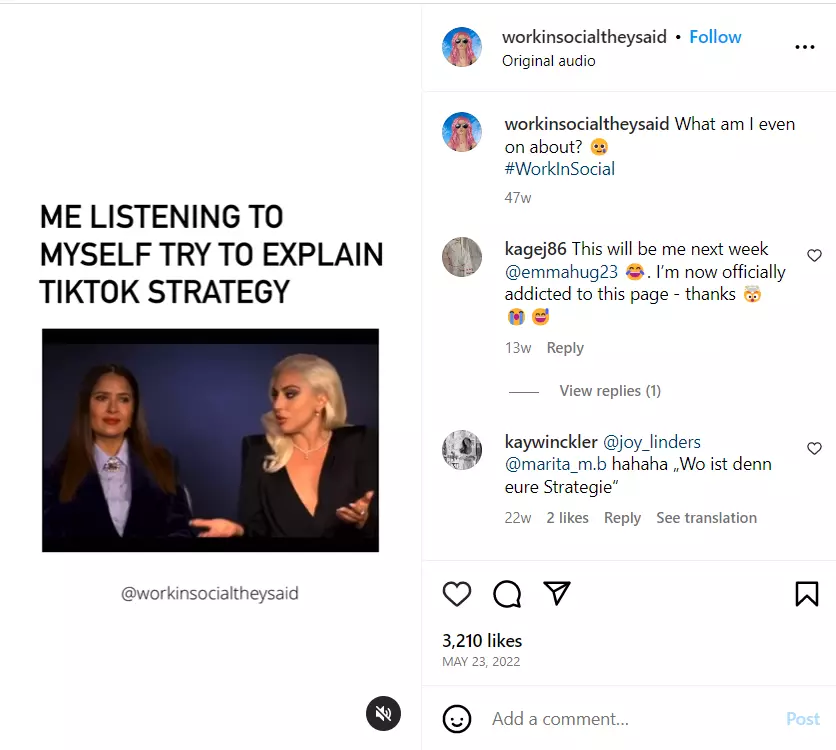 Tip: To spruce up such a Reel, use the text-to-speech feature and add trending music to the mix.
9. Teach Your Audience a New Skill
From helping people know how to make chocolate chip pancakes to offering advice on how to create the perfect beach waves, people use Instagram to teach their followers a new skill every day.
As an expert, there is no limit to what you can share based on your knowledge. Hence, use Reels to share your know-how with your audience. Take some time to brainstorm and list certain how-to ideas; then, all you need to do is start.
10. Share a Fact that Depicts Your Values
Think about it – will you not prefer to go for a brand that aligns with your personal values?
You will, won't you?
This makes sharing facts on Instagram that showcase your value to your audience more important than ever. Share facts in Reels that talk about the issues your brand cares about. Do it in an easy but effective manner.
Take inspiration from Grove Collaborative, an eco-friendly brand that shares a fact about recycling in this Reel.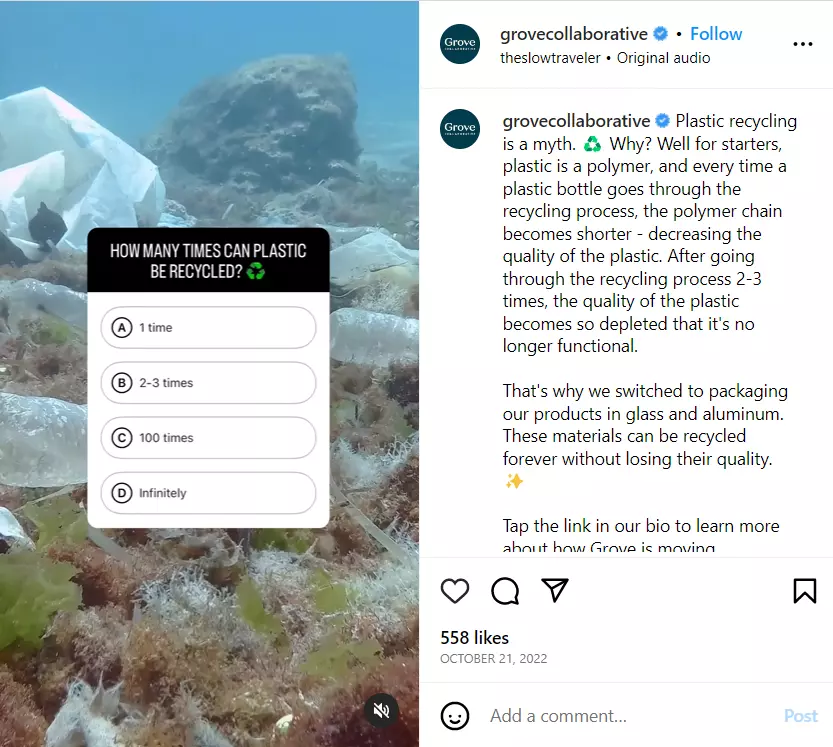 It's a Wrap
Instagram Reels have become a de-facto for content creators and there is no reason why businesses should keep themselves from using it as well. It might be a new thing for a lot of marketers and you might wonder about how to use Instagram reels for business. But it is undeniable that they provide a lot of versatility regarding content creation.
From entertainment to do-it-yourselves to informative, you could go for any genre. Be consistent after getting started. The algorithm might take a little time to reach your content. You can take the help of Instagram marketing tools to help you along. Once your content reaches the right people, there is no stopping you.