Since the introduction of Instagram in 2010, the usage of hashtags has become more prevalent. It wouldn't be wrong to say that Instagram has contributed significantly to the popularity of hashtags
Using hashtags wisely can rapidly multiply the number of followers you have. Social media users, who are aware of the purpose of hashtags, liberally use hashtags on their posts, stories, and reels to expand the reach of their content
The best part is that even non-followers can view your content through hashtags, which can further increase your followers' ‌number dramatically
However, it would be incorrect to assume that all hashtags used in a particular post, story, or reel will yield the desired results
Preparing the right hashtags involves significant research and analysis of several metrics such as the audience, user trends, and products. You also need to look at the performance of the hashtags after implementing them in your strategy.
So, how can you track the hashtag performance?
Use Instagram Hashtag Analytics. Simple.
What is Instagram Hashtag Analytics?
Instagram Hashtag Analytics lets you monitor how the hashtags used in your posts are performing. With this feature, you can find out which hashtags are reaching the most accounts and people and which ones aren't. Finding hashtags that resonate better with people is easier with this tool.
How Instagram Hashtag Analytics works and why businesses need it?
The first step in figuring out if hashtags are effective on Instagram is to use a tool that helps you pull analytics information. There are many tools available online to help you achieve this goal.
You can use hashtag analytics to track metrics and use that information to:
Plan a solid growth strategy that can help you grow
Discover the best time to post on Instagram
Determine the reach and mentions of your hashtag campaign on social media
Gauge social media engagement.
Find out the public's sentiment and response to a hashtag
Learn more about your followers and when they are the most active
Discover top trending hashtags
See who's sharing your content and where
Identify which influencers use your hashtag
Top 10 Popular Instagram Hashtags
Instagram has a vast pool of hashtags available on its platform. Here we have managed to list the top 10:
#love (2.1 billion posts)
#instagood (1.3 billion posts)
#fashion (965 million posts)
#photooftheday (925 million posts)
#beautiful (744 million posts)
#happy (636 million posts)
#cute (629 million posts)
#tbt (571 million posts)
#followme (573 million posts)
#like4like (533 million posts)
Note: It's crucial to use relevant hashtags on your Instagram posts. The key to making your posts click is by using the right hashtags. The inclusion of irrelevant keywords will not help you reach more engage your audience.
Types of Hashtag Groups Beneficial for Businesses
There are several types of hashtags on Instagram. Here are some hashtag categories you can use for creating a successful Instagram hashtag strategy for your brand:
Community Hashtags
Like-minded individuals who share common interests form the community hashtags. Some examples are #singlelife, #bosslady, #fashionistasofinstagram, #bakersofinstagram. You can use the community hashtag to reach members of any community if your products/services are relevant to that community.

This image shows 2.8 million posts for the community hashtag #mermaidhair.
Branded Hashtags
These hashtags help you build a robust ecosystem of followers around your brand. Your followers can use the hashtags to create or tag content about your brand. It could be just the brand name, the tagline, or a product or service.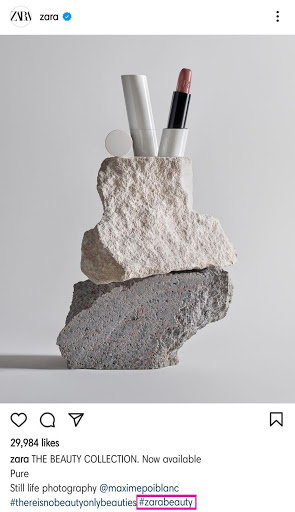 Campaign Hashtags
Many brands have unique hashtags for their campaigns. It is a great way to promote your campaign and get more involvement from the audience. Brands even use it for generating user suggestions for product development
For example, Lay's came up with a #DoUsAFlavor campaign to involve the audience in deciding the flavors for their product range. It not only boosted engagement but also helped in the pre-launch of the flavor chosen by the audience.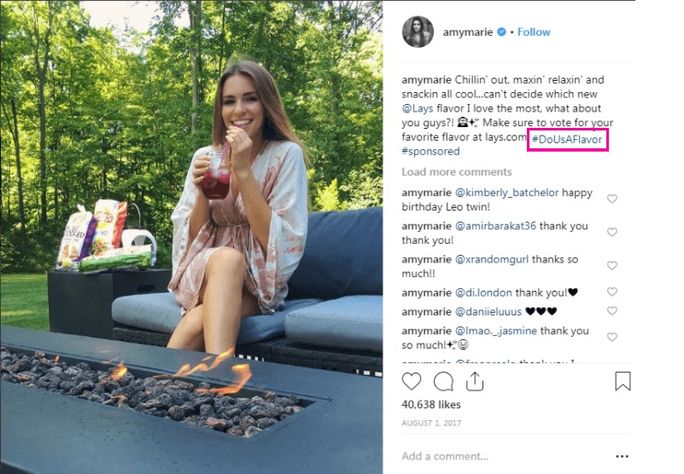 Industry Hashtags
These are a great way to increase the brand reach and promote your products or service by using hashtags relevant to your industry. In addition, by using the same hashtags as high-performing industry hashtags, you can gain more followers through competition with them.
Location Hashtags & Event Hashtags
Location hashtags come in handy to increase brand awareness. Since location-based stories and explore campaigns appear on explore pages, they can help you reach your targeted audience and build local awareness for your business.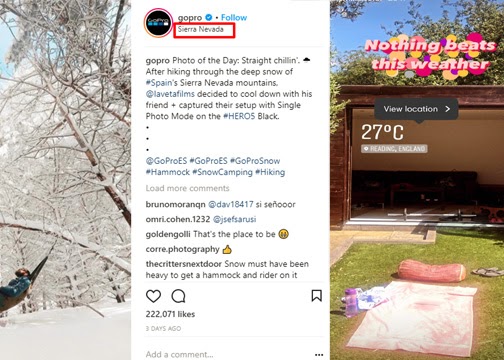 Event hashtags are, however, time-specific. The benefits include allowing attendees of the same event to connect and network and creating a viral flow of interest in your content.
Top Hashtag Metrics You Need To Track
1. Reach
Reach, and Impressions are often conflated as being the same, but they tell very different tales.
The Reach metric gives you the number of unique accounts that have seen your post, while Impressions shows the number of times the post has been viewed. The reach refers to the unique number of users who actually saw your hashtag
Here are some tips on how to effectively increase your post's reach using hashtags:
Experiment with hashtags. Some might work, some might not, but calculated experimentation is necessary to be innovative and gain traction.
Use easy and relevant hashtags.
Be sure to keep your followers engaged. You can include hashtags when you go live, run interesting polls, add stories, and ask people questions.
Authenticity is key. Use catchy and appealing hashtags that people can quickly follow
Make use of Instagram ads. Using these, you can reach more target audiences who are likely already interested in similar products/services.
2. Impressions
Impression indicates the number of times your hashtag was viewed. It includes repeated views as well In other words, if a viewer scrolls past your content three times, you get one reach but three impressions
Additionally, impressions give you details about how many impressions were received from hashtags, your profile, and your home
A high impressions-to-reach ratio indicates your audience has viewed it several times. It is a good indicator of engagement.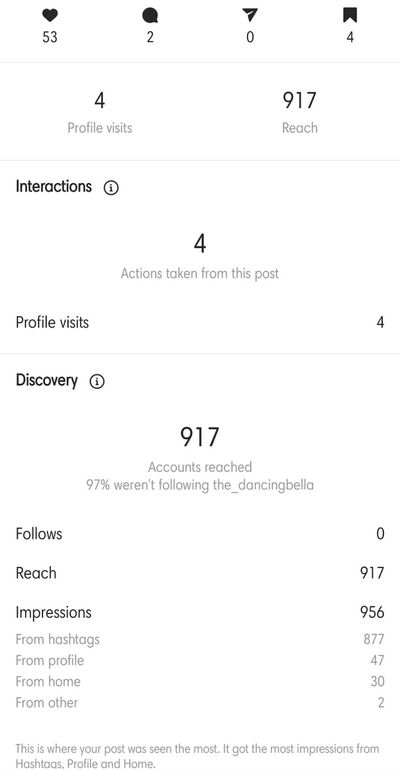 3. Engagement Rate
According to Oberlo, engagement rate is the most critical metric for 80% of businesses. Engagement is an important metric to determine the number of comments, likes, and shares your hashtag is receiving. As your audience peers into your content, they will share and like it more, which will eventually result in more followers.
Now the question is, how can you measure or calculate engagement rate?
Thankfully you do not need to be a mathematics genius to determine the engagement rate. Instead, you can calculate the engagement rate using this simple formula:

4. Mentions and Tags
On Instagram, mentions and tags are effective ways to increase the reach of your content. Often, when users are pleased with a product or service, they tag the company on their posts and spread the word about it
The benefits of this are obvious: you are reaching more users, who might become your customers in the future. In addition to allowing the brand to see the story, tagging and mentioning allow other followers of your customers to view the company's profile. They will be taken directly to the company or product's Instagram page with a simple tap on the tag.
5. Influential Influencers
Using this metric, you can see if any popular social media influencers are using your hashtags. Several variables are considered when calculating social media influence: the number of followers, reach, interactions, and activity of a source. By using this hashtag metric, you can find out if any influential sources mention your hashtag. You can also track the traffic source of a hashtag if it's accompanied by a link
6. Interactive Authors
This metric shows your hashtag mentions from sources having the most interactions: likes, comments, retweets, and shares. In this way, you can track which sources mention your hashtag often and boost engagement. In addition, your brand can use this metric to identify endorsers and advocates
Top 5 Tools For Instagram Hashtag Analytics
1. Instagram Analytics
Instagram analytics is a free, built-in feature of Instagram available to any business accounts on the platform. It allows you to track your content interactions, reach and impressions, followers, shares, saves, likes, and more. It displays data for the past 30 days. The tool tells you whether the different accounts reached were your followers or not. It is a simple tool to get details about what your hashtags are fetching you.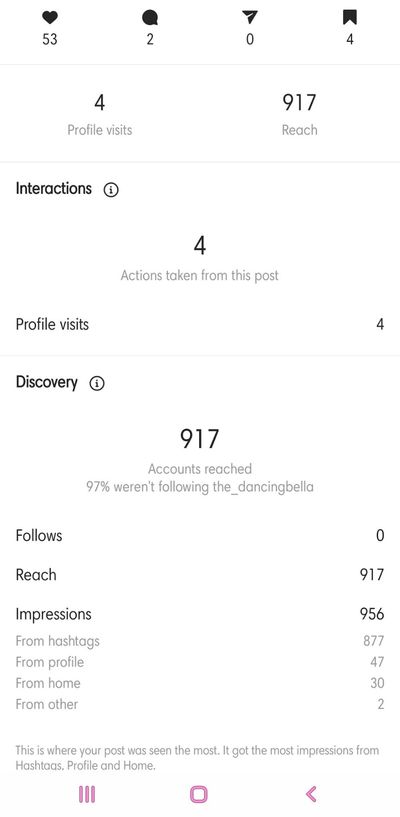 2. Hashtagify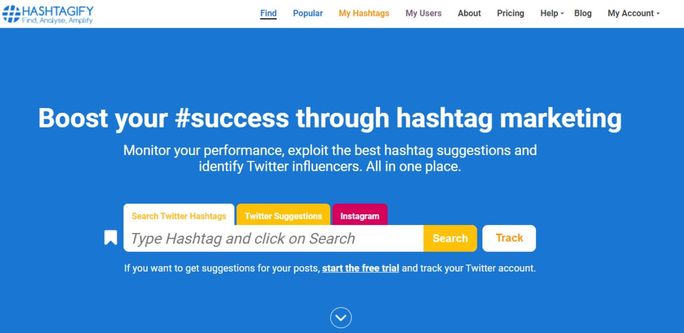 Hashtagify is a free tool that gives you deep insights into your hashtags' performance. For example, Hashtagify allows you to track:
Stats on any hashtag in real-time
Associated hashtags
Pick suitable hashtags for your social media campaigns
3. Brand24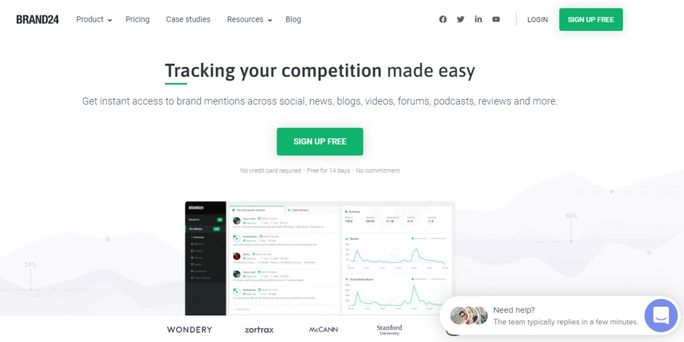 With Brand24, you can monitor and analyze social media and hashtag activity in real-time. It tracks and analyzes hashtag mentions across social media networks, blogs, video platforms, review sites, and other publicly available sources
Besides, Brand24 also allows its users to track certain metrics like:
Reach of a hashtag
Engagement volume
Analysis of sentiment around a hashtag
Popular hashtags
Discussion context
The number of mentions
4. Pixlee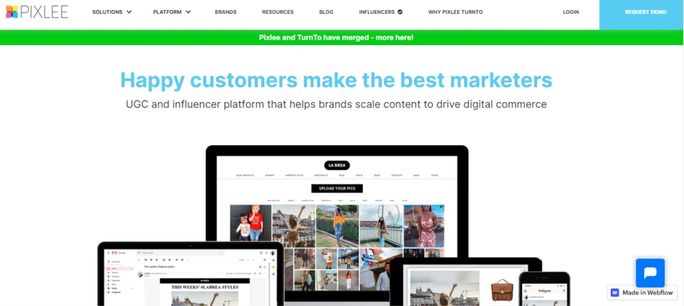 Pixlee's Instagram analytics tool allows you to track and search hashtags easily. In addition, this tool offers weekly hashtag statistics reports. In addition to monitoring conversations about your brand, Pixlee can identify its top influencers using its social listening features
Hold on! The best is for the last
5. SocialPilot
SocialPilot analyzes the performance of your content as well as your Instagram business accounts. In addition to tracking your posts, hashtags, reach impressions, website clicks, and more, SocialPilot gives you the ability to track information about your audience. These metrics are critical for monitoring the performance of your account

Take full advantage of the analytical prowess of SocialPilot to maximize the outcome of your Instagram marketing strategy.
Visit the SocialPilot website to use the tool. You will find the analytics option in the left-hand side menu. Then, select Instagram and get going.
Bonus Tips to Ace the #Hashtag Game
Create unique hashtags for your brand
Choose catchy and relatable hashtags that will inspire users to reuse them
Do not include space in your hashtag
Follow trending hashtags groups
Discover when is the best time is to post
Include hashtags in your reels, stories, and highlights
A hashtag should not contain too many words
Don't overuse hashtags in your posts
Join other creators on the platform for shoutouts or share for share using hashtags
Be creative and add fun elements. 42% of users share funny content on Instagram. Nowadays, brands use trending memes along with appropriate hashtags for advertising their products and services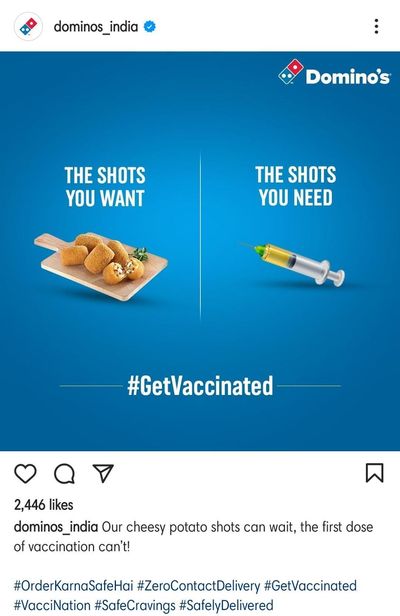 Conclusion
According to social media statistics, Instagram has now reached 1.15 billion users, with 500 million active users each day. By 2023, it is expected to reach 1.2 billion users. The increasing user base is a boon for marketers like you to increasingly use Instagram for your social media marketing and grow your brand
It is no secret that Instagram feeds are not complete without hashtags, and understanding which hashtag works best for your page can help you increase engagement. However, with terabytes of data generated every day, it is essential for you to approach the marketing game on Instagram scientifically. Hashtag analytics lets you do that.