Has Instagram pushed you on the edge of content creation? Well, we understand your plight.
With 500 million users per day frequenting the platform, Instagram makes users create content at a breakneck speed. But despite the hustle, scoring a good engagement rate is a far-fetched dream.
That's because focusing on just one side of the coin won't solve your engagement worries. You need to get backstage to keep a check on analytics of what's being laid out in front of your audience.
And by analytics, we don't mean tracking the comments and likes. You need much more than these basic insights. That's why most brands rely on Instagram tools to entrust their analytics tracking, thereby giving insights on improving the content creation activity.
In this blog, we have listed some of the best paid and free Instagram analytics tools so you can focus on your areas of improvement and get back on your progress track real quick.
Let's have a look at each of these Instagram analytics tools!
Best Instagram Analytics Tools for Marketers like You
1

SocialPilot
Price: $35 for 1 user
Unlike other Instagram analytics tools, SocialPilot comes with multiple features on a single platform. It has the ability to connect all your Instagram business accounts and provide in-depth analysis for each one of them. You can directly post to Instagram with SocialPilot as well.
If you are a small business or an agency, you surely would want a tool like SocialPilot that is easy to learn. SocialPilot provides its users with rich features like social media analytics, social media calendar, content curation, bulk scheduling, etc.
With its in-depth analysis of social media platforms, SocialPilot is the one-stop solution for your social media management.
Why Select SocialPilot as Your Instagram Analytics Tool?
With SocialPilot, you can manage and analyze multiple Instagram business accounts in one place.
It provides information such as likes, impressions, shares, profile views, website clicks, gender-wise reports, location-wise reports, engagements, etc.
In-depth Instagram analytics reports are divided into three sections: Profile, Posts, Stories with smooth switching between three of them.

View analytics, download PDF reports, and send emails to your clients right from your SocialPilot account.
It offers a free 14-day trial before you make the final purchase.
SocialPilot gives detailed attention to each perspective of Instagram. From the most basic overviews to the in-depth analysis, SocialPilot provides you with every information you require to plan your ever-evolving Instagram content strategy.
What do people say about SocialPilot?
Palak J.
SocialPilot is very easy to use and user-friendly. I can easily post creatives and videos over all the social media platforms, and I can get the analytics, respectively.
Nadia G.
SocialPilot is undoubtedly one of the best tools to program social networks, being able to create my publications in almost all known social networks or share other things that I find through the complement of the toolbar. Its interface is very easy to use, automatically shortening all your links. Another element that I like very much is that I can obtain the statistics of each account, which is really fascinating since it helps me to project the needs that each client may have.

---
2

Social Status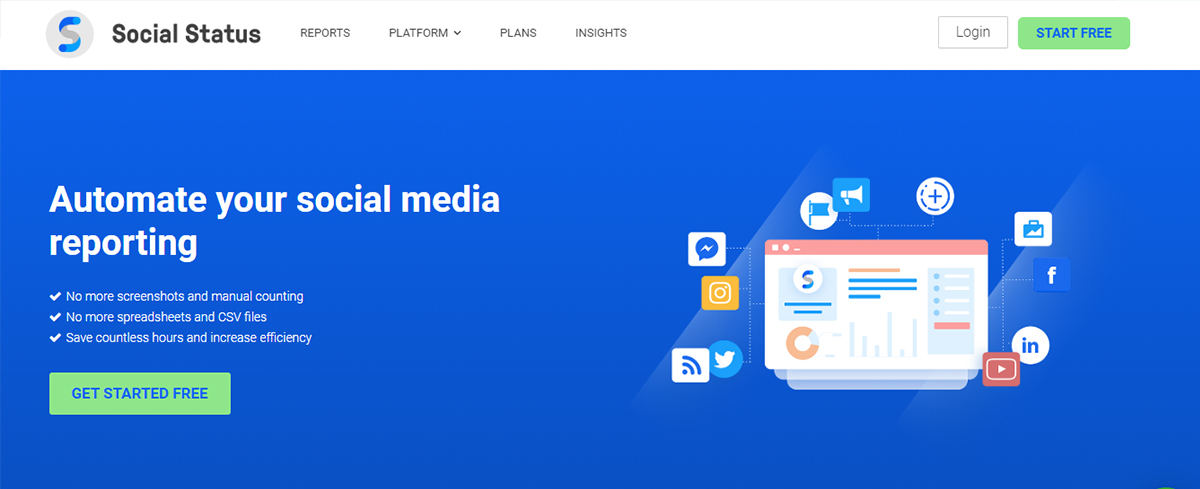 Price: $29 per month
Social Status is one of the most comprehensive Instagram analytics tools for tracking all your posts and Instagram Stories in one place. You can group accounts and report on aggregate performance if you admin multiple accounts.
Social Status enables custom report templates for agencies that need to create multiple report templates for clients. Automated reports can be exported easily in multiple formats, including CSV, PDF, PowerPoint, and Google Slides.
Pros
Detailed Instagram metrics are available, including follower demographics.
Social Status also supports Facebook, Twitter, YouTube, and LinkedIn.
You can go for a free plan or opt for a free trial.
Geoff S
Quick to set up, easy to use, and a powerful analytics tool for all our company social media accounts. We use it every week.
Cons
It is not an all-in-one tool as it lacks scheduling and management features.
Higher plans can be expensive.
Jacky C
It is a bit expensive but worth it. If you are looking for a white-label report feature, you have to subscribe to a quite expensive plan.
---
3

Sprout Social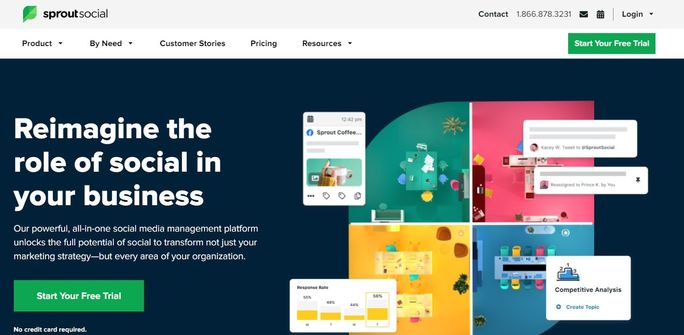 Price: $99 per user per month
Sprout Social is an Instagram analytics tool that lets you schedule, publish, and track analytics for multiple Instagram accounts. It also simplifies your editing process by utilizing a centralized Asset Library to make all posts look like they are linked to each other.
You even get a report on your frequently used and best-performing hashtags. As you continue to work on your hashtag strategy, Sprout Social can eventually develop a new social strategy or a campaign for your social profile.
Pros
They offer online webinars and conferences to pass on the knowledge of how to optimize their tools better.
Sprout Social lets the user schedule the Instagram posts in an easy-to-understand way.
Alina P.
I absolutely love this! It's important to know how our customers are reacting and interacting with our posts, so the analytics part of our social media posts is really necessary.
Cons
Sprout Social's mobile application doesn't include the analytics section.
With all the features provided, it often gets time-consuming to explore all of them.
It is comparatively more expensive than the other tools for what it has to offer.
Verified Sprout Social user
Not being able to schedule Instagram accounts that aren't business accounts without assigning the "publisher". In addition, I wish I could schedule Instagram stories from Sprout. It can get expensive to be able to use more tools and have further access to capabilities. I dislike how expensive the program is.
---
4

Union Metrics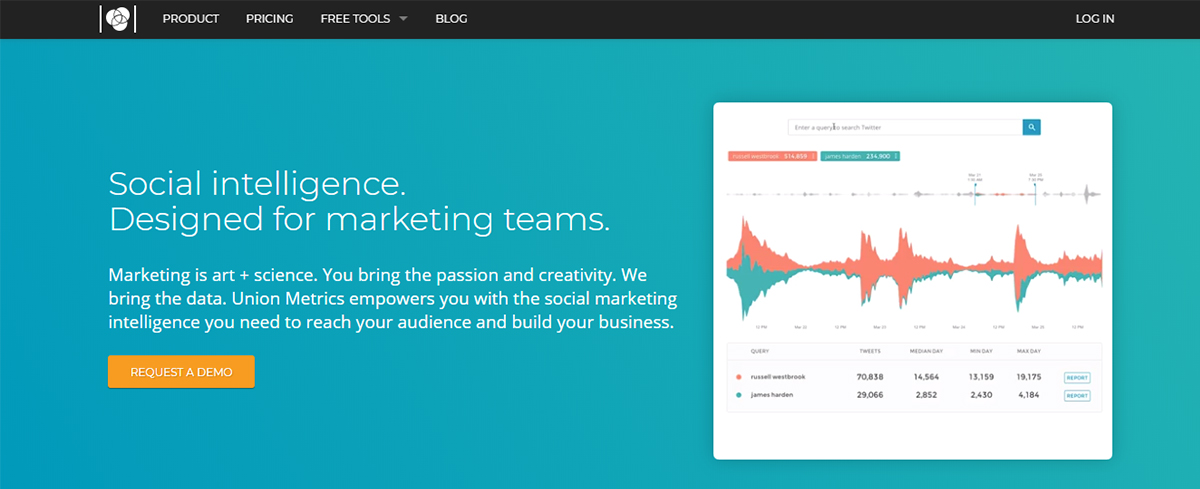 Price: $99 /month for 3 profiles
Union Metrics is one of the best Instagram analytics tools that guides brands to track their social engagement. It offers a full suite of analysis information, i.e., reach, impressions, story's performance, etc.
Union Metric's Instagram tools also overwhelm the user by providing information on what type of content your audience liked the most, even better optimizing that content.
Beside this, you can also take advantage of the platform's free Instagram Account Checkup Tool. This provides detailed reports consisting of your top hashtag, follower analysis, and average post engagement.
Union metrics can't give you analytics for more than 30 days, so it's beneficial to look at short-term strategies that can work well for your social media business.
Pros
Union Metrics offers a free Instagram account checkup tool.
This Instagram analytics tool is famous for its 'hashtag tracker' as it monitors and showcases the most popular hashtags in your user base.
Verified Union Metrics User
Union Metrics is a great tool for understanding how followers interact with your content and how to engage them better.
Cons
Increased loading time experienced by past users.
This Instagram analytics tool will be hard on your pocket if you are looking to manage multiple accounts.
Stefanie Cash
Exporting data is an issue, and it's very difficult to understand the navigation of menus. Not very user-friendly and lacks other social network connections.
---
5

Iconosquare

Price: $59 /month for 2 users
Iconosquare is a single-window Instagram analytics tool that allows you to schedule new posts, monitor the people in and around your brand community, and track your Instagram Analytics. These analytics precisely show your content's impressions, reach, and trends related to engagement.
The analytics tool for Instagram also includes hashtags and competitor tracking that keep marketers updated with the social trends. It also comes with a 2-week trial complemented with free tools such as a full Instagram Audit.
Pros
Its Instagram story analytics feature is considered crucial by its users.
Easy to use interface for all kinds of social media marketers.
It lists quite a few demographic details of the content.
Eirik V J
I love the simplicity and the impressive underlying data set and all the great analytics that they share. I also enjoy the fact that I can dig into the data as deeply as I want.
Cons
Users who want to post large photos have to resize them for Iconosquare.
Multiple breakups of categories and content can end up making you confused.
Email updates notification is received quite often, which hinders the user experience.
Devyn D
Some of the categorizations of features are a little confusing. The names of the categories are not necessarily user-friendly, but once you get the hang of it, it's fine.
---
6

Squarelovin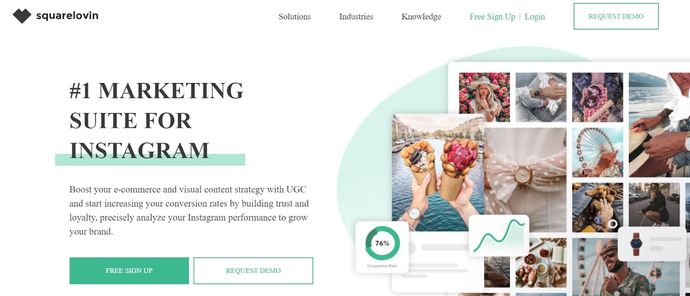 Price: Free of cost
Squarelovin is one of the best free Instagram analytics tools. It gives metric details such as top posts, recent growth, and post-history in year, month, day, and hour categories.
One of the notable features of this Instagram analytics tool is that it tells you the best-performing times to post, which can be valuable to businesses that often share content. This tool focuses on what drives your audience's engagement and how you can optimize your performance to maximize your efforts.
Pros
Squarelovin can track your growth over different time periods.
The engagement tab provides a collage of your most-liked photos.
It reflects the time frame when followers are most active.
Andreas Kitzing
Squarelovin is a cool tool done by a German company that takes analytics from Instagram and evaluates the return on individual images regarding revenue, traffic, conversions, and clicks.
Cons
The monthly analysis offered doesn't start right away and begins after a month.
This tool, being new to the industry, is less explored by the users.
As it's free, there are limitations to using it as a complete Instagram analytics tool.
Verified Squarelovin User
I love that it's free of cost, but there are so many limitations to using it, and it's buggy sometimes.
---
7

Keyhole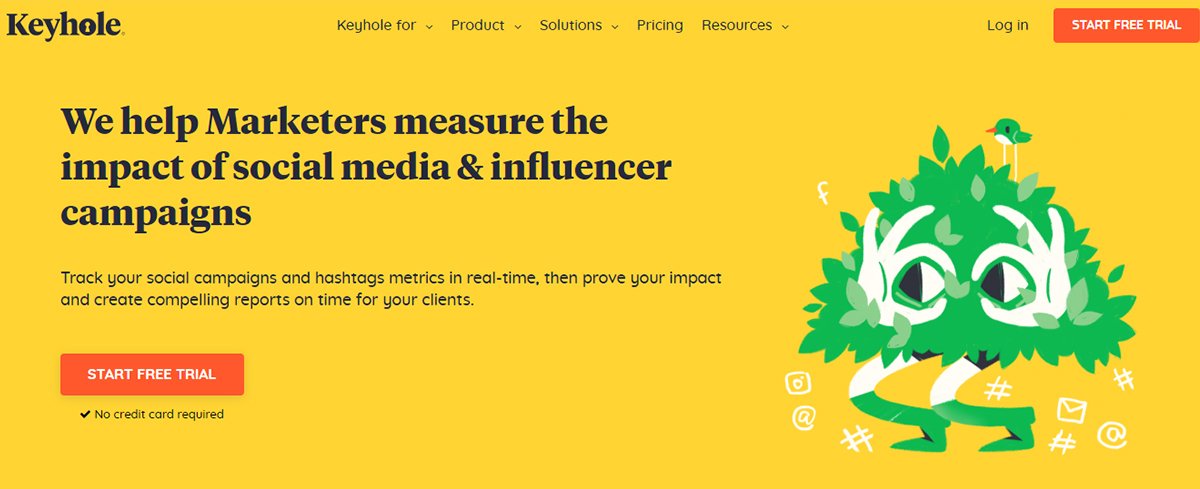 Price: $99 /month for 5 Profiles
Keyhole breaks the norm of past performance analysis with its power of analyzing real-time data. It provides real-time hashtag tracking, which is often useful for specific campaigns, contests, and much more.
As an Instagram analytics tool, Keyhole also addresses which of your internal trends are providing value to the social community to work better. It also helps you create a feed to track your competitor's Instagram accounts to see what's working for them and vice-versa.
Pros
Keyhole tracks web mentions to let you know what other people are talking about.
It has built-in campaign performance predictions.
Maria S
I like that I can track outside web mentions of what other people are saying about my company, as well as the ability to find influencers based on who is already talking about our company. But there are limitations on the number of hashtags you can use even when you pay the monthly fee.
Cons
The paid version of the tool is quite different from the free trial version.
If you miss out on putting trackers in place from the start, it can be difficult to set them up later.
Jon R
If you don't remember to put your trackers in place at the beginning of your campaign, then it can be a little challenging to get the analytics data prior to them being added.
---
8

Socialbakers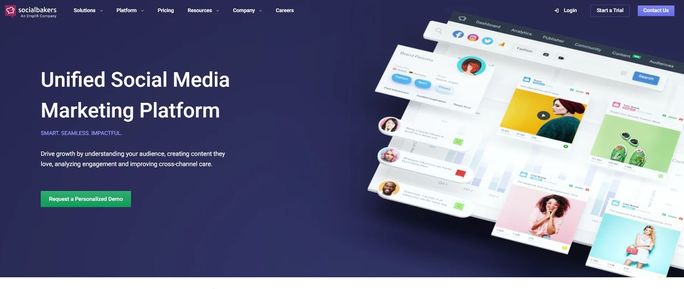 Price: $200/month for 5 users
Socialbakers is known for free Instagram analytics reports with its Instagram Quadrant report tool. You can create personalized dashboards and view reach, impressions, top posts, most used hashtags, and tagged accounts.
The custom user interface of Socialbakers is recommended for top-level insights and analysis. It also lets you connect profiles from different platforms like Youtube, Facebook, and Twitter.
Pros
It offers a free Instagram analytics tool to all users.
The UI of customized dashboards is easy to navigate and simple to use.
Leslie H
It has a very clean user interface with easy-to-use data. It has a lot of additional features, like influencer database and search engine, also content search, which is good for the UGCs and advertisement analysis.
Cons
While there are a lot of areas to look at, the time period is fairly restricted with the free version. You have to switch to the paid version.
The analysis reports by Socialbakers aren't massively in-depth and are expensive in comparison to the market.
Maria C
I don't like its price, I consider it a bit high. There are no video posts on Instagram through the use of this tool, it is a notable disadvantage for anyone who works on that platform.
---
9

Trufan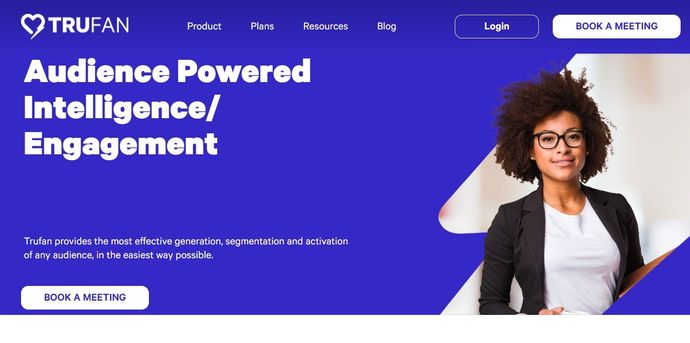 Price: $199 per month for 3 users
Trufan allows you to track, sort, and categorize your followers on Instagram. You can also find Instagram followers based on bio keywords, or hashtags used. Moreover, it helps you figure out your most loyal followers and notable influencers with verified profiles on Instagram.
You can even sell your top products to these loyal followers to keep supporting your brand. That will boost their confidence and strengthen your relationship with them.
Pros
It is an easy-to-use tool for beginners.
It has effective reporting capabilities.
Julie U
I love that this is free, simple, and easy to use. It's visually stimulating because it ranks everything with large avatars as well as the profile name. There is a way to export all the data as well so it's great to give it my boss to show her where we stand and who is influential in the market.
Cons
Users encounter glitches while linking accounts.
Insights don't give in-depth information.
Jyssica Y
Glitches with using one email account for different accounts I manage seem to occur. I am a small social media agency + consulting business.
And with this, we end our list.
---
10

Sendible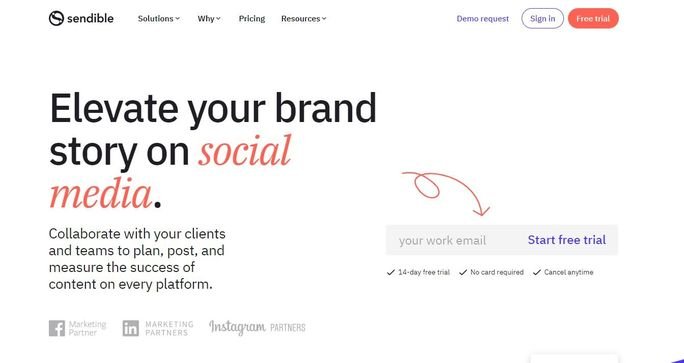 Price: $89 per month
Sendible is an analytics platform that supports a range of social media networks like Instagram, Facebook, LinkedIn, Pinterest, and Twitter. You can also connect Sendible to various blogging sites like Medium and WordPress. Sendible lets you onboard your clients and teammates for streamlined collaboration.
Sendible tracks vital Instagram analytics metrics such as reach, impression, likes, comments, demographics, and audience growth. It also gives you insights from Google analytics for apt estimation on your online performance.
Pros
Sendible has a customizable reporting feature, which comes in handy when managing multiple clients.
You can curate content for specific topics and gather influencer information.
Katie S
I enjoy that I am able to view metrics from each website I am able to post on through Sendible, including Google analytics. It is also very easy to make a post and schedule it if you need to.
Cons
The platform is clunky and difficult to grasp.
Users complain of the platform's slow loading and frequent crashes.
Victor W.
The Instagram post is automatically cropping it to square, and we have to go in and adjust to the original perspective. If I'm uploading the photo, I've got it sized how I want it. I am having issues with the mobile app (Sendible) for iOS on my iPad and iPhone. As soon as I log in, the app crashes. I've tried reinstalling, rebooting, hard reset, still the same issue.
---
11

Rival IQ
Price: $329 for 2 users
Rival IQ is one of the Instagram analytics tools that provides real-time insights into a brand's social media handle. The tool extracts valuable data for comprehensive reports, helps you make informed decisions to improve results, and better understand your competition.
Rival IQ's cutting-edge technology makes it a reliable tool for analytics. With competitive social media surveillance and benchmarking, you can stay ahead of the competition on Instagram, Facebook, Twitter, TikTok, and YouTube.
Pros
Custom chart option with historical data representation is an unparalleled feature of Rival IQ.
You can export reports in multiple formats.
Brendan B.
The insights from Rival IQ inform a lot of how we plan and execute our social media strategy. To be able to see a snapshot of our competition across the league is invaluable as well.
Cons
The basic plan is quite pricey. If you need more features and metrics, it becomes even more expensive.
Support for other social media platforms is lacking.
Verified Rival IQ Reviewer
I found that the data that we wanted was sometimes not available through the software, and we either had to go into the platform directly, such as Facebook, to get it.
Which of the Top Instagram Analytics Tools are You Going to Choose?
Instagram updates its platform regularly to provide new features. As a result, you'll need an Instagram analytics tool to keep track of your progress and see if your presence is threatened or thriving.
While you're busy creating innovative content ideas to charm your fans, the above-mentioned Instagram analytics tools will take care of the tracking.
Your choice of Instagram analytics tools may vary depending on your industry. While some people combine free Instagram analytics tools with premium ones, using a multi-purpose tool like SocialPilot is highly recommended.
Wait no more and unlock the potential of controlling everything from one dashboard with a 14-day free trial.