With over a billion users and around 500 million stories showing up every day, It's pertinent to say that Instagram is a goldmine of engagement for every business.
Still, businesses continuously experimenting with a variety of content types, and ads, often find themselves hitting walls while conceiving an apt Instagram marketing strategy that could show prolific results.
Because they don't focus much on one key element – Instagram analytics. Even if they do, most of them don't know how to effectively use Instagram analytics.
So, What does Instagram analytics tell you?
Instagram analytics gives you proper insight into your ongoing Instagram marketing strategy and also allows you to take the necessary steps in targeting the right audience, creating better post content, getting more engagement, and views on your stories.
In this blog, we will learn why using Instagram insights matters, what can you find inside Instagram analytics, and how to use Instagram analytics for revitalizing your Instagram marketing strategy.
Why does Instagram analytics matter?
"Without analytics, companies are blind and deaf, wandering out onto the web like deer on a freeway". – Geoffrey Moore
That quote is valid for Instagram analytics too. With 200 million Instagrammers visiting at least one business profile daily, it is enough proof of Instagram's capability to draw and reach the audience.
So if you are calling shots on the platform without assessing the Instagram insights, then it would be a colossal waste of an amazing resource.
Avoiding Instagram analytics could result in:
Wrong audience targeting
Fewer impressions and reach on Posts
Fewer conversions through better ads
Low returns on Instagram Marketing expenditure
Less engagement
Missing on the best times to post on Instagram
And the list could go on…
Diving into your Instagram insights not only steers clear your ongoing Instagram marketing from the listed setbacks but also helps you to pave better marketing strategies for the upcoming quarters.
How to access your Instagram analytics?
So first thing first, you need to have an Instagram business account to access Instagram insights. If you haven't made the switch yet, this document will help convert your account into an Instagram business profile.
If you have recently transitioned into a business profile, then it will take some time for Instagram analytics to appear. Instagram only shows the metrics of posts and stories you have created after transitioning to a business profile.
If you already have an Instagram business profile, then it's a matter of a few taps to access your Instagram insights.
How to access your Instagram Insights on the application?
Go to your Instagram business profile on your Instagram mobile application. You will see the "Insights" button, click on it, and Voila!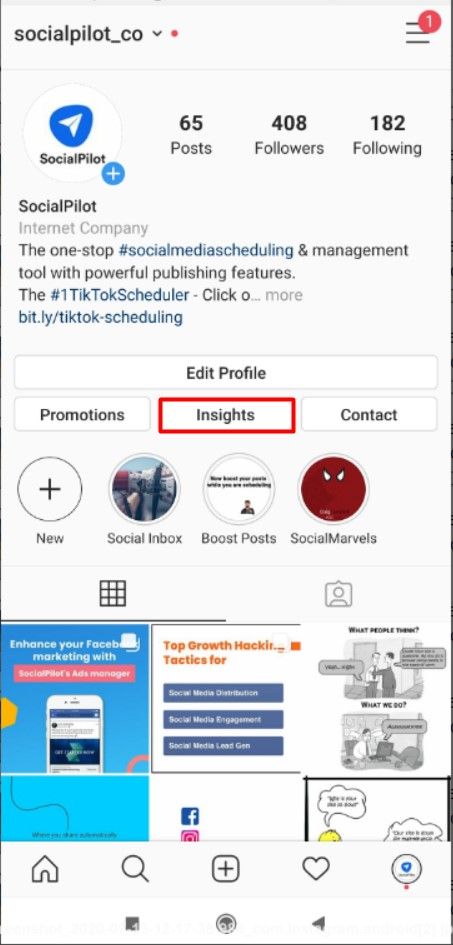 You will be taken to the Instagram insights page with all the analytical information of your profile divided into different sections.
But if you are more of a desktop person handling things from your computer screen, then it becomes a little difficult to tear your eyes on mobile and analyze Instagram insights.
Fortunately, there are ways to access your Instagram insights over the desktop too.
How to access Instagram Insights on a desktop?
There are two ways to examine Instagram analytics on the desktop.
1. Using Instagram's Creator Studio
It's another native tool from Instagram that lets you see Instagram insights on a desktop.
You will see the "More" drop-down on the top of your Facebook page. Click on it to reveal the "Publishing tool" as an option. Select it.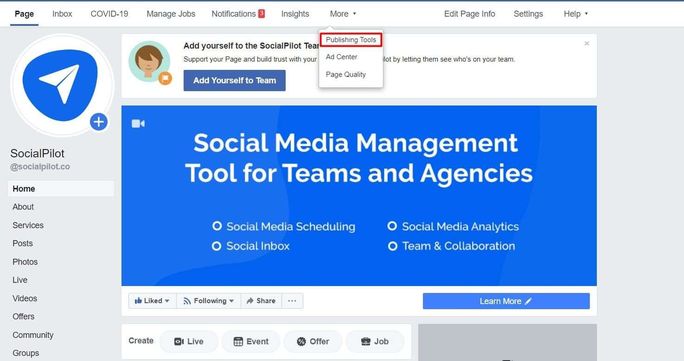 In the left-hand side menu click on "Creator Studio".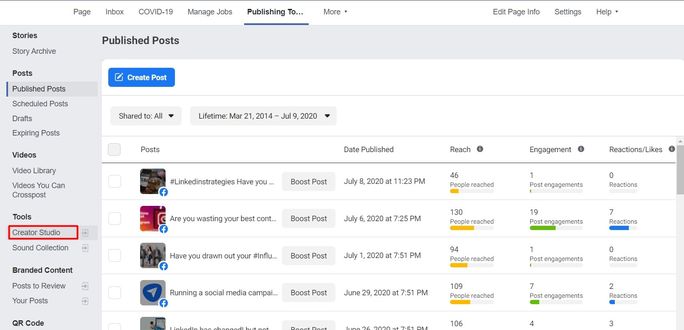 It will take you to a completely new experience of the Facebook creator's studio. Here on the top bar, you will find an option to connect your Instagram business profile.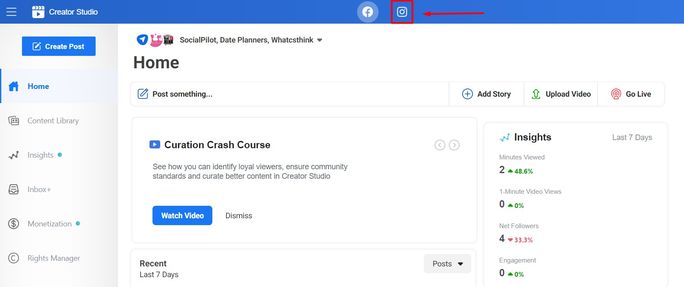 Click on it to access the Instagram creator's studio and there on the right side, you will find the option to access Instagram insights.

One of the shortcomings of Instagram's native tools – Instagram application and creator studio- is that they only show Instagram insights of the past 7 days.
Also, if you are someone managing multiple Instagram accounts, then it's a little less handy to stitch together screenshots of multiple insights from native tools and then assess them.
That's where you need a Facebook creator studio alternative – SocialPilot.
2. Using SocialPilot's Instagram analytics
SocialPilot analyzes all your connected Instagram business accounts and provides you with in-depth reports to help you understand your audience and how they interact with your content better.
To access your Instagram analytics, log in to SocialPilot on your desktop. In the left-side menu navigate to the "Analytics" option and click on it to reveal the name of multiple social media platforms and choose Instagram from it.
The analytics dashboard lets you choose from Profile, Posts, Stories, and Reels analytics. Each of these then further navigates into a detailed analysis.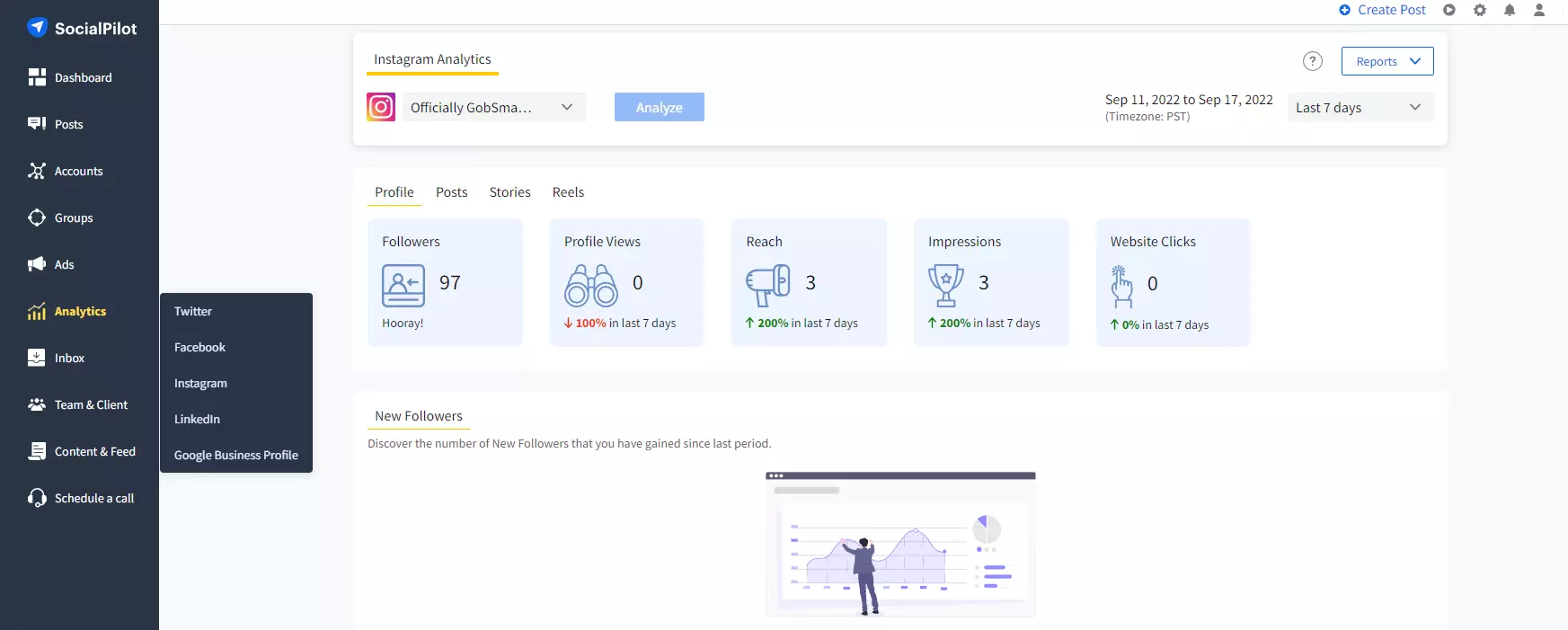 On the analytics dashboard, you can switch between multiple profiles to see the Instagram analytics of an individual profile.
Here you can view, download, and email the analytics report of your Instagram business accounts for the Last 7 Days, 15 Days, and 1 Month.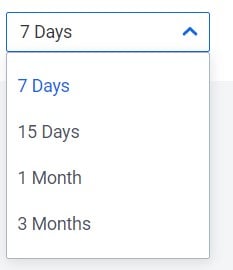 How about you give it a try using this 14-day free trial here.
In addition to that, SocialPilot allows you to schedule stories and posts for multiple Instagram business profiles.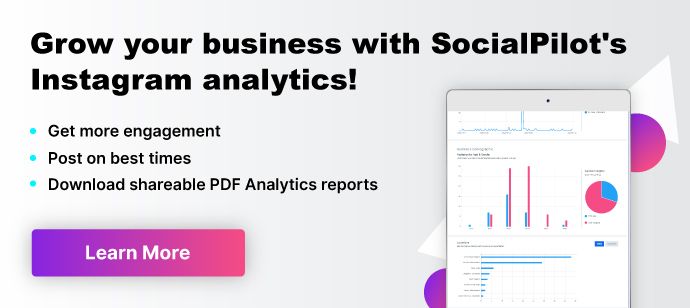 What does Instagram analytics tell you?
Your Instagram analytics is divided into three sections:
Content
Activity
Audience
You can access each section by scrolling through the page.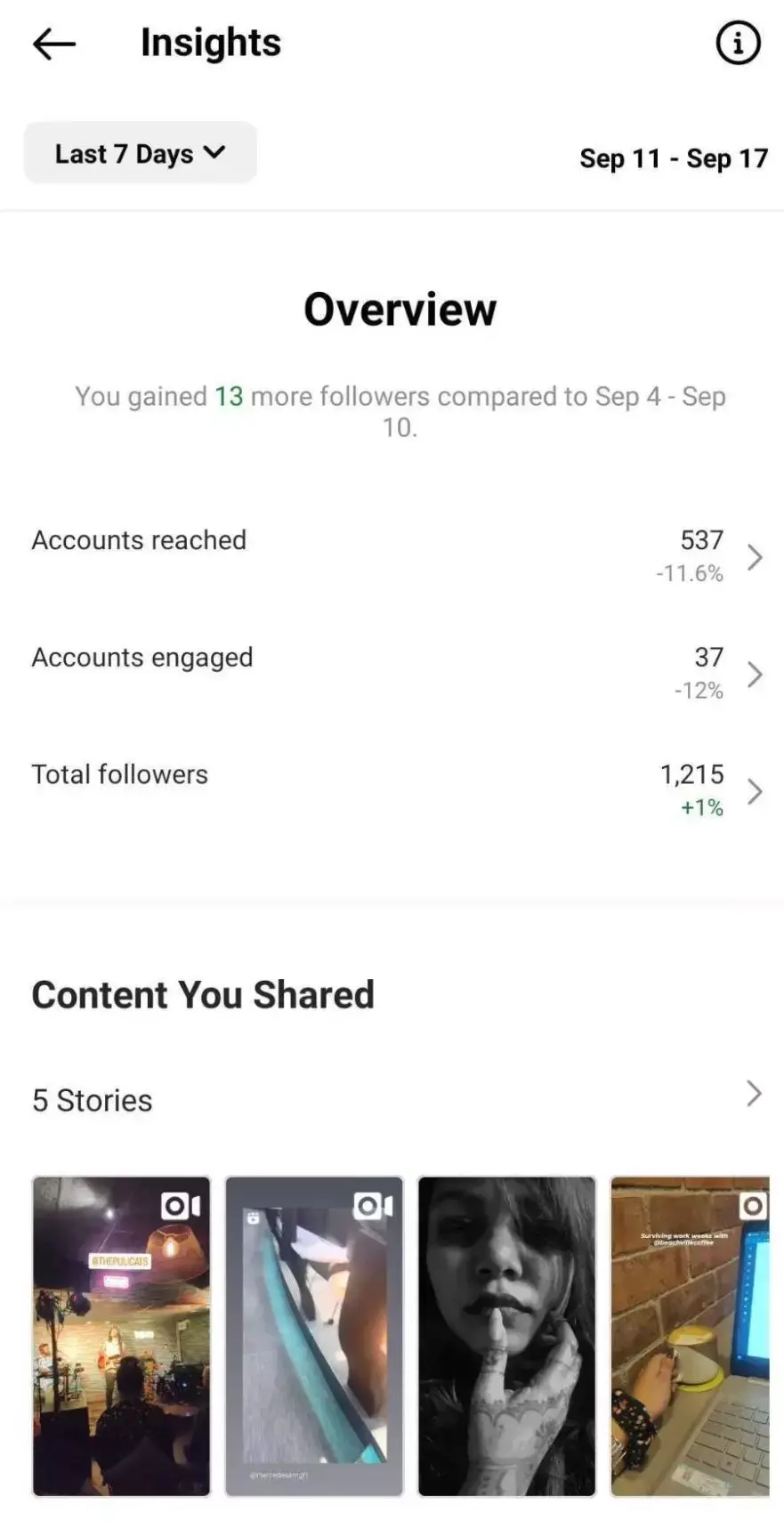 Each section provides you with detailed metrics about your profile's performance. Let's find out what metrics you get in each section of Instagram insights that can help better your marketing strategies.
Instagram Content analytics
This section gives you in-depth performance metrics of individual posts, stories, and promotional content you have created on your Instagram business profile.
You can access the insights of individual posts and promotions done in the time period of the previous 2 years. But for stories, you will only get the data of stories posted in the last 14 days.
Following are the metrics available for the individual posts and promotions, in the content section: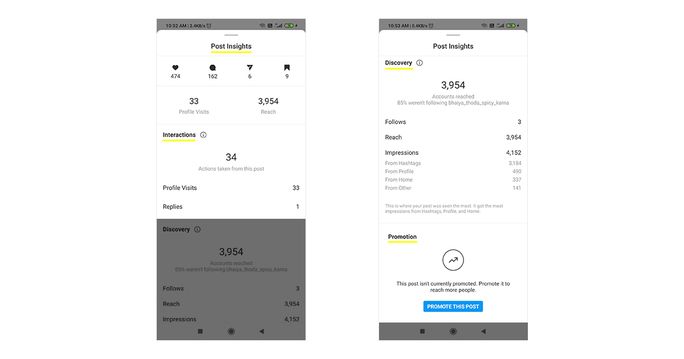 Interactions: It measures the type of actions people took while interacting with your content, such as profile visits,  or using the call/email button in your post, saves, website clicks.
Impressions: The total number of times your post has been seen. Insights give you detailed information about the number of impressions you have gotten through different mediums, such as Hashtags, profile, home, and others.
Reach: The total number of unique accounts that have seen your post.
Discovery: So "Discovery" is the feature of Instagram – remember the magnifying glass – which allows your posts to reach people who may or may not be following you. This section shows you the number of impressions, reach and followers you get through "Discovery".
Follows: The number of new followers you have received through a post.
Engagement: The total number of engagements you have received in the form of comments, likes, texts, and shares on an individual post.
Also, the unique metrics, apart from above, that your stories get are: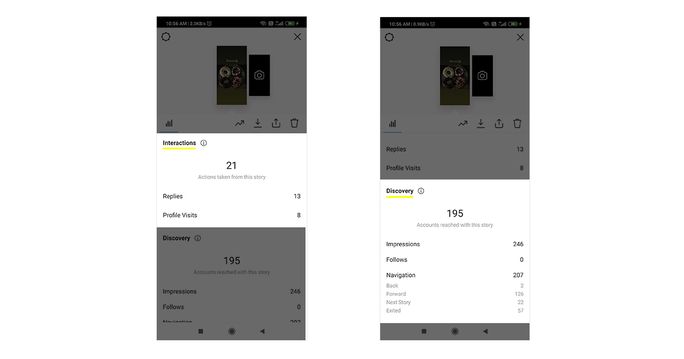 Next story: The number of times a user proceeds to the next account's story.
Exits: The number of times someone exited from your story in the mid-way.
Back: The number of times users navigate back to the previous story in the queue.
Forward: The number of times users taps forward to the next story in the queue.
Here is an image for you to get a complete look at the metrics you can see for individual stories.
Instagram Activity analytics
In this section, you get the activity metrics of your profile performance for the past few days. This time period can range from 7 days to 90 days.
Impressions: The total number of times all of your posts and stories have been seen in the selected time frame.
Reach: The total number of times all of your posts and stories seen by unique accounts in the past few days.
Profile visits: The number of times your profile has been visited in the selected date range.
Interactions: It measures the type of actions people took while they engage with your account, such as using the call/email button on your profile page, and website clicks.
Instagram Audience analytics
Evidently, the most crucial element, on which your marketing strategy is concentrated, is your target audience.
The audience section allows you to dig into significant insights, such as the location of your followers, their gender, their age, and when they're most active on Instagram.
Following are the metrics you get to see in this section: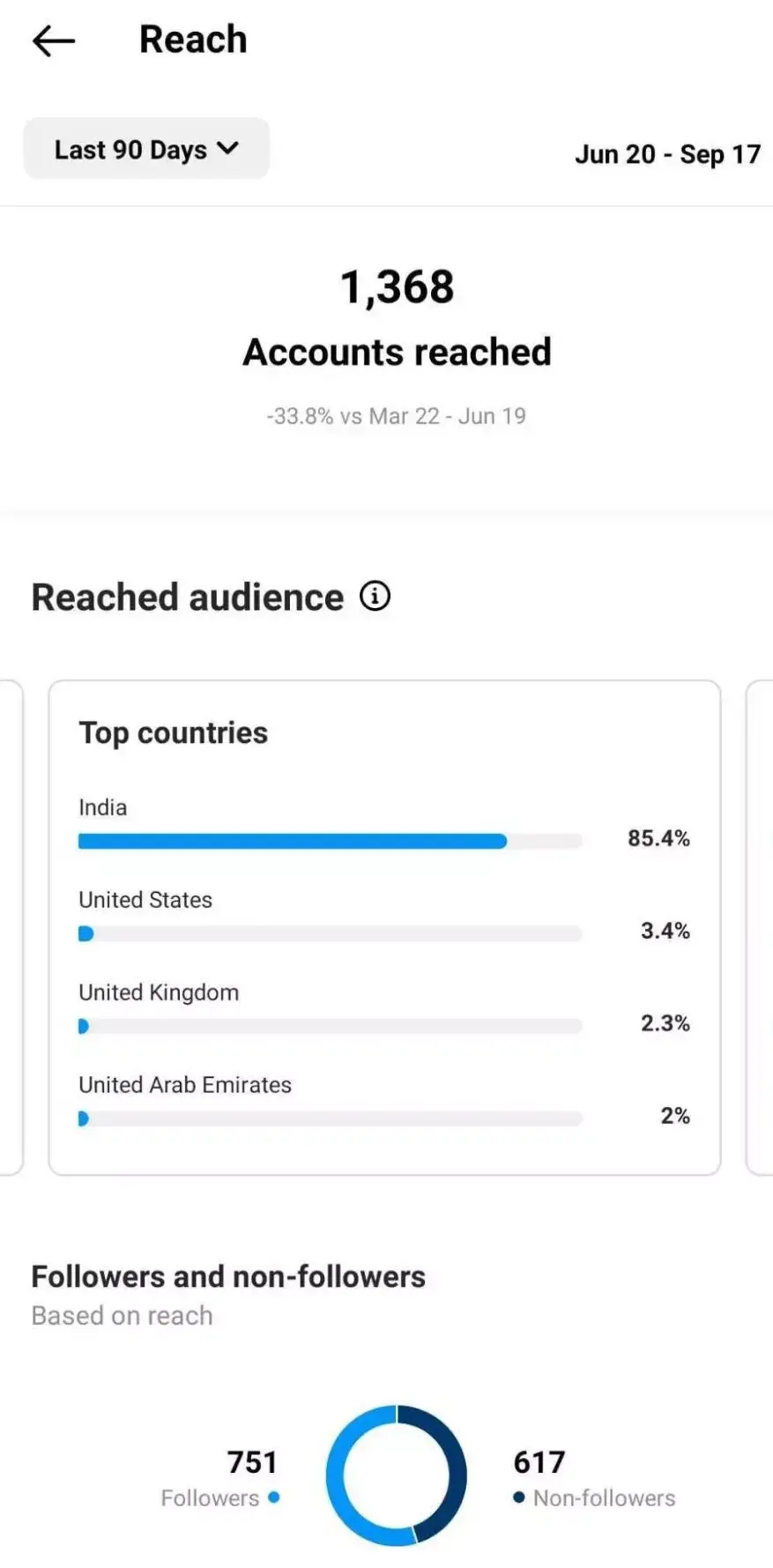 Overall Growth: Here you can track how your audience has grown over the past few days or in a single day, which you can see by tapping on the interactive graph. It also shows you the number of followers you gain and lose.
Top locations: Here you can see the top 5 locations of cities or countries where your followers are concentrated.
Age range: This graph gives you insights into the age of your men, women, and overall followers.
Gender: Here you will find a pie chart depicting the gender distribution of your followers. It shows you the percentage value of the number of women and men constituting your followers.
Followers by hours and days: This section will help you find the best time to post on your Instagram account. The graphical representation shows you the average number of followers present at each hour of the day and at each day of the week.
How to use Instagram analytics to grow your business?
What good is data if you don't know how to use it? Instagram analytics is full of potential insights but the plethora of statistics available at your disposal could make you feel overwhelmed.
Before analyzing your data, it is important to know what goals are you trying to achieve with your Instagram marketing. Is it increasing your followers, getting more conversion, or creating a community?
Below are some common goals on the list of every marketer that can be tracked and improved with the help of Instagram analytics.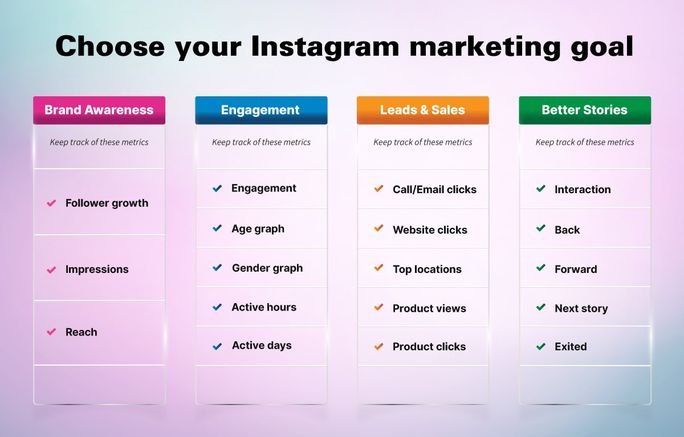 Use Instagram analytics to increase your brand awareness
Instagram is a great platform for building brand awareness. With thousands of new users joining every day – The projected number of US Instagram users by 2023 is 125.5 million- the business of any size – big and small can leverage the platform with the aim beyond just lead generation.
Whether you are a new company trying to establish yourself in people's minds or your aim is to increase awareness of your new product. The following metrics will help you track your brand awareness growth easily:
Follower growth: Checking the follower growth of your Instagram business profile will give you a good understanding of the profile's brand awareness. If you are seeing growth in your follower count then your current campaigns are on the right track.
You should also dig into the follows you are getting from individual ads and posts you published, in the content section of your Instagram insights. They will help you zero in on the type of content working for you to increase awareness.
Impressions: Instagram impressions are a crucial factor in assessing brand awareness. More impressions on your posts, ads, and profiles lead to better brand awareness. Ads effective in bringing your profile awareness should be run more than once.
Reach: Reach helps you track how many unique accounts have seen your profile. The number of reaches on your posts, profile, and ads is directly aligned to your brand awareness goals.
Use Instagram analytics to increase engagement on your posts
Brand awareness comes when your posts are engaging enough for your audience to interact with them.
The first part of social media engagement starts with your quality content. The below-given metrics will show if your content is engaging enough or not, and also allows you to find new ways to generate more possibilities of engagement.
You can track the following data under the Instagram content analytics section to keep an eye on your individual post engagement:
Engagement: Checking the engagement factor such as comments, likes, and shares will help you figure out what sort of content is winning your audience's attention. Frequently posting the same type of posts will help you strengthen your content marketing.
Also, keep an eye on the following metric from the audience analytics section:
Follower online: This section helps you find the best time for your Instagram posts to be published. Posting content on Instagram when people are most active on the platform will help you boost your visibility to stand out from the crowd and get more engagement.
Age and gender graphs: Your followers' breakdown on the basis of gender and age will help you set your content strategy straight. Knowing which age group your audience belongs to allows you to create relevant content catering to that group of the audience.
Use Instagram analytics to increase leads
The next step after getting more engagement on your Instagram business account is to drip it a little down the funnel for lead generation.
On Instagram, there are multiple options to generate leads and sales, such as ad targeting, adding an action button and product ads. With Instagram analytics, you can keep track of your lead generation activity on the go.
There are the top three metrics to monitor your lead generation and sales performance:
Website clicks: This metric tells us the number of times your website link was clicked through your post, ads, and stories. Monitoring clicks will help you understand the performance of your content in generating click-throughs.
Call clicks/Email clicks: More the click, the merrier the lead- conversion. Better call/email clicks tell that your people are encouraged enough to know your brand more.
Top locations: Targeting ads have never been this easier. With your followers' location known, you can not only publish ad content based on their time zones but also shape your content more relevant to them.
If you are showcasing products through your posts, ads, and stories then the following metrics will show up in your Instagram Insights:
Product Views: The total number of times people tapped on the product tag to view the product page.
Product Button Clicks: The total number of times people tapped on the purchase button on the product page.
Both of the metrics will help you know how people are interacting with your shopping content.
Use Instagram analytics to improve your stories
Instagram stories have come a long way since their launch in 2016. With 500 million stories being posted every day, it has become a channel for prolific engagement and driving conversions.
Instagram insights let you track the past 90 days of your stories' data. Apart from Impression and profile visits, there is one metric you should keep track of in order to make better stories.
Navigation: It includes the number of times users move forward, backward, exited, or proceed to the next story. This data will help you know which of your stories engaged users to move back and see your content again. You can also avoid posting types of stories having the most number of "exits" and "next story" metrics in the future.
Conclusion
Now that you know how valuable is each section of Instagram insights and ways to use them in making your marketing efforts shine on Instagram, keep coming back at it before making any new content strategy on Instagram.
Instagram analytics is a great way to assess your story data but it is also important to use a third-party Instagram analytics tool such as SocialPilot to gauge a large set of analytics. Using more data will help you create a clear and efficient Instagram marketing strategy.