Imagine unlocking valuable insights about your Instagram audience, optimizing your content strategy, and boosting engagement like never before. Sounds like a dream, right? Well, it's not.
Enter Instagram Analytics — your one-stop solution to all these problems.
In today's digital landscape, tracking analytics on social media platforms, especially Instagram, has become a game-changer for businesses. Instagram analytics can arm you with valuable data and insights to elevate your strategy and unlock new growth potential.
With a massive reach of 22.2% of the global population aged 13 years or older, Instagram is a force to reckon with.
But it's not just the numbers.
Do you know 90% of Instagram users follow a business profile? And 80% of users make decisions based on what they see on the platform.
So, you might be wondering, what significance do these statistics hold?
Well, these statistics show incredible potential for businesses of all sizes. In this blog, we will dive deep into Instagram Analytics, explore successful campaigns, and provide you with actionable strategies to leverage this thriving platform.
But before we get ahead of ourselves, let's start with the basics.
What Are Instagram Analytics?
Instagram Analytics refers to the set of tools and metrics to enable users to track and analyze the performance of their Instagram accounts. This feature offers access to valuable insights, including audience engagement, content reach, follower demographics, and post metrics.
You will get to see who your audience is, when they're most active, and what type of content resonates with their interests.
Sounds helpful, doesn't it?
By utilizing these insights, businesses and individuals can gain a deep understanding of their audience's behavior, preferences, and interests. These help make informed decisions regarding content strategy, audience targeting, and optimization.
Now, you might be wondering, are there any categories of Instagram Analytics?
Absolutely!
There are six that offer valuable information.
1. Instagram Audience Analytics
Audience analytics enables businesses/individuals to better understand their followers, learn more about potential users, and determine the best content posting times. These analytics can include audience location and the times when they are most active on the platform.
2. Instagram Stories Analytics
With this, account holders can sort their Stories from the past 90 days based on link clicks, profile visits, impressions, and reach.
3. Instagram Live Analytics
The live analytics include the number of shares and comments received, the number of accounts reached, and the peak concurrent viewers.
4. Instagram Reels Analytics
Instagram Reels analytics show plays, comments, shares, and saves. This also includes shares via Instagram DM and the number of reposts on Instagram Stories.
5. Instagram Feed Post Analytics
Feed post analytics gives businesses a holistic overview of how the audience engages with their content (images and videos) and helps them track metrics such as likes, sends, and impressions.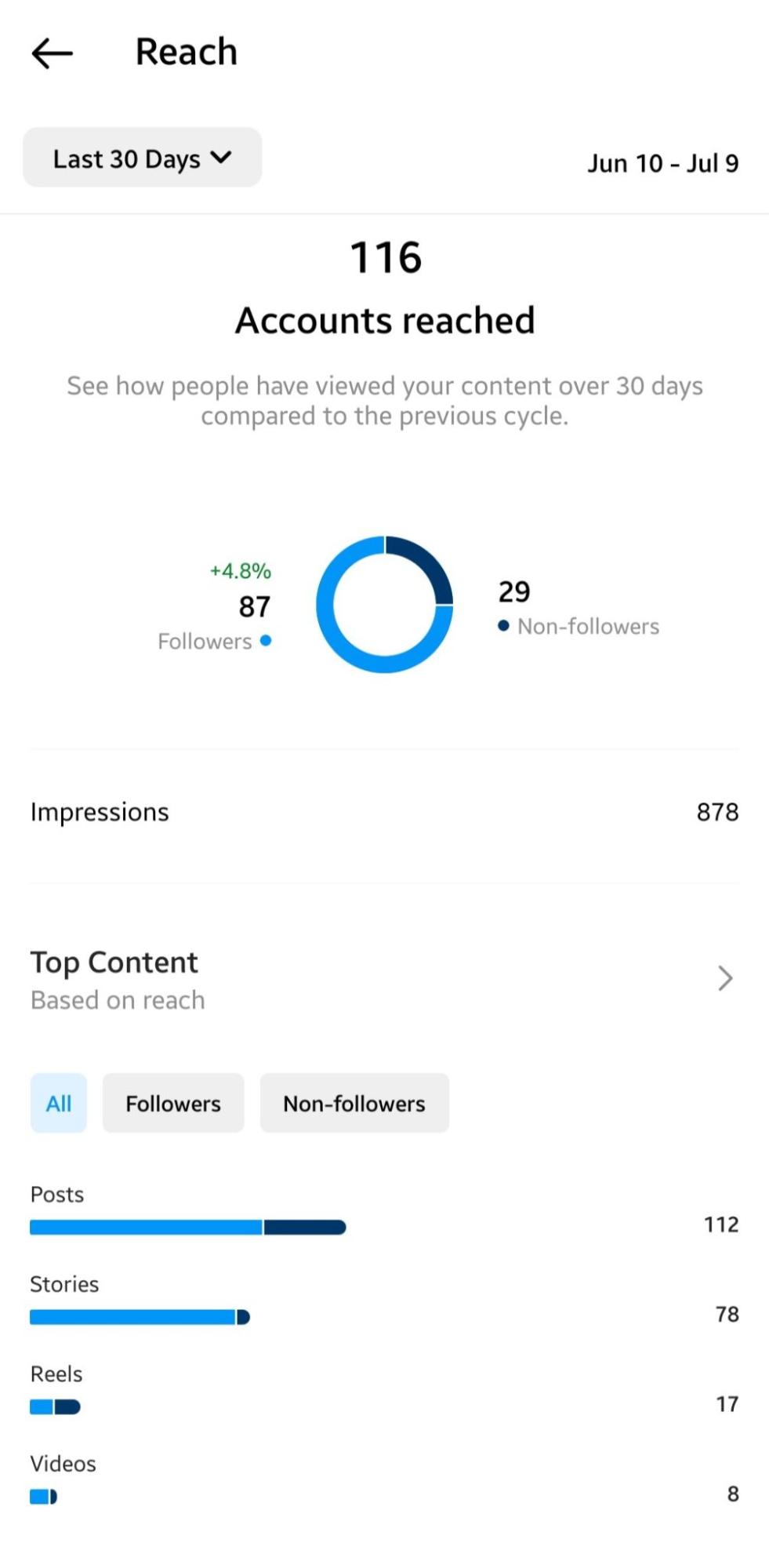 Ready for more? Let's keep going.
Why Are Instagram Analytics Important?
Understanding your audience is the key to making your marketing strategy effective. If used correctly, these insights can help boost your growth by many folds.
Here are some of the benefits businesses and professionals yield from using analytics on Instagram:
1. Informed Decision-Making
Instagram Analytics provides valuable data and insights like understanding audience behavior, preferences, and engagement patterns which are then used to make informed decisions. Businesses can tailor their strategies to effectively reach and engage with their target audience and make a strong impact.
2. Enhanced Content Strategy
Businesses and professionals use these analytics to evaluate the performance of their content strategy and find out what resonates with their audience. This refines their overall strategy, helps them craft more engaging content, and drives higher levels of audience engagement and interaction.
3. Measurable Results and Growth
Another great advantage of analytics is that businesses can measure the impact of their Instagram efforts. They can track reach, conversions, and follower growth, enabling them to assess the effectiveness of their campaigns and optimize the strategies for better results.
4. Industry Leadership
Instagram analytics give you access to helpful metrics, such as the posts your followers react most strongly to, the best days and times to post, and more. Knowing these pieces of information can make you an industry leader, focus on the most beneficial Instagram growth hacks, and set you up for success.
5. Saves Time and Resources
Often, we spend a significant amount of time troubleshooting a process we don't understand without any guarantee of an outcome. However, with Instagram analytics, you get accurate data on how well your content performs, how the audience perceives it, and which content needs revamping.
So, instead of dividing your efforts in every aspect of your Instagram marketing campaign, the analytics feature can determine the areas that perform well and those that need additional effort. All this allows you to distribute your resources and time efficiently.
So, are you ready to unlock the power of Instagram Analytics? Let's learn about 15 different Instagram Analytics that help track your growth!
15 Key Instagram Analytics Metrics To Track
When increasing your brand awareness, keeping a tab on all the key metrics to track your performance trajectory is crucial. It's important to look at all the crucial metrics to understand your audience better and refine your campaigns.
But you might be wondering, which exact Instagram analytics metrics should you track? Here are the 15 key metrics you should keep an eye on:
1. Follower Growth
Track the number of followers gained and lost over a specific period. These metrics provide insights into your growth strategies' growth rate and effectiveness. A steady and consistent growth rate indicates that people are interested in your content and want to see more.
2. Engagement Rate
Instagram engagement rate is a key indicator of how well your audience responds to your content. A high engagement rate signifies that your content resonates well with your audience. While the overall median engagement rate is 0.67% for brands, 1.39% or higher is considered a good rate.
3. Reach and Impressions
Reach is the number of unique accounts that have seen your posts, while impressions are the total number of times your posts have been viewed. Impression also counts the repeated views of an individual user.
4. Likes and Comments
Likes are a quick and visible indicator of audience engagement with your content. The higher the number, the higher the content resonates well with your followers.
Comments, on the other hand, show how engaging your content is and what impact your content has on the audience. Tracking this metric helps you understand which posts generate the most engagement and guide future content creation.
5. Saves
Most marketers refer to Saves as the "new like." This metric indicates that your content is valuable and worth revisiting. By tracking the number of saves over time, you can understand what kind of content prompts the most number of saves and utilize this insight in your Instagram strategy.
6. Shares
To get more eyeballs on your content, shares are the key. Shares indicate how many times a post was shared with another Instagram user. The more the number, the higher the virality is.
Keeping a close eye on what content is getting shared with others, you can get a better sense of what your audience engages with. You can tailor your content plan accordingly and capitalize on this opportunity.
7. Hashtag Performance
Hashtags are a great way to tap into specific communities and target niche audiences. Tracking the performance of Instagram hashtags used in your posts helps gauge their effectiveness in reaching a wider audience and boosting discoverability.
8. Click-through Rate (CTR)
CTR measures the percentage of users who tap on a link in your Instagram bio or posts. It helps in evaluating the effectiveness of your call-to-action and link placement. You can calculate the CTR using the formula: (Clicks / Impressions) * 100
9. Instagram Stories Metrics
Instagram Stories offer access to various metrics like views, completion rate, and taps forward or backward. Tracking these metrics will tell you how well your audience engages with your Stories and what elements resonate with them.
10. Instagram Reels Engagement
You can view comments, likes, reach, plays, and interactions by looking at the Instagram Reels analytics from your insights tab. You can also check the number of unique users and the number of times your Reels were played.
11. Audience Demographics
Audience demographics provide you with insights into your target audience and help you tailor your content messaging and marketing strategies. By tracking this metric, you can better connect with your intended audiences.
12. Best Time To Post
By analyzing when your audience is most active and engaged, you can determine the best time to post content for maximum reach and engagement.
13. Visits on Profile
This metric tracks the number of times your audience visited your Instagram profile. Monitoring profile visits help you assess the effectiveness of your content and the impact of your profile on driving curiosity.
14. Conversion Tracking
If you have a website or a landing page linked to your Instagram bio, tracking the number of clicks can inform you about your conversion efforts. It lets you assess the impact of your posts on driving website visits and conversions.
15. Influencer Performance
By tracking influencer performance, you can track the effectiveness and impact of collaborations with influencers. Watch for metrics like engagement rate, reach, and conversions generated through these partnerships.
Now that you know what to track, let's move on to the next big question, and that is…
How To Use Instagram Analytics
Let's implement our learning and understand how to use Instagram analytics. Trust us; it's simpler than you think. Here are three effective ways to get you started:
1. Using Instagram Insights
If you are looking for a convenient way to access analytics right within the app, Instagram Insights are the best way. This free native tool of Instagram gives you a quick overview of your Instagram account and shares insights about your audience, post, engagement, and more.
Note: To check the analytics of your account, Instagram requires you to switch to a business or creator profile.
Once you have switched your account to a business or creator profile, you can follow the below steps to access the Insights dashboard:
From your Instagram profile, click on the 'Professional dashboard' option.
Click 'See all' right next to Account insights.
See your account overview, including accounts reached, accounts engaged, total followers, content shared, and Stories insights.
Tap the drop-down menu and filter by timeframe to check the performance.
To take a deeper look into these metrics, click on the relevant category.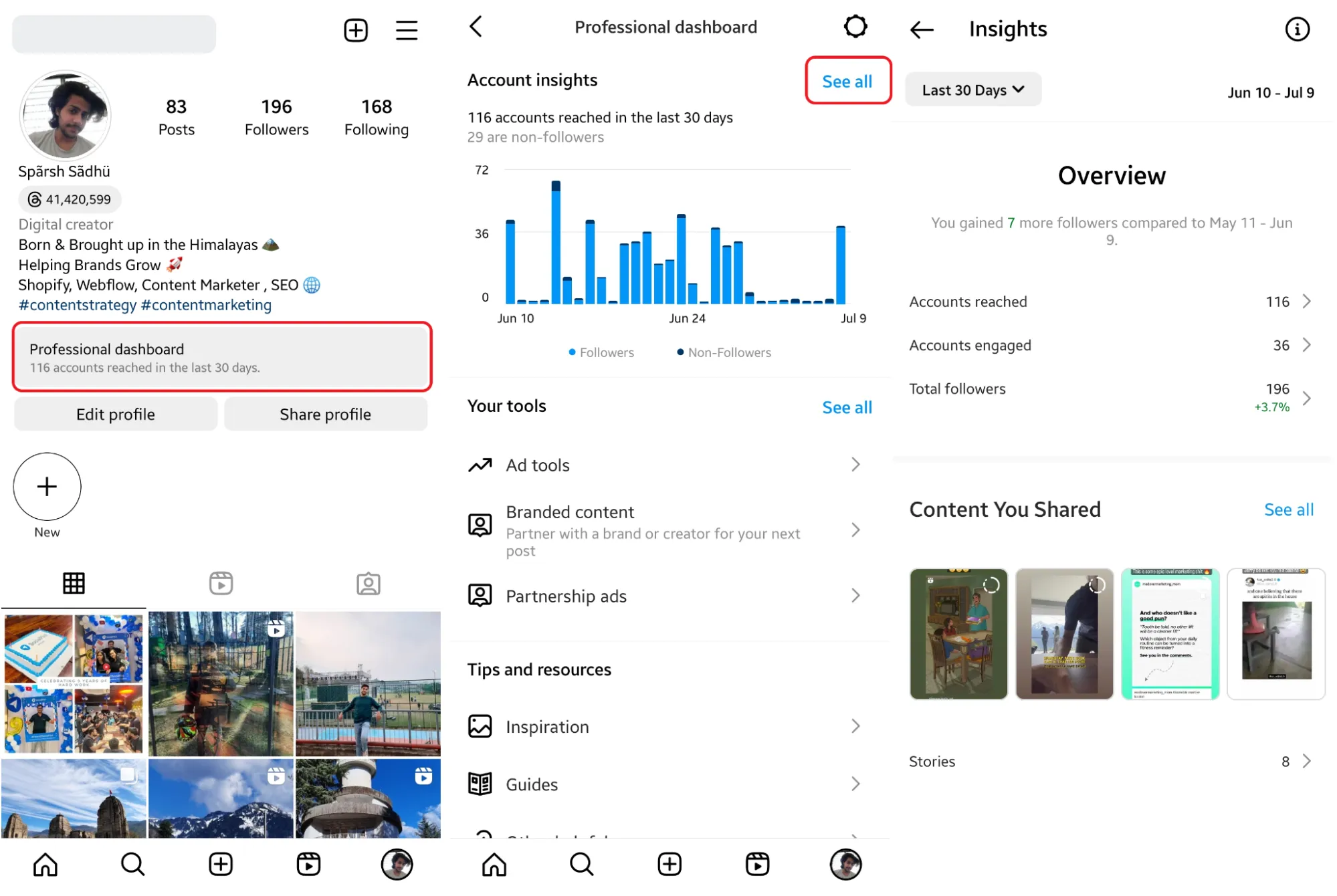 2. Using Meta Business Suite
Meta Business Suite lets you closely monitor your Instagram and Facebook metrics without requiring you to shuffle between tools.
Create a Meta Business Account account and connect your Instagram account with it.
From the left side of the dashboard, tap on 'Insights' and then 'Content'. You'll be able to see all your Facebook and Instagram insights here.
To specifically look for Instagram insights, click on Ads, Published posts, and Published stories drop-down menu from the top left side.
Uncheck Ads, and Facebook options to avoid any distractions.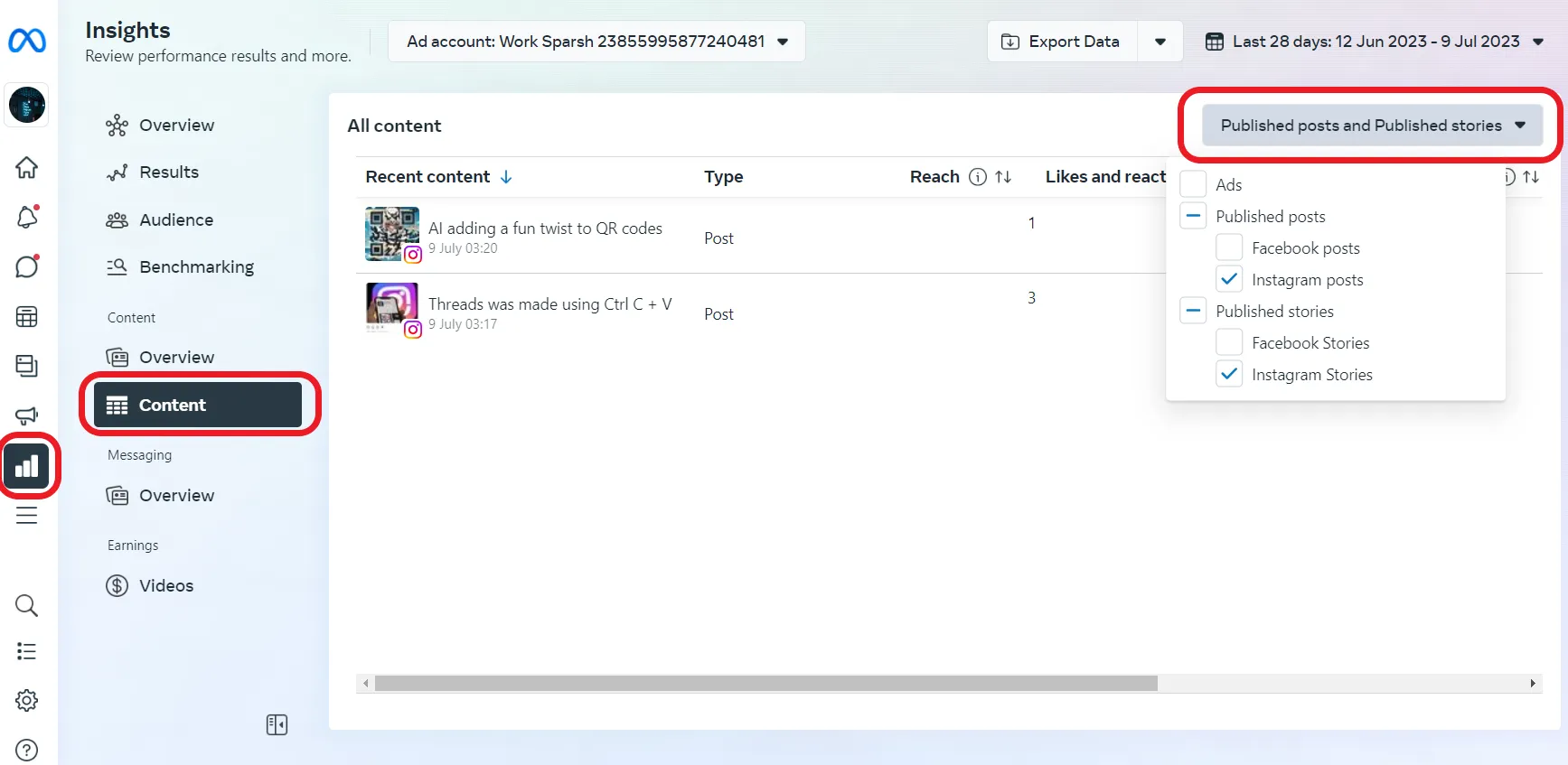 3. Using SocialPilot
While Instagram Analytics and Meta Business Suite offer valuable insights, they have limitations. They provide limited historical data, lack competitive analysis features, offer limited customization, and may not integrate with other platforms you use. Additionally, some users find Meta Business Suite's interface less user-friendly.
In contrast, SocialPilot provides comprehensive analytics, including historical data, competitive analysis, and customization options. The tool integrates with various platforms, offering a holistic view of your social media performance, and is known for its user-friendly interface.
You can club the analytics of several Instagram accounts and monitor them from one space. You can also generate congregated PDF reports of these combined analytics to get a greater picture of the progress you have made.
You can create your account and connect all your social media profiles to SocialPilot. Once you are done, follow the below steps:
Go to your SocialPilot dashboard and click on the 'Analytics' icon from the left sidebar.
Select 'Instagram.' Here's where you'll find all your Instagram account data. You will get a full picture of your Instagram account, from engagement rate to audience demographics data.
You can change the timeline from the drop-down menu in the navigation bar.
To download or share your reports, tap the 'Reports' drop-down menu and select the relevant option.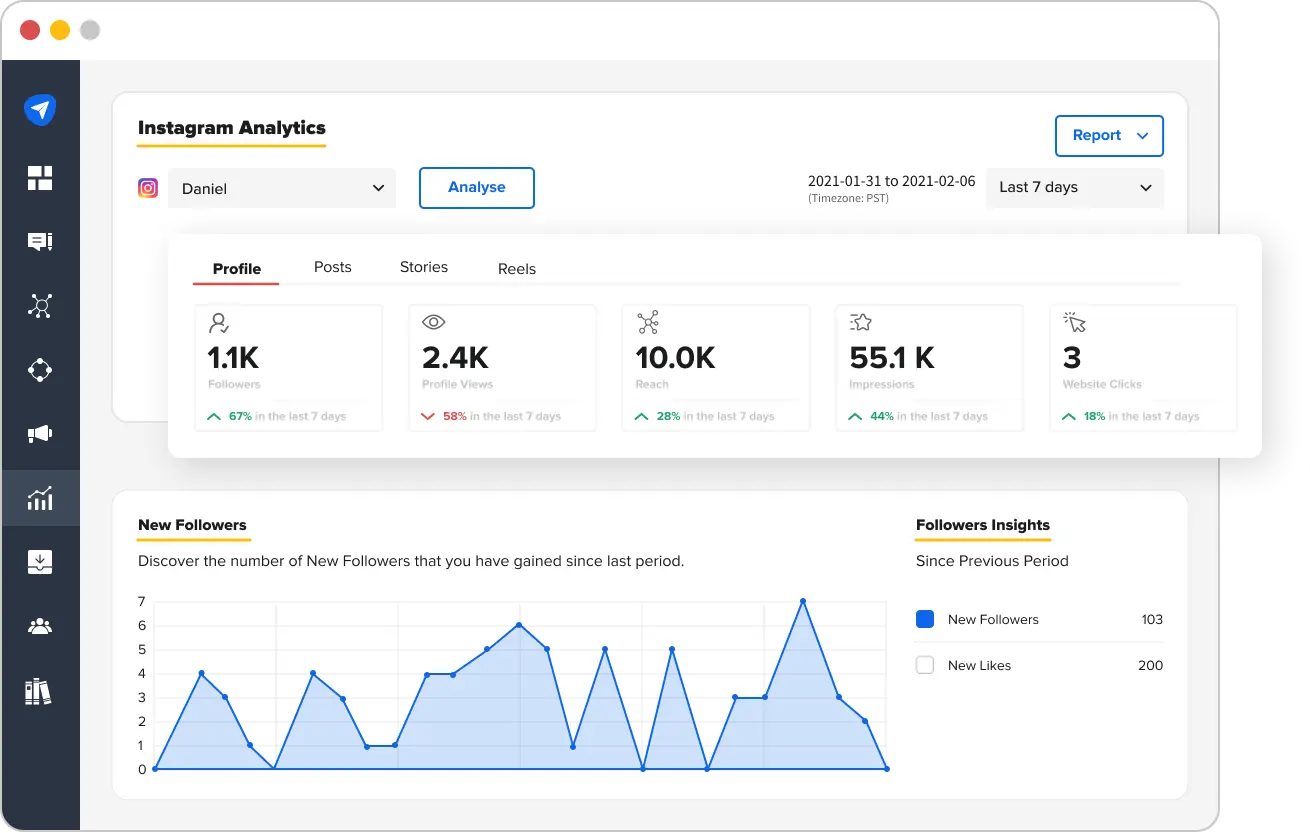 To create a combined or advanced report with all your Instagram accounts under a single report, follow these steps:
Go to your SocialPilot dashboard and click on the 'Analytics' icon from the left sidebar.
Select 'Manage Reports' from the menu.
Click on Create Report in the top right corner of the page.
After this, select all your desired accounts or you can apply the platform filter and select from the specific platform you want.
At last, click on Create Report to finally save the report.
Now you can go to the Manage Report dashboard to find the report you saved and monitor the analytics of all the profiles you had included in that report.
5 Instagram Analytics Tools for 2023
So, you're looking for professional Instagram analysis tools?
Well, there are a lot of third-party Instagram analytics tools out there in the market, but only a handful of them are the real deal.
These tools can aid you in understanding your audience, follower demographics, content reach, and more so you can craft your Instagram strategy accordingly.
Here are our top five picks:
1. SocialPilot
SocialPilot is a comprehensive social media management tool that offers valuable features for Instagram analytics, and a number of them!
Don't believe us? Well, with SocialPilot, you get…
Deep Insights: Enables businesses and professionals to gain deep insights into their Instagram performance and make data-driven decisions.
Key Metrics: Tracks metrics like follower growth, engagement rate, reach, impressions, likes, comments, saves, and shares.
Hashtag Performance: Tracks the performance of hashtags used in posts to refine hashtag strategy.
Advanced Reporting: Create analytics reports with the data of several social profiles stitched into a single report to streamline the tracking your your social media performance.
Scheduling and Publishing: Simplifies Instagram content management with features like calendar view, drag and drop, and bulk scheduling of up to 500 posts with images.

Comprehensive Reports: Generates comprehensive, visually appealing, and easy-to-understand reports showcasing Instagram analytics data.
White-Label Reports: Offers the ability to share white-label reports with your own logo and branding for a personalized touch.
2. Social Status
Social Status automates your social media reporting helping you save countless hours of manual labor. The tool supports multiple channels and allows you to keep tabs on any public profile, track influencer analytics, and spy on your competition.
3. Keyhole
Keyhole specializes in hashtag analytics and keyword tracking. Additionally, Keyhole lets you track branded hashtags, promotions, user-generated content, and contests in real time. The tool also allows you to discover top-performing influencers and compare their performance.
4. Iconosquare
Tailored for agencies and brands managing multiple accounts, Iconosquare features competitive hashtags and growth tracking. Iconosquare lets you schedule new posts, track your Instagram analytics, and monitor the people in and around your brand community.
5. Squarelovin
Squarelovin showcases metrics like top posts, recent posts, and more. This tool tells you the optimal time to post your content to get maximum reach and engagement, and enables you to track traffic-specific KPIs to understand how your marketing efforts pay off.
Case Study: How Qantas Leveraged Instagram Analytics in Driving a Successful Marketing Campaign
Qantas, Australia's leading airline, provides a compelling example of how Instagram analytics can be leveraged to boost a brand's marketing strategy.
Recognizing the potential of Instagram's ads in Stories format, Qantas embarked on an innovative journey to launch its first brand campaign for AWOL, its branded content platform.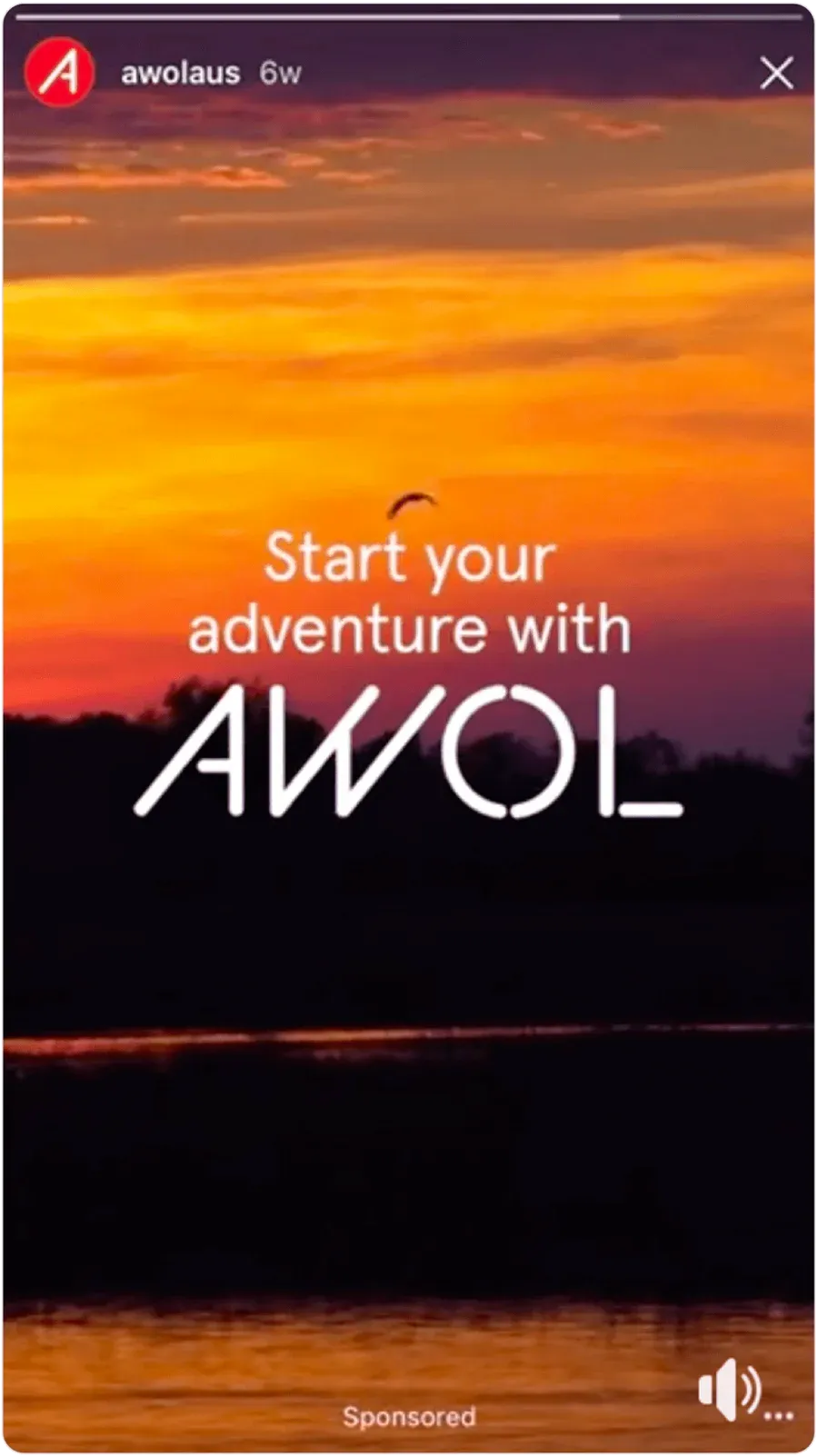 The campaign was meticulously designed to drive brand awareness, ad recall, and recommendation among a millennial audience, a demographic that heavily populates Instagram.
The decision to use Instagram as the primary platform for this campaign was not arbitrary. Instagram's resonance with the millennial audience and ability to tell impactful visual stories that move brand metrics made it the perfect fit for Qantas' objectives.
The airline was keen on innovating and telling its brand story in new, creative ways on mobile, and Instagram provided the ideal platform for this.
The use of Instagram analytics was instrumental in the success of this campaign. These analytics gave Qantas valuable data and insights, allowing them to understand audience behavior, preferences, and engagement patterns.
This information was then used to make informed decisions and tailor their strategies to effectively reach and engage with their target audience, thereby making a strong impact.
By tracking and analyzing key metrics such as reach, impressions, engagement, and ad recall, Qantas could gauge the effectiveness of its campaign and optimize its strategies for better results.
This data-driven approach, powered by Instagram analytics, enabled Qantas to refine its content, improve its messaging, and ultimately enhance its overall Instagram strategy.
Furthermore, the analytics provided by Instagram allowed Qantas to measure the impact of their Instagram efforts. They could track the growth in their follower count, the increase in engagement, and the rise in brand awareness and ad recall.
This measurable growth and the insights gained from the analytics were a testament to the success of their campaign.
Conclusion (+ Free Instagram Analytics Report Template)
And there you have it!
Your comprehensive guide to Instagram analytics.
Instagram Analytics is a vital tool for businesses and influencers aiming to maximize their Instagram presence. By tracking and analyzing key metrics, you can gain valuable insights into your audience, optimize your content strategy, and drive meaningful engagement.
One of the significant advantages of Instagram analytics is its ability to compile insightful data. However, this data only becomes meaningful when compiled into a comprehensive report. Instagram analytics reports collate all the data and present it in a visually appealing and easy-to-understand format.
You might be wondering: Is there a free Instagram reporting template available?
Yes, you can download our free social media report template to create insightful and effective reports quickly!