Social media is witnessing an astronomical growth with more than 4 billion users. And that's because the massive world of social media has made it incredibly easy to make fruitful connections with your potential leads.
But even in this crowd, there is one specific platform with tremendous potential, leaving its competitors behind.
I need not bicker with you about how addictive Instagram is these days!
Instagram has tightened its grip and is outshining other giants. It has topical to evergreen content available, right from posts, stories, reels, guides, and whatnot, giving you endless opportunities to brand like never before.
Here are the latest social media statistics that vouch for drumming.
More than 1.15 billion people actively use Instagram every month
90% of all users on Instagram follow at least one business account
83% of Instagram users discover new products and services on the platform
50% of Instagram users are more interested in a brand when they see ads on Instagram
59% of micro-influencers believe that they get the best engagement on Instagram
These Instagram statistics clearly prove its growth ratio. No wonder the world's biggest brands prefer Instagram over other social platforms to promote their products and services. Reaching out to new customers for building a massive following of brand advocates is now made easier.
Still not convinced? Check out these top 6 reasons why brands prefer Instagram over other social media platforms, and so should you!
1. A Massive Pool of Mobile App Users
Facebook, Twitter, LinkedIn, and all major social platforms have already gone mobile.
Why is that?
Because more than 54.8% of all web traffic comes from mobile devices. Although the number did take a plunge in the last quarter of 2018, it later regained its pace.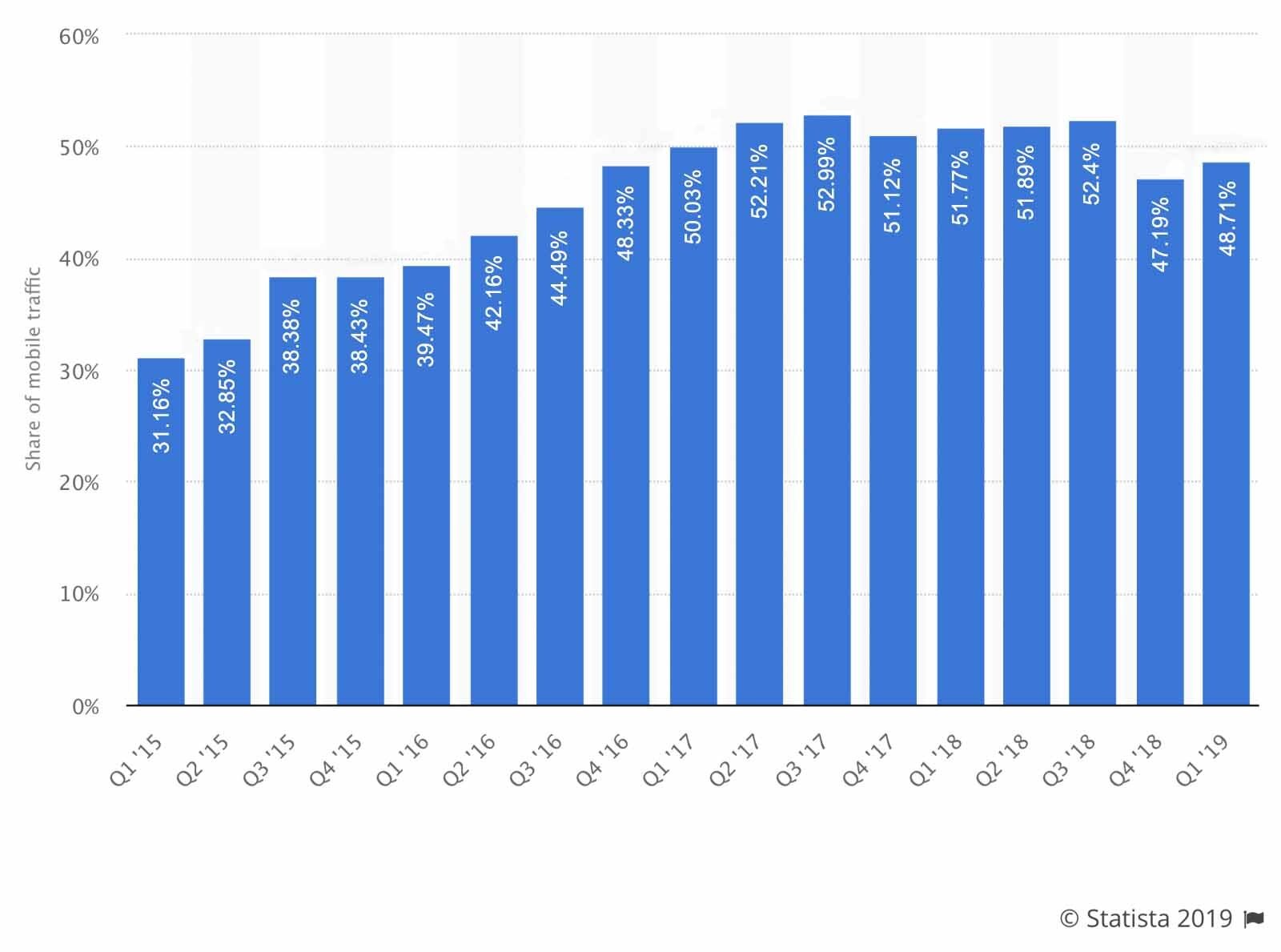 But wait, there's more to the story. According to a Tech Crunch report, users worldwide spend an average of 4.2 hours on mobile apps per day in 2021.
Several studies also revealed that more people are now spending time on social media using mobile devices. Hence, this proves that the app that dominates most smartphones is the one that needs the most attention.
Instagram has always invited more mobile traffic with its smartphone-centric UI. No wonder why Instagram is the second-most popular platform with 84% engagement.
2. Maximizing Brand Reach
Looking at the constant roll-out of exciting features and considering the pandemic's effect, Instagram's user numbers are likely to reach new heights.
But why should one care about Instagram when Facebook has over 2.5 billion monthly active users?
Well, 10 million advertisers are using Facebook to reach out to their target audiences. However, Facebook's new update to its news feed algorithm has made it even more challenging for advertisers and brands to be seen and heard.
But when compared to Facebook, Instagram has over 2 million monthly advertisers. So, not only do you have less competition on Instagram, but also a greater scope of marketing success. Plus, the Reel update of Instagram has the potential to make you an overnight sensation, spiking your reach exponentially.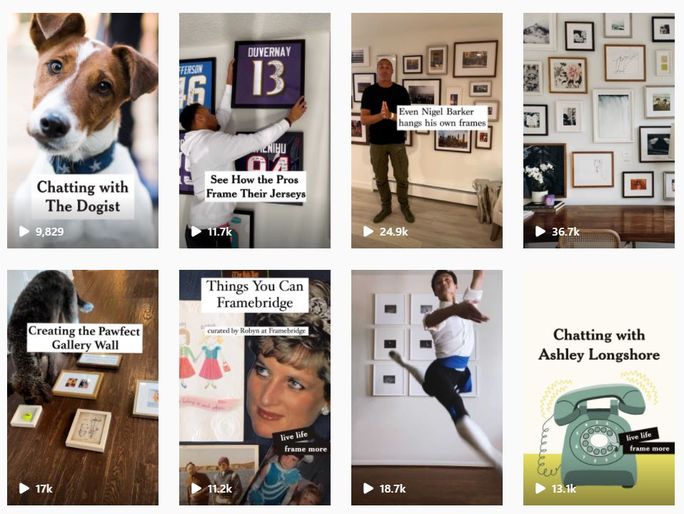 Framebridge, a custom framing business, reached out to thousands of viewers with consistent Reels posting. Have a look at this quick snapshot of Framebridge feed having tremendous reach.
3. Enhancing Visibility with Engaging Visuals
It shouldn't come as a surprise that visuals are the best way to communicate and get your message across to people. This is the main reason why marketers prefer using visuals in their social media marketing mix. Instagram wins hands-down when choosing a befitting social platform for such a vivid form of marketing.
Instagram's news feed is completely filled with interactive visuals. Using a free Instagram scheduling tool can be pretty handy for timely sharing capabilities without distorting the quality.
According to a BuzzSumo study, images posted to Facebook via Instagram get more engagement than those posted directly.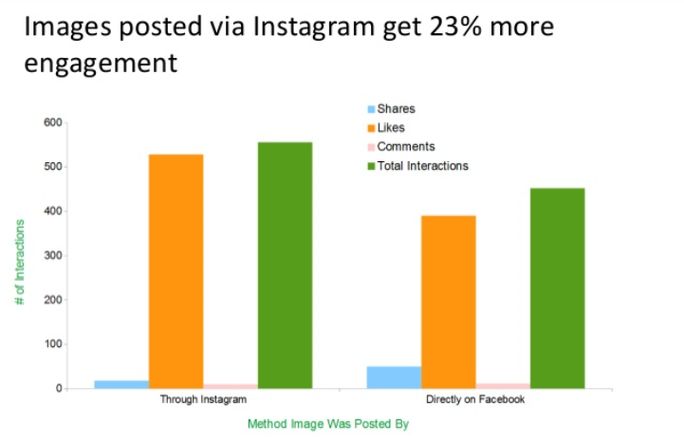 Also, as per Social Media Today's predictions, Instagram is the fastest growing social platform around the globe. These statistics clearly indicate that Instagram can help you showcase your brand effectively to the world.
However, to get the most out of Instagram, don't forget to add relevant hashtags to your posts. Hashtags help your posts get discovered by Instagram users through searches to achieve greater visibility by 3X.
4. Dominating The Market with Compelling Instagram Stories
Audiences today want, rather demand, that brands share authentic stories that resonate well with them.
Quite naturally, this compels businesses to embrace storytelling in their conversations with their audiences. And when it comes to storytelling by brands, Instagram is the platform that steals the show.
Instagram Stories have contributed to a 7-10 minute rise in the time spent by an average user on the app daily. Right now, there are more than 500 million daily active users of Instagram Stories.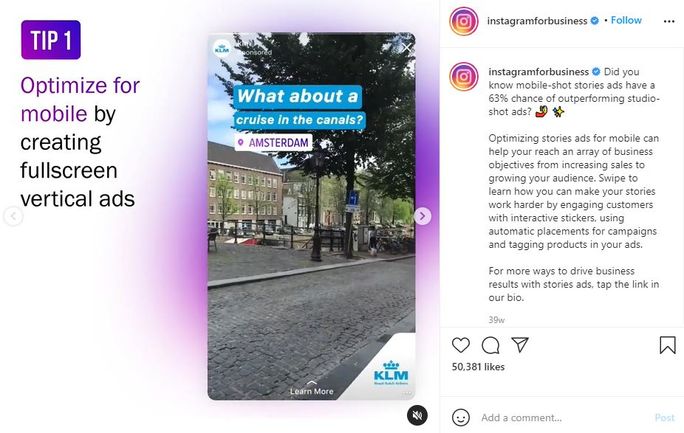 Instagram Stories have opened up a world of new opportunities for brands. Not only can you make use of Geo-location tagging, hashtags, text, and shoppable features, but also run ads on Stories.
Instagram didn't stop here, though. In 2020, it released a new TikTok-like feature, Reels. It is yet another opportunity for businesses to engage with the vast audience of the platform. Larn how to use Instagram reels for business.
Give it a try and get the best out of your brand storytelling to the audience at large.
There are no bounds to creativity when it comes to Stories and Reels on Instagram.
But to manage several accounts all in a time crunch is no walk in the park.
The best solution to this hurdle is to seek the help of Instagram scheduling tools such as SocialPilot. Create the best of your content and schedule it all with the tool to be directly published on Instagram without a care in the world.
5. Boosting Engagement Rates
Did you know that 500 million people are actively using Instagram platform on a daily basis?
However, it's not just the sheer number of people that makes brands flock to the platform. Instead, its capability to generate leads with the highest engagement rates on posted content makes it worth the shot.
Here's what micro-influencers have to say about engagement on Instagram. In a survey by Bloglovin, 59% of micro-influencers said that Instagram is the most effective platform for engaging audiences.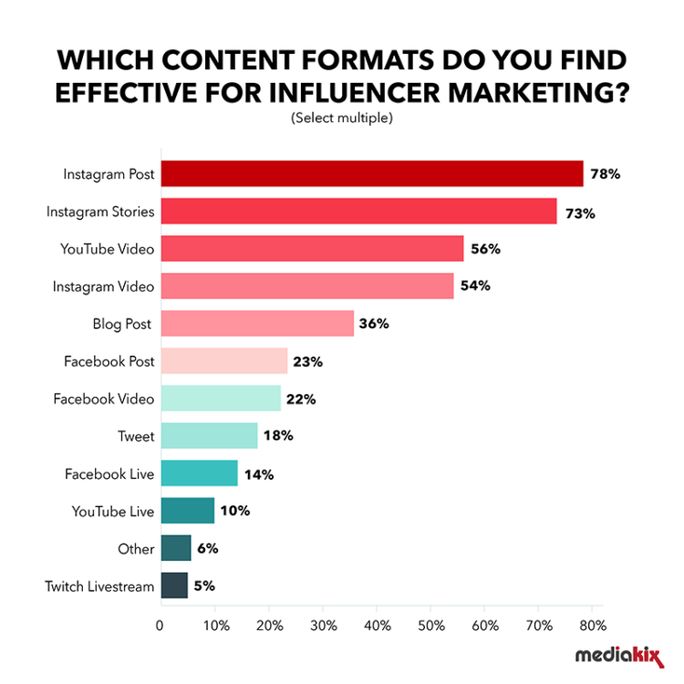 engagement rate is a key consideration when it comes to selecting influencers for your campaigns. With the growth and popularity of Instagram, there has been a rise in unscrupulous practices too.
Some companies offer followers in exchange for a price. However, paid followers are seldom genuine and are mostly a combination of fake accounts and bots.
So, when you select influencers for a campaign, check out their engagement rates more than their follower counts. The higher the engagement rate, the higher the likelihood of an influencer being genuine and authentic.
You can search for relevant influencers in your niche and check their engagement rates, reach, etc. You can also track and measure your campaigns effectively and make any adjustments in real-time.
A Hubspot article says that, even though Facebook has 2X more monthly users, Instagram generates 23% more engagement than Facebook. Hence, it's the best go-to option for marketers at large.
6. Driving Higher Conversions
No matter what kind of business you run, boosting conversions must be a top priority for you because social media can bring you tons of referral traffic and leads.
According to a study by Shopify, the conversion rate of eCommerce businesses from Instagram is 1.08%. Not just that, the referral traffic from Instagram results in an average order value of $65.
This is way higher compared to Twitter and LinkedIn. But guess what the most surprising part is?
Instagram still delivers such incredible returns even though one can't use clickable links just anywhere on the platform. Clickable links only appear in bio, shoppable feeds, and stories.
This makes Instagram less spammy for customers and avoids unnecessary click costs for marketers. Undoubtedly, Instagram proves to be a clear winner when it comes to boosting conversions and generating sales.
Final Opinion
Now that you know the real benefits of using Instagram, how do you ensure that you stay ahead of your competitors? Well, you can easily boost your brand by connecting your Instagram account to SocialPilot, automating the process of uploading, scheduling, and publishing on Instagram.
Pump in more content for better lead generation. Using an Instagram automation tool like SocialPilot will save tons of time and effort, giving you the ultimate control of your Instagram account. Start your free trial and play the game right!