In 2021, Instagram hashtags are still an efficient technique to increase the number of people who visit (and connect with) your business's Instagram profile.
Instagram posts that include a minimum of one hashtag receive as much as 12.6 percent higher engagement than the ones devoid of a hashtag. Therefore, if you are planning to expand your account's reach, it is well worth your time and budget to develop a hashtag plan for your business!
This comprehensive Instagram hashtags guide will teach you exactly what you need to understand about hashtag usage on Instagram. By the end of it, you will discover undiscovered ways to gain more followers, increase engagement, and develop a community around your brand.
Are you ready to learn how to strategically apply Instagram hashtags in your upcoming Instagram posts? We're sure you are!
Then why wait any longer to devour the top-tier tips and tricks that this guide is designed to dispense? Read on to find them all!
What Is a Hashtag?
A hashtag is a brief-phrase or a word, generally 1-5 words long, that begins with a pound symbol (represented by the sign #). Hashtags are used to categorize the thematically same posts on social media sites such as Instagram, Facebook, and Twitter.
What Is A Hashtag on Instagram?
A hashtag on Instagram is a string of letters, characters, numbers, and even emojis prefixed by the sign # (for example, #NoFilter). Like with any other social media platform, these hashtags are used to categorize content so as to make it easier to locate it.
Hashtags may be accessed by clicking on them. Anybody who clicks a hashtag present anywhere on Instagram (such as in a post's comments or caption) or performs an Instagram hashtag search, will be sent to a page that displays all of the posts that have been tagged with that particular hashtag.
If you are planning to use hashtags for getting discovered in relevant searches, you may use them in three particular locations within your Instagram content:
Instagram posts in the feed
Stories on Instagram
IGTV
However, there are certain restrictions on how many hashtags you may use. They are:
You may use up to 30 hashtags in the caption or comment of an Instagram post to enable them to rank for a search. Hashtags that exceed the fixed count of 30 will get ignored during a search.
You may use up to three hashtags in your Instagram Stories. You have the option of using either one hashtag sticker or three in a text field.
In the caption of your IGTV video, you may include up to 30 hashtags. However, it's not mandatory to use all 30.
Why Are Instagram Hashtags Important?
Hashtags are basically Instagram's content categorization system. With over 95 million images shared on Instagram every day, the platform struggles to properly distribute the appropriate content to the right audience. Hashtags aid in the discovery of your content by visitors who are most interested in discovering it.
Hashtags, in essence, are an excellent method to classify your posts depending on your target audience.  More importantly, they assist your target audience in finding you. Since your post is precisely what your audience was looking for, individuals who find it are far more likely to interact with it.
When reviewing a hashtag search on Instagram, look at the list of "similar" hashtags. That will lend you a fair idea about the trending and popular hashtags in use.
What Are The Different Types of Instagram Hashtags?
Hashtags are little fragments of text that may be used in a variety of ways. They can help you establish a network, increase the visibility of your posts and your account, or just attract others who share your brand's interests.
Take a look at the most popular hashtags classifications you may use before deciding on a set of hashtags for your posts.
Branded hashtags
When leveraging Instagram for your business, a branded hashtag is one that is unique to your business alone.
It might be anything as basic as your company's name, slogan, or the name of any of your products or a marketing campaign. It may also be a hashtag that caters more to your brand's identity rather than your brand's name!
Whilst community hashtags (discussed in detail later) are intended to broaden your message's reach, branded hashtags are intended to push further relevant topics for you and your target audience. They can be used to publicize a campaign or to gather contextually appropriate user-generated material.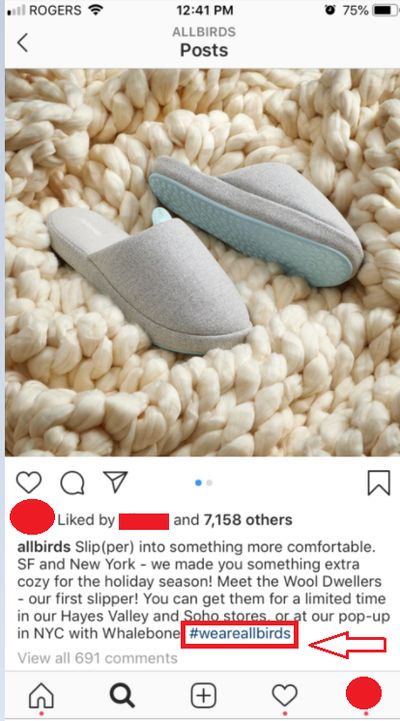 To illustrate this concept further, consider the "naturally sourced" shoe business Allbirds. They utilized the hashtag #weareallbirds (refer to the image above) to raise brand awareness by encouraging fans to submit pertinent content.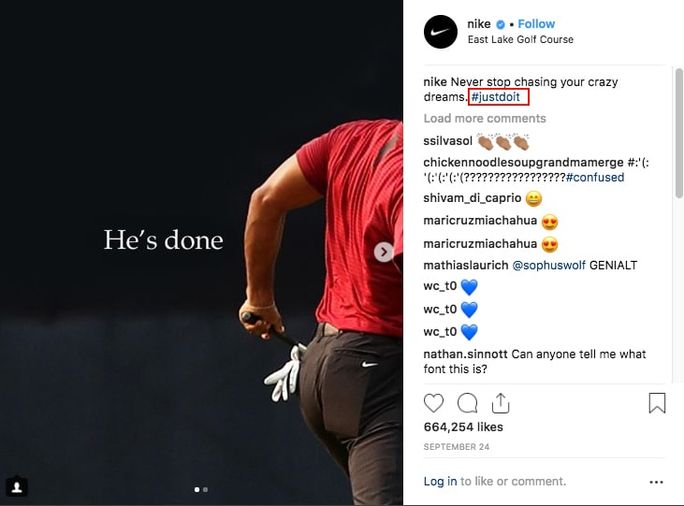 Nike's #justdoit is perhaps one of the most well-recognized branded hashtags on Instagram. You can see it pop up almost every day, with countless posts and memes dedicated to it.
Encouraging your followers to incorporate your branded hashtag in their Instagram Stories and posts is critical to being found by new audiences on Instagram.
Once you've created your hashtag, remind visitors to use it by posting it on their stories or mentioning it in their descriptions. Your recently acquired followers will be able to view additional posts about your company once they tap on the hashtag.
It also is a good idea to update your branded hashtag for staying up to date on fresh content!
Community hashtags
Community hashtags are those that bring together individuals who are interested in the same topic. They are an excellent method to engage with people, enhance the discoverability of your Instagram posts, bring new followers to your account, and expand your own brand-specific network.
Given below is a list of the broad categories of community hashtags that are in popular use:
Hashtags that describe your business offerings, such as #woollensforall or #coffeeshop
Hashtags for certain occasions or festivals, such as #whiteday or #nationaldonutday
Hashtags suggesting your market expertise, such as #weddingphotographer or #travelphotographe
Hashtags containing popular acronyms, such as #fomo (fear of missing out) #qotd (quote of the day), or #ootd (outfit of the day), are popular hashtags on Instagram
Hashtags for your niche's Instagram groups, such as #foodiesofinstagram  or #bakersofinstagram
Location-specific hashtags, such as #madeinlondon, #parispastry, or #singaporesweets
Hashtags that glorify days of the week, such as #mondaymania, #tuesdaytrends, or #funfridays are examples of day-specific hashtags
Hashtags that include terms related to what you do, such as #creativedesign or #bakinglove
Hashtags expressing abstract emotions through emoticons and symbols, such as #???? or #!!!
We suggest that you make use of a combination of hashtags on your stories and posts so that they might reach a wider range of audiences. For example, if you operate a food-based Instagram account, you might use #greeneats to target individuals seeking vegan recipes or #sweettreats to attract the interest of dessert lovers.
Campaign hashtags
Though Instagram's community and branded hashtags are intended to stay on the platform once created, campaign hashtags are generally limited to a few days, a season, or a year at max.
Campaign hashtags are shorter-lived since they are generally associated with highly specialized, short-lived campaigns, such as special events, new product launches, or collaborations. As a result, they are ideal for generating a large amount of interaction in a relatively shorter duration!
To understand the concept of campaign hashtags better, consider Starbucks' "Red Cup Contest" denoted by the hashtag #redcupcontest. It involved handing out a blank red cup collectible to Starbucks' customers, which they could decorate and display on their personal Instagram profiles, including the contest hashtag in their caption.
User-created hashtags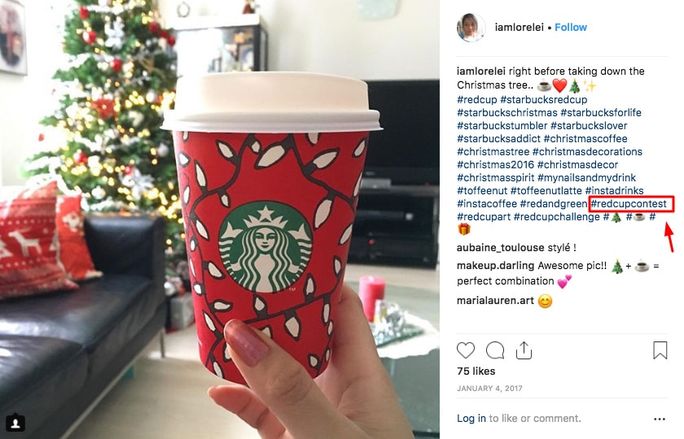 This hashtag is designed particularly for your consumers, by your consumers. These are distinct from product, branding, and campaign hashtags in that you, as the firm, have no control over what is posted. Visitors to this hashtag can view unfiltered and unsponsored images of your goods.
Hashtags for cultural movements
Instagram features hashtags for cultural movements such as Black Lives Matter, LGBTQ+ Pride, and feminism (#BlackLivesMatter, #Pride, and #feminism, respectively). Use these hashtags to raise awareness, distribute information, and make your company's position known.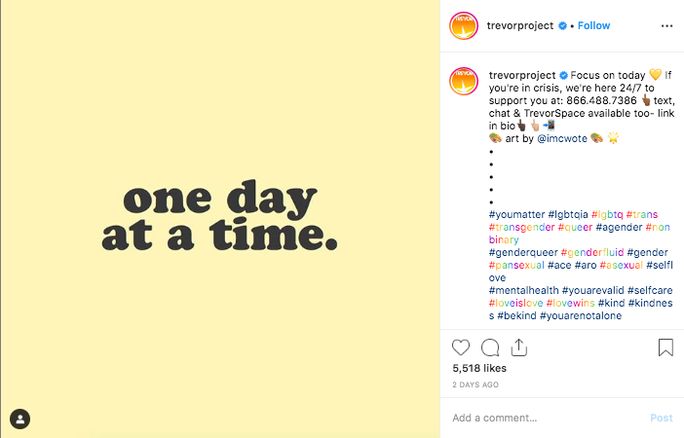 Check out the special hashtags catering to the LGBTQ+ community in the image example above.
How To Find The Most Appropriate Hashtag For Your Brand?
To be effective with Instagram hashtags, you must be smart in terms of the hashtags you choose and how you use them when you do.
Although the Instagram hashtags have been used times, it does not guarantee you'll receive a tonne of likes and comments just by adding #happy, #love, or #dog to your pictures.
Rather than utilizing the most popular Instagram hashtags, look for and use hashtags that are shorter, more niche hashtags. This way, you can have an engaged audience that is relevant to your business. Peep at the hashtag list in the image below to learn how you can go about creating such hashtags.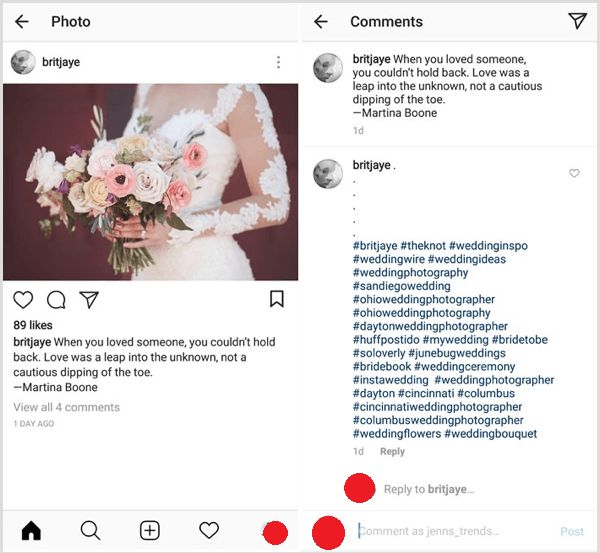 So, how do you go about finding these unique, creative, and niche-focused hashtags?
The most effective method is to look at what Instagram hashtags your target audience, rivals, and industry leaders are currently utilizing. You can do this by performing a hashtag search, as demonstrated by the image below.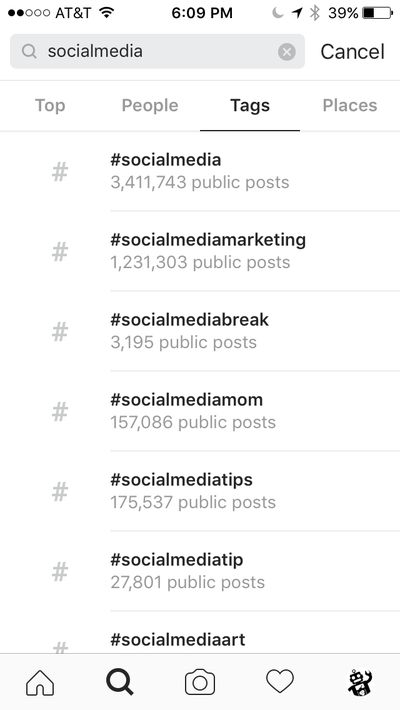 We've observed that the narrower your niche, the more discussions interested users have about it. Thus it pays to focus on a certain topic or subject, especially if it is pertinent to your brand. And you would be shocked at how specific hashtags can become!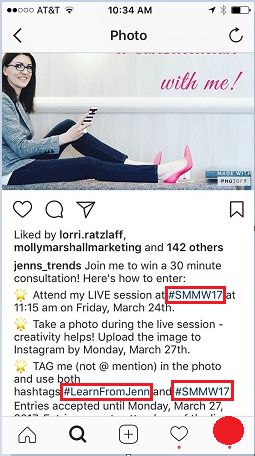 Refer to the hashtags in the image above to understand how you can generate specialized hashtags for your brand and its marketing campaign on Instagram.
Assuming your post involves a French bulldog (because Instagram loves them), instead of simply posting #dogstagram (which has more than 95 million posts already dedicated to it), you could additionally tag #pupsofinsta and #frenchiegram to reach a more specific audience of individuals who like French bulldogs. This is the most effective approach to increase targeted interaction on your content!
How To Use Hashtags For Instagram Stories?
If you are investing a lot of time and effort towards creating entertaining and engaging Instagram Stories, the chances are that you would want your viewers to see, appreciate them, and engage with them!  The good news is that, apart from posts, Instagram hashtags may be quite useful for its Stories feature as well.
If you think using hashtags for Stories is just the same as using them in Instagram feed posts, we have a word of caution for you: Instagram Stories are an entirely different ball game!
When it comes to using hashtags in Stories, you might want to cast your net as wide as possible. Why? Since your Stories are available for a maximum of 24 hours, you might want to maximize their visibility until they're live (unless you're planning to convert your Story into a Highlight, which is a topic for another day).
If you choose a super-specific hashtag, or even your branded hashtag, the chances of someone searching for that exact hashtag during that 24-hour timeframe are fairly slim.
So, what should you ideally do? As of now, read the section ahead to find out.
Learn to leverage the hashtag features for Stories
When it comes to Instagram Story hashtags, you have two options: using a text box or a hashtag sticker.
To add the hashtag sticker to your Story, tap/click on the sticker icon (the square smiling face) and pick your preferred hashtag sticker. To search for a hashtag sticker, begin typing, and you'll get something relevant in your search results.
The image below shows how text and sticker hashtags appear on Stories.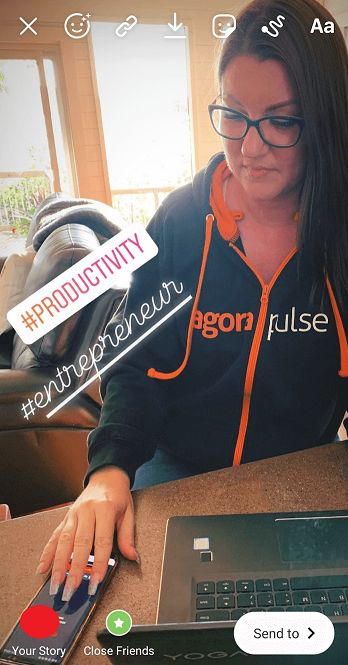 In your Story, click/tap on the Aa icon, then write your string of hashtags succeeding the hashtag sign, accompanied by the content for that hashtag. When you publish that text box, ensure that the hashtag is underlined. If it is not underlined, it is not clickable. This means it will not get displayed in searches and users will not be able to click/tap on it to access your hashtag's search option.
Do bear in mind that you can only use one hashtag with the hashtag sticker. In addition to that, each Story can feature only one hashtag sticker. That is your final hashtag once you've placed the sticker on your post. If you consider adding another hashtag sticker, your current one will open, and you will end up typing over it.
As for text-based Story hashtags, although Instagram allows the usage often, you can only practically use three usable hashtags.
How To Find Out Whether Your Hashtags Are Working?
Did your post appear in the search results? Did your content get noticed?
The simplest approach to analyzing your hashtag's performance is to study your post's insights via Instagram Hashtag Analytics. One of its components is "View Insights", located under all of your posts (if you are using your business Instagram account) and above the caption.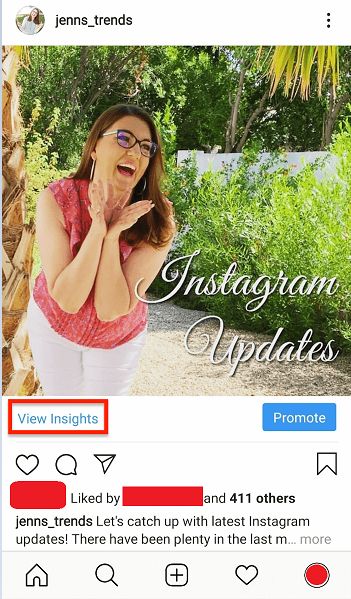 View Insights will open into a small screen dispensing further details. Slide up on the small menu bar to view a complete display of data on how your post fared. Continue scrolling down to see where your impressions emerged from, including the number of impressions that came from hashtags.
Although you will not be able to identify which specific hashtag generated exactly how many impressions, you will be able to monitor your overall hashtag performance.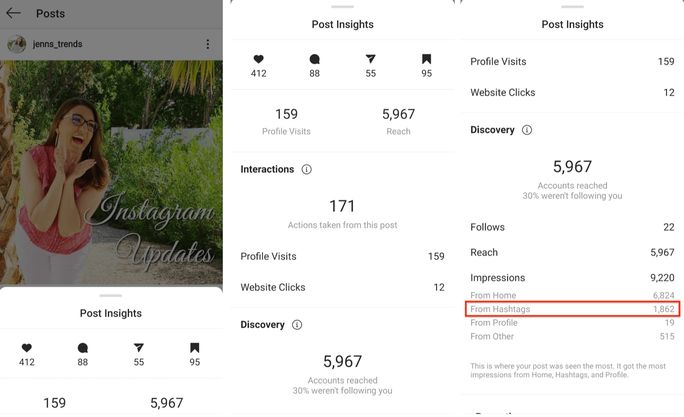 It is possible that you will not rank for hashtags or that you will receive very little visibility from them. Sometimes it's because your content is not all that amazing (sorry, but that may be the bitter truth). And if it isn't doing well among your followers, Instagram is unlikely to display it to non-followers.
It's also possible that your content is competing in a highly saturated market where it is obviously not the right time to appear in those exact hashtag searches.
Now, you must remember that not every post is going to fare well in terms of hashtag performance. Examine numerous posts to evaluate how your hashtags are relatively working. Also, consider the following facts:
How frequently did your post appear in hashtag searches, and how consistent were your higher-performing posts?
Was the content current and relevant, which might have influenced higher search rankings?
Was there a recurring factor? Perhaps you obtained higher search results every time you utilized the color blue in your post?
Examine the specifics of your posts to see which type of content performs the best for you
Time To Ramp up Your Hashtag Game!
By now, you may have understood well how hashtags are the secret to your business's success on Instagram. You must utilize hashtags effectively to reach more people, expand your audience, and increase engagement on your post across all of Instagram's features.
Hashtags enable you to be discovered by the appropriate people, delivering your content to those who want (or need) it the most.
Furthermore, you must be tactical with your hashtag usage. You must understand which ones to leverage, how to do it, and how to capitalize on them for each element of Instagram. This will help you achieve the results we discussed in this blog. Examine the hashtags you are currently using and strive to discover better ones.
Now, using a robust hashtag strategy on Instagram's fiercely competitive landscape is one way to cut the clutter and stand tall in the crowd. But you know what works just as well, if not better?Social media scheduling!
You read that right. When you have all your upcoming content organized perfectly to be uploaded at a pre-mandated date and time, you've already won half the battle. Combine that with industry edge analytics, streamlined communication with your team, and constant discovery of new ideas, and you have a recipe for success.
Luckily for you, all the above-mentioned features are available in one location:  SocialPilot. Discover more with the tool!