Looking for ways to get more Instagram followers? Well, you've come to the right place.
The COVID-19 pandemic has compelled people to abide by house arrest rules, but consider this as an opportunity to disguise, build, and grow a virtual family – 30 tried-and-tested tips!
Did you know that Instagram is the second most popular social media platform in the US?
Moreover, Instagram currently hosts more than 1 billion monthly active users globally, with 120 million users in the United States alone!
Yes, you read that right.
What started as a simple photo-sharing app quickly transformed into of the raging platforms for businesses and influencers to connect with a diverse audience and make money out of it simultaneously.
Every business and individual creating an account on the platform today have the same goal in their mind, and that is to get Instagram followers
But how do you stand out from the competition to grow Instagram followers?
Here are 30 tried-and-tested tips that, if implemented correctly, will grow your Instagram followers and reach – and help you achieve your goals on the platform!
1. Stick to One Niche
Remember, A niche builds exclusivity!
It helps form strong connections and your Instagram followers increase.
Instagram is an exciting platform; every step of the way takes you to a new level.
But here's the problem: as the adrenaline levels reach the sky from posting new content, earning new followers, likes, and comments – you may find yourself distracted from your goals.
To avoid this uncertainty, outline your account's purpose and follow it religiously.
For example,
If you're an Instagram coach whose target audience is social media marketers, stick to this niche and build yourself as an expert in the subject.
Don't forget:
"Clear Purpose = Better Action Plan!"
2. Create a Content Calendar
Here's the deal: posting random content will do no good.
When it comes to Instagram, quantity does matter. But what's important is that you produce specific and valuable content consistently.
And for this, you will need a social media content calendar to plan and strategize your posts.
Here are a few things to keep in mind:
Keep your target audience in view.
Analyze pieces of information that will resonate with them and add value to their time.
Accordingly, batch your content every week.
Trust us – this is a full-proof process to get Instagram followers organically.
3. Write an Optimized Instagram Bio
Your account bio is your social resume.
A bio is a deal-maker to convert potential Instagram followers.
The challenge here is to write a crisp, compelling copy that clearly states:
Who are you?
What do you do? (+ website link, if applicable)
What do you offer to your Instagram family?
Give your visitors a sneak peek of what you are and what you have to offer.
A stellar example here would be Harry Dry's @marketingexamples, who, in four words, highlights his Instagram offer effectively.

4. Add an Attractive Profile Picture
You can get creative with this.
Think about the best way you can represent your brand on Instagram. Let it be iconic and unforgettable.
Because if you're wondering how to get followers on Instagram, picking an optimized profile picture that complements your account name and bio is the way to go.
Look at these points to get started:
Are you a brand trying to establish a connection with your audience?
Post a pixelated-free picture of your logo, superimposed on your brand colors.
Are you an influencer building your mark on the platform?
Post a clear headshot of your face.
5. Go Big With Reels!
Reels are the way to go in 2023.
They're the sure-shot Instagram followers hack, a way to grow big by attracting millions of views, likes, and followers.
Hands down, this latest Instagram feature has taken the platform by storm – with creators and brands posting funny, attractive, and educative content daily.
So why does this matter?
Reels go viral when people share them on their stories and DMs, allowing you to get free Instagram followers.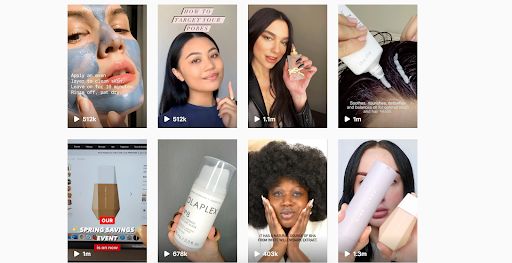 Take inspiration from Sephora. The beauty company rolls out excellent Reels periodically, from quick tutorials on how to soothe oily scalp at home (with 1M views and 32.1K likes) to current trending content pieces.
You can practically create anything you want in the 15/90-second time frame and quickly grow your Instagram followers!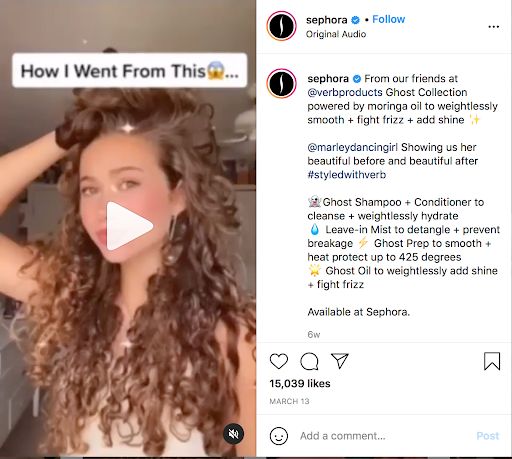 If we take the example of Sephora, we can't ignore the fact that their consistency influences their online success a lot. To boost your Instagram followers, trick is to be regular. If you are not consistent with your posting, you won't be able to hold on to your audience for long.
How to be consistent with your Instagram posting while keeping up with all content types and managing multiple pages?
SocialPilot is the all-in-one answer for all your Instagram needs. Publish Reels, Stories, and Posts regularly on multiple accounts by scheduling them in advance so they'll be posted without a hitch. Manage it all from an integrated dashboard and get rid of all the fuss!
6. Create Carousels for Your Instagram Followers
Want to learn a secret growth hack that only a few social media experts know? It's dwell time, i.e., the average user time spent on your content.
And that's exactly what carousels are for.
These 10-page slides motivate a user to stay on your post for long, thus alerting Instagram's algorithm to frequently feature your account in the Explore section of potential followers.
"Instagram Growth = Satisfying the Algorithm."
7. Work on Creative Captions
Instagram is a creative tool!
It offers 100% freedom to create your brand identity.
To make the most of it, you can experiment between short-form and long-form captions.
Write copies that intrigue a user and motivate them to check out your profile. They will ultimately hit the blue 'follow' button.
8. Play With Hashtags
Right hashtag sets = 'Instagram follower boosters'.
You can include targeted hashtags in your posts that attract the relevant audience to check out your profile and give you a follow!
Not sure how to get more followers on Instagram with hashtags?
Here's how:
Make two batches and experiment with each for a month. Then, check out which ones are working through the 'Insights' section and keep them as your template hashtag set.
Typically, a successful hashtag strategy includes two categories:
Post:specific hashtags
Niche: specific hashtags
Bonus Tip: Did you know you have room for 30 hashtags in each post? It doesn't mean you have to use all of them. Use as much relevant for your post, and growth shall follow.
9. Create Your Personalized Hashtag
A personalized hashtag defines exclusivity.
It helps users locate your account quickly. So, keep it quirky and relatable. Make sure you always stand out!
But wait! There's more:
You can cross-promote your branded hashtags in your stores (physical or virtual) and other marketing campaigns – leaving a solid imprint on your followers and potential followers.
10. Schedule Your Posts
Did you know there are best times to post on Instagram to increase your growth?
That's why you need to figure out when your Instagram followers are active and likely to engage.
Keep in mind – this scheduling could be as specific as 7:00 PM on Saturdays or 4:30 PM on Tuesdays.
But don't let that keep you from growing on Instagram!
You can rely on Instagram scheduling and posting tools like SocialPilot that automatically upload posts at your account's optimized time, thereby actively contributing to your brand's growth!
11. Switch to a Business Account
Why a Business Account, you may ask?
A Business Account offers two features:
Insights Section: allows for tracking Instagram performance over the last 7 and 30 days, like accounts reached, engagement generated, etc.
Contact Button: to add an email address and phone number so your target audience can reach out.
As you can see, switching to a business account is a vital step to gaining more followers on Instagram.
Don't underestimate its power!
12. Collaborate With Influencers
We cannot deny the fact that people adore influencers and believe in the products they use.
Here's what a survey revealed:
68% of brands prefer influencer marketing on Instagram, and 90% of respondents believe influencers to be strong brand ambassadors.
So yes, an influencer collaboration is totally worth it!
Paid influencer partnerships, story shout-outs, and influencers taking over your brand's account for a day are some ways to quickly grow Instagram followers.
13. Repost User Generated Content (UGC)
What is a great medium to build brand authenticity and consumer trust?
Answer: Social proof.
How?
When prospective followers observe other users enjoying your product/service, they're more likely to give you their business.
It's true; 79% of people state that "User Generated Content" influences their buying decisions.
Take cues from Grammarly, which regularly posts UGC and successfully pulls up its Instagram follower count.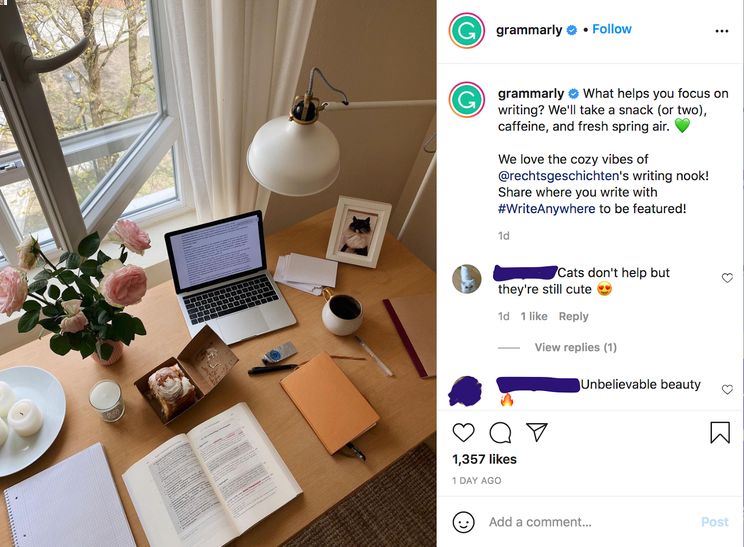 14. Engage Through Instagram Stories
Users are the most active on Instagram Stories today as compared to any other platform.
So it goes without saying that you should capitalize on this trend!
Use Instagram Story features – polls, questions, quizzes, etc., to boost engagement rates. If your followers enjoy these activities, they will spread the word in their community.
The result? More Instagram followers!
15. Pick-up Reach on Stories
Looking for a surefire way to generate more reach on Instagram?
It is through trending hashtags, stickers, GIFs, and of course, memes. Who can resist a good meme?
Give reasons to set off discussions and healthy debates and start trending away!
For example, NYU used the hashtag #Oscars to promote, discuss, and highlight the achievements of their alumna Chloé Zhao in the 2021 edition of the prestigious award ceremony.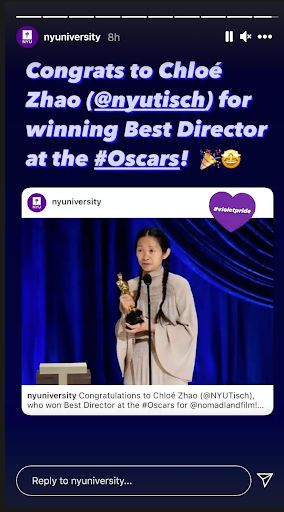 16. Host Giveaways
Successful brands know how to get Instagram followers and pull a new audience to their feed: free products.
Who doesn't like free (luxurious) gifts?
The thrill of getting gifts from a renowned figure or brand is exhilarating. No one would want to miss that chance!
You can host contests with conditions like – "give us a follow" and "tag three friends to expedite winning probabilities".
What's more, many brands, including start-ups and influencers, conduct these offers during festivities or after hitting a particular follower mark (500K, 1M, etc.).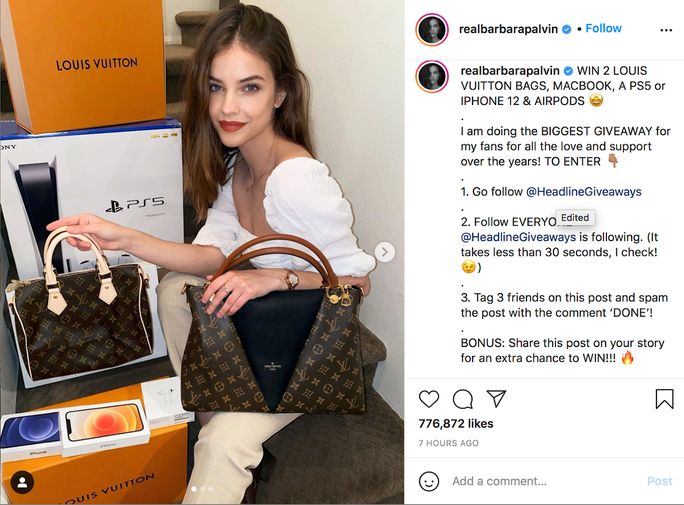 17. Go Live!
Pro tip: Don't shy away from showing your face!
People love to hear BTS stories and experiences of people responsible for building their favorite brands.
Instagram's IGTV feature allows creators to engage with their audience in real-time.
Here are some other ideas:
Share event details on all social media platforms.
Fly solo or invite special guests.
Highlight 2-3 talking points to generate interest and be raw.
This activity will boost your Instagram follower numbers organically!
18. Engage Instagram Followers via Comments
More comments are a blessing to your Instagram posts!
The key is to respond to valid comments to build a real connection with your audience.
It's easy – be witty or direct.
Give reasons for people to talk about you! It will definitely boost your follower count.
Take inspiration from Boss.
The brand ensures to strike meaningful and long-lasting relationships with its followers and radiates a positive branding image for potential followers.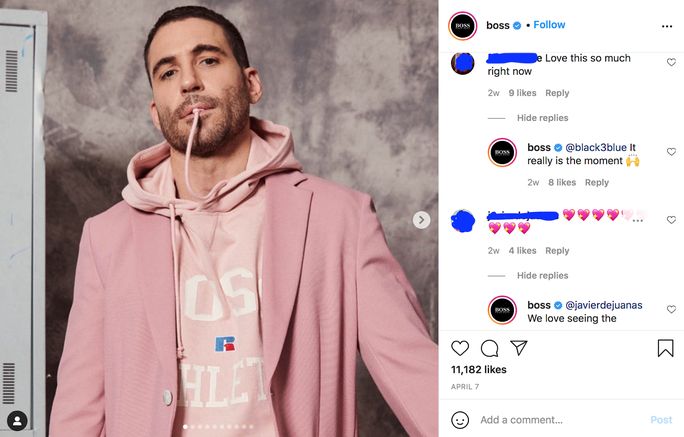 19. Create Useful Guides
Guides are a relatively new Instagram feature, where accounts can collect similar published posts under one virtual roof for easy user access.
This educative effort builds brand authenticity and invites a large number of free Instagram followers.
Here's a great example:
In an attempt to assist people affected by the COVID-19 virus, many non-profits and influencers are sharing Instagram Guides packed with resource links and helpline numbers.
20. Drop Valuable Comments
It's pretty straightforward.
Regularly drop your likes and comments on industry-specific posts to gain traction and boost your organic growth on the platform.
21. Have a Clear Username
Naturally, you need an Instagram username that defines your brand.
But how can people find you if they need to type a barrage of characters and numbers to get to your page?
That's why it's best to keep it simple. Use lowercase alphabets and avoid numbers and symbols to get discovered easily.
22. Show BTS Scenes
Who doesn't love to watch bloopers, employee bonding videos, or wholesome clips of pets?
People love to listen to raw behind-the-scenes stories.
It's a fact: transparency fosters relationships.
Do you have an office pet that steals everyone's heart? Show his tactics!
A favorite colleague moment shared every Friday? Create a Reel!
Post anything 'real' and experience overflowing love from your rising Instagram followers!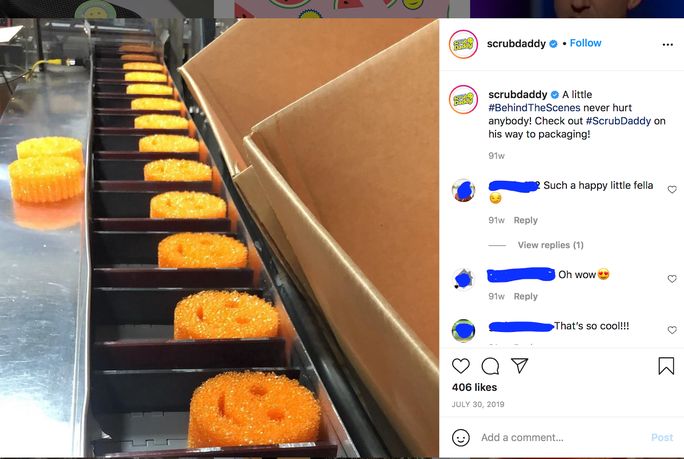 23. Consistency Is the Key
Let's be real: Instagram is a demanding social platform.
And that's exactly why consistency is key.
Be active every day through posts, Stories, or Reels, and the platform will love you back with with increased exposure on the 'Explore' and 'Hashtags' tabs – gifting you more followers over time!
24. Keep Room for Moment Marketing
All it takes is one post to go 'viral' on Instagram.
Brands should keep enough flexibility to incorporate moment marketing – it can skyrocket your followers instantly!
Always remember:
"People love trends – give it to them!"
For example,
The recent Suez Canal transfix received rising attention from the creative industry and soon turned into an opportunity for moment marketing.
Take a look at how the Mercedes-AMG Petronas F1 Team capitalized on the Suez Canal moment!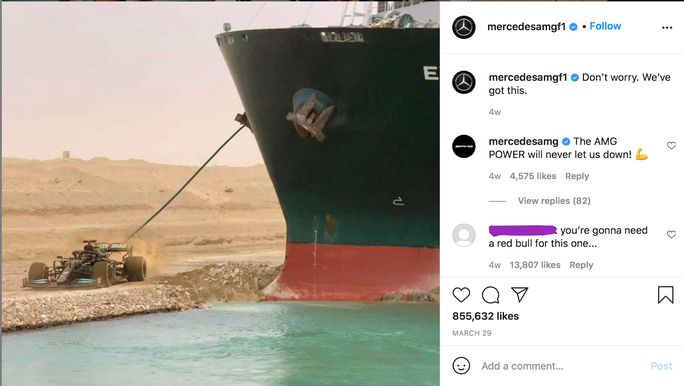 25. Invest in Instagram Ads
Instagram offers ample room to grow organically.
But as a brand, you need to understand the power of Instagram ads and invest a plumpy slice of your marketing budget towards it.
Ads are an effective strategy to tap potential followers' accounts for:
Introducing new products
Offering special discounts
Access to free resources
And it gets better!
The platform offers 100% autonomy to choose your ad budget, select your demographics, and enjoy rising KPIs (reach, followers growth, sales, etc.).
26. A/B Test Regularly
Wondering how to gauge if what you're doing is working or not?
The simple truth is that you will never fully understand what is working and what isn't until you A/B test your strategies.
So, all you need to do is,
Batch your content, hashtags, posting time, and frequency in two groups,
Experiment meticulously until you crack the code.
27. Give Shout-Outs to Followers
What would supercharge your followers' enthusiasm?
Periodic shout-outs!
Post screenshots of sassy comments, valuable comments on your posts, or impressive performance in contests.
Boosting your followers' morale encourages them to participate more.
And the best part is that they will also share their featured achievement with their friends, giving you a growing Instagram follower community.
28. Link Instagram Account to Your Website
Why should you embed your top-performing Instagram posts into your website's source code?
The reason is simple: it will highlight visually appealing posts to your users and direct them to your Instagram handle.
Guess what that means? You get Instagram followers for free!
29. Share Exclusive Details on Your Instagram Handle
Are you launching a new product, disclosing a much-awaited detail, or anything else?
Release the announcement on Instagram first!
Exclusive first-hand knowledge piques interest and provides reasons for people to give you a follow on the platform!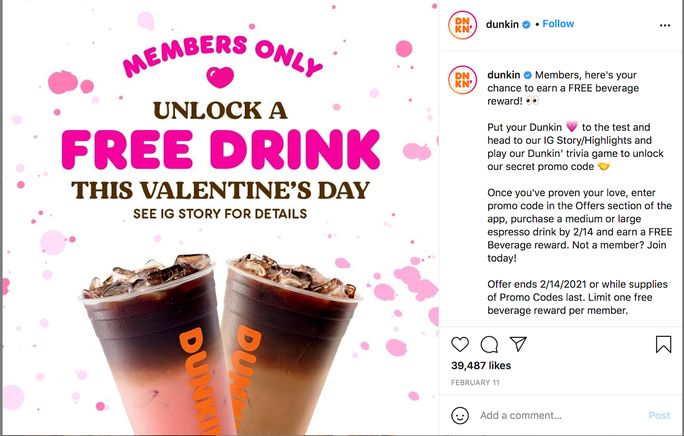 30. Try Instagram Shopping
A nifty tip for growing your customer base:
Host your virtual Instagram store and use strategies to promote your eCommerce sales.
Trust us, marketers in the past have recorded positive results (more reach and followers) with this marketing and sales technique.
Instagram Is Your Playing Field!
Your account is at your discretion to work with – keep your goals in sight and enjoy the process as you move forward.
By incorporating all the power-packed strategies listed in this blog, you can successfully grow your audience on Instagram.
Another way to improve user engagement is through tools like SocialPilot, which gives you the power to schedule posts, reply with social inbox, and analyze your Instagram account performance.
And most importantly, be patient. Your potential followers are out there, waiting to be approached with the right strategies that will incentivize them into hitting the blue follow button!