How many times have you come across at least one advertising feed post that comes with tags such as "paid partnership" while scrolling Instagram?
And in case you wonder why, it is because Instagram — now with over a billion users — has become the most preferred platform for brands to showcase their products and services and connect with the users.
83% of Instagram users discover new products and services through the platform, and 71% of US businesses use Instagram to sell their products.
Not surprising, at all!
These figures indicate one thing though. That is, to boost your brand visibility and thrive amid the competition, you need to know how to sell on Instagram and be amazing at it.
In this blog, we'll cover all that you need to know about selling on Instagram, so sit tight and read on!
What Is An Instagram Shop?
Instagram describes Instagram Shopping "as a set of features that allow people to easily shop your brand's photos and videos all across Instagram." It describes its shop as a place where you can sell and share your brand story, and offer users a chance to glance through your product collection.
Simply put, it enables viewers and customers to discover and browse through your offerings and purchase directly from your Instagram profile. In the picture below, you can see that the post has a button of 'View Products', which users can click to see the entire range of Walmart's products.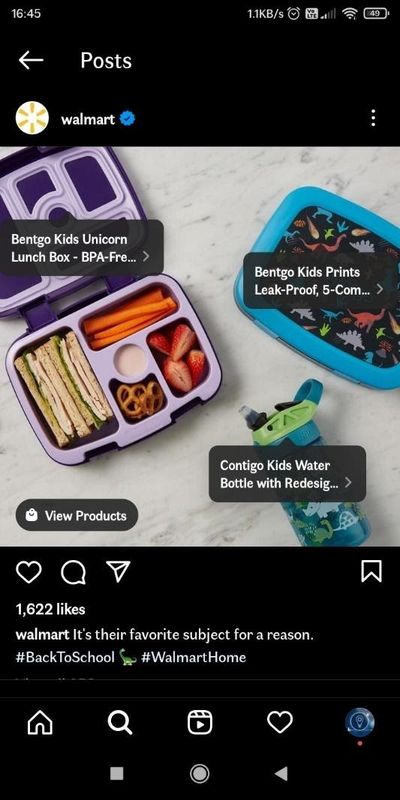 Although Instagram announced its plan of introducing shops on the platform in 2016 and launched it the following year, it introduced an improved version of Instagram Shop in 2020 to help businesses promote their brand story, and improve engagement. For consumers, it means a seamless shopping experience and checkout.
So, how do you set up your Instagram Shop? Simple — by uploading your product catalog!
Uploading Your Product Catalog
The first step in setting up your Instagram shop is to ensure your product catalog is in place, to be connected through Facebook. Before that, ensure that your Instagram account is a business account and is connected to your Facebook page.
There are two ways you can upload your product catalog:
Through Facebook Business Manager
This is the most common approach to upload your product catalog. To do so:
Step 1: Once you sign in to your Facebook Business account, go to the Commerce Manager.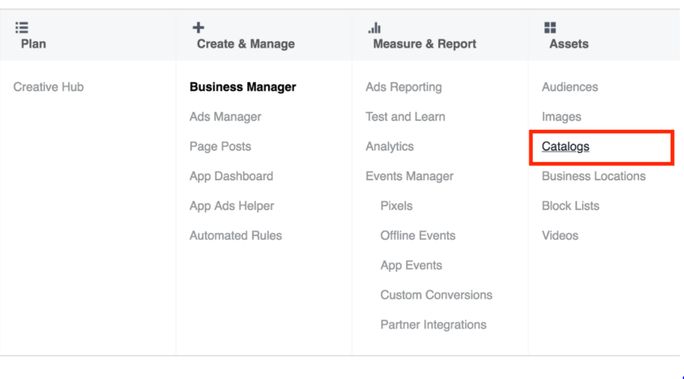 Step 2: Click on Get Started and choose the Create a Catalog option.
Step 3: Next, you need to select Ecommerce (for products) and then click Next.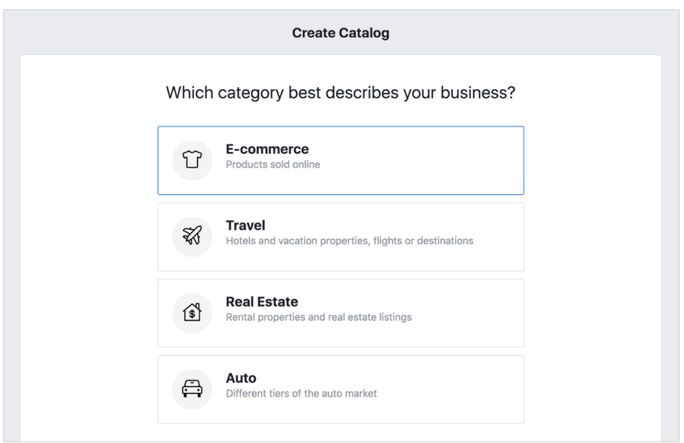 Step 4: You'll be asked to select the option through which you'd like to add items to your catalog. Select Upload Product Info.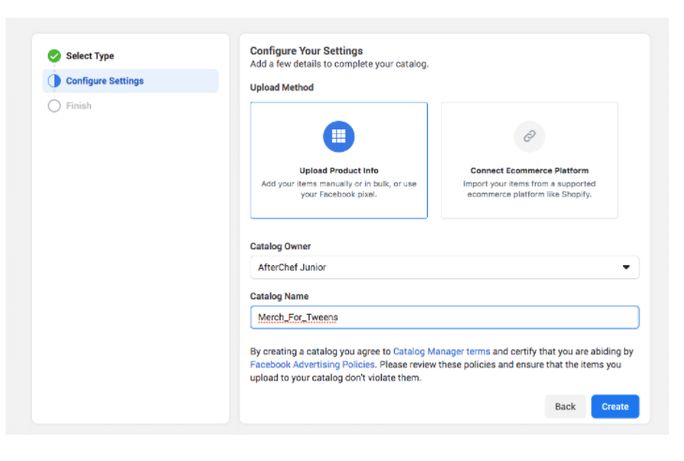 Step 5: Integrate this catalog with your Business Manager account, and name your catalog and click Create.
Step 6: Revisit the Commerce Manager tab and select your catalog by clicking the Catalog tab and choose Items.
Step 7: On the screen, select Add Items, then Add Manually, and then click Next.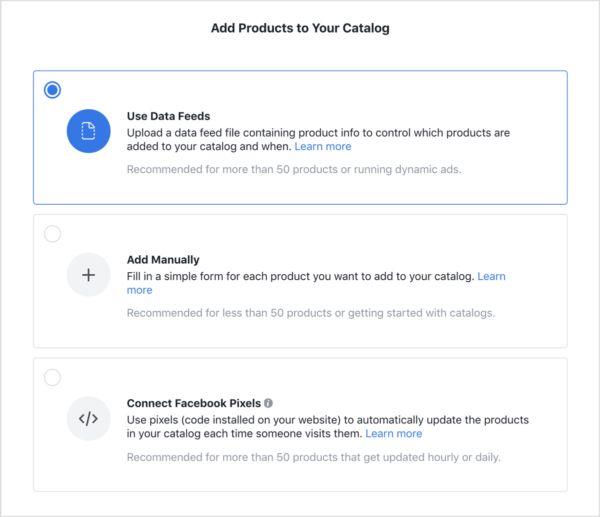 Step 8: After that, you need to upload an image of your item whose pixel dimensions should be a minimum of 500 x 500 pixels.
Step 9: Go on to add the name, description, and other details of your item. Ensure you add specific details so that your products pop up on top searches, and your visitors and shoppers can discover them easily.
Step 10: In the Item Category section, select your specific category.
Step 11: Next, under the Create Variants tab, add different colors, sizes or themes as preferred.
Step 12: Once you've completed the process, select Finish. To make additions, select Add Another Item and repeat from step 9 onwards.
Through Amalgamation With Ecommerce Platform
This is another easy way to set up your shop if you don't wish to connect through Business Manager. To do so:
Step 1: Head over to the Commerce Manager.
Step 2: Once there, launch the Catalog tab, and select Use Data Feeds.
Step 3: Next, you need to select Add Items, then choose Connect Ecommerce Platform.
Step 4: Select your preferred platform from the dropdown options given under Ecommerce Platform field, such as BigCommerce, Shopify, and others.
Step 5: Click the link to the partner platform website and proceed as per the steps and guidelines mentioned there, and voila! Your account is now connected to Facebook.
Setting Up Your Instagram Shop
Once you've uploaded your product catalog, you need to submit your account for review. You need to ensure your product passes all the checks done by Instagram. It's not reviewed instantly and generally takes a few days.
To submit your account for review:
Step 1: On the Instagram app, in the profile settings, tap Business, and then tap Set Up Instagram Shopping.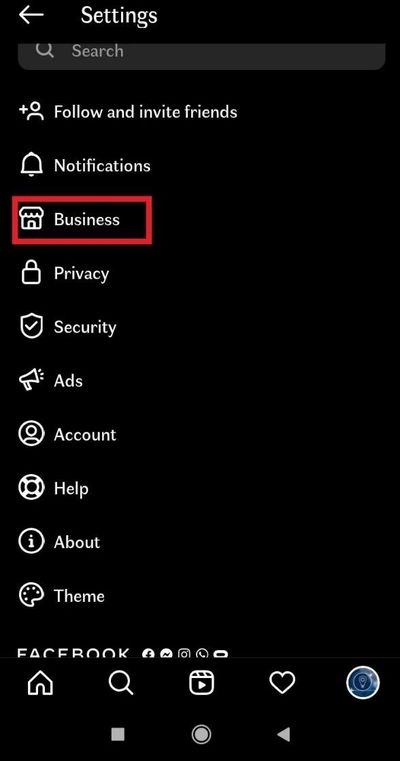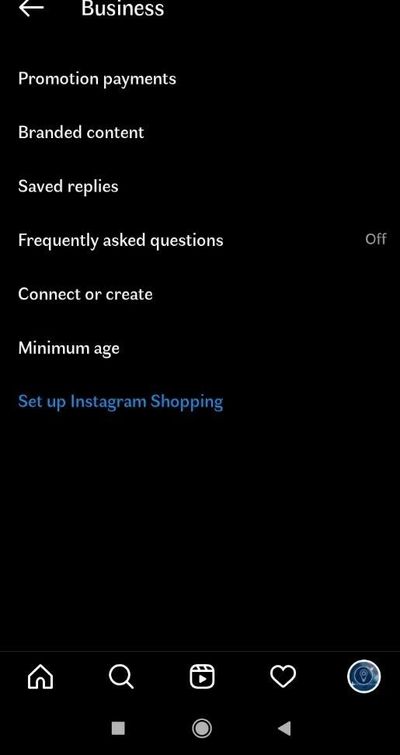 Step 2: Tap Get Started and follow the guidelines you see onscreen to submit your account for review.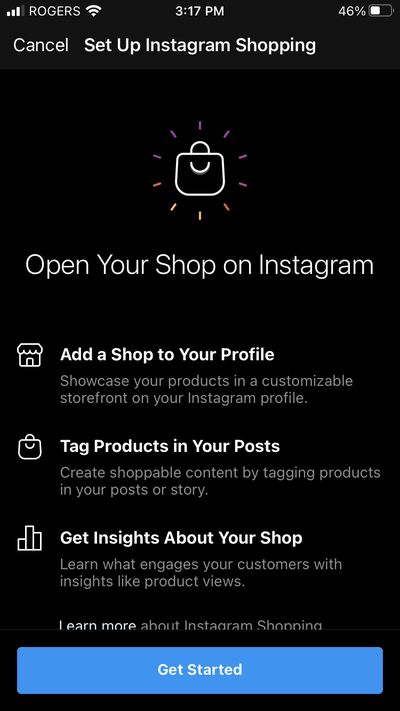 Step 3: Visit Shopping in your Settings later to check your application status.
Once your account passes the platform's review process, you just need to link your product catalog with your Instagram Shop in two simple steps:
Step 1: In the profile settings on the app, tap Business and then tap Shopping.
Step 2: Select your desired product catalog for integration and then tap Done.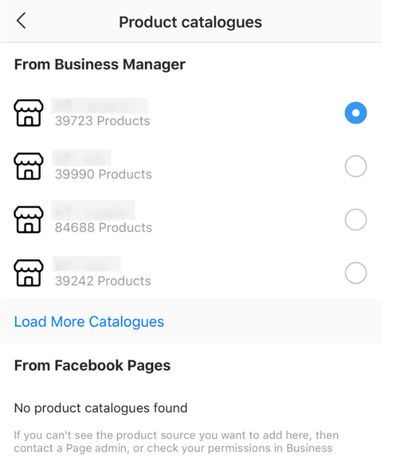 Voila! Your Instagram Shop is all set to welcome your followers and visitors!
Users in the US having a Business or Creator account are also eligible for Instagram Checkout, through which they can directly complete their purchases through Instagram seamlessly and securely.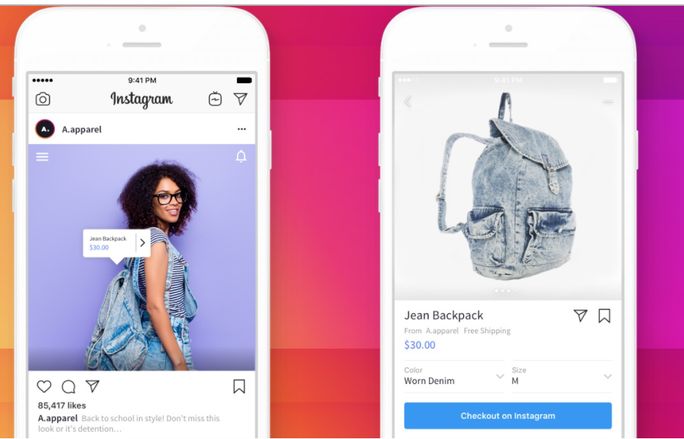 Creating Instagram Shopping Posts
Congratulations, at this stage, your shop is up and running, and ready to welcome prospective customers! You're all set to earn handsome bucks — and more — through the platform.
The process of uploading your product post(s) is almost like that of uploading normal Instagram feed posts. You can upload images as well as video posts of your products and tag them, which we'll discuss in a while.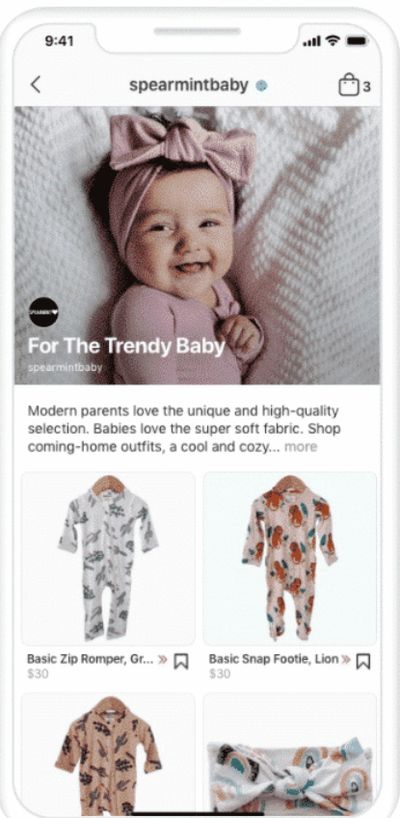 All shoppable Instagram posts include a shopping bag icon in the bottom left corner of the screen. All the products tagged in your account would be visible to your profile viewers under the Shopping tab.
Creating Instagram Shopping Stories
Stories are an excellent way to engage with customers. Uploading a product on your Instagram Story is just like how you would upload a Story normally. You can use the Stickers function to tag a product for promoting them on the platform through Stories.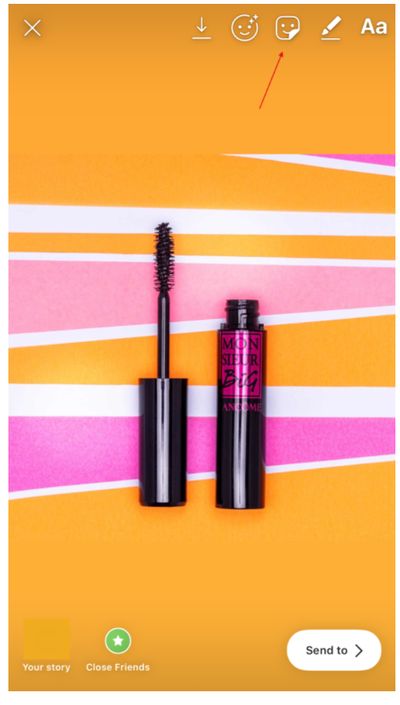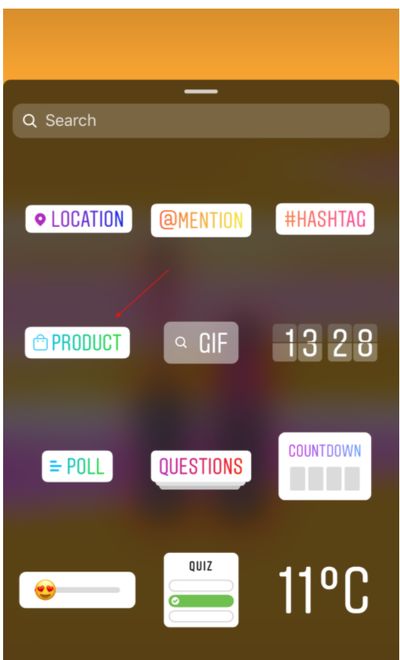 Image 16 image 17 Sources: Socialmediaexaminer
You can upload or create your content for your product to share on Story, and click the Sticker icon visible in the top-right corner. Once you select the Product sticker, choose the product(s) from your catalog that you wish to upload as Story or Stories.
Tip: You can tailor your product sticker to suit the colors of your Story.
Tagging Your Product Posts
It's time to be visible to the world and let them know about your shoppable Instagram posts and to connect and engage with them!
When you upload your product posts, you need to add the product tag to your post to provide users and potential customers the following details:
The product's image that is available on your website
The product's description
The product's pricing details
The link to buy the product from your website
All you need to do is:
Upload your product image(s) just like you would do for a normal Instagram feed post—make it zappier with your preferred caption, filter, and effects that you feel would go with the image.
Next, you need to tap on Tag Products, and then tap on the photo in the place where you feel the tag should appear.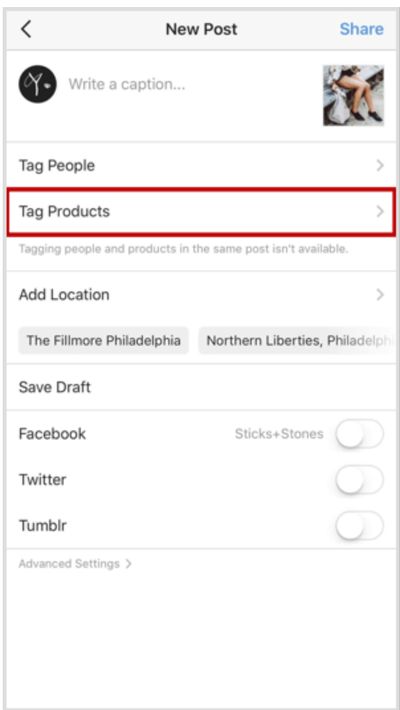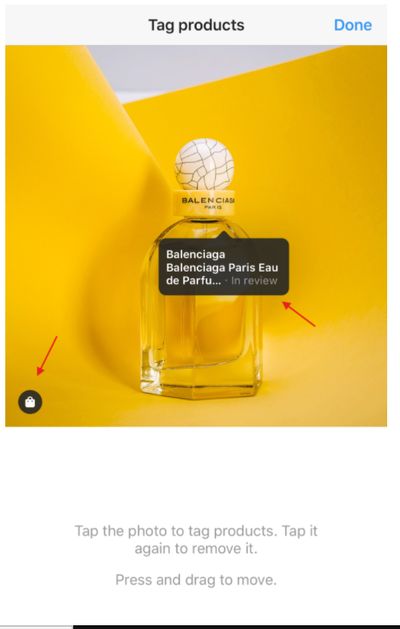 Enter the name of the products you wish to tag. Ensure that it is the same or almost similar to your product names in your catalog.
Select your product and tap Done.
Once you've done with the above steps, tap Share. Lo and behold! Your first shoppable post is live on your feed!
Tag up to five products per image and video post!
Creating Instagram Shopping Ads
You can either post a shoppable post that you created and posted earlier; or you can make an ad from the start in Facebook Ads Manager using the Instagram Product tags. It's easy-peazy!
Ads with product tags can help drive engagement to your website, or they can open up Instagram Checkout, provided that functionality has been enabled.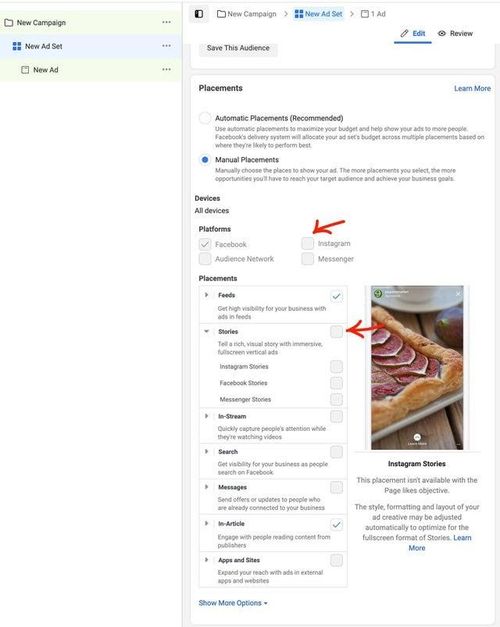 Using Instagram Creator Studio To Create Shoppable Posts
Although announced in 2019, Creator Studio for Instagram was officially rolled out in 2020 to enable creators to post, manage, monetize, and analyze their content published on their Instagram accounts and Facebook Pages.
Instagram Creator Studio aims to help creators generate revenue from the content they create and share, which includes ad profits, brand collaborations, and their followers' support.
You first need to connect your Instagram account to the Creator Studio before publishing your Instagram content through the desktop and manage them and gain insights. On your desktop, open the Creator Studio and click the Instagram icon at the top of the page.
To create a shoppable post on Instagram Creator Studio:
Step 1: Click Create Post in the top-left of the page and the dropdown options display Instagram Feed and IGTV.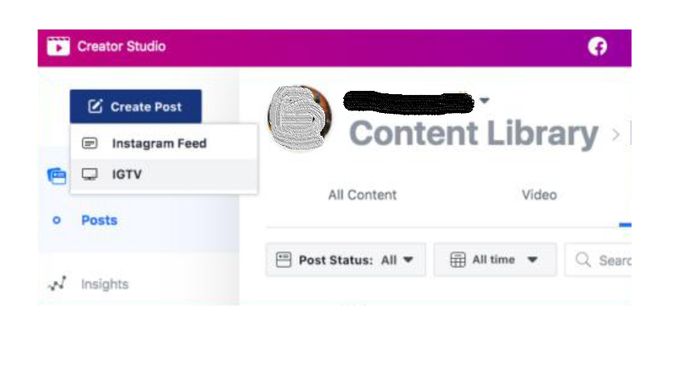 Step 2: After choosing Instagram Feed, a window would pop up on the right of the screen to upload your image or carousel post images, write your caption, and add a location.
Step 3: Tag the products in your Instagram photo and carousel posts. Click the three dots below your post and select Tag from the dropdown. Enter the tag name and details and choose where the tag would appear on the photo.
Step 4: You can also crop your images to adjust the size if required.
Step 5: Once you're done reviewing your post, click the arrow beside the Publish option and select Schedule to choose the preferred date and time of posting.
Similarly, you can upload IGTV videos for your products. However, you cannot schedule IGTV videos on Instagram Creator Studio.
Summing It Up
Instagram has grown to be the preferred platform for businesses to sell online and engage buyers, and Instagram Shop is a great way to promote your brand without spending a penny. With 90% of Instagram users following business accounts, it has evolved to be the perfect place to find interested buyers and interact with users.
Instagram Shop is your solution to boost sales on the platform conveniently, and should definitely be on top of your marketing strategies.
You must regularly put out content-rich posts to draw users to your Instagram shop. Post all kinds of content like multiple images, stories, and reels for all your Instagram pages from SocialPilot. Using the tool, you also schedule the first comments along with your posts for higher engagement. SocialPilot provides a workflow to effectively collaborate with your team and clients.