Instagram has witnessed tremendous growth and popularity in recent years. Its user base increased from approximately 700 million in 2018 to 1.15 billion in 2021.
When it comes to zeroing down on ad platforms for your marketing plan, ignoring Instagram from your marketing strategy would be a grave mistake. Offering access to a global audience of more than 500 million daily active users, Instagram is the place to be.
Digital marketers are increasingly becoming aware of Instagram's potential for implementing their ads strategy successfully. Instagram already supports more than 25 million business accounts, and the number is only increasing.
Your mind is now all set to take advantage of Instagram for posting ads. But, how you can post business ads on Instagram must be your next question.
The answer to that is straightforward: use Instagram Ads Manager!
What is Instagram Ads Manager for Business
Instagram Ads manager, also referred to as Facebook Ads Manager (Facebook owns Instagram), assists in creating a seamless advertising strategy for users. It helps you define your ad campaign goals and target audience while creating your ad strategy.
The Instagram ads that you create through Ads Manager have the tag "Sponsored" above the posts, making them different from your regular feed posts.
You can manage both Instagram and Facebook advertising through Facebook's Ads Manager to create ads or campaigns. It effectively helps you to define your target audience, among other things, and plan out your ads accordingly.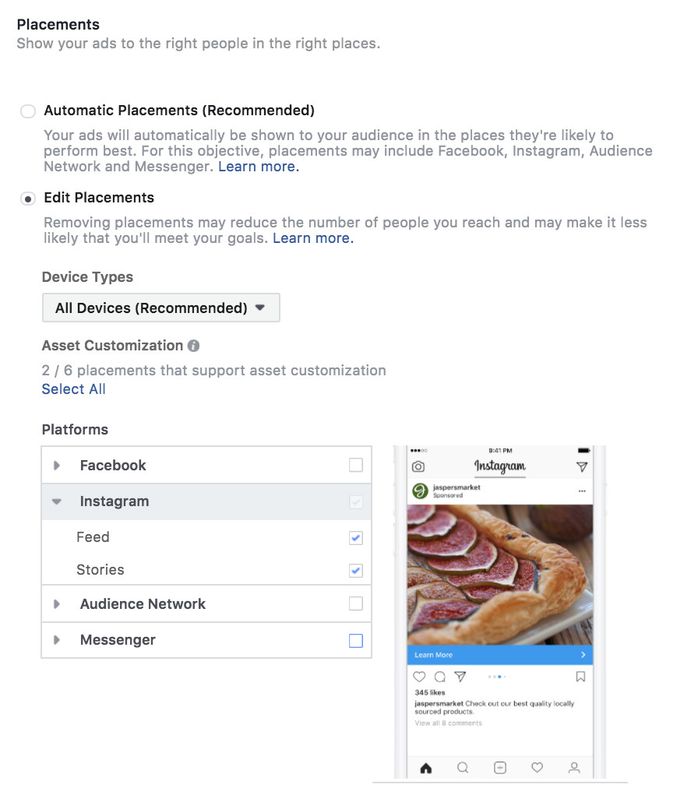 Pro tip: You can convert your Instagram posts easily to ads with a single tap on the Promote button.
Why Use Ads Manager
However brilliant your ads are, your campaign will not succeed unless your ads are executed on time and tracked consistently. It holds even for business ads on popular mediums like Instagram, one of the most preferred social networks.
The Ads Manager allows you to manage and upload ads on Instagram. The most obvious benefit of using the manager is that it will enable you to share high-quality photo and video ads using various fantastic filters and visual elements for free.
Let's discuss some more benefits of the Instagram Ads manager.
Multi-platform integration
The Ads Manager allows the integration of ads across social media platforms. You can showcase your ads on Instagram, Facebook, and the Audience network.
Run multiple ad campaigns
The Instagram ads manager allows you to run multiple ad campaigns in the form of videos, image carousels, canvases, and collections. It gives you the flexibility to decide what works best for your brand and target audience.
Define your target audience
Through the Ads Manager, you can easily define your target audience. You can select your desired location and target ads based on demographics, such as age, gender, audience interests, and several similar factors. Such targeting helps you narrow down your audience's profile and curate customized ads for generating more engagement.
Gain performance insights on ads
With the Ads Manager, you can easily measure each ad's performance with the help of Facebook's insights, metrics, and other tools and gauge which ads performed the best for you.
Types of Instagram Ads You Can Create with the Ads Manager
You can create ads in different formats on Instagram, such as images, videos, and stories depending on the nature of your audience and your marketing objectives.
Here are different types of Instagram ads that you can create with Ads Manager:
Photos Ads
Did you know photos help increase the engagement rate by nearly 1.4%? Photo ads are the most convenient way to gain entry into a user's Feed. They are easy to create and help promote the brand's visibility. By experimenting with the different filter options, you can make exquisite image ads.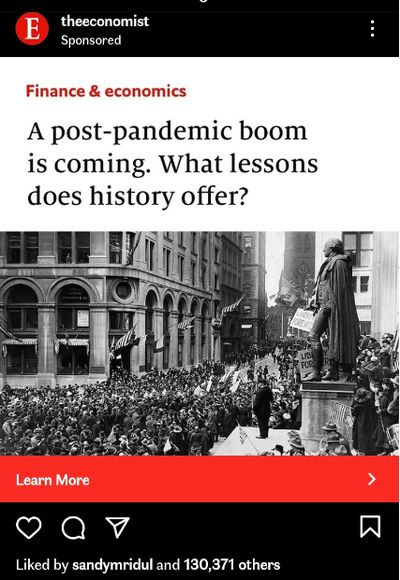 Stories Ads
With 96% of marketers intending to continue using Stories Ads and 50% of global businesses on Instagram creating Stories daily, this ad type is one of the buzziest ways to attract more viewers and enhance engagement.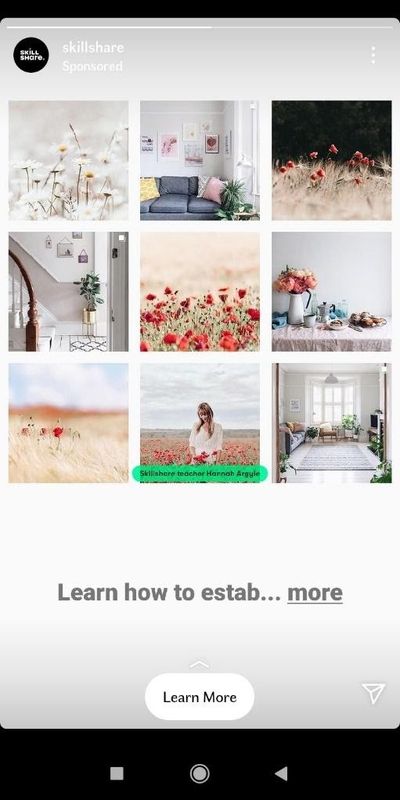 Are your Instagram stories missing the wow factor? It's time to level up your game with Instagram story idea generation.
Automate your Instagram story idea generation process with the AI Assistant and generate bewitching ideas for your next post. With a few prompts, you can generate emotion-driven Instagram story ideas and get your audiences in a trance.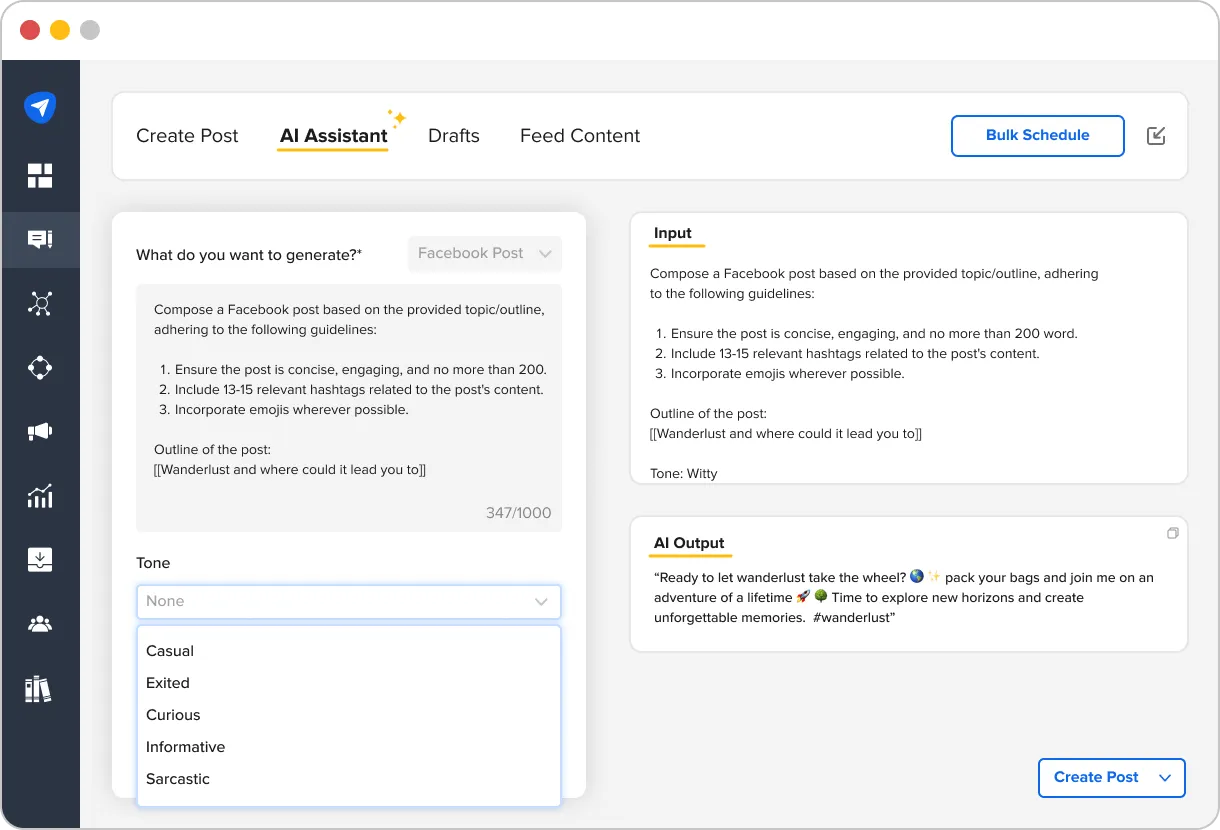 Video Ads
87% of marketers consider videos as an essential tool for their content marketing strategy. The massive popularity of Instagram Reels and Instagram TV (IGTV) further demonstrate the prevalence of video ads.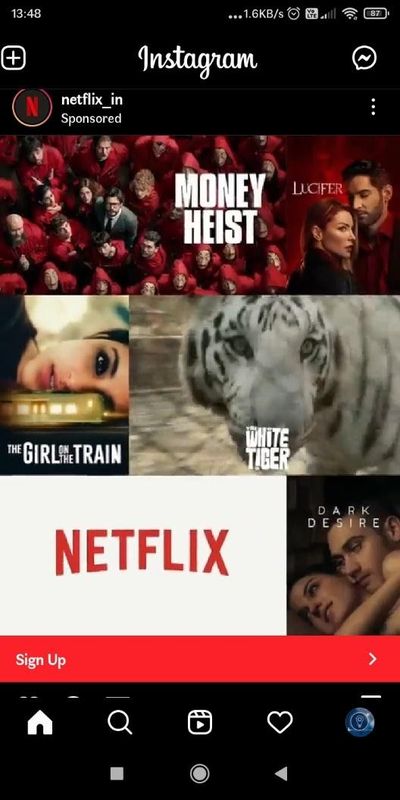 Carousel Ads
The best thing about Carousel ads is that you can upload multiple media files at once. Viewers can swipe through your ads, which makes them pretty attractive and lively. You can also add unique CTAs for each Carousel. Additionally, the Ads Manager enables you to optimize your ads with links that help generate high CTRs.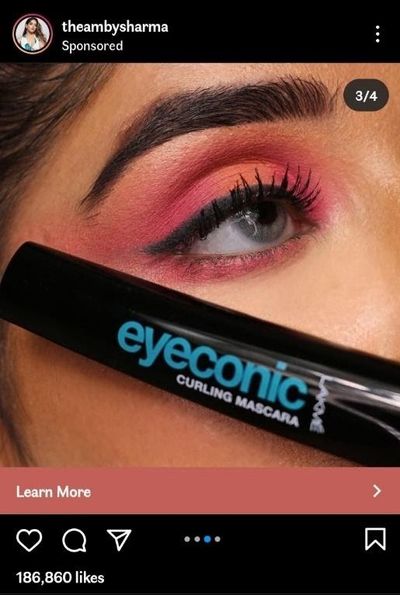 Collection Ads
The main difference between Collection ads and Carousel ads is that the former lets you directly make purchases through the ad. You can browse through multiple collections/products from a brand in an Instagram Instant Experience Storefront and shop within Instagram without exiting the platform.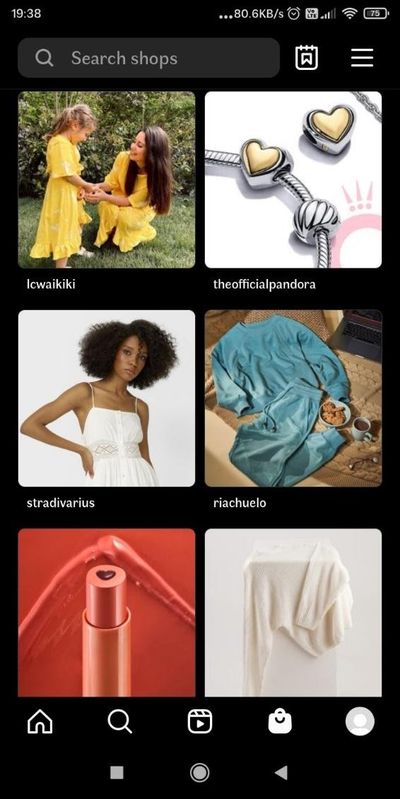 Explore Ads
The Explore section on Instagram gives brands and businesses an excellent opportunity to connect with new viewers.
Brands use these ads to target prospective customers to let them know about the brand's offerings and indirectly attract them to follow its account.
Users are always looking for new accounts that are similar to those which they already follow. It is human tendency to always look for something new and better. Ads in the Explore section enable businesses to reach out to newer audiences through their successful Feed content.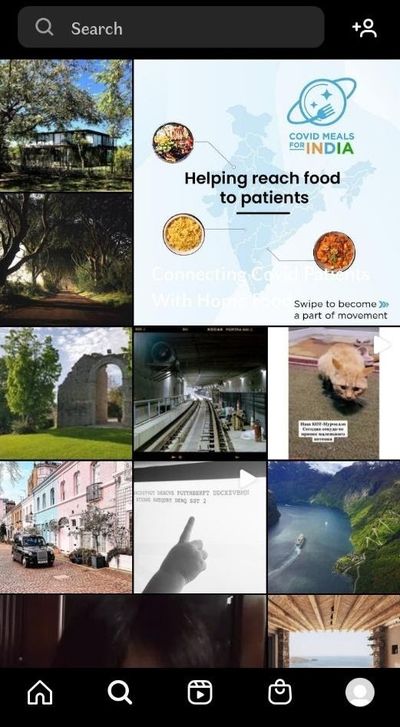 How to Create Instagram Ads and Campaigns
Now that we know the different ad types that we can create on Instagram let us create ads and campaigns.
You can create ads on Instagram either through Facebook's Ads Manager or through Power Editor.
Before you begin, you must log in to Facebook Ads Manager to create and manage your social media ads. To do so, you need to add your existing Instagram business account to your Business Manager or connect to your Facebook page.
To add an Instagram account to your Facebook Business Manager:
First, you need to click the Facebook settings menu and go to Business settings.
Next, click Accounts > Instagram accounts.

Click + Add.
Enter your Instagram credentials and click Confirm.

Select the ad accounts and pages you'd like to attribute to the Business Manager and click Next.
Note: You can run your ads on Instagram using your Facebook page even if you don't have an Instagram account.
Now that you've added your Instagram business account in the Manager let us look at the ways to create Instagram ads and campaigns.
Using Facebook Ads Manager to create Instagram ads
Step 1: Beginning the ad creation process
Once you've logged into Facebook, go to your Ads Manager section and click the Campaigns tab that displays all your existing ad campaigns. This section will be displayed blank if you don't have any running campaigns. Click on the Create Ad button to get started.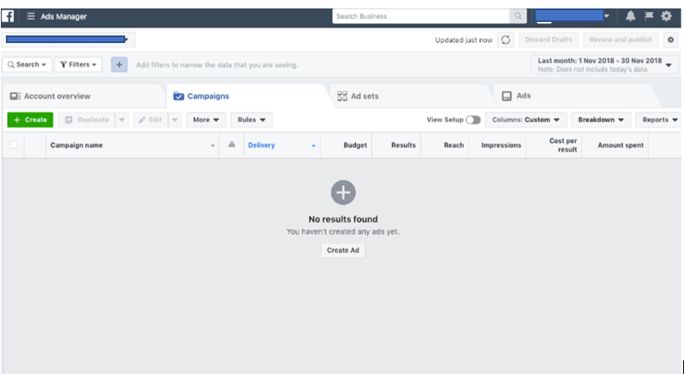 Step 2: Selecting an ad objective
Next, you choose your campaign objective or advertising goal. Your goal objectives may fall under either of the three categories viz., awareness, consideration, and conversion. Each category has listed different types of campaigns to cater to all kinds of goals.
For example, if yours is a new business, focusing on brand awareness would be your campaign's main priority. However, note that Instagram Ads does not enable all objectives that are listed in the tab. So, you need to analyze what you wish to achieve through your campaign carefully, whether it is Brand Awareness, Traffic, Reach, Engagement, App Installs, Video Views, Or Conversions.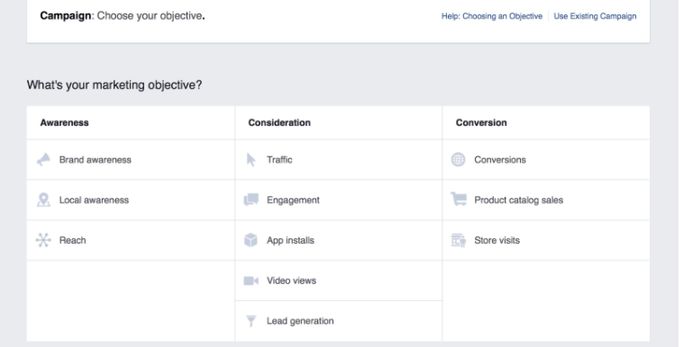 Step 3: Naming the campaign
After you define your campaign objective, you'll need to name your campaign. Remember to add a time range (e.g., May 2021) to improve your campaigns' tracking and management.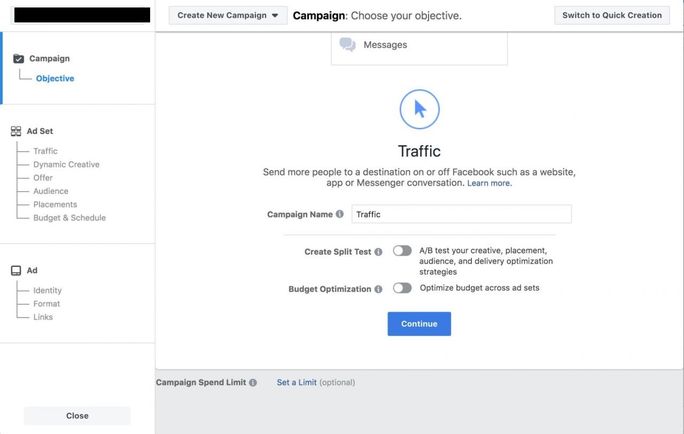 Below the campaign name field, you have the option to run a creative split test for your audience, ad placement, etc., as well as to optimize your budget across advertisements simultaneously. The latter option ensures your expenditure is evenly spread across your ads, thereby assisting you in getting better results.
Step 4 : Defining your audience
Next, you can either create a new Facebook target audience or use a saved audience that you made earlier for your audience targeting. You need to clearly define the type of audience you wish to attract through your ads.
You can define your audience on factors such as location, demographics, and audience interests. Identifying audience persona helps understand the depth of your audience, potential reach, the estimated results on a daily basis, and much more.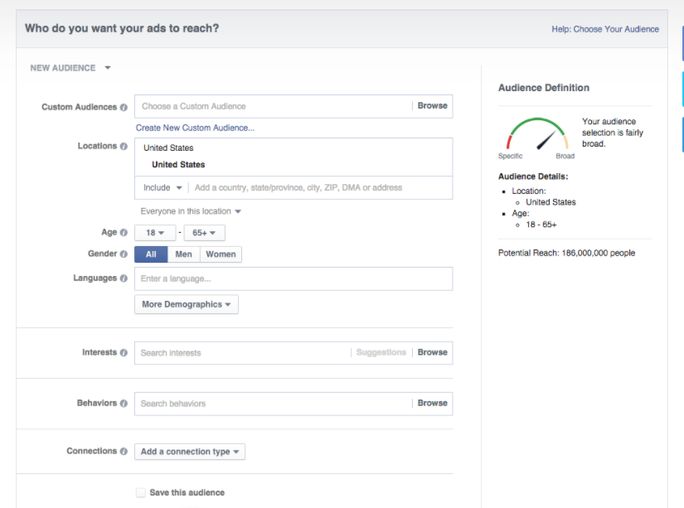 Step 5: Choosing ad placement
On the Placements page, you have the option to choose Facebook or Instagram or both as your platform for placing ads. Selecting Instagram as one of the multiple ad placements platforms gives your posts the option to appear on Instagram Feed and Instagram Stories.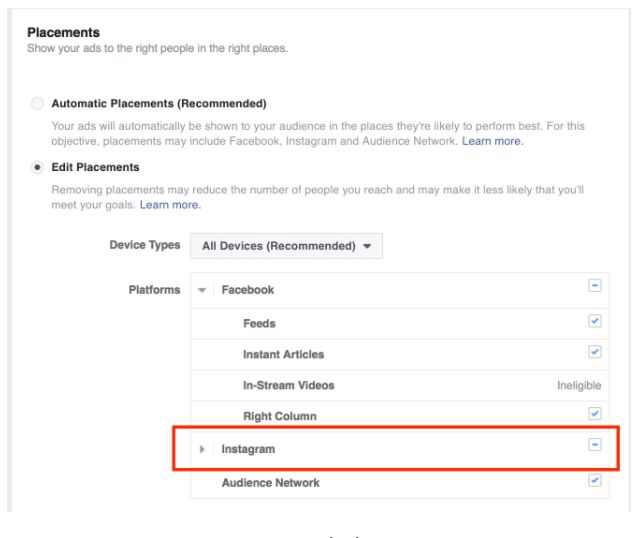 Step 6: Determining the Budget
Once you have completed the above steps, you need to set up the budget for your Instagram campaign. The Budget & Schedule tab helps you determine the expenditure, duration, and frequency of your ads. The Ads Manager gives you complete flexibility to set your daily maximum budget limit or set a campaign deadline and decide an overall budget.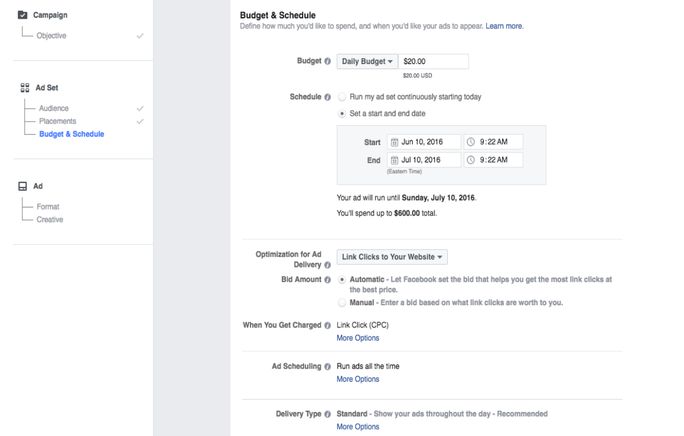 Step 7: Selecting Ad Specifications
To create your Instagram ad, select your preferred Instagram ad format and upload your ad creatives. Ensure you choose the correct Facebook page or Instagram account where you wish your ads to appear.
You have the option to select from a carousel, single image, single video, or slideshow-based layouts.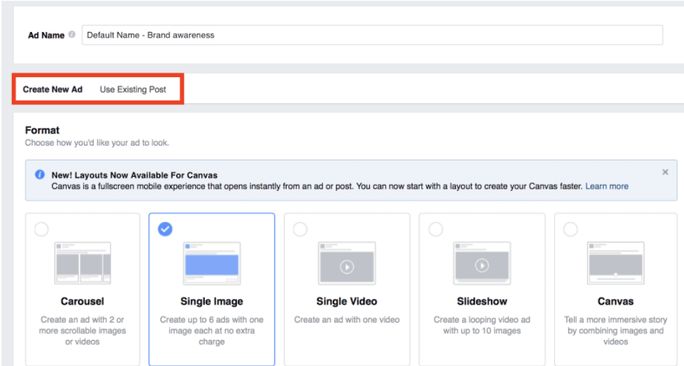 Step 8: Creating ad copy and defining CTA
Finally, you need to enter details to create an engaging feed and enter your website link along with a call-to-action button text to engage viewers and enable them to contact through your advertisement.
The preview option allows you to look at how your ad will appear once it goes live.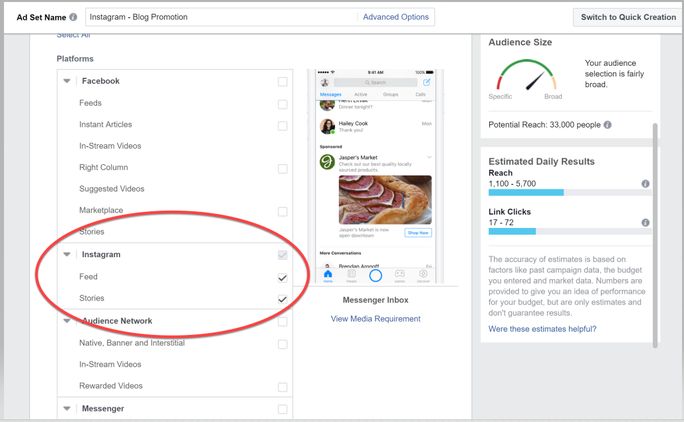 Once you have made your ad, quickly review it, click on Confirm, and voila! You are all set!
What's Power Editor?
Power Editor is another tool to create Instagram Ads. There is hardly any difference between the steps to use Facebook Ads Manager, which we have already covered, and Facebook Power Editor for creating ads.

The only significant difference is that where Ads Manager allows you to focus on a single ad and campaign, Power Editor is a better option if you wish to create multiple ad sets for various campaigns and manage them effectively.
Dominate the Social Media with Instagram Ads Manager
Instagram has done a splendid job of keeping up with the latest trends and emerging trends and evolving needs of its users and provides marketers an excellent opportunity to create display ads to a highly engaged audience on the platform.
With the Instagram Ads Manager and Power Editor, you can experiment with the ad creation process to make a great ad that stands out and helps increase your brand visibility.
And for your organic Instagram marketing, you can use SocialPilot to streamline your marketing efforts with its outstanding scheduling and analytics features.