Inspired by Snapchat, Instagram introduced its own Story feature in 2010, attracting more than 500 million users every day. It soon became Instagram's best feature, encouraging users to post casual and spontaneous everyday content.
Instagram Stories are full-screen vertical slides that allow you to share images and videos that disappear after 24 hours. When users open the app, it appears on the top of the feed, prompting them to notice it first inevitably.
You could call Story Instagram's trump card.
The unmissable placement of Instagram Stories and their full-screen format make them the crème de la crème for brands to place their ads.
Instagram's data suggests that of its 500 million users, one-third of the most viewed Stories come from businesses. Can you imagine the impact you can make with your Story Ads?
We are here with a complete guide to create and run Instagram Story ads for your business.
Let's dive in!
What are Instagram stories ads? How do they work?
Instagram Story Ads appear in between users' organic Stories, with a full-screen vertical super-immersive format. As a result, they elicit higher engagement from the viewers without actually having to build a new audience base.
Their best attribute is that they don't swamp the users' feeds, permitting brands to post more. Also, apart from the "Sponsored" tag and CTA button, you can't tell an ad apart from an organic story post.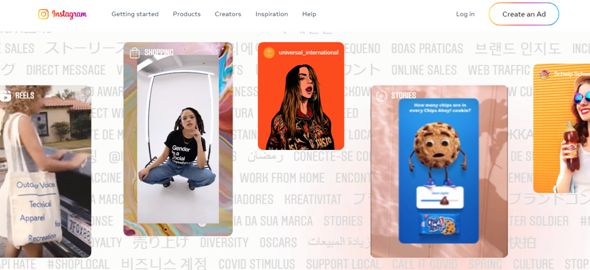 Using Instagram Stories to place your ads is a smart choice if you are looking to market your products, build your brand image, redirect traffic to your website, or simply want more people to follow your content.
You can share pictures, videos, and even carousel ads on Instagram Stories.
The phenomenal reach, modern interface, and engaging format make Instagram Stories the first preference for placing your ads.
Why should you use Instagram story ads?
Instagram Story ads let you target your ads by several effective parameters. Let's take a look at a few reasons why you should use them.
Instagram Stories Ads are the fastest-growing ad placement option on Instagram for both daily interactions and ad inventory growth.
Their placement is a boon. The elevated visibility of Instagram Stories contributes to an increased engagement in Instagram Stories Ads.
The full-screen vertical layout makes you focus only on the Story, rather than scrolling down the feed, with so many other distractions.
Instagram Story Ad CTA (Call To Action) texts are easily noticeable, which results in higher engagement.
This graph shows that Instagram Stories cover almost half of the platform's revenue collected from ads.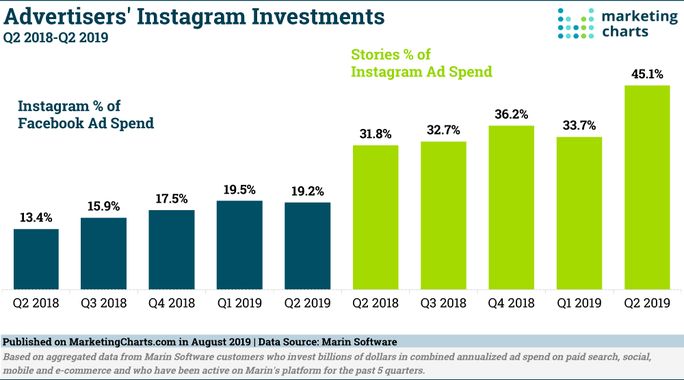 Objectives of Instagram stories ads
Wondering how Instagram Stories Ads can help your brand?
Here are some objectives your brand can achieve with Stories ads:
Reach targeted audience
Build brand awareness
Generate traffic to website or page
Generate leads
Increase video views
Drive action via purchases and installs
Convert ads into sales
Engage potential customers
Increase followers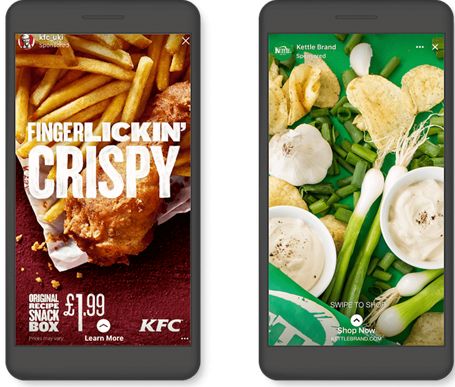 Features and specifications of Instagram stories ads
First things first, let's get you informed about the nitty-gritty of Instagram Stories Ads.
Placement – They appear in between peoples' stories. The viewers can swipe left or right by tapping the left and right sides of the Story Ad screen. They can also pause the Ad by tapping on the middle of the screen.
Duration of the ad – Instagram Story Ads displays video and carousel ads for 15 seconds and image ads for 5 seconds. The video will play for 15 seconds and automatically go to the next story unless you click on "Continue Watching" for up to 60 seconds.
Duration of the campaign – Unlike the Instagram story, the ad doesn't disappear after 24 hours. It can run as long as you set the campaign.
CTA – The Call To Action button plays a vital role. It carries the power to drive sales, generate leads, and drive traffic to your website or app. Here are some of the most popular CTAs available for Instagram Stories Ads.

Book Now
Learn More
Apply Now
Contact Us
Download
Install App
Shop Now
Sign Up
Listen Now
See Menu
Subscribe
Watch More

Recommended aspect ratio – Instagram recommends the aspect ratio of 9:16 for perfectly fitting the full-screen, vertical layout.
Supported file type – For videos, use mp4 or mov. For images, use jpg or png formats.
Maximum file size – Make sure that your videos do not exceed 4 GB, and your images are within 30 MB.
The brand name – It has to be prominent enough to catch the attention in 5 or 15 seconds.
The body text – should be impactful and capture the interest of the viewers, to intrigue them to know more about the brand or product.
This is how it would look after launching the ad campaign.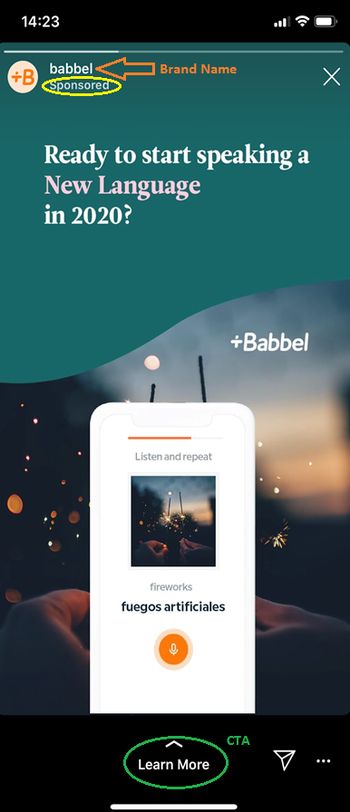 How to create and run your own Instagram stories ad?
With a reach of around 1.16 billion people worldwide and 140 million in the US itself, Instagram is nothing but the right platform for advertising. It gives a high engagement rate making a social media marketer's dreams come true.
The graph below shows the average reach of Instagram Stories by the followers' size, making it the best placement for your ads.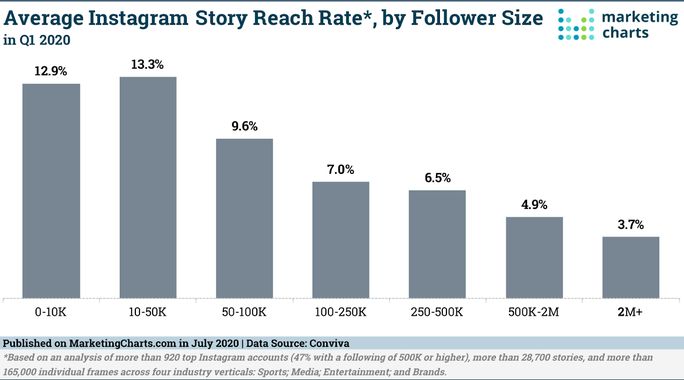 What are you waiting for, then? Dive in as we guide you through creating an Instagram Stories Ad for your business.
Creating Instagram stories ads with Ads Manager
A quick checklist before you make your Stories ad:
Make an Instagram business account if you do not already have one
Connect your Instagram account with your Facebook account
Now that you are ready, let's get down to business.
Step 1: Go to your Facebook profile "Menu" section. Click on "Ads Manager".
If you are using your mobile phone, download the "Facebook Ads Manager" app from Play Store.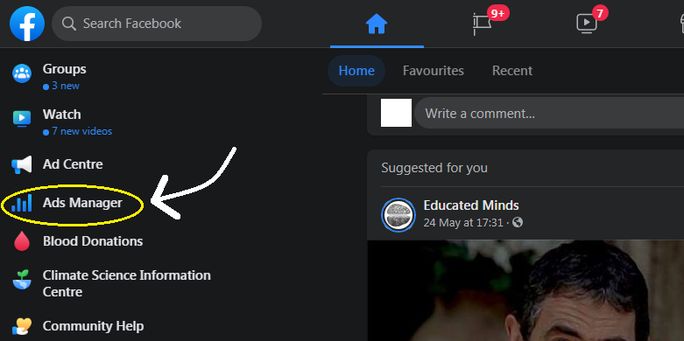 Step 2: Click on the "Create" button to create a new ad. If you have displayed advertisements on Facebook in the past, they will appear in a tabular form on the current page.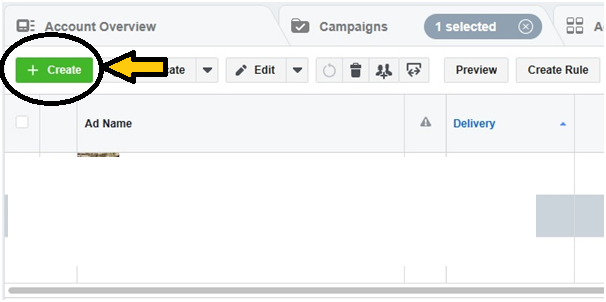 Step 3: Choose your campaign objective from a variety of options. Name your campaign, the ad set, and the ad. Click on "Continue."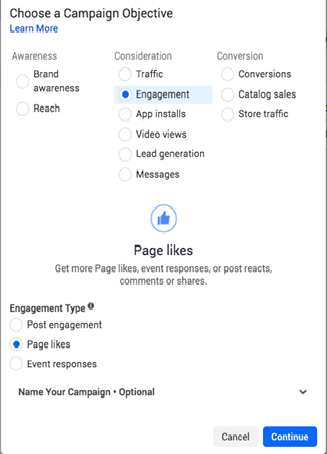 Step 4: Fill in the details of your campaign on the next page. Add a name to your campaign, edit the campaign details. You will get a chance to change your ad objective here. You can also add a campaign spending limit to check on your monetary spendings for the campaign. You can set your campaign budget optimization as well.
Once you are done, click on "Next."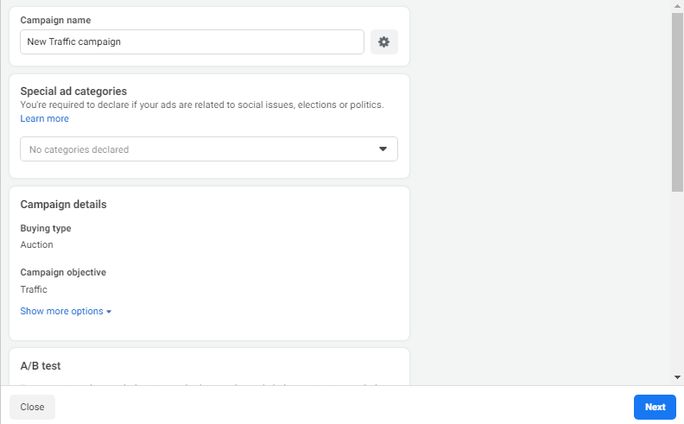 Step 5: On the next page, add an ad set name. Decide the daily budget that you want to spend on the ad campaign. You can also set a lifetime budget for your campaign instead of the daily budget. Facebook will deduct that amount from your linked account.
Schedule the starting date of your ad campaign and the time it will be launched. You can also set an optional end date for your campaign. There is also an option of running the ads all the time.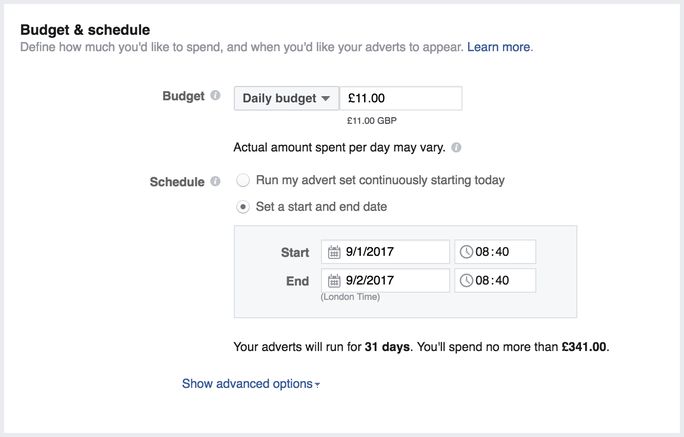 Step 6: The next step on the same page is to define your target audience. Based on your brand, products, and services, you have to choose among the following factors:
Location: Geographical location of your audience, where your products and services are reachable. You can select people living in the specified location or someone who has recently traveled to that location.
Age: The average age of the audience you feel will use your product or service or can relate to it. If you are selling a maternity product, you might want to target the reproductive age group.
Gender: You can choose to target your ad to only a single gender, or you can choose all. Again, it depends on the products you are marketing.
Detailed targeting: Add any demographic factor that you think might be useful for your ad campaign.
Language: You might want to advertise your brand in a native language if that's more relatable.
After you are done meticulously creating your dream target audience demographics, "Save This Audience".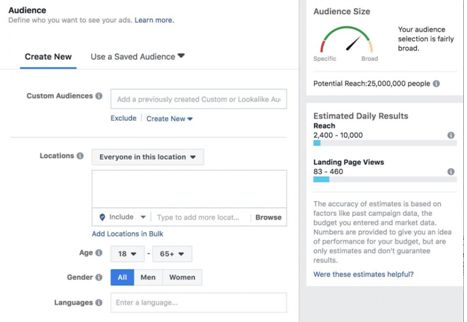 Step 7: Scroll down the same page, and you will find the placement options for your ad. There are two placement options.
Automatic Placement – Facebook decides where to place and run your ads based on your set campaign budget.
Manual Placement- You will manually place your ads on the platforms you deem fit, based on your business goal.
Now, let's select the "Manual Placement" option. Remember that we are learning to create ads for Instagram Stories?
Select "All Devices" from the Devices option, as you would want your ad to run in both Instagram web and Instagram app on your PC and mobile phone, respectively.
Select the Platform as "Instagram."
Do not select the "Asset Customization" option as it automatically resets the platforms to Facebook, Instagram, and more.
In the "Placement" options, select "Stories" – "Instagram Stories."
Click on "Next."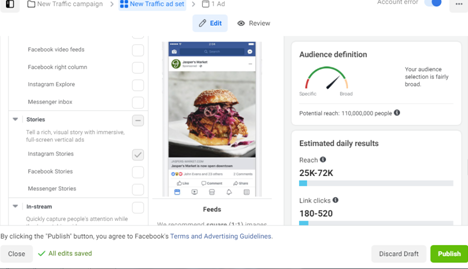 Step 8: Next, you need to choose your Instagram account for placing your ad under the "Identity" options. This is what represents your brand identity.
Step 9: Now comes the ad format. Choose from Single Image, Single Video, or Carousel as your ad format. For the carousel, you need to run a Carousel-only ad campaign for your Instagram Story only and you can add three carousel cards to run simultaneously.
Step 10: Then add the image or video for your ad campaign. Choose your Call To Action according to your business goal. And preview your ad in the selected placement (Instagram Stories).
If you want, you can further customize. Select texts, add website links, and finally, click "Confirm".
Finally, your ad campaign is live on Instagram Stories.
Additional optimizations offered by Instagram
If you have chosen Instagram Stories as your ad placement platform, Instagram automation will optimize your creative layout and format to resonate with your target audience. It creates multiple creative variations of your Stories ad for a different audience to create a more personalized experience.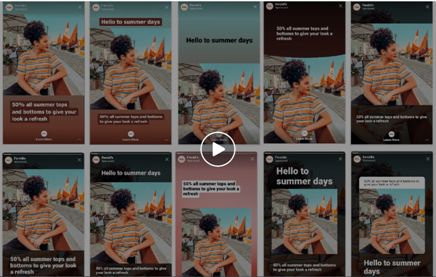 You can view all the optimizations in "View More Options" in the Ad Preview section when you create your ad. You can edit them as well, as per your requirements.
Creating an Instagram stories ad with Ads API
Wait up. We are not done yet!
You can also create your ad campaign for Instagram Stories via the Ads API interface. It allows you to connect and work with an expert Facebook Marketing partner to help you with your ad campaigns' end-to-end creation, buying, and placement. Choose from their marketing partners and take your business to the next level.
You can even create mockups of your Instagram ads via the Creative Hub of Facebook. It's exciting to try and share your ad mockup with your friends and get their insights.
The surprising part? It doesn't need any special skills to design your perfect ad.
Tips for creating successful Instagram story ad campaigns
With the growing popularity of Instagram Stories, they stand a chance of being saturated with ads. You have to do a pretty good job to stand out amongst all.
How about some pro tips for making your Stories ad creative?
Customize your audience
Choose your relevant target audience wisely. Use the customization tools to target people who know your brand, have bought something offline, and relate to your brand message.
Let's suppose that you own a jewelry brand. Your target audience would be women based on your product line, i.e., necklaces, earrings, and bracelets. You don't need to primarily target men as they won't be buying your products regularly. You can even customize your audience base location, maybe nearehttps://www.socialpilot.co/wp-content/uploads/2021/07/products-are-aesthetic.jpgr to your store or your city. You can consider the age group as well.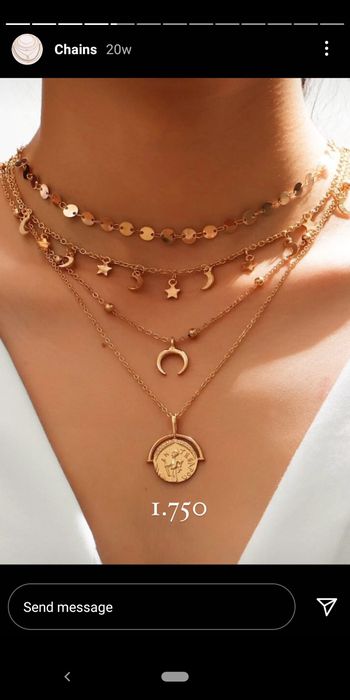 Your potential audience will be of a higher age group if your products are aesthetic and traditional, whereas a peppy and colorful jewelry line will primarily attract teenage girls. The above image with layered chains gives a sensual look that would probably attract a woman in her late 20s and early 30s.
Showcase your brand name prominently
In the ad creative, people are likely to miss the small display picture over the "Sponsored" tag, so the brand name needs to be in the main body copy.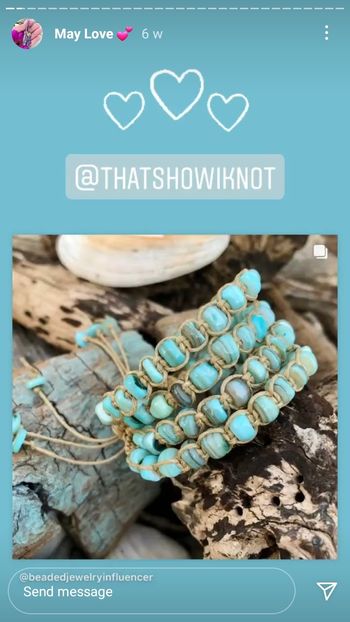 For your jewelry product line, remember to use "@" to tag your page so that your brand name stands out and your viewers can retain the name in their minds.
Write an attention-grabbing caption
The text of your ad creative must give out a clear message within the first few seconds.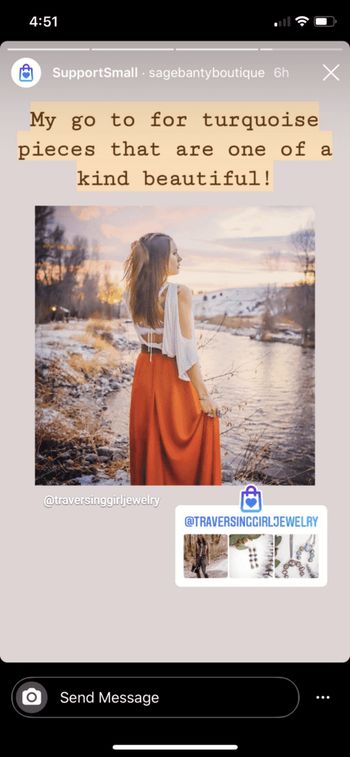 You can use catchy quotes like "I have enough jewelry, said no one ever" for promoting your jewelry line. Google is always at your rescue for the perfect caption. The text in the picture above captures the imagination of women who love to travel and dress up carefree.
Use an impactful ad copy
Make sure your ad content is fun, engaging, and entertaining. Add a nice creative copy that makes an impact.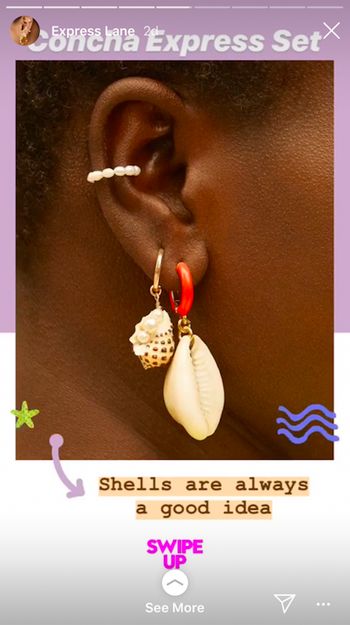 Showcase your best jewelry design with high-resolution images and videos. Focus on the detailed handicraft that distinguishes your product from others. The above images put all your attention to the vibrant shells and the unique tribal design of the earrings.
Add an interesting audio
Around 60% of the Instagram Stories are viewed with sound on. Keep that in mind while adding audio to your ad.
Try adding a song or music that reflects your product or relates to it. If you are showcasing an earring apt for a party, you can add the audio of "Cheap thrills." Just make sure to give due credit (Copyright nightmares!)
Try the carousel format to tell a deeper story
Remember, carousel ads run as standalone ad campaigns. You can demonstrate how to use your product or post multiple images.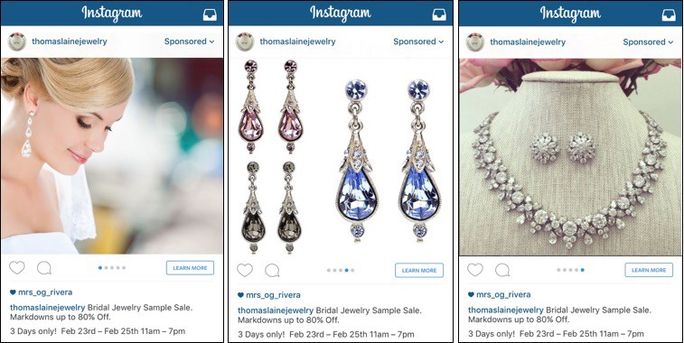 Use multiple carousel cards to show your Summer collection earring line. You can add modeling videos too. Here, the carousel cards showcase high-end precious jewelry with a modeled image, some detailed earrings, and another necklace covering various products.
Add a compelling CTA button to convert leads
A convincing CTA might help you increase traffic to your website or convert leads into actual sales.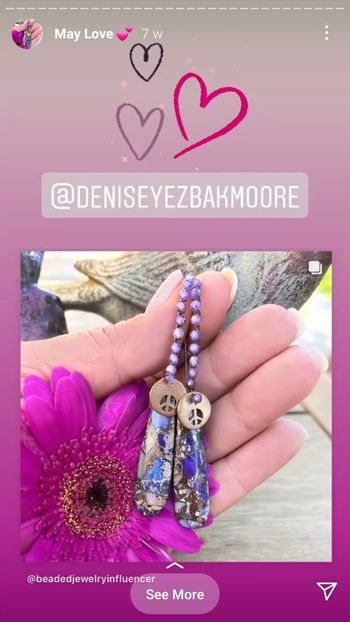 If you own a website for your jewelry business, you would want to redirect your audience there for a purchasing option. Luckily, Instagram enables you to tag your product on the Story ad and directly compel the audience to buy from Instagram.
For the above image, the CTA "See More" button appears just below the vibrant picture. Visitors will automatically be intrigued to click on the CTA button to check for the price and other details.
Collaborate with Instagram influencers
With hundreds of Instagram influencers across any category, choose one appropriate for your brand.
Influencers have an extensive audience base and can make sensational videos to promote your business to new heights. They can feature your product, make boomerangs, instructional videos, and inform the viewers about offers and promotions. A long-term partnership with a genuine influencer helps your brand get a lot of content provided by them.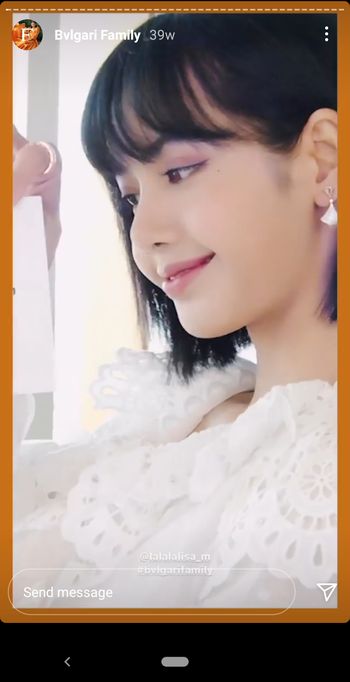 High-end jewelry brand Bulgari uses influencer marketing extensively for its campaigns. Here, they have collaborated with Thai rappers and famous influencer Lisa Blackpink, with the username @lalalalisa_m having a follower base of 54.3 million for their Story ads. Even with a tight marketing budget, you can hire micro-influencers who generate more engagement rates than mega influencers but charge way less money.
Start your story!
Instagram Stories Ads can play a pivotal role in accelerating your efforts to achieve your marketing objectives and goals. A solid social media presence is the need of the hour for all marketers, and you cannot ignore Instagram story ads when it comes to social media marketing.