If you're wondering how to get your brand name out there on social media, have you considered using Instagram Stories? When done correctly, Instagram Story ads can have several beneficial effects on your business and website growth, including increased conversions, higher engagement levels, and more sales.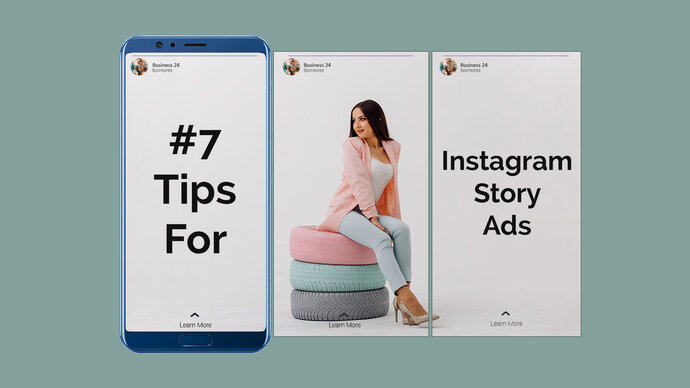 Given that 500 million people are using and interacting with Instagram Stories every day, it's a wonder why more businesses haven't hopped onto the social platform to market to their audiences. Sixty percent of users say they find out about new products from Instagram making it a popular method for people to discover your content.
If you're going to use Instagram Stories for advertising your business, it's essential you do it the right way so you're guaranteed to boost your sales and further your reach. Here are seven tips to help you get started with advertising with Stories.
1. Keep it Short & Sweet
It's already well-known that the attention span of people browsing the internet and social media is rather short. People are constantly looking for the easiest, most consumable content to skim through, so if you can deliver that to your audience, you'll have a higher chance of grabbing their attention.
When an advertisement appears in a Story, a sponsored label appears in the top left corner letting users know it's a paid ad. People are more likely to click out once they realize it's a sponsored Story, so you only have seconds to make a lasting impression and convince them to stay.
To create an Instagram Story that converts, make it short, sweet, and to the point. Show off your products and express the benefits of owning it. It must be easy to digest with clear text and video, and the message should be easy to get across.
2. Use Video
It's been said a million times before and it'll be said a million times more: use video in your advertising campaigns. They have better engagement rates, holding users' attention five times longer than images. It's one of the best ways to grab their attention and keep it there. The longer they're hooked on your content, the likelier they are to purchase your products.
Milly, a fashion brand for women and girls, used video in their Instagram Stories and saw 44 times more website purchases directly from their ads.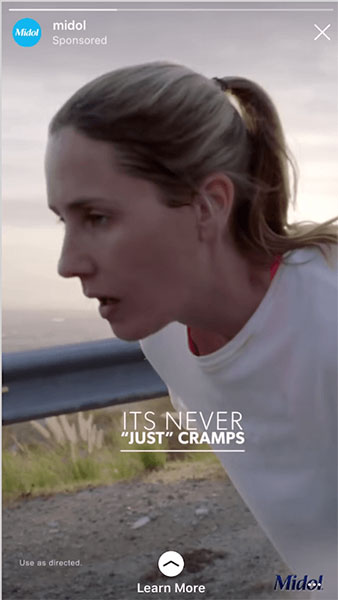 Your video should accurately represent your brand while communicating to users the benefit of purchasing your product. You can add text to demonstrate your services further and tell your audience what you're about.
3. Implement Consistent Branding
It's essential that your branding stays consistent across the board on all social media accounts, your website, your logo, etc. All components of your brand image should stay the same, including the color scheme, tone, and language. You want your brand to feel familiar to your audience so that, when they see your ad, they know it's you and can continue engaging. They're less likely to engage with brands they don't know fully.
Take a look at this example from Memobottle. Across their Instagram feed and their Stories, their branding stays consistent and straightforward in color scheme, message, and aesthetics.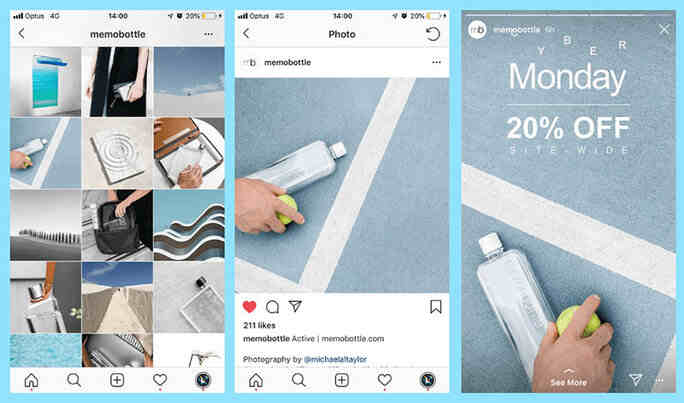 Tip: Add your brand logo to every post of your Instagram Story ads to reinforce your brand image and let users remember who you are. It takes more than just one time of looking at something to fully remember it, and you can make this easier by placing your logo on your advertisements for adequate recognition and further reach.
4. Insert CTAs
It helps your engagement rate if you instruct your followers on what action to take when they view your Story ads. Whether that's to sign up for your email list, go to your blog, or to visit your products page, it's essential you include a call-to-action in your ad.
Entice your audience with limited-time deals and offers or use FOMO (fear of missing out) to create the feeling that they need your products and services. You can add CTAs directly into your Story ads leading your audience exactly where they want.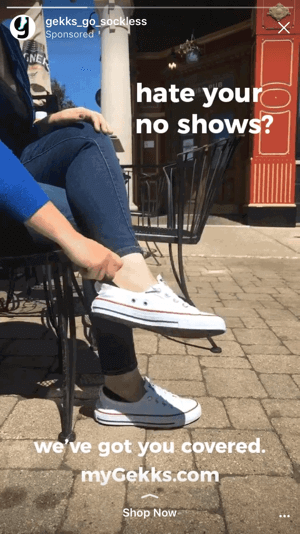 Tip: Use your Instagram Story ad to promote a giveaway if it's within your means. Nothing gets a crowd excited like free products, so if you put on your Story that your audience can win a free giveaway if they take some sort of action that benefits your business, both sides will benefit and get something in return.
5. Use Carousel Format for Longer Content
Before, you could only have one ad play at a time in your Story, but at the start of 2018, Instagram introduced carousel ads, which are continuous so your audience can follow along with longer pieces of media. It supports extended engagement periods and is likelier to intrigue users to watch more using visual storytelling. This feature supports images, videos, and mixed media so you can show users the versatility of your content.
Revealed in a case study for Instagram, Gap saw a whopping 73% higher click-through rate when they used a carousel ad as opposed to a regular campaign. It vastly improved their engagement and intrigued users enough to get their attention and convince them to follow the CTA they were given.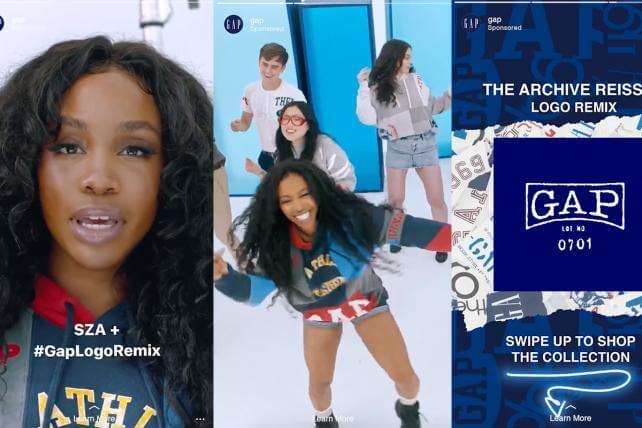 Tip: Although the carousel ad format has shown to increase overall user engagement, that doesn't mean it fits all purposes and should be used over regular format. Only use carousel format if you have a Story to tell that takes longer than five seconds. If you aren't trying to tell a Story and it doesn't require that much time, leave carousel ads for another campaign that'll actually benefit from it.
6. Add Sound
Whether it's dialogue describing the product or music playing in the background, using audio in your Story ads can make all the difference in your conversions. Instagram revealed that 60% of Instagram Story ads were viewed with the sound on, so clearly, most users enjoy having something to listen to when viewing ads. It gives them more than one type of media to munch on and extends the experience.
7. Make it Feel Authentic
You want to stay true to your brand's mission and goals so that you always come across genuine. Being an authentic brand means you're able to tap into your target audience well enough to give them content and products they want while being able to connect with them on a deeper level.
It's important to make your audience feel like they are each individual human beings rather than just another customer. The more you go out of your way to make your viewers feel special in your Story ads, the likelier they'll gravitate towards your brand and become loyal customers.
Starbucks and Spotify teamed together for a good cause: to raise money for different organizations and charities in need. Spotify used Instagram Story ads to showcase different artists and the foundations they support, encouraging users to donate as well.

Tip: Come up with ways you can make your brand feel more authentic. Sometimes leaving out the bells and whistles and using simple, clean-cut Story content is the best way to show that your brand is down-to-earth and still hangs onto its values.
Wrapping up
Instagram Story ads are a great way to communicate with your audience and convince them to engage with your brand and its products. Users are already super active on the social media platform, so bringing your brand awareness through it is a great way to capture their attention and increase your engagement rate.
And in case you wish to save time scheduling Instagram posts and Stories, you might want to try an Instagram scheduling tool!
How do you use Instagram Story ads to boost your conversions?