Instagram has earned a reputation for being a very user-friendly app. However, once you start using its Stories function, things might get a little tricky.
Let's say you encounter a Story on Instagram that you might want to watch later (for reasons you know best). Unfortunately, Instagram does not have any native features to download somebody else's Story directly.
Other third-party apps, thankfully, are available to assist you in downloading a video or image from a Story for thoroughly examining later. There are also several workarounds by which you can "save" a Story either on the Instagram app itself or on your device.
Keep reading this blog until the very end to discover innovative hacks with which you can download and save Instagram Stories.
Instagram Stories: A Brief Overview
Instagram Stories began as a rip-off of Snapchat's somewhat similar concept, but it has since grown to be hugely successful, with over 500 million daily active users globally. Stories provide a transitory and a more informal method to record and share your daily life's fleeting moments with your friends and followers.
Content featured on Instagram Stories does not cross over to your regular Instagram feed or account. Using the Close Friends option, you may share your Stories only with a subset of your followers.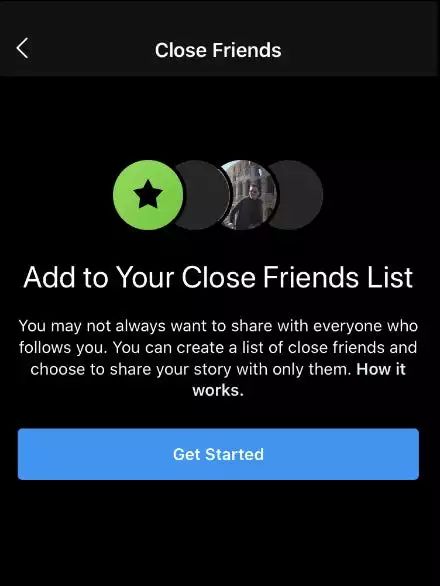 Since Facebook owns Instagram, you can also post your Instagram Story directly to your Facebook Story, allowing you to access your followers on both platforms for the same set of Stories.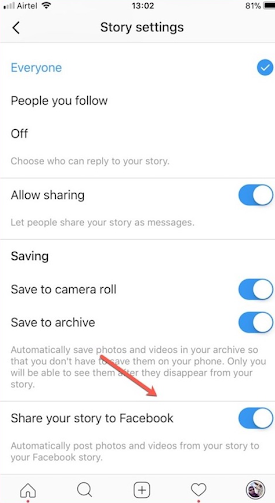 Now that we've covered the basics of Instagram Stories, let's deep dive into how we can download them.
Learn the Top Hacks to Download Stories
Videos and photos uploaded to your Instagram Story are available for up to a maximum of 24 hours before disappearing forever — but there are workarounds for downloading your favorite Stories directly on the app and your device, which we shall discuss below.
But before we begin, you must consider the fact that Android users have limited options to download Instagram Stories to their smartphones as compared to iPhone users.
In such a scenario, saving a Story on the app itself serves the same purpose as downloading it to your device. Your Story will be accessible to you indefinitely after its post-24-hour expiration; whether saved on the Instagram app or downloaded locally to your device.
Also, your saved Stories on Instagram are easily accessible and don't occupy your phone's storage as compared to your downloaded Stories.
This section will discuss hacks by which you can download (and save) Stories on the Instagram app. Read on to learn more about them.
Hack #1- Archive Your Story
People on Instagram usually use the "Archive" feature to conceal their posts without necessarily having to delete them. When you go to a post's "…" menu, where you'd typically find options like edit and delete, there will also be an option to archive your post. By clicking on that option, you can transfer the post to a private gallery – which is your archive — where only you will be able to access it.
Your Instagram Archive is that place on the app where all your Stories get stored once their fixed duration of 24 hours is up.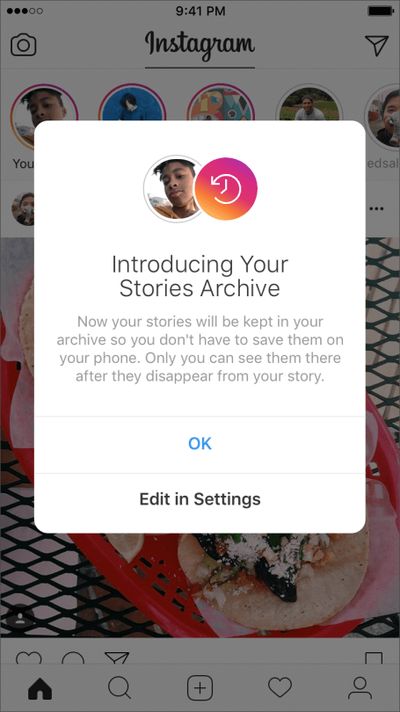 You can enable your stories to get automatically saved in your archive by turning on the "Save to Archive" toggle button within the "Story Controls" tab.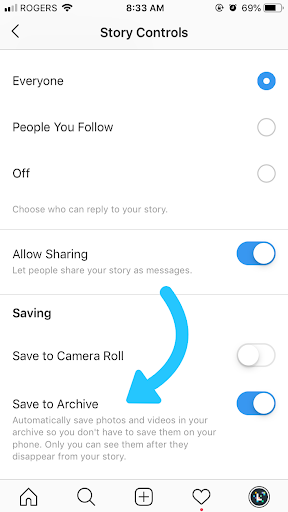 Hack #2- Save your Story to Highlights
Unlike ordinary Stories, which disappear after 24 hours, Instagram Stories Highlights can remain on your profile indefinitely. They are hand-picked curations of your previously published Instagram Stories that your followers, both new and old, can access and watch whenever they want.
Given below are the advantages of having highlights for your business's Instagram profile:
Access to classified stories and posts gets simpler
You can feature particular products and collections
Showcase positive customer reviews
Include a highlight addressing your business's FAQ section
You can opt to broadcast select Stories as "Highlights" on your profile page permanently.
All your Highlighted Stories will appear in a row on your profile, below your profile picture and Instagram bio. You can section your highlights depending on different themes or topics. For better clarity on this, you can refer to the highlights enclosed within the red box in the image below.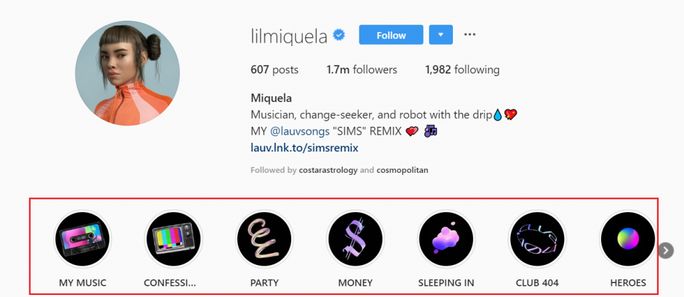 Here's how you can save your Instagram Story to Highlights:
Step 1: Go to your profile and click on the plus symbol ("+") in Stories Highlights.
Step 2: Select the Story or stories you wish to include in the highlights, and then click on Next.
Step 3: Select a cover photo and a title for your highlight and click on "Done."
Step 4: Finally, click on "Done" beneath the "View on Profile" option. Your Story is saved forever for you to access. The Story will show up in the Highlight section of your Instagram profile page, just below your Instagram bio.
The image below demonstrates the step-by-step process of how to add a Story to your Highlights which we have discussed above.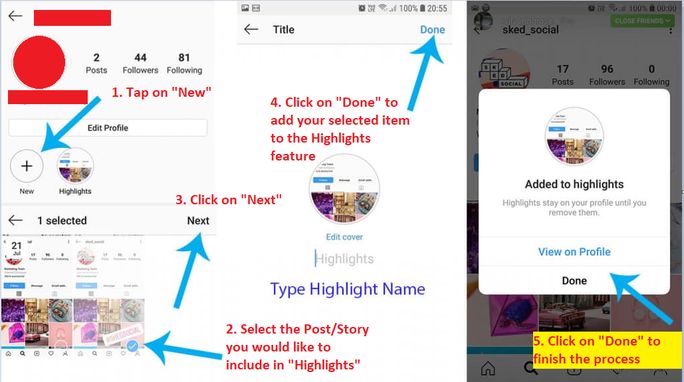 Hack #3: Download your Stories Directly (only for iPhone users)
Downloading your Stories to your iPhone's camera roll is a very easy process. Simply visit the story you'd want to download and click on the three dots at the bottom of the screen, above the "More" option, as shown in the image below: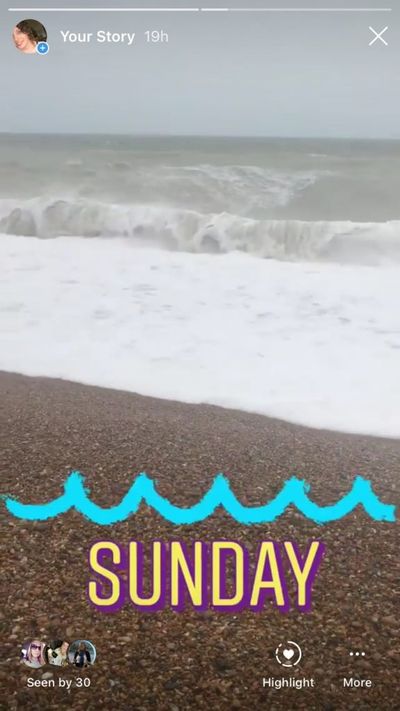 From there, a menu will appear with a range of options. You would want to select the "Save…" option so that Instagram Story is automatically saved to your phone's camera roll.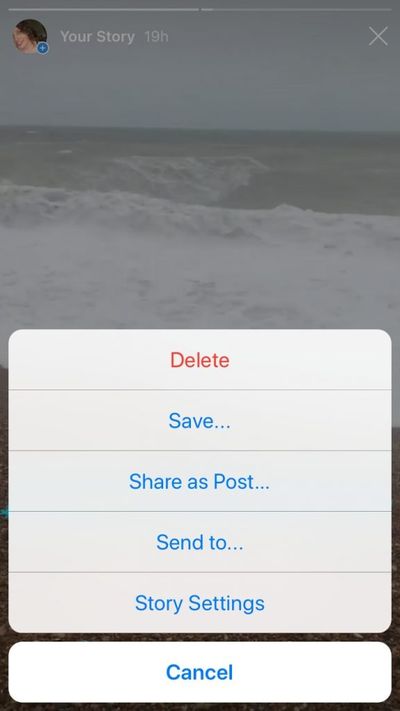 Hack #4: Download your Story from your Highlights (only for iPhone users)
Let's assume you were successfully able to add your Instagram Story to your Highlights by following the instructions in the section above. Now, all you need to do is download your Highlighted Story into your iPhone by following the steps below.
Note: As the heading suggests, the following set of instructions are applicable only for iPhone users, and not for users of any other device.
To Download a Single Highlighted Story
Step 1: Login to your profile and navigate through your Highlights to select the Story you wish to download.
Step 2: In the lower-left, tap the "Seen by…" icon.
Step 3: Select the download icon (downward arrow above a horizontal line).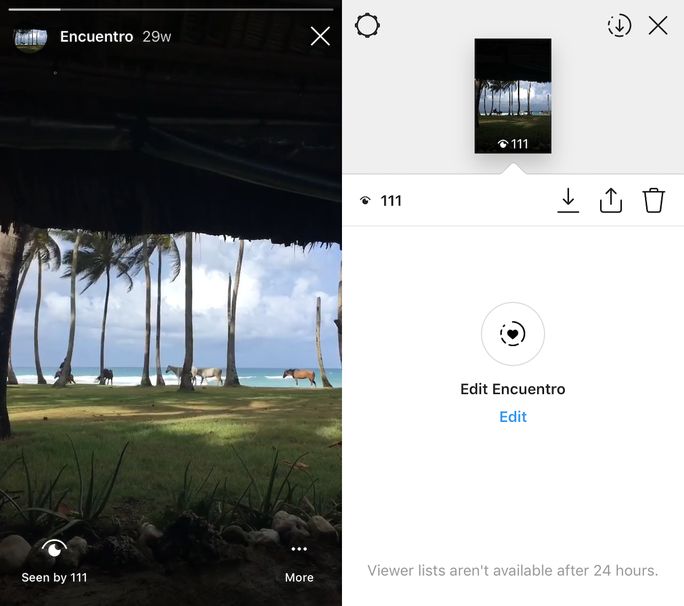 Step 4: Ultimately, your Story will get downloaded and saved in your iPhone's camera roll.
b. To Download an entire Highlight
This is one of the most popular features that is currently present on the native Instagram app for iPhone users.
Follow the steps below to save the whole Highlight with a single click:
Step 1:Visit your profile and select a Highlight.
Step 2:Swipe up or click on the "Seen by…" tab in the bottom left corner of the screen.
Step 3: Tap on the download icon in the top bar (as shown below).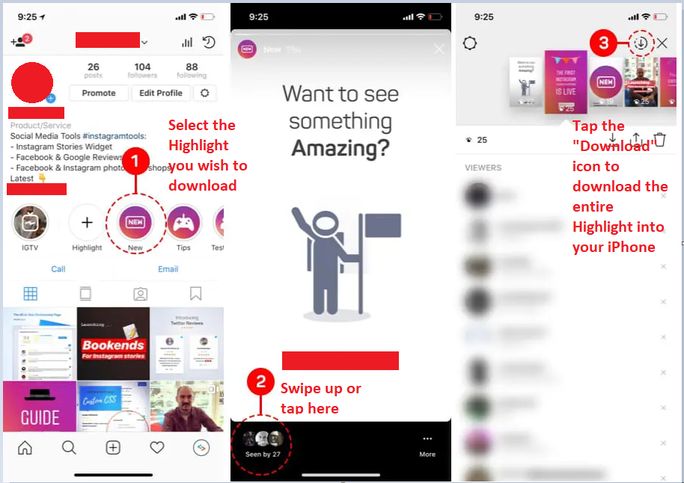 Finally, with the completion of the last step, all the Stories in your selected Highlight will get downloaded to your iPhone's camera roll.
Hack #5: Use a third-party app
Third-party apps for downloading Instagram Stories are your best bet, especially if you're using an Android phone. Why? Simply because many of the options for downloading Stories to an iPhone are not available for the Instagram app running on an Android OS.
Also, third-party apps are most suitable for downloading someone else's Stories. Although you may take a screenshot or use a screen recorder for the same, you might often end up with poor-quality outcomes.
In this section, we will tell you about the best app for downloading Instagram Stories, for both Android smartphones and iPhones.
Story Saver- For Android Users
The instructions for using this app are listed as follows:
Step 1: Go to the Google Play Store and download the Story Saver app.
Step 2: Sign in to your Instagram account using the app.
Step 3:On your main Story Saver page, you may view all of the Stories that your followers have posted.
Step 4: You may also search for a username to discover someone who isn't on your list of followers.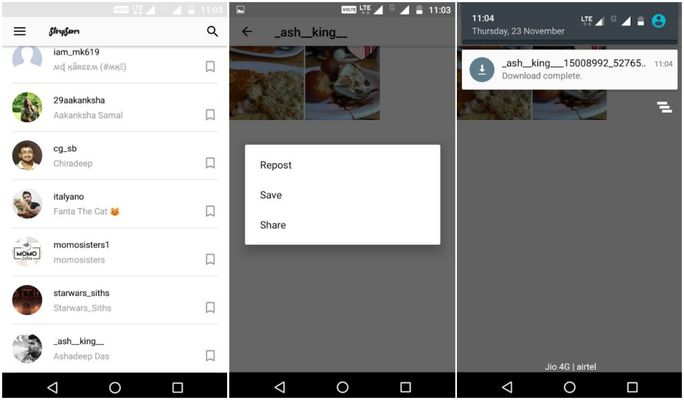 Step 5: Tap on "Save" after selecting the Story you would wish to download.
You will now be able to view the Story in the Story Saver folder that has been added to your camera roll.
Story Reposter for iPhone users
Step 1: Download Story Reposter from the App Store
Step 2: Enter the app and look for the username whose Story you wish to download (note: the profile should be public to be able to do this)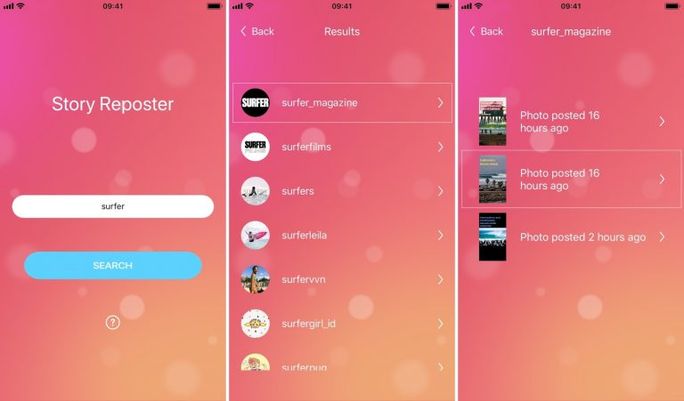 Step 3: Select the Story you wish to download and tap the download button
Step 4: To save the Story to your phone's camera roll, tap the "Save" button
And with this, your Story will get downloaded to your phone.
Stories, Stored.
Learning to download Instagram stories may be beneficial to you in a variety of ways.
Perhaps you'd like to preserve the memories you've made for your brand or collect stories that have influenced, impacted, or inspired you. Or perhaps you would want to use some Stories as references for competitive research and gather ideas for future content pieces.
Is it as simple as you imagined it would be to save and download Instagram Stories?
Regardless of the Story's content format that you wish to download and store- whether a video, a photo, or an entire series of Stories, be sure to follow our instructions so that you can access them on your device anytime you'd want.
The undeniable truth is that today Instagram Stories cannot be ignored for marketing and advertising purposes. When done right, your Stories Ads can generate massive revenues and engagement. And this is where closely monitoring your competitors' Instagram Ads gets so important. After all, performing thorough competitor research is crucial for the success of any social media marketing campaign.
Saving and downloading your competitors' Stories is one way to learn the tricks of the trade. The other (and even more effective) way is to make use of SocialPilot. With its advanced analytics and Instagram scheduling features, SocialPilot can take your Stories Ad campaigns to unprecedented heights!
CTA Visit SocialPilot today to get started!