Quick question: Do you find it challenging to capture and hold your audience's attention?
If that's a yes, then Instagram Stories could be your secret weapon!
Limited attention spans and the need for real-time updates often pose significant challenges. But here's where Instagram Stories come into play. They allow businesses to deliver bite-sized, visually appealing content in an immersive format, tackling the attention span issue head-on.
However, there's a slight hiccup: Instagram Stories vanish after 24 hours.
That's where Instagram Highlights step in.
Instagram Highlights empower you to extend the lifespan of your Stories by featuring them on your profile for an extended period.
Consider that 200 million Instagram users visit a business profile daily; Highlights offer a new way to engage with your target audience and enhance content visibility.
So, are you ready to discover more about Highlights, how they work, and how to use them to boost your brand reach?
Without further ado, let's get started!
What Are Instagram Story Highlights?
Instagram Stories Highlights, as the name implies, are curated collections of Instagram Stories that are pinned to your profile.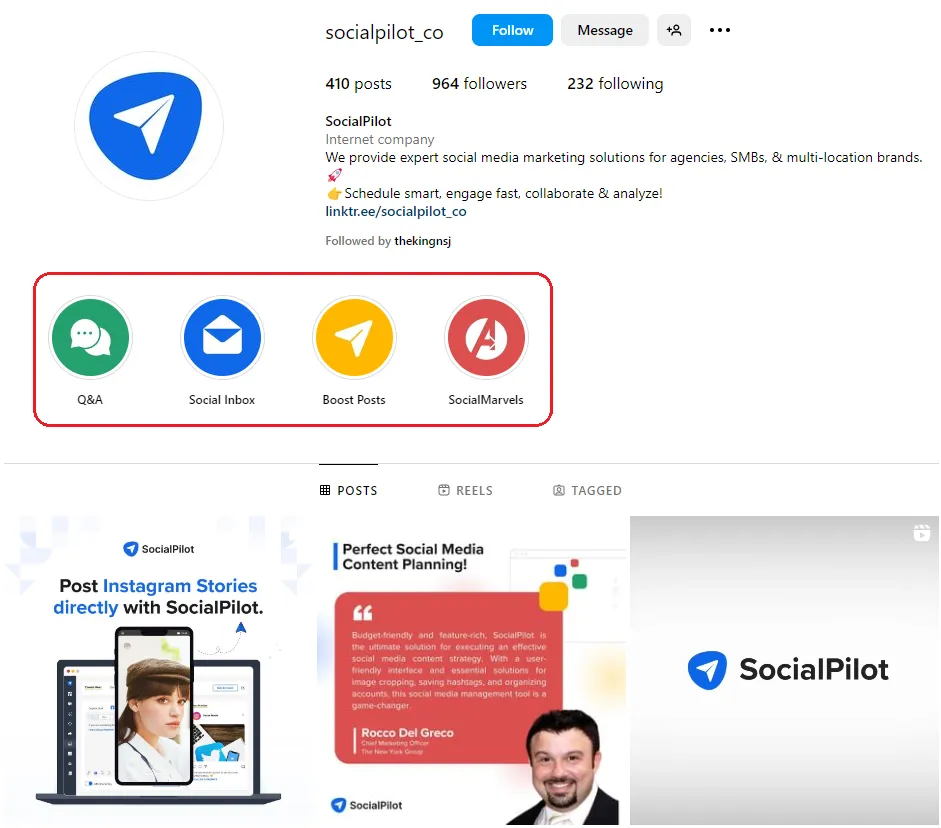 Unlike Instagram Stories, which disappear after 24 hours, Instagram Highlights allow you to showcase your best and most important Stories for long-term viewing.
With cover images and titles, Highlights serve as visually engaging themes that allow you to share content related to specific topics, events, products, or promotions.
You have the option to add your active Stories to Highlights, or you can enable the Archive feature on Instagram to automatically save the stories. These archived stories can then be used in the future to create Highlights.
Also, here's an interesting fact…
A whopping 500 million active users use Instagram Stories daily. This means by turning your Stories into Highlights, you can get extended presence and engagement and also enhance your storytelling capabilities.
What features does a Highlight have:
Title: You can name the Highlight according to the types of Stories it contains.
Cover image: You can add a custom image or icon that gives the context of the Stories inside it.
How to Create Instagram Stories Highlights?
Curating and organizing your Instagram Highlights into easily accessible categories is a straightforward process. Just follow the steps below, and you are good to go.
Let's start with how to create Highlights:
Create Highlights from Active Stories
Before getting started with this step, ensure you have live Stories. The steps include:
Step 1: Open the active story.
Step 2: At the bottom right, you'll find the Highlight option represented by a heart icon. Click on it.
Step 3: A '+' icon will appear. Click on it to create a new Highlight.
Step 4: Give your new Highlight a relevant title.
Step 5: Finally, click on the blue 'Add' button. Voila! You've created a new Highlight.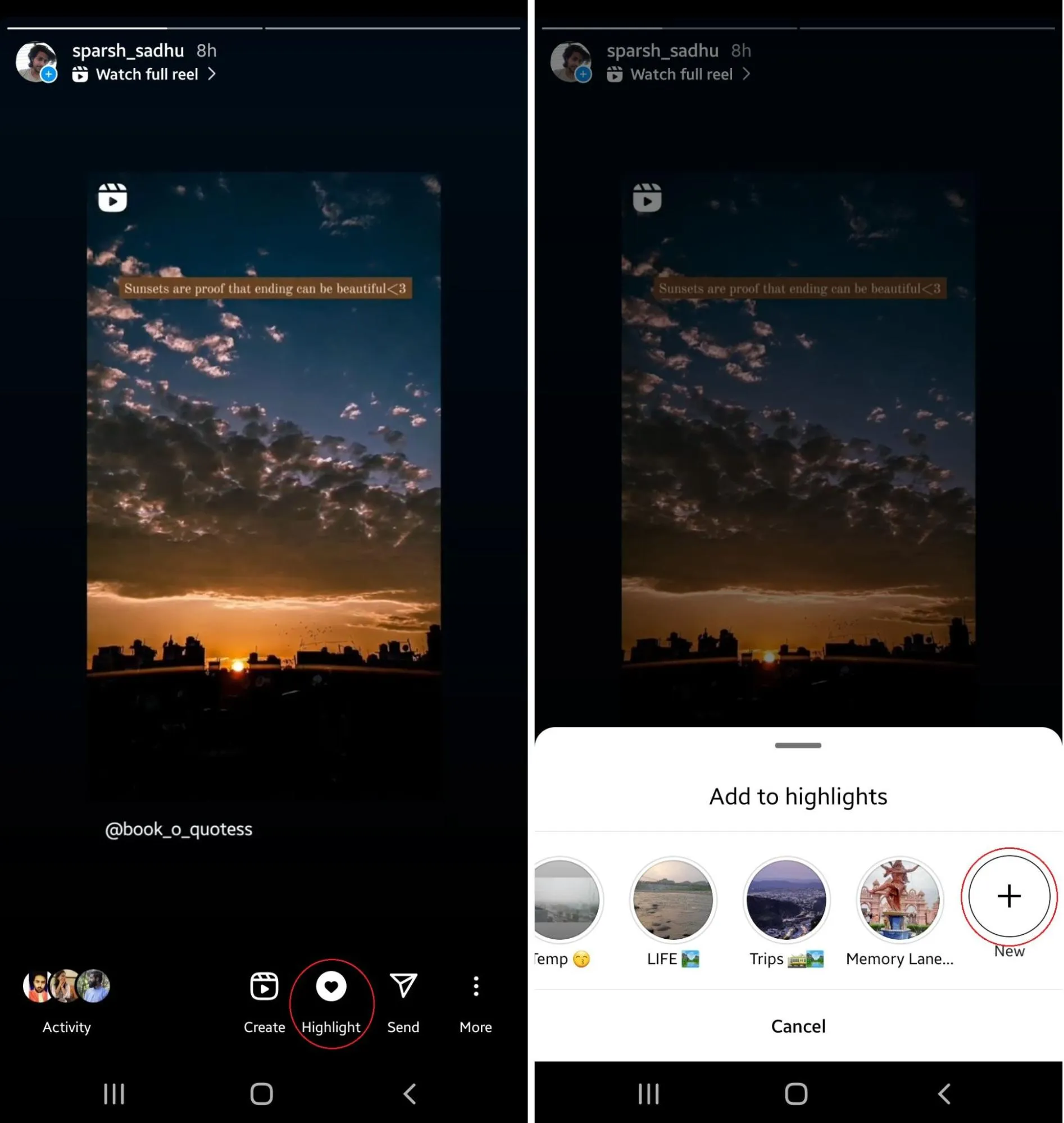 If you want to view your new Highlight, navigate to your profile, and it should be visible under the Instagram bio section.
Create Highlights from Archived Stories
Another way to create Highlights is by using Archived stories.
To use this feature, you need to enable the 'save story to archive' feature enabled. Only then will you be able to add your previously posted stories to Highlights.
The steps for this include: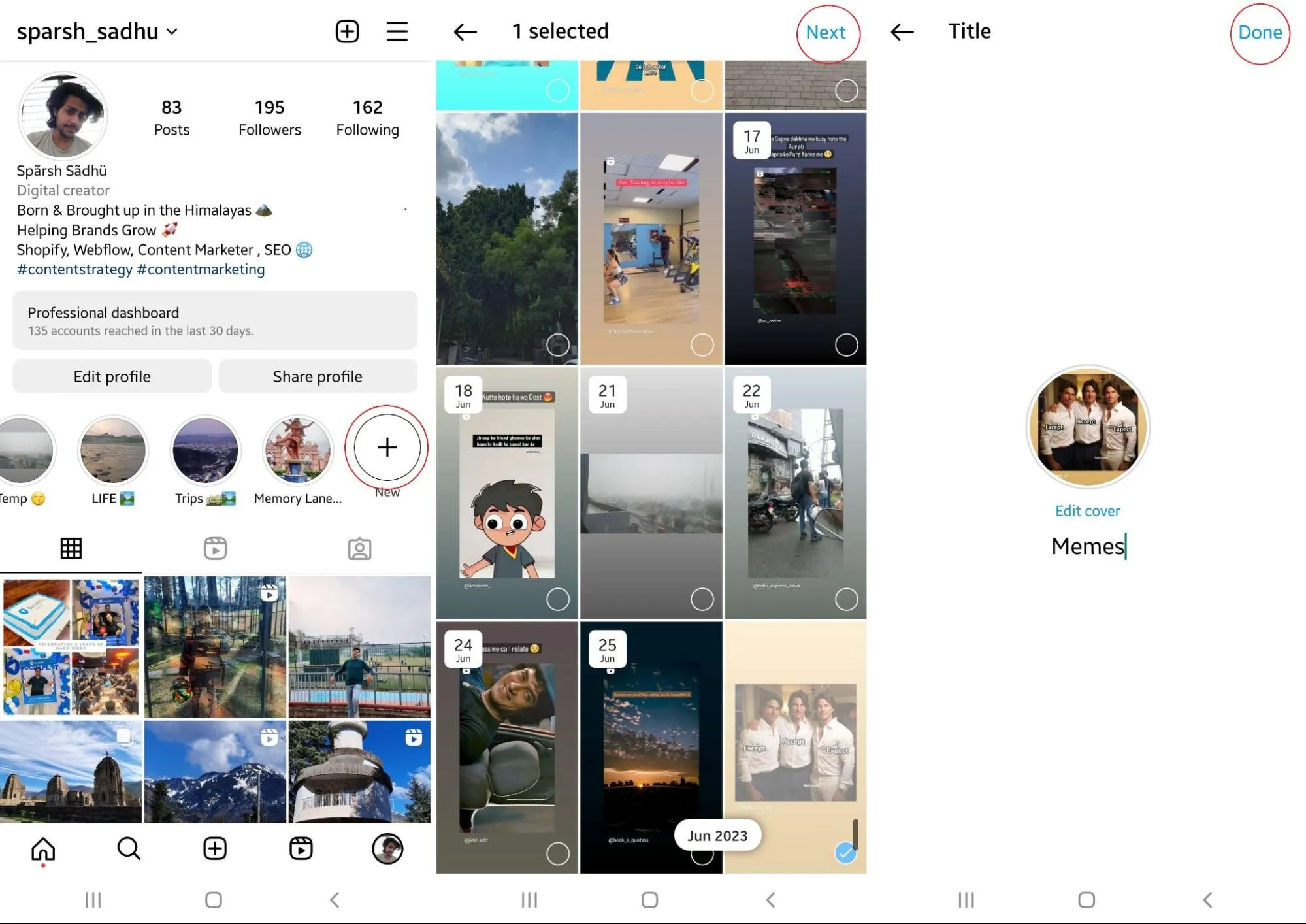 Step 1: Go to your IG profile, and click on the plus '+' icon
Step 2: Select stories from the archived section and tap 'Next'
Step 3: Choose 'Edit Cover' to select which story image will display as a cover or simply upload your own image.
Step 4: Add a title for the Highlight.
Step 5: Click Done (Android) or Add (iOS), and you`re good to go!
Add Stories to Existing Highlights
If you already have an existing Highlight and just want to add an existing Story to it, follow these steps: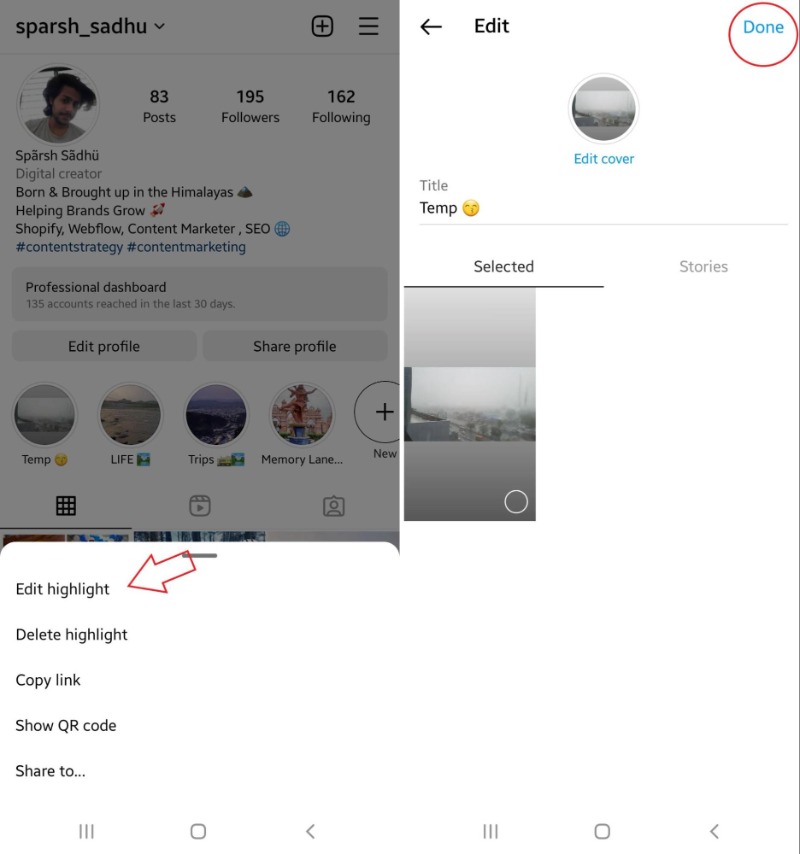 Step 1: From your profile, hold and press the Highlight you want to edit.
Step 2: Now, click 'Edit Highlight'
Step 3: Select the Stories you want to feature in this Highlight and tap 'Done'
Note: If you have accidentally created a Highlight or just want to delete one, simply click the 'Delete Highlight' option.
7 Ways to Use Instagram Story Highlights
So, how do you take advantage of Story Highlights? We've broken them down into seven different ways you can use to categorize your Stories.
1. Product Highlights
For a business, the main agenda is to sell products. So, what better place than your Instagram profile to showcase your product catalog? You can create Highlights of your products based on their category, making it convenient for your audience to navigate through them. Highlight their benefits, features, and usage.
2. Behind-the-Scenes (BTS) Highlights
What's the process that brought your product into reality? People like to know these details. Showing behind-the-scenes processes of your products can intrigue your audience and drive brand engagement.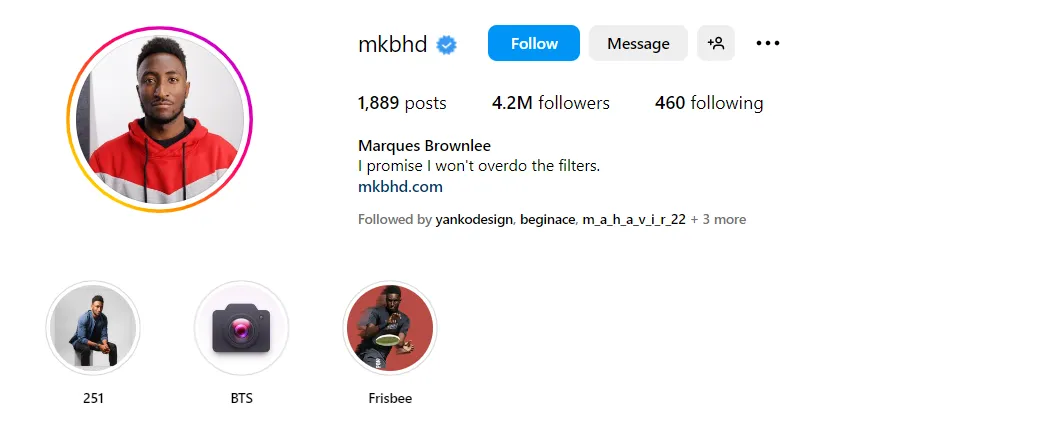 3. Customer Testimonials
Customer testimonials have a strong impact on consumer purchasing decisions. People relate to the real-life experiences of others. You can compile positive feedback or testimonials from satisfied customers and put them under one Highlight to build credibility and trust.
4. DIYs
DIY or 'Do it Yourself' is the activity of making or repairing things yourself at home instead of purchasing or paying someone else to do it. People take a sense of pride in things they have created themselves. In this Highlight, you can group all your DIY stories so people can look at them for reference.
5. Events and Promotions
This is straightforward. You simply create a Highlight where you show any special occasions, product launches, discounts, sales, or promotional activities associated with your brand.
6. Q&A or FAQ
Prospects or customers will have different questions at different stages of their buying decision. This can be about the brand or products. You can create a Highlight to answer all your FAQs and make it easy for people to find answers to common problems.
7. Travel or Lifestyle Highlights
Another important type of Story Highlight is travel or lifestyle Highlights. This is where you feature your travel experiences, lifestyle inspirations, or adventure related to your niche or target audience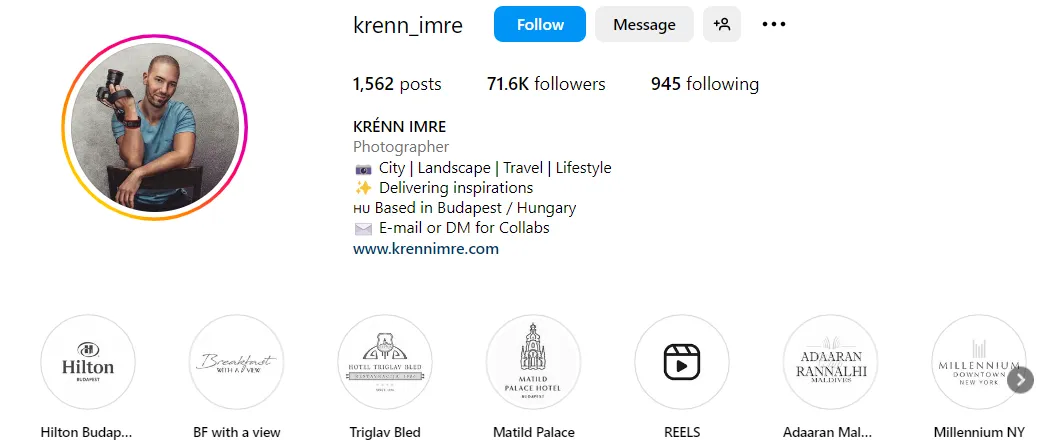 Why Are Instagram Highlights So Important?
Instagram Highlights are more than just a feature; they're a game-changer for brands. They offer a multitude of benefits that can significantly enhance your brand's Instagram presence.
Let's discuss them one by one:
Organized Content Categories: Instagram Highlights allow you to neatly create and categorize your Stories into different topics or themes. This organization makes it easier for your audience to navigate your profile and find specific content. Whether they're looking to explore different aspects of your brand or searching for something specific, Highlights guide them to the right place.
Increased Engagement: Highlights act as a hook, motivating viewers to stay longer on your profile, explore different topics, and engage with your content. By featuring your best Stories, you can captivate your viewers and motivate them to engage with your content through shares, comments, or likes.
Showcase Social Proof: Instagram Highlights is excellent for displaying social proof. You can use them to showcase customer testimonials, UGC, and positive reviews. The display of social proof builds trust with your audience, showing them positive real-life experiences with your brand.
Highlighting Evergreen Content: If your content is valuable, evergreen, and stays relevant beyond the initial 24-hour lifespan, Highlights lets you keep it accessible and discoverable to your audience.
Personalization and Brand Identity: With custom cover images and titles, Highlights let you infuse your brand's visual aesthetics into your profile. This helps make a cohesive and visually appealing experience for your viewers, increasing brand awareness and recall value.
3 Instagram Highlights Examples to Get Inspired
Looking for some inspiration to craft your Highlights? Let's look at three top Instagram profiles that have mastered the art of using Highlights effectively:
1. Dyson – Showcasing Products
Dyson, a renowned technology brand known for its innovative household products, uses Instagram Highlights to showcase its wide range of products, including Audio, Purification, Robots, Floorcare, and Airblade. Each Highlight offers a deep dive into the features and functionalities of its products, presented through appealing images and videos.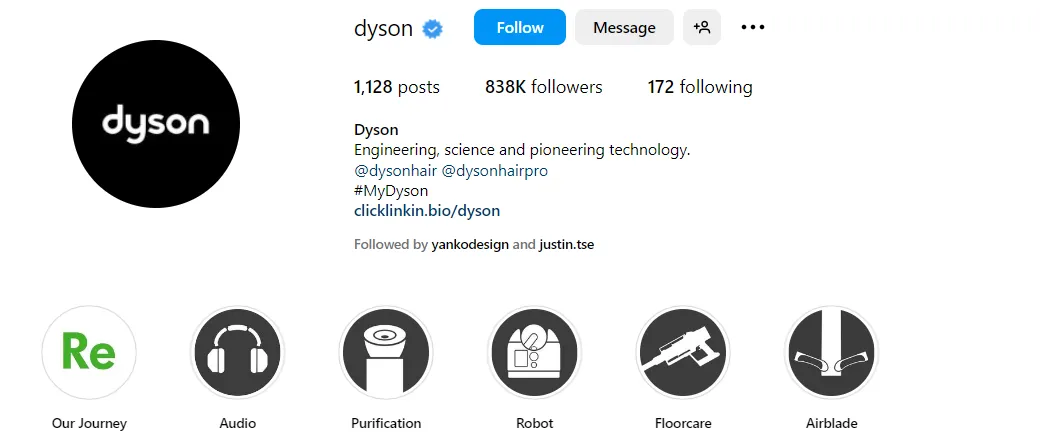 Moreover, Dyson uses behind-the-scenes content to provide a glimpse into their product development process and rigorous testing. This approach not only humanizes the brand but also demonstrates its commitment to its core principles.
2. Disfrutar – Highlighting Team Culture
Located in Barcelona, Spain, Disfrutar is a world-famous restaurant known for its innovative and avant-garde culinary creations.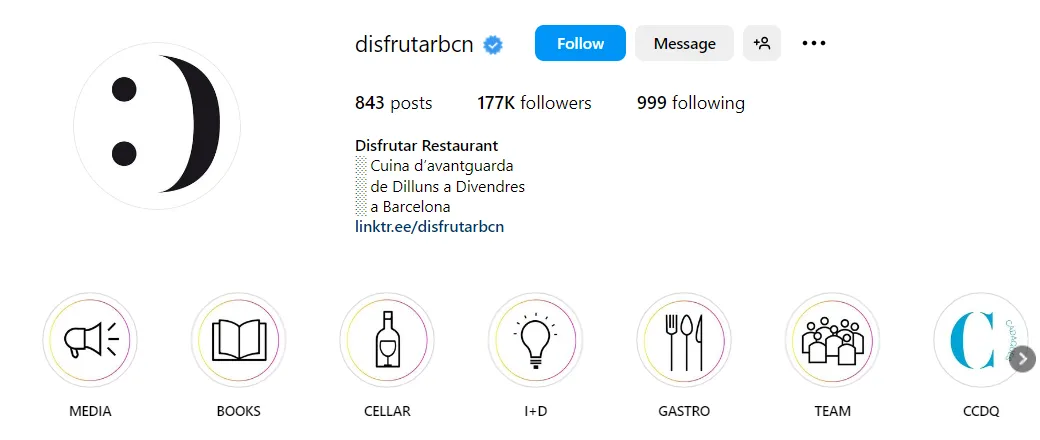 From showcasing culinary techniques and team culture to sharing customer reviews and testimonials, Disfrutar uses Highlights to create a sense of craftsmanship and passion among its followers. This digital showcase encourages followers to make reservations and experience their innovative culinary creations firsthand.
3. Adobe – Engaging With Polls
Want to communicate with your audience? Try Polls!
Adobe, a dominant force in the digital media and creative software tools space, has creatively curated a set of Highlights that showcase product tutorials and tips, events, campaigns, UGC, and, notably, polls.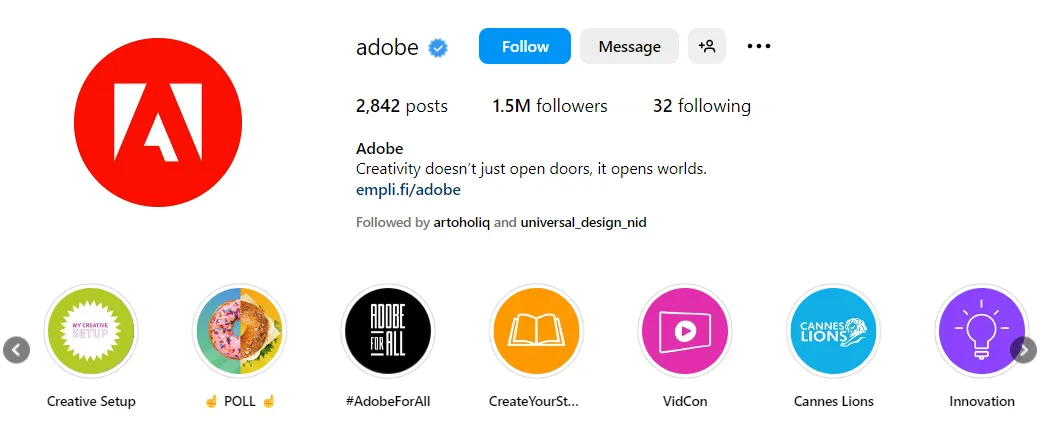 Polls are a fun and great way to communicate with your audience and understand their thoughts. Not just that, these insights directly come from your target audience means you can use them in your product development.
That strategy might be the reason why Adobe always cracks the creativity game and comes as the first preference for designers.
7 Ways to Effectively Use Instagram Stories Highlights
Now that you've grasped the power of Instagram Highlights, it's time to put that knowledge to work. Here are seven strategies to help you leverage Highlights"
1. Showcase Your Products/Services
First, let's start with the part where you get to showcase your products/services.
Instagram Highlights offer a perfect platform for brands to create a visual catalog that their audience can access easily.
Start organizing your Highlights in categories or product lines to make it convenient for your followers to navigate through and find what they`re looking for. Utilize high-quality visuals to show your offerings and pricing, and add brief product descriptions for clarity.
2. Share Company Announcements
Highlights don't always need to be focused on your products; they can be about your organization as well. These can be company updates, news, milestones, or announcements.
Tip: Create a separate Highlight for company announcements and make updates whenever required to inform your audience. Use visually enticing graphics or videos to make your announcements concise and easy to understand.
3. Personalize Your Highlights
Here's something you must know about personalization: 80% of customers are influenced by are more likely to make a purchase from a brand they're familiar with, and 64% of shoppers make a purchase after viewing a video on social media.
This show social media can be a powerful ally if you want to raise your brand awareness.
You can personalize your Highlights by customizing your cover images and titles. Maintaining visual consistency across your social media profiles creates a cohesive and visually appealing look, piquing viewer interest and boosting engagement.
To help you design compelling cover images, here are five tips: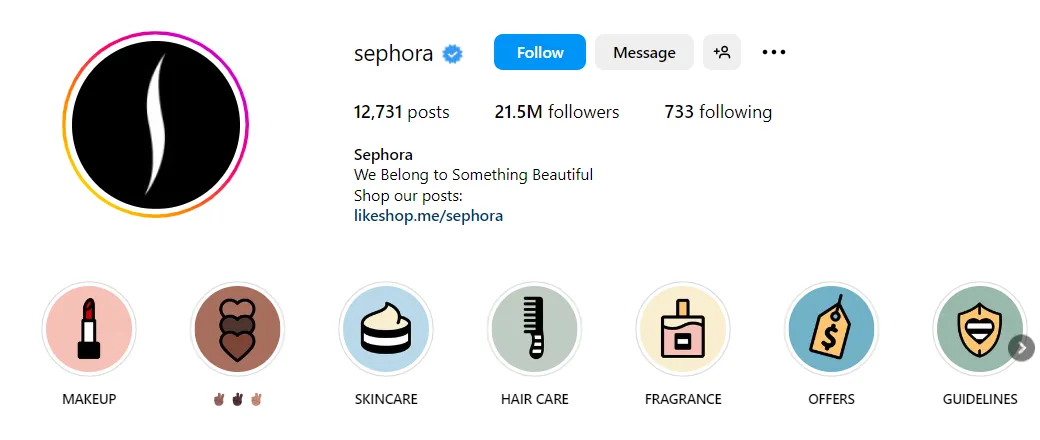 Use Brand Colors: Incorporate your brand's colors into your Highlight cover designs to maintain visual consistency and reinforce brand recall.
Show Products: For a product-based brand, displaying your offerings in the Highlight cover images can pique curiosity among your audience. This strategy can spark curiosity among your audience and give them a preview of what to expect.
Use Icons: Icons are a powerful way to communicate ideas quickly and effectively. Use relevant icons in your cover image designs to represent different categories or topics.
Maintain Consistency: Consistency is the key to design. Maintain visual consistency in your style, font choice, and layout across your cover designs. This helps establish a recognizable brand identity and enhances the overall aesthetics.
Unleash Creativity: Let your creativity shine through your designs. Experiment with unique layouts, typography, or illustrations that align with your brand personality. Infusing creativity in your covers helps grab attention and makes you stand out, but maintaining consistency is also important.
4. Highlight UGC
Highlighting user-generated content (UGC) is a great way to engage your audience and showcase your community.
Consider creating a dedicated Highlight for UGC, featuring posts from your audience that align with your brand values. Motivate your followers to use branded hashtags and tag your accounts to boost the chances of getting their content featured.
5. Promote Events
Events, such as sales or any other occasion, can bring in new business. However, without proper marketing, they may not reach their full potential. Use Highlights to promote your upcoming events, whether they are physical gatherings, online launches, or webinars.
Create a Highlight specifically for your event promotion, including details such as date, time, and location (if applicable). Use catchy graphics and brief captions to generate curiosity among your viewers.
With so many content ideas and the pressure to continuously post them on your client's social media accounts, it can become overwhelming.
So, what's the solution?
Enter SocialPilot – a perfect companion for your social media management journey that lets you handle these situations effortlessly. You can take advantage of its Instagram scheduling capabilities to upfront plan your content scheduling calendar for Stories, posts, and Reels and get them published.
Have a long list of posts? Don`t worry!
You can schedule up to 500 posts with SocialPilot`s Bulk scheduling feature. You can also change the publishing date and time from the content calendar.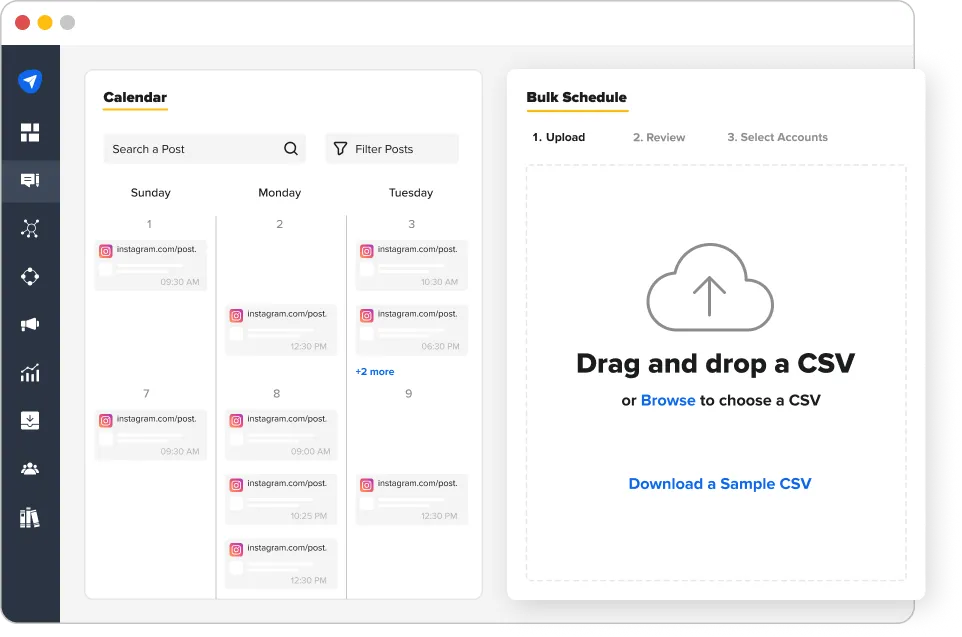 6. Engage With Your Followers
Engaging with your followers is a surefire way to capture their attention. In 2018, Instagram launched the "Questions" sticker, allowing followers to submit their questions via your Story.
Consider creating a Highlight to showcase follower's interactions, like DMs, comments, or any inquiries. Answer FAQs and feature them in this Highlight, providing a convenient resource for your viewers.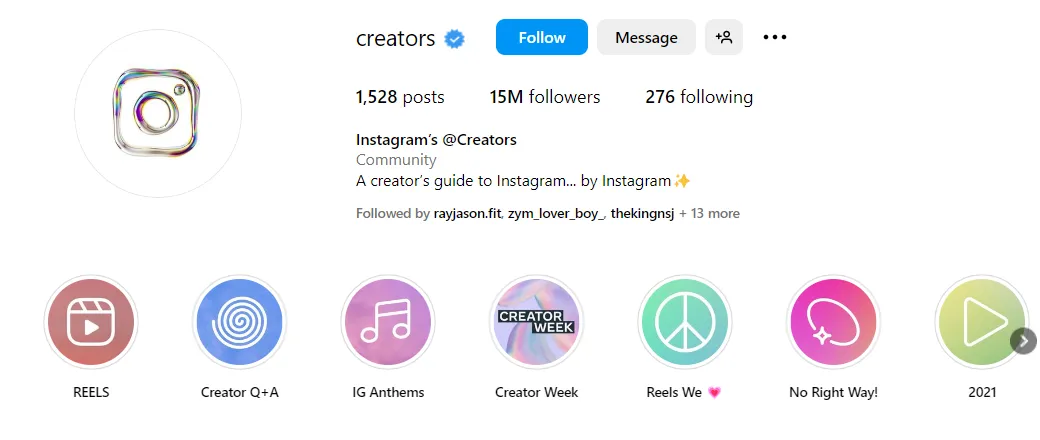 7. Interact With Your Audience Through Polls
Do polls improve engagement?
Definitely yes!
Utilizing polls as part of your social media is a great technique to enhance your engagement. You can find out what your audience thinks and feels about your brand.
Create engaging and relevant polls in your Highlights to encourage your audience to participate. This can range from product preference polls to industry-related inquiries. Analyze the results and use the insights to re-work your marketing strategies or product decisions.
Conclusion
In this fast-paced world of fleeting attention, Instagram Stories Highlights give businesses a unique opportunity to captivate and retain their audience. The potential is enormous, from showcasing products and sharing announcements to personalizing the brand experience and engaging through social media polls.
To effectively boost your brand reach and create a lasting experience that fosters loyalty, it's crucial to implement the above-discussed strategies and tips.
Aside from the content, consistency is vital in increasing the brand reach. From the business point of perspective, you must complete your content posting deadlines if you want to grow your Instagram followers.
Try SocialPilot, which lets you schedule your Stories, posts, and Reels and avoid any deadline-missing damage. The tool automates your posting schedule and provides performance data to help you make informed decisions.
Get started with your Highlights journey – let your brand's story unfold!