Every social media platform today seems to have a penchant for the Story feature – and why not! Stories make for a powerful marketing tool that can catapult you into popularity. And Instagram Stories are no different.
Launched in 2016, Instagram rolled out Stories as an attempt to mimic Snapchat's acclaimed and trending hallmark at the time.
But here's the best part:
Over time, Instagram's Story feature has surpassed Snapchat in popularity and is a huge driver of success for the social media app.
In fact, it brought over 500 million people to the platform every day! Incredible, right?
If you are wondering how IG stories can help you build a strong following—trust us; visual storytelling matters. Read on to know why.
So, What Are Instagram Stories?
Instagram Stories is a feature that allows you to post photos, videos, and texts that disappear within 24 hours of being posted.
Since Stories don't reflect in your feed forever, they don't have to be perfect. You can post updates, promos, and other related content without cluttering your feed.
Plus, you can add GIFs, Music, Stickers, and other tweaks, making IG Stories the lazy content creator's go-to tool.
So why should you incorporate Stories into your marketing efforts?
An attractive feed gets people to follow you but is simply not enough to keep your audience hooked. It limits your ability to befriend your followers.
But what makes an Instagram Story so engaging is that it gives people a deeper look into your brand and how you do things.
From giving users a look behind the scenes to community polls and product teasers – Stories let you have one-on-one conversations with your audience.
In other words, Instagram Stories make your company more appealing to your audience.
And data backs this up!
Surveys indicate 58% of people have shown more interest in brands or products after discovering their Stories on Instagram.
Clearly, Stories have great potential for engaging your users and growing your follower count. So, how do you get started?
How to Use Instagram Stories
If you're only just getting started on Instagram, take a look at our step-by-step guide on posting a Story to your feed:
Step 1: Swipe right on your Instagram feed and tap on the camera icon, or touch the '+' button that appears on your profile picture.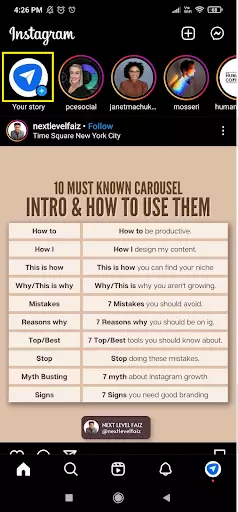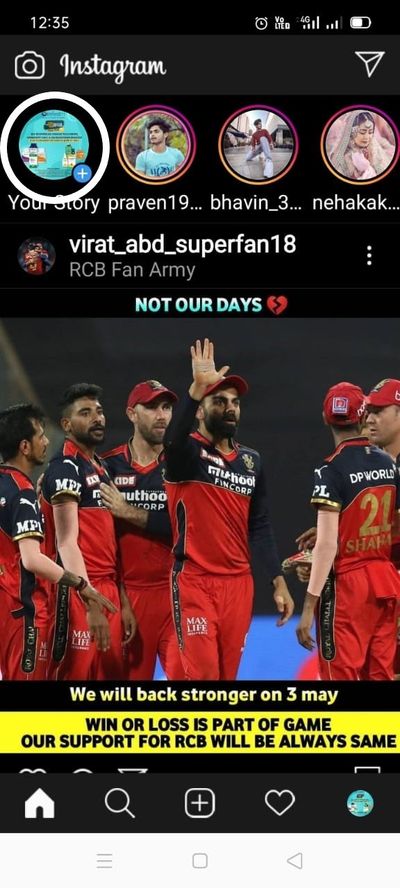 Step 2: Tap the white circle at the bottom of the screen to click a picture or hold it for a second to record a video. You can also swipe up to use media from your phone history.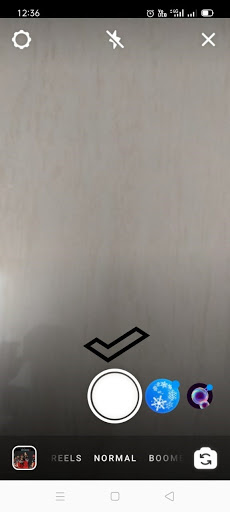 Step 3: Edit your photo or video using Instagram's numerous existing editing options.
Step 4: Then, tap the "Your Story" button to post your content! A colorful circle will appear around your profile picture, alerting followers of your newly posted Story.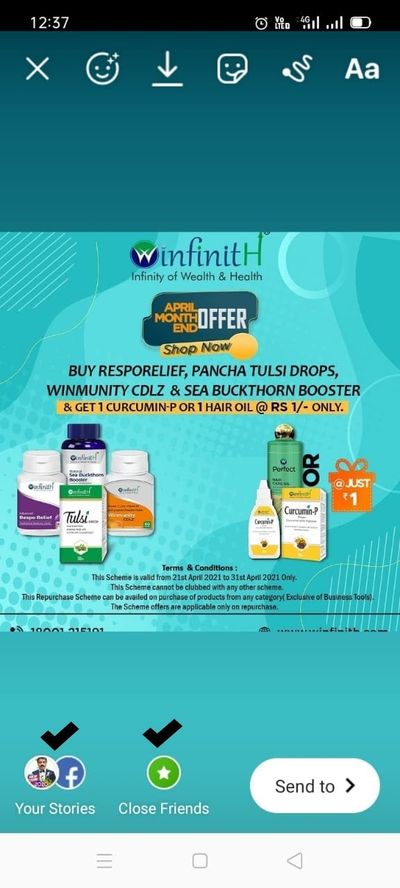 What More Can You Do With Stories?
Posting a photo or video is a good way to kick things off, but it's the bare minimum you can do.
Here are some features you can use to add some pizzazz to your Story:
Type: Text-based posts on a colored background.
Live: Real-time videos that you can post on your stories afterward.
Boomerang: A 1-second looping video.
Focus: Portraits that blur out the background and keep your subject's face in focus.
Superzoom: A zoom feature with numerous effects.
Rewind: A feature that plays your video back in reverse.
Hands-Free: Allows you to record a video without having to hold on to the record button.
Beyond that, you can make your IG Stories stand out with the following elements:
Hashtags
If you have been using Instagram for even a couple of months, you know the importance of using hashtags in your content.
Hashtags, when used properly, can double, triple, or even quadruple the number of visitors on your page. And they perform the same task when added to your Stories!
"In 2021, utilizing strategically targeted hashtags in your Stories attracts fresh audiences on Instagram."
You can add hashtags to your Stories by clicking on the hashtag sticker, or use the text function to write them up.
You can use at most 10 hashtags on Instagram Stories- wherein 1 is clickable.
Check out how Walmart is using hashtags to attract more audiences.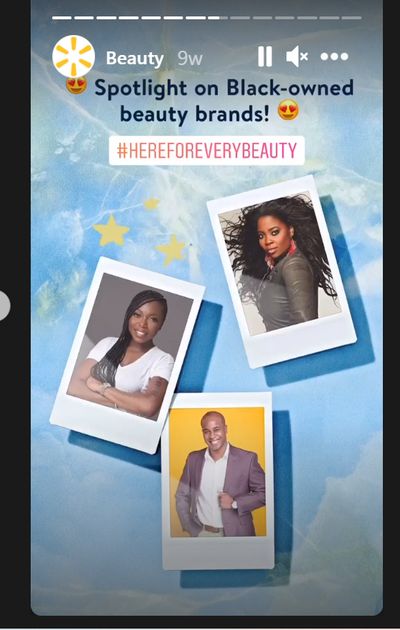 Location
Do you know the fastest way to lose your edge on Instagram? It's forgetting to tag your location on your posts!
Just like hashtags, location tags can lead a potential customer to your page – especially if your primary target audience is local.
And adding your location on Instagram Stories could put you on the explore page and bring more eyes to your brand – even beyond your follower list.
Here's how you can link to a location on your Stories:
First, from the stickers icon on the top of your Stories screen, select the 'Location' sticker.
Choose the location where you want to be discovered. To target a smaller audience, you can choose your street or neighborhood. You can also tag a larger region to reach a wider audience.
You can personalize your sticker by changing the colors.
GIFs
Want to brighten the mood? Or add a touch of drama? GIFs are the way to go!
These charming little moving images or stickers can freshen up even the blandest Story imaginable.
More than that, they work as an effective CTA for your audience.
To add a GIF to your Stories, follow these steps:
Go to Your Story and tap on the square smiley-face sticker.
You can choose from the trending GIFs on the screen or search for something specific.
Add your selected GIF and pinch to resize or drag to move.
Finally, tap the "Your Story" icon for publishing.
Polls
Your followers love nothing more than to share their opinions. And including Polls in your Story gives them an opportunity to do just that.
This interactive feature encourages your audience to interact with you on the platform, thereby doubling your engagement rates.
But more importantly, Polls are the key to unlocking your consumers' behavioral preferences. Doritos makes clever use of the Poll feature to gauge which merch its users like best.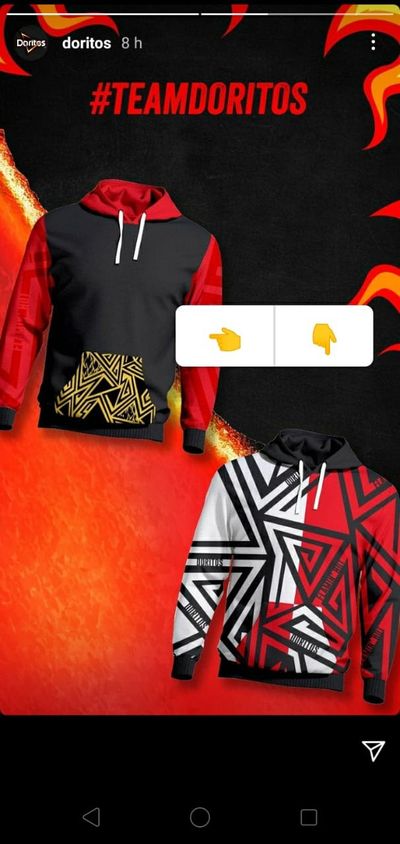 Here's how you add the Polls feature to Instagram Stories:
Search the stickers icon in your screen's top-right corner.
Tap the Polls icon.
Feed your questions and responses ("Yes" and "No" will be there by default).
You can customize the text and add emojis. Character limits don't apply to questions, but responses must be under 22 characters.
Tap 'Your Story' once you're done!
After sharing the poll with your audience, you can swipe up to check the results.
Highlights
Do you want to make your poll last beyond 24 hours?
Perhaps you'd like to save previously posted Stories for new followers to explore your products?
Well, you can add them as Highlights!
This feature is a collection of IG Stories that stay on your profile for longer, letting followers view them whenever they want.
With Highlights, you can organize your Stories, allowing customers to discover all your products in one place.
You can also post answers to their commonly asked questions, mention giveaways, showcase important BTS moments – you get the point.
Note that you cannot upload pictures or videos from your phone as Highlights: you need to add them as Stories first.
Let's see how you can create Instagram Highlights for your page:
First, go to your profile page.
Select the '+' sign placed just below your bio section.
Choose the Stories you want to include in your Highlight and tap 'Next'.
Write a short title – it can only be up to 16 characters.
You can pick one of the Stories as a cover for your Highlight or create your own to give it a personal touch.
Live Videos
Going live is no doubt a stellar method of engaging with your followers!
Loyal users will likely be interested in interacting with you in real-time, giving you an opportunity to build an authentic connection with them.
And the Instagram Live feature helps you do just that.
Introduced in June 2017, this feature enables you to stream live to your audience via Stories.
However, the video will disappear once your broadcast has ended.
If you want your audience to see the live video even after the end of your broadcast, here's a simple trick:
Just tap on the "Share" button at the bottom of your screen. By doing so, the replay of your live broadcast will be added to your Story for 24 hours.
When added to IG Stories, the feature allows increased viewership for those who missed the live broadcast.
How Long Are Instagram Stories Supposed to Be? How Many Should You Post?
Here is what you need to know: the maximum permissible length of a Story video is 15 seconds, whereas photos can be seen for 7 seconds at once. An Instagram Live video can be up to 60 minutes.
As for how many you should post every day, it all depends on your audience.
Sharing over 10 Stories in a day isn't going to magically fix your engagement. In fact, it reads as spammy and will have the opposite effect.
But if you're posting quality content and actively engaging with your followers, you might even go up to 20 Stories per day.
The most important thing to know is this: Consistency matters.
Planning your content with social media scheduling tools like SocialPilot gives you plenty of time to tailor IG Stories for your followers, thereby boosting your engagement rate.
What Is the Best Time to Post Instagram Stories?
When it comes to IG Stories, timing is just as important as consistency.
Unfortunately, no matter how hard you pray to the social media gods, there's no formula for discovering the ideal best time to post Instagram stories.
This is because people tend to view Instagram Stories throughout the day. Some see it first thing in the morning, others in the evenings after work. You'll even find people scrolling Instagram during their lunch break!
The trick is to ignore other people and focus on when your audience is online the most.
For an accurate reflection of your audience's peak online time, simply look at your account's analytics on Insights.
The Audience tab is doing the Lord's work by displaying which days of the week and what time your followers are most active. Make the most of this data and time your posts accordingly!
10 Ways to Use IG Stories for Your Brand
With 50% of business accounts using Stories to enhance their engagement ratio, quality content is indispensable if you want to be heard!
But guess what? With the right content strategy for Instagram Stories, you can help your account gain some traction.
Here are 10 ways to use the feature to its full potential:
1. Nail the Aspect of Personal Branding Through Visual Identity
Here's the deal: your content won't make as big of a splash if you don't add any personality behind it.
Just like you, many other brands are going to be consistently delivering value and information via Stories.
Hence, you need to create a visual identity that your audience can latch onto.
The goal isn't just to differentiate yourself from others; your followers are more likely to know, like, and trust you if they can relate to your company.
"Instagram is a visual platform – your entire online persona could crumble without a theme!"
Here's how you develop a visual identity via Stories:
Use consistent brand colors on your Stories and stick to a cohesive theme for your content (hilarious, analytical, informational, etc.).
Using similar stickers, polls, and GIFs also builds trust in your target audience.
2. Show Behind the Scenes Footage
Believe it or not – recording a 10-second BTS video for your Instagram Stories can actually make a difference in your engagement!
A sneak peek behind company operations will get your followers invested in your brand.
It gives them a deeper understanding of what you do and how you do them.
Shoot behind-the-scenes footage of you or your team working hard to give your customers the best experience possible. You could also use this format to build hype around an upcoming product.
Here's Wilton Cakes posting a video of one of their bakers in action.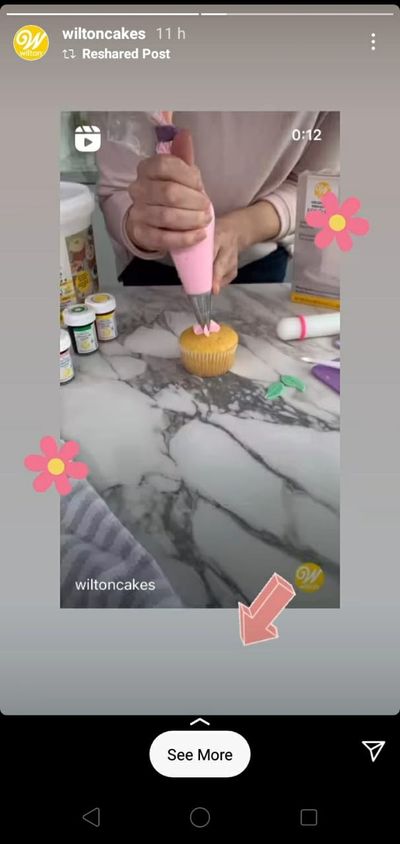 3. Share Personal Stories
Building a personal connection with your content consumers can take your brand to another level!
Here's what many unsuccessful brands don't get:
People like to believe in someone who is just like them. They want companies and influencers that work hard, deliver consistent value, and contribute to the world.
And if anything is indicative of authenticity in a brand, it's a personal story.
"Personal stories are a way to build a strong and tight-knit community that will support your brand for years to come."
Share some anecdotes that help establish your company – how you built the brand, what struggles you faced, what values you follow, etc.
This won't just help you gain more organic followers – it'll prove to your existing audience that you are relatable.
4. Deliver Special Offers
Yes, you are a brand, and you deliver products to your audience. So, why not give them a bonus through Instagram Stories!
Think about it.
You can use the tricks of persuasion, attraction, scarcity (e.g., the seats to the webinar are limited), urgency (e.g., offer ends within 24 hours), etc., to make your special offer more appealing.
For example, you can see how Foundr is offering free exclusive training to the people and asking them to swipe up for the same.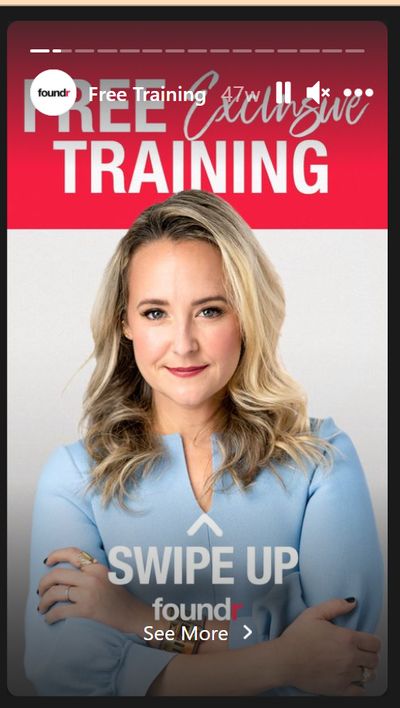 But listen.
It's not always about giving your product for free. It can be a service for a discounted price or a free webinar giving out massive information about a subject.
5. Drive Traffic to Your Website or Blog
The truth is that Instagram Stories are out there to provide entertainment to people.
So, if you cram your Stories with swipe-up links and taglines to buy stuff, people will get frustrated and leave.
Instead, use Stories to show snippets of a new and exciting blog that's been published on your website.
Give them limited details as to what the content entails to create buzz around your site.
"Directing followers to your site will drive organic traffic, especially when they are looking to consume more of your content."
If you've got an engaging Twitter account, you can post a weekly round-up of the best ones on your Stories.
You can also share updates when you've posted new content on other platforms, like a video on YouTube.
6. Create a Helpful Tutorial
Here's a reality check: Your target audience isn't going to stick around for very long if they don't find value in your content.
And as it turns out, posting tutorials and educational Stories is one way to keep them from unfollowing you.
What's more, how-to guides and tutorials will prove to be a core component of your marketing strategy if they feature your product.
As long as it's presented in a fun, creative way, your customers would love to see Instagram Stories that highlight the benefits and uses of choosing your brand.
7. Make Use of Quizzes and Polls
There's a reason why knowing your followers and their preferences is vital to a brand.
Understanding your customers' psychology shows you how they will formulate their further decisions.
For this, you need to either walk a mile in their shoes or be ridiculously good at mind-reading. But if that's not possible, you could simply ask them for the answer on Stories.
That's where the polls and quizzes feature comes in.
You can create fun polls, quizzes, guessing games, and much more to keep your audience engaged while also trying to understand them.
For example, Warner Bros. used the 'Ask Me a Question' feature to interact with their followers.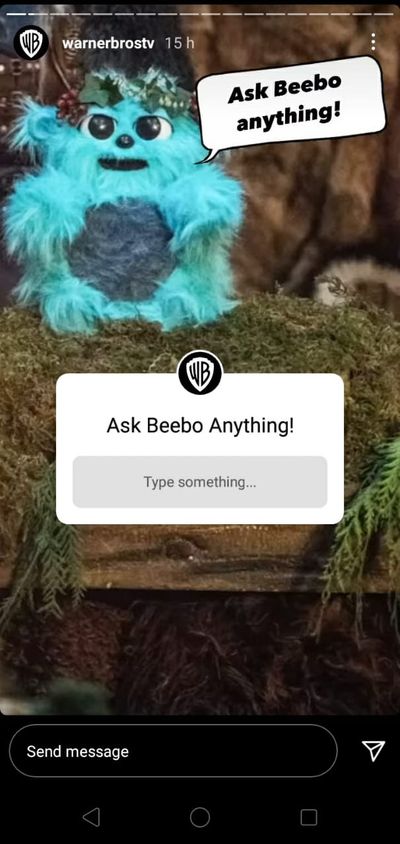 8. Tap Into the Power of Ads
You can harness the power of Instagram Story ads to increase brand awareness and boost your sales.
However, to prevent your followers from swiping away, make sure that your message is brief and to the point.
While you can choose a still image that focuses on your product features, posting videos is undoubtedly the way to go. Make your video ads as eye-catching as possible in the first 5 seconds!
Pro Tip: There's a high chance that new followers will visit your Instagram account first and website later. As a result, your IG Stories ad should also match your overall brand aesthetic and theme.
9. Showcase Positive Reviews
You can (and should) talk about how great your products or services are on Instagram Stories. That's the whole point of social media anyway.
But what's far more effective than singing your own praises is posting positive feedback from your existing customers.
It's a way of verifying the quality you claim to deliver and can generate trust in your brand among new followers.
Here are some ways you could demonstrate positive reviews via Stories:
Encourage followers to tag you in their Instagram Stories if they have good things to say for your product or service.
Re-share these Stories on your own page to help spread the word.
Display testimonials about your brand from your website or feature screenshots of direct messages (DMs) as a Highlight. (But be sure to ask customers for permission before posting.)
10. Host an Instagram Takeover
An Instagram takeover is when a special guest – an influencer, employee, or even a customer! – gains control over your account and content for a day.
The strategy involves sharing content via posts and live videos. But Instagram Stories have emerged as the best way to host takeovers on the platform, largely because the posts disappear after 24 hours.
You can have a prominent influencer take over your Stories to share tutorials or advice.
The best part? This allows you to endorse your brand to their large and faithful following. (Bonus points if you swap takeovers and feature on their account for a day!)
Alternatively, featuring employees in your Story takeover will develop your brand identity.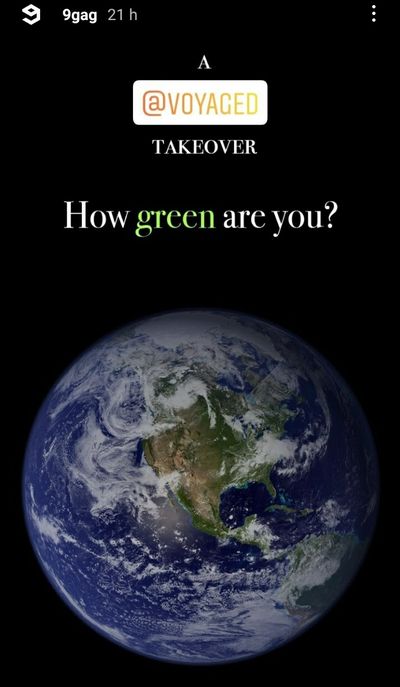 When there are so many content ideas and a rush to be consistent in your posting on multiple client accounts, one can get pretty overloaded. Is there any shortcut out of this?
SocialPilot is the perfect solution to the situation. The tool has excellent Instagram scheduling capabilities. You can schedule any number of stories, reels, and posts beforehand and get them published on time without a single hitch!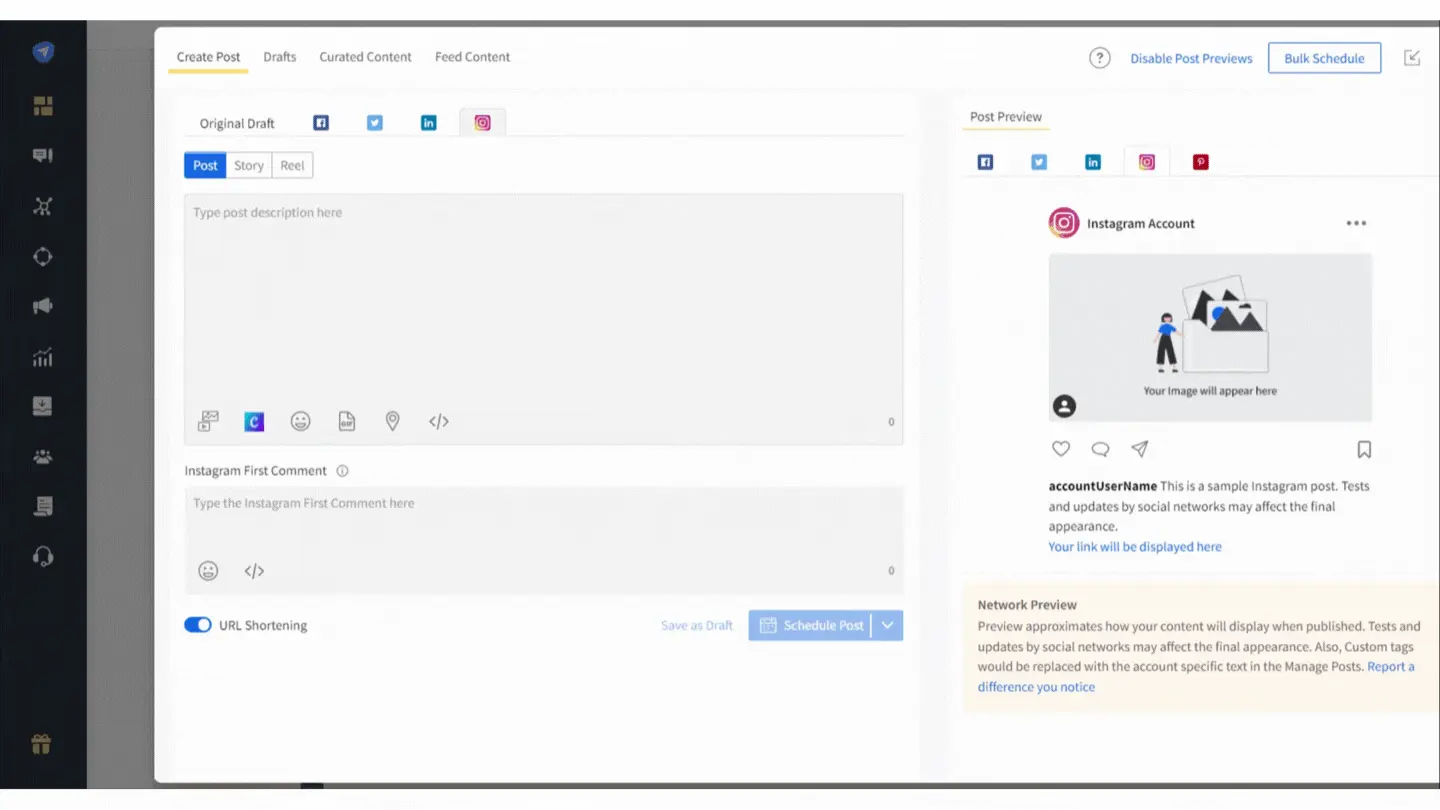 Instagram Stories Dimensions: What to Keep in Mind
Before you start posting, you need to pay attention to the Instagram Stories size and dimension requirements, especially if you are designing them on your desktop or via a software program:
Recommended Image Ratio: Even though all feed ratios are supported on Stories, 9:16 is the perfect ratio to cover the entire screen.
Recommended Resolution: 1080×1920 – the minimum resolution is 600×1067. Remember: high-resolution images increase upload times.
Maximum File Size: 30MB for images, 4GB for video.
Maximum Video Duration: 30 seconds.
Maximum Video Duration for Video Ads: 120 seconds.
But hang on – we're not done yet!
If you're trying to build your brand on social media, Instagram analytics give you a gold mine of information about your performance. Find out how below.
How to Analyze Viewership of Your IG Stories
You've done everything to make your post a true masterpiece. But what's the point if you can't measure how your followers are reacting to it?
That's why it's recommended to analyze viewership by evaluating the key metrics of Instagram Stories These include:
Average completion rates, or the number of people that watch the entire Story.
Posting frequency and timing
Vanity metrics like impressions, reach, and taps
Average Story length
Story frame exit rates
So what do you do with this information?
Take a closer look at the relationship between average followers and average reach rate to drive targeted traffic to your page.
You can also analyze viewership based on monthly posting frequency, specifically for your industry or vertical.
"Analyze your Instagram Stories and decipher the metrics to better your growth strategy."
But, remember: Instagram offers very limited analytics regarding how your hashtags, location tags, or even polls perform.
In fact, you should know that brands and businesses suffer the most without the right tools that give them specific and detailed information. Talk about a missed opportunity!
So, it's a good option to use a top-notch analytics tool for detailed insight into your audience's behavior.
Conclusion
With this comprehensive guide, you can master the art of visual storytelling and get the best bang for your buck. Pick top hashtags for your niche, use polls and quizzes, and focus on making your content as interactive as possible.
Besides keeping it fun, consider using analytics and planning a content strategy to maximize your reach. Tools like SocialPilot automate your posting schedule and offer valuable performance data, so you're always on top of your branding game.
Go ahead – you're all set to grow your business with Instagram Stories!