According to Instagram's internal research, nearly 58 percent of Instagrammers stated their curiosity about a business or its products and services spiked after seeing its ad on Instagram Stories.
Indeed, Instagram Stories are all the rage right now. The graph below shows how in an amazingly short time, the usage of Instagram Stories shot up exponentially. Even today, its growth shows no signs of relenting.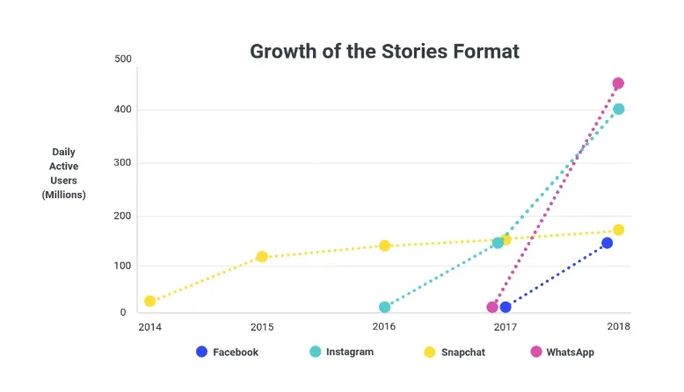 Regardless of whether or not you are using IG Stories already, knowing about the optimal Instagram Stories dimensions to utilize is critical if you wish to use the feature for driving engagement for your Instagram account. 
After all, you wouldn't want your Stories' viewers to label your brand "unprofessional" for failing to correct automatically cropped, poor-quality Stories.
This is exactly where this article aims to assist you. By better understanding the workings behind this massively popular feature and how to handle it from a visually aesthetic viewpoint, you may be able to create more engaging stories.
Read this article until the very end to learn about the recommended sizes and specs for image and video-based Instagram Stories.
Why Are Instagram Stories So Much in Trend?
Instagram Stories, which is essentially a spinoff of Snapchat, allows you to upload images and short video clips that expire after a fixed period of 24 hours from the time of uploading. However, one of the latest Instagram updates allows users to store their favorite Stories indefinitely. This can be done through the Highlights feature present on your own Instagram profile.
Another crucial feature of Instagram Stories that adds to its popularity is the ability to track the number of Instagrammers who have watched every Story in a sequence. As a result, you can keep track of users and their viewing activity to engage better with them. So it's no surprise that as of 2018, the Instagram Stories function attracted 1000 million monthly active users.
In the context of digital marketing, the potential advantages of Instagram Stories for businesses are limitless- from increasing brand recognition to selling products and services to even generating leads, Instagram Stories has got your back.
What Are the Ideal Instagram Stories Dimensions?
The recommended dimension for an Instagram Story is 1080 pixels by 1920 pixels. This implies that your picture or video should have a width of 1080 pixels and a height of 1920 pixels. This is also known as a 9:16 aspect ratio.
For your reference, you may consult the sample image for ideal dimensions shown below: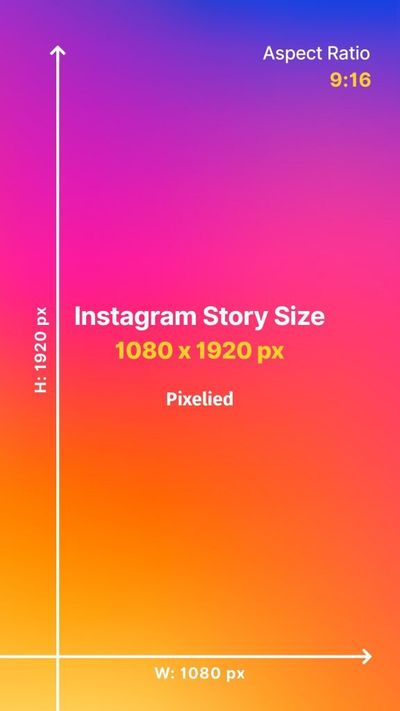 Some requirements must be satisfied based on the format of the content you are going to upload as a Story.
Let's have a look at those requirements:
In the case of images, apart from acquiring the right picture size, your file size must not exceed 30 MB. Plus, Instagram only allows JPG and PNG files for upload.
In the case of videos, the maximum permissible video size for Instagram stories is 4GB. Video files must be in either MOV or MP4 format. Lastly, make sure that your Instagram Story video length is not more than 15 seconds.
If your video file is not of the finest quality, your Instagram Story size can alternatively be: 
900 x 1600 pixels
720 x 1280 pixels
But, even with this, you must remember to maintain the 9:16 aspect ratio.
Do you often make the blunder of posting a wrong-sized story or image on Instagram? Eliminate such mistakes by using SocialPilot.
Every time you schedule an Instagram image with improper dimensions on SocialPilot, the error message will pop immediately. You can use SocialPilot's inbuilt image editor to fix your Instagram images in a 4:5 or 1:1 ratio to get them right. If your image is for a story, crop it in a 16:9 story aspect ratio.
Now, with the technical recommendations done and dusted away, let's investigate why Instagram is so picky about video/image size?
Here's a possible explanation. Since portrait images (and videos) are ideal for today's smartphones, most social media apps favor these proportions for their Stories feature.
Moreover, as we have mentioned before in this blog, if you don't utilize the correct dimensions, Instagram may truncate parts of your Story into a poor-quality rendition, which is something you wouldn't want.
Be Mindful Of the "safe zone" for Instagram Stories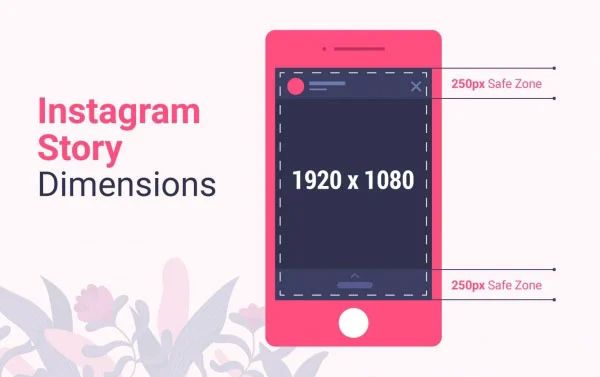 When creating Instagram Stories, remember to remain within the "safe zone."  
So what exactly is this "safe zone"?
When you try to upload an image to create a Story, Instagram's editor guides you through the image adjustment process via its grid of vertical and horizontal border lines. That way, even if you unknowingly overstep Instagram's technical guidelines for its Stories at the time of upload, the Instagram editor will set you along the right track.
To illustrate this concept better, you'd need to pay close attention to the series of screenshots provided below: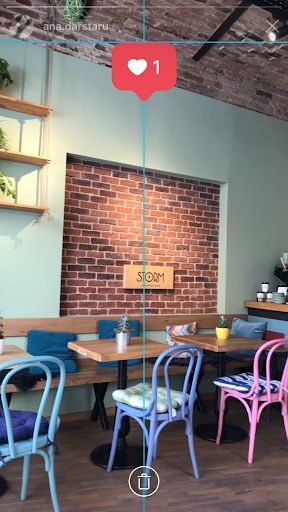 When viewing a Story, a user will see the account's profile name and icon in the upper left corner of the screen, as visible in the image above. Also, if you change your mind and do not wish to abandon your Story uploading process midway, you may exit the Story and return to your Instagram feed by clicking or tapping on the "X"(cross) icon located in the upper left corner of the screen.
If you look at the heart sticker in the image above, you will find that it is located just below a blue horizontal line in the upper part of the screen. That blue line is, in fact, the boundary line demarcating the "safe zone" going above, which would impact the profile name and icon's display.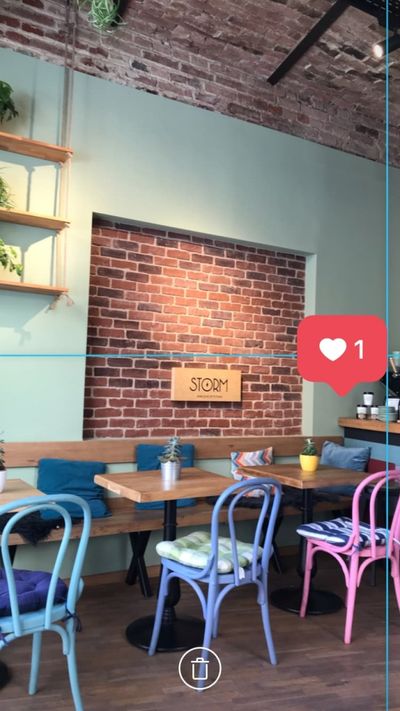 Likewise, in the screenshot above, you would notice a blue vertical line in the extreme right of the screen, beyond which the heart sticker cannot be placed. Notice how the horizontal line has automatically moved towards the screen's center. 
These horizontal and vertical lines constitute a grid that guides the placement of certain Stories' elements such as stickers and text overlays. Also, any part of the image or video which extends beyond the upper and lower limits (extending for 250 pixels from the top and the bottom of the screen) gets cropped automatically.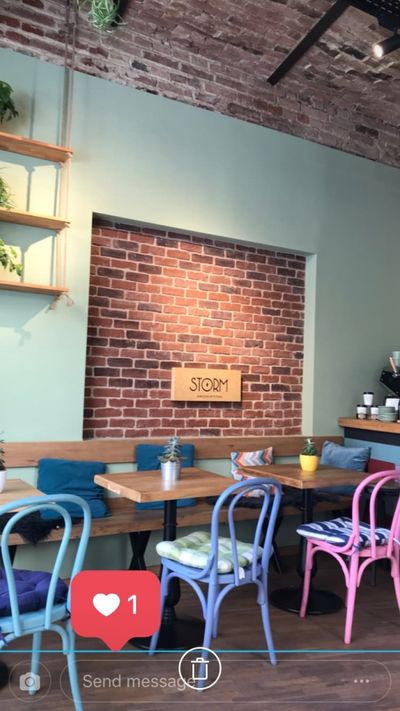 The screenshot above shows what an image Instagram Story looks like after getting uploaded. At the bottom of the Story's screen, a user can find the response filed for either typing out a text message or sending a photo, as well as sharing that Story with another user. Additionally, if your Instagram account has more than 10,000 followers and has included a link to your Story, the "Swipe up" button will also appear.
You can refer to the "Swipe Up" option in the image below.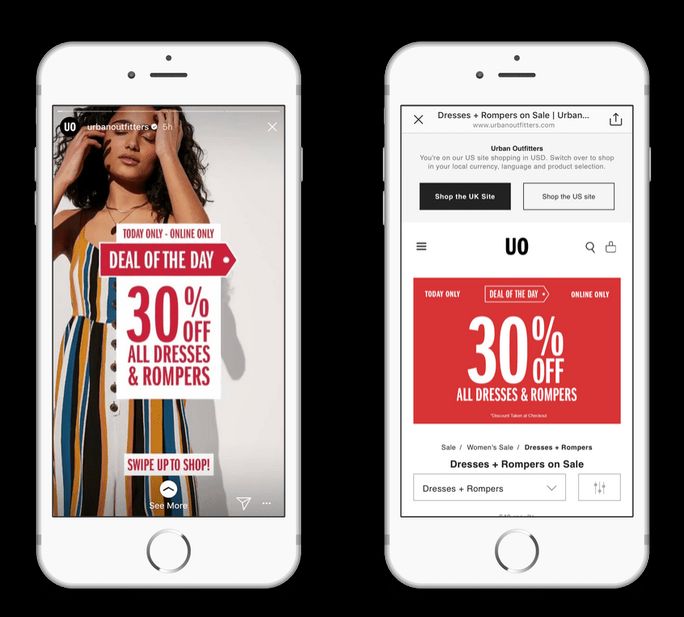 What Are The Best Digital Marketing Practices for Creating Instagram Stories?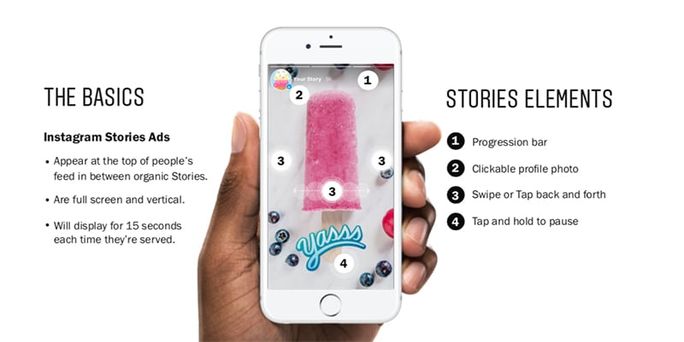 Getting the Instagram Story dimensions right is merely one piece of the puzzle. The bigger problem lies in coming up with content for your Instagram stories from scratch.
Even if you have set your Story to the appropriate dimensions, a boring and mediocre-looking Story won't help your brand much.
This is why we have listed some of the best practices in this section to help you ace your Instagram Story game. 
Use minimal text 
Less is more when it comes to Instagram stories, like with everything else on social media in general.
Unlike Facebook and Instagram ads, adding excessive text to your Stories will have absolutely no effect on their reach. 
On the other hand, it will counterintuitively yield a detrimental effect on your Story's visual attractiveness and the amount of engagement you obtain. Even if you are not planning to create a Story ad, it is advisable to adhere to the 20% text rule (that is, all text in your Story should cover only 20 percent of the total pixels of the video or image).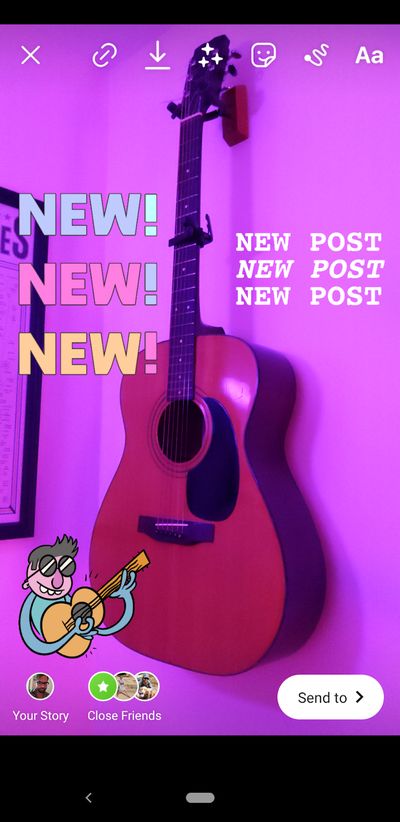 The image above is a perfect example of how text should be used in an Instagram Story. 
Minimal text is recommended since this is because Instagram is primarily intended to be a visual-only network, and users expect it to remain so.
Don't shy away from the camera
While a lot of brands use customized templates or hire an in-house graphic designer to create their Instagram Stories, you can set yourself apart by bringing authenticity to the table.
And you can bring out this authenticity by capturing candid photos/videos involving your brand. You can always record relevant videos and photos of virtually anything that lends your brand a 'behind the scenes' view or accentuates its human side.
You can take a hint from the Instagram Story ads by Quest Nutrition and Top Shop above. 
Quick tip: To stay within the framework of Instagram Stories dimensions, always take images/videos directly from the app (as opposed to using your smartphone's native camera app and uploading the content from your gallery aka camera roll).
Use CTAs to your advantage
If you do not wish to post anything personal or "closer to life" for your Instagram Story, using the Instagram stories' call-to-action (CTA) function is your best bet for enhancing conversions.
These CTAs can help you gain more clicks/unique visitors to your website (through a standard CTA button) or get them to check out your offerings (via the "swipe up" option).
With the aid of your Stories incorporating a CTA button, you can get more bang for your buck and actually achieve a tangible objective.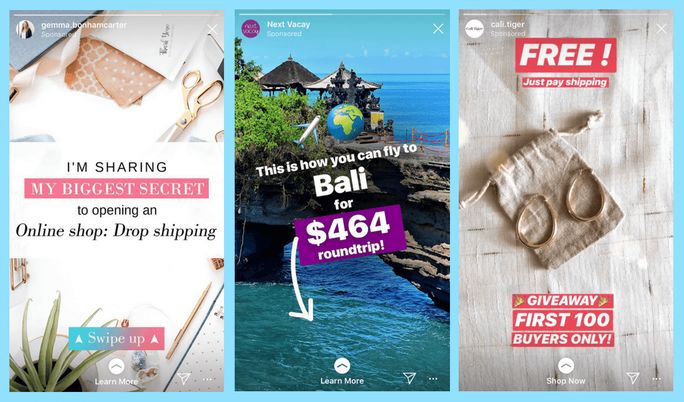 For your reference, the three ads displayed above all incorporate a call to action at the bottom. Some of the most commonly used CTA  buttons are "Swipe Up," "Learn More," and "Shop Now."
Include hashtags to improve visibility
Hashtags are useful tools for increasing your post/account's visibility. When you add a hashtag to your Story, it will be added to a collection of all the Stories that include that same hashtag. By including hashtags, you increase the likelihood of your stories being viewed by those who aren't already following you. Ensure that you make use of hashtags to broaden your appeal and reach.
A word of caution: you must try to avoid using excessive hashtags in your Stories. Use no more than three or four hashtags in your Stories to assist you in getting noticed on the platform.
Nothing can go wrong with the idea of adding a branded hashtag to your Instagram stories.  See how Nike did it with their #justdoit hashtag, as shown below.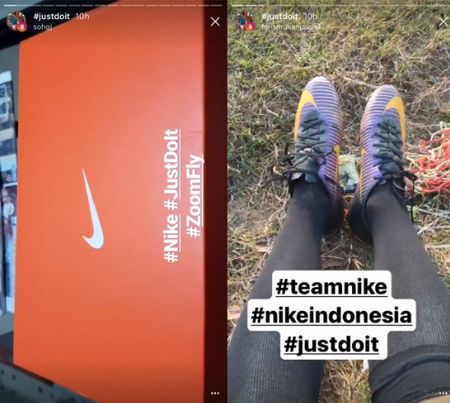 Don't be Scared to Schedule your Stories
Consistency is key to succeeding in Instagram marketing. One effective way to maintain it is by using Stories. They are visually appealing, easy to create, and encourage people to engage with your content. You can also add CTAs, mentions, and hashtags to them.
However, it's important not to go overboard with posting Stories. Too many can make your content seem irrelevant. Instead, choose specific time slots to post your Insta-Stories and stick to them. To make it easier, use Instagram scheduling tools like SocialPilot to create and schedule your Stories for the optimal time.
This way, you can maintain your presence on the platform without missing a beat.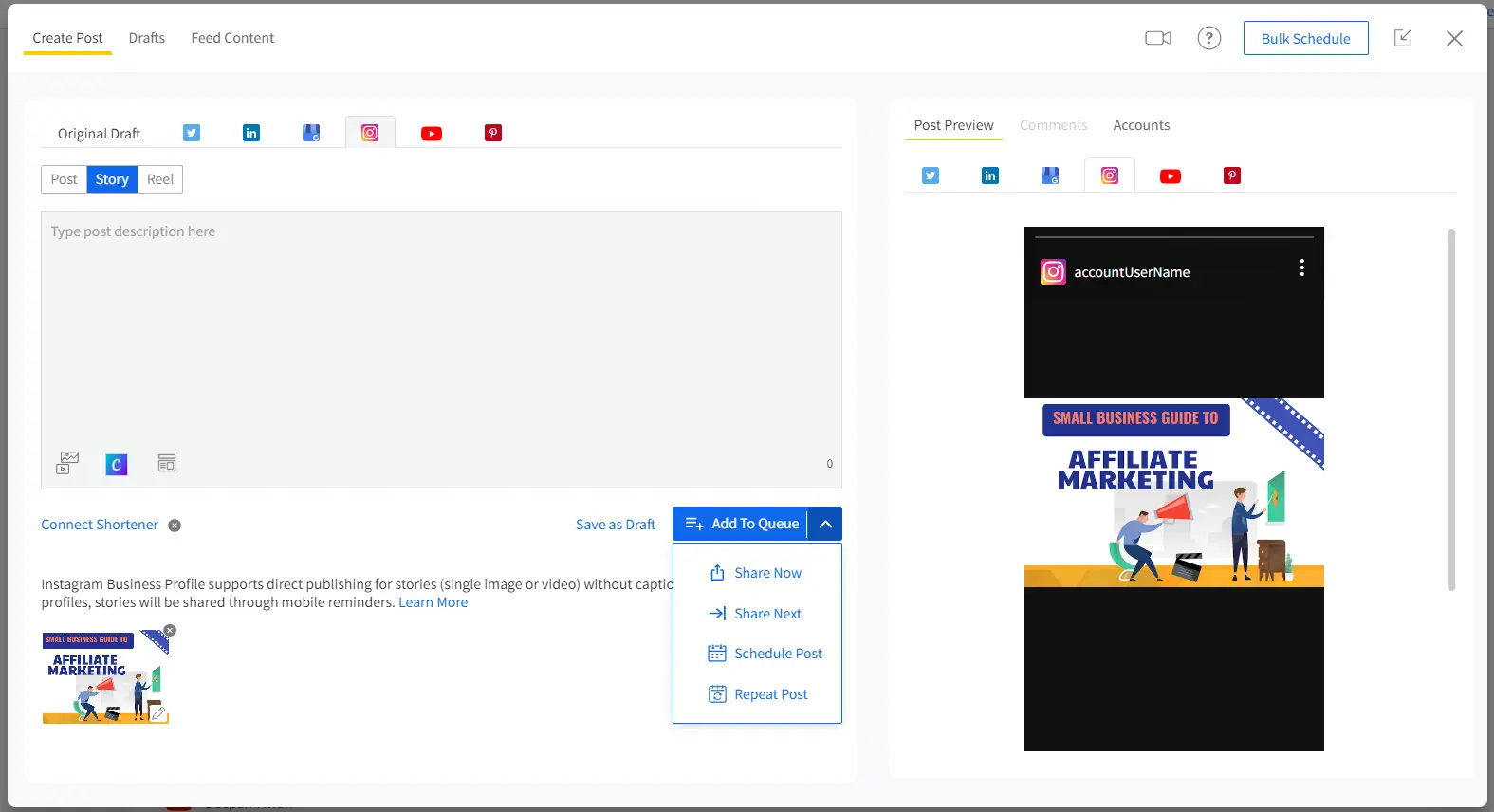 Wrapping Up
In this article, by discussing the technical aspects of Instagram Stories dimensions, we have only begun to scratch the surface of this spectacular feature. 
When it comes to the kind of content that you, as a digital marketer, can upload to Instagram Stories, your imagination is the only true limit!
Nevertheless, you must not ignore the correct Instagram Story size to ensure that your Stories are uploaded in the best possible quality. Even if you accidentally overstep the limits, the in-built Instagram Stories editor will always assist you to readjust your Story to the recommended dimensions. 
CTA: Meanwhile, if you need any help with scheduling your Instagram posts, visit SocialPilot.