Instagram Stories templates are a rising trend on the platform, with companies and individual users meticulously crafting their own customized stories employing consistent color schemes, styles, tone, and structure.
Using templates makes it extremely simple to create brand-consistent content, so you'll never fall behind on uploading your stories and developing your brand's presence on the platform.
Are you ready yet to discover how to use Instagram Stories templates?
This blog will teach you all that you need to know about the use of Instagram Stories templates for your business.
So, cast away your woes and say hello to Instagram Stories templates for regularly creating and uploading beautiful Instagram Stories!
What is an Instagram Stories Template?
Essentially, an Instagram Stories template is a pre-prepared design for an Instagram Story (in the 9:16, vertical format) incorporating text, images, and even GIF animations that you can customize according to your business.
Usually, such templates are created using designing software such as PhotoShop or applications such as Canva, and they enable you to customize the image layout, font, color scheme, and other elements of your story.
Why Should You Use Instagram Stories Templates?
In case you have not already begun hunting for an Instagram Story Template, now is the best time to do so! Stockpiling customized Instagram Stories templates is a wise strategy for your Instagram marketing plan.
The following are the primary reasons why you need to use Instagram Stories templates:
Instagram Story templates aid in brand recognition
Using Instagram Story templates, you may build a readily identifiable Instagram brand for your business.
Brand recognition grows when your followers connect with more of your content and identify your Stories' specific color palette, typography, and music on Stories.
Instagram Stories templates are a wonderful baseline for generating your own Stories since they have a consistent structure and a design style that complements your overall brand's aesthetic appearance.
Using the same (or similar) themed templates for your Stories, you can produce coherent, brand-consistent Stories for your business. It also makes it simpler to collaborate on your Instagram account as a team!
All of these factors combined make templates a priceless investment!
Instagram Story templates save you a lot of time and effort
Since you already have a collection of Instagram templates available for each of your content categories (think: images, product features, collages, text posts, and so on), you do not have to fuss about design details and putting everything together at the last minute. Simply whip out your template from the stash, type in your text, and you're ready to go!
This is particularly significant because Instagram Stories are only available for 24 hours. You would want to generate high-quality content layouts without devoting a lot of effort to a post that will only be up for a day!
Story templates assist you in "Preventing the Swipe"
In a sea of (typically) unedited photographs and videos in the Stories stream, sleek, competent designs stand out. When your Stories are well-crafted, your followers are more likely to stop and pay attention. This offers your different calls to action more time to be seen!
So you get the idea. Stories templates may help you create a bigger impression in far less time!
Where To Go Hunting for the Best Stories Template?
You now understand what Instagram Story templates are and why they are so awesome. But a new issue worth addressing is: where can you locate the ideal Instagram Story template?
Fret not, we've already got you covered! Here are the top fan-favorite resources for finding the finest Instagram Story templates.
Snappa
Snappa is an internet-based graphic design tool that allows you to create stunning templates for your blogs, advertisements, social networking, and other uses. They provide designs for almost every social media site, but their Instagram Story layouts are especially lovely. Here's a sneak peek: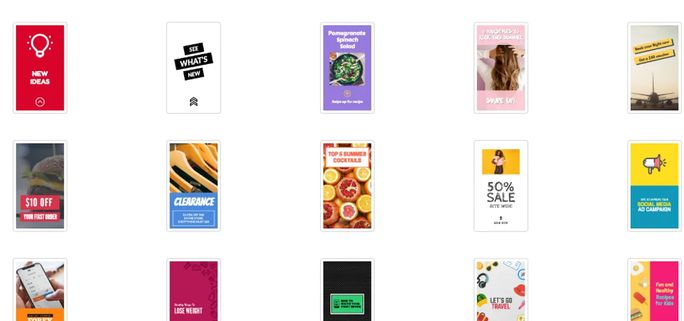 Using the tool, you may change the font styles, add your own images, use their wide library of stock photographs, locate swap photos, and do a whole lot more. They also make it simple to save your customized design of their template. So, if you discover a layout that you like, you may modify it and store it for creating another Story in the future.
Editing on this tool is quite straightforward too, although a few functions may feel excessively bulky to use. They offer a rich collection of icons, patterns, logos, and pictures at your disposal.
Here's what their design editor looks like: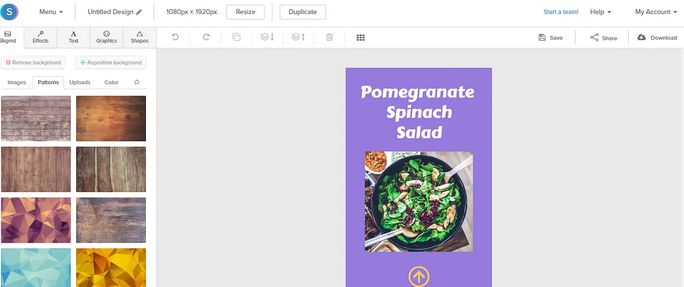 The team function is the best feature of this editor since it allows several individuals to utilize a single account and save the designs that they've worked upon. This is useful if you need to retrieve a design generated by someone else on your team, or if you need to rapidly change the text on an image without having to recreate it.
Canva 
Canva is an extremely well-known design software company. And they are arguably the best name when it comes to creating Instagram Stories.
They provide Instagram Story templates with themes such as inspirational quotes, auctions, minimalism, animals, travel, holidays, etc. Although some of their templates are paid, there are still plenty of free alternatives for you to choose from, as shown below.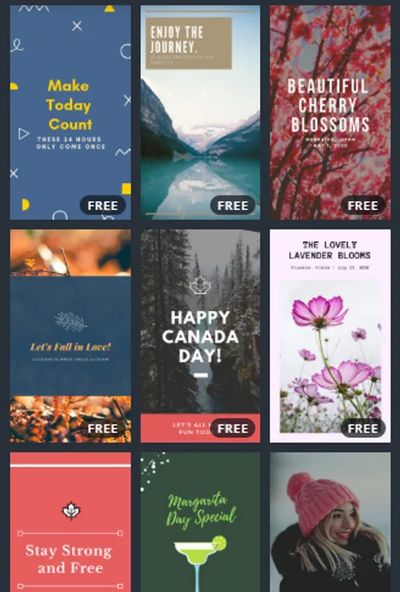 If you have ever used Canva for any other project before, you'll be no stranger to the process of designing your Instagram Stories on the editor. Just choose your template and click on any of its components that you would wish to alter during the editing mode.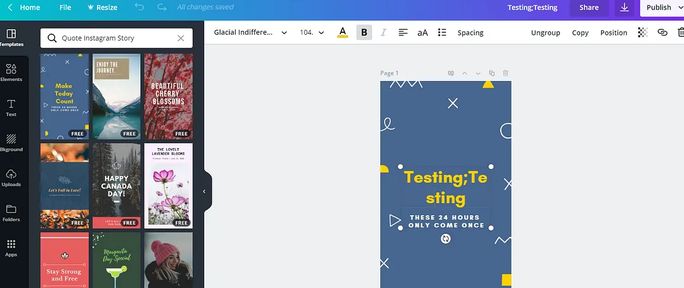 More options are available in the left sidebar, and you can quickly switch different themes. Since there is no method to immediately share your creation on Instagram, you would have to download your work and manually post it to the Story.
Adobe Spark Post App
Adobe Spark includes a comprehensive set of design tools, such as Spark Page, Spark Post, as well as Spark Videos. Unlike Photoshop or any other graphic design tool, which are costly and demand a high level of complex learning, the Spark Post app is easy to use and can be accessed directly from your smartphone. And it is quite just as potent as any other design software.
Here are a few of their sample templates: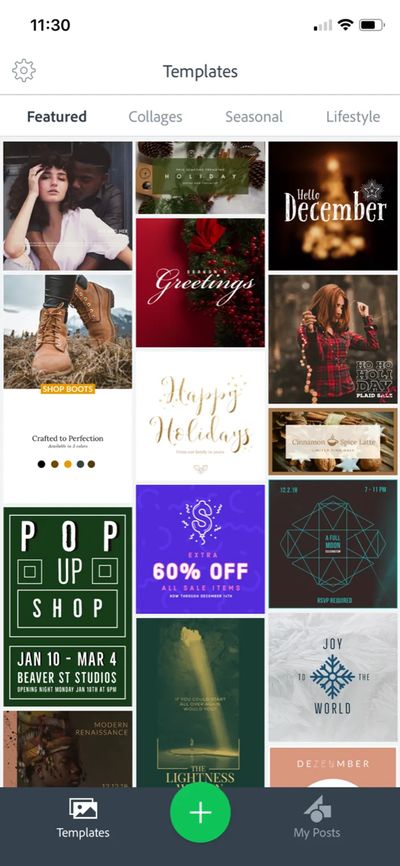 Although the Adobe Spark app does not categorically contain Instagram Story templates; but, they do have a large range of themes, including collages, lifestyle, school, seasonal, travel, business, craft, and cuisine.
In addition, the templates are simple to modify. Simply choose the one you'd want to work on, hit "remix," and then double touch the elements you want to modify.
You may modify the text, the picture, the icons, and even your logo, as shown in the image below. When you're finished, you can quickly share your work on Facebook, Instagram, or Twitter, straight from the app. And the best part? You can do all of this from your smartphone.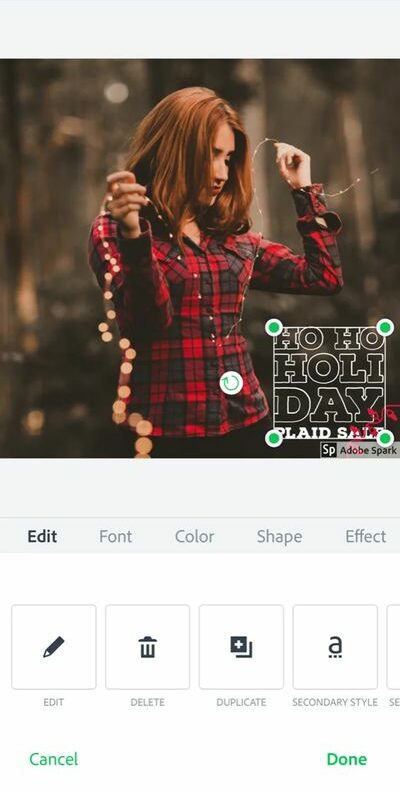 This is a remarkable Instagram Story template creation tool because of the price, functionality, and flexibility to access and use it straight from your phone.
Made
Made's toolkit for creating Stories, a new Instagrammer favorite, is jam-packed with simple and contemporary themes crafted with the interests of content producers.
Made, unlike other pre-made template applications, has adjustable page backgrounds, 40 distinct colors, 80+ template suite, and 16 bespoke font styles to let you build exact on-brand templates in a matter of seconds.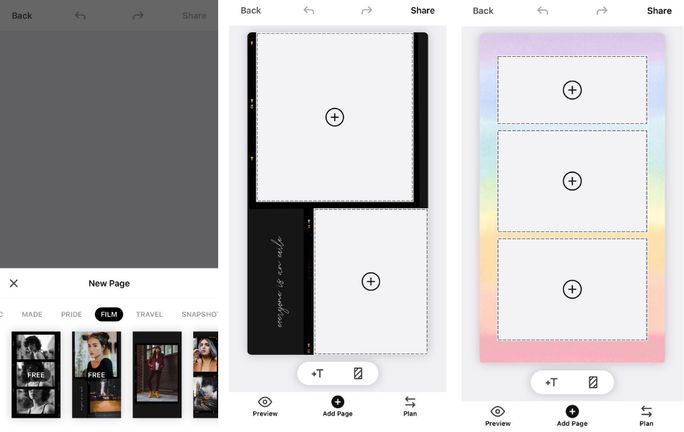 The app also provides periodic thematic templates, such as the famous Film Pack, Travel Collection, and the most recent Pride Month collection.
Unfold
Some popular smartphone apps, such as Unfold, allow users to add multiple borders and text to their images and have begun to appear all over Instagram Stories.
With its library of clean and contemporary templates, Unfold burst into the spotlight only very recently. It's currently one of the most prominent Instagram Story template applications!
Instagram Stories with Polaroid, minimalist borders and filmstrips, may be recognizable from the posts of your favorite Instagrammers: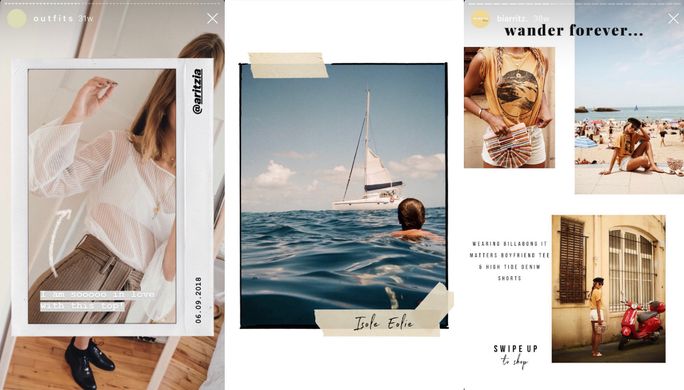 Unfold also allows you to preview your Story using the 'Story mode,' allowing you to check exactly how your Stories will appear as a proper Instagram Story before you press 'post.'
Unfold is set to become your favorite app if you're searching for a quick and easy method to give your Instagram Stories a more unified and visually appealing appearance.
Instagram
Surprising as it may seem, this social media platform can be a wonderful reservoir of spectacular templates. Simply search the hashtags #instagramtemplate, #storytemplate,  #instagramstorytemplates or #instagramstorytemplate, on Instagram. You'll find tons of templates in the results and see how they appear when used.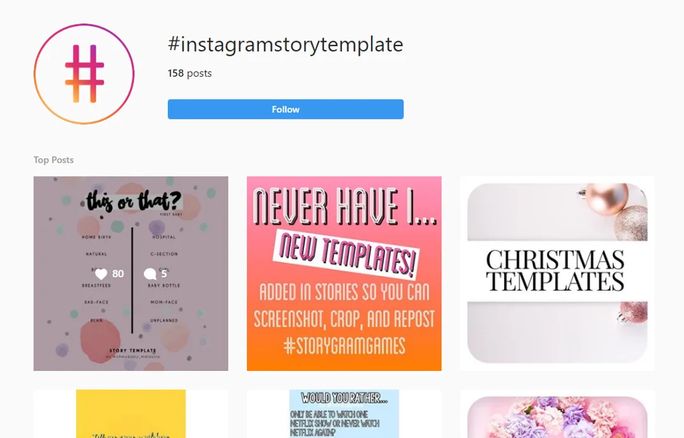 You will get only flat, downloadable pictures in the results, so if you wish to alter them, you'll need to discover their original source.
For more details on where the template could have originated from, you can either check the comments or check for the possible mentioning of the source at the bottom of the image. If anything, you could get some ideas for making a template in one of the other tools even better!
Are There Any Disadvantages To Utilizing Instagram Stories Templates?
There sure are some drawbacks, but they will not apply to the majority of users. Even then, it helps to know some disadvantages of using templates for Instagram templates.
Using the same design over and over again may get tedious, decreasing engagement on your Instagram Stories. However, if you are able to locate a few comparable templates or modify multiple templates to match your brand identity, your Stories will be more interesting and will take considerably less time to create.
If you are a skilled designer, the limitations of templates may get a bit frustrating after some time. If this is the case, you should stick with a design editor that you are most familiar or comfortable with, such as InDesign, Photoshop, or any other.
With that said, Instagram Story templates exist as a readily available panacea to make your life a whole lot simpler, especially if you are a business owner, social media manager, or anybody else lacking any previous design skills.
Parting Words
Instagram stories are immensely popular, and several companies experience significantly heightened levels of engagement because of them. Followers appreciate the original content that such companies offer, and the expiration feature apparently increases their appeal.
Even if you're new to Instagram stories or have been working with them for a while, Instagram Story templates will make it much easier to create real, personal content that your followers won't be able to get enough of!
CTA: To learn more about leveraging different features of Instagram for your brand, visit SocialPilot.