Are you of the opinion that hashtags play an integral role in building a bigger social media following on Instagram — the social media platform preferred by most brands?
Do you feel using trending Instagram hashtags to market your business can be an excellent strategy to reach out to a wider audience?
If yes, then congratulations! You're on the right track!
For the uninitiated, Instagram hashtags are a great tool to attract eyeballs and the right set of audience to your posts for enhancing your brand awareness and improving lead generation.
Why Use Hashtags?
With #hashtags, you can make your content identifiable and discoverable in the feed search results of Instagram users who most probably would like or be interested in engaging with posts using that hashtag.
Instagram filters approximately 95 million posts daily based on hashtags, which makes it easy for someone searching for their preferred topic using hashtags to find relevant posts.
Simply put, users and followers can use the # symbol to tag content under a particular category, whether they are photos, messages, or videos.
This means businesses that use keywords or hashtags related to their industry can amplify their reach and interact with prospective audiences looking forward to engaging with a particular content niche.
However, there are certain dos and don'ts when it comes to using hashtags on Instagram, such as using relevant and trending hashtags and not using excessively common or banned Instagram hashtags.
Benefits of Using Hashtags:
People notice your posts when you use top trending Instagram hashtags
As per a study, using even a single hashtag can help boost your engagement by 12.6%
Using unique instagram hashtags for followers can help your brand stand out, and may even be used by your followers and audience, amplifying your reach further
They help you to keep track of your brand's performance in terms of visibility and engagement on the platform
Another study found that an average Instagram post has 10.7 hashtags, while 50% of posts use fewer than six. Thus, using trending Instagram hashtags, or tags that are often being used by many accounts on the platform, can help boost your brand visibility and notch up your engagement rate higher.
Top Instagram Hashtags For Businesses
There is a logic behind how you can benefit more by using specific hashtags with smaller bulk sizes. First, it helps users find what they are searching for in a more convenient manner by filtering posts using hashtags. Second, identifying your niche increases the chances of marketing success. You will be up against only your core competitors and can ace the game by framing relevant and strategic hashtags.
For instance, a user searching for #clothing can find hundreds, or even millions of posts from competing brands and businesses; however, searching for #highwaistjeans or #straightlegdenims can help them find your clothing brand, which is more likely to improve leads and engagement for your business.
We have clubbed Instagram hashtags according to their categories or industries and have brought to you a list comprising the ten best Instagram hashtags across the top 11 active business categories on Instagram.
Take a look!
Fashion
According to experts, the following are the top ten fashion hashtags for Instagram: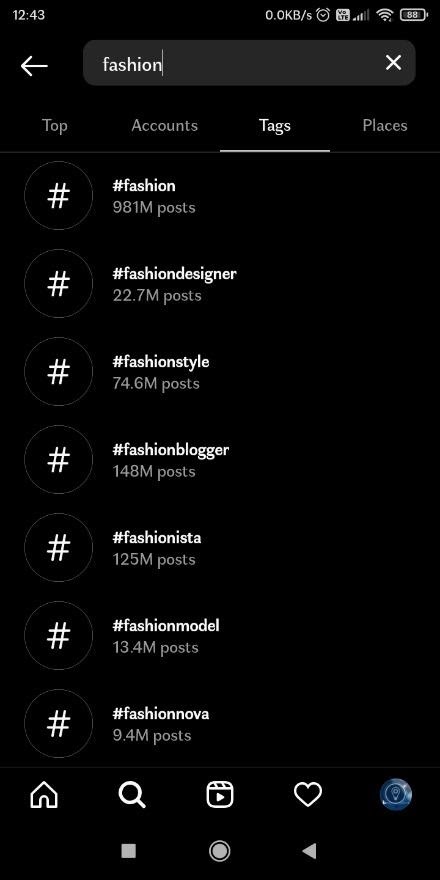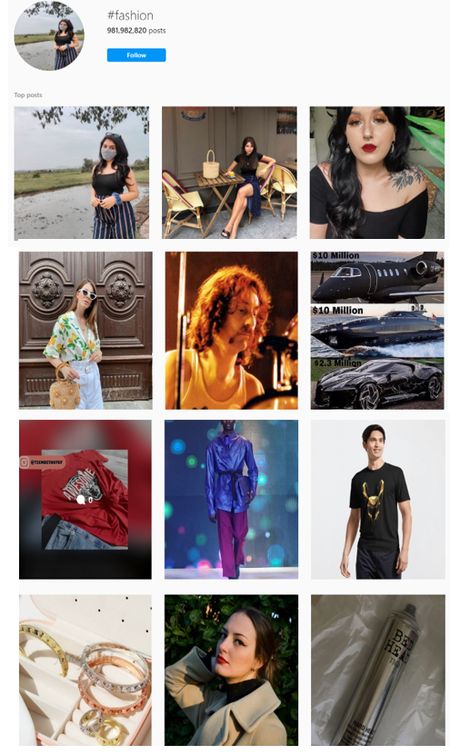 #fashion
#fashiondesigner
#fashionstyle
#fashionblogger
#fashionista
#fashionmodel
#fashionnova
#fashionweek
#fashiongram
#fashionphotography
Using tags like #fashionista and #fashionnova can help you gain instant visibility on Instagram among your followers and prospective clients.
You can add your own set of unique hashtags besides these top ten hashtags to improve brand presence by adding additional trending fashion tags to your posts, such as:
#fashionlovers #outfitoftheday #fashionaddict #fashionable #fashionistas #style
Food
You can use the following top hashtags to add taste to your 'gram food posts (pun intended!):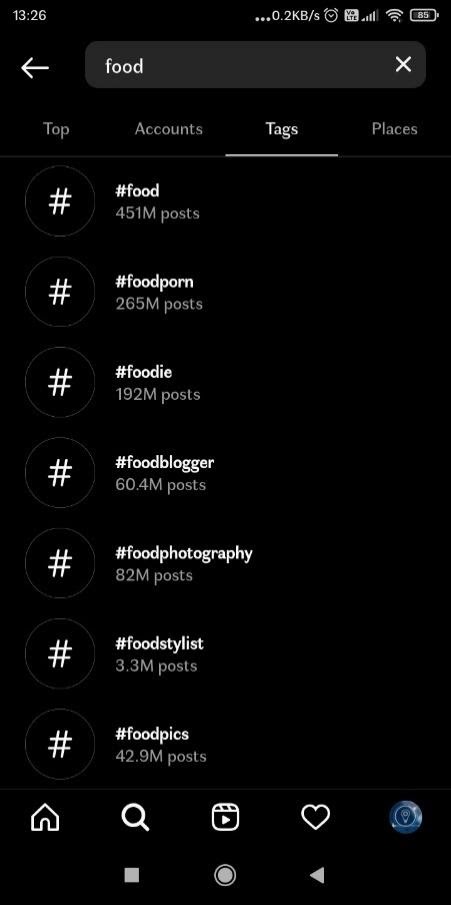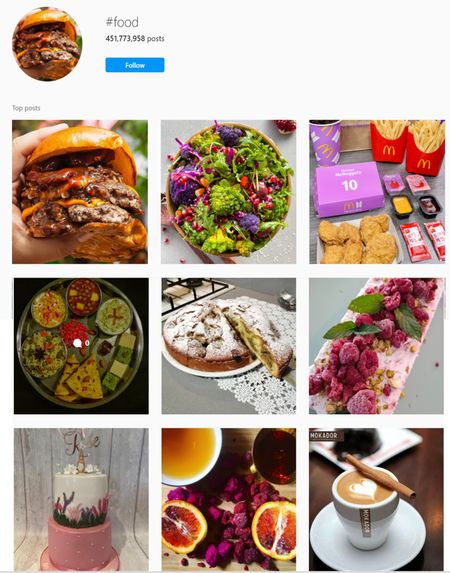 #food
#foodporn
#foodie
#foodblogger
#foodphotography
#foodstylist
#foodpics
#foodstagram
#foodblog
#foodpic
While #food tags may seem too common, it will always be easy to find anything related to food with the hashtag, so you need not worry about it becoming obsolete.
Moreover, using hashtags like #foodie and #delicious can make all the foodies take notice of your brand. If your food post consists of a specific meal, add a relevant tag — for example, #breakfast or #dinner— to help people who are truly interested find your post.
The following are a few more references on how to use hashtags on Instagram when you want to reach all the foodies' feeds:
#foodiesofinstagram #eats #instacool #instafood #foodgasm #foodoftheday
Fitness
Following are the top ten fitness hashtags on Instagram that can aptly fit with your posts on fitness: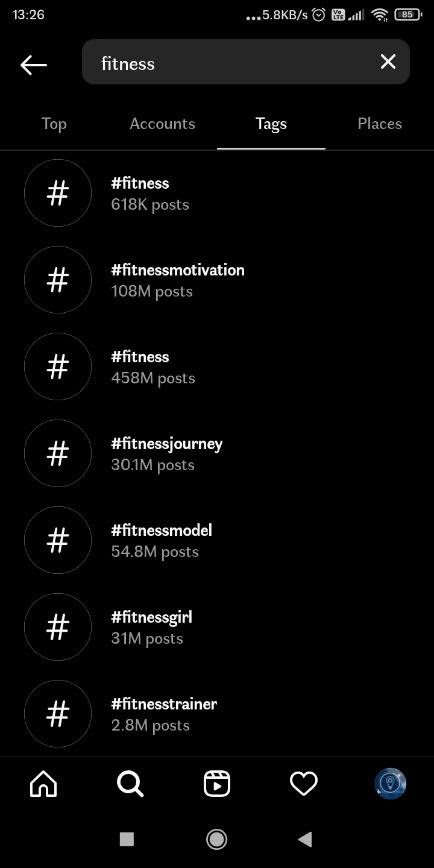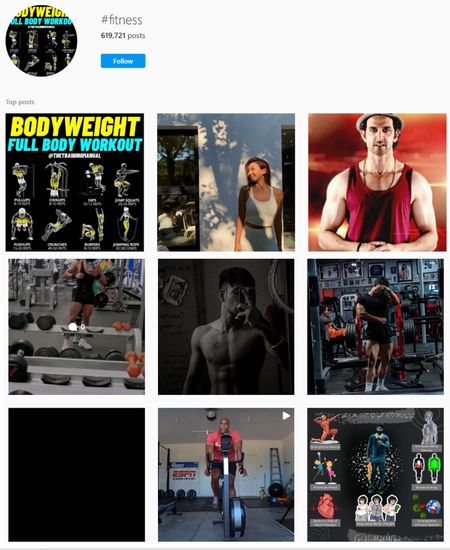 #fitness
#fitnessmotivation
#fitnessjourney
#fitnessmodel
#fitnessgirl
#fitnesstrainer
#fitnessaddict
#fitnesslifestyle
#fitnessgoals
#fitnesslife
The fitness industry is one of the few industries that seem to have benefitted from the COVID-19 pandemic, and rightfully so, with the change in daily routine making people more aware of their health.
The industry is gaining a lot of visibility on the platform, and you can find many fitness brands on Instagram by using trending hashtags. Some popular Instagram hashtags include #gym, #fitness, and #workout.
You can also include tags specifying certain types of workouts or exercises like #yoga or #crossfit.
So if you belong to the health industry, here are a few more suggestions to show you how to use hashtags on Instagram:
#fitsporation #fit #instafitness #gymlife #getfit #fitnessfreak #fitnesstips #workoutfromhome
Sports
You can be a bit sporty with the following sports hashtags for Instagram: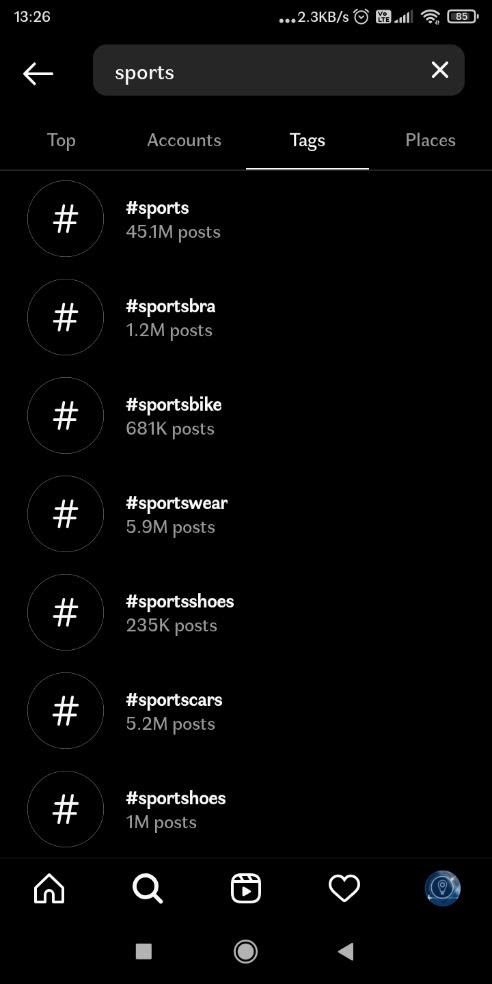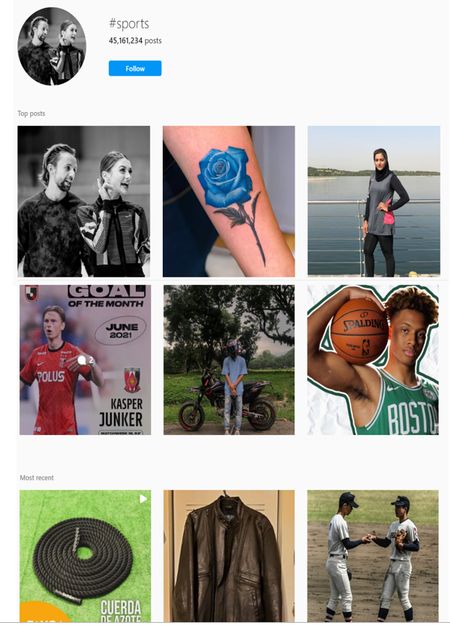 #sports
#sportsbra
#sportsbike
#sportswear
#sportsshoes
#sportshoes
#sportscars
#sportscar
#sportsphotography
#sportsnews
#sportscar
From professional athletes to sports clothing or marketing companies, all can use these tags to increase their brand engagement and visibility. Businesses promoting single sports merchandize or events can also widely gain from more specific and narrowed-down tags, such as #soccer or #NBA.
Other trending Instagram hashtags related to sports include:
#ball #sportslover #sportstraining #secondbase #athlete #sportsblog #sportsvideos #athletes #sportsperformance #sportslife
General Business
Connect with like-minded and other businesses by including these hashtags in your posts: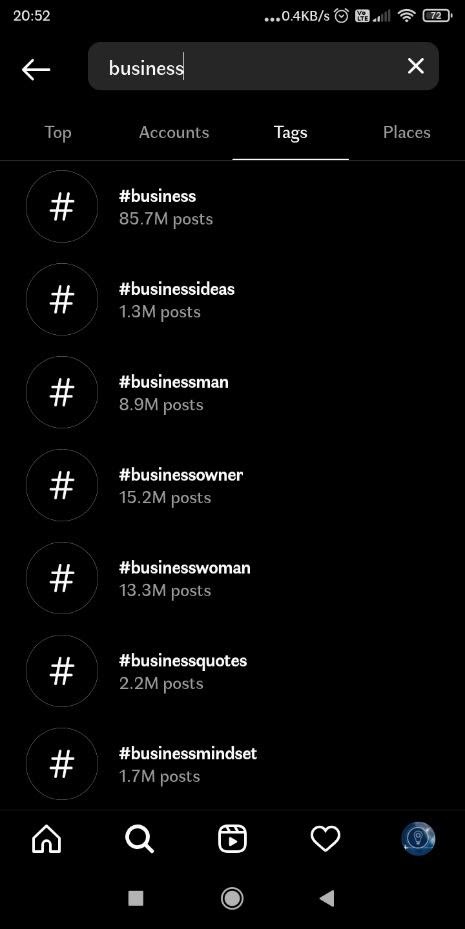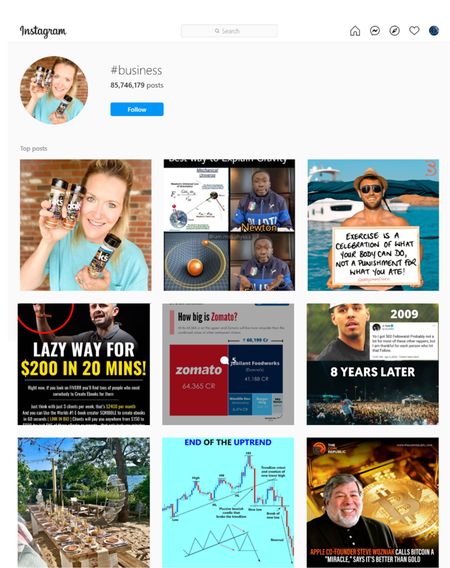 #business
#businessideas
#businessman
#businessowner
#businesswoman
#businessquotes
#businessmindset
#businesstips
#businessminded
#businessstrategy
Instagram has several business-themed motivational and feel-good posts. Get to business on Instagram by showing yourself as an expert and sharing your expertize in the field with #BusinessTips.
Tags like #businessowner or #businesscoach go well with motivational captions. Grab the attention of upcoming and aspiring entrepreneurs with your #expertbusinesstips on winning the business game.
Additional suggestions include:
#businesscoach #digitalmarketing #digitalbusiness #investing #wealth #money #startup #entrepreneur #cryptomarket #forextrader #billionaire #blockchain #success
Travel
Following are the top ten travel hashtags for Instagram you can use to make your feed look more adventurous: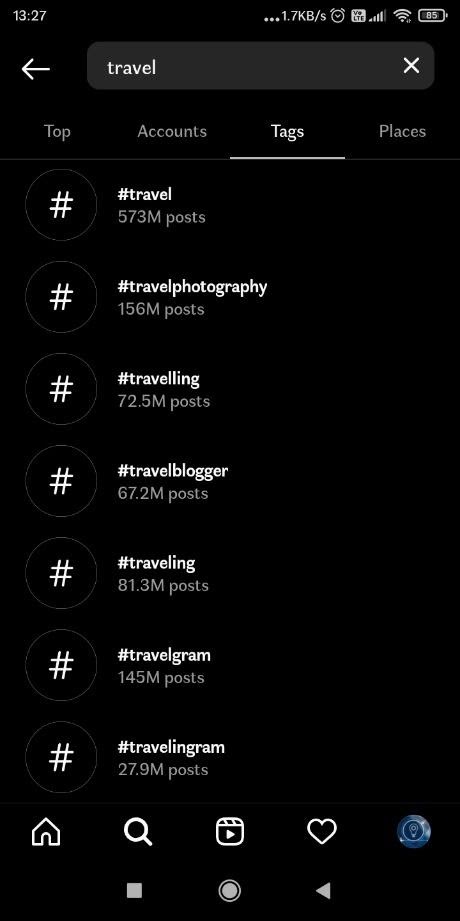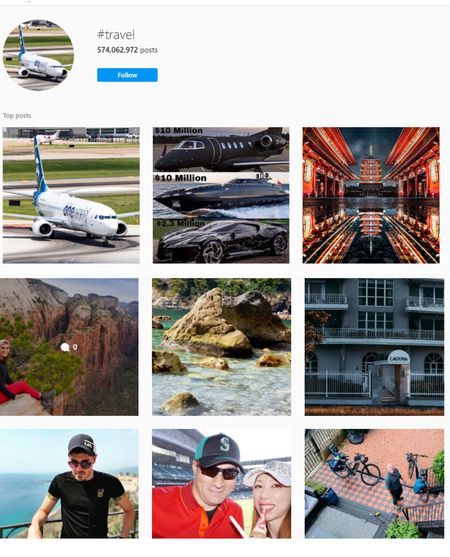 #travel
#travelphotography
#travelling
#travelblogger
#traveling
#travelgram
#travelingram
#travelgram
#travelblog
#traveladdict
#travelawesome
While your travel plans might have been put on hold due to the pandemic, it is interesting to note that many people have been posting Instagram travel posts and hashtags with eyes on their future travel plans, or even #throwback pictures to relive their most memorable trips. Most users include photography hashtags for Instagram while posting about their travel memories as it helps to target two different and relevant niches, photography and travel, together.
You can let your followers humorously know that patience always pays and that they'll be the first for whom you'll be arranging a trip the moment we can safely go on a #worldtour again.
Few more suggestions are as follows:
#travelphoto #wanderlust #travelpic #trip #travellife #travelers #traveler #naturephotography
Beauty
Add some glamour to your Instagram posts with the following beauty hashtags suggestions: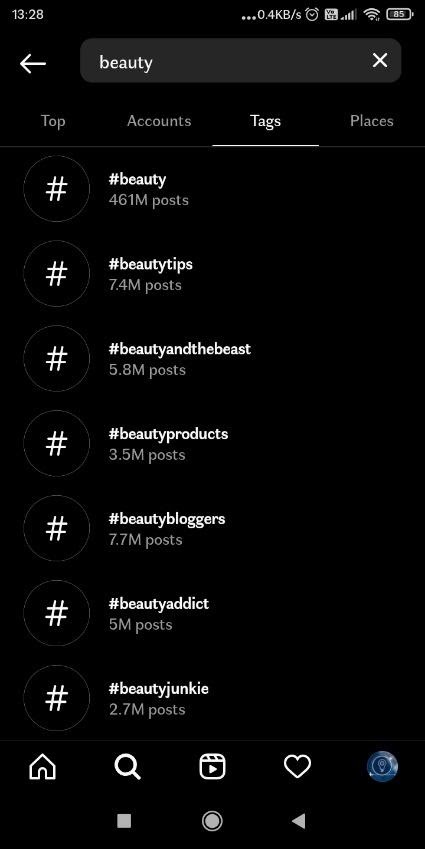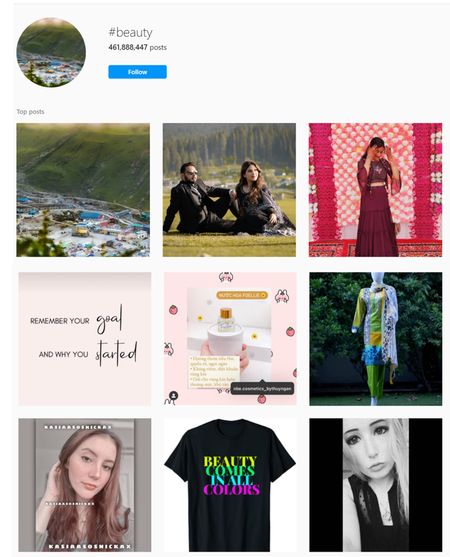 #beauty
#beautytips
#beautyandthebeast
#beautyproducts
#beautybloggers
#beautyaddict
#beautyhacks
#beautyblog
#beautyphotography
#beautyinfluencer
Choosing hashtags for beauty and makeup need not be rocket science: just ensure that you're a little more descriptive. If you are a brand writing about #beautytips, you can add hashtags like #beautyblogger or #beautyinfluencer.
Likewise, if you post about makeup tutorials or are talking about your favorite products, then you can experiment with hashtags accordingly.
Few more suggestions include:
#fallbeauty #beautymood #cute #skincare #pretty #fashion #makeup #life #style #beautiful
Lifestyle
Enhance your lifestyle posts engagement with these tag suggestions: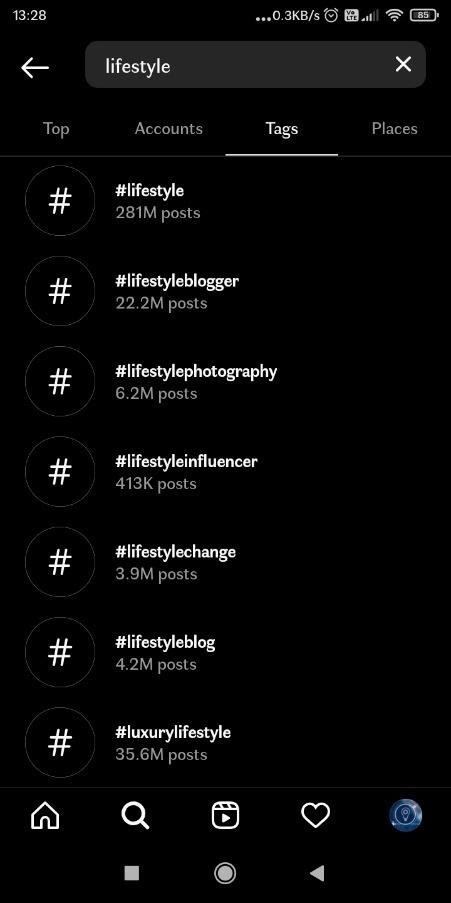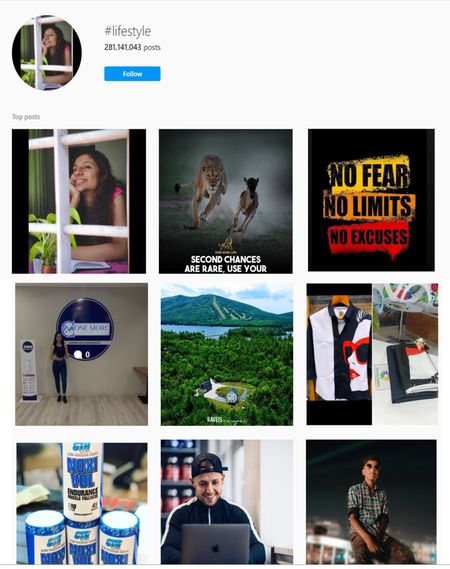 #lifestyle
#lifestyleblogger
#lifestylephotography
#lifestylephotographer
#lifestyleinfluencer
#lifestylechange
#lifestyleblog
#luxurylifestyle
#lifestylecoach
#lifestylebrand
Like sports, the lifestyle niche is another broad category where you can mix and match the trending hashtags from diverse sections — fashion, music, fitness. Feel free to add #lifestyle on each of your posts and with additional relevant tags such as the ones mentioned below:
#instagood #stylelife #style #healthylifestyle #entrepreneurlifestyle #veganlifestyle #inspiration
Music
Use these hashtag suggestions to let more people hear about your posts and enhance your overall brand presence: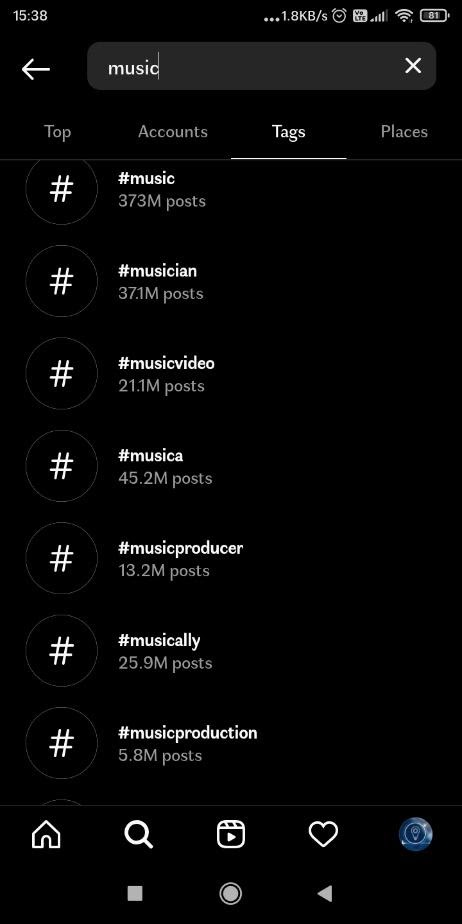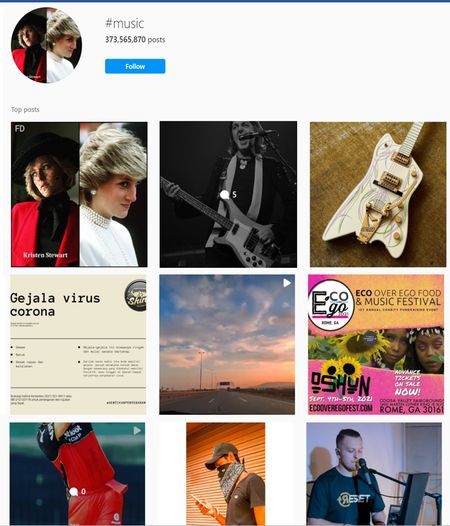 #music
#musician
#musicvideo
#musical
#musicproducer
#musically
#musicproduction
#musiclover
#musicislife
#musicians
By using tags such as #musiclife or #musicproducer in your posts, you can give your followers and overall viewers a peek into how you create music and give them a better understanding of the overall process.
Musicians and all those into music use this tag to grab the attention of their followers and make their music heard. Additionally, tags such as #musicians and #musically can also be used.
Some more suggestions include:
#bestmusic #musicwriter #igmusic #musicismylife #musicindustry #goodmusic #musicmaker #singing #songwriter
Interior Decor
Add these art hashtags for Instagram to your posts to boost your engagement and leads: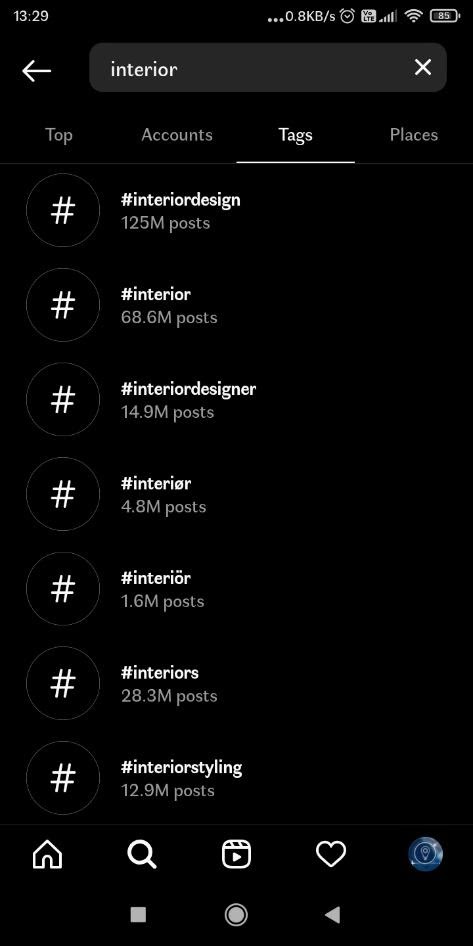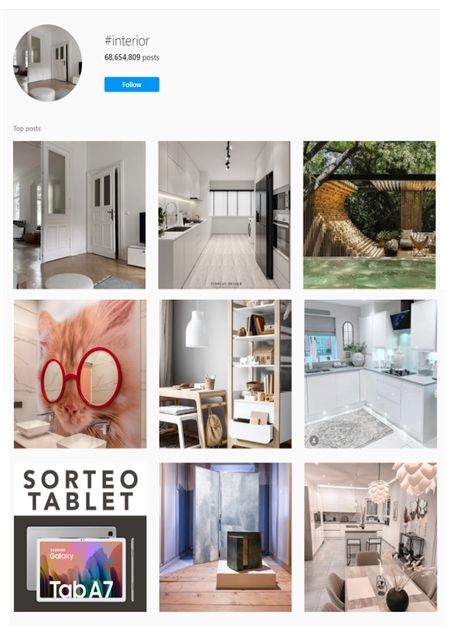 #interiordesign
#interior
#interiordesigner
#interiors
#interiorstyling
#interiorlovers
#interiordesignideas
#interiordecor
#interiorstyling
#interiordecoration
Like the beauty and makeup niche, this niche can do with purely descriptive hashtags. Also, with the work-from-home scenario becoming the new norm, you can show off your posts about home refurbishing or decoration to a larger audience with these hashtag suggestions.
Similar suggestions include:
#decoration #interiorproject #interiorandliving #interiorinspiration #architectsvisionrender #homedesign #style #handmade #realestate #homesweethome #designer
Pets
Using the following hashtag suggestions to make your posts look more pet-friendly on Instagram: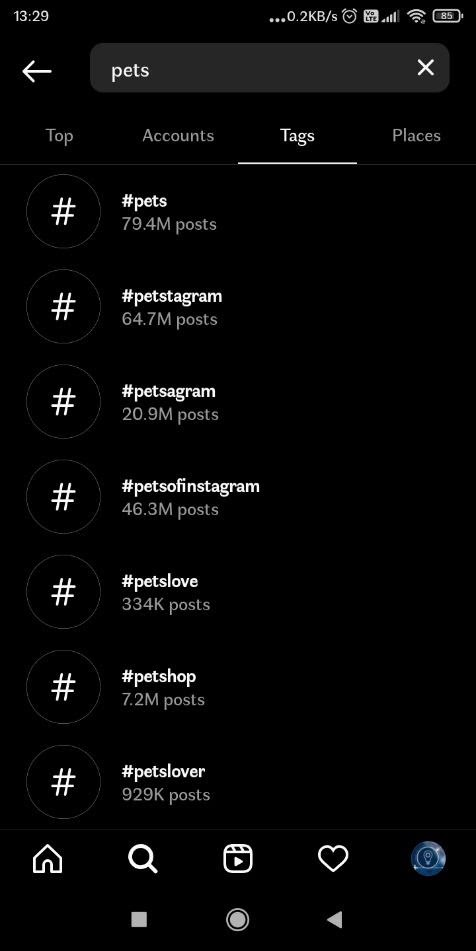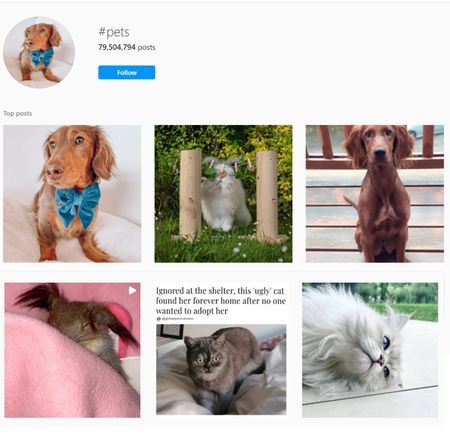 #pets
#petstagram
#petsagram
#petsofinstagram
#petslove
#petshop
#petslover
#petsofig
#petsathome
#petsdaily
With COVID-19 providing a lot of time at home, people with pets are fully utilizing this time to post about their pets and their antics on Instagram. If you wish that your brand reaches all #petlovers and #petowners on the platform, use hashtags suggestions mentioned above, in addition to tags such as #petsgrooming #animallove.
However, it is important to note that hashtags such as #dog and #cat, unfortunately, do not gain much visibility. Hence, besides the tag suggestions mentioned above, do include suggestions given below while posting about your lovely pets:
#petlove #animal #petoftheday #petlover #petlovers #instapet #dogsofinstagram #catsofinstagram #doggolove
Hashtags for Improving SEO
Besides using the industry niche, there is one more way to make your feed appear in the top searches — using top Instagram hashtags that are frequently used by all niches as part of their SEO strategy!
While we are not suggesting you force-fit all of these hashtags in every post, including certain tags from the following suggestions throughout your Instagram feed posts can help you fetch more visibility and engagement than expected.
Have a look at the top 15 Instagram hashtags of all time:
#love
#instagood
#happy
#fashion
#beautiful
#like4like
#selfie
#summer
#art
#instadaily
#photooftheday
#picoftheday
#photography
#art
#tbt
Do you find it tedious to discover niche-specific hashtags that instantly reach your target community?
With AI Assistant, you can tackle this hassle by generating the significant Instagram hashtags. With a few prompts, you can generate unique hashtags that instantly connect with your target audience. With SocialPilot's AI Assistant, your Instagram hashtag strategy is only a prompt away!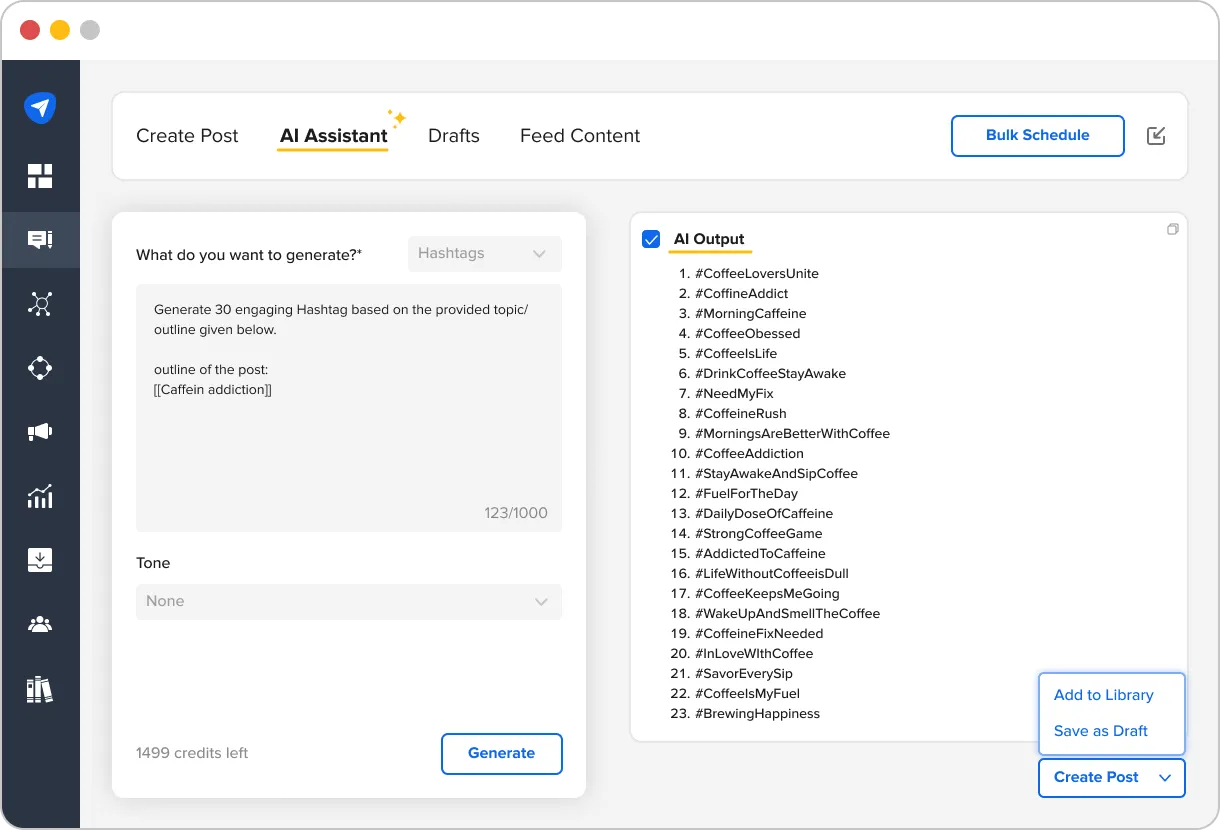 Be Ready to Remove Followers
You might use these hashtags in your posts and experience remarkable growth in followers. But, there can always be some pesky followers who are a nuisance on your account, and do more harm than good for your brand.
They will post irrelevant content, try to promote their brand, or are simply some trolls hired by competitors to derail your Instagram strategy. Such followers can drive genuine followers away from your brand if allowed to continue their shenanigans for too long.
In such a case, what do you do to protect your brand?
Simple, remove them from your account.
Now, you might be thinking about how to remove followers on Instagram. Here are the steps:
Step 1: Open Instagram and click on your profile picture.
Step 2: Click on 'Followers' beside your profile picture.
Step 3: Identify the follower whom you want to remove. You will see a remove button next to their name.
Step 4: Click on the remove button, and you are done!
Summing It Up
It is safe to say that with over 1 billion active users on Instagram, hashtags can benefit both B2C and B2B companies in terms of facilitating brand promotion on the platform, while serving as a great tool to attract the right audience.
It is important to stay abreast with the latest trends and ideas of your industry. Discovering and understanding the current content trends play a key role in deciding which hashtags to use. You can use sophisticated tools, like SocialPilot, to discover trending content and frame hashtags for your brand campaigns.