Have you noticed how some Instagram Stories have soulful music playing in the background as the Story progresses?
Music evokes memories and feelings. It makes us nostalgic. Adding music to your Instagram Stories can give a sneak peek into your brand's philosophy and connect with your followers at a deeper level.
500 million Instagram users use the Instagram Stories feature daily, and 4 million businesses use Story ads every month. But what makes Stories so popular?
Well, there are plenty of features, and music ranks high.
We're sure you must now be wondering how to put music on Instagram Stories to make it more lively and fun, right?
This blog will take you through the process of putting music on Instagram Stories.
Keep reading!
What is the Instagram Music Sticker?
Instagram has several stickers to make your Stories interactive and visually pleasing, and music stickers are one of them. Instagram introduced music stickers in 2018 to let you add music to your 15-second Stories.
Methods to Add Music to Your Story
There are multiple ways to add music to your Instagram story. We'll take a look at each one step-by-step.
1. Adding music from the Instagram library
Let's first look at how to add music from the library in the Instagram app. Here are the steps to do so:
Step 1: Open the Instagram app on your device.
Step 2: Find the "Your Story" icon on the top-left corner of the screen.
Step 3: Tap on the icon. Instagram Stories camera will open. Take a picture or a video, or upload an existing one from your camera roll.
Step 4: Once you upload a video or photo from your mobile, tap on the music icon at the top of your mobile screen. If you are an Android user, find and tap the sticker button at the top of the screen. And then choose the music sticker. This will take you to the Music Library.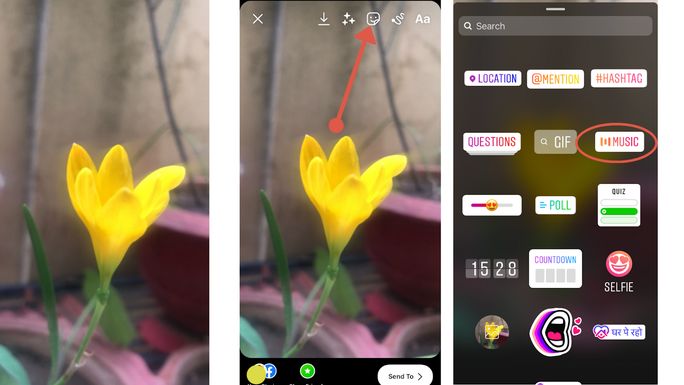 Step 5: Use the search option to find the soundtrack you want to use for your Story. You can search based on the name of the song, album, or artist. Below the search bar are two options, "For You" and "Browse."
The "For You" option is a list of songs suggested by Instagram for your Stories, while the "Browse" option, as the name suggests, is for you to manually search songs. It also has songs categorized according to music genres, popularity, and moods.
Step 6: After finding your favorite song, you can choose that part of the song which you want to include in your Story (remember, one Story lasts only for 15 seconds.)
The soundtrack that you choose will appear as a sticker in your Story. In case you are using a static image, the song will play for 15 seconds. Whereas for a video longer than 15 seconds, Instagram cuts it into 15-second segments, and the song will play till the video runs.
Instagram also offers lyrics for some songs, which are displayed on the screen when your Story is played.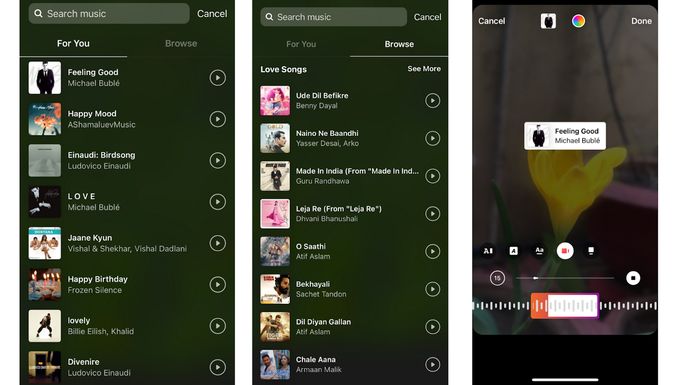 Step 7: After choosing your favorite sticker, tap "Done" and the song added to your Story as a sticker. Some songs have multiple sticker images from which you can choose your pick.
Step 8: The music sticker can be moved and placed anywhere in the Story. In the case of a recorded video, you can pin the music sticker to a person or an object in the video, which means the sticker will also move as the object or person moves. You can also change the size of this sticker by adjusting it with your fingers.
Step 9: Your Instagram Story is now ready to upload with your favorite music playing in the background. Just tap "Send To" and your Story will be live!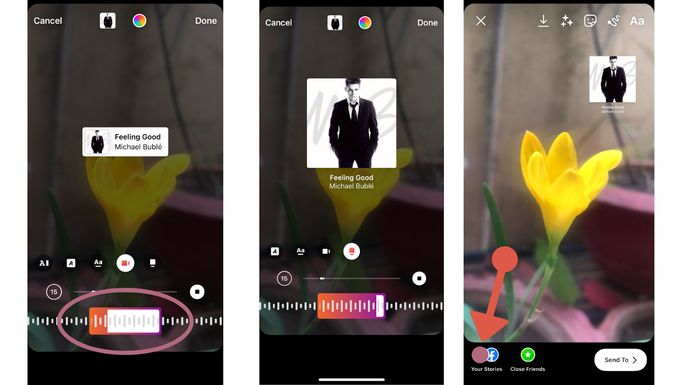 2. Adding music from streaming services
The next option is to add music from the music streaming services. You can add music from streaming services like SoundCloud, Spotify, and Shazam. You need to have these apps installed on your smartphone if you wish to add songs from any of these services.
Adding songs to Instagram Stories from SoundCloud
Step 1: Open the SoundCloud app on your mobile phone.
Step 2: Select the song you wish to add to your Story.
Step 3: You will find the share icon on the song that you chose. Tap on that share icon and select Share to Instagram Stories to add that song to your Story.
After the Instagram Story is published, it will work as a link to the song on SoundCloud. While viewing the Story, you can tap Play on SoundCloud to listen to that song in the SoundCloud app.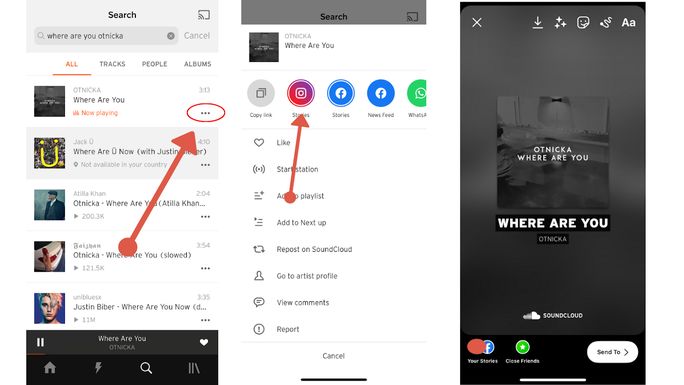 Adding songs to Instagram Stories from Spotify
Step1: Open the Spotify App.
Step 2: Search for the song you want to share through your Instagram Story.
Step 3: Click on the Share option, and select the share with Instagram Stories Option. You will be taken to your Instagram Story where the selected song will appear.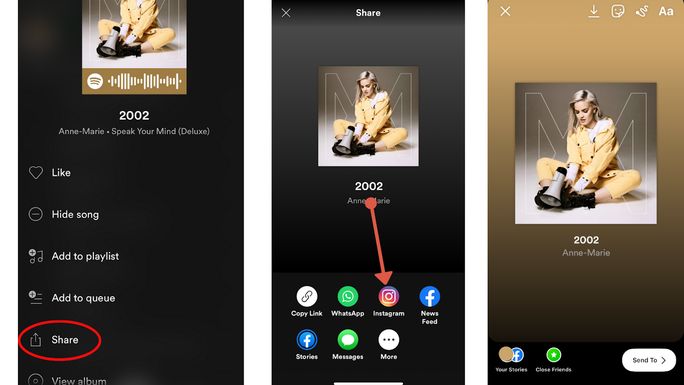 Adding songs to Instagram Stories from Shazam
The Shazam app offers the additional feature of helping you to identify the song playing near your device.
Step 1: Search for your preferred song or use the app's feature to identify the song playing near your device.
Step 2: Tap the More icon, and select Share.
Step 3: Select the option to share with Instagram Stories. You will be taken to your Instagram Story where that song will be added.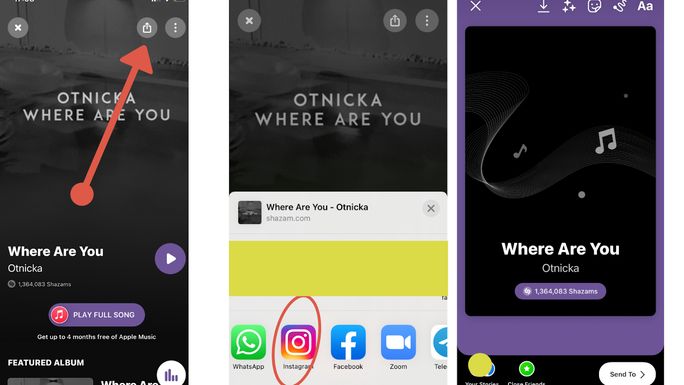 How to Add Music to Instagram Story If You Don't Have the Music Sticker Option
The Instagram music stickers are not available worldwide. There can also be instances where you cannot find the stickers because of technical glitches.
Top reasons for not having music stickers on Instagram
Music features are not available in your country
Your app is not updated, thereby facing technical issues
If you are trying to share branded content ads, you won't be able to use stickers because of copyright laws and Instagram's advertising policies
Don't worry, we've got you covered on how to add music without stickers!
Here's how you can add music without stickers:
Step 1: Open any music streaming app (Spotify, Apple Music) on your device.
Step 2: Start playing the song you want to use.
Step 3: Switch to open your Instagram app and record your video. The music will be automatically integrated with the video. However, here you won't be able to add lyrics or music album covers.
When you add music this way, Instagram will check your Story for copyright infringement. If any copyright violations are detected, the sound from your video will be removed.
Pro Tips For Using Instagram Music Stickers
Use the "Sound On" sticker: It's good to remind your followers to turn the sound on so that they don't miss out on the perfect song you took so much effort to pick.
Familiarize yourself with the music sticker feature: When we are trying something for the first time, it's always better to familiarize ourselves with it before putting it into effect. Explore different ways you can add music to your stories, search for your favorite songs, and learn to ace the process.
Keep your followers in mind: Try using songs that your followers prefer and can relate to easily. This way, you will get more engagement.
Try different ideas: Don't limit yourself to the usual music themes for your stories. Think out of the box. You can always take inspiration from your competitors and the accounts you follow.
Find the part of the song that resonates with your Story: You don't have to choose the part of the song that Instagram recommends; you can customize it according to the requirement of your Story.
Here are some BONUS tips to effectively leverage Instagram Stories:
Make Instagram stories an integral part of your marketing strategy. You wouldn't want to miss out on a feature that's viewed by 500 million users daily, would you?
Use features like polls, question stickers, hashtags, and geo-tagging to help you boost your posts' engagement and visual appeal.
Use filters to make stories appealing.
Followers love to know what you do apart from your work. Use Stories to give them an insight into your daily routine.
Use Stories to show what's going on Behind the Scenes.
Make fun boomerangs to keep your audience entertained.
Make short How-to tutorials about how your products should be used.
Let There Be Music
Stories are a way of expression that allow you to express what you are feeling on social media. With Stories you can wholeheartedly express yourself, and make it more interesting by adding music. If you are leveraging stories for marketing purposes, not adding music is a bad idea for your marketing campaigns. Music has the power to take your Stories to that next level which can grab your brand more eyeballs and better engagement.
So, go ahead and express yourself by using that favorite song and build deeper connections with your followers. Take full advantage of Instagram stories to grow on this platform.
Scheduling your Instagram Stories can be a great way to regularly engage with your audience. You will have visibility regarding your posts and can accordingly plan time for engagement.
However, social media scheduling is better not left to be handled manually. You might have to upload several posts across multiple social media platforms in a day, and keeping a manual schedule is bound to lead you to planning errors.
Powerful social media scheduling tools, like SocialPilot, help you seamlessly plan your posting activities across multiple social media platforms from a unified dashboard. You can easily schedule your Instagram stories directly without any mobile reminders from SocialPilot for multiple accounts!
Not only stories, but you get to directly publish reels and posts on business accounts as well. Deal with all types of Instagram content from a single space without any struggle.
You can use this tool to ensure that you execute all your Instagram marketing activities in time without any oversights. Visit SocialPilot to learn more about its social media scheduling tool!