One social media platform that has captured the hearts and minds of many millennials is Instagram. As of 2019, it has 1 billion monthly active users. No wonder, Instagram is a must-have for any marketer targeting millennials.
The launch of Instagram's new online marketplace in March 2019 was good news for marketers, especially those whose target audience is millennials. The new feature is known as "Instagram Checkout," and it allows companies and brands to sell their products directly without leaving the platform.
It sounds like an exciting idea, but will it become the game-changing feature? It is too early to make any predictions, but it's definitely worth taking a closer look at how it all began?
When It All Started?
The large number of active Instagram users attracts a large number of marketers to the platform too.
Instagram also enjoys a higher engagement rate than any other social media network. About 2 to 7 percent of Instagram users interact with each post they come across on the platform.
Prior to the introduction of Checkout feature, brands only promote their products on Instagram. And, in order to purchase a product, a user had to exit the application or redirect outside of Instagram to buy it directly from the site.
The new feature is a natural move for the social network as Instagram's product executive Ashley Yuki believes that there is a lot of potential in mobile shopping."I love shopping, and it sucks on mobile. I think people abandon shopping flows now. I know I do. You just kind of give up."
Yuki says that 130 million people look at product tags each month inside the app. This number rose up from just 90 million in September. "There's just so much potential," Yuki added.
The point of Instagram Checkout is to simplify the shopping process for its users. However, what benefits does the Instagram Checkout feature bring to the table? Let's explore.
The Benefits of Instagram Checkout
A survey reveals that about 80% of the Instagram audience uses the app to check brands. The new feature, Instagram Checkout, will make their shopping experience easy and efficient.
The new feature allows Millennials to purchase directly from the app – an idea that every user loves. For brands, Instagram Checkout comes with the following pros:
A quicker and easy checkout process: Previously, after discovering the product, the farthest a user could go was to be redirected to the product page. Here, another process of purchasing started. Instagram shortens this process by allowing you to proceed to Checkout through a leaner process than before.
A drop in abandoned cart rate: With the Instagram checkout feature, the buying process is shorter. This reduces the chances of people leaving the buying process when in the middle of it.
Improved conversion rate: A lot of excitement comes with seeing an image of a product. People would want to buy the product immediately, but the need to leave the app and fill out an order form can kill that buying urge. The Checkout feature results in more conversions than before.
Enhanced online presence for brands: Whereas companies had to create their apps to increase their access to consumers in earlier times, this has changed as brands in the US can now market and sell directly on their Instagram page.
The more convenient buying process: Shopping on a mobile device was sometimes challenging as users had to visit a brand website on a computer or tablet as filling out an order on the phone might be tricky. It just got much more comfortable as Instagram moves users slowly from where they have seen the product to Checkout and confirming purchase. These prospective buyers can buy conveniently right from wherever they are.
Introducing the Instagram Checkout feature benefits many online businesses, but how does it benefit Instagram itself?
What's in It for Instagram?
Whereas Instagram, like any other platform, strives to grow in popularity amongst both existing and potential users, it stands to gain from any new features it adds to its platform. Instagram will get a "selling fee" for their services.
The amount or percentage is not out yet, but as much or as little as it might be, it will be of importance to future Instagram developments and innovations. The brands know the benefits of the Checkout feature. They are ready to share a small percentage of their proceeds with Instagram as the number of companies participating in the Instagram Checkout is increasing.
How Does it Work?
The whole process is super easy. A user just has to click on the tagged image, and the product details will appear.
Clicking on the product will lead a customer to the "Checkout on Instagram" product page. On this page, they can see all the details, including size, color, shipping fee, etc.
All your customers have to do is enter their name, email, billing information, and shipping address, and click the "Place Order" button. It's as simple as that.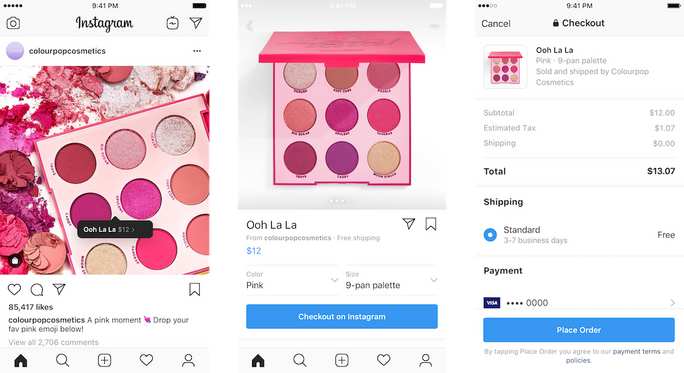 If you're a retailer considering having your products on Instagram Checkout, there are the following few adjustments that you will need to make.
All new products will use Checkout: It means that with every new product, they'll go through a direct process on the Instagram Checkout. You'll no longer be able to attach links to external websites to your product. However, it only applies to your customers in the U.S. For your international customers; however, you can tag your products to a link to an external website.
Prices in USD: Instagram Checkout only supports products with prices in USD. If your products are tagged in other currencies, Instagram will link to an external website.
Instagram Commerce policies and Merchant terms: To have your product on Instagram, Checkout means you are subject to Instagram commerce policies and merchant terms. Make sure you have carefully read and understood the policies which are related to customer service, inventory, shipping, and return/refund requirements. All the information your clients will provide in the event of purchase will be saved and restored safely. This information can then be used for future purchases. The Checkout feature on Instagram may be new in the online marketplace, but it looks to be efficient. All you need is a winning formula to capitalize on the advantage Instagram's Checkout offers to you.
The Winning Formula
There is no surprise as to why Millennials are so excited about this new functionality. With Checkout, Instagram is now a combination of the best of both worlds.
Users can scroll through Instagram and make an instant purchase any time they find an interesting product right from where they are.
The aesthetics of Instagram, together with a simplified shopping experience, make the Checkout feature one of the best innovations Instagram has ever made.
Selling on Instagram will be more successful if you promote your products well on the platform. One common way is by using Instagram Stories. Here, add your best-sellers as Highlights. This makes it easy for online shoppers to find their favorite products.
An example of such a practice is below.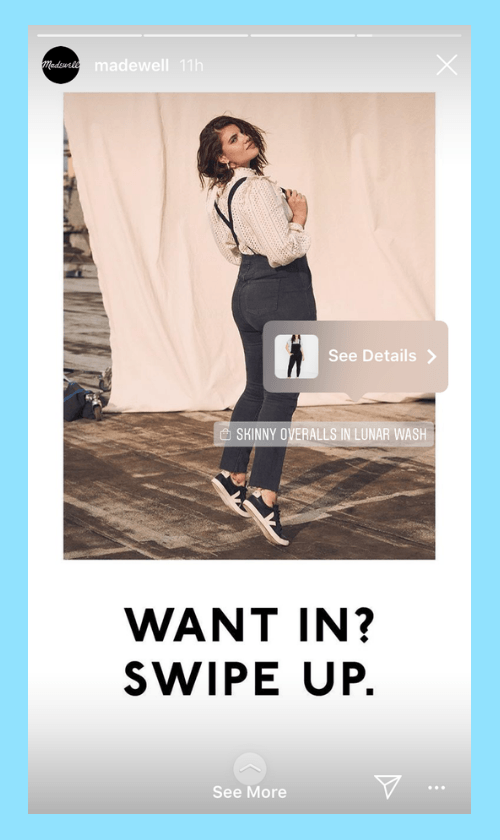 Instagram is now not only a marketing channel but also a sales channel. This comes out as a better way to attract target customers. However, how do you create Instagram posts that convert?
Create Posts That Convert into Sales
There are things you can do to turn posts into sales. Let's discuss some of them.
Using Images and Videos
The one place you will find it easy to promote your product as mentioned above is Instagram Stories.
You must ensure that you use images that are tailored to the Instagram Stories placement. The reason for this is that anytime you will upload an image or video to Instagram, the platform will try to alter it to fit the screen.
An essential part of your post could be cut out in the process, reducing the intended effectiveness of your content.
Remember that for videos on Instagram Stories ads, the billing is based on impressions rather than the watch time.
The amount billed for watching 1 second or the entire 15 seconds is the same.
Try your best to make the most of the 15 seconds video you will create, make it count.
Collaboration with Influencers
In addition to Instagram Checkout, the social media network has rolled out the Shopping from Creators feature. It allows influencers to tag specific brands they're wearing in posts. Tapping on the tagged product leads to a Checkout page where users can buy without leaving Instagram.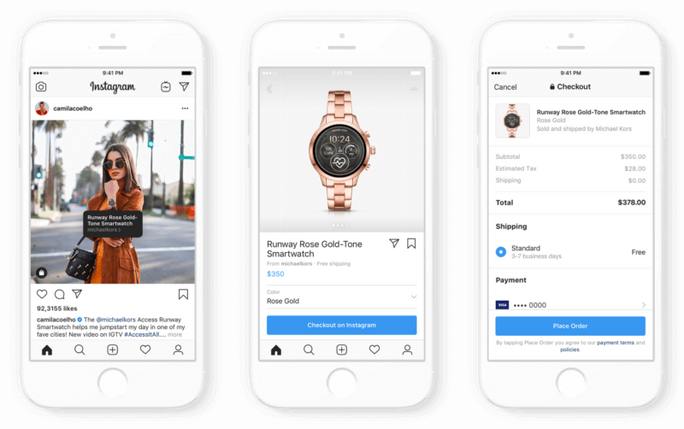 The new feature might increase the effectiveness of collaborations with influencers.
Influencer marketing can now become more than just a promotion tactic turning it into an additional sales channel for brands.
Disadvantages of Instagram Checkout
While Instagram Checkout poses a great opportunity for brands, especially in the apparel and lifestyle industries, there are potential problems we should discuss.
Discoverability of Products
Although Instagram Checkout is expected to bring a radical change in the shopping landscape, there are a few setbacks that could set it to fail.
The number of products a company posts on its Instagram stories is limited per day.
As compared to the larger volume of inventory of products the company has, no amount of Instagram stories or tagging suffices to show all products. Provided that Instagram Checkout only focuses on a posted product, how can customers discover other products?
Adoption of Brands
For a brand to have their products on Instagram Checkout, it has to hand over a percentage of the cost to Facebook, the owners of Instagram.
It is crippling for a brand to offer a large percent of the cost of products to drive sales on existing customers. Instagram Checkout is focused on having all transactions within the application, which inhibits brands from building a relationship with consumers to get them to shop again.
Ad Fatigue
The impact of having Instagram Checkout is that, to increase revenue, there will be an increase in the number of ads. While it may help companies drive sales and advertise, it is likely to cause a frown on the side of the consumer because nobody wants more ads in their life!
Now that you know more about Instagram and the new feature, Instagram Checkout, what next?
What's Next?
Instagram has founded a way to surprise its users once again and give them what they want. It may have started as a platform for sharing beautiful images, but it surpassed that level a long time ago. With this new functionality, they can quickly become the most popular online marketplace. Now, all that is left is to wait and wonder what does Instagram has in store for us next.