Social media is thronged with businesses of every kind and size from automotive, lifestyle, enterprises, to startups.
Boosting your brand in such a packed space can be nerve-racking.
So, how do you get your brand some attention?
The answer is, hashtags.
The right hashtags can get your business discovered while grabbing more eyeballs to your content.
On that note, here's our list of the top 15 industries of 2023 with popular hashtags in social media.
Top 15 Industries of 2023 with Popular Social Media Hashtags
1. Banking and Finance
The banking sector is accelerated towards innovation and ready to splurge its investment in tech, talent, and fintech, as per Forrester. Gen Z is an active disciple of financial education and is gorging on every opportunity to invest.
It is already a multi-trillion industry, and the valuation is spiking at a startling speed.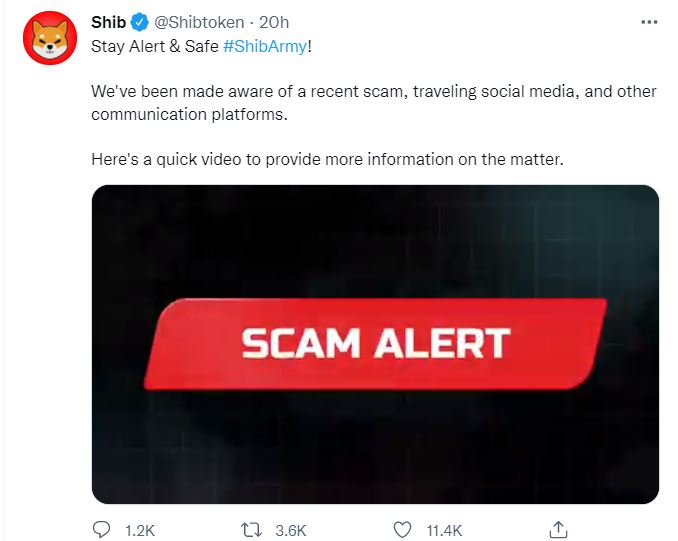 Shibtoken, a decentralized cryptocurrency, shares a video on scams on social media to educate its audience on how to identify and avoid falling in one. Since scam and mistrust are common hurdles of this industry at large, clearing them first is crucial.
The video went down well with the audience and received much attention. It received 1.2K comments, 3.6K retweets, and 11.4K likes in just 20 hours.
Popular Hashtags for Banking and Finance
#banking #finance #bank #fintech #finance #investment #bitcoin #crypto #cryptocurrency #trading
2. Entertainment
The Entertainment and Media sector is on a spree. OTT platforms have further fanned their fame and made entertainment accessible in every home.
The OTT video revenue alone amounts to $24.6 billion. The podcast market is also acting up in generating $1 billion worth of advertising revenue.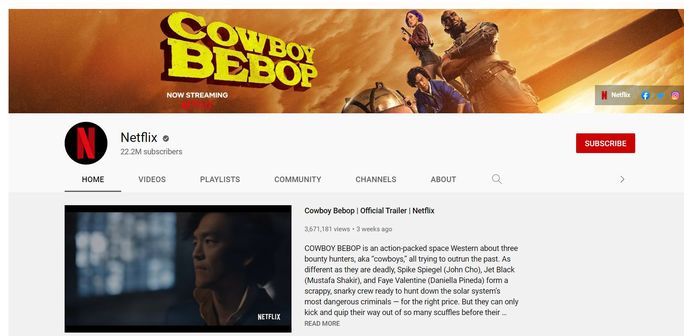 Netflix has a rollicking presence on YouTube to create the hype just right. It drops jaw-dropping teasers and trailers of its latest shows, making it irresistible for even non-Netflix users to sign in to the platform almost immediately. The subscriber count has already mounted to 22.2 Million on YouTube alone.
Top Hashtags for Entertainment
#media #news #press #marketing #entertainment #radio #podcast #advertising #branding #trending
3. Micro-mobility
Micro-mobility is the emerging industry of the year as more people become health-conscious and opt for green transport for commuting smaller distances. The global market has a CAGR of 17.4% and is expected to hit $195.42 by 2030.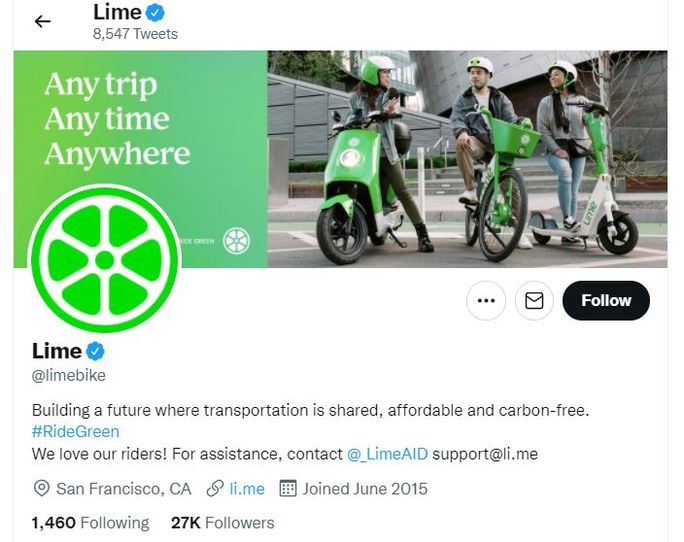 Lime is a green initiative to make rides safer for people and the environment. They use a branded hashtag of #RideGreento get user-generated posts and popularize the initiative. They are already taking social media by storm with regular posting and encouraging more people to switch to micro-mobility.
Best Hashtags for Mobility
#micromobility #escooter #electricscooter #urbanmobility #emobility #scooter #mobilit #escooterlife #electricscooters #escooters
4. Fashion & Beauty
The fashion industry will be a trillion-dollar industry by 2025, and digital presence will only speed up the process. 96% of beauty brands already have an impeccable social media reputation.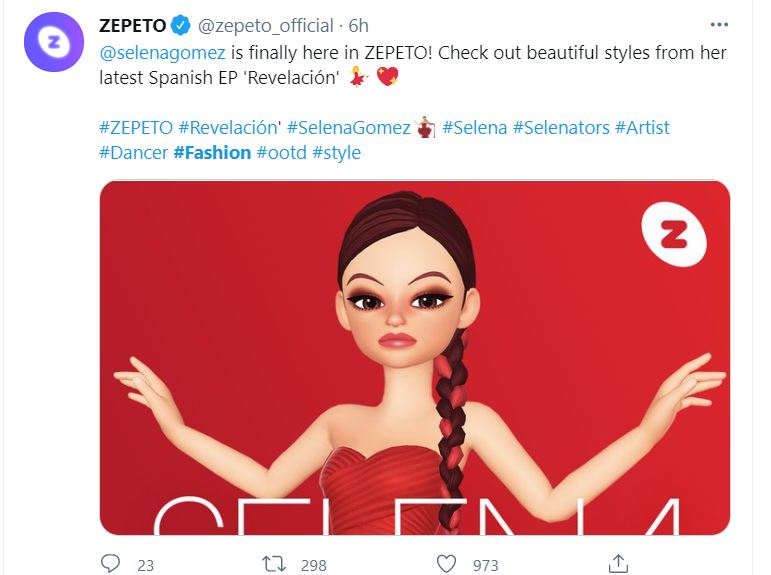 Zepeto tweets their beautiful fashion styles. They had decent engaging figures in just six hours.
Popular Hashtags for Fashion and Beauty
#fashion #fashionblog #fashiondiaries #fashionaddict #fashionweek #beauty #beautyful #blackbeauty #beautytips #beautyqueen
5. Hospitality
The hospitality and travel industry are expected to recover soon from the Covid hit. The hospitality industry is a business of more than $190 billion worth of revenue and is expected to surge in leaps and bounds once things get better.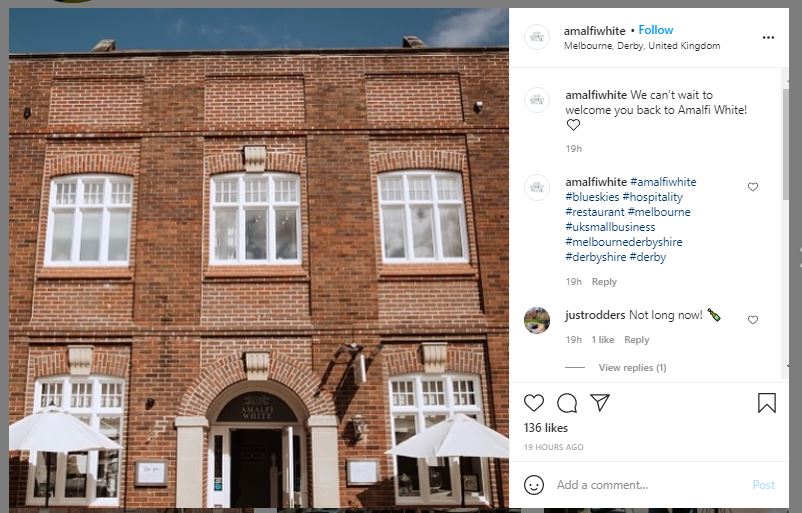 Amalfiwhite welcomes all to their luxurious hospitality in the United Kingdom. What better way of attracting tourists than a great Instagram post?
Top Hashtags for Hospitality
#hospitality #hotel #travel #hotels #restaurant #tourism #hospitalityindustry #food #hotellife #luxury
6. Health & Fitness
Health and fitness brands are booming on social media with DIY videos and tips from influencers worldwide. By the end of 2023, this industry will be worth $136.59 billion.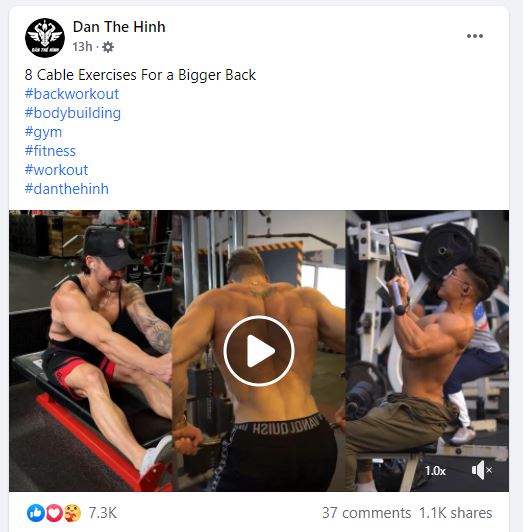 Dan The Hinh, a popular fitness Facebook page, posts workout videos. This fitness video got 7.3K reactions and 1.1K shares in just a few hours.
Best Hashtags for Health and Fitness
#health #healthylifestyle #stayhealthy #healthyskin #healthcoach #fitness #fitnessfreak #fitnessfood #bodyfitness #fitnessjourney
7. Food & Beverage
One of the most frequent uploads on social media undeniably falls in the food and beverage category. More than 30% of tweets and 60% of Facebook posts are dedicated to this niche alone.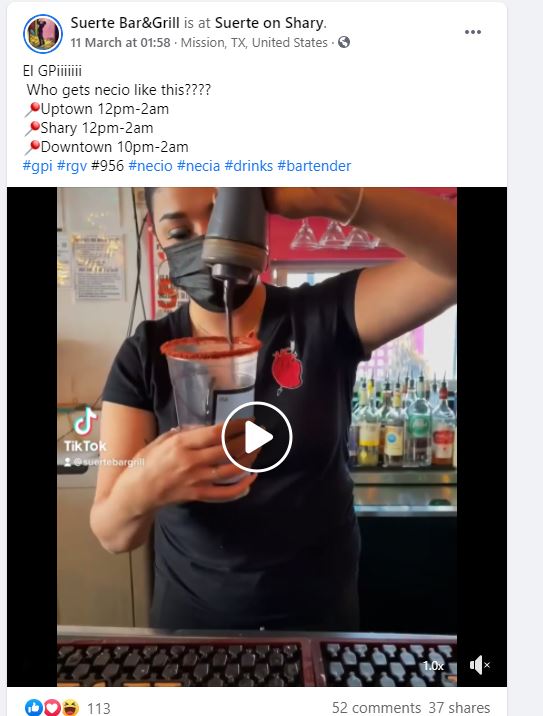 Suerte Bar&Gill shares their bartender's video preparing a refreshing drink which is enough to tempt everyone for a sip.
Top Hashtags for Food and Beverages
#food #foodpics #foodies #goodfood #foodgram #beverages #drinks #beverage #drink #cocktails
8. Home Decor
In a decade, online home decor has grown substantially. A compound annual growth rate of this niche is 4%. So, if you fall under this, it is the best time to wake your social media from hibernation.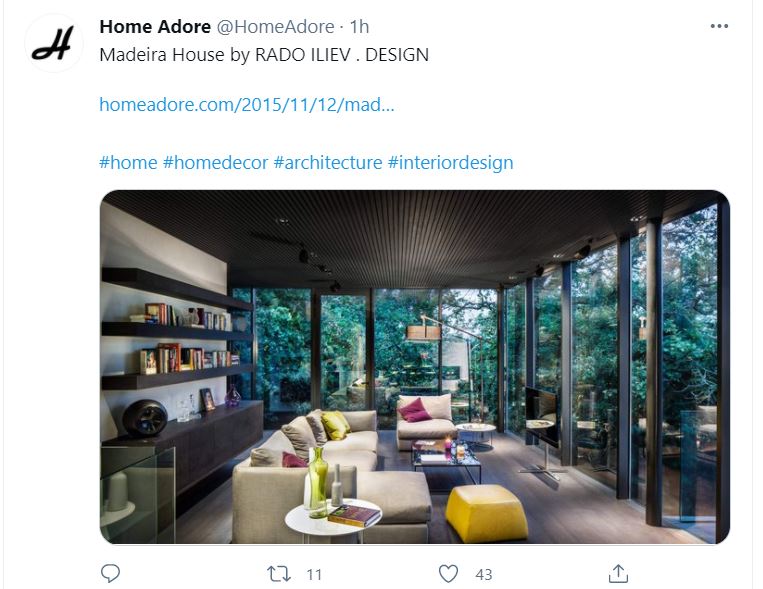 Home Adore tweets home decor ideas and inspirations. They already have 2.2M followers. Inspiration cravings done right!
Popular Hashtags for Home Decor
#homedecor #myhomedecor #homedecorinspo #homedecors #luxuryhomedecor #homedecorlover #home #interiordesign #interiordecor #interiordesigner
9. Real Estate
More than 2 million real estate agents reside in the US alone, and 70% of them are active on social media. So, hop on this bandwagon now to grab hold of every opportunity.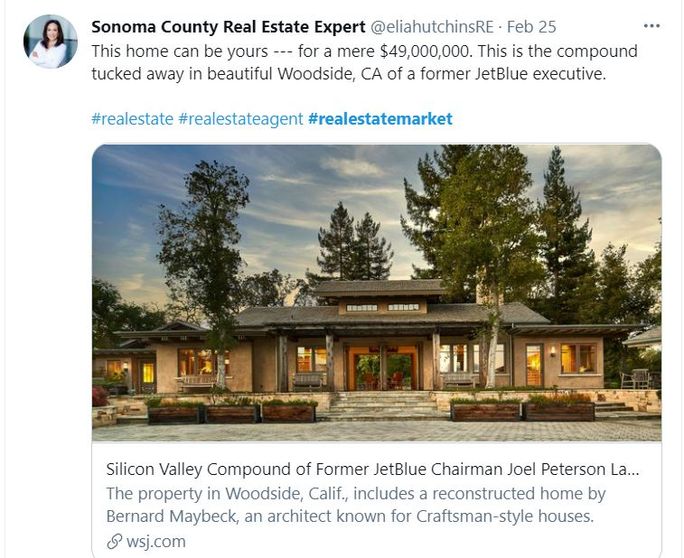 Sonoma County, a real estate expert, tweets about a stunning home in California setup. Like every real estate agent, they too tap into social media to skyrocket sales.
Best Hashtags for Real Estate
#realestate #realestatesales #realestateagents #realestatemarket #realestateforsale #realestategoals #realestateexperts #broker #luxuryrealestate #realestatelife
10. Dental
The dental industry is expected to surge to $698.8 billion by 2030. Using social media for this industry makes you a superior and trustworthy choice for nervous patients.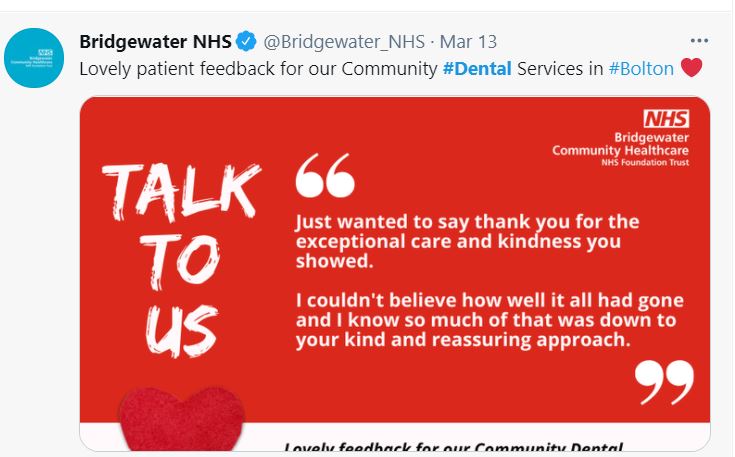 Bridgewater NHS tweeted a sweet customer testimonial to build trust in their services. And all of a sudden, dental doesn't seem so scary!
Popular Hashtags for Dental
#dental #dentist #dentistry #smile #teeth #dentalcare #dentalclinic #oralhealth #dentalhygiene #teethwhitening
11. Photography
Photography is a ubiquitous part of social media. Continuous upload of your work adds credibility to your portfolio, and you get more clients as you double your engagement and triple your reach.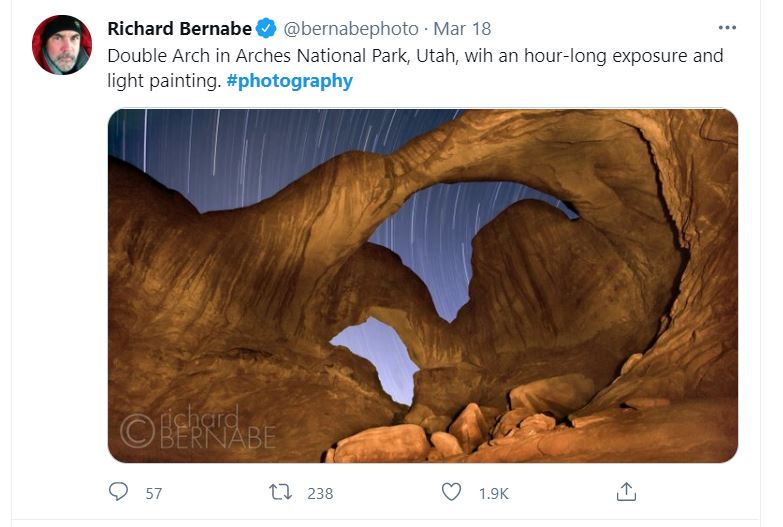 Richard Bernabe, a famous photographer, tweets his mesmerizing clicks. This Utah post got 1.9K likes and 238 retweets.
Top Hashtags for Photography
#photography #photooftheday #photo #picoftheday #photoshoot #travelphotography #portraitphotography #photographylovers #iphonephotography #canonphotography
12. Technology
More than 55% of IT buyers make a purchasing decision based on brands' social media profiles. And this number is significant enough to convince anyone in this niche to have an active social media presence.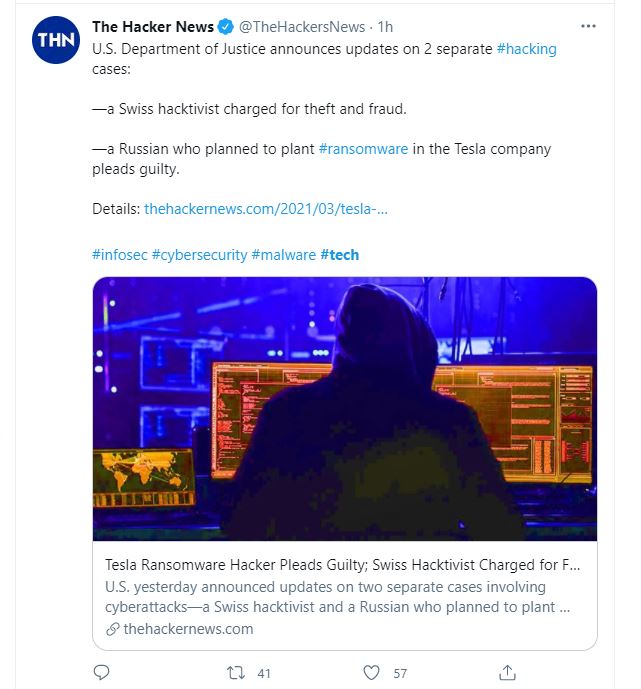 The Hacker News, a widely popular platform, is known for sharing intuitive tech news. They already have a 751K+ following on Twitter.
Best Hashtags for Technology
#technology #tech #innovation #engineering #design #business #science #technews #gadgets #smartphone
13. NGO
90% of NGOs worldwide use social media to reach out to people for support. A social media profile will bear the testimony of all the accomplishments made after donation campaigns. This can further boost future endeavors.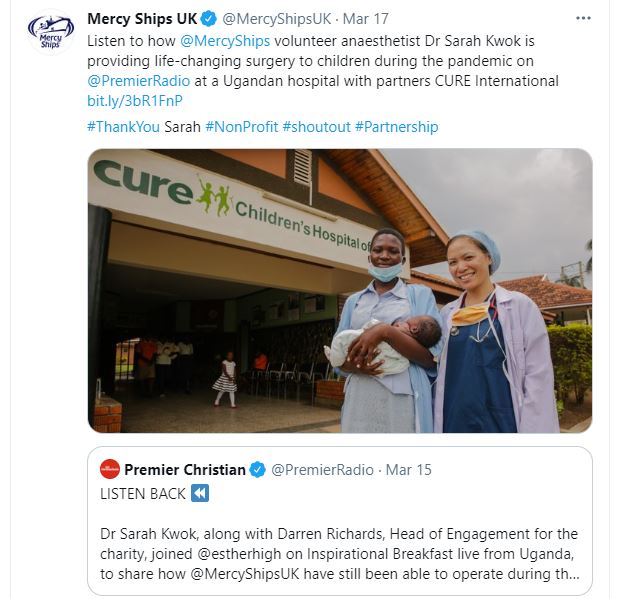 Mercy Ships is winning hearts worldwide by doing great wonders. Here's a post about their volunteer anesthetist who saved several lives in Uganda.
Popular Hashtags for NGO
#ngo #charity #nonprofit #support #fundraising #donation #socialgood #socialwork #philanthropy #nonprofitorganization
14. Education
The education industry has thrived in the past decade and is gearing again to reach newer heights. E-learning is expected to hit trillion dollars in 6 years. Evolving in this space is going to be a tough game, that's for sure.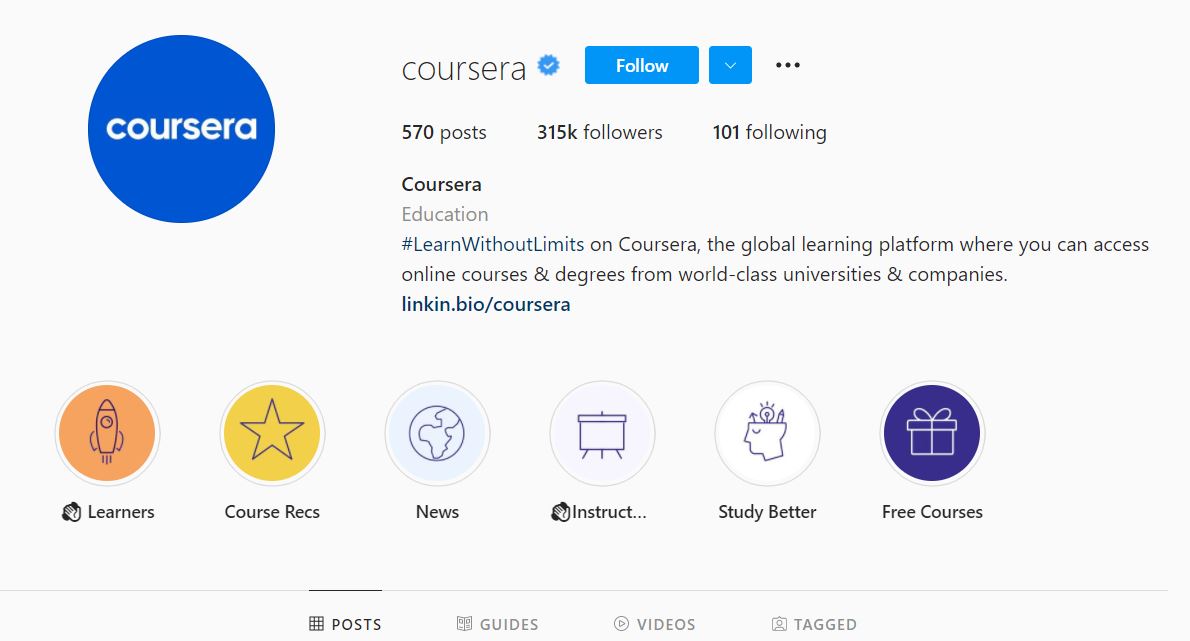 Coursera, a leading learning platform, has spread its promise of educating the masses from world-class universities. It has a dynamic presence on social media to motivate people to continue learning and upskilling in a self-paced environment.
Best Hashtags for Education
#education #learning #school #motivation #students #study #student #children #knowledge #college
15. Healthcare
Pandemic has further proved the dominance of the healthcare industry and its life-saving impacts. The industry will be worth $10 trillion by 2022.
The rise in healthcare will also lead to an increase in tech and manufacturing sectors as the global health issues intensify.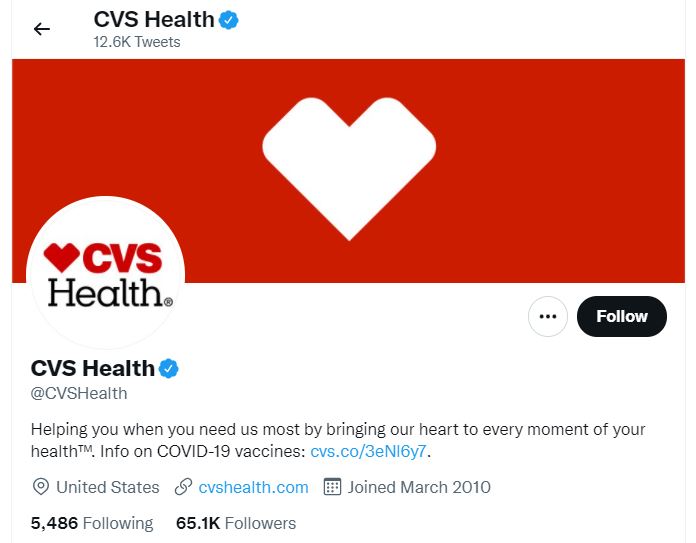 CVS Health is a leading pharmacy in the US that is active on social media to address health-related issues. They even collaborate with known athletes and famous figures to raise awareness and reiterate the importance of well-being.
Popular Hashtags for Healthcare
#healthcare #health #covid #medical #medicine #doctor #hospital #nurse #wellness #healthylifestyle
Preparing multiple hashtags for different industries can be a difficult task unless you are using SocialPilot.
With SocialPilot's AI Assistant, you can create hashtags for all the industries you are targeting. Let this smart tool analyze your social media post and rapidly generate a plethora of hashtags relevant to your industry. Additionally, you can conveniently store these hashtags in the Content Library and deploy them later using SocialPilot's advanced scheduling features. Generating and managing hashtags has never been so easy!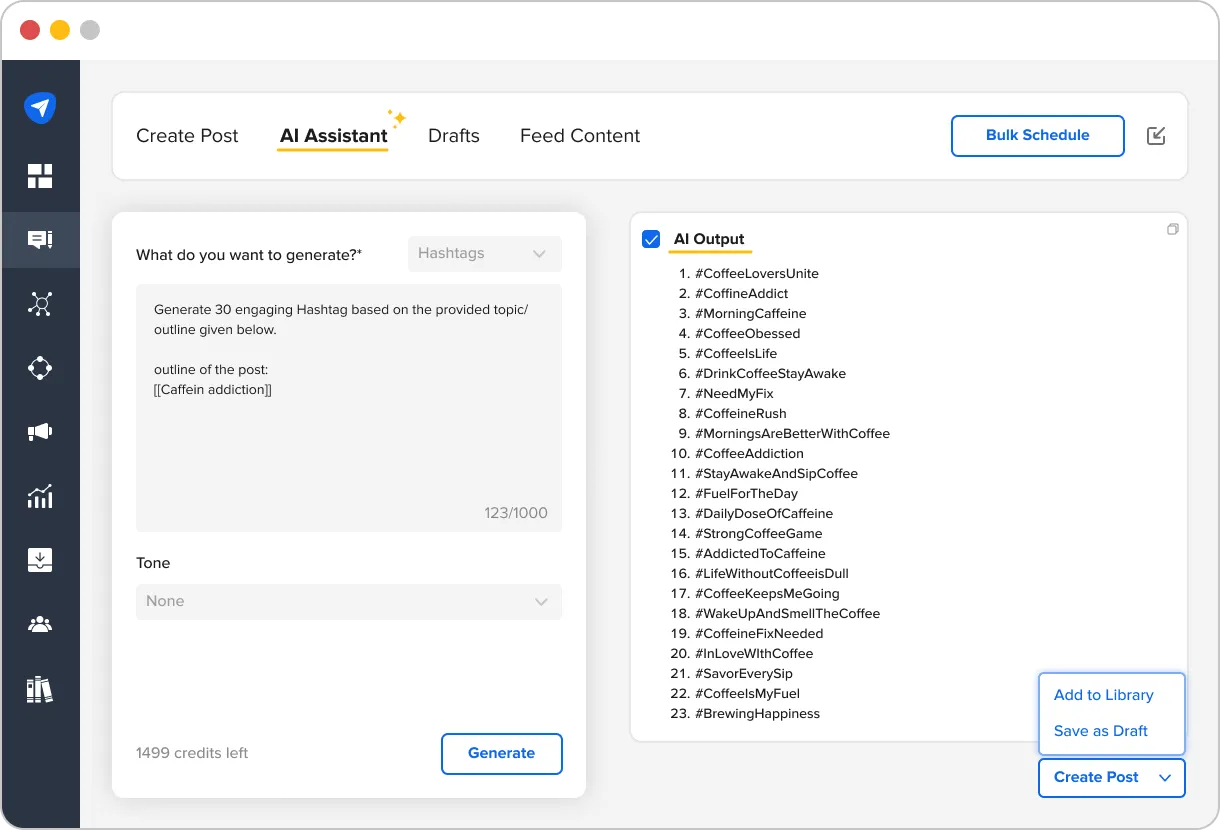 Conclusion
Social media presence has become mandatory for all industries. There's a pile of strategies you can use to get the upper hand, and it is often recommended to keep experimenting with them.
One such growth-hacking strategy is hashtag marketing. It doesn't just complement your posts with more reach but also serve as a social listening tool.
You can track your competitors and interested audience base by paying heed to the hashtags they use most frequently.
Sounds confusing? Get our Trending Hashtag Kit to make it easy for you.
Here's what you get
Social media hashtag calendar with 3600+ hashtags and content ideas
Multiple templates for major holidays and everyday themes
Hashtag guide to reshape your social media presence
So, hurry and download the kit now to amp up your social media efforts!