Are you confused about what hashtags to use in your Instagram posts? Or you want to save time and come up with effective hashtags in a matter of seconds? 
Congratulations! You have arrived at the right place.
Hashtags are seen as an unnecessary burden by some marketers, but that does not change the fact about how useful hashtags are to create a successful marketing campaign to reach your intended audience. It is a great tool if you want to increase the reach of your Instagram account. 
Hashtags improve discoverability by categorizing your post according to a list of hashtags. This not only lets you discover your audience using the hashtag but also lets your audience discover you. A person is most likely to engage with posts having hashtags. Therefore coming up with the right hashtags for the right post is very important.
This article is dedicated to helping you find the right Instagram hashtags generator for your social media marketing strategy. Let's go!
Why Should You Use Hashtags in Instagram?
Before proceeding with hashtag generators, let's briefly talk about why hashtags are important. 
You can call hashtags the social media version of search engine optimization. Hashtags enable your post to be a part of a larger conversation. It is a necessary part of social media marketing strategy. Here are some benefits of using hashtags:
Hashtags make your posts discoverable: Users can search for hashtags on the search bar or click on a hashtag in a post. Upon searching for that hashtag or by clicking a particular hashtag, all Instagram posts having that hashtag appear on the screen. 
If you use hashtags for which people commonly search, the chances of your post appearing on their screen significantly rise. Using relevant hashtags also makes it easier to find your post.
Hashtags encourage audience interaction: Hashtags allow your post to be discovered even by non-followers. It gives a push to your engagement rate as non-followers also comment and engage with your posts if they like the content.
Hashtags give clues on trending topics: You can gauge the current trends and themes by analyzing the hashtag search results. By searching for trending hashtags, you can see the kind of content that posts using the trending hashtags follow and take a cue from it to design an effective content strategy. 
Top 20 Hashtag Generators for Instagram
Articulating the right hashtag takes a lot of effort and time. You need to do research and do a fair analysis of what will work best with your target audience and content. Doing the job manually can be overwhelming as one cannot simply develop new hashtags for every new post or campaign by themselves.
This is where Instagram hashtag generators enter the scene. Hashtag generators are tools that provide you with effective and performance-oriented hashtags by asking for some general information from your end. They help you immediately find suitable hashtags and help in designing posts faster and better.
To save you trouble and time, there are lots of Instagram hashtags generators available online. These tools assist you in finding the perfect hashtags. 
Here are the top 20 Instagram hashtag generators which you can use for free:
1. INGRAMER
INGRAMER is a free AI-based hashtag generator. The website can generate hashtags by using keywords, images, and URLs. You can use INGRAMER to generate hashtags for social media platforms apart from Instagram too, like Twitter and Facebook.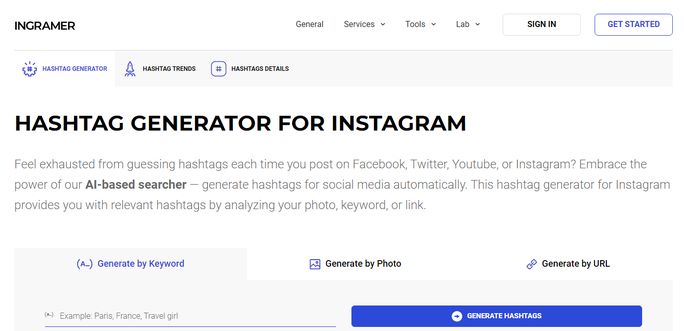 It is an easy-to-use tool. It gives you three different types of search results based on their popularity, niche, and frequency of use.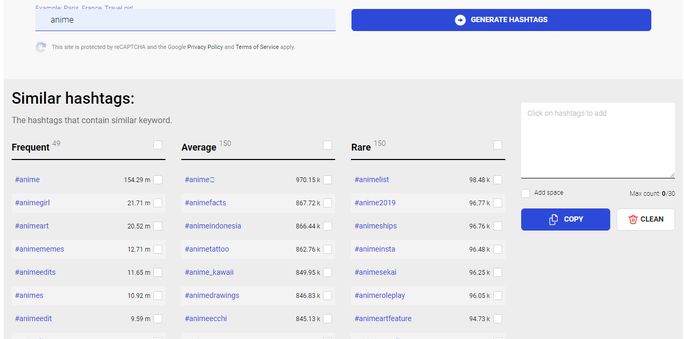 One of the specialities of INGRAMER is that it provides hashtags in all languages. This can be very helpful for businesses that want to target an audience with posts in their native language. 
For generating hashtags:
Step 1: Add an image by browsing through the existing files on your computer or 'copy and paste' the URL in the search box. If you are generating hashtags based on a keyword, type that in the search box.
Step 2: Click on "Generate Hashtags." The search results will show similar hashtags with their level of frequency.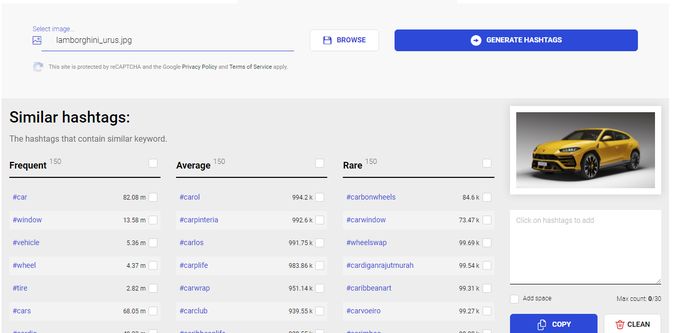 INGRAMER also makes sure that your content remains on the top by providing visual analytics for evaluating the hashtags that you have used in your posts. 
2. All-HASHTAG 
All-hashtag recommends you the top 30 hashtags that you can use for your Instagram post. The reason for recommending 30 hashtags is because Instagram allows a maximum of 30 hashtags per post. You can also explore more suggestions for popular, recent, and random hashtags by using the toolbar. 
To get started:
Step 1: You have to type keywords in the search box. The tool will generate the relevant hashtags. 
Step 2:  You can easily copy the hashtags using the 'Copy Hashtags' button.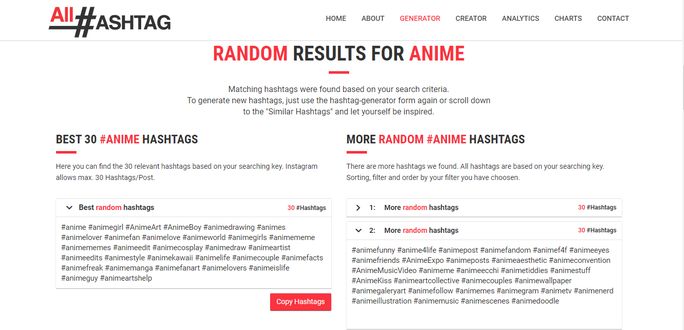 Along with suggesting hashtags, it also creates new hashtags by using its Hashtag Creator Tool.
Businesses can make use of hashtag analytics for getting data on hashtags and creating an effective marketing strategy. 
3. Kicksta
Kicksta is a free and user-friendly Instagram hashtag generator that provides trending, random, and best match hashtags that suit your keyword. This website can be used by influencers as well as businesses.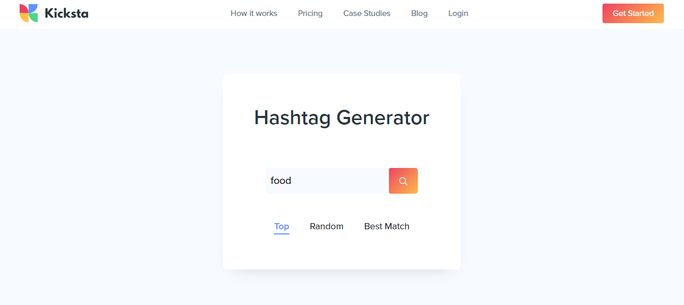 Kicksta also offers various creative and professional plans that guarantee the growth of your social media accounts. If you are not happy with their services after 14 days, your money would be given back, no questions asked.
4. MetaHashtags
MetaHashtags Instagram hashtag generator works similar to Kicksta. The website recommends thousands of related hashtags and the algorithm lets you choose the right ones. With the help of MetaHashtags, you can also know the hashtags that your competitors are using.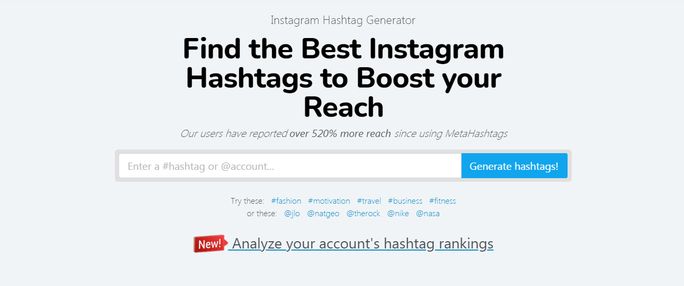 Though you can use this Instagram hashtag generator for free, there are several paid plans offered by MetaHashtags that provide you with several additional benefits. In case you are not satisfied with the plan after using it for seven days, you are eligible to get a refund.
5. HashAtIt
HashAtIt lets you find trending hashtags along with the hashtags used for the most popular keywords, links and "@" mentions. This tool can certainly improve your ranking in the Instagram feed.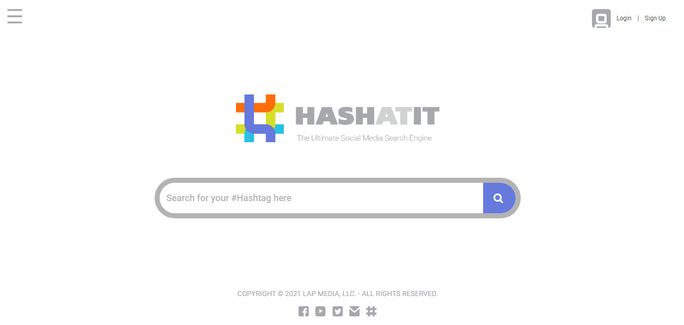 You can use the tool without signing in. However, to enjoy the advanced features, you will have to sign up on their platform.  
6. Display Purposes
This is one of few tools that filters out the banned hashtags by Instagram. It suggests only relevant and valid hashtags. Display Purposes can come in handy to increase your reach in a way that is acceptable to the social media platform. 

7. Top Hashtags
As the name suggests, Top Hashtags recommends you the top-performing hashtags for Instagram. This tool can also be helpful if you are stuck and don't have any ideas about which tags to use. Click on 'Random Hashtag Generator' and you will get dozens of suggestions.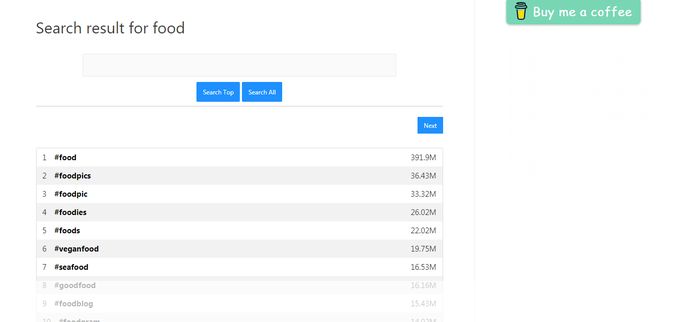 There is no need for any kind of registration or sign up to get started on this tool.
8. Influencer Marketing Hub 
Influencer Marketing Hub is an Instagram hashtag generator for influencers and social media marketers. The company has provided more than 44 tools and each one of them can be used across several social media platforms.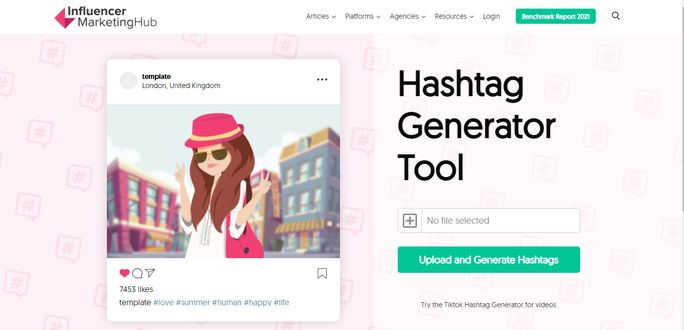 To use the other tools, you may have to pay a small amount, but the Instagram hashtag generator is free of cost. You don't even have to sign up to use it. 
9. TagBlender
TagBlender is one of the most unique Instagram hashtag generators. It lets you tag the image with more than ten different categories. Another thing you should know about TagBlender.net is that you don't have to write any keywords or enter URLs. Just select the categories and the website will provide you with trending hashtags.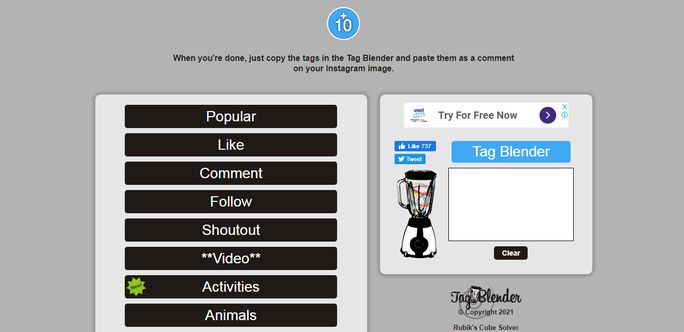 Owing to its simplicity, you can begin your Instagram marketing journey with this hashtag generator without wasting any time. This one of the best hashtag generators you can find online for free. 
10. Instagram Tags 
Instagram Tags will show you the most trending hashtags from Instagram on their landing page. As the website's algorithm is made to update itself every hour with popular hashtags, you can be sure that your post will be at its maximum reach.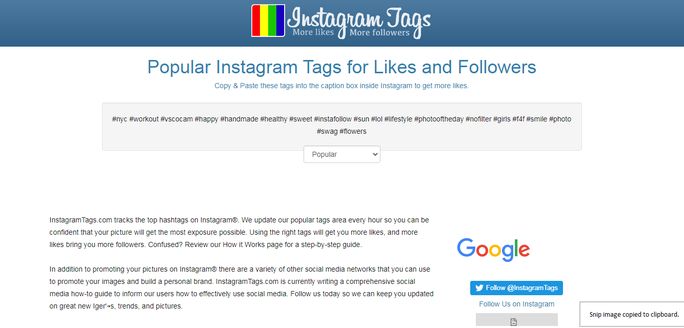 This tool can also be used for other social media platforms like Tiktok, Twitter, and Facebook. Even though the company is planning to include a monthly fee to use their tool, as of now, you can use it for free. 
11. Upsocial 
Upsocial doesn't believe in the 'copy paste' hashtags button, like other tools. They recommend hundreds of hashtags for you to choose from. It also provides a list of trending and random tags.

For generating hashtags, you will have to enter terms that fit the context of your post and then click on the search button. Now from the generated hashtags, just click on the ones you like to add to your Instagram post.
12. Tagstagram 
There are over 27 categories and more than 140 sets of different tags which you can choose from Tagstagram for your Instagram posts. To use this tool, you will have to download the application from the AppStore.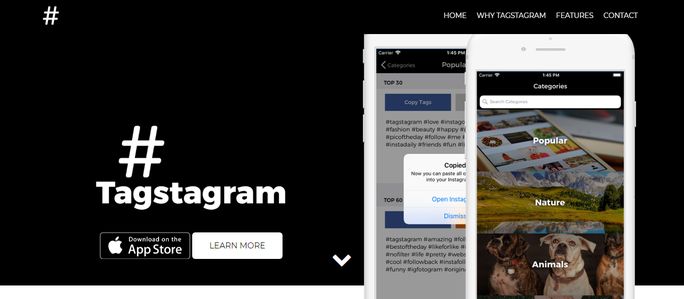 After you have found your preferred category, you can copy and paste the hashtags on your Instagram post. Tagstagram can also be used for generating tags for Twitter. Apart from pictures, one can also generate tags for logos. 
13. InstaVast 
InstaVast works just like INGRAMER. It suggests random hashtags based on your keywords, images, and URLs.This is a free tool, but you can get a bundle of Instagram monitoring services by paying a nominal fee.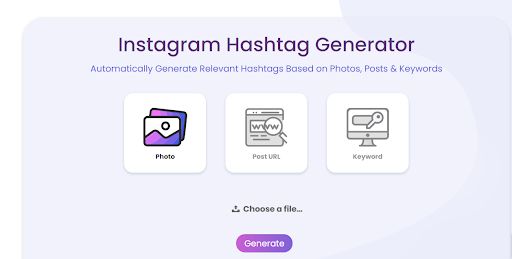 The website also displays banned hashtags and saves you from any unnecessary troubles from the social media platform.
14. Bigbangram
The tool suggests random hashtags from keywords, images, and links. Bigbangram uses an AI-based algorithm to generate and recommend hashtags for your Instagram posts.
Once you have entered the keywords/ images/ URLs, press 'Copy and Paste' to use the results for your Instagram post. The website offers hashtag recommendations in multiple languages without any extra steps or fee.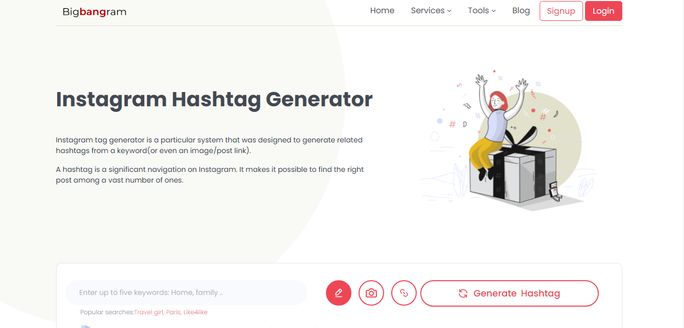 By getting the paid version, you can get access to the hashtags analysis feature too. 
As Bigbangram updates its database frequently, you can be sure that your post is going to appear on the top of the feed. 
15. Autohash 
Autohash is an application that is available for Android as well as iOS users. The app generates hashtags by analyzing the uploaded image. Algorithms recognize the objects in the image and put forth all the relevant hashtags for that post.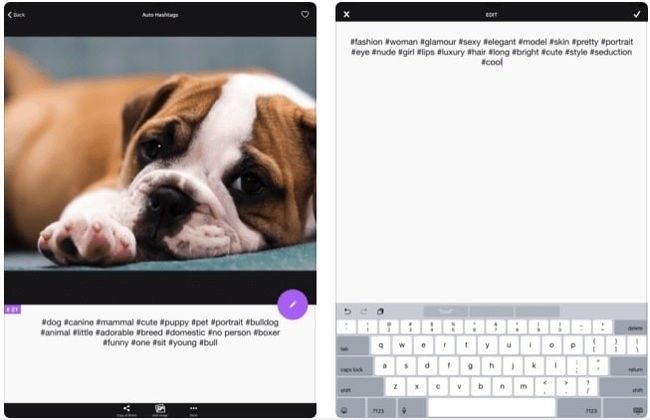 Autohash can also suggest tags based on location. Therefore, this is the best free hashtag generator if you want to reach a specific audience. 
16. Tags Finder
If you like to have multiple options, then the Tags Finder hashtag generator is made for you.
It offers you not two but three options to choose from; related hashtags, similar hashtags, and combined Hashtags.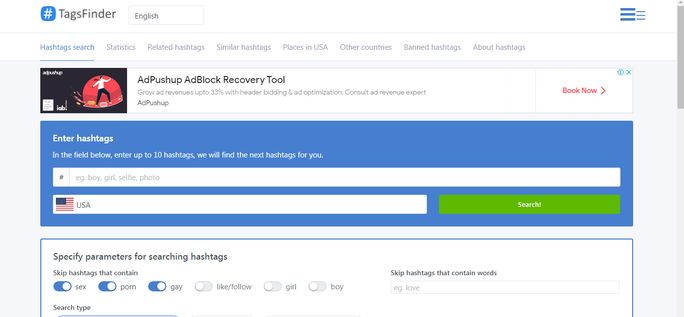 'Related hashtags' are based on the keywords you type in the search box. Some of them might not be closely related to the keywords, but they are top hashtags. 
'Similar hashtags' are only based on your keywords. There are no long-range hashtags. 
'Combined hashtags' will give you similar and related hashtags together. 
The feature of free hashtag statistics is the cherry on the cake. 
You can also find trending hashtags for a particular country or place. If you don't like a tag suggested by Tags Finder, remove it. The tool will find another one for you. 
17. Hashtagify 
Hashtagify not only suggests tags but also monitors the engagement of your Instagram posts. This tool is free to use. The tool can also be used to find hashtags for Twitter. You can check the 'Popularity Trends' on the website.

If you want a social media strategy, you have to purchase their monthly subscription plan. 
18. H-Supertool
The free hashtag generator tool offered by H-Supertool is super cool and helps optimize your Instagram posts. It suggests 30 related hashtags based on the keyword.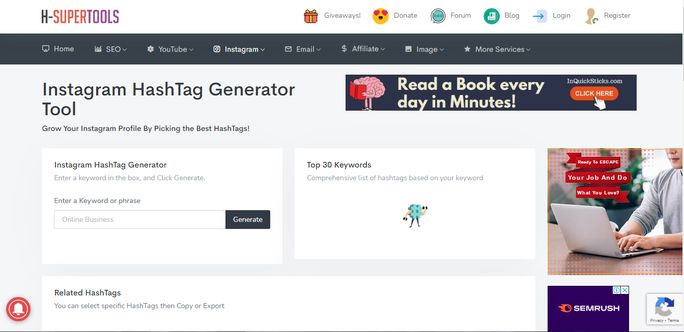 Once the tool generates hashtags, you can copy or directly import them on your Instagram posts through the website.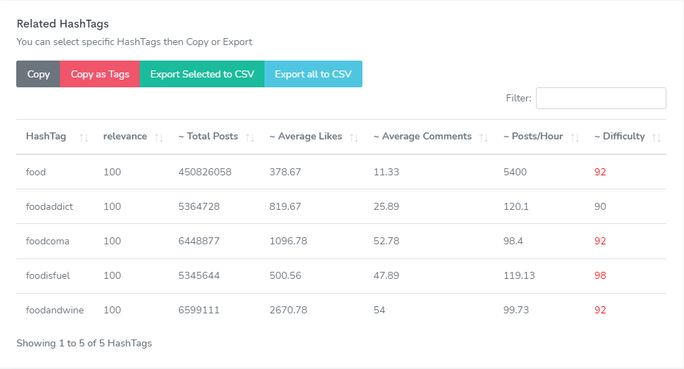 H-Supertool uses difficulty metrics to calculate the difficulty of hashtags before you can use them. If the number is between 90 and 100, then the hashtag has been overused and already has more than millions of existing posts on the platform. 
Between 20 and 89, the competition is less and the hashtag has posts in the thousands. Sometimes, these hashtags are spammy. For 1 to 20, hashtags are very specific and have an audience related to a certain niche. 
H-Supertools recommends using hashtags from all these ranges in order to increase your Instagram reach.
19. HashtagsforLikes
You can generate top hashtags in a matter of minutes by using the HashtagsforLikes tool.
Just like H-Supertool, Hashtags For Likes provides metrics to help you make a more informed decision by analyzing which hashtags have higher competition.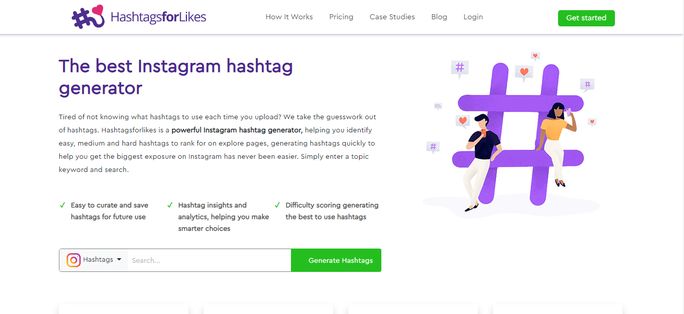 The site also provides visual data to analyze the hashtags. By using HashtagsforLikes, you can say goodbye to guesswork and hello to data-backed decisions.
Surprisingly, all these facilities are free of any cost.
20. Keyword Tool
Keyword Tool is an already popular tool used for finding keywords to have a better ranking on Google. But a lot of people don't know that this tool can also be used for generating Instagram hashtags. 
The tool has a rating of 4.95 out of 5 which probably makes it the most preferred and reliable hashtag generator on the list.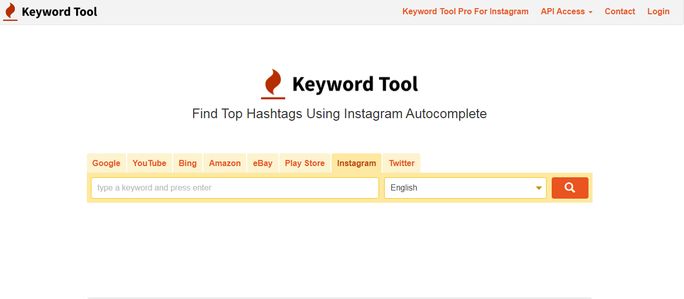 The tool generates hashtags by placing the # sign in front of the keyword inserted by you. Then it places the hashtag in the search box of Instagram and puts all the suggestions together along with the number of posts present on Instagram for each hashtag.
All of this is done in just a few seconds! 
Isn't it amazing?
You can use Keyword Tool for free, but the paid Keyword Tool Pro for Instagram will provide you with 20x more hashtags than the free one.
To use this tool, just type the keyword in the box and press enter.
Final Notes
Still here? Looks like you were really tired of coming with hashtags manually. 
Now that you have gotten a chance to know about these best free Instagram Hashtag generators, you can use them and relax a bit. Most of these tools are free. Each of them has something unique to provide. So choose whichever you will be most comfortable using. 
Here's an additional read on the Do's and Don'ts of Hashtags on Instagram by SocialPilot, that will help you further optimize your social media marketing strategy. Apart from that you can also rely on SocialPilot's AI Assistant that helps you generate relevant hashtags for the post you draft for social media. Apart from generating hashtags, AI Assistant can also offer compelling social media copies for different social media platforms. 
With SocialPilot you can also focus on improving your social media schedule management and client management systems to maintain an uninterrupted backend workflow.
It also offers modern solutions to solve the challenges faced by marketers relating to social media scheduling, content calendar, and client and team management. It provides a suite of several more solutions to ensure you can optimize your marketing efforts and scale rapidly.
Visit SocialPilot to learn more about how you can use our solutions to your advantage.