Hashtag strategy has been around for more than a decade now, and most of us follow the ritual of adding hashtags after captions.
But do you know how this practice came into existence?
Surprisingly, hashtags are older than most social media. It dates back to 2007 and was first used on Twitter by Chris Messina.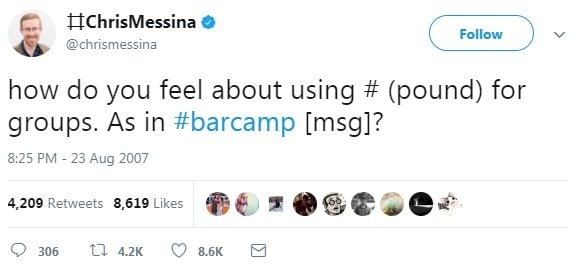 His idea behind using a pound symbol was to segregate groups to initiate topic conversations.
And the rest is history! A hashtag strategy is still sensational and relevant to date. You can find them stuffed up everywhere.
#NotAllMatter

Find hashtags that matter for
your brand on SocialPilot.
And why not? They come with an excellent set of benefits!
4 Key Benefits of Hashtags in Social Media Marketing
Hashtags provide additional context and branding edge to your posts. But that's not it. Here's a list of advantages that will convince you of hashtag importance for your business.
1. Boosting Discovery
You must have noticed that your posts get engagement from individuals who don't even follow you. Top hashtags are the contributing cause for this unexpected reach.
All your efforts of providing value are streamlined with a hashtag strategy as it narrows down the impression pipeline based on viewers' interests and relevance.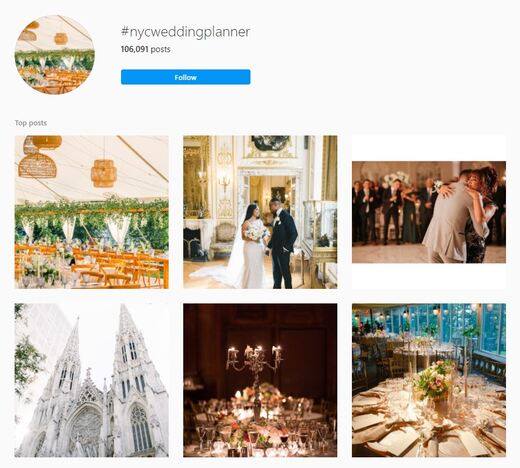 For example, if you are a wedding planner in New York City, using #nycweddingplanner in your posts will make you discoverable to the locals looking for a helping hand for their big day.
Tip Make sure your profile stays public for the hashtags to work their magic.
2. Building a Strong Community
Want to know what's happening in your niche? Then follow the niche-based hashtags.
A whole new community opens up where everyone actively shares their views and news. Hashtags act as group filters bringing in like-minded people archiving discussions based on topics.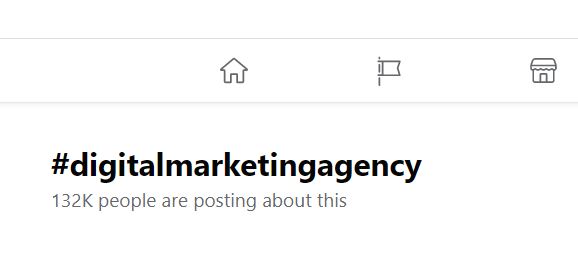 Here's an example of #digitalmarketingagency on Facebook that has 132K followers. If you are an agency that focuses on providing digital marketing services, adding this hashtag is a no-brainer.
3. Enhancing Engagement
Want to pour in some engagement? Drizzle trending hashtags into your posts! They work like magic in fast-paced social media like Twitter, TikTok, and Instagram, and your chances of being viral go up.
You can filter out the trending hashtags in general or based on your niche. Spark a conversation thread and encourage others to participate actively.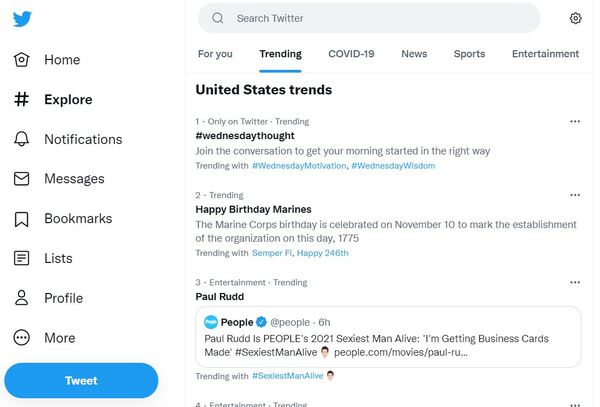 You can also put your views across and support a trending cause keeping trending tags in the loop.
4. Creating Brand Exclusivity
Using brand hashtags will filter out more of User Generated Content (UGC), which can boost a brand's credibility when reshared.
Generally, the brand name and its tagline are typical choices for branded hashtags. You can also come up with Campaign hashtags that are massive hits.
Reels hashtag challenge is a brilliant example that guarantees engagement off the roof.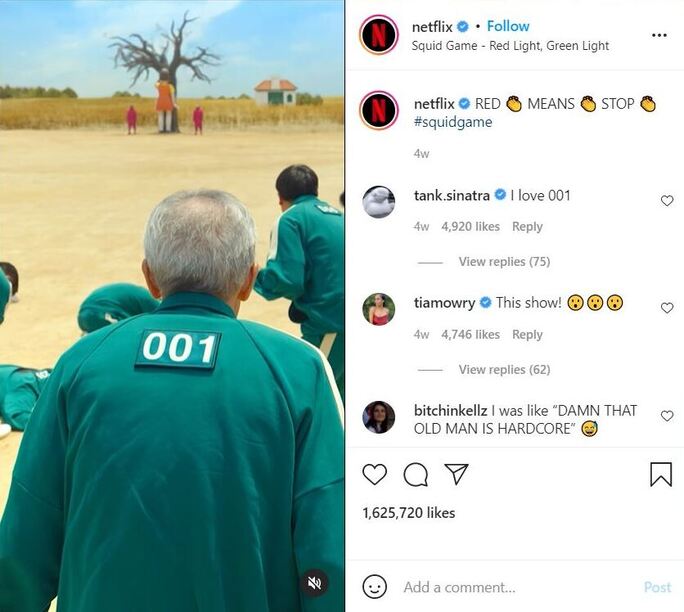 Here's how Netflix celebrated the popular show Squid Games with a relevant hashtag. Many creators worldwide jumped on, sharing reels on themes of the show, further fanning its fame. The hashtag has more than a million posts on Instagram alone.
Adding a random chunk of top hashtags will fetch you no result! You need a well-thought-out strategy that comes into play. So let's chalk out a hashtag strategy for each social media channel.
Crafting Your 2023 Hashtag Strategy: Platform-Specific Approaches
Though popular hashtags are great for reach, you can't use them anywhere randomly. In fact, using 10+ hashtags can reduce engagement by 68.2%, as inferred from the Social Baker study.
Most marketers believe using 1-3 hashtags work best on most platforms. But it is better to ditch the one-size-fits-all hashtag strategy to hit the bull's eye.
And thankfully, we have got all estimates for every platform ready for you. Along with this, we'll also shed light on post frequencies and the best time to post on each social media network, so you create a solid marketing plan from start to finish.
1. Hashtag Strategy for Facebook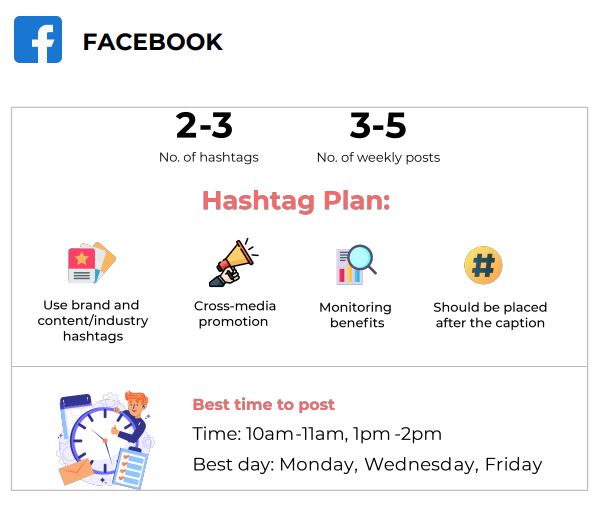 Hashtags work best for those audiences on Facebook who are already inclined toward your offerings. We advise you to use 2-3 Facebook hashtags to boost your reach.
Posting 3-5 times a week on Facebook is ideal. Go for a branded or an industry-specific hashtag as they are great for cross-media promotion and help you monitor key activities throughout the network.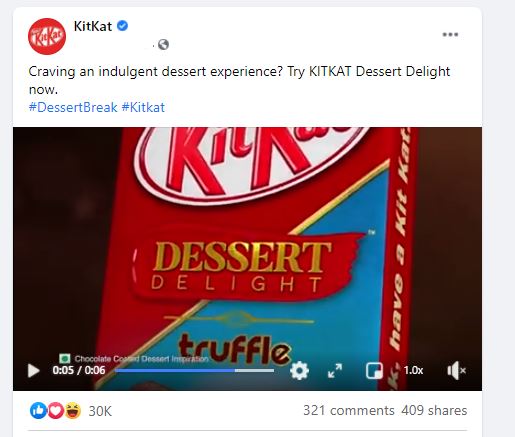 Have a look at this KitKat post. A perfect one-liner with a brand and relevant hashtag on Facebook video post got them 4.2K reactions.
When you think about videos, you absolutely can't forget Facebook Reels. As of February 2022, Reels reaches 150 countries. So leverage this immense reach, and don't forget to add the best hashtags for Facebook reels relevant to your content. You could go to Instagram as well to find which ones are grabbing more attention.
Tip Opt for a location-specific and brand-specific hashtag on Facebook.
2. Hashtag Strategy for Instagram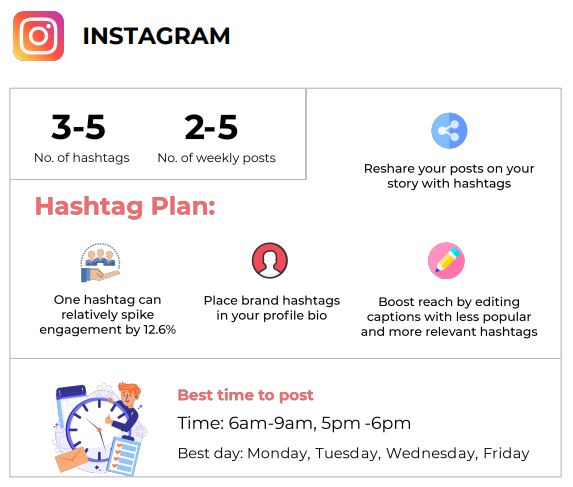 Stir your Instagram presence with an apt Instagram hashtag strategy. As per Fohr Insights, the platform sees an engagement spike of 12.6% with just one hashtag compared to posts with no Instagram hashtags.
But how many hashtags on Instagram should you use?
Well, it allows up to 10 hashtags per story and 30 hashtags per post and reels. However, this does not mean you clutter your posts with the best Instagram hashtags. Liberal use of 3-5 Instagram hashtags is good enough to get you a killer engagement.
Club relevant popular hashtags on Instagram and use a bunch in stories, reels, and posts. The branded ones can find a home in your bio.
Target to share 2-5 posts weekly, keeping the quality standard intact. The same applies to Instagram reels hashtags as well. You can go with multiple story posting though.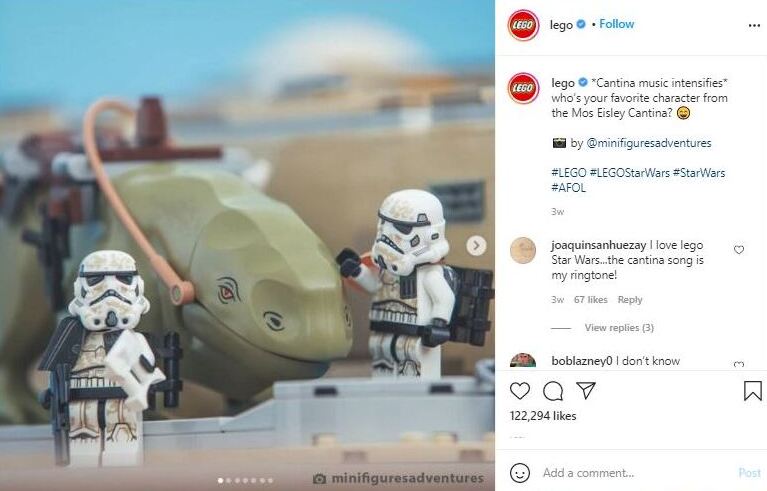 Look at the Instagram hashtag strategy in this Lego post. They've used Star Wars-themed hashtags on Instagram that fetched them 122K+ likes and 800+ comments.
TipUse Instagram hashtag generators to access the top Instagram hashtags. Ensure your hashtagged stories and reels are engaging, and only then will they appear on the aggregated hashtag pages.
3. Hashtag Strategy for LinkedIn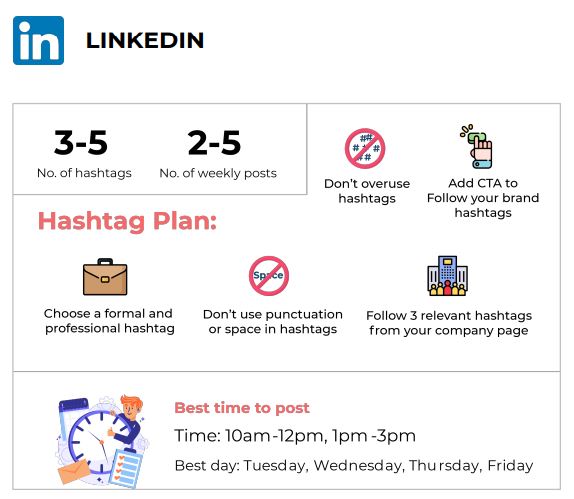 Despite LinkedIn being a professional platform, the hashtag strategy here bears no exception. The only condition is they need to be formal. LinkedIn poses no limits on hashtags.
However, go for 3-5 hashtags to foster more engagement. You can use the LinkedIn hashtag generators and Linkedin hashtag analytics tools to get the top-performing ones.
Aim to share 2-5 posts a week to get the needed traction. If you run a LinkedIn page, you can follow a maximum of three hashtags and share your posts to those hashtag pages in specific.
It is a vital but underrated page feature that lets you track posts from your competitors who are using the same hashtags.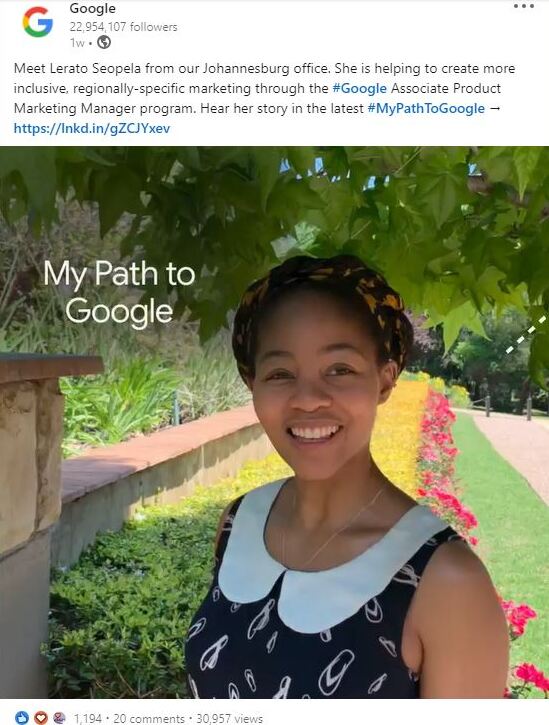 Google on LinkedIn has 22M+ followers. The minimal posting attracts a mass following like this one. They have used 2 hashtags here and ended it with a CTA to click on a link to read about a Googler's journey.
Tip Use a CTA-based hashtag encouraging people to follow you.
Do you think hashtags in the description clutter and make your posts look less appealing? You aren't the only one. Many feel like that and therefore add hashtags inside comments.
But doing the drill of manually adding hashtags under comments for all your client posts is not practical. So, SocialPilot came up with the "First comment" feature. With this, you can add your hashtags, links, and any other call to action inside the comments section for Facebook, Linkedin, and Instagram while scheduling your post with SocialPilot.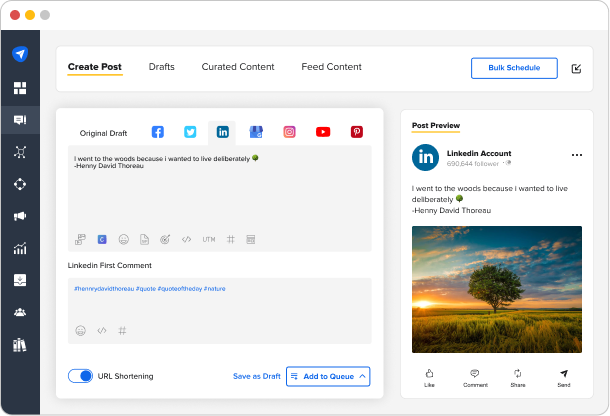 4. Hashtag Strategy for Pinterest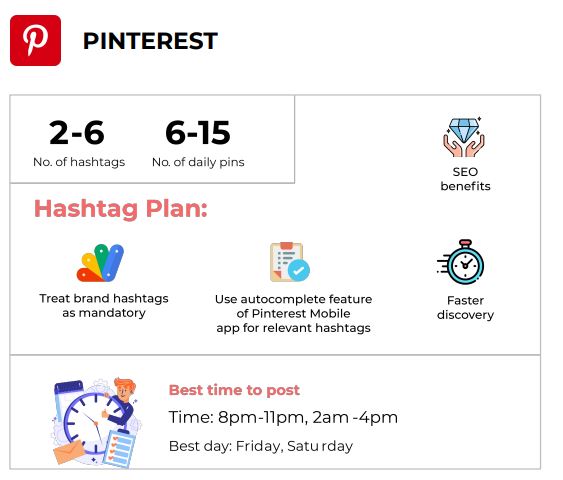 Pinterest hashtags are an excellent way to rank your pins in the crowd of billions. They work like keywords in search engines, updating the results with fresh content.
Hashtag search here works like standard keyword search as they have SEO benefits. So, having them in description opens up avenues for faster discovery.
Pinterest allows 20 hashtags per pin, but 2-6 hashtags in pin description will fetch you a decent result. Also, it is recommended to go for 6-15 pins a day.
Use the autocomplete feature to include the relevant popular hashtags with pin counts. This feature is only available in the Pinterest Mobile app as of now.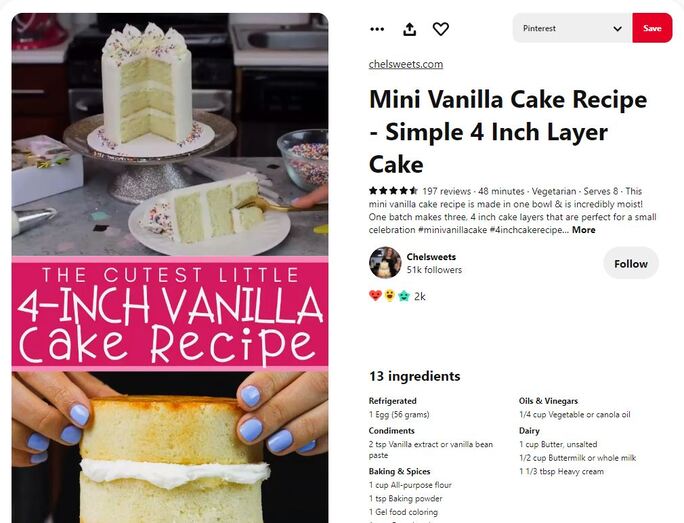 Chelsweets on Pinterest boasts 67K+ followers. They post recipe videos with ingredients and steps mentioned in the description. Towards the end of each description, they make sure to add 3-4 hashtags to skyrocket their reach.
Tip: Focus on keyword and hashtag-based descriptions.
5. Hashtag Strategy for Twitter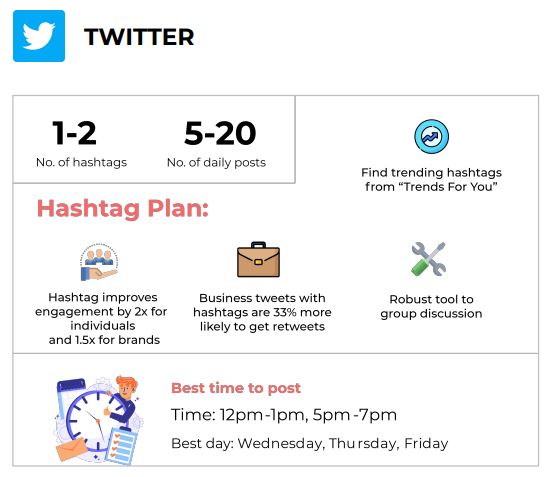 Twitter gave fame to the hashtag strategy. And inarguably, to this date, it's an essential feature of the platform. From joining a heated discussion or amplifying branding, a hashtag does it all.
As per Twitter hashtag analytics, tweets with top hashtags improve engagement by 2x for individuals and 1.5x for brands. A Hubspot research also revealed that businesses tweeting with hashtags are 33% more likely to get retweets.
If you are leveraging hashtags too, then make sure to add 1-2 hashtags for decent reach. Conduct a proper Twitter hashtag search from the "Trends For You" section or leverage Twitter hashtag generators to find the best-performing tags. Use them in 5-20 tweets per day to stay on top of your user's feeds.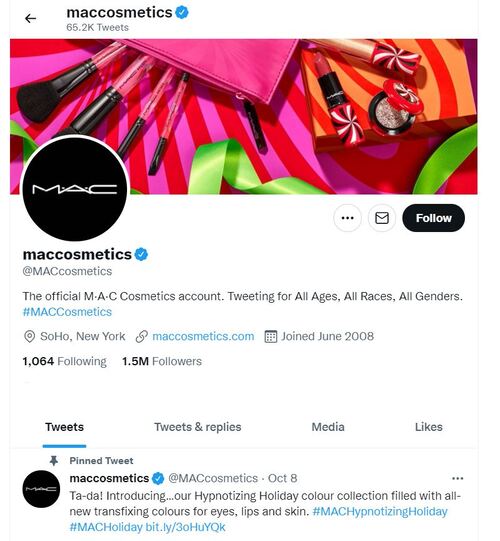 MacCosmetics are top players in social media. Their Twitter profile with 1.5 million followers is a testament to that. They also adhere to the hashtag limits and receive stellar engagement.
Tip Don't compromise on content to add a trending hashtag on Twitter. Use them on a contextual note for the best result.
6. Hashtag Strategy for TikTok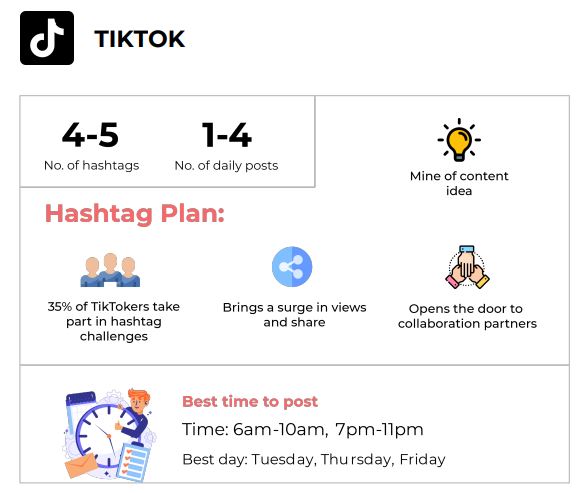 Hashtags trending on TikTok unravel opportunities of potential collaboration and millions of views. Climbing the success ladder is much easier on this platform.
35% of TikTokers take part in hashtag challenges. So make sure to look for these in your TikTok Hashtag searches.
It is instrumental in bringing a dramatic rise in engagement, upsurging views and shares within no time. Good use of 4-5 hashtags can make all the difference.
It opens doors to collaboration partners. It also leads you to a mine of content ideas which you can improvise to create brand-relevant versions. Share 1-4 posts a day for attaining branding goals.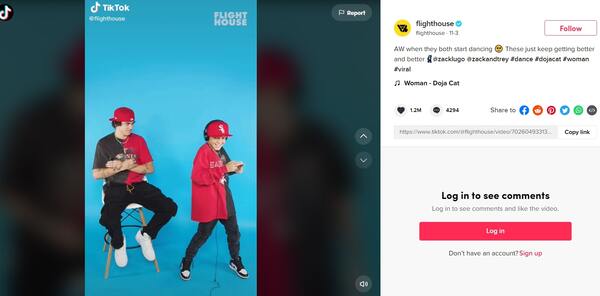 Flighthouse, the creative studio of TikTok, has an engagement-dripping presence on the platform with 2.4 billion likes and 28M+ followers. Here's a post with multiple TikTok hashtags garnering them more than a million likes and 4000+ comments.
Tip Search for the TikTok hashtag trending today to take part in challenges for your brand and encourage followers to recreate them. You can even use TikTok hashtag generators.
7. Hashtag Strategy for YouTube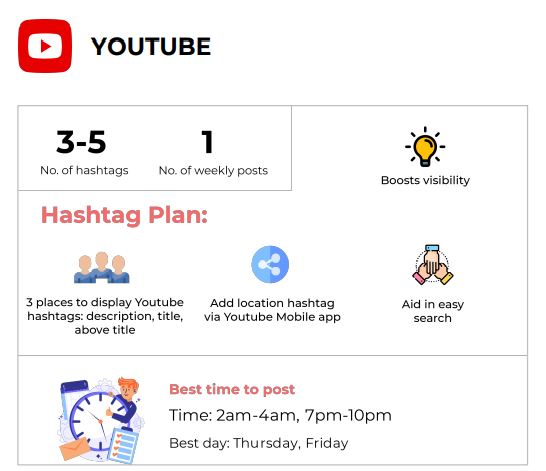 Hashtags on YouTube can starkly improve SEO rankings, as suggested by YouTube Creator Academy. There are three ways to display hashtags on YouTube.
You can add them in the description, title, and above the title. You can include hashtags in the video title and description.
The official YouTube hashtag limit is 15, but 3-5 hashtags are good enough. Also, uploading one video per week on YouTube shows jaw-dropping results.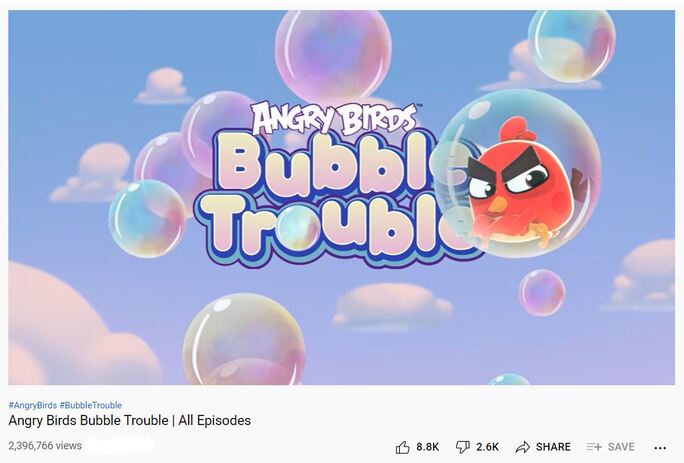 The YouTube channel Angry Birds uses branded tags in every upload. This video with 2 hashtags got 2.3M+ views and 8.8K likes.
Tip Try incorporating hashtags you got from YouTube hashtag generators into your post descriptions.
Are you finding it tough to consistently use the most effective hashtags for each post on every social media platform?
Wave a big bye to all your hashtag generation worries with SocialPilot's AI Assistant. Let the Assistant screen your social media post to generate multiple hashtags at a lightning speed. Additionally, you can save your hashtags in the asset library and publish it with SocialPilot's scheduling capabilities later. All this under one dashboard.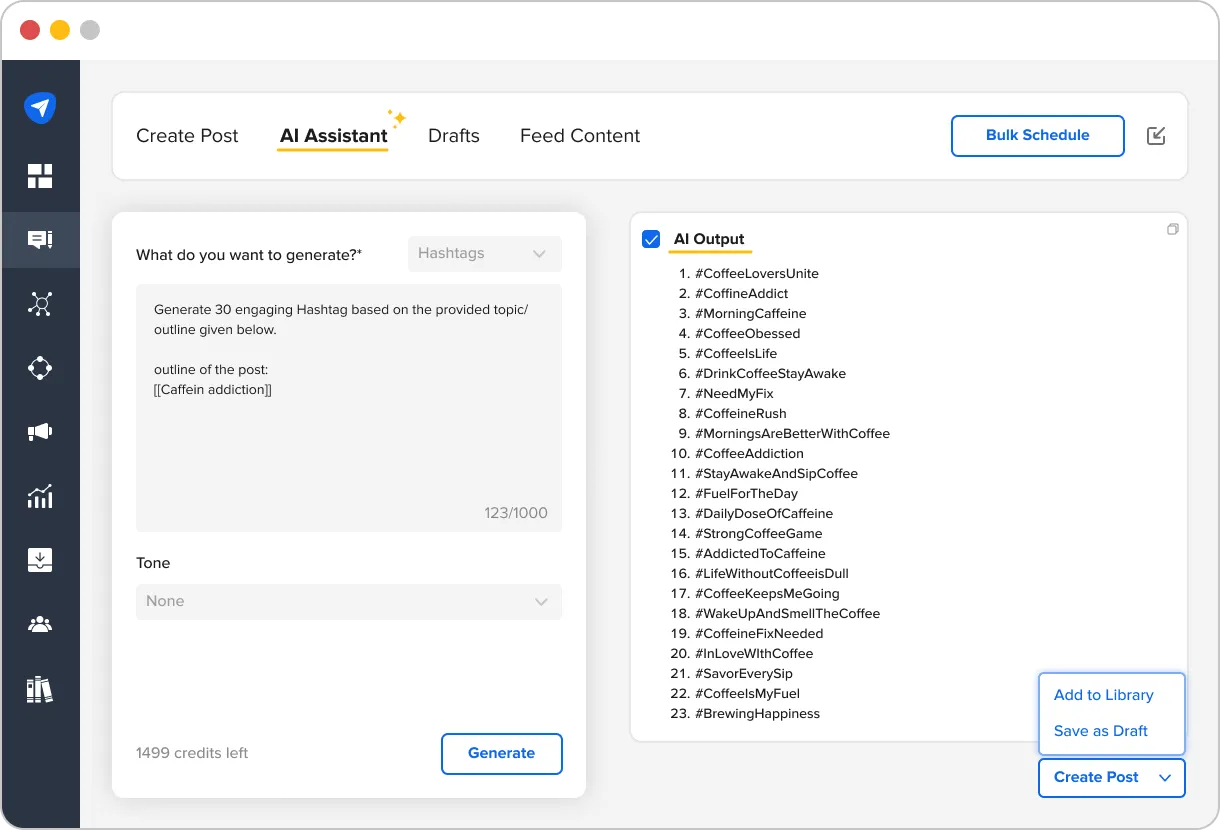 Conclusion
If you really want to shoot up your performance on social media, you need to craft a separate hashtag strategy for each social media platform.
It is most likely that the same set of hashtags working for one platform won't fetch the same engagement for the other.
That's why it is best to handpick from the best lot of hashtags and use them as per the recommended frequency on every channel.
We have already done this herculean task and created a hashtag kit. It has templates for major holidays and everyday themes and a guide to fine-tune your social media strategy.
You also get the 2023 social media hashtag calendar with 3650 hashtags and content ideas.
Get your copy of the Trending Hashtag Kit and start planning right away!