"Instagram #hashtags are a pile-on in your posts."
Nothing is further from the truth.
Hashtags are one of the greatest assets in your marketing arsenal for promoting your brand and products on Instagram. It is observed that the possibility of Instagram users engaging with your posts increases by nearly 12% by adding just one of the trending Instagram hashtags to your posts.
So, it is pretty safe to say that Instagram hashtags are one of the most efficient ways to get more people to notice and follow you.
But remember, ill-planned and irrelevant Instagram hashtags are disliked by followers, are ineffective, and can also adversely impact your marketing campaign. You need to make sure that you have a well-established hashtags strategy that adds value to your posts instead of just occupying some extra space pointlessly.
There are many different tools that can help you track the best Instagram hashtags for your post. But these tools may not be the best option for you since they are not distinctly designed for your brand. The best option for you is to come up with a small but unique hashtag of your own.
In this blog, we'll look at the different types of hashtags and how you can find hashtags for Instagram marketing campaigns.
How Instagram Hashtags Help Your Business
Whenever you add a hashtag in your post, that post will be automatically displayed on the page of that particular hashtag. Your post gets featured alongside every post using that hashtag, be it even from the most popular Instagram account. Instagram hashtags serve as a great equalizer for budding businesses by giving them a platform to be discovered and grow their reach.
Instagram hashtags are also a popular search tool on the platform. For instance, users looking for posts on soccer shoes would not search for soccer shoe manufacturers individually, but would rather type #soccershoes and go through the results. Now, if you have a business in the soccer apparels industry, you can simply add this hashtag in your posts to broaden the reach of your posts.
Another pro of Using Instagram hashtags in your posts is that your non-followers can easily discover them if they follow that particular hashtag. Otherwise, whenever you upload a new post without hashtags, its reach is limited to your followers.
How to Find Instagram Hashtags for Your Account
If used correctly, Instagram hashtags can help your account reach more people and increase your followers. But to gain popularity through hashtags, you must create a well-planned strategy regarding how to use hashtags on Instagram.
Even if you add the most trending Instagram hashtags like #love, #nature, #happy, in your posts, there's no guarantee that you will attract the eyeballs of your target audience. The simple reason is that the popular hashtags are used by millions of users every day, and unless you do not pair them with other relevant hashtags, the chances of your post being highlighted are slim.
So the best Instagram hashtags for you might not be the most popular ones.
In place of adding such hashtags common across all industries, you should try to add hashtags that are popular yet unique to your industry. The hashtags should be specific, catchy, and should already be catering to your audience. This will make you stand out from the crowd.
Now the question is, how to find these hashtags?
Here are some of the best methods to find the best Instagram hashtags for you:
Track Relevant Hashtags
As a marketer, you have to constantly research and stay updated about the industry and related subjects. You must know what ticks and what does not and have a fair idea of the market trends.
The exact process applies for finding hashtags. You always have to stay aware of the trending hashtags to ensure your posts use relevant and effective hashtags. One way to do this is to use your existing hashtags to find other relevant hashtags.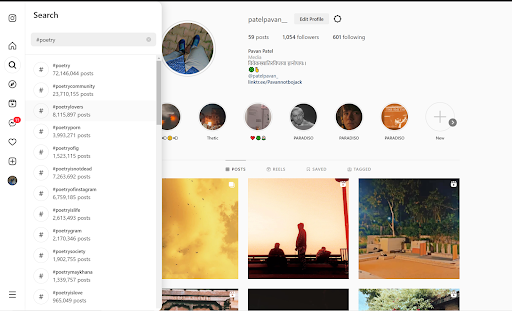 To do so, go to the search option of your Instagram app, and mention your hashtag in the search tab. Then, click on the 'tags' option from the menu. You will see several different hashtags which are relevant to your previously mentioned hashtag. You can use these hashtags to reach a new audience and communicate with more people to promote your brand.
Study and Analyze Your Target Audience
The best Instagram hashtags for you are the ones that resonate with your prospective followers and customers. Study their demographics, learn about their preferences, know the language of their choice and their aspirations. We can list down a dozen other factors, but you got the point, right?
Analyze your target audience as deeply as possible. It will give you a fair idea about the theme you should pick while selecting and designing your hashtags.
It's no secret that using hashtags just for the sake of using them won't get you too far in achieving your marketing objectives. Nor will it help to boost your followers or customers.So, remove the thought of ever following this approach.
An excellent way to find hashtags is to analyze your audience' posts and profile. Check which hashtags are used most frequently by them and try finding out which hashtags they follow. You can then simply choose the hashtags (from among these hashtags) which are the most appropriate ones and use them for your posts.
Analyze Your Competition
Almost every marketer on Instagram uses hashtags. Your competitors will be using it too. An effective way to find hashtags for your campaign is to check the hashtags being used in your competitors' marketing campaigns. If you think those Instagram hashtags are performing well for them, you can consider using those hashtags for your campaign too. It's a common practice, and you need not worry about plagiarism.
However, if you think that the hashtag is too unique or is only being used by that brand, you can skip that hashtag to steer clear of even the slightest chances of intellectual property theft.
Here are some ways how you can effectively analyze your competitors:
Never rely on the hashtag strategy of one competitor; track multiple competitors in your industry
Narrow down on competitors with similar businesses and products from among the broader competitor pool, and assess their hashtag strategy
If you think a hashtag is effective, check the total number of posts in which it is used (you can type the hashtag in the search bar for this) and then decide whether to use it or not
Track the Profile of Influencers
Another method you can use to find relatable Instagram hashtags for your posts is to follow and analyze some of the most popular Instagram influencers in your niche.
Influencers put a lot of effort into building and maintaining their following. Research is second nature to them, and you can be sure of finding some effective hashtags by looking into their posts and profile.
However, the only thing you should keep in mind is to follow the right influencer. Study about the influencer and their past brand associations before deciding if they are the perfect person to take inspiration from for your hashtags-finding mission.
Finding the right hashtags can be daunting, isn't it?
With SocialPilot's AI Assistant, hashtagging Instagram posts becomes effortless. Simply let the AI scan your post caption and swiftly produce a range of suitable hashtags to expand your reach. Save these hashtags in SocialPilot's Content library and schedule for future posts – all from a single dashboard.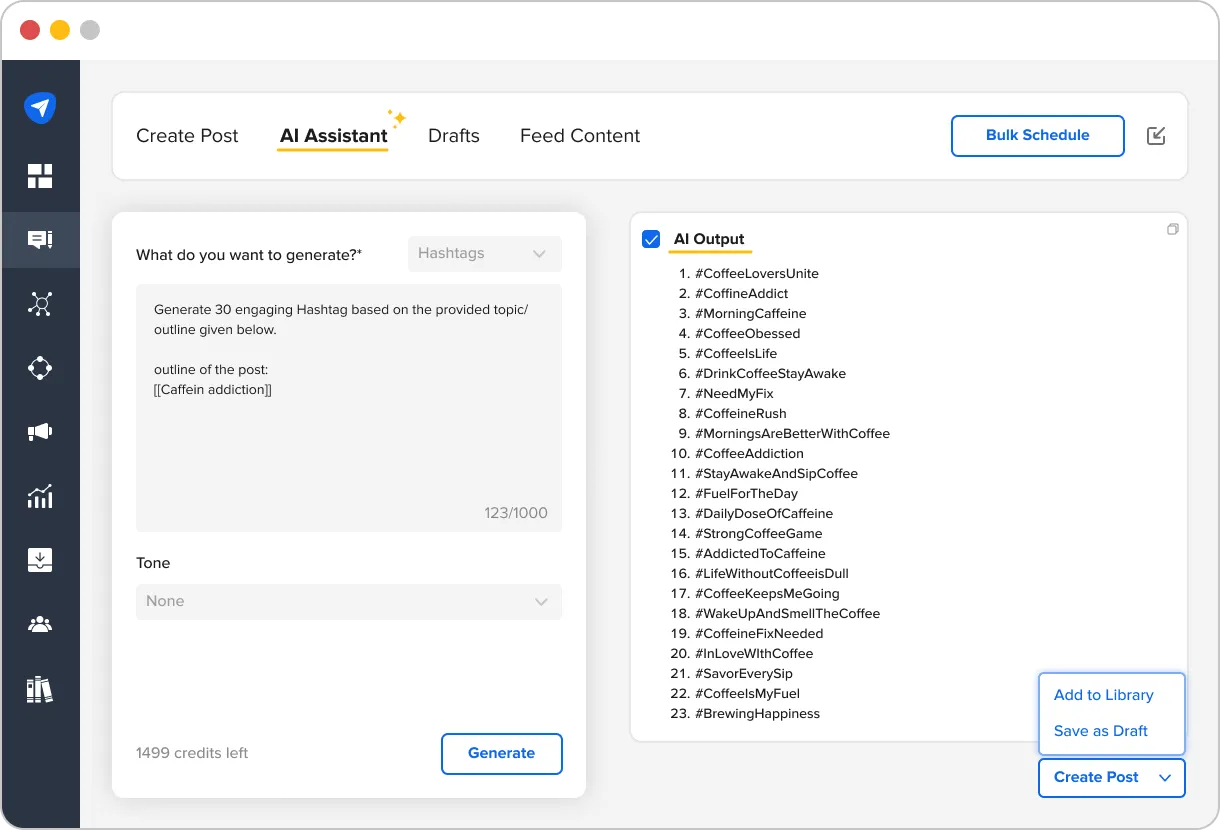 Tips to Boost Your Instagram Hashtag Performance
Now that you know the best ways to find Instagram hashtags, let's look at how to use hashtags on Instagram for maximum effectiveness.
Here are some tips you can implement to boost hashtag performance:
1. Monitor Your Performance With Instagram Insights
Instagram Insights is a built-in service that helps you track your Instagram performance and provides analytical inputs regarding the performance of your posts and hashtags. It is free to use and is accessible to all Instagram business accounts.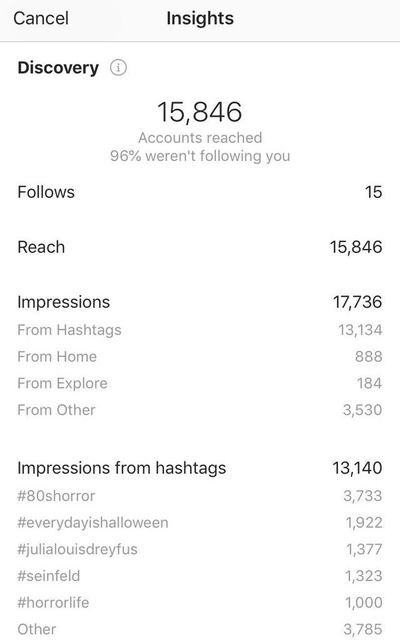 If you want to analyze your hashtags' success rates, look at impressions generated for your posts through hashtags. If the hashtags have performed well, then replicate your hashtag strategy for the future, otherwise optimize and change your hashtags to generate higher performance.
There are several advanced third-party tools like SocialPilot, which can be linked to your Instagram account to give you a better picture of your Instagram performance. With SocialPilot, you can track your Instagram performance for upto three months, as against the 30 days limit of Instagram Insights.
2. Avoid Spamming
Hashtags are important, agreed. But, the last thing you want to do is spam your posts with hashtags when they are unnecessary. Never fall for the theory that all your posts must have 30 hashtags (maximum limit) to perform well. That's a misplaced theory, and your posts can do wonders even with two or three impactful hashtags.
3. Never Use Banned Hashtags
Instagram bans hashtags if it does not meet its community guidelines. The problem with using banned hashtags is that your posts will not show up on Instagram feeds organically. It significantly hampers your reach, which is something you do not want. So, stay away from these hashtags.
Types of Instagram Hashtags
Hashtags are small but unique texts which have the power to create a whole community based on similar thoughts or preferences, and they can even make someone's account unbelievably popular.
Before selecting hashtags for your Instagram posts and stories, you might want to have a look at some unique and cool hashtags along with their categories. We have bifurcated the hashtags into two categories based on some general observations.
However, there is no stringent basis for this bifurcation. Hashtags for individuals are also used by brands, and vice-versa. It all depends on the context and purpose of your post.
Hashtags for Brands
Here are some of the hashtags that you can use for your brand to gain more popularity on the platform:
Product hashtags: Many companies use product hashtags for their posts and stories to promote their product or brand on social media⸺ for example, #coffeehouse or #icecreamparlour.
Branded hashtags: Branded hashtags are exclusively meant to be associated with your brand, and their use for your posts can help you generate an online community that solely revolves around your business and products. These hashtags can either be the name of the brand or the slogan of your business.
Business niche hashtags: People use these hashtags to show their customers what kind of work they do in their business. These hashtags are smaller than your service and product hashtags.
Customer-generated hashtags: These hashtags are made by the brand's audience. These hashtags are a bit different from the other hashtags because the brand has no power over what is getting posted using these hashtags.
Campaign hashtags: If you are organizing a campaign, you can use some unique campaign hashtags to track all the affairs related to that specific campaign⸺ for example, Coke's #ShareACoke campaign.

Community hashtags: These are the best hashtags for increasing brand loyalty in the audience by giving them a sense of ownership with the brand⸺ for example, #mygopro. The hashtag has a brand, GoPro, and has simply added my before the brand. It generates a sense of belonging with the brand whenever anyone in the community uses it.
Event hashtags: If you own a brand, you can use these event hashtags to refer to conversations related to an event or a conference meeting⸺ for example, #Davos, #WEF, #AGM, and the likes.
Hashtags for Individual Accounts:
Personal hashtags: You can use these personal hashtags to make the idea behind your post clearer to your followers. You can use hashtags like #favoriteperson, #nature, #loveyourself.
Acronym hashtags: To make your caption more fun to read, you can also use some popular acronym hashtags like #potd, which means the photo of the day.
Daily hashtags: You can use these hashtags to reflect a theme related to your daily routine. For example, #workoutmonday or#yogathursday.
Holiday hashtags: Holiday hashtags are used in posts related to festivals or holidays like #merrychristmas, #July4, or #HappyThanksgiving.
Start your Search!
Now that you know how you can search for the most effective hashtags for your brand, why wait?
You can use a content calendar to know what kind of posts will be going up on your Instagram profile every day. This will give you visibility regarding your future posts and give you ample time to find the right hashtags. In addition, you can also prepare a common set of hashtags that will be relevant to all your posts.
Content calendars help you gain visibility and clarity regarding your posts and ensure consistency in posting. You can use content calendar tools, like the one provided by SocialPilot, to manage your Instagram posts and always stay on track!
Visit SocialPilot to know more!