Wondering how to get more engagement on Instagram?
It's a question worth pondering.
Boasting over two billion monthly active users who dedicate nearly 30 minutes each day to scrolling their feeds, Instagram stands as a powerful platform for marketers eager to connect and engage with potential customers.
However, despite these impressive statistics, many marketers find themselves grappling with lower-than-expected engagement rates on their posts.
If the low engagement horrors on Instagram also haunt you, this blog is for you.
Whether you are new or want to find out how to get more Instagram followers, this article will unravel tried-and-tested methods to enhance your brand's engagement on Instagram.
Plus, discover tips to boost your reach and maintain consistent posting through Instagram automation tools.
But first, let's start with the basics.
What is Instagram Engagement?
Instagram engagement refers to various actions and interactions users have with your content on Instagram. It encompasses interactions, such as likes, saves, shares, direct messages, brand mentions, and comments.
If you are getting good engagement, that means your content is resonating with your audience. Not only does this boost your brand's visibility on the platform, but it also fosters the growth of a thriving Instagram community.
Engagement also holds a lot of weight when it comes to how the Instagram algorithm ranks your content. A post with good engagement indicates to the algorithm that it is worth sharing with other people who have been engaging with similar posts.
So, the algorithm not only ranks you better in the feed of your followers but also shows your posts to your potential audience.
Do you want to know how you can calculate your engagement rate? Let's see.
How to Calculate Your Engagement Rate on Instagram?
To kickstart the process of calculating your Instagram engagement rate, you'll want to begin by establishing the timeframe for your calculation. This could be for a single post, a series of posts, or a whole campaign.
After deciding your time frame, gather all the content interaction metrics. Here's the list of interactions you need to consider:
Comments
Story Replies
Sticker actions
Shares
Likes
Saves
Mentions
Click-throughs
DMs
Impressions
Once you have gathered the interaction data for the timeframe you have decided, use the below formula to calculate your Instagram engagement rate:
Engagement rate = (Total interactions/Impressions) x 100
Now that you know the basics, let's move towards the Instagram engagement tips.
13 Amazing Tips on How to Get More Engagement on Instagram
Let's delve into the 12 fantastic tips and strategies designed to amplify your engagement on Instagram.
1. Optimize Your Profile
Optimizing your Instagram profile is the most essential step and might be something you have already kept in check.
But if not, it's crucial to rectify this immediately.
A well-optimized profile tells your potential followers who you are and gives them a reason to follow you.
Begin by selecting a username that is both easily identifiable and searchable. Ideally, this should align with your business name. If your desired name is unavailable, consider incorporating your business name at the beginning of your username to enhance discoverability.
On the same note, select a profile picture that aligns with your brand and mirrors your imagery on other social network profiles, just like SocialPilot's. This consistency fortifies your brand identity and mitigates any potential confusion among followers.

Transitioning your Instagram profile to a business account is another pivotal step. This grants access to a plethora of features instrumental in business growth.
Most importantly…
Ensure your profile is set to public. A private account can significantly stifle engagement and visibility among potential customers, hindering your growth prospects.
2. Update Your Bio
Updating your bio is a crucial step in optimizing your profile for engagement. Your bio should succinctly convey your brand's identity and encourage users to interact with your content.
Here are important points to keep in mind:
Craft a Compelling Description: Use concise and compelling language to describe your brand. For instance:
@Staples: "We make it easy to #MakeMoreHappen"
@wdywt: To be considered: Tag your on-feet photos with #WDYWT
@caratlane: We're Obsessed with Making Beautiful Jewelry Accessible #CaratLane
Leverage CTAs and Hashtags: Incorporate a clear call-to-action (CTA) and use branded hashtags to foster community engagement. For example, a CTA could be an invitation to check out your latest products or to share user-generated content using a specific hashtag.
Include a Link: Add a clickable link to your product page or a link-in-bio tool to direct traffic to multiple destinations. This is vital as most Instagram traffic comes from mobile devices, making it convenient for followers to explore your offerings.
Emojis and Formatting: Use emojis and line breaks to make your bio visually appealing and easy to read. Emojis can add personality to your bio and make it more relatable.
Stay Updated: Keep your bio fresh by updating it with the latest information, promotions, or events related to your brand.
By thoughtfully crafting your Instagram bio, you can create a strong first impression and encourage users to engage with your content.
3. Post Consistently
Consistency is key when aiming to boost engagement on Instagram. Regular posting increases your visibility to followers and can significantly elevate interaction rates.
Here's what you need to know:
Strike a Balance Between Quality and Quantity: While it's important to post frequently, it's equally crucial to ensure that the content you share is of high quality. Overloading your feed with subpar content can lead to follower fatigue. Aim for a balanced posting schedule, such as one to two well-curated posts per day.
Establish a Recognizable Brand Identity: Consistency extends beyond just posting frequency. Cultivate a distinctive brand presence by maintaining uniformity in your photo content, filters, and captions. This helps position your profile as a recognizable and trusted source within your niche.
Engage with Timely and Relevant Content: Ensure your posts are timely and resonate with your audience's interests. Regularly updating your feed with content that aligns with current trends or events can keep your followers engaged and eager for more.
Leverage Scheduling Tools: Utilizing social media scheduling tools can streamline your posting process, ensuring that you maintain a consistent presence without compromising on content quality. These tools allow you to plan and automate your posts, saving time and fostering a loyal community.
Are you struggling to post your content at the perfect time for your audience? Sticking to a posting schedule on Instagram for multiple clients has always been a constant battle. Well, not anymore!
With SocialPilot's Instagram scheduling features, you will find the perfect assistance! It can schedule all types of content, from Reels, Stories, and even posts, from an integrated dashboard without hassle. Schedule any number of desired posts in advance and forget about it. SocialPilot will take care of their timely publishing.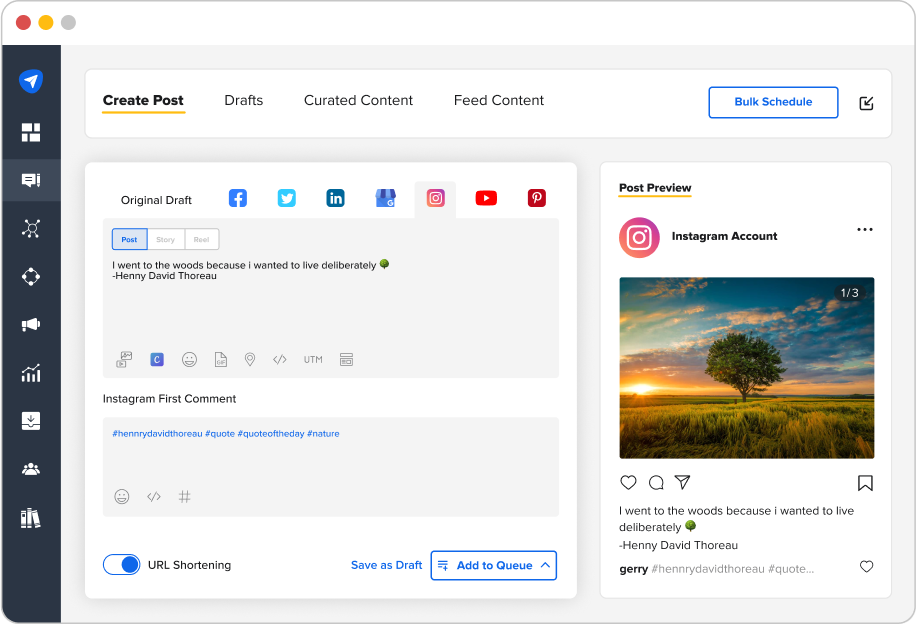 4. Take Advantage of Reels
Lately, it seems like every other post on Instagram is a Reel. With an average engagement rate of 1.95%, these bite-sized videos have quickly become the darling of Instagram audience.
What makes them so loveable? It's their ability to pack the punch in a shorter period of time.
But here's the catch…
It's not just you trying to harness the Reels magic; your competitors are in the same boat. So, you must dial up your creativity if you want your Reels to roll in good engagement. Luckily, there are tons of creative ways you can use Instagram Reels to create valuable yet fun content for your audience.
Leverage Instagram Reels to:
Introduce new products
Show tutorials
Showcase company culture
Share behind-the-scenes moments
The best part about Instagram Reels?
You're never short of trending music, sizzling challenges, or hashtags to give your content that extra oomph.
Look how "SeedyBeadyBracelets" used the "The Girlies Love The Vibes" trends to showcase their product range and managed to garner over 42K likes and 486K views, along with tons of engagement in the comments section.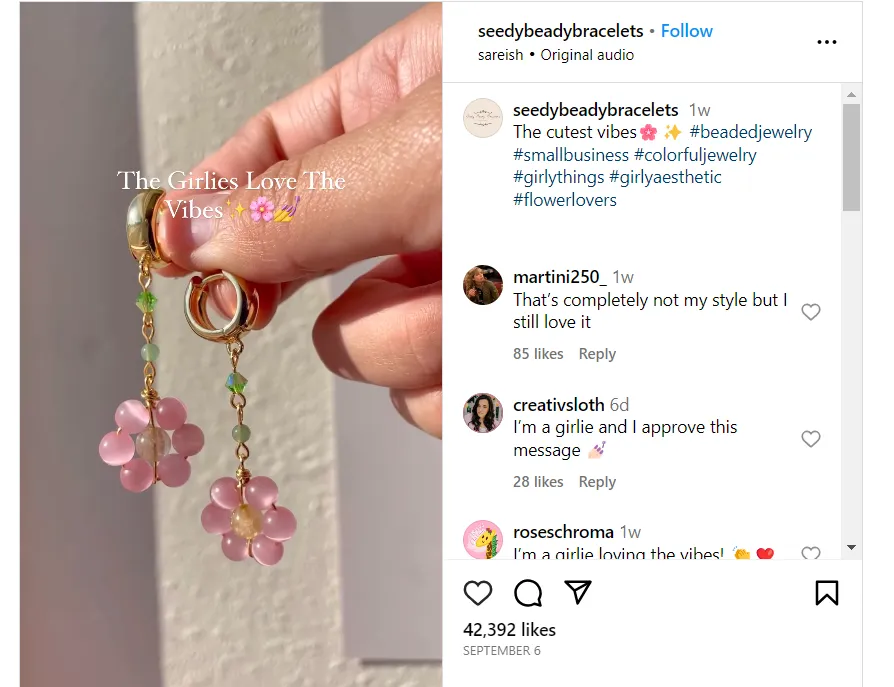 Remember to hop on the trends that strategically align with your brand images and values. And yes, don't forget the Instagram Reels tip; keep that experimental spirit alive – mix it up, try different Reels, and watch the engagement rolling in!
5. Leverage Instagram Story Stickers
Instagram Story stickers' interactive and dynamic nature makes them a great option to drive audience engagement.
What makes them so engaging?
Their visually appealing design, clickable nature, and capacity to actively encourage users to engage with stories. Whether it's an engaging poll, a Q&A session, or a countdown to a special event, these stickers can prompt your audience to interact more with your content.
For instance, "Warner Bros" effectively utilized question stickers to facilitate interaction with the beloved character, Beebo.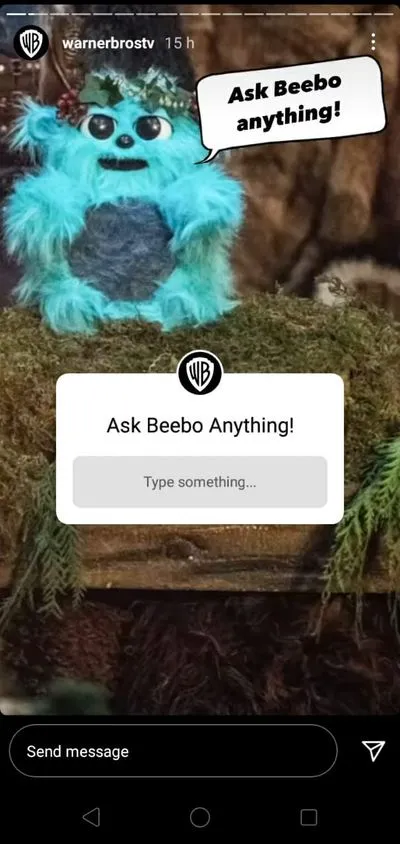 So, when crafting your next Story, think beyond just visuals. Consider how you can integrate stickers to captivate attention and foster interaction. Thoughtful incorporation of these elements can significantly enhance your Instagram engagement.
6. Find Perfect Timing for Posting
Before sharing content on Instagram, consider two crucial factors – your audience's time zone and their peak activity times on the platform. Generally, users tend to check Instagram in the morning and evening. However, if your business has an international audience, it's important to tailor your posting times accordingly.
The optimal posting time varies for each brand and depends on the specific audience. Utilize Instagram analytics tools for an in-depth analysis and observe when the majority of your audience is online.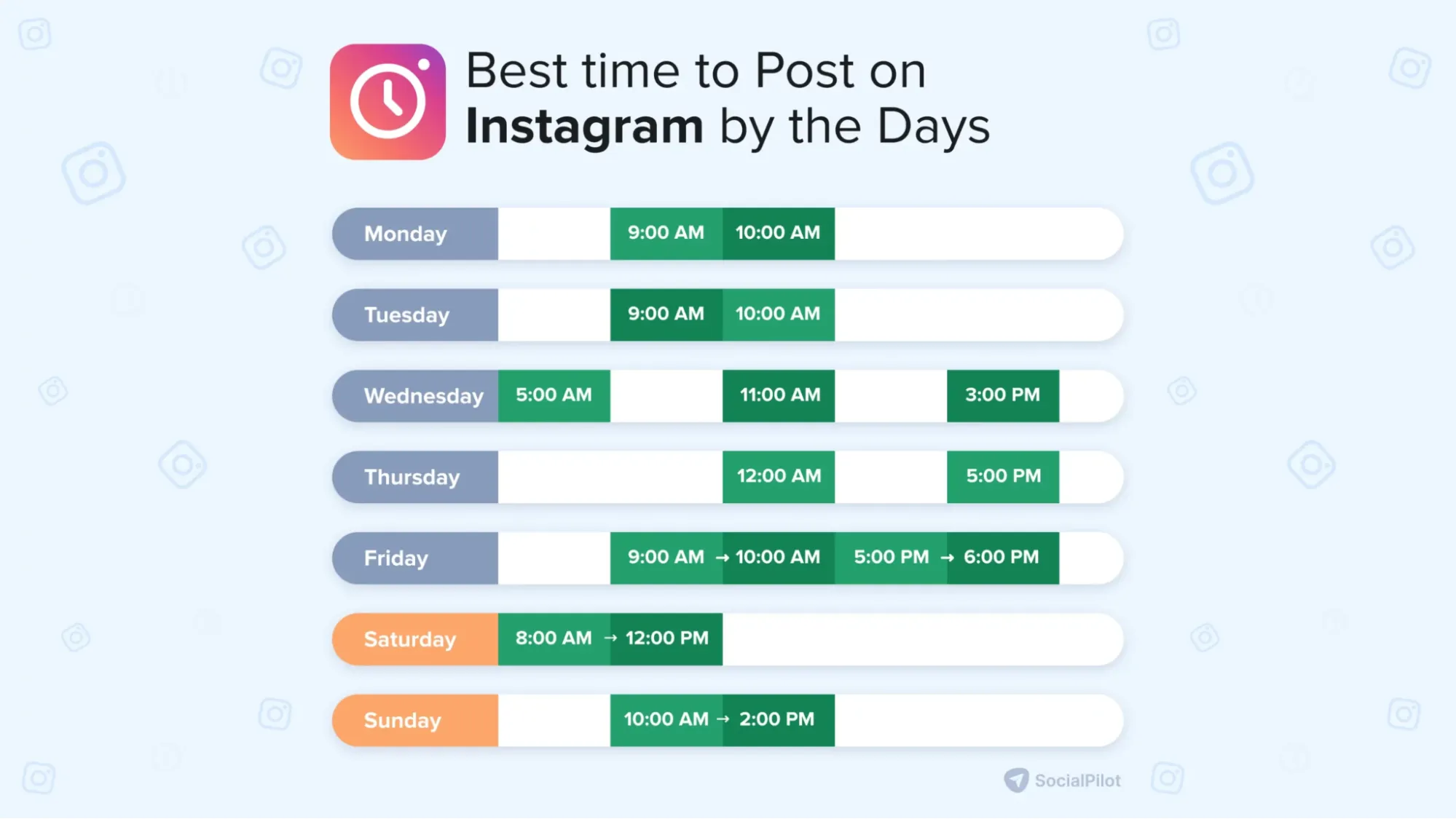 The most effective way of determining the best time to post on Instagram is by testing how your posts perform at different times of the day. If you notice that content posted in the mornings consistently earns more likes, comments, or followers than in the afternoon or evening, set your content-sharing schedule accordingly.
7. Engage With Your Followers
Ensure that you respond to all comments, both positive and negative, as this is a crucial aspect of audience engagement. Express gratitude for positive comments and address any questions or concerns. Ignoring comments can convey disinterest in community building.
Demonstrate that you value your followers' input. Respond to comments, reciprocate follows, and engage with their content when relevant. This approach fosters strong connections and can lead to increased engagement.
Struggling to manage and respond to numerous Instagram comments across various client accounts?
Simplify the process with SocialPilot's Instagram Inbox. This tool consolidates comments and messages from multiple Instagram accounts into a single, user-friendly dashboard. Respond swiftly in real-time using engaging images, GIFs, and emojis. By reducing your response time, you can position your brand as one that truly appreciates and values its audience.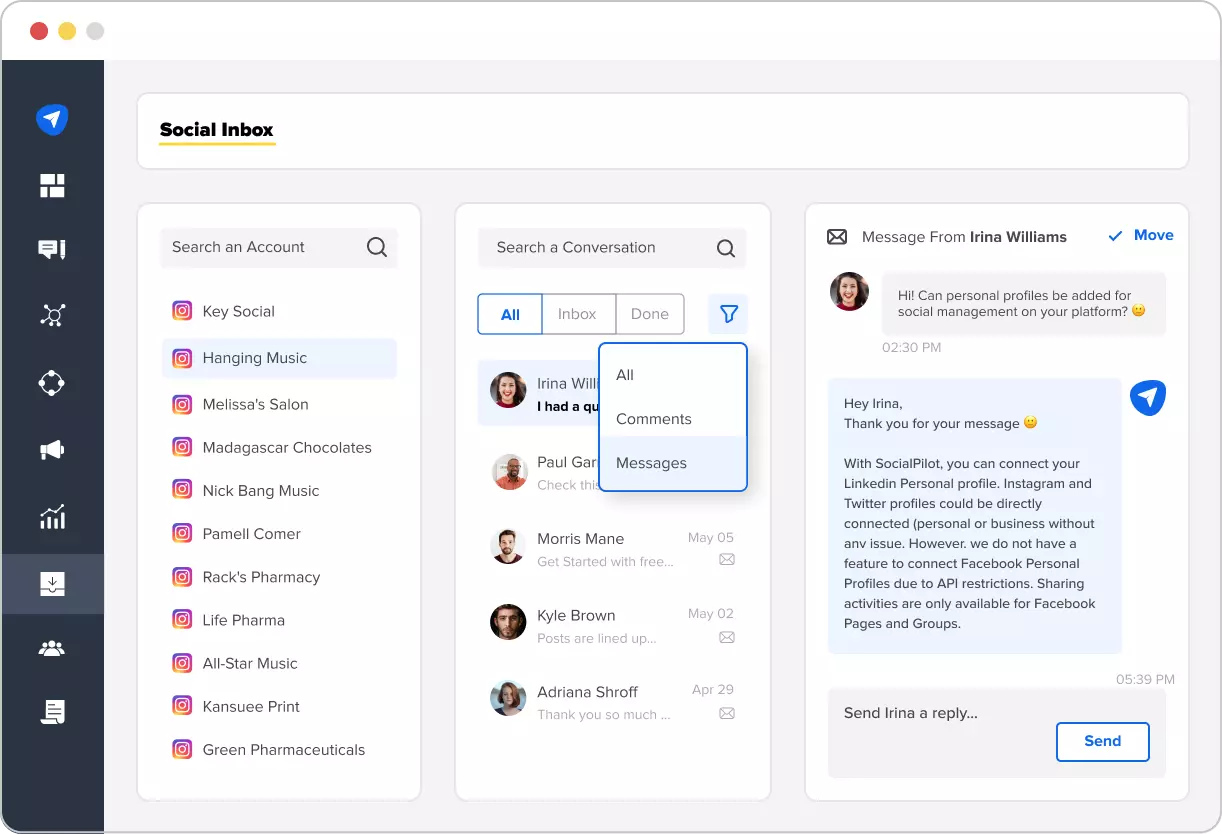 8. Make Informative Carousel Posts
Carousel posts are an untapped reservoir of engagement opportunities. In fact, the average engagement rate for carousel posts on Instagram stands at 1.08%, surpassing that of image posts.
Carousel posts allow you to upload a series of up to 10 swipe-right images or videos in a single post, enabling you to craft a compelling visual narrative that captivates your audience. Moreover, as users swipe through your carousel, they linger longer on your post.
And Instagram's algorithm loves that!
Carousels can be effectively utilized to share 'how-to' guides, statistics, or industry insights. For example, The Futur Group, an educational platform catering to designers and creative professionals, frequently shares insights using carousel posts, thereby achieving substantial engagement.
Carousels also serve as an excellent means to repurpose your blog content. You can distill the key points of your blogs into distinct carousel slides, enhancing them with graphics for visual appeal. Given the trend of users seeking information on social media, this strategy adeptly captures audience's attention.
Here are additional creative ways to leverage Instagram carousels:
Educational materials, instructions, and guidelines
Transformation stories with before/after pictures
Collections of photos from events or behind-the-scenes glimpses
Product launches or brand updates
Infographics and statistics to share insights or industry trends
What's next?
Ensure your audience remains engaged and doesn't simply scroll past. Conclude your carousel with a thought-provoking question, encouraging users to engage in the comments section. Comments, as we know, are a treasure trove of engagement.
Strive to make your carousels informative, captivating, and absolutely irresistible. Dive in, experiment, and observe your engagement metrics ascend.
9. Collaborate With Influencers
Influencers and creators are the pulsating core of Instagram.
Did you know that an impressive 61% of consumers place more trust in recommendations from influencers compared to the traditional brand content, which stands at 38%?
As a business, it's imperative to capitalize on the influence of these creators by initiating collaborations. By aligning with influencers, you effectively tap into the trust and rapport they've established with their audience.
What's more?
Instagram facilitates such collaborations with features tailored for seamless partnerships. One such feature is the "Collabs" tool, which allows you to co-create posts or reels with influencers.
The content co-created appears on both your feeds, enabling you to engage with their followers while simultaneously spotlighting them to your audience. Additionally, all likes, views and comments on the content are shared. It's a mutually beneficial arrangement.
For instance, The Honest Kitchen, a pet food brand, engaged in a unique collaboration with an influencer, Cricket the Gremlin Dog. By tapping into Cricket's dedicated community of dog enthusiasts and adopters, the brand effectively broadened its reach.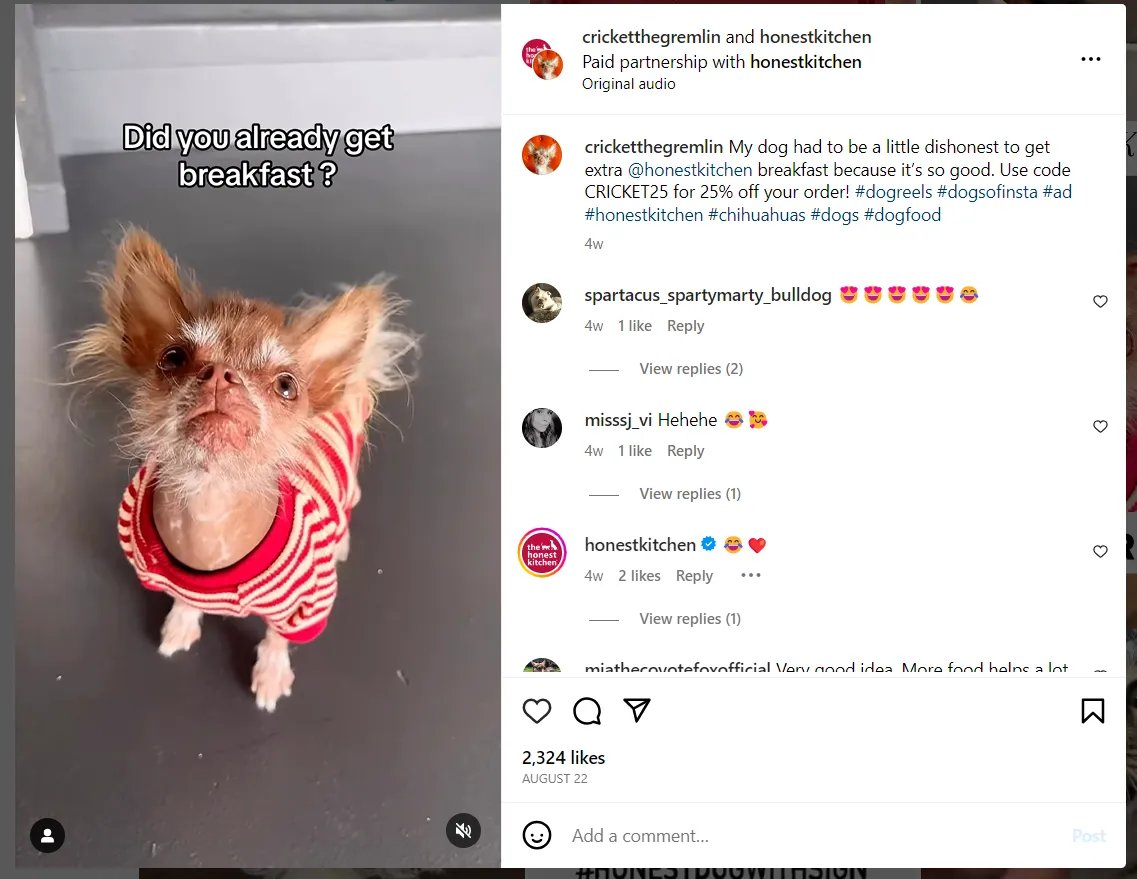 It's crucial to remember that influencers resonate with audiences due to a deeper connection. Hence, when a micro-influencer endorses a brand, the promotion should echo the influencer's authentic voice.
The aforementioned collaboration felt genuine and relatable as the product was seamlessly integrated into the humorous and engaging videos characteristic of Cricket's Instagram presence.
10. Promote User-Generated Content
Do you have a community on Instagram producing content that aligns with your brand? In essence, are you experiencing an influx of user-generated content (UGC) on Instagram?
If so, congratulations! You've struck gold! Begin by featuring this content on your page. If not, it's time to implement strategies to encourage the creation of user-generated content.
Wait, what's the deal?
User-generated content on Instagram encompasses Posts, Stories, or Reels crafted and shared by users, reflecting their experiences, perspectives, or insights regarding your brand or product.
UGC is often deemed more trustworthy as it is authentic, unfiltered, and emanates directly from users who have engaged with your brand offerings.
11. Host an Engaging Giveaway Contest
Everyone appreciates complimentary items, making giveaway contests a powerful engagement magnet on Instagram. These contests excel in initiating dialogues with your followers and potential audience via comments and direct messages.
A study by TailWind revealed that Instagram giveaways can generate up to 3.5 times more likes and 64 times more comments compared to regular posts.
So, how can you run a contest?
Your content should align with the goals you aim to achieve. For instance, if your goal is to acquire new followers, then one of your contest rules should be that participants must follow your account to be eligible to win the freebies.
Based on that, you can create multiple types of giveaway contests. One of the ways is to partner up with another relevant brand to attract a substantial number of participants, elevate brand awareness, boost follower count, and serve as an effective cross-promotion strategy.
Look at how The Murad Skincare and Therabody collaborated to giveaway their much-loved Theramask and new targeted correctors and did all of the above.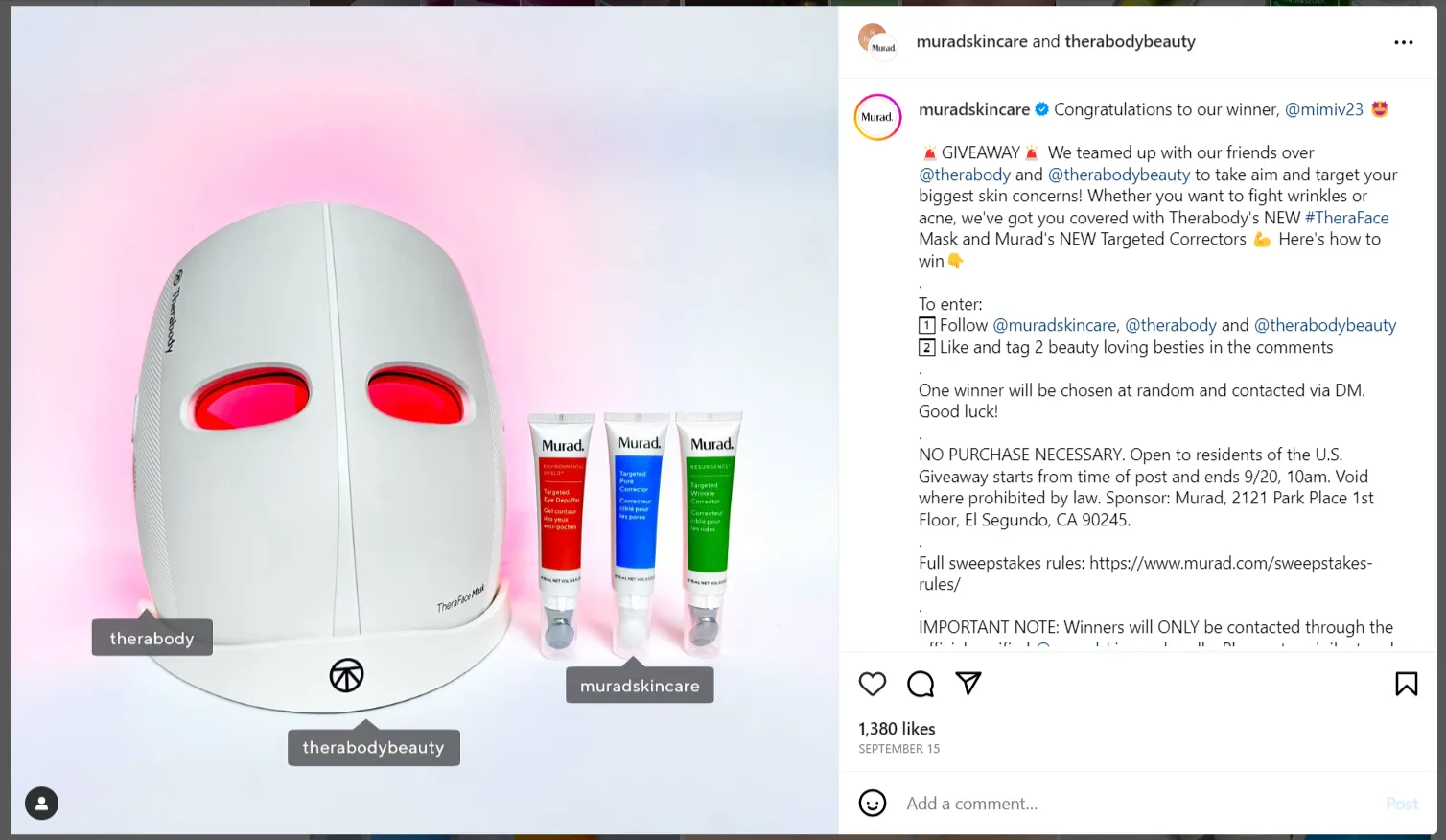 Can you spot the clear instructions in the caption?
Ensure you clearly mention the entry instructions, the giveaway prize, and every other guideline. Having clear, uncomplicated rules makes participation accessible and enjoyable for everyone.
Instagram Caption Generator
Generate snappy, scroll-halting Instagram captions without pause.
Here is the Generated Result
Create More for Free!
Get 500 Credits to Generate AI Content!
Since you're an AI fanatic, we are offering you 500 Free Credits to generate awesome content on the AI Assistant of SocialPilot.
12. Host Instagram Lives
More and more people are seeking to connect with the authentic side of the creators and businesses they follow, and Instagram Live is the perfect platform to provide just that.
Did you know that an astounding 100 million people engage with Instagram Live every day?
This feature's spontaneous and unscripted nature allows you to establish a real-time connection with your audience.
However, it's crucial to remember that it's not just about going live; it's about delivering engaging and relatable content in the moment.
Instagram Live offers features such as Q&A stickers and other interactive media that you can utilize to pose questions, share insights, and delve into topics your audience is passionate about, all while keeping the session lively and interactive. The ultimate goal is to build rapport and sustain a flowing conversation with your audience.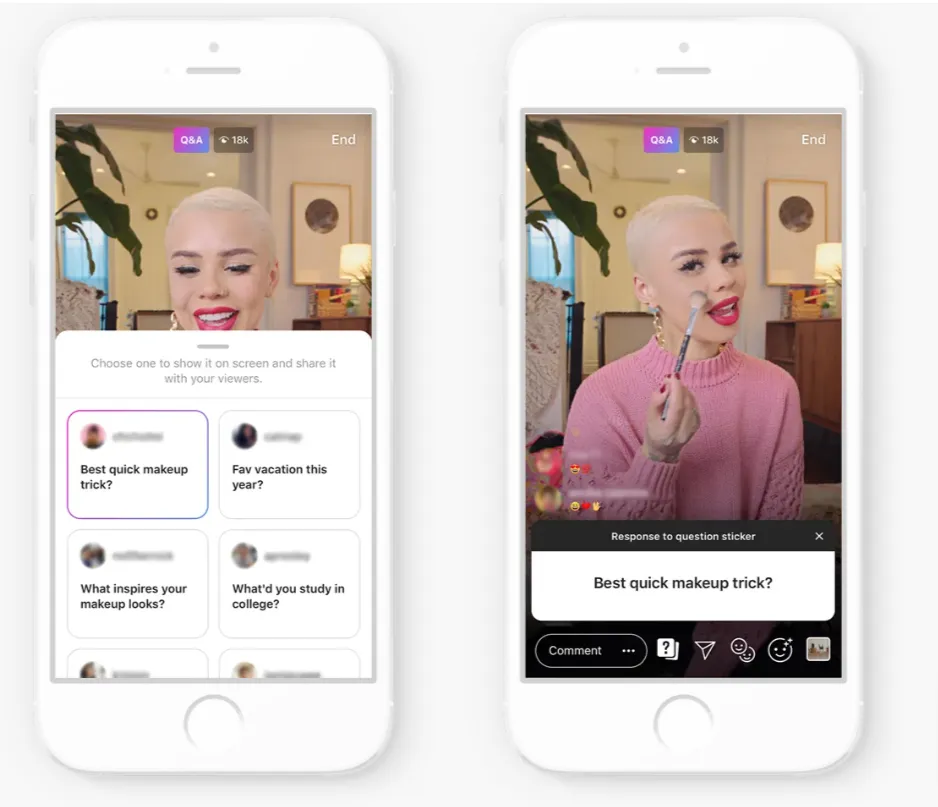 13. Create Relatable Memes
Memes are fun. That's why they are so effective in connecting you with your audience on a more personal and humorous level.
Of course, your memes need to be relatable to your audience. Tailoring your memes to resonate with your specific audience will increase their likelihood of engaging with your content. So make sure you understand the interests, pain points, and sense of humor of your audience first.
But that's not it.
Your memes should stay current with trending formats and topics to catch the attention of your Instagram audience. You can easily stay abreast with the latest memes by keeping a tab on popular meme accounts and hashtags.
In the end, the art of creating a great meme lies in balancing both overall popularity and relevancy.
Conclusion
Instagram stands out as an exceptional platform for sharing content, engaging with audiences, and establishing your brand's presence. If you haven't yet integrated Instagram into your business strategy, it's time to prioritize it.
As you strategize your approach to Instagram, place engagement at the forefront and ensure that the tips discussed here are seamlessly woven into your plan. The key to boosting engagement on Instagram lies in crafting authentic content that aims to resonate and foster connections with your audience. Every piece of content should be designed to engage your audience in meaningful conversations.
To streamline your Instagram marketing endeavors, leverage the capabilities of SocialPilot. With SocialPilot, you can effortlessly create, schedule, analyze, and engage with your followers' messages all from a unified dashboard.