Are you looking for a new way to interact with your audience on Instagram? You might have heard about Instagram Live for Business.
Today, we will tell you how you can talk to your target customers directly using this amazing Instagram feature.
After all, over 500 million people actively use Instagram stories daily. And Instagram Live functions as part of IG stories. It means you should not miss out on this opportunity to interact with such a big number of users.
Big brands are using this incredible Instagram marketing tool to sell products/services.
However, as the name implies, you can not have retakes on a live stream. It means there is no place for mistakes.
Don't worry! With preparation, you will be good to go. We will tell you why Instagram Live is essential to help your business grow, how to start using IG live, and hacks to host video streams that meet your objectives.
What Is Instagram Live?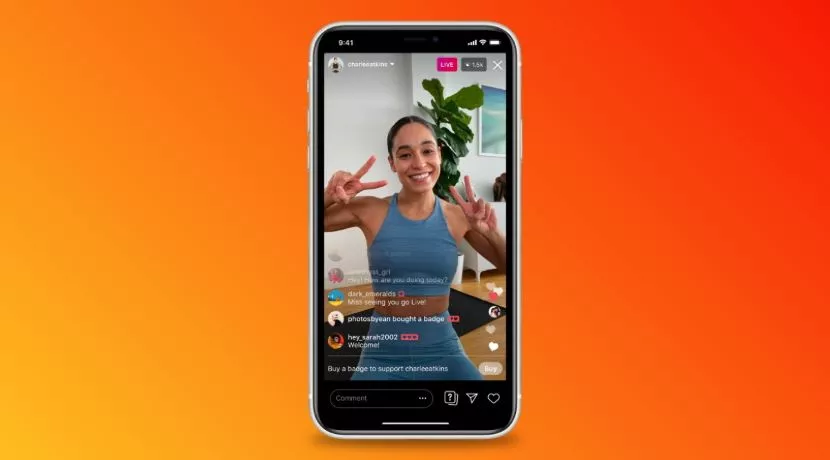 Audiences love to see the human side of brands to which they can relate. Instagram Live is a wonderful way to do just that.
It enables you to broadcast or live stream videos to the audience instantly. Your Instagram Live stories are presented as the very first IG stories above the feed.
Moreover, when you start live broadcasting, your live video springs in front of each Instagram story. It saves your live video from the eyes of the algorithm.
Remember, you don't get a chance to edit a live video. Therefore, craft an impactful first impression.
And get rid of connectivity problems before you go live as they can ruin your broadcast.
Why Is Instagram Live Essential For Your Business?
When your business's CEO or founder engages with social media users face-to-face, it fosters a personal bonding. And users like it. Large organizations often find it hard to do.
So, small businesses get a good reason to benefit from this social media marketing opportunity.
Instagram Live has beautifully replaced in-person conferences or events. Your followers can comment, and you can respond to them in real-time during IG live.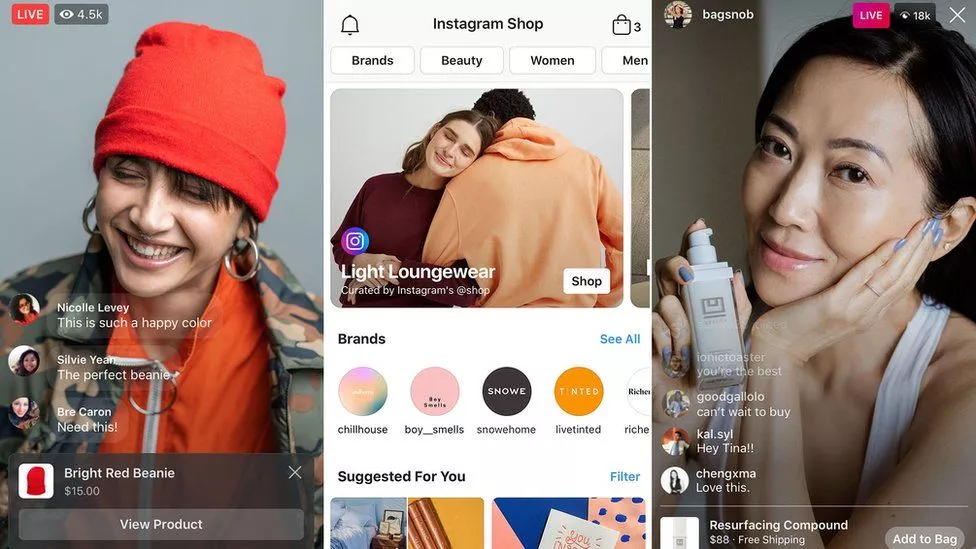 Instagram Live gives your users a great opportunity to pour their hearts out and ask you whatever they want to know about your products/services and brand.
You don't even need to gather an audience. Instagram automatically sends notifications when you start your Instagram broadcast to the users. It ensures that more and more people join your live stream.
What's more, live streams impact users in powerful ways because they are unfiltered. Your content gets a personal and genuine touch because you communicate with the audience in real-time.
No other social media tactic beats Instagram live in providing this level of immediate interaction with the followers. That is why you must incorporate it into your Instagram marketing plan.
Guide To Going Live On Instagram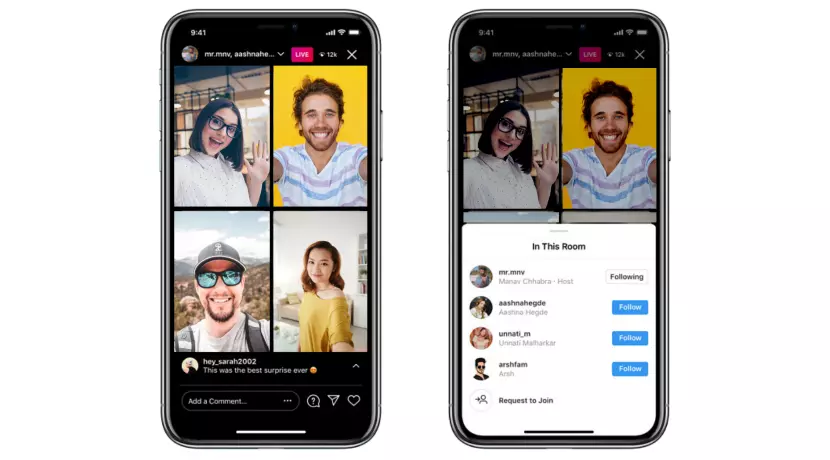 Instagram Live is a piece of cake to learn if you read this guide carefully as we will cover the process in baby steps.
Check Instagram Camera Settings
Before you begin your Instagram live video, you should look into your live video settings to avoid any issues. Open your Instagram story and tap the live option. Then the screen will show you the number and profiles of the active followers at that time.
Swipe right to open the settings menu. You will be directed to your camera settings. Here you can choose things like whether you want the camera toolbar on the left or right-hand side.
Click on the Live button and you will get the option to hide the photos and videos including Live videos of your Instagram stories from certain people.
Look at the left-hand side of your screen, and you will find a content icon that lets you write a title for your video.
You will also see an audience icon to select from Public or Practice mode and a calendar icon to schedule your live video for a specific date and time.
Once you feel satisfied with the settings, click the camera button. Instagram will ensure a perfect internet connection and then start the live stream.
Hide Unwanted Comments
You don't need to read indecent comments on your live video. Head out to your Instagram settings. Go to 👁️ Hidden Words under the Privacy menu. Here you can hide inappropriate comments by swiping the toggle bar.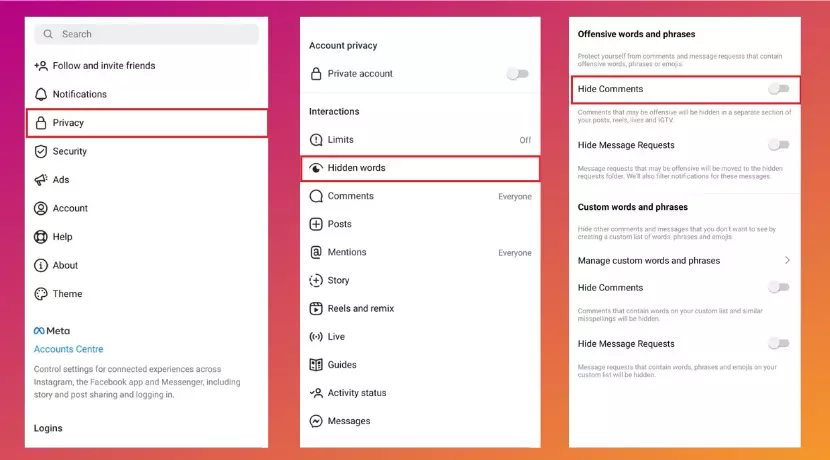 You can also block comments from specific people and use the manual filter to conceal comments that have certain phrases/words from your content. Or you can use ⚙️ Advanced Comment Filtering to do it automatically.
Plan Your Live Video Stream
If you are just starting, make sure you understand all the features Instagram live provides. Aspecially the ones you want to use in your video and plan your live stream before hand. You should know how your selected features will fulfill your Instagram live objectives.
Otherwise, your live stream will be distracted and hurried. Your video content can get ruined if you keep testing with different features during the live stream rather than interacting fully with the users.
Start Live Broadcast
Tap 'Live' on your screen whenever you are ready and begin your live session in attendance of you loyal customers and followers.
End Your Instagram Live
After ending the video, you can save it to your profile by clicking the save icon on the left side and then, confirming your choice.
Some Key Highlights of Instagram Live
Instagram live offers some outstanding features useful for businesses to engage with their customers in better ways.
You can open your camera and stream a video live instantly
It enables you to pin some comments that will show at the top of the comments feed
Followers can comment during the session to ask questions or leave feedback
You can invite others to your video stream as guests
It allows you to save your live stream to your IG stories
You will see comments from people at the bottom of your screen. Q&A sticker allows you to view queries posted by the audience. You have the liberty to select which ones would show on the live stream.
Tips to Leverage Instagram Live for Your Business
These Instagram Live best practices will help you create killer content and prepare for your live stream.
1. Have an Objective
Why do you want to go live on Instagram? Have you decided on its purpose?
You should figure out what you want to deliver through your video. It might be product promotion, informative content, a new deal/discount, or just casual talk for the sake of engagement.
2. Prepare in Advance
Structure the content of your live stream so you don't start babbling in the middle. Prepare in advance to ensure your live stream hooks the audience.
3. Promote Your IG Live
Start promoting your live stream on your Instagram posts or stories at least one week ahead of time. By adding a countdown clock to your IG stories, you can boost the promotion and let followers choose to get a reminder added to their calendar about your live video.
4. Use Longer Live Streams
Try to make your live stream at least longer than 10 minutes. People might tune in and out from your live video. The longer you stay live on Instagram, the larger audience you will reach.
Businesses have noticed that longer live videos often work better and engage with a larger number of people than shorter ones.
Conclusion
Live Streaming is a dynamic option social media sites offer that businesses can use to bond with their followers, drive new audience members and develop their brand. For this reason, almost all social media channels give this option.
You can go live on YouTube, Instagram, Twitter, Facebook, and other social media sites. However, you should choose a platform where your audience hangs out more and which you understand better.
Due to the pandemic, we all stayed isolated for a long time. It was a time when businesses may have found it hard to stay connected with their customers.
Instagram Live came to their rescue at that time. Still, brands are using it as a shortcut to success on Instagram at least to stay at the top of their audience's minds.