People simply love to share their life experiences, and this is one lesson that the success of social media has taught us very well!
And why should brands remain far behind?
Indeed, when it comes to building a dynamically evolving relationship with their audience and customers, brands must not forgo the robust marketing opportunities that social media presents! Particularly those presented by live streaming on YouTube.
Live Streaming is really not that novel a concept. For several years now, numerous businesses have been using live webinars and other modes of video-based communication to interact with their audiences from across the world.
But in the post-pandemic world, with most of the world gone heavily digital, using boring product descriptions and other unimaginative presentations to record YouTube live streams is simply not going to cut it.
This is why we have compiled this comprehensively researched blog for brands on how to start a YouTube live stream, along with other useful tips, tricks, and strategies on making their live stream successful.
How to Start Live Stream on YouTube
To start a live stream on YouTube from your device, you would first need to enable your channel. For doing that, you'd need to visit https://www.youtube.com/verify to verify your phone number via either of the two options demonstrated in the image below.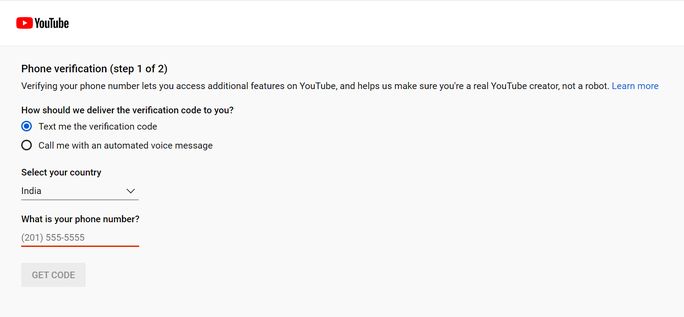 Next, you'd have to select the device type from which you wish to go live.
1. Via desktop
Visit Creator Studio's dashboard (or click on this link)
Click on the "Go Live" icon present below your channel icon, as shown in the image below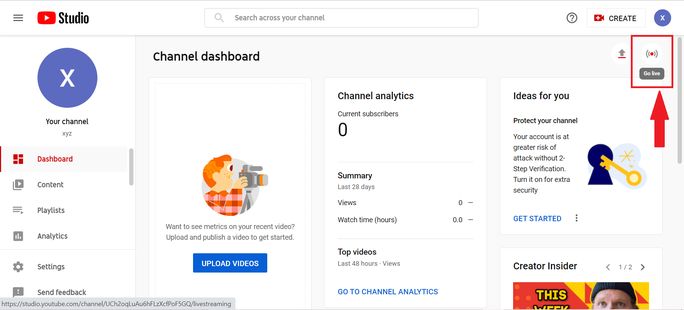 Note: It would take 24 hours for you to go live after your account has been activated.
2. Via phone
Download and open the YouTube app
In the top right corner of your screen, click on the "Camcorder" icon
Click on the "Go Live" option
Your channel would need to have a minimum of 1000 subscribers for you to be able to go live via your smartphone.
3 Modes of Recording a YouTube Live Stream
As of now, YouTube provides three basic means by which you can record a live stream, and they are as follows:
Mobile cam
Webcam
Encoder streaming
While your laptop or desktop camera can be an easy option to record a live stream, you would compromise on your video quality that way.
This is why you might have to rely on encoding software to improve the video quality of your YouTube live stream. We'll cover this in greater detail in the upcoming sections.
Now, to get on with how to start recording your YouTube Live stream, make sure that you have a thumbnail image, title, and description ready before recording.
How to Start a YouTube Live Stream on a Computer?
Given below are the steps you need to follow to start a YouTube Live Stream from your computer.
On a Firefox 53+ or Chrome 60+ browser, go to www.youtube.com/dashboard
In the upper right corner, click on the camcorder icon
Select Webcam after clicking on Go Live
Fill up the fields with your title and privacy preferences, as shown below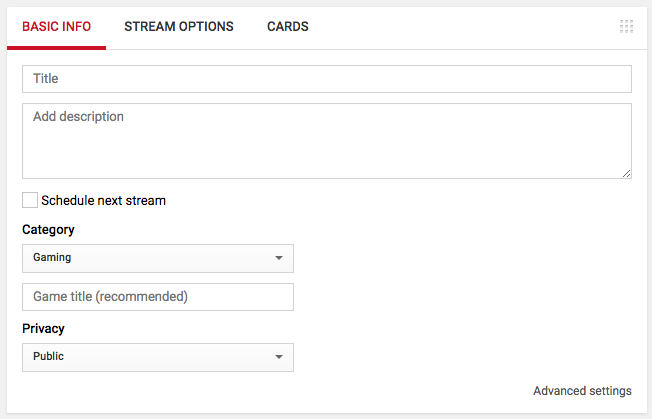 Add a description, allow or deactivate live chat, marketing, monetization, and other settings by clicking on More options
Now, click on the Next button. YouTube will automatically snap a thumbnail shot of your webcam. After that, you may choose to either retake another screenshot or upload a customized thumbnail later.
Finally, click on Go Live
To quit the live stream, go to the bottom and click on End Stream
How to Start a YouTube Live Stream on a Mobile?
Select the camcorder icon from the YouTube app
Next, select the Go Live option
Fill in the blanks with your title and privacy preferences
To add a description, click on More Options
Show More allows you to enable or disable live chat, monetization, age limits, marketing disclosures, and other features.
To quit, click on Show Less and then Next
Take a photo or add a thumbnail to your video
To share the link of your live stream on your other social networking sites, tap/click on Share
Again, select Go Live
Finally, to exit, click Finish, and then click on OK
How to Start a YouTube Live Stream with Encoding Software?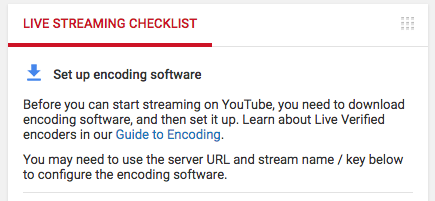 There is a YouTube encoding software available for every device, based on the one that you intend to use for your live stream. The following list contains some of the most widely-used software and devices that YouTube has officially verified:
Webcams from your personal computers
Mobile Capture
SlingStudio
AirServer
Elgato Game Capture HD60
Gameshow
Epiphan Webcaster X2
Mobile Live
Given below are the steps to get started with an encoder for your YouTube live:
Choose the camcorder icon
Select Stream after clicking Go Live. Tip: If you have already streamed before, choose Copy and create to utilize the existing settings. Alternatively, choose New Stream.
Fill in your title, description, privacy settings, category, and a thumbnail. You may also schedule and monetize your stream. Click on the Create Stream button to get started with that.
Copy your stream key from the Stream Settings option. Tip: You can reuse the exact stream key for subsequent streams. Multiple stream keys can also be customized and saved.
Copy the stream key and paste it into your encode field
Return to your main YouTube dashboard and select Go Live
Click End Stream to exit your currently active stream
How can Brands Effectively Use YouTube Live Streaming?
We have compiled a list of the most effective tactics for brands to ace the game of YouTube live streaming.
Any stream should begin with a purpose in mind. What do you expect to gain by appearing live online?
1. Prep up before you go live
Establish your goals and make a plan to attain them via your live stream. Your objective should guide your live stream arrangement forward, whether it is to interact better with your loyalists or to sell your product or service.
If you plan to host your team in a live stream, decide early on what each team member's job is going to be during the stream. You can also plan on things such as the number of hosts, a professional cameraperson or moderator needed, among other things.
Title: Be precise, detailed, and employ powerful keywords
Description: Include crucial keywords right in the beginning, along with links and content, with a maximum of 15 hashtags.
Picture as a thumbnail: 1280×720 is the recommended resolution (with a minimum 640 px worth of width
Script: Even if it's merely hurriedly jotted down bullet points
Relevant CTAs: Determine what you want viewers to do during the live stream. Include these call-to-actions in the script and description
Also, before you begin, connect your YouTube channel with your social media accounts. That way, your most die-hard loyalists can share your ongoing or scheduled live video on their social media accounts.
2. Experiment with YouTube Premiere
YouTube Premieres include live as well as pre-recorded content. They provide the creator with the opportunity to watch their video live along with their audience, much like some movie or television premieres.
Premieres provide a stable ground if you do not wish to compromise on production quality or are just uneasy recording live.
YouTube Premieres, much like live broadcasts, can be followed by a live discussion. A public watch page is designed right before the debut, and a countdown starts 2 minutes right before the premiere commences.
3. Refer to Analytics to Know What Works
Real-time and post-live metrics are provided by YouTube Analytics for live streams. Constantly check the dashboard and adapt to what works along the way. Alternatively, use what you've learned for your next live broadcast approach.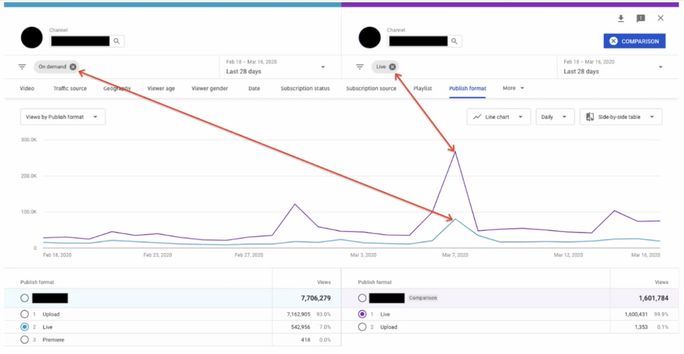 Check for a spike in viewers to have an idea of what garnered the most number of people. Retention will tell you how often people stayed with you to the very finish. If this statistic and the average view length are low, strive to increase anticipation and engagement in your next live stream.
Look for gains in subscriber growth and overall view time to evaluate how your YouTube live broadcast helps your channel growth. Learn who is viewing your live streaming by using demographics, and then adapt future content appropriately.
4. Make your Live Streams More Accessible
Have a well-defined framework in mind before you begin. Allow viewers time to digest the content that you share in your live. Of course, ensure that your work is acceptable for the target audience and follow YouTube's Community Guidelines. If your live stream breaches YouTube regulations, you may be banned for at least three months.
Parting Words
If you want to enhance your brand's awareness online, now is the best time to explore YouTube's Live Streaming. Hopefully, with all the strategies shared in this article, you should be able to get it just right!
Today, no business worth their salt can afford to overlook the umpteen opportunities presented by YouTube Live and social media marketing in general.
This is where a social media scheduling tool comes in handy to create a cohesive social media scheduling strategy. To learn more about such a tool, try SocialPilot.