Do you know who we can term as the Grand Canyon of social media platforms?
Instagram.
And one of its most prominent and most talked-about features is the Instagram Explore Page.
What's the buzz around this feature?
How is it one of the most promising features for your business's brand image on Instagram?
And how to master the art of putting your Instagram posts highlighted on the Instagram Explore Page?
We'll have an in-depth discussion about all these topics and find the most optimum solution for your business.
So without further ado, let's get the journey started, just like the 17-Mile Drive.
What is the Instagram Explore Page?
As you may know, Instagram is one of the most visited and addictive social media platforms for all age groups worldwide.
In the US alone, over 140 million people are currently active on Instagram.
Isn't it staggering to see these numbers?
And you know what, these numbers are only going to increase.
With an average of 30 minutes a day spent by a user, Instagram has become a goldmine for businesses.
With constant updates in business-focused tools, Instagram offers:
Promoting services and products
Boosting brand image
Content creation features and a lot more
And one of the tools Instagram developed to achieve all this is Instagram Explore Page.
Whatever you call it, Instagram Explore Page or Instagram Search Page will become the most important feature for your Instagram reach over the next few minutes.
Started as the "Popular" page, it allowed only popular accounts with tremendous engagements to be visible to a regular user.
But initially, it wasn't beneficial for business accounts, and sometimes irrelevant content was visible to the Instagram users.
Then in May 2019 entered Instagram Explore.
This one thing entirely transformed Instagram.
People now receive recommendations based upon their activities and their interests, as Instagram's own algorithm takes into consideration:
Accounts similar to the ones you follow
Posts that users you follow have engaged with
Posts having higher engagements
Now Instagram users can discover what they like and what they are looking for more easily.
Businesses could easily reach out to people who are looking for their service or product.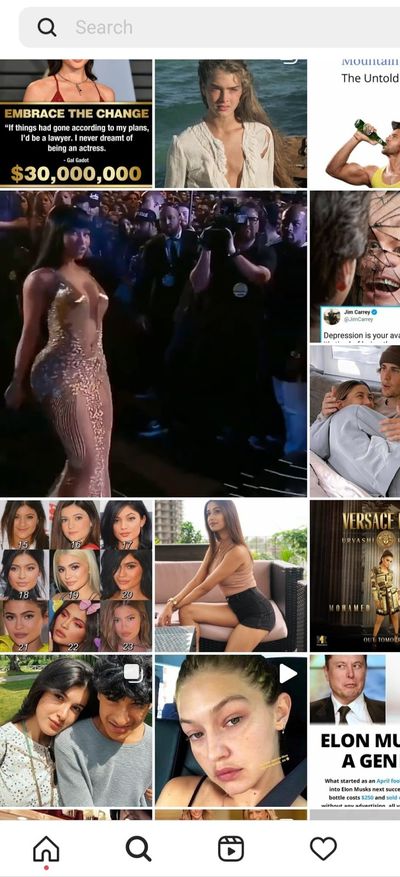 Adding kerosene to the fire, Instagram introduced Reels, IGTV, and Shopping features to its platform.
A normal user's Explore Page is filled with various relatable IGTV, Reels, images, and videos.
Ok! Now you might think, "All this is cool, but can a business like ours benefit from this?"
Let's throw some light on this.
Why is the Instagram Explore Page important for your business?
Irrespective of your business niche, or your business type, you need to catch the eye of your target audience using Instagram.
What's the easiest way of doing that?
Getting featured on the Explore Page by whatever means like reels, IGTV, stories, videos, images.
Over 500 million people are using the Instagram Explore Page every month, and chances are your target audience is also among them.
With such an astonishing number of people using Instagram, landing a post from your business page on the Explore Page can drive you:
A boost in your engagements – more and more people will know about your brand
A rise in new followers – the traffic diverted from that post to your account will convert as your follower
A bumpin sales and revenue – with more people knowing about your products and services, there is an increased chance of people ultimately buying from you
Also, creating a powerful brand on Instagram can help you channel more audience to your website, blogs, or sales pages.
There can be tons of new opportunities for growing your business and reaching new heights in your industry once you master the art of getting on the Instagram Explore Page.
And what's even better?
Your target audience chooses you over your rivals every time they require your product or service because they know you better via Instagram and trust you more than your competitors.
So how to get on the Instagram Explore Page to achieve all these benefits?
How to give your business the extra edge of Instagram in this digital world?
With all our experience and expertise in social media marketing, we bring you some of the most time tested and effective tips to make your presence felt on the Instagram Explore Page.
How to get on Instagram Explore Page?
1. Everyone prefers freshness, whether it is food or content
One of the major aspects of Instagram algorithm priorities is recency or freshness.
The more recent the post, the chances are it will reach a higher number of an audience out there.
"But every time we post our content, it is fresh! Then why don't we get onto the Explore Page?"
Here's a secret that most businesses miss out on.
It's about your target audience and not about you.
If you post content in this lightning-fast social media platform when your target audience is not using Instagram, it will be termed as old content within 24 hours.
As mentioned in one of our articles on the best time to post on your Instagram handle, you need to know the best time to post so that your audience is there to gain value from your content.
Here's what a difference it can make:
One of the famous brands on Instagram, David Bechman, posted a star-studded image after the suggested 6 A.M to 11 A.M (PST) time. Take a look at the engagement numbers: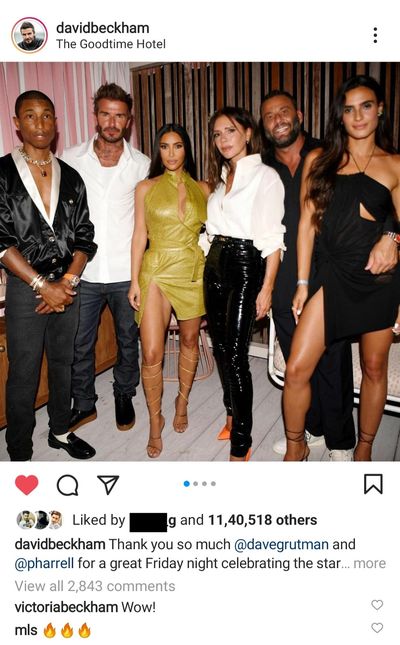 On the contrary, here's when he posted his solo photo without any star influence but within the recommended best time period:
This proves that even after having big personalities like Pharrell, Kim Kardashian, and others, the first post didn't perform well.
With that said, before creating and publishing anything, you need to take care of this next point.
2. Know your audience better than they know themselves
Yes, if you don't know your target audience well, you won't make it to the Explore Page, AKA, the gold mine of Instagram.
You need to understand what your Instagram audience likes. As most of them are under 35 years, you need to resonate with the younger set of audience.
You need answers to questions like:
What are their interests, likes, and dislikes?
How much time do they spend on Instagram?
What content do they consume the most?
Why do they like certain types of content?
Which content type do they prefer the most
Which accounts do they engage the most with?
Answers to questions like these help you get an obvious idea of what they want from you, what you should include in your content, and how to format the content you present.
You might think that this is basic, but you need to do it for your Instagram audience as basic is what gets ignored easily.
You don't want to be one of those, right?
Another way of creating meaningful content is by continuous learning.
3. Learning is growing
One of the best ways to pop up on the Instagram Explore Page is to learn from what high-performing posts comprise.
You need to understand what's making them successful.
Understanding the trick and then tweaking it according to your business niche, you increase the chances of your content landing on the Instagram Explore Page.
Get inspired by the theme, format, approach of high-performing posts and help your business post be one of those.
Simple hack for you: Look for posts that pop up on your Explore Page but are still not relevant to your interest, as they probably have a killer engagement.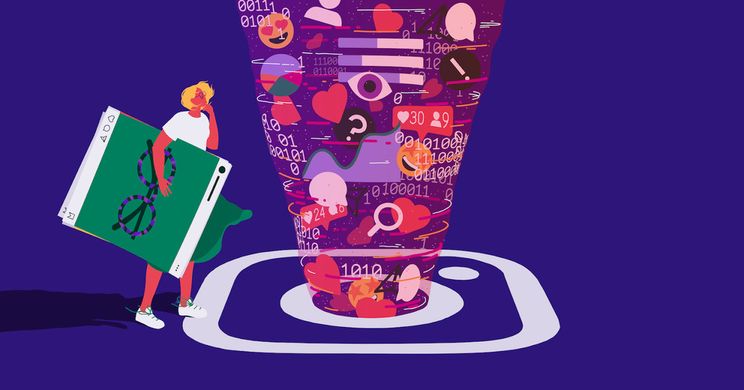 Now that you know your audience, and know what content to create for them, let's talk about the next important thing to keep in mind.
4. Be consistent with brand voice and image
You don't want to sound like different personalities every time you post content on Instagram.
Be consistent with your voice, the set of words you use, and the content you post.
If you post about football today, then about beauty tomorrow, your chance of getting on the Instagram Explore Page will get slimmer.
Represent your brand's true self and see the magic of Instagram.
Just like Garyvee is doing: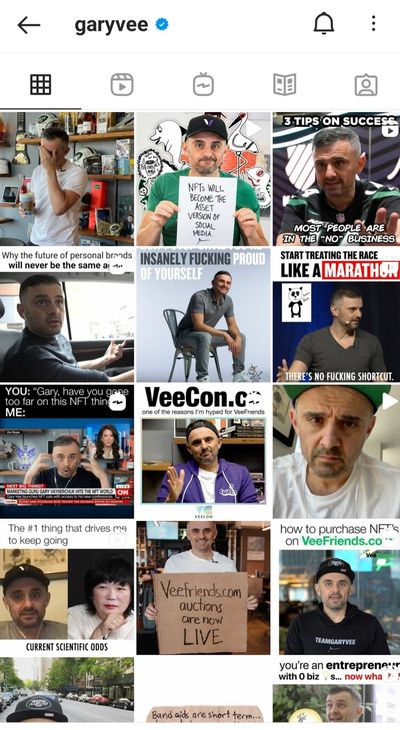 Inspiring young minds and explaining all the ins and outs of becoming an entrepreneur is what this profile represents.
This type of consistency has helped Garyvee to scale his Instagram brand to new heights.
Want to know what can help you even more?
5. Use meaningful tags
According to a recent study by TrackMaven, if a post has 9 hashtags, it will receive the highest engagement compared to another number of hashtags.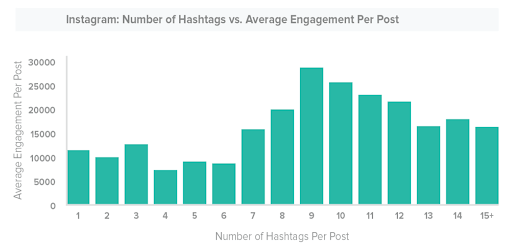 But you can't go on using irrelevant tags. Only use tags relevant to your business for your post to pop onto the Explore Page of Instagram.
You can always take help to know how to use the best hashtags for Instagram for optimum results.
Now that you are consistently creating content, let's talk about the next important thing to focus on.
6. If you don't analyze, you won't know where you are heading towards
Keeping a check on your performance is key.
Look for patterns in the posts that are getting saves, shares, comments, and hearts from audiences, and create more of those.
Also, understand which ones are not performing well and why to improve upon the mistakes.
This will help you understand what makes your target audience resonate with your brand.
Then, you just need to repeat what's working to become a prominent brand on Instagram.
Though it sounds simple, creating meaningful content is not an easy task, and on top of that, keeping a constant check on each post could be difficult while handling your business, too.
We understand your point of focus is running your business, so for that, you can always use SocialPilot. SocialPilot helps you identify how your posts are performing and what strategy you need to use in the future to perform even better.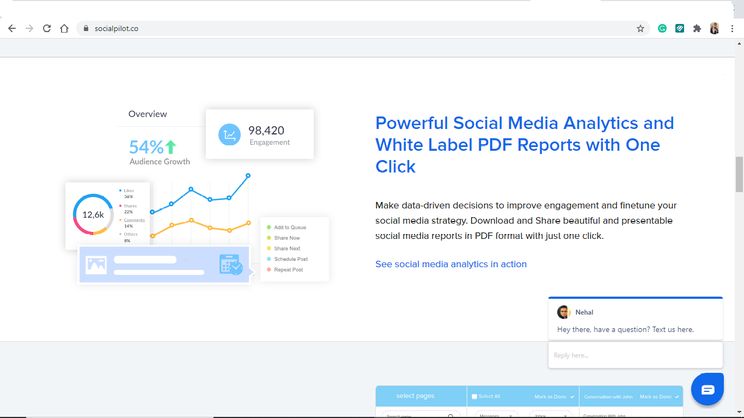 While you are creating content and analyzing it, make sure you focus on Instagram's features.
7. Make optimum use of Reels and Stories
Creating content using different methods adds variety to your brand's content.
Reels are short videos of 15-30 seconds, whereas in-feed videos are long. You can create diverse and effective content using both.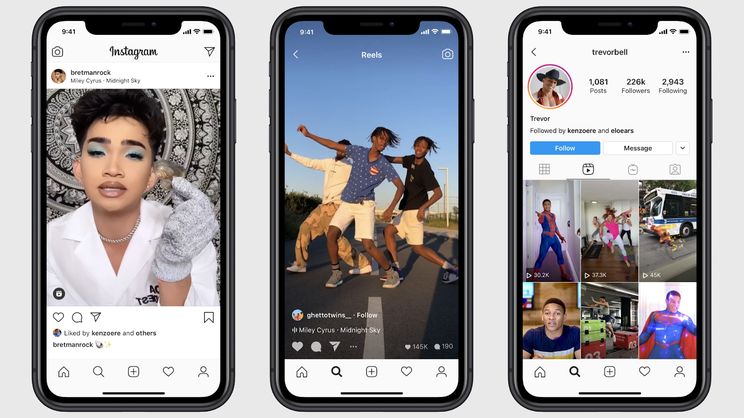 Reels attract people who want to consume more content in less time, and people who want to learn in-depth about some topic can be targeted using normal videos.
For a fact, video content on Instagram gets more engagement compared to an image post.
Here's a statistic on the number of comments a video gets: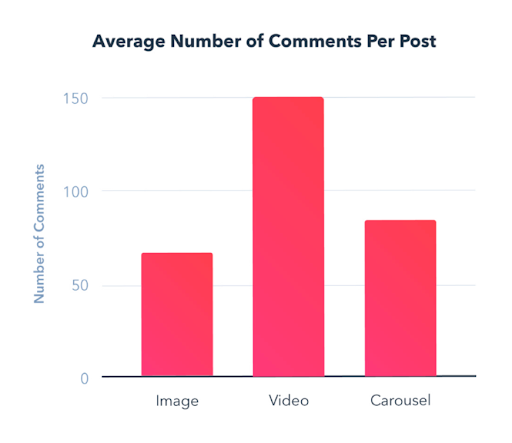 To prove this point, here's an example of a business profile: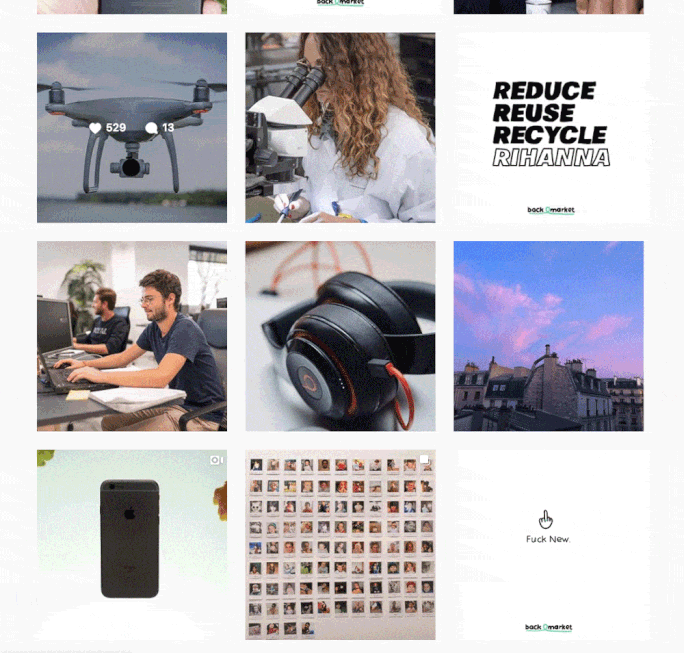 The video got thousands of views and 41 comments which are the highest compared to other formats.
This doesn't mean you need to focus only on videos.
You can also make use of Instagram stories and various trending stickers to reach out to more and more people.
You never know which one of your posts makes it to the Instagram Explore Page.
While we are at it, always keep in this last tip we have for you.
Using videos is the way to go if you want your target audience to engage with your content. But posting such a wide variety of content on Instagram for multiple clients' profiles seems an insurmountable task. It is best to get some assistance.
Use SocialPilot to pre-schedule all your video content like video posts, Reels, and Stories for multiple Instagram profiles from a single dashboard. Use automation to streamline your work and leverage the power of videos to their fullest.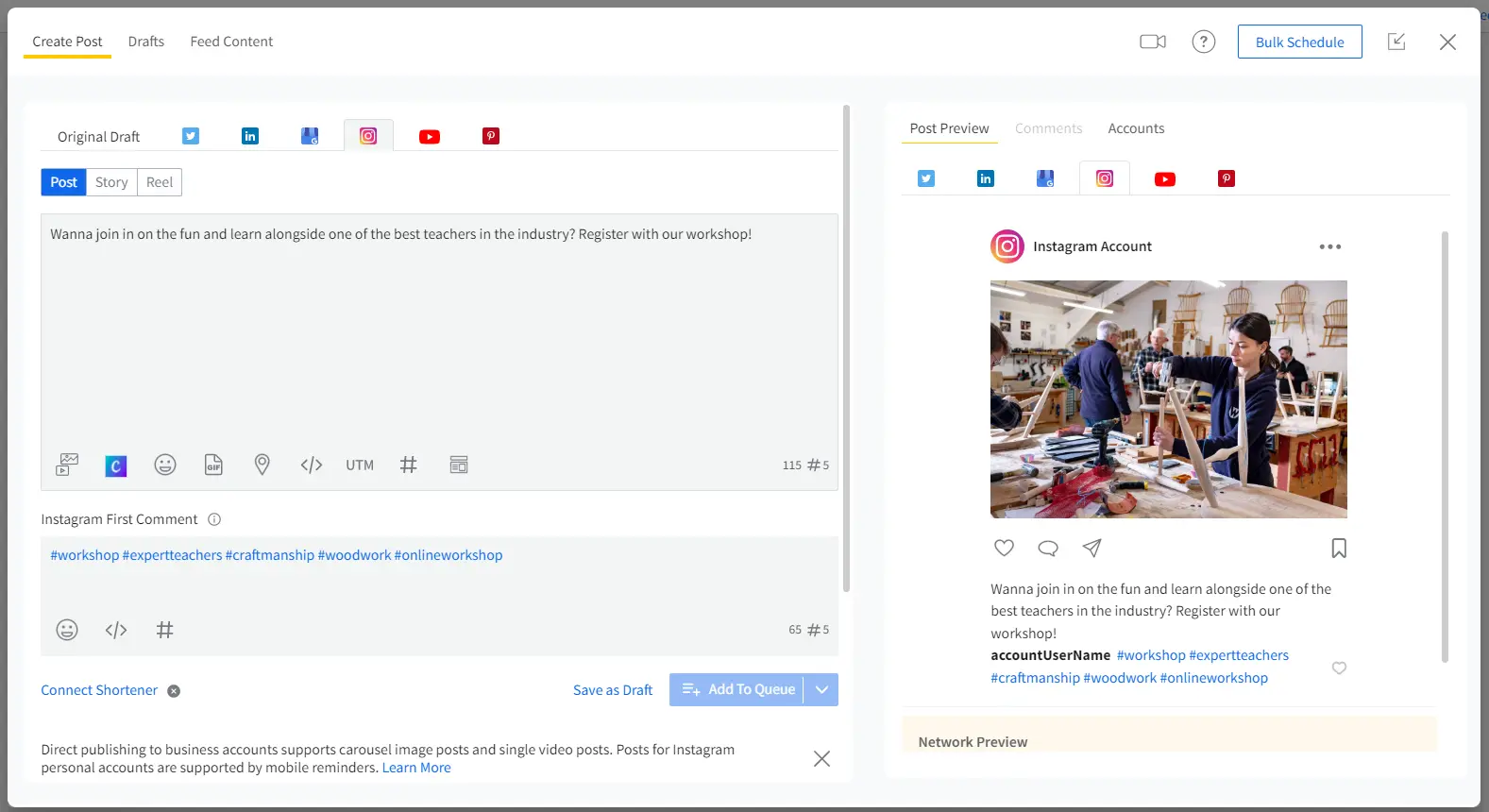 Always notice the trend
Instagram is the hub of trend marketing.
From memes to viral videos, everything can be seen on Instagram.
So if you want your content to get viral, keep track of what's trending and create content that follows the trend.
It will automatically catch the eyes of more and more people, as people are already interested in it.
People will share more of what is trending, and ultimately you will see a boost in your engagement numbers.
An American pizza brand known as Hot Pockets saw an unprecedented increase in engagements because of their memes marketing strategy: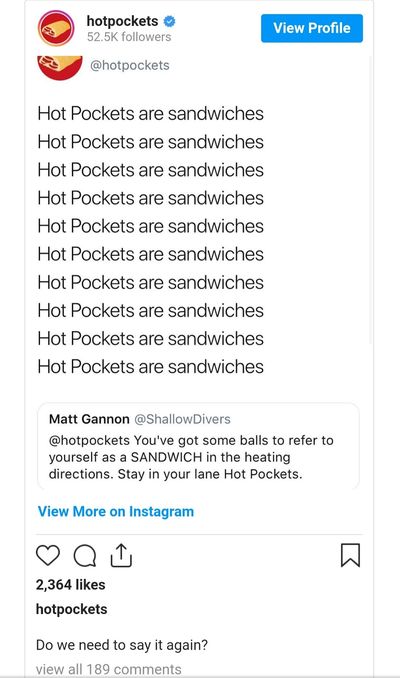 They saw an increase of 8.60% engagement rate because of this.
It is one of the latest and fastest result-oriented strategies to help your posts make it to the Explore Page.
This wraps up our discussion on how to make it to the Explore Page of Instagram.
Are you ready to create some Instagram Explore Page-worthy content?
Now you know how your business can get a boost, making it to the Explore Page of Instagram.
Apart from the valuable and regular content, you need effective tools for helping you out.
SocialPilot is a 360° social media marketing platform that takes your business's Instagram marketing strategies to greater heights.
With this amazing social media marketing tool, you can get that extra edge in creating content that makes it to the Explore Page of Instagram.
So are you ready to get in front of your target audience and make them shop only from you?