At the moment, Instagram is a fertile hub for any business.
With over one billion users per month and 500 million users per day, Instagram occupies a space unmatched by any other social media platform.
When compared with other platforms such as Facebook or Twitter, Instagram beats Facebook by ten times more engagement and Twitter by eighty-four times.
It is even more profitable for businesses as it is on record that 80% of Instagram accounts follow at least one business.
Regardless of the vast number of people on Instagram, many marketers still find it difficult to break even. Businesses find it difficult to improve on their engagements and ROI. Thus, sometimes their competitors who understand the potential of Instagram and know how to leverage it, rake up their profits.
What might be the challenge here, you could ask?
Well, it may not be unconnected to the fact that so many marketers do not make use of Instagram business tools. Even in the instances when they do, they sometimes fail to make use of the correct Instagram hack tools. The truth is that all tools will not work for you. You have to understand the intricacies of each before settling for any of them.
Below, you will find 8 effective Instagram tools that can make a change for your business run on Instagram, beginning with the most impressive – SocialPilot.
Best Instagram Tools To Grow Your Following
Price : $50 for 3+ Users
SocialPilot is an Instagram tool that is used to increase social media reach. At the moment, more than 101k businesses, enterprises, and social media outfits make use of SocialPilot to improve their digital content.
This tool covers a lot of the most popular social media platforms, and it would interest you to know that Instagram is one of the platforms that SocialPilot is most useful for.
With SocialPilot you can directly schedule and publish to your Instagram accounts with ease, hassle-free!
SocialPilot gives you great value for your money by allowing you to add all your social media accounts to it. You can make unlimited posts, track engagements, and improve leads. For a social media marketer, SocialPilot makes your job easy and keeps you ahead of your clients' needs.
Features
Multi-Account ManagementWith SocialPilot, you can add multiple accounts and keep track of them in real-time. You can connect up to 200 profiles, and for a social media marketer with several clients, that is an awesome offer.
Content ManagementWith SocialPilot, you can engage with multiple posts and messages on different platforms at the same time. SocialPilot also allows you to work with your team collaboratively. You can grant access to several others who can make the work easier for you. You also get to keep tabs on them, making sure that they do their jobs.
Powerful social media analyticsSocialPilot makes it possible to be on top of your social media page's performance with its great social media analytics and reporting feature. With the click of a button, you can have access to whatever information you need in PDF.Here's a list of Instagram analytics tools if you just want to opt for a tool to measure your Instagram campaigns.
Automated PublishingYou can schedule and automatically publish your Instagram posts with SocialPilot. You need only work out a schedule that fits into your time. At the stipulated time, with the aid of SocialPilot, your post will go up and with relative ease too.
Conversion TrackingThis works almost the same way as the Analytics feature in that it helps you track conversion rates.
Pros
SocialPilot makes Instagram marketing relatively easy and hassle-free. With the client management tools, post scheduling options, and conversion tracking, all you need to be an effective marketer is available.
SocialPilot gives you the best value for money.
SocialPilot offers suggestions on content to put up based on the selections you make. This is important because a lot of marketers are hard-pressed to find engaging content for their clients.
The bulk content posting feature is also super, especially for marketers. As an Instagram marketer, SocialPilot aids you to make hundreds of posts at the same time.
Reviews and Ratings
Luis Ignacio C.
Anyone who works in digital marketing, looking for a reliable tool, is what I have received since I implemented SocialPilot as the main tool for the content management of the accounts for which I work. I have managed to cover so many more accounts only with SocialPilot, similar tools offer similar services for very high costs…
Hannah F.
What I like about SocialPilot is that it facilitates the scheduling of posts in bulk, and it does not seem automated at all. What I mean with this is that we are able to create posts and share them and have our own brand to gain an audience. Its customization and UI is what I love most about this program since it's very flexible and allows the creation of hundreds of posts without any issues.

---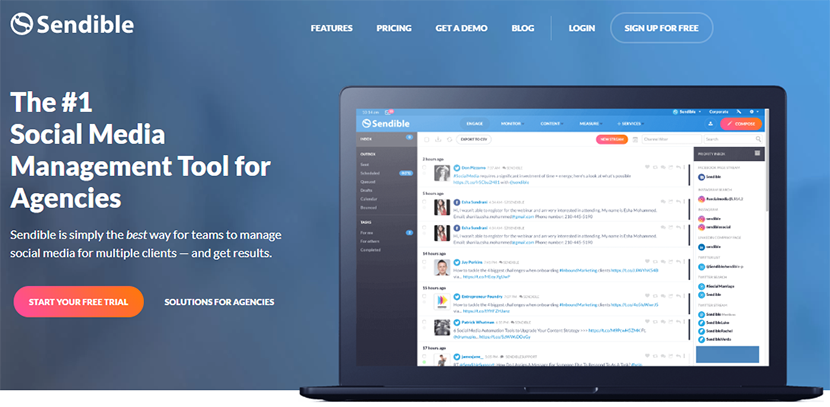 Price : $99 for 3 Users
Another Instagram tool to consider is Sendible. One unique feature about Sendible is that it is made particularly for agency use.
Thus, if you are a marketer with a large agency interested in Instagram growth tools, then Sendible should work just right for you.
Sendible comes with an intuitive interface, so you would not have to worry about learning to get the hang of the tool. Comparatively, Sendible is similar to Hootsuite in the features they offer; however, fundamental differences exist in their functionalities.
Pros
Sendible allows you to store content for use in the future. In that way, you do not get to run out of material for posting.
Sendible has some pretty cool automation tools. For instance, you can set up automatic replies on Instagram and can help you search for hashtags you are mentioned on, and then like the posts.
LeeAnn B.
"Their app is not as intuitive as the desktop platform. Hopefully, it's in the works, and it more than likely is."
Cons
Sendible does not offer free plans and the pricing is kinda confusing. It charges based on the services and not accounts which can turn out to be very much expensive.
You cannot trust the Geographic keyword monitoring. You will have to run checks on that manually.
Kaylee P.
Sendible doesn't always learn quickly; some of the notifications refuse to go away. LinkedIn requires users to log in again through Sendible every 60-90 days which is tiresome and occasionally forgotten, so it affects our calendar. The tracked metrics could be more specific with more personalization opens.
Sendible's Comparison with SocialPilot
In comparing the prices of both tools, SocialPilot is relatively more cost-efficient and provides the best value for money. Also, SocialPilot has a higher customer satisfaction rate (100%) as opposed to Sendible (97%).
Here's a more detailed comparison of SocialPilot vs Sendible.
---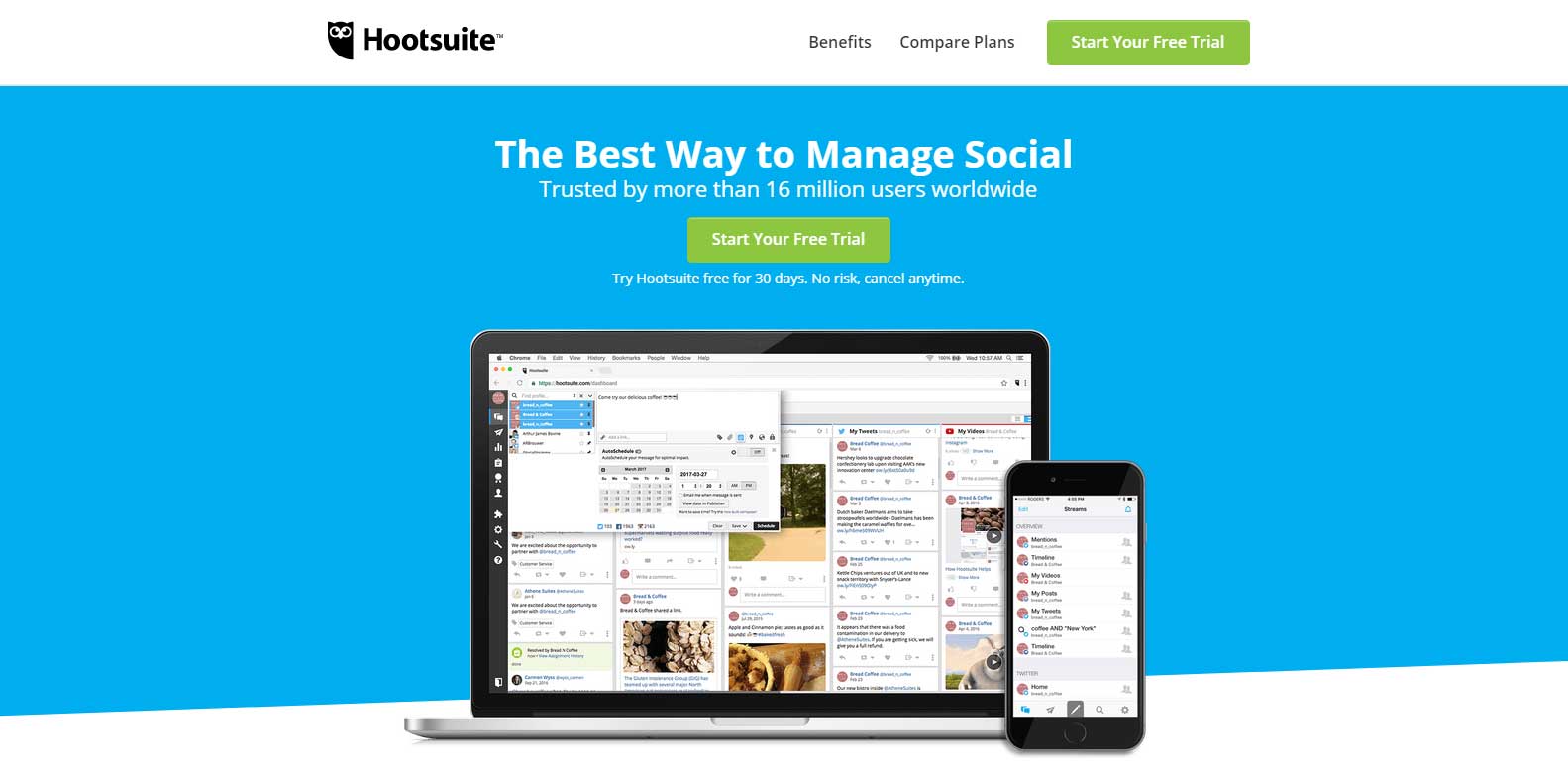 Price : $99 for 3 Users
One of the chief attractions of Hootsuite is its popularity. It is one of the widely recognized social media management tools and is used by more than 18 million subscribers worldwide. This Instagram tool works across several platforms and integrates more than 200 business applications.
Hootsuite allows you to monitor keywords as well as schedule posts efficiently. Its features also allow multiple units to collaborate and work from remote locations simultaneously.
Pros
The social streams make it relatively easy to keep a tab on happenings on all your accounts without checking each individually.
There is relative ease when publishing from the application itself. This is important, especially when you don't have access to your computer.
This Instagram business tool lets you schedule and publishes directly to your accounts.
Thomas C.
I find their integration with Instagram somewhat lacking. During my time with Hootsuite, I have scheduled countless Instagram posts, but the way the marriage between Instagram and Hootsuite Works means that you can schedule the post, but you need to open the app on your phone and hit send when the time comes "actually to publish your post."
Cons
It might be hard getting the hang of it. You have to dedicate a lot of time and effort to learn its interface.
Hootsuite is also quite pricey. You may want to consider that.
Shanna T.
The UI seems a bit dated. The features themselves are great, so it truly doesn't matter, but it's just not as modern and beautiful as other platforms.
Hootsuite's Comparison with SocialPilot
Hootsuite is great for large enterprises and agencies who are on the look-out for social media certification. However, on the whole, taking into consideration the ease of dashboard usage, lower price, and allowance for the addition of more accounts, SocialPilot is a better option. SocialPilot proves out to be a great Hootsuite alternative.
---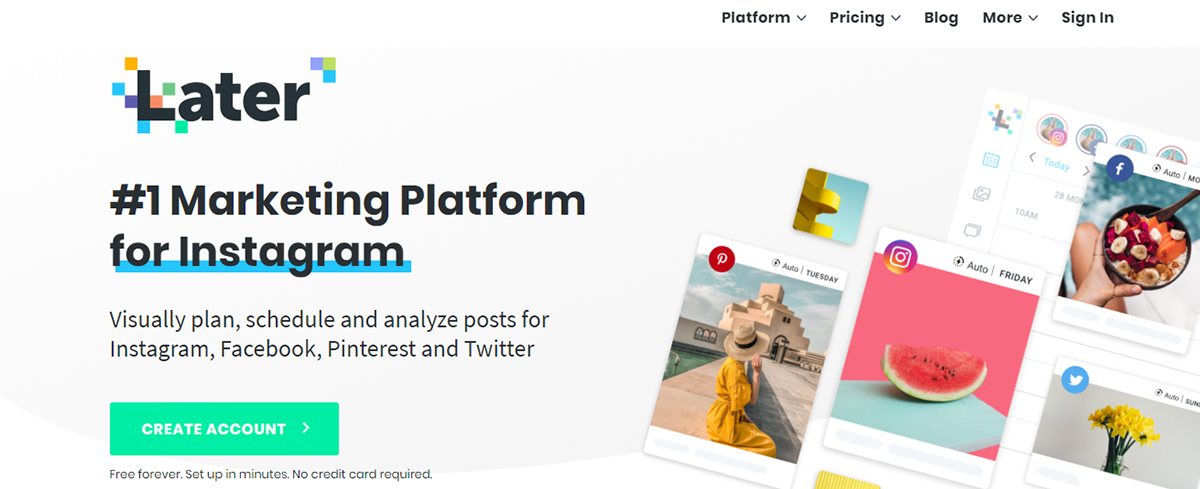 Price : $49 per month for 5 profiles
Later is a marketing tool that is highly focused on visuals, making it a great hit as an Instagram tool. It even has a stories button that allows you to schedule Instagram stories for later. However, it is still possible to be used to manage other platforms like Twitter and Facebook. Unlike other social media marketing tools that allow you to make a post before attaching a photo, Later requires that a picture be selected first before the post is made.
Later provides a media library option. This helps you manage the pictures you have. Furthermore, with Later, you can manage comments on Instagram. You can locate and reply to all the comments made on any of your posts.
Pros
Later makes it relatively easy to upload pictures on Instagram.
Later provides you with up to date information. They send regular newsletters that inform you of the options available and the latest trends you can make use of.
Jennifer M.
As the platform is still evolving, there are (more often than I would like, but this may not matter for some lighter users) errors, which means that my clients' posts are sometimes late or do not post at all.
Cons
It may be difficult scheduling automatic Instagram posts on Later. Eventually, you will have to make the post yourself manually.
Later does not have some of the more in-depth features of other Instagram marketing tools such as SocialPilot.
Later is not ideal for coordinating with a large team.
Ayo B.
Although I enjoy using Later for posting to Instagram, my only annoyance is not being able to automatically publish videos without the push notifications. I hope this is a feature. Later plans to add soon.
---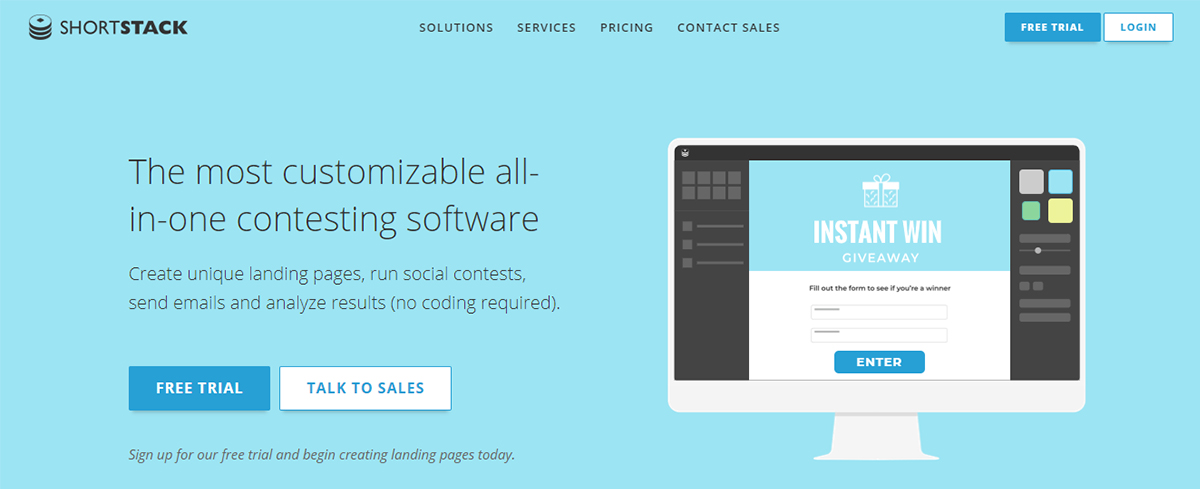 Price : $99 per month
Shortstack is another Instagram tool for marketers. It is built for lead generation and optimization of engagements.
Shortstack has several features, including features that help with the creation of effective landing pages. However, some features are specifically for improved social media marketing. For instance, Shortstack can be used to run contests and promotions, helping create awareness for your social media page. Also, some features help collate email addresses, as well as enables you to conduct polls to gather opinions of your users concerning the social media page.
Pros
It is excellent for organizing social media contests. You do not need to have any prior graphic design experience.
Shortstack is a great way to gather information about users.
Deepti S.
Information retrieval and exportation are rather confined to your tiny amount of applications, as well as the deficiency of an API implies that there is certainly no workaround.
Cons
You may be required to do constant updates, which can be tiring and interfere with your work.
Updates can also be automatic, increasing your billings. Considering the monthly price you already have to pay, it all makes Shortstack quite expensive.
As an Instagram marketing tool, Shortstack actually falls short.
Jay T.
It's really simple to set up a competition or landing page quickly, with easy to modify templates and the new theme customization. However, Data retrieval and exportation is very limited to a small number of apps, and the lack of an API means that there's no workaround.
---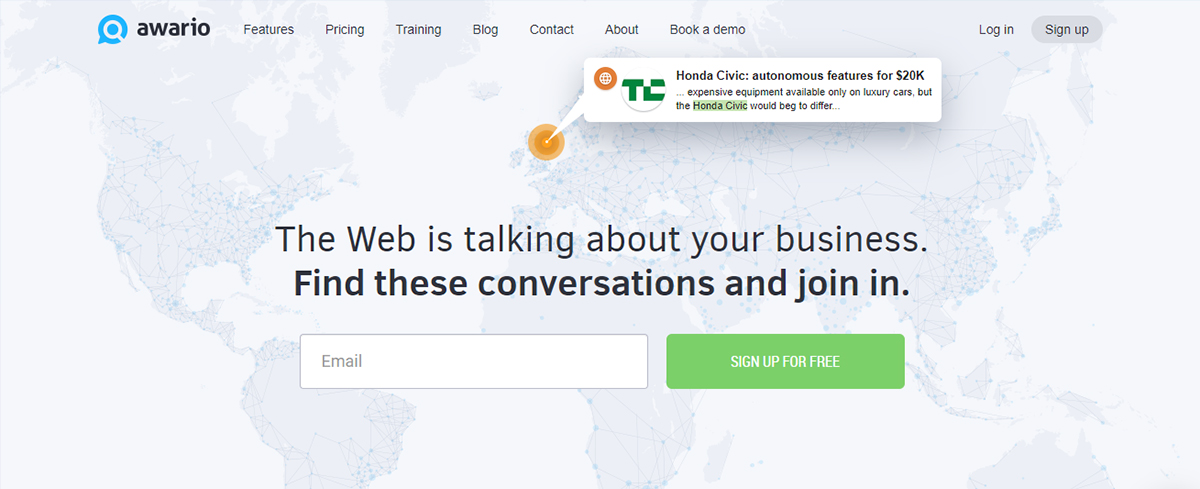 Price : $89 per month
Awario is appropriately termed a social media 'listening' tool because it is used to gather information relating to the brand's mentions and tags on social media. Awario scours social media, blogs, and the internet to pinpoint locations where you are mentioned, making sure you do not miss an opportunity to engage in a conversation involving you.
As an Instagram tool, Awario helps you gauge your brand's health. It also enables you to keep an eye on the competition. In this way, you can know what areas to improve on to match up to expectations.
Pros
It is excellent for carrying out keyword searches. It hardly misses anything.
With Awario, it is easy to set up alerts, and you can have them delivered to your inbox automatically.
It helps you manage multiple clients at once.
Marco M.
I love that the blog is useful and teaches us how to use the interface to a greater and greater effect each week.
Cons
The tool can be slow for navigations.
It may take some time for you to get the hang of the tool's use. Thus, it is not ideal if you cannot dedicate time to learning how it works.
Brian A.
It seems to miss a few posts from Instagram that we thought it would and should easily catch.
---
Price : $89 per month
Toptager is an Instagram growth tool that curates the trending hashtags every day. This tool lets you keep tabs on what is going on around you and help you to make changes in your business strategy through that means. With the constant competition of staying with the trend, Toptager gives you the advantage of making the most of the Instagram hashtags. It can also help in targeting an audience of a particular niche and can make you reach them in just a click.
Pros
Effective to stay up to date with the latest trends and the Instagram community.
Its copy and paste feature simplifies for a user to directly cut and paste the hashtags into their posts.
This Instagram tool can play a huge role in categorizing posts, and increasing engagement.
Cons
Misdirected and over-usage of hashtags can devalue the strength of the post.
Spammers and over-aggressive marketers can misguide the use of hashtags.
Hashtags at Toptager are site-specific and can give you information about just one social media platform.
---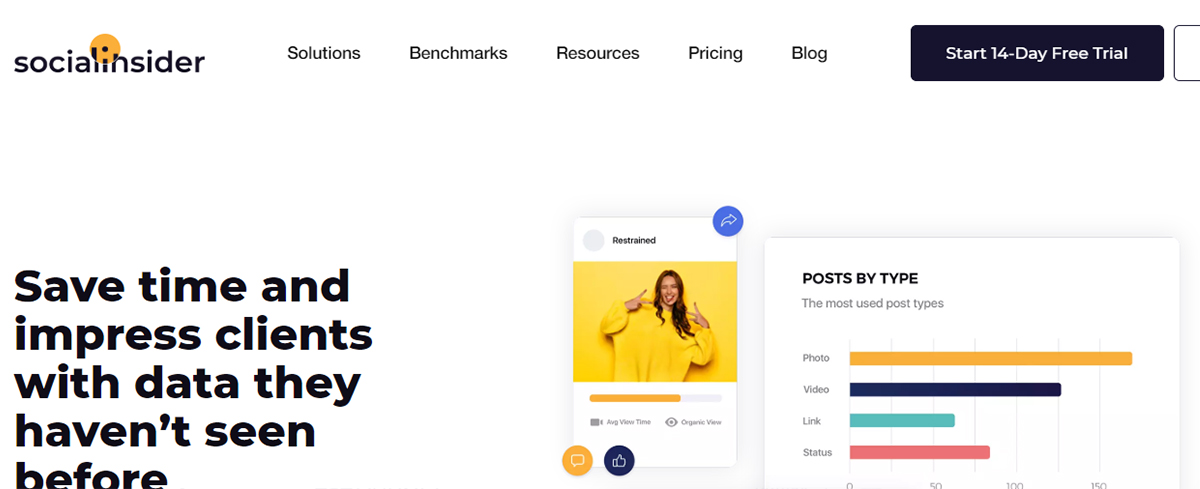 Price : $83 per month for 30 profiles
SocialInsider is mostly an analytics tool that helps you collate information on social media. It can go as far back as five years before the time of the search to filter content and present it to you.
Social Insider is a great Instagram tool for competitive research and can help you access information about your competition, thereby giving you a competitive advantage. With the information garnered, you will be able to understand your audience better and create a strategy that can help best your competition.
Pros
It can help you have access to data and information you may not be able to get through any other means, making it excellent for comparison and benchmarking.
They have a great support team that can attend to your needs as soon as possible.
It shows historical data, and spreads out the search across various platforms, making it easy to make comparisons.
Alexandra M.
Saves time by having everything in one place. Great for benchmarking, comparisons between brands, and quick reports.
Cons
Social Insider is quite expensive.
It is too streamlined for a broad marketing experience
Hunter W.
I'm most disappointed in the reporting. While it gives a good overview, I'd love to see some customization. One specific report I'd like to see is the ability to pull the top x-number of posts from a certain time period. The default report gives the top 5 posts but I'd love to customize that to see the top 20 or 50+ posts over a period.
Conclusion
After many well-known brands connecting their businesses on Instagram, it is inevitable for them to utilize Instagram Tools. We hope the tools listed above guide you to make the most of the Instagram platform. Using these tools can help you plan, schedule, and analyze your content while you can keep a check on what's coming for you in the upcoming months. You can try out SocialPilot as your Instagram growth tool with a free 14-day trial and explore yourself of how useful can this tool turn out to be.
If you aware of any other tools that have benefited your Instagram business profile in the past and is not mentioned here in this list? Let us know what do you think and mention in our comment section below.
Frequently Asked Questions
🌟 What are the best tools you can use for Instagram?
+
🌟 Which Instagram tools let you post directly?
+