It's an established fact that Twitter is demanding. The sheer amount of tweets can make brands step back from regular posting.
Whereas a well-thought-out Twitter strategy can bring you under the limelight. But for that, you need to inspect analytics and trace out what's working for your business and what's not. Most marketers rely on a Twitter tool for devising this foolproof plan.
Almost all paid or free Twitter analytics tools can provide you with the basic data regarding your business's social development. However, it's advisable to go for a combination for the best result.
And to spare you much head-scratching, we have listed the most effective Twitter Analytics tools to help you choose the perfect combination.
Best Twitter Analytics Tools for Businesses
1

SocialPilot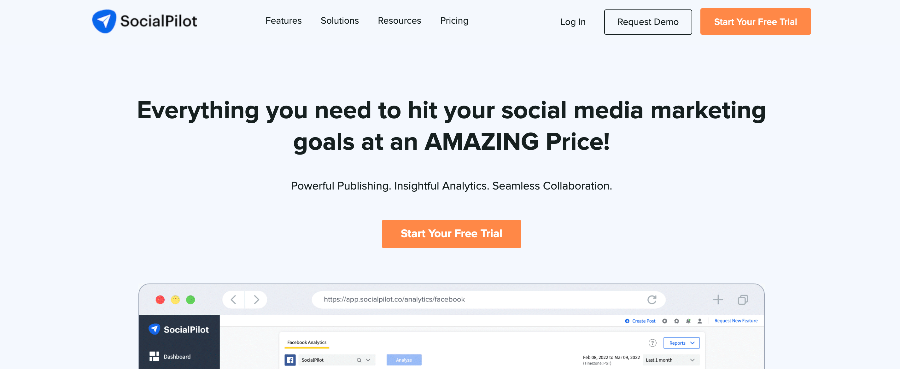 Price: $30 for 1 user
SocialPilot is one of the best Twitter analytics tools that powers up your Twitter marketing. It categorizes tweets in meaningful segments such as most popular tweets, most favorite tweets, most retweeted tweets, etc. SocialPilot helps you increase engagement on your profile with its thorough analysis on the Twitter activity dashboard.
The best part about using SocialPilot as your Twitter analytics tool is that you can easily 'reshare' your most performing tweets right from the tool itself. You can also generate Twitter analytics reports and share them with your clients and team members.
Why opt for SocialPilot as your Twitter Analytics Tool?
You can check tweet performance in terms of likes, retweets, engagements, etc.
Check the frequency of your tweets divided into days and hours to give you a clear idea of your Tweeting consistency.
Know how the audience engages with your content to understand your busiest days and quiet periods.
SocialPilot, as a Twitter insights tool, counts and lists the times you have been mentioned and by whom for better engagement prospects.
It also helps you find the most trending hashtags, which you can use in your regular tweets to accelerate more engagement.
SocialPilot also generates a quick Twitter analytics report of your Twitter activities, giving you access to performance charts for a maximum of up to 3 months. You can also email the Twitter report in a PDF format to your clients/managers right from SocialPilot.
This Twitter tool is uncomplicated to use and provides more than just Twitter analytics features. SocialPilot helps you solve major areas of social media marketing such as.
Social media analytics for Facebook, LinkedIn, Instagram, Pinterest, and Google Business
A visual social media calendar to give you a quick view of your postings
Advanced social media scheduling and publishing for all major social media platforms, including Google Business, TikTok, and Tumblr
An in-built content curation platform to schedule relevant content from third-party websites
What do SocialPilot users say?
Palak J.
A very easy and simple to use software. It helps you manage to post on all the social media platforms and get the analytics respectively. I like the dashboard of SocialPilot and how it helps you group the social accounts of one client.
Tal T.
What can you NOT DO with SocialPilot?The ultimate friendly all-in-one marketing platform, with features such as scheduling, adding up to 50 different social accounts, analytics, social calendar and planner, URL shortening, content creation, and many great value tools. I highly recommend any marketer out there to check it out and give it a chance to prove its massive powers.
Walter A.
SocialPilot has a clean and easy-to-use interface. Before joining, I compared prices with other competitors, and I was shocked to see that SocialPilot offers insanely low rates. So the pricing here is another key thing I really love. I've been using its paid subscription for over 2 years, and I'm not stopping any time soon.
---
2

SocialBakers

Price: $200/month for 10 profiles

Socialbakers suite is the go-to Twitter analytics tool for modern marketers. Backed by data insights, large and global teams can deliver a positive customer experience with the help of necessary analysis and relevant information.

Using the unified marketing platform, teams can also collaborate productively, communicate seamlessly across departments, and make smarter decisions to engage and grow their customer base.

Pros
Socialbaker's interface is easy-to-use compared to other Twitter reporting tools.
It also helps with the customer sentiment analysis for the brand by monitoring their activities.
Rasha G.
I have used many tools, and Socialbakers is my favorite and the easiest, convenient, and reliable one for Twitter analytics.
Cons
It is visually less appealing as compared to other Twitter analytics tools.
Prices are higher, making it hard for small businesses and agencies to invest in this tool.
Christy H.
Very inflexible: You can't change who you're monitoring more than twice in a month, which makes it incredibly expensive if you want to follow a few competitors across a few platforms.
---
3

RivalIQ

Price: $199/month to track 5 companies

Rival IQ is a Twitter analysis tool that offers social media benchmarking and competitive audits. The app pulls in social posts, hashtags, popular topics, best times to post, and more competitors across Facebook, Instagram, Twitter, YouTube, Pinterest, and LinkedIn.

The app's Twitter features focus specifically on hashtag analysis, audience growth tracking, mention tracking, and tons of tweet-type insights for improving Twitter engagement.

Pros
It gives a better understanding of a company's competitive social landscape.
They are constantly rolling out new features, updates, and advanced reporting and analytics.
Elise O.
I can easily and quickly see how my org stacks up to competitors. Also, I can set up custom reports and custom alerts that notify me of what my competition is doing in real-time. Additionally, the interface is easy to use.
Cons
It provides only engagement analytics and not any other metrics like the reach or impressions of your tweets.
The analytics dashboard and its custom reporting aren't very satisfactory.
Rival IQ is on the expensive side.
Drew B.
Their original custom reports section was not very robust. My only feedback would be for continued work on custom reporting and dashboards.
---
4

Keyhole

Price: $199/month

Built for marketers and agencies, Keyhole is a hashtag tracker tool for Twitter, Instagram, and Facebook. Keyhole offers automated social media analytics with real-time and historical social media data.

This Twitter analytics tool's dashboard shows real-time analytics of the number of people using a set of hashtags, along with the total number of retweets, likes, and impressions.

Pros
Keyhole is easy to set up and extremely user-friendly.
This Twitter content analysis tool offers account tracking, campaign tracking, influencer management, sentiment analysis, and more.
Keyhole offers a client-ready PDF file to be exported for campaigns.
Ashia S.
I like how easy it is to use Keyhole. I also really like how easy it is to understand the hashtag engagement reports. It really made that part of the reporting process really seamless.
Cons
To get the most out of Keyhole and streamline the information it pulls, you may need to refine your hashtags if they're a broader query.
It can be overwhelming to figure out which plan is the best fit for you if you're unsure about the volume of posts you will need to track.
Some information, such as follower demographics, can be limited by the API of different social platforms.
Verified Keyhole User
We work with small to medium-sized businesses, and the cost to benefit ratio makes it difficult to justify using Keyhole for our clients on an ongoing basis.
---
5

Klear

Price: On request

Klear, an influencer management platform, is an expert in the industry of Twitter analytics tools. It excels at providing marketers with a powerful influencer search engine, campaign analytics, and social monitoring tools.

It doesn't just focus on analytics for influencers but also dives deep into the audience's demographics. Moreover, it allows its users to filter the results in terms of social media platforms, location, skills, etc.

Pros
It allows you to monitor influencers and also who they are having conversations with.
Commendable customer service to its users.
Saumar D.
The best thing about them is their customer service – the team is very open to feedback, and over the last year or so, I have seen them adopt many new features based on feedback.
Cons
Klear doesn't classify Twitter users in terms of keywords.
The navigation of this tool is often pointed as a drawback.
Travis W.
I wish there was a way to easily export Twitter users who use certain keywords. I could use these to create custom audiences in Twitter ad campaigns.
---
6

Twitonomy

Price: $20/month

Twitonomy is a detailed Twitter analytics tool typically designed for marketers looking forward to diving deeper into their analytics reports.

Twitonomy lets you monitor any keyword in a specific duration. Post analysis, you can download tweets into excel and PDF formats.

Pros
It lets you optimize your content and engagement strategies on Twitter.
It tracks deep data of one's profile – followers, following and profile's growth, etc.
Anne T.
Twitonomy is simply the best Twitter analytics tool on the web. The platform allows you to analyze SO many different statistics for your Twitter account.
Cons
Sometimes this Twitter analytics tool gives you wrong data, taking old keywords and campaigns into consideration.
Due to Twitonomy providing wrong data, the reports extracted are inaccurate and unreliable.
Dannie Lynn F.
The major place I saw a lack of depth was in the customization of reports.
---
7

Followerwonk

Price: $79/month for 20 profiles

Followerwonk is one of the known Twitter analytics tools with many free features, but if you need detailed reports, you might want to pay and make the most of it.

It is the best free Twitter analytics tool that can analyze your audience regarding their identification and location. It also allows you to compare your profile with your competitors to gain valuable insights for better strategy building.

Its most interesting feature is "search bios," which allows you to find the users through keywords. It can guide you in targeting a defined audience for a campaign or similar outreach.

Pros
It allows you to compare several Twitter users.
It graphically represents the most active times for your followers.
Natalie C. W
You can search Twitter users by a variety of factors, and you can check out your competitors' followers and sort them by all sorts of characteristics. It has been an invaluable tool in growing my clients' Twitter presence.
Cons
There is no way for Followerwonk to backfill follower number data, so you will only be able to use the tracking feature unless you begin tracking a handle.
"Search bios" often don't give the best results to its users.
Paige G
First of all, the free features are extremely limited, so it's tough to get a grasp on the software until you start a paid account. You cannot follow anyone in the app, you get a limited amount of searches, and the search capabilities are not advanced. Even the paid account, which I tried, did not give me great results.
---
8

Tweet Binder

Price: $299/month

Tweet Binder is one of the least known Twitter analytics tools but is quite powerful. It gives you access to Twitter historical data and real-time hashtag monitoring.

It also comes with a Twitter follower tracking tool that allows you to measure how the Twitter profile has developed over time and the evolution of its main KPIs.

Pros
This Twitter analytics tool offers in-depth data that users often appreciate.
Tweet Binder provides praise-worthy customer support.
Joanne S
I love the depth of data provided by TweetBinder and how it allows me to get insights into the performance and quality of content associated with campaign hashtags. The customer service is excellent, and they answer all my questions fully and timely.
Cons
Tweet Binder comes with a learning curve. Its user interface comes with a lot of dashboards which can get confusing.
Not much preferable in analyzing past data. It is troublesome to analyze past data.
Sidharth B.
It won't show more data than the last 30 days. Being a marketer, analyzing past trends is really important, which cannot be done with this tool.
---
9

GroupTweet

Price: $39.9/month

GroupTweet is a Twitter analytics tool that helps you analyze Twitter activity and schedule tweets to strengthen your overall performance on Twitter. Its rich feature set is what differentiates it from the rest. You can also integrate it with other social media planning tools.

So, if you are already using different tools, you can reap benefits from GroupTweet from that platform. GroupTweet also lets you communicate in private on Twitter groups, providing account access without any password sharing.

Pros
The tool is incredibly responsive and fast.
UI is easy to navigate, even for beginners.
Daniella A.
I like this tool because I can create closed groups of users on Twitter. An option that does not offer Twitter directly but thanks to GroupTweet is possible. I use this software especially to teach and be able to publish information for all members.
Cons
It doesn't support multiple social media platforms.
There have been instances of users getting confused while adding contributors.
Laura P.
There are times where the auto-update on the timeline located on the dashboard would turn itself off, which would be a little confusing for some of our staff, causing duplicate posts and checking the page profile to make sure the info was correct.
---
10

Union Metrics

Price: On request

Union Metrics is an amazing Twitter Analytics tool that will help you keep your profile and its performance in check. Its feature set includes detailed profile analysis, keyword listening, campaign reporting, and competitive analysis.

You can also use Union Metrics to research relevant content from your followers and competitors to span out your strategies. Besides Twitter, this analytics tool can dig in metrics from profiles on Facebook and Instagram as well.

Pros
It has a super easy setup process.
The metrics are insightful and easy to grasp.
Verified Union Metrics User
The ability to pull quick and graphically pleasing reports to distribute to your team to gauge the impact of a particular topic on Twitter.
Cons
It only supports 3 social media platforms as of now.
Navigation could be improved.
Verified Union Metrics User
More platform integration. I would love for Union Metrics to be a "one-stop-shop," but LinkedIn and YouTube are not available to track.
---
11

Tweepsmap

Price: $7/month

Tweepsmap is yet another fantastic Twitter analytics tool that allows you to keep track of all of your Twitter activities from a single dashboard. It assesses all engagement indicators and schedules posts at the ideal times.

It allows you to learn more about your followers, their thoughts, and how they interact to make more informed marketing decisions. Users can choose from four different Tweepsmap plans: Starter, Growth, Advanced, and Enterprise. It also offers a no-cost plan.

Pros
It supports multiple aspects of Twitter marketing, like publishing and connecting with the audience.
The tool is great to keep track of campaigns.
Content curation is also a useful feature of Tweepsmap.
Garin K
My favorite feature of Tweepsmap is the pipeline tweet scheduler tool. Using this tool, you can put your tweets on autopilot, knowing they will deploy at the best time based on where your audience is in the world.
Cons
The tool is overwhelming at times, and users might not have a pleasant experience.
Susan T
It is not the most intuitive software and is not necessarily easy to use. There are elements that would be improved by a bit of a UI/UX with some customers who are not as technical — I'd be happy to do this type of focus group with the team b/c I believe in the platform.
Ready to Ace Your Twitter Marketing?
Despite tweeting actively, marketers don't seem to put their heads around it. That's why gaining insights becomes so crucial. But with the variety of Twitter analytics tools available in the market, the confusion only intensifies.
However, we recommend a tool that lets you gauge analytics on multiple platforms, not just Twitter. That's why we put our bets on SocialPilot, as it supports 8+ social media platforms. Start your 14-day free trial to squash your social media goals.