Instagram is the go-to social media tool for people these days. As per recent social media statistics, Instagram boasts of more than 1 billion users every month, and 200 million of them visiting at least one business profile daily. Therefore, the opportunities of generating leads are limitless.
Did you know that one-third of the most viewed stories are just from businesses? Such figures are enticing enough for businesses to pick up their pace on this platform.
But honestly, Instagram is time-consuming, especially when you need to create engaging content daily for your target audience and find ways to grow your account. Of course, you can always take advantage of content curation tools for that additional diversity.
But managing an active presence is itself exhausting. Add to the list, like and comment on endless posts, design compelling stories, brainstorm for Reels and follow people, and you almost feel like dropping the ball. Instead, just packing bags and running away to a peaceful island seems a viable option!
Here's the good news, though! Instagram automation services are becoming instant favorites for all. Maintaining a steady branding on this platform at a break-neck pace is now achievable with Instagram automation. But you need to invest in the right social media tools. Here's the compilation of the best Instagram automation tools for a detailed reference.
Instagram Automation Tools for your Business
If you are looking for a tool that eases not only managing your Instagram accounts with direct publishing but also other social media accounts, SocialPilot is your best bet as an Instagram automation tool. P.S. It's quite cost-effective too!
It helps you connect and manage over 75 profiles, analyze and report, review your social media team's work in one place. You can discover and curate Instagram-worthy content and upload up to 500 posts with the help of an amazing feature called "Bulk Scheduling".
The best part is yet to come. It caters to all possible social media platforms for your business, be it Instagram, Facebook, LinkedIn, Tiktok, Twitter, Pinterest, Google My Business, Tumblr, or VK. Instead of juggling and stressing over multiple solutions, become an expert social media manager with just one powerful social media tool- SocialPilot.
Features of SocialPilot:
Create customized posts for different social media accounts
Directly publish Instagram posts without any reminders or third-party tools
Get in-depth analytics and reports of your social media performance
Organize with a visual social calendar
New content suggestions with the content curation feature
Upload 500 posts with bulk scheduling
Schedule on the best time to post on Instagram
Manage your team with its collaboration features
Leverage the power of social inbox to access all social media conversations in one place
Get easy client management approvals for seamless workflows
Create the best designs with Canva integration right from the SocialPilot account
Advantages of using SocialPilot:
The integration with Canva will help you make aesthetic posts for your Instagram profile.
The comprehensive analytics provided by SocialPilot is in-depth as the content analyzed by the tool isn't restricted to just the posts that come from the system but from other sources, pages, and accounts as well.
Christopher C.
The benefits are on going, the best part was the ease of onboarding team members and the high level of support we continue to receive from SocialPilot's team. Significant increase across the board in social engagement, increase in followers and conversion from social to our primary destinations.
Tal T
What can you NOT DO with Social Pilot? In all honesty I don't have any clue. The ultimate friendly all in one marketing platform, with features such as: scheduling, adding up to 50 different social accounts, analytics, social calendar and planner, URL shortening, content creation and many many great value tools. I highly recommend any marketer out there to check it out and give it a chance to prove its massive powers.
Walter A.
SocialPilot is literally the only social media scheduling and marketing tool I use. It has a clean and easy to use interface. It's a valuable tool for any business. I've been using its paid subscription for over 2 years and I'm not stopping any time soon.

---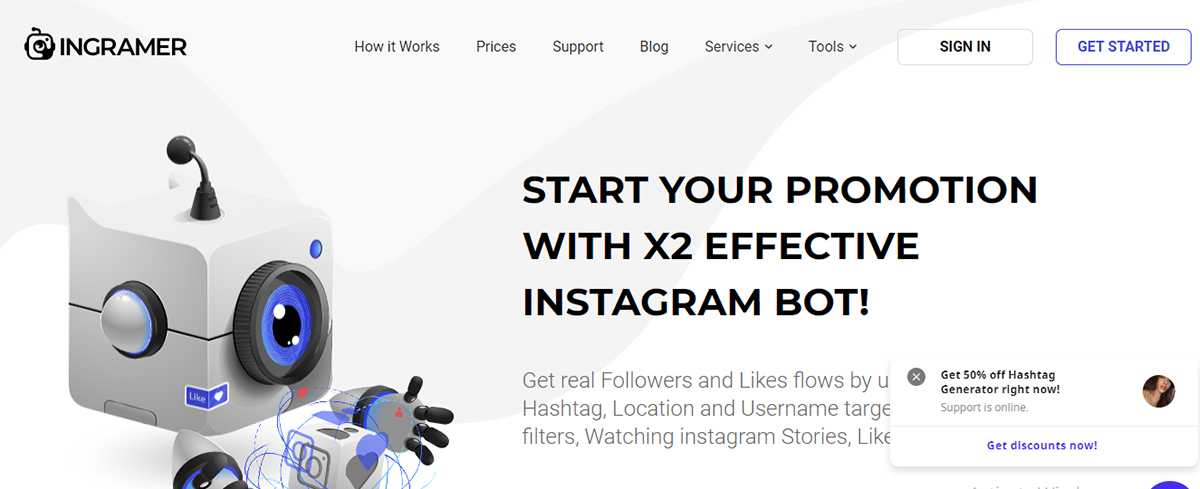 Ingramer is a good Instagram automation tool that allows you to bulk direct messages, auto follow/unfollow people, auto like posts, generate suitable hashtags, schedule posts, and leave comments on your target audience's posts. They use targeting filters to find the right people for your content so you can build a loyal audience and gain more engagement.
Pros:
You can use the user-friendly dashboard that can be downloaded on your local desktop and customized to suit your niche and industry.
It can conduct an analysis of your account for better promotion on Instagram.
The hashtag generator works really well and makes it convenient for the user to find the hashtags needed through a link or a photo.
Nora
I've been using Ingramer for one month and am already impressed with the results! HG (Hashtag Generator) is a good way to grow your target audience. This tool speeds up the search.
Cons:
Many user reviews state that follow-like functions do not work properly, which is a big disadvantage for someone using Ingramer to save time.
Some users got their account banned, and the worst part about it is that they couldn't even unsubscribe from the tool and the support staff barely helped them.
If you avail of all the services the tool offers, the price increases, and to shed that money just for handling your Instagram account would put a strain on resources, especially for small companies.
Florian
Used to work the first 3 days but since then paused constantly. After also subscribing to the additional VPN tool (extra cost) in hope to solve the pausing, I then got a warning message from Instagram. So, not worth the money and time.
---

Kicksta offers an Instagram growth tool powered by cutting-edge artificial technology that creates meaningful engagement and authentic connections. When you work with this Instagram automation tool, you select either the standard or premium plan and then customize your dashboard to fulfill your account's specific needs. Within the dashboard, you create account lists of competitors, brands, and influencers whose audiences you would like to target. They encourage clients to continue posting high-quality content for more followers.
Pros:
Unlike other companies, Kicksta doesn't guarantee a number of followers because the followers you will gain are from real, authentic accounts and not bots. Their targeting options on the dashboard ensure the accounts being engaged with are genuine.
Another pro that separates Kicksta from the rest is 24/7 customer service. Instagram is an integral part of your marketing strategy, so knowing you have a live chat and email support to reach out to and video courses and FAQ answers to reference is imperative.
Megan McQuade Wadsworth
I have been using Kicksta for about two months. Customer service has been easy to work with, and I am seeing positive momentum on my account!
Cons:
The results are very slow to come, and sometimes there's no real growth for many users, making the tool a little less trustworthy.
This Instagram marketing tool is very expensive for the meager results it provides.
NS
It's a bit early to write a full on review, but it's been a slow start (very slow at the beginning) however I can see daily additions in the 5's to 10's each day. It's not going to deliver hundreds of new followers, so don't expect that.
---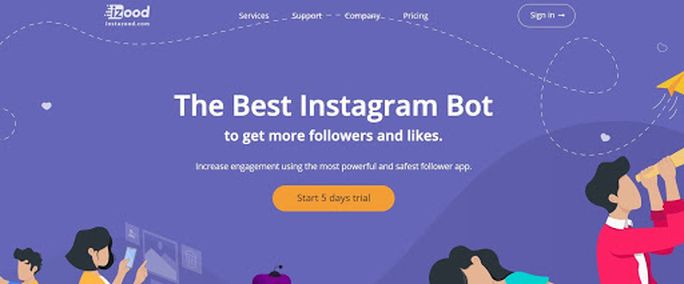 Instazood is an Instagram automation tool that helps you automatically like, comment, follow, unfollow and also schedule your upcoming posts. To top it all, it also helps you view people's stories and even direct messages to your target audience. In order to promise customer safety, they make sure to reduce their speed so that Instagram doesn't mistake those actions as spammy behavior.
Pros:
It lets you have full control over your Instagram marketing strategy which means you can customize their features to suit your industry and find the right audience for your content.
While you can download stuff on your laptop, Instazood also has a fully functional website and mobile application that can handle everything.
Its dashboard is quite powerful, comes in different languages, and has a lot of customizable features.
Dave C.
Easy to use and I enjoy the features I can access.
Cons:
According to many user reviews, the application has stopped working effectively after Instagram changed its algorithm.
The customer support isn't that great. Sometimes, even if they reply quickly, their answers hardly solve users' problems.
If you avail of all the services the tool offers, the price really shoots up, which can be a huge disadvantage.
Wise
I've been using instazood for awhile, and it has been working great. However, it stopped working all of a sudden and I've submitted multiple tickets with no response over the past month.
---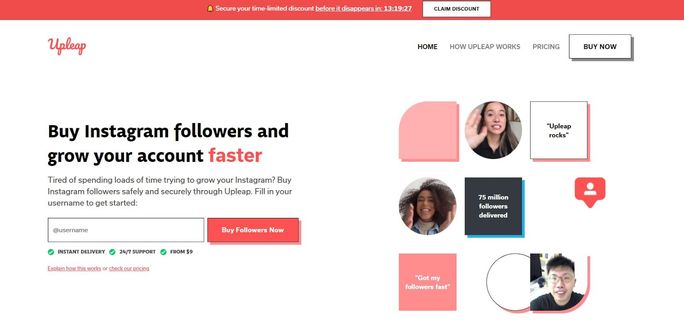 Upleap, helps you grow your account organically. For this very reason, they have real people who help in growing your client accounts manually over the phone. They also have several algorithms that require users to narrow their target audience with the help of filters such as location, hashtag, and theme.
Pros:
You can try their service for free with a trial period of three days. The best part is that you don't need to share your card details with them during this time.
After you sign up, you are assigned a personalized account manager. This person then oversees your account, assists you with customizing it to your specifications, and helps resolve any issues you face.
Pauline Machnik
The program is amazing! And it really helps to get real nice followers. Moreover the managers are really friendly and answer all your questions.
Cons:
Some people have claimed that while Upleap has helped them grow their account in the initial few days, that has stopped just after a month or so.
Many users have cited that while they did gain followers, most of those followers were fake and did little to help their engagement.
Nicole
I've been using Upleap for a few months now. I signed up for a year of premium service after a great run with their trial period. About a month into the service I began losing followers and had noted that their service is targeting bot and trashy accounts using mine.
---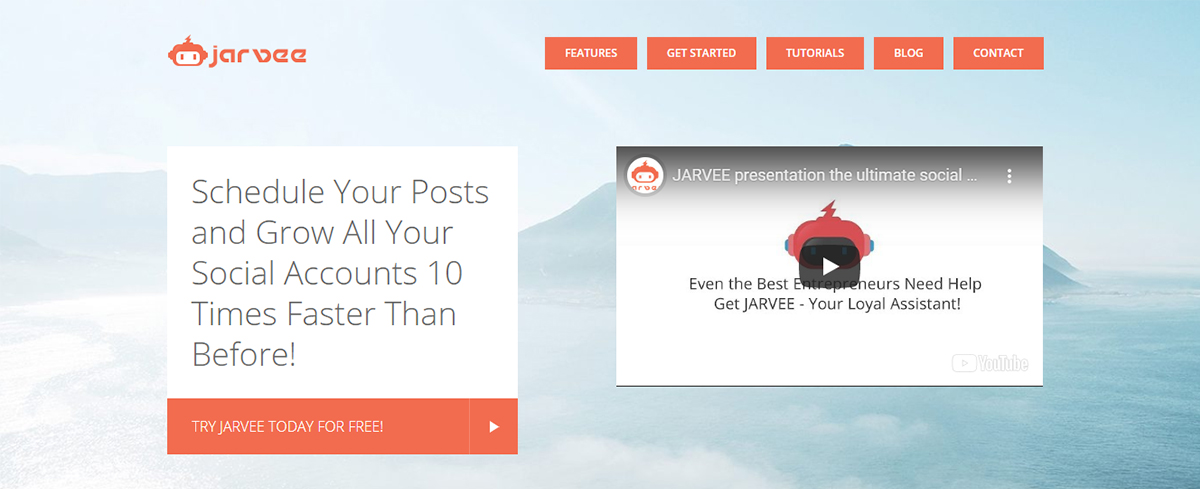 Jarvee is a Windows-based Instagram automation tool. It helps you follow, follow back, repost, like, unfollow, delete posts, conduct hashtag, user research, handle comments and direct messages. They also offer certification in social media marketing.
Pros:
Apart from Instagram, it also lets you handle other social networks such as Facebook, Twitter, LinkedIn, Pinterest, Tumblr, and Youtube.
It lets you manage multiple accounts for your different businesses or clients.
Samuel
I've been using Jarvee for 1.5 years. It's a great automation tool with a lot of supported social media platforms.
Cons:
Jarvee has a very steep learning curve, and you'd need to watch its training tutorials. Otherwise, you may face a lot of problems with Instagram automation.
The support staff does not always help solve users' problems, due to which the user may get stuck and not reap any benefits from the tool.
Andy Gunn
I have tried 2 times to use this software and both times it has failed to load correctly. So then you are supposed to play ping pong with their customer support for days. They don't actually try and fix anything they just send you question after question, it's actually the same questions just worded differently.
---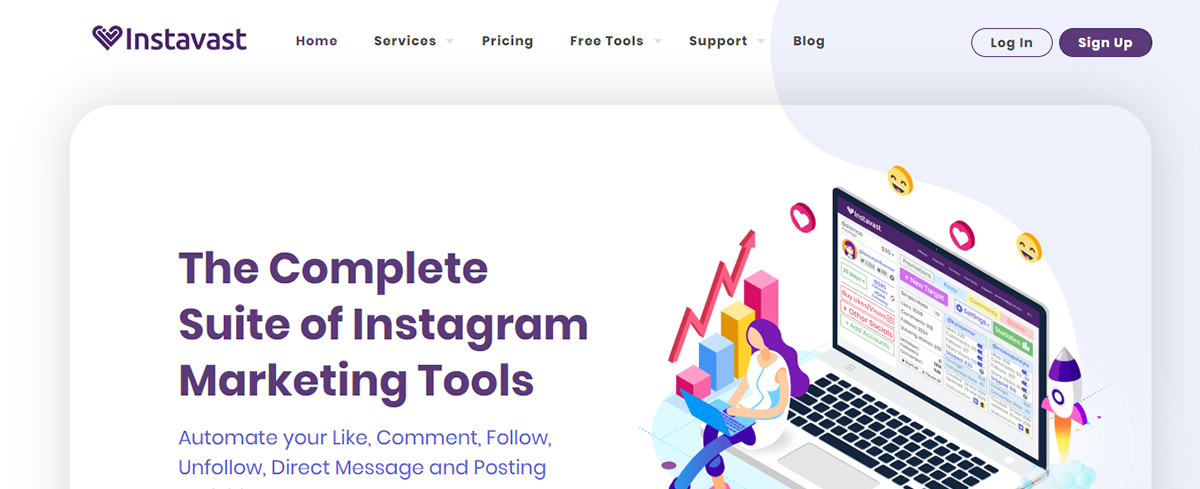 This Instagram tool automates activities such as commenting, liking, and even messaging. Instavast offers a free three-day trial period where you can test the different features before committing to it in the long run. You can make use of different methods to narrow down users and get in touch with your targeted audience.
Pros:
Their analytics feature and filtering criteria help you improve your growth and have more meaningful conversations.
You do not have to download the tool, so there's no storage issue or the risk of catching a virus.
It has a good image editor, which makes it a good option for advertising.
Emma Z.
Great photo editing option before you post pictures and you can upload as many photos and videos as you desire.
Cons:
Many user reviews say that the tool consumes a lot of data which could be a major disadvantage to small companies.
The web application is lacking in some areas. For example, it doesn't allow you to do or see things like upload photos, view history, etc.
The customer service isn't that great, and sometimes they take too long to resolve your issue.
Valeria L.
Uploading the videos sometimes takes a while, and advertising takes up a lot of space between the posts of the users that one follows. In addition, it spends a lot of data and takes up a lot of space in the phone's memory.
---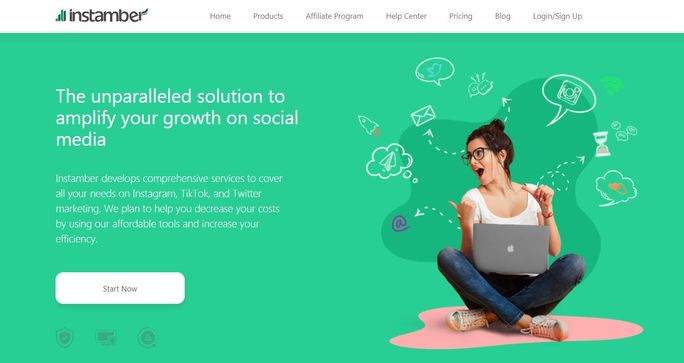 This Instagram automation tool, Instamber, allows you to automate your interaction with the target audience, send bulk direct messages, schedule your upcoming posts and manage comments. You also get exclusive access to personalized marketing assistance who understands your profile, niche, and industry in depth so they can target the right people for you.
Pros:
This tool is cloud-based, so you do not have to worry about downloading anything to your computer and risk getting any viruses.
Instamber offers detailed reports of their clients' progress, so you get to know what's working and what isn't.
You can customize their features as you wish, so it caters to just your account requirements.
Certified Instamber User
Instamber has a lot of benefits that makes this service really good to use. I had a good experience with this tool.
Cons:
The support staff is almost non-existent. According to some user reviews, they take weeks to reply, or worse yet, they never respond.
The tool faces many glitches and bugs, which make the user experience quite tiresome and unsatisfactory.
It works fine in the initial days, but after that, the results just keep dropping down.
Yuka
Signed up for a week. No one answered my questions through email or online chat. Has no customer service at all. And my account got blocked after the trial.
---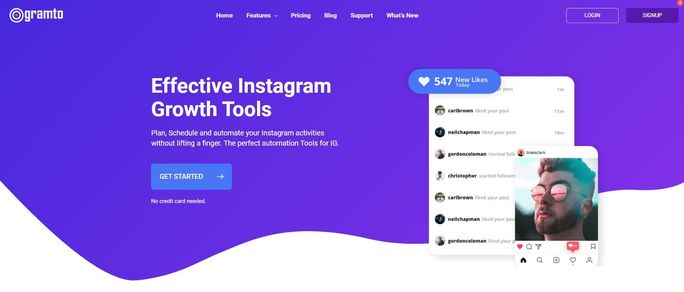 Gramto is another Instagram automation tool that lets you schedule posts for multiple Instagram accounts. It also allows saving captions as drafts for later use with auto-like, follow/unfollow, direct message, and comment options. There are also tracking features to gauge the growth rate through Instagram statistics. Features like geotagging, product tagging and first comment are available as add-on options. It is also integrated with cloud platforms like Google Drive for easy import features and advanced targeting capabilities.
Pros:
It provides a hashtag research tool for free with all plans.
Scraping data of the target audience for competitive analysis and lead generation is quite a useful feature.
There is also a free image editing studio platform available for quick touchups.
Marcus Tate
Gramto has been of great help for me in boosting my Instagram engagement! It's automation features are amazing and have helped me to gather thousands of followers on my Instagram account. Plus, all the users are genuine, no bots. Highly Recommended.
Cons:
Many users complain about the crux feature of automation
The customer service is missing.
There have been instances of auto-payment deductions without notifying users.
User in Entertainment
As soon as you'll start paying for this software, the upgraded function presents itself with lots of errors, website is down most of the time, and instagram blocks/stops the verficiations. Customer care is a lot slow. There are error of all kinds, auto follow error, auto like error, and I even have to reactivate functions every other day.
---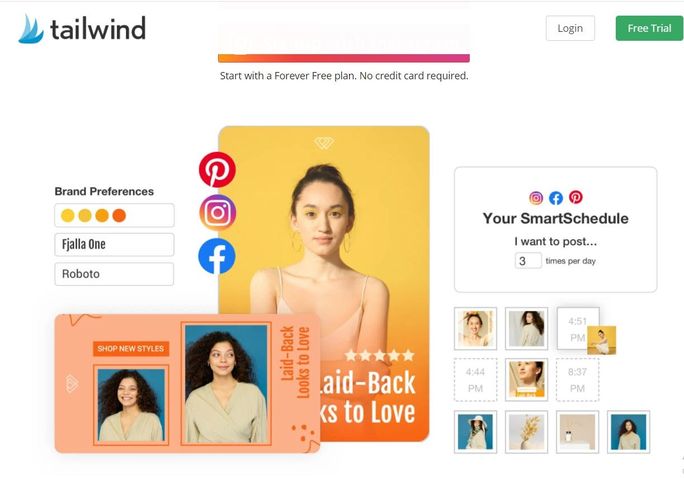 Tailwind is a popular tool for instagram automation. It also supports Pinterest and Facebook. There are in-built design capabilities for you to create high-quality posts. These designs are optimized as per platform too. There is a personalized drag and drop grid for easy manual scheduling. Tailwind's SmartSchedule shares your post when your target audience is most active on instagram, hence boosting your reach and engagement.
Pros:
The hashtag monitoring feature is impressive.
Unsplash integration is quite handy for posting stock images. These can be further edited within the tool itself.
You can also find ready-to-use posts that are ideal for your business.
Smart bio is a promising feature of Tailwind.
Marion Nixon
I love Tailwind. It's one of the few subscriptions I pay for! It's 100% worth it – it saves me so much time and makes time-consuming work an efficient process. So useful for my online business.
Cons:
It is a time-consuming tool as loading is quite slow.
UI can be improvised into something intuitive.
Verified reviewer
All I wanted was an app that would post social media posts I scheduled in advance: simple. But Tailwind still makes one leave the app, go to Instagram, find the photo on your phone, copy in the caption, add tags and location, and all the work of posting without the app, no value added. I realized only a waste of time!
Managing a business can be quite cumbersome. From strategizing, providing customer service, handling your clients, taking care of your vendors, there are loads of things to do.
That's why businesses are now trying to garner the power of social media marketing. After all, nothing else provides an audience ranging in billions. The market is wide open when it comes to social media.
There's no surprise then that Instagram marketing has picked up its pace now, with so many people using it daily. It becomes more imperative than ever to maintain your presence on this platform.
While there are a lot many Instagram tools you could use, a wise decision would be to pick one that caters to all your social media marketing needs. That's where SocialPilot comes into the picture. SocialPilot is a cost-effective social media marketing solution that helps you save time by automating most of your tasks so that you're free to work on crucial things.
Before time runs out, activate your 14-day trial period and see the benefits yourself.