YouTube drives in 30 million users daily and is home to over 2 billion people across the world. With 500 hours of video content uploaded every minute, and over 2400 channels exceed the 1 million-subscriber base.
These staggering numbers themselves make it a hotspot for businesses looking to impact their target audience with valuable video content.
In today's lightning-fast world, videos have become one of the fastest ways to consume content. And YouTube is one of the ideal platforms a brand or business can use for video marketing.
But with so many activities happening on YouTube, the market space is becoming saturated. People are flooded with tons of videos, making it hard for a small or medium business to impact the minds of their target audience.
So what should we conclude from this? Should a brand or business drop the idea of stepping into the YouTube space?
Of course not. With the right tips and strategies and a tailored YouTube business plan, you can grow your subscriber base, resonate with your audience, and fulfill your business goals with YouTube.
For your assistance, we have crafted this knowledgeable, in-depth guide on how to use YouTube for business.
From understanding the YouTube algorithm to making use of YouTube analytics, from making the YouTube stats work in your favour to getting your business account verified, we have listed everything.
Without further ado, let's start the learning process.
Over 81% of American YouTube users say that they watch YouTube videos recommended by the YouTube algorithm.
These numbers prove that if you have a brand account YouTube then it means you need to adhere to the YouTube algorithm to achieve your business goals.
So how can you optimize your videos which are in alignment with YouTube's algorithm?
Here are some of the powerful tips that can help you make the YouTube algorithm work for you:
Always add in YouTube video descriptions using SEO-focused keywords for making the algorithm understand what your video's intention is.
Be consistent with your content uploads as it will help the algorithm notice your activity and boost your reach and engagement.
Optimizing your thumbnail and video title with regular testing so that you can find your winning secret.
Engage with your audience regularly to notify the algorithm that you care about your subscribers. It will help the algorithm showcase your videos to your audience at a priority.
Be relevant with content; don't go off track because with all the latest updates in the algorithm. YouTube aims to provide a great user experience to its audience.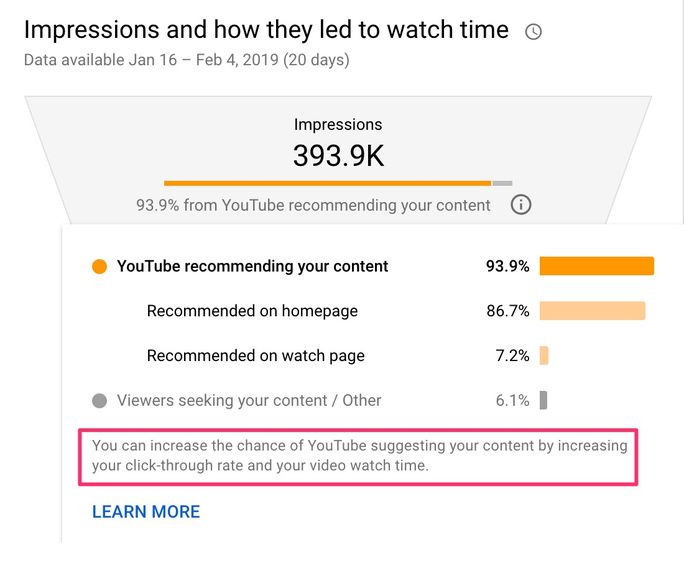 Once you use these tips and tactics during your YouTube journey, your YouTube business channel will align with the YouTube algorithm and benefit your brand.
YouTube Statistics
There are tons of statistics and numbers like these, making YouTube one of the favorite marketing platforms for businesses worldwide. Going through the statistics helps to paint the actual picture of YouTube space in today's world of social media-driven consumerism.
YouTube stats can help you analyze all the previous performances of other channels in your niche; it will help you plan out a better content strategy, you can understand from the trends what's working in the industry and what's not.
Let's understand how YouTube stats can help a YouTube business account:
Craft a better YouTube marketing campaign with the fusion of trending and evergreen content
Have a better understanding of the target audience and what type of content they engage with on YouTube
Predict the future growth of their YouTube channel and their industry
Get a good head start and be clear about how you should approach on YouTube
Stand apart from your competitors with the help of better research and solid numbers and achieve your business goals on YouTube easily.
YouTube Business Account
A YouTube business account is all about representing your business. Once you decide to create your channel, your logo, description, and thumbnails, your content should express your brand's tone and personality.
Being a YouTube business account owner, you can add or remove managers, edit business information, respond to engagements, and manage all your video content.
There is only one significant difference between the owner and the manager accounts. A manager account cannot control the access of any other account on the business channel.
To avail all the benefits of a YouTube business account, you need to understand all the basics about creating a business account.
How to create a YouTube Business account?
Follow these steps to create your brand account on YouTube:
Sign in with your Google account and step into the world of YouTube.
Click on the create your account specific to your business brand.
Once you visit your YouTube's homepage, you need to name your YouTube business channel.
Then YouTube will ask for some additional details about your business account.
Create your YouTube business account icon and YouTube channel art to set up some of the basic functionalities.
Add your channel's description.
You add all your social media handles and website links to channel your YouTube audience to other platforms in order to achieve your business goals
You are ready to upload your first YouTube video.
Get your YouTube Business account verified
Verifying a YouTube channel helps YouTube know you are a genuine brand and not a powerful bot spamming on their platform.
Before you start scaling your YouTube channel and creating an impact on your target audience, you need to verify your YouTube channel.
With YouTube's current system, it allows channels having over 100K subscribers to get verified. There are over 37 million channels on YouTube, and only 230,000 have 100K subscribers.
But how to verify your YouTube channel? How to get that tick of verification?
Here's how to verify your YouTube channel:
Log in to your YouTube channel and click onto your channel's icon on the top right corner of your screen
Select the settings options and then click on the view additional features link to jump onto the verification section
Click the verify button. It is a two-step process where you need to specify your country, and next, you select an option whether you want to receive your verification code via mobile phone, text, or voice call
Once you receive your code, you need to enter the code and click on the submit button
Congratulations, you are a verified content creator on YouTube.

Once you are verified, you can scale up your channel to infinite limits and achieve your business goals with the help of YouTube.
How to use YouTube for Business
First, you need to create the look and feel of your YouTube channel that represents your business brand.
You need to be professional when it comes to engaging with your audience and posting content on YouTube. Maintain a consistent brand tone and image while creating content on YouTube, address what your audience is commenting on your videos, and positively handle negativity.
And the very important point with YouTube for business is that you need to have a polished YouTube marketing strategy that will help you scale up your business channel and achieve all your business goals on a golden platform like YouTube.
Here are some of the ways you can use YouTube for business:
You can run ad campaigns for your business if you don't want to create content for your target audience to achieve your business goals.
You can associate with an influencer to kickstart a YouTube influencer marketing campaign to increase your brand awareness and boost up your sales numbers.
Create engaging content for your audience and build a huge subscriber base. You can also channel your audience to your other social media channels for fulfilling your business goals.
YouTube Video Analytics
All your work, strategies, tips, and tricks are worthless if you don't know the result of all your hard work. Analytics is the approach to figure out the success and failure rate of your YouTube video or YouTube channel or YouTube marketing strategy.
From analyzing the engagement rate, checking the average watch time of your video, noticing the bounce rate to checking the new viewer numbers, you can analyze it all. But how?
You can use powerful analytics tools to measure all the important metrics that can help you analyze and optimize your YouTube videos and channel.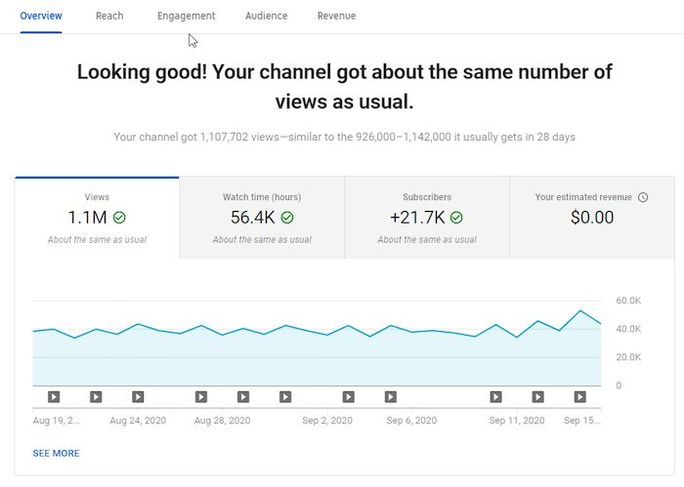 Even YouTube offers its default YouTube analytics to carry out the analysis process with ease. The question may arise here if YouTube is offering us the analysis platform, then what is the need for third-party tools?
If you are a beginner-level YouTube business account holder, you need to learn and experience some of the basics of YouTube video analytics. For that purpose, you should use the default YouTube analytics.
But if you have a decent amount of experience and want to scale up a channel with in-depth and powerful analytics, then you can make use of third-party tools like:
Unmetric
Vidooly
ChannelMeter
Using multiple key metrics provided by these tools, you can watch your performance and optimize your videos to gain great success on YouTube.
You also have the option to craft a better YouTube marketing strategy with the help of these tools, and they are backed up by powerful machine learning and AI algorithms.
Conclusion
YouTube for business is an essential asset for any brand to significantly impact their target audience and stand out from their competitors.
You need to understand all the ins and outs to master the art of creating a successful YouTube business channel.
This guide will help you go through crucial tips and tricks required to extract fruitful results for your business from YouTube.
But if you need further assistance with content management, content scheduling, content calendar, and managing and optimizing other leading social media channels, gain access to one of the leading social media tools, SocialPilot.