Accounting for more than 33% of the total internet user base, YouTube has 2 billion+ registered users with a viewership of more than 1 billion hours every day.
Brands across the world, MNCs to startups, integrate YouTube advertising in their social media marketing campaigns. And, why not?
YouTube presents an ocean full of advertising opportunities to brands and businesses across the globe.
It's how well you leverage the massive potential of YouTube advertising to make your brand successful.
In this guide, we will cover the complete process of advertising on YouTube; types of YouTube Ads, ways to optimize your video performance, and a lot more to help you make an ad campaign that makes its impact loud and clear.
Did you know there are 4 Types of YouTube Ads?
There is no one-size-fits-all approach in digital advertising. There are four major types of YouTube advertisements that you can incorporate into your YouTube ad strategy.
Skippable In-Stream Ads
These are the most popular types of YouTube ads that are played before, during, or after other videos and can be skipped after 5 seconds.
It is recommended that you make ads in such formats for a minimum of 12-15 seconds and an average of around 3 minutes.
You pay for such ads only if the viewers engage with your videos, either by clicking on the CTA banner or card, or when they watch the video for a minimum of 30 seconds, or when they watch the entire advertisement video (in case it is of a duration lower than 30 seconds). The payment is calculated on a CPV (cost per view) basis.
Advertisers can use this ad format to fulfil the campaign goals of sales, leads, website traffic, brand awareness, and brand consideration. The skippable feature saves money for advertisers and protects brands from the frustration of viewers faced forced to watch lengthy ads.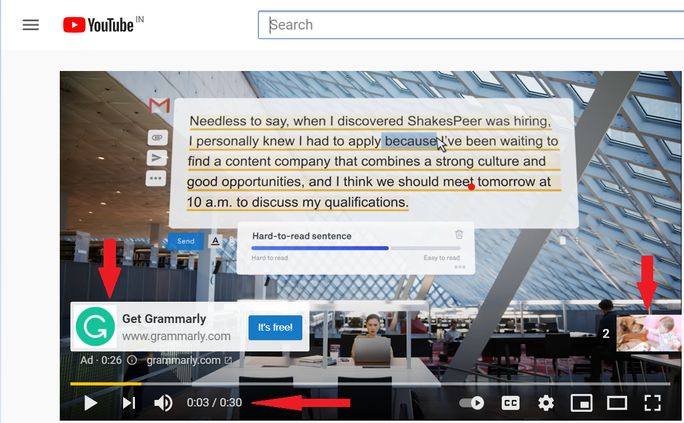 These ads have a count-down button in the lower-right corner that switches to "Skip Ad" after 5 seconds. It has a CTA banner in the lower-left corner and a timer near the speaker icon indicating the ad's total duration.
Non-skippable in-stream Ads
Non-skippable ads, as the name suggests, cannot be skipped by viewers and are played before, during, or after other videos. These video ads are of a maximum duration of 15 seconds.
These ads are often criticised due to their forceful non-skippable feature. Use these ads after careful consideration and planning, or you risk facing audience backlash.
Such ads are a natural choice for marketers who want to create brand awareness on key issues surrounding their products or services in totality, without any skips or interruptions. Brands need to include rich and informative content in non-skippable videos that inspire viewers to engage with the brand after 15 seconds of watching the ad. Advertisers pay on a CPM basis (per thousand impressions) for such ads.
YouTube introduced Bumper Ads in 2016. Non-skippable and bumper ads appear across websites and apps running on Google partners.
The only difference between non-skippable in-stream ads and Bumper ads is the duration. Bumper ads are available for just 6 seconds and are an effective way to communicate a unique feature of your brand.
In 2017, YouTube declared a bumper ad by Samsung Mobile as the top bumper ad. Samsung highlighted only one feature of its Galaxy S8 phone in that ad, the excellence of its display screen.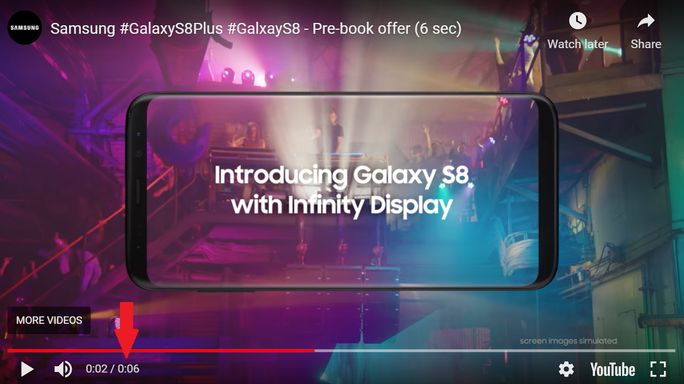 Bumper Ads have a 6-second duration and cannot be skipped.
Video Discovery Ads
Video discovery ads are the ads on YouTube which appear when viewers search for content using the YouTube search bar. They are also placed on YouTube homepages and pop up alongside other videos having content similar or related to your videos.
These ads have a thumbnail and a short description inviting viewers to click that video. Upon clicking, viewers are directed to the video or channel page to watch the full video.
These ads are an optimal choice for advertisers looking to meet the goals of product and brand consideration. You will be charged for such ads only when viewers click on the thumbnail to watch the video.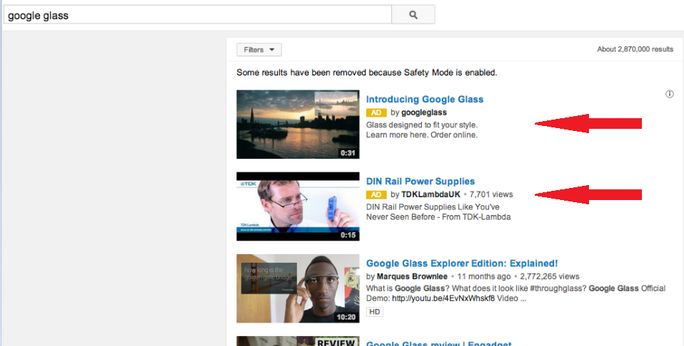 On searching for google glass in the YouTube search bar, you might see such discovery ads.
Overlay Ads
Noticed those banners of text appearing when you watch YouTube videos?
Those are in-video overlay ads. These ads appear at the bottom of the screen when viewers watch a video and are 480×70 image ads. Such overlay ads are not available on mobile devices. While selecting ad categories, you should keep that in mind as more than 70% of YouTube watch time comes from mobile devices.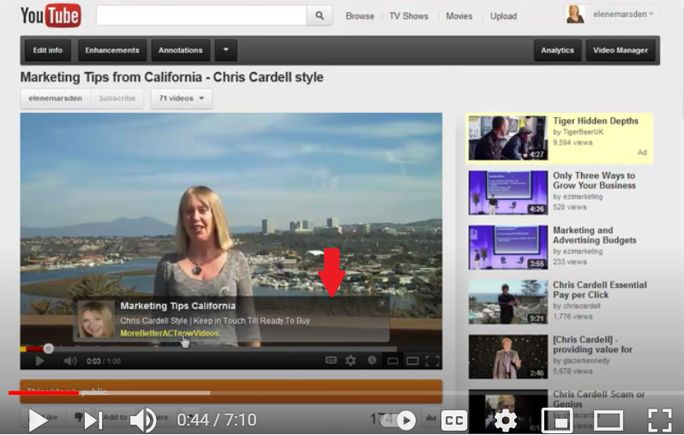 Overlay ads are only available for reservation sponsorship campaigns and are billed on a CPM basis.
How to Advertise on YouTube
Now that you have read through the basics of YouTube ads, we will take an in-depth look at how to put ads on YouTube and promote your brand on the platform.
Step 1: Set up a Google Ads account
To begin your advertising campaign on YouTube, you need to create an account on Google Ads (formerly Google Adwords) using your Gmail ID.
Click on Get Started on the upper-right corner of the Google Ads home page and create your Google Ads account.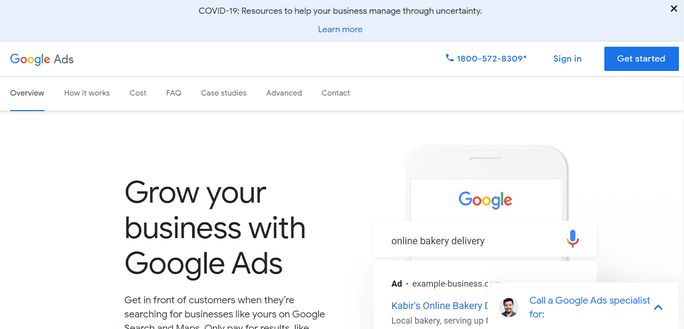 Note: It is recommended that you upload your advertising videos on your YouTube channel before designing your ad campaign to ensure that the process of creating your ad campaign is seamless. However, you can also upload it later.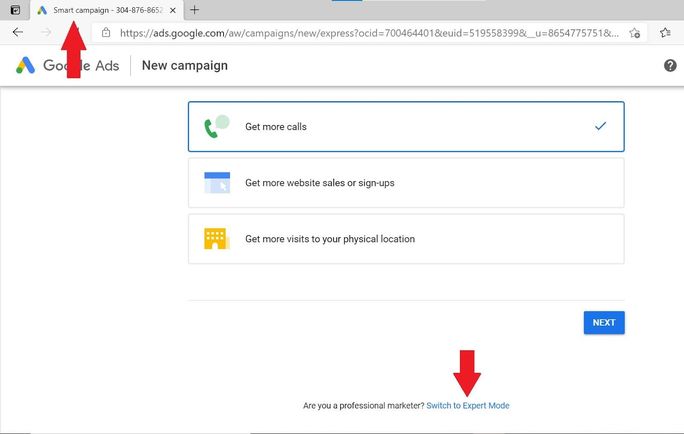 Above is a screenshot of the first page you will see after creating your Google Ads account. It is the page for Google's smart campaign initiative to create generic campaigns for small-scale users. Most professional brands and companies will prefer skipping this option and curate their campaign by clicking on "Switch to Expert Mode" at the bottom of the screen.
After clicking on 'Switch to Expert Mode', you will see the below page displaying the campaign goals.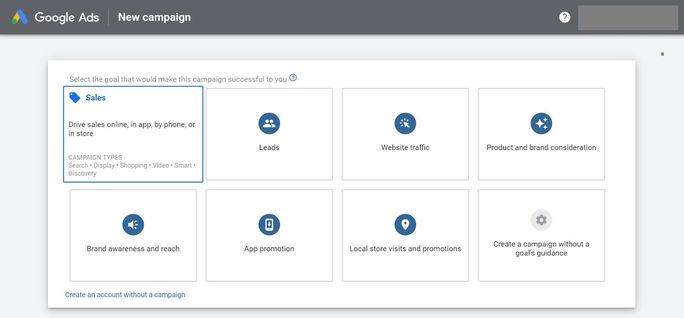 You can start creating your new campaign right away by selecting your goals. However, it is better to click on "Create an account without a campaign" at the bottom of the screen and fill in some basic details before creating a new campaign.
You should land at the below dashboard page after completing the above steps of setting up your Google Ads account.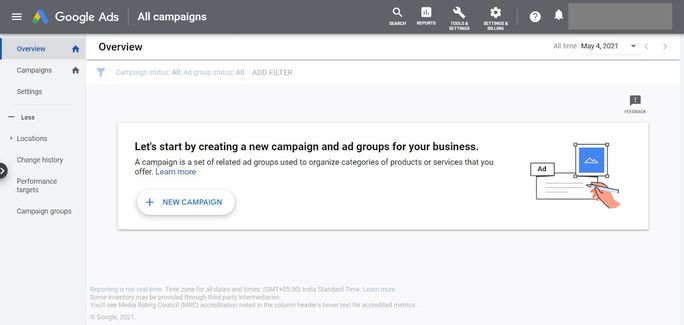 Step 2: Link your Google Ads and YouTube channel
After setting up your account, link it with your YouTube channel. For that, click on the 'Setting & Billing' button, then on 'Account', and finally on 'Linked accounts'. In 'Linked accounts', select YouTube and link your channel by following some simple steps.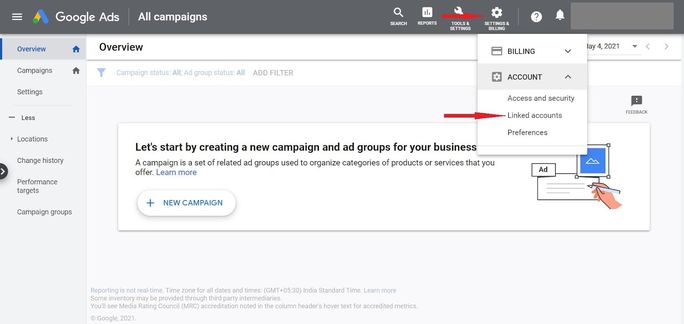 Step 3: Start a New Campaign
Select the overview section from the left-hand menu bar and click on the new campaign option.
You will be directed to a page that displays the campaign goals and campaign types. The campaign goals automatically list down certain campaign types for advertisers. All marketing campaigns are driven by some primary goals and Google Ads has 8 campaign goals.
You can check the description of every goal by hovering over the particular goal.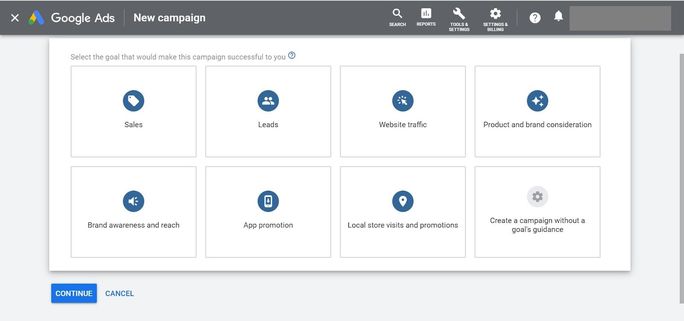 Depending on the goal you select, you will be given the option of campaign types. We have chosen the last goal option, 'Create a campaign without a goal's guidance'.
After that, you have to select the campaign type. Since we are focusing on YouTube videos, we shall select Video as the campaign type.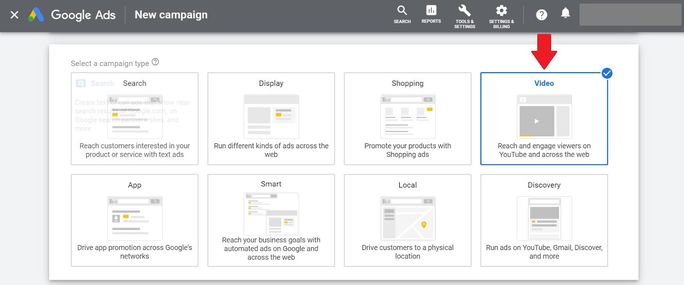 Now, select a campaign subtype according to your preference and marketing plan. The subtypes are ad types.
Step 4: Personalize and Set Up your Campaign
Once you select the campaign type and subtype, you will have to mention your youtube ad specs to bring your campaign to life.
You will be required to fill in several specs, such as campaign name, bidding strategy, budget, target audience, campaign duration, locations, and exclusivity to create your campaign.
The first part after the campaign name is the bidding strategy. Depending on your campaign types, you will be given options, such as Maximum CPC, Maximum CPV or Target CPM.
You can check the meaning of the bidding strategy on the right side of the bid category you have selected.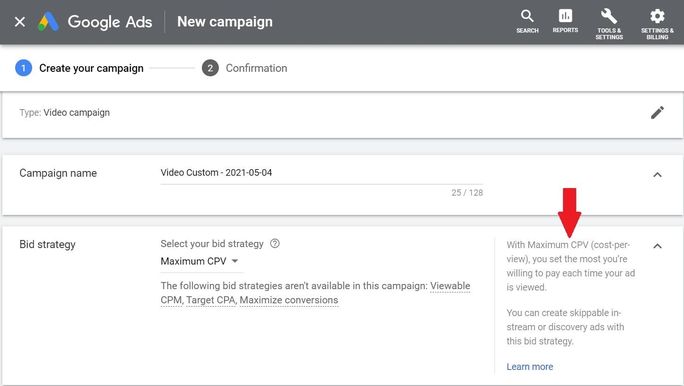 The campaign builder also lets you select the location & demographics most suitable for your brand. This feature helps in enabling higher conversion rates and better ROI through targeted advertising. YouTube supports content in 80 languages, and you can target your ads based on the languages your customers speak.
You can select the inventory type under the content exclusions tab to decide what kind of videos you want to place your ads. Brands usually choose the standard inventory to prevent their ads from being placed in videos with sensitive or abusive content.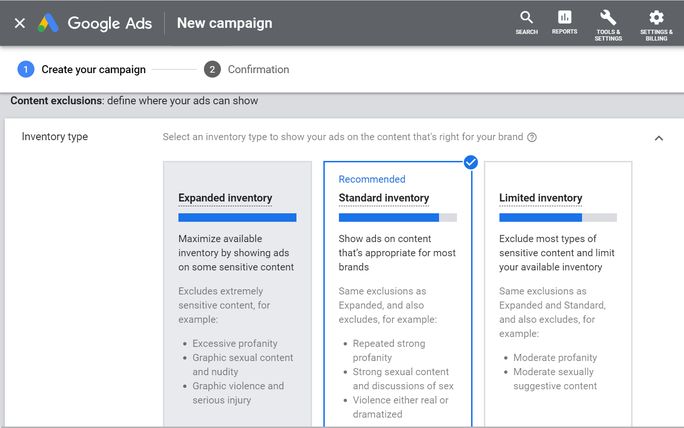 Step 5: Make Additional Settings
You may improve your campaign's performance by making some additional settings. You can analyze and determine keywords for your campaign, set the highest cost per view (Maximum CPV) you are willing to pay and manage the audience.
Step 6: Upload Video URL
The last step is to copy and paste the URL of the advertisement video uploaded on your channel. If you have not uploaded the video, now is the time to upload and host it.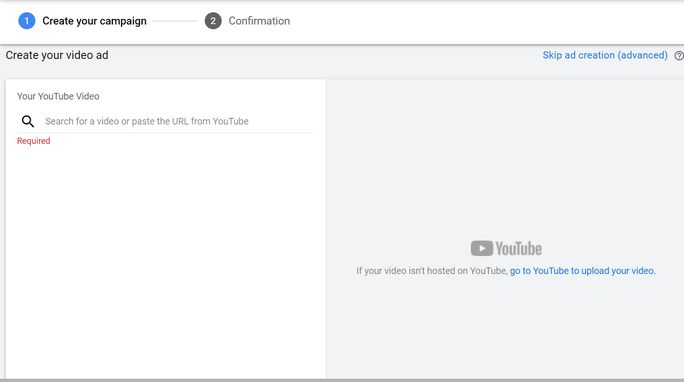 Step 7: And, you are ready!
After pasting the YouTube video link, you have to click on 'Create Campaign' at the bottom of the screen, and you are ready to go!
Google will check if your video is aligned with their policy, and once approved, your campaign will go live.
7 Tips to Optimize YouTube Ads
Optimizing campaigns is as important as creating a YouTube ad campaign. Every marketer, experienced or new-to-the-game, follows the practice of optimizing their campaigns, and you should too.
Here are 7 ways to optimize your YouTube ads:
1. Track the View Rate for Refining Content
View rate is an essential metric for determining the success of your marketing ad. A higher view rate indicates that your creative work is successful. Videos with higher view rate have better chances of winning auctions and enjoy lower cost-per-view (CPV), leading to higher ROI.
2. Include Multiple Videos in your Ad Campaign
Viewers hate watching the same ad multiple times in a row. They experience creative fatigue due to repetition and ultimately start hating skipping all the ads. You can keep a healthy mix of ads rotation to avoid this fatigue and ensure that your marketing efforts do not go to waste.
3. Monitor the Watch Time
Monitor the metrics that indicate the effectiveness of your creatives, such as watch time and audience retention. If the video is not generating a suitable watch time among the audience, then analyze the cause. If the creative element is not working, remove the ineffective parts and refine the content; no two ways about it.
4. Practice Remarketing
A highly effective strategy, remarketing can work wonders for advertisers. Remarketing
involves interacting with viewers who have already engaged with you. You can easily
track who liked what and accordingly create audience lists to market your videos to
them. It results in better ROI and higher conversion rates.
5. Add Captions
Many people prefer reading captions owing to language barriers or because they do not want to hear the audio. Advertiser-provided captions make videos interactive and engaging and increase the likelihood of conversions.
6. Use Advanced Targeting Capabilities
You should not shy away from using the advanced targeting capabilities of Google Ads. It helps you pinpoint the exact audience based on demographics, location, and topic affinity and accordingly display the right kind of ads to them. It improves conversions and also boosts ROI.
7. Experiment with Multiple Ad Types and Strategies
Ad campaigns never work the same way every time. You should experiment with multiple YouTube advertising options, more so if your brand is new. Only then will you know what works the best, and more importantly, what does not.
YouTube Advertising Rates and Budget
The YouTube advertising rate for your video campaigns depends on the campaign type and the type of ads that you select to display in your ad campaigns. The extent to which you refine your targeting campaign and choose your audience and advertising area also play a role in determining your campaign's advertising rates.
On average, the ad costs range from $0.10 to $0.30 per view or impression on a daily budget of ten dollars. This is a rough estimate and actual prices may vary depending on several other factors. You also have a free YouTube advertising feature. If viewers do not engage with or watch your skippable ads for a minimum of 30 seconds or the full duration of the video (whichever is lower), you do not have to pay for those views.
Based on the ad types, you will be given the bidding rate categories, which are:
Target CPM: It represents the amount you are willing to pay for every thousand times (impressions) your ad is shown. Generally applicable in non-skippable and bumper ads.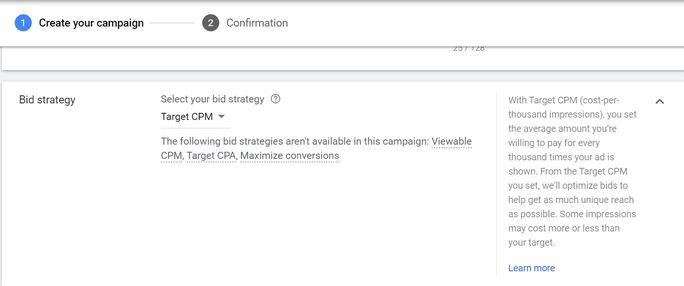 Maximum CPV: It is the maximum amount you will pay for every time your ad is viewed.
There are other types of bidding rates like Target CPA and viewable CPM.
YouTube Advertising Budget
Budgets are an integral part of YouTube channel advertising campaigns. All Google Ad campaigns require you to punch in an overall campaign budget or a daily budget. It indicates the maximum average amount you are willing to spend in a day.
You can even have a shared budget if you run multiple campaigns together and monitor it in the shared library option of the tools tab on the dashboard.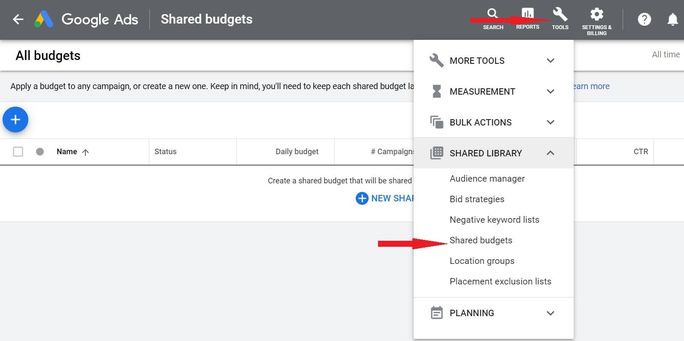 Steps to set the Budget and the Ad Cost
First, open the new campaign option on the overview tab.
Complete your billing and payment settings by clicking on 'Settings & Billings'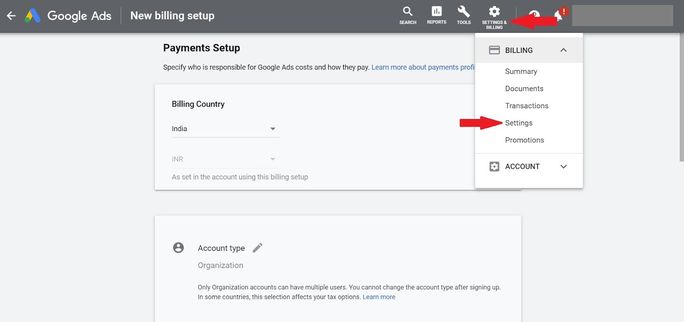 Select the campaign goals and subtypes. You will be directed to the page where you must enter the budget details and the bidding.
Select either the 'daily budget' or the 'campaign total' amount in the budget type and enter the amount.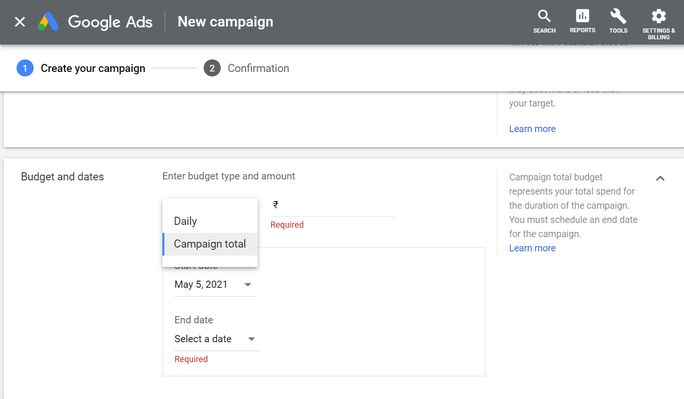 Depending on your bidding strategy, set up the cost you want to pay in the additional settings before creating the campaign.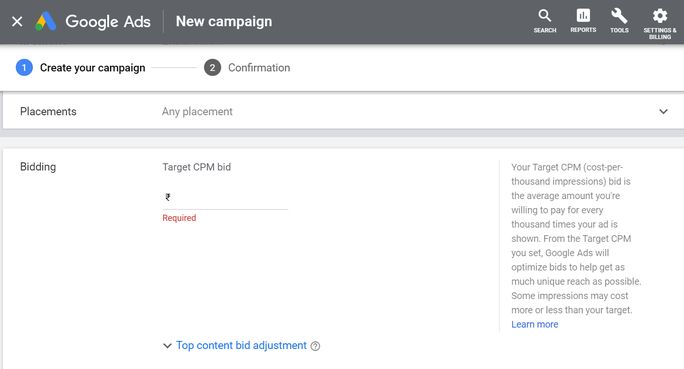 How to make YouTube Ads that Captivate your Audience?
You ultimately wish to get viewers whole-hearted attention, right?
Here are some pro tips on how you can make YouTube ads that captivate and amazes your audience.
Keep the Content Short and Clear
Remember, you are making an ad, and there will be another action step before viewers turn into customers. Do not make the ad content-heavy and bombard the viewers with technicalities. Keep it concise and clear.
Include Surprise Elements
Include some off-beat surprise elements that develop a distinct memory of your brand in the viewers' minds and enhance your brand recall value.
This classic Burger King YouTube ad expresses discontent with YouTube ads while being a YouTube ad. Who would have expected it to do that?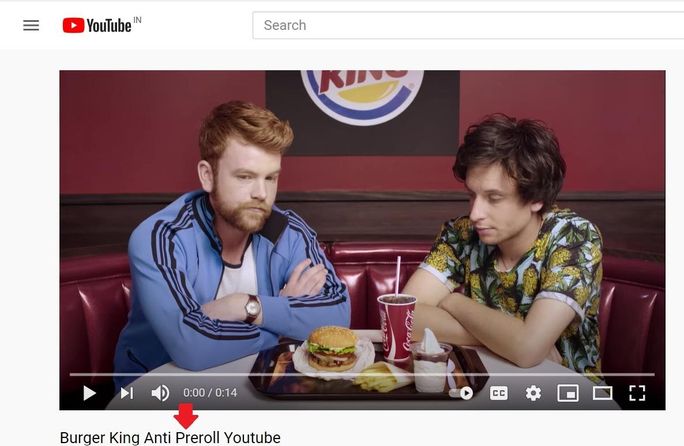 Make the Ads Engaging
The whole point of ads is to drive your brand growth. Who doesn't know that, right?
However, do not expect your audience to remember that aspect. Increase engagement by including call-to-action elements in your video, using attractive images and infographics, and communicating what you want the viewers to do; visit the website, click on some link, or something else.
Grab Viewer Attention in the First 5 Seconds
YouTube in-stream ads can be skipped only after 5 seconds. Ensure you provide such content in the first 5 seconds that will make the viewers want to watch more of it. Start with a bang!
Develop an Emotional Connection with Viewers
Understand what triggers your audience and make ads that develop an emotional connection with viewers. Weave your ad in the form of a story or real-life situation with which the viewers can associate themselves.
Conclusion
The popularity of video marketing is rapidly rising, with the share of video as a marketing tool rising from 61% in 2016 to 86% in 2021. 93% of marketers share that video is an integral part of their marketing campaign and helps improve product understanding among customers.
In this booming era of online video marketing, YouTube advertising provides enormous opportunities to advertisers to promote their brand and grow their businesses using the enormous potential generated by YouTube's ever-growing viewership.
Use SocialPilot to efficiently monitor your social media presence and strengthen your marketing efforts.