According to Statista, about 2.65 billion people were using social media worldwide in 2018. This number is projected to increase to almost 3.1 billion in 2021.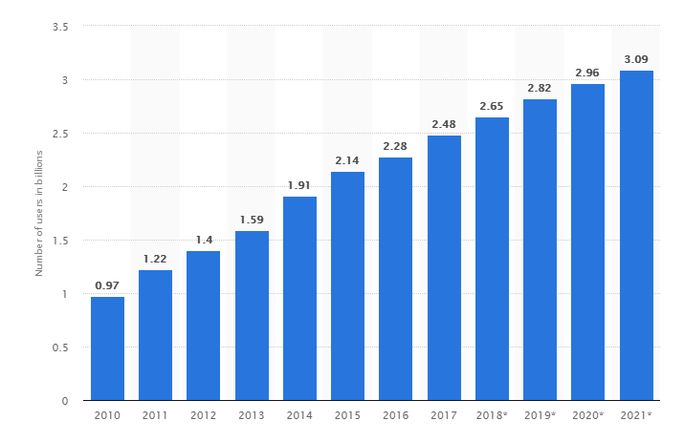 So what does this mean?
It means that social media is a goldmine that you must tap into if you really want to drive leads for your business and increase your conversion rate.
In fact, according to Social Media Examiner, 92% of marketers say that social media is an important part of their business.
In this post, I'll show you how to use social media to turbocharge your conversion rate.
Step 1: Use Social Proof to Instill Trust and Confidence
Online shoppers buy from people they know, like, and trust. If people don't trust you, they will neither read or click on your social media content. And that will ultimately affect your conversion rate.
So, what do you do?
Show them that you're someone they can trust and have confidence in. In order to do this effectively, you can use social proof and user-generated content.
A study by Bizrate Insights found that 92% of online consumers look at a product review before making a purchase.
In fact, social proof has a psychological effect on people's buying decisions. This is because most people tend to conform to the actions of others believing that those actions reflect correct behavior.
Take, for instance, if you have a product that has received a lot of 5-star reviews and another which has more 3-star reviews. Consumers are more likely to believe that the first product is better and will spend money on it.
To build social proof on social media, you must be able to demonstrate that you have a strong reputation.
Some of the things you can do to build social proof on social media include displaying your company reviews on Facebook. You could also encourage your customers to write about your products.
One way to get traction fast and improve your brand credibility is through influencer marketing. With influencer marketing, you collaborate with influencers who have a large following and are considered trustworthy and authentic.
While most marketers feel that influencer marketing is expensive, the opposite is often the case. This is because you can find the right influencers for your brand based on your budget.
According to the Influencer Rate Map from Influence.co, most influencers still charge less than $150 per sponsored post. However, these rates may also vary according to niche and following size.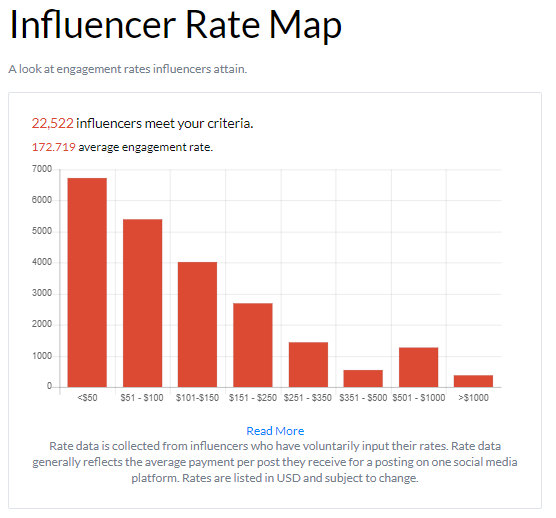 To get this right, it's important that you approach these influencers the right way. If you don't, chances are that they won't be interested in working with you.
Step 2: Create and Distribute Valuable Content
Content is the bread and butter of social media conversions.
If you're not creating and distributing valuable content, chances are that your conversion rates on social media will be awful. For this reason, you need to create content that not only provides a solution but is also useful to your target audience. And then, you need to tell your audience how to act on it by including a call to action (CTA) that's designed to increase your conversion rate.
This is because people want solutions, and the more you can give them just that, the better it will be for your social media conversions.
While most people tend to believe that useful content must be lengthy, the opposite is the case on social media. In fact, the more succinct and straightforward your social media content is, the better.
This is because the attention span is shorter on social media and people want quick and easy solutions.

Your focus when creating content on social media should be to relieve your target audience from pain. In essence, you should simplify complex concepts and questions, and help them to achieve a goal or overcome an obstacle.
If you can do this, your conversion rate will dramatically increase too.
Step 3: Understand Each Social Media Network and Optimize Accordingly
For optimal social media conversions, you must understand that each network works differently. What is ideal for one social media network and converts really well there, could fail woefully on another platform.
That is why you must understand how each social media network works, and ensure that you optimize your content accordingly.
While Twitter is ideal for briefer thoughts, images work really well on the platform as well. According to a research by social media management tools, tweet with images is 150% more likely to get a retweet than a tweet with no images.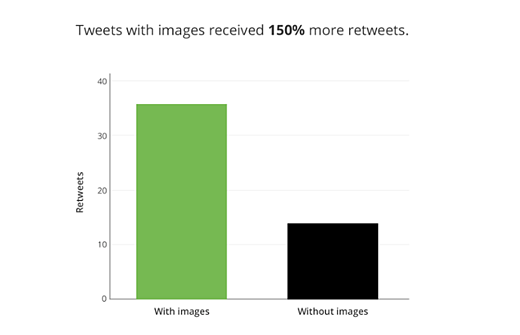 On Facebook, video performs better than all other types of Facebook posts according to a recent study by BuzzSumo.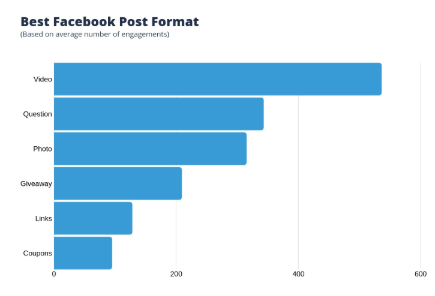 Video posts on Facebook get at least 59% more engagement than other content types. In fact, a critical look at the top 500 Facebook posts of 2018 showed that more than 81% were videos.
If you want to see more engagement and increase your conversions on Facebook, then video content is the way to go.
A combination of different strategies has been shown to work really well for various brands on Instagram. These include user-generated content, storytelling, contests, and brand engagement.
The more time you take to understand how users react to content on these social media networks and optimize accordingly, the better for your brand.
Step 4: Use Interesting and Captivating Headlines
Headlines matter a lot for any social media content you post. This is because, before anyone reads through your content, the headline is the first thing they see. Therefore, it should sound interesting to them.
If you fail to impress your audience with captivating and interesting headlines, you're hurting your conversion rate in the long run. Before you create content, you must make sure that your headline stands out.
Be creative and ensure that you've mastered the art of writing powerful headlines before you post any social media content.
When you do this, more people will be interested in reading what you have to say. According to GetVoIP, you'll ultimately stand a better chance of converting them into leads and customers.
For Instance, Jon Morrow wrote Problogger's most-shared content on social media. The article, "How to Quit Your Job, Move to Paradise and Get Paid to Change the World" shook the internet.
The reason is simple.
The post resonated well with his audience and they shared it widely.

If you can create content with a captivating headline, you'll definitely increase your social media conversion rate.
Step 5: Run Special Promotions and Contest for Your Audience
Running a social media contest is a great way to reach a wider audience and get more conversions for your business.
This is because giving away things for free is a powerful marketing strategy.
To get started with this on a good note, you must make sure that the prize you're giving out is worth entering a contest for. Likewise, it should attract the right type of audience you're looking for.
Say you have a SaaS company and you're looking to give away something for free.
It'll make sense if your prize for the contest is a free month trial of your software rather than giving out the latest iPhone. By giving out an iPhone, you might get more people who will be interested in your prize, but only a few of them will convert into leads and sales.
Another strategy you can use to increase conversions with a contest is asking participants to take a specific action before they are eligible for the prize.
For example, you might ask your social media followers to indicate personal interest by clicking through to a landing page before they can participate in the contest.
Alternatively, you can take actions such as retweeting, liking, or sharing your posts as a way to get an extra contest entry.
One brand that does this really well is Lego Group. On their Twitter page, they run contests and each time, their followers participate actively in the story that they use for each theme.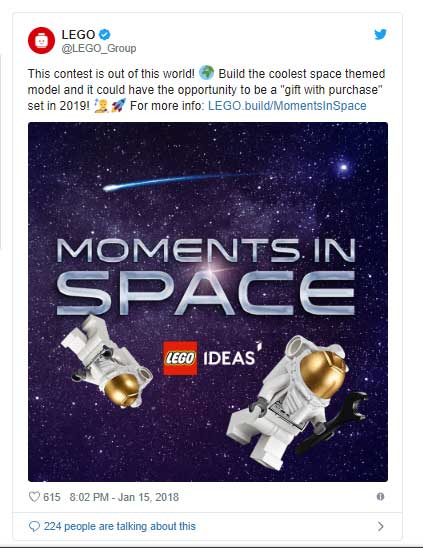 Due to this strategy that focuses more on user-generated content, their fans are always on the lookout to promote the brand at zero cost.
Step 6: Pay Attention to What Works
Using guesswork is a costly mistake when it comes to your conversion rate on social media. By guesswork, I mean not tracking and monitoring your performance using real data and statistics.
In order to know what works and what you need to improve on, you must understand how to utilize your analytics data. Tools like Google Analytics and Kissmetrics can help you measure the performance of your strategy and save you a lot of time.
Although, some marketers are afraid of data and analytics because they can get overwhelming and confusing. But the truth is, understanding your data really well, sets you up for success. This is because it helps you to know what works and what doesn't.
By understanding what works, you can duplicate your success and also have a high return on investment in the long run. Not only that, but it also gives you insights into what content to share on various social media platforms and when you should share it for best results.
Also, you can use social media analytics to fully understand how, where, and when most of your site traffic is coming from.
Step 7: Utilize Effective Social Media Selling Strategy
Social media selling, when used effectively, can help you increase your conversion rate.
Social selling typically entails using your various social platforms to look for, connect with, understand, and ultimately follow up with your prospects. The secret behind this strategy is simple.
If you want to have a solid foundation for your business, you must build long-lasting relationships. So, your focus isn't just to reach out to as many people as possible. Rather, you're building relationships which will help you convert more people in the long run.
In order to do this, you can join ongoing conversations online regarding the problems that your clients face and provide solutions to them. That way, you don't just make their lives easier but also build good relationships in the process.
In a nutshell, social selling helps you to engage with your target customers on social media and increase conversions through that.
Some strategies you can use to make social selling work include:
Build your credibility with LinkedIn endorsements.
Leverage influencer marketing on platforms such as Twitter and Instagram.
Connect with individuals in your niche on relevant Facebook and LinkedIn groups.
Engage actively with other businesses by liking, sharing, and commenting on their posts.
Study your competitors and find out where they hang out. That way, you can join in on conversations that your prospects are actively engaged in and also learn about their problems.
Conclusion
Social media is a powerful tool if you want to increase your conversion rate or manage your online reputation. That said, it takes time to maintain an active social media presence and also increase your conversion rate but using these free social media tools can help you ease off a bit.
While this might be scary at first, all you need to do to achieve success on social media is to take a systematic approach to marketing. Likewise, you must be patient and always analyze your data to see how far you've come with the results from your investment.
With the tips shared in this post, you'll be able to take your conversion rate to a higher level.
If you are looking to efficiently manage your social media publishing and expand your audience's reach on multiple social media platforms, then start your 14-day free trial of SocialPilot here.