Struggling with your social media engagement? or Need a little inspiration & example for your next campaign? Want to know more strategies for social media marketing? or Want to hear more social media success stories?
In today's media-saturated digital landscape, it can be hard to ensure that your social media efforts are effective.
What's more?
Social algorithms are constantly rearranging their priorities, making it harder to get to grips with what works and what doesn't. Every platform is different and can work well for both large and small businesses – if used in the right way.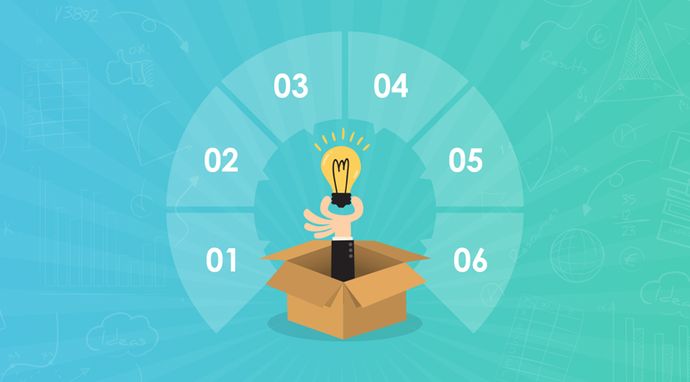 Here are six examples of successful social media campaigns – and the lessons we can learn from them.
1. Amnesty international: #GayTurtle
Back in April 2016, Amnesty International launched a social media campaign designed to highlight the problem and inherent ridiculousness of homophobia. A short video shot in a pet shop, it shows customers approaching the turtle tank and seeming very interested in the turtles – that is, until the store assistant reveals that they are gay.
At this point, there is a palpable change of heart. Several of the customers become annoyed and are clearly put off by the idea of their pet turtle being a homosexual. It's all completely absurd – after all, why does it matter?
This creative video has a compelling message and coupled with the hashtag #GayTurtle, Amnesty International was able to spread and track the campaign to see how effective it was. The message really resonated with the public and saw the #GayTurtle video shared thousands of times across multiple channels.
What the success of this campaign shows us is that if you can find a simple way to frame an idea or look at something in a new way, you can capture people's imaginations and make them think at the same time.
2. Dollar shave club: #RazorBurn
The next successful Twitter marketing example is by Dollar shave Club. With typical Dollar Shave Club humor, DSC did a great job of boosting their social media presence with their cross-channel #RazorBurn campaign. The campaign did so well that it went on to earn them a 2016 Shorty Award for Retail and Ecommerce.
Pairing images of elderly razors with razor-sharp burns yo' mama-style, the company makes a cutting swipe at razor companies who claim their blades can be used for up to a month – a long old lifetime for a razor blade.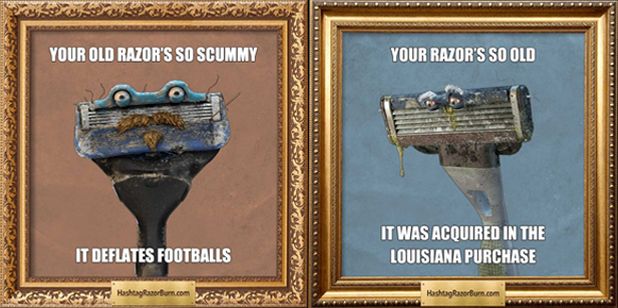 According to Dollar Shave Club, this campaign was so so successful that they saw a 6 percent increase in their social following, a 24 percent rise in social media mentions, and a 31 percent lift in Twitter engagement. By encouraging users to make their own versions– 'you're funny, write your own' – they got people involved and the campaign took off in a big way.
If your brand has a playful edge, there are all sorts of fun ways that you can boost your social engagement. Think of ways you can get your audience involved and make it into a game or competition. Memes like this are ideal, as they follow a clear format and are easy to recreate.
3. BarkBox: You're a Dog Person
Back in 2016, dog product subscription box supplier BarkBox took to Instagram and YouTube with a creative campaign aimed at dog lovers. With their entertaining 'Congratulations, You're a Dog Person' campaign; they appealed directly to the mindset of their target demographic – obsessively dog-loving dog owners. It's both funny and relatable, plus it's a great product for anyone who likes to treat their pampered pooch on a regular basis.
BarkBox understands its users, and what social platforms to reach them on. It's Instagram, YouTube and Facebook channels are chock full of cute and funny photos and videos of dogs, which delights their audience. They understand the power of visual platforms to get their content liked and shared.
Observe your own target audience and consider what is likely to resonate with them. If it's written content which interests them, focus on your blogs and share regular posts on Facebook. Likewise, if it's visual content, look at YouTube, Instagram and Pinterest. Build your strategy around your customers and learn to understand and work with their behavior.
4. TOMS: #WithoutShoes
TOMS Shoes #WithoutShoes Instagram campaign was a simple idea, executed beautifully. Ever the philanthropist, TOMS encouraged its followers to try going one day without shoes, and to post photos of their efforts to Instagram using the hashtag #WithoutShoes. This recurring campaign will take place again in May 2017.
The best part is that for every photo posted with the hashtag, TOMS donated a pair of shoes to a child in need. The challenge spread fast and wide, as people were encouraged to share the idea and get their friends involved.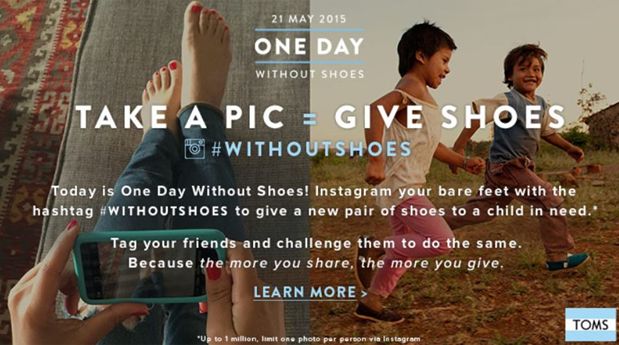 This is a perfect example of a company putting their money where their mouth is. TOMS gave its commitment and financial backing to the campaign by donating 296,243 pairs of shoes in total. At the same time, they got their hashtag used hundreds of thousands of times and build up considerable exposure for their brand. It's a classic win-win.
Social media challenges (when they take off) spread like wildfire. They must have a clear cause or meaning and be simple, shareable and easy to document. What does your company stand for, and how could you inspire your followers to rally around and get involved?
5. BeardBrand: 100% Biased
Here's a great example of a small eCommerce business that has nailed its social tone of voice. A niche beard oil and beard care products store built using Shopify, BeardBrand exists to serve the modern bearded man. Using clever content marketing, BeardBrand compiled a long '100% biased' article about why their beard oil is categorically the best on the market.
The BeardBrand blog is an excellent example of strong content marketing. Featuring both image-heavy blog posts and instructional videos, it is a mine of useful information perfectly suited to the urban bearded gentleman. Highly relevant. Highly shareable.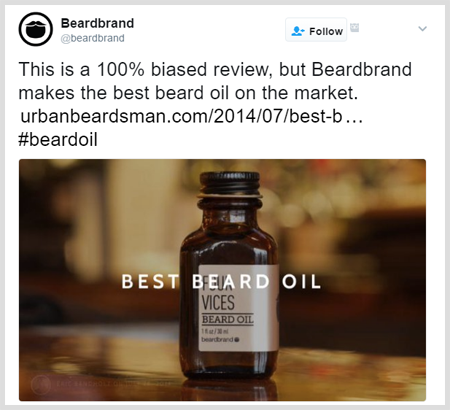 The tongue-in-cheek tone of this tweet promoting their products works because they do not shy away from the fact it's promotion. A lot of companies try to mask their promotional activity through some kind of 'creative' veneer, but users will always see through it. The humor in this tweet is that they are essentially saying 'We're rather pleased with ourselves, but we're fine with it. You're smart enough to make up your own mind'. With so many brands striving to be the next big thing, sometimes all you need is to be real with your audience. And a strong image always helps.
6. Chatbooks: Stop Wasting Hours Making Photo Books
Chatbooks – a new (ish) photo book subscription service – is all about making collation of your treasured memories easy. With this witty video of a busy mom working from home that quickly went viral on Facebook, they sold 1 million subscriptions within their first 18 months.
Why? Because it's remarkably relatable.
With this short video, what Chatbooks have done well is found the perfect way to voice the thoughts and concerns of their main buyer persona – a busy mother who doesn't have time to spend hours crafting the perfect family photo book. It covers everything the customer needs to know – from how it works to the perks and benefits. Oh, and it's funny: 'Do you think I have time for a bath? I'm fully clothed'. It's easy to see why it's done so well.
The company now uses the same actress and humor to release seasonal updates and videos, keeping it firmly in viewer's minds. To date (March 2017), their Facebook page has gathered 163,402 followers and growing.
Essential Questions to Ask When Building Your Social Media Campaign
How well do you know your buyer personas?
Voicing their concerns and answering them you leave them with no reason not to convert.
Key Takeaways
What we can learn from all of these examples is that social media is about expressing the true voice of your brand and making a connection with your audience – involving them rather than preaching to them. For more ways of improving your engagement, check out our Proven Strategies to Boost Social Media Shares and Conversions.
A little humor can go a long way, and if something proves irresistible to share and join in with, the entire better! Know your audience and know your platforms, as different types of content will do better on different social outlets. Whether you invest in creating top written content, an image-led campaign or a great video with viral potential, it's all about sparking interest and finding new ways to look at situations that resonate with your message.
What will you take away from this article, and which campaign did you like the best? Share your thoughts with us in the comments.