When it comes to social media, meticulous attention to detail is crucial. This is especially true for business marketing, where elaborate captions, aesthetic posts, and other elements must be carefully crafted.
However, Twitter is unique in that it doesn't require the same level of visual appeal. If you're wondering how to use Twitter for business marketing, the answer is simple: be authentic and direct.
On this platform, you can state facts straightaway, be it good customer feedback received or any complaint you have.
Sprinkle some relevant hashtags within your tweets, and it will take you places, more specifically to your audience's feeds. That's the power of Twitter!
This holds quite well for personal profiles.
But if you want insights on how to use Twitter for business specifically, you need to follow some steps and go the extra mile to streamline your presence through efficient Twitter marketing.
As per social media statistics, Twitter boasts 368 million monthly active users, sharing 500 million tweets in just one day.
Using Twitter for business marketing can be a real game-changer if you want to entice your target audience, especially local customers.
Full of character.
280 or 4,000, you can count on SocialPilot.
The only Twitter management tool
you'll ever need.
In this blog, we shall share the stepwise procedure on how to use Twitter for business and make meaningful connections for generating qualified leads.
Creating a Twitter Business Profile
Pretty basic, isn't it? If you want to figure out how to use Twitter for business, first and foremost, you have to create a Twitter business profile. It's true that posting on Twitter consistently is very important.
However, if your Twitter profile is not optimized in the right places, your tweets won't get the exposure you expect.
An overall profile aesthetic with complete information is equally crucial for branding. It creates a lasting impression on your profile visitors and becomes a major deciding factor for connection building.
So let us see what are the important elements you need to consider while creating your account:
Useful Tips for Creating Your Twitter Profile
Display image: Use your official company logo as your profile picture.
Name and username: Use your company's name and the same username for these fields to avoid any confusion.
Twitter bio: Your Twitter bio should have your business's brief summed up within 160 characters so be very specific and to the point.
Website link: Add links to your website and blog as this will help in driving traffic to your domain.
Optime with Keywords: Add brand-related keywords in your bio so your business profile becomes more discoverable.
Additional images: Add background photos that match your brand concept and color palette. This image can be changed according to your current marketing strategy and promotional activities.
Doing all this will further aid potential customers to know more about your offerings.
Apart from increasing website traffic, Twitter links also add credibility to your profile, opening avenues for better business opportunities.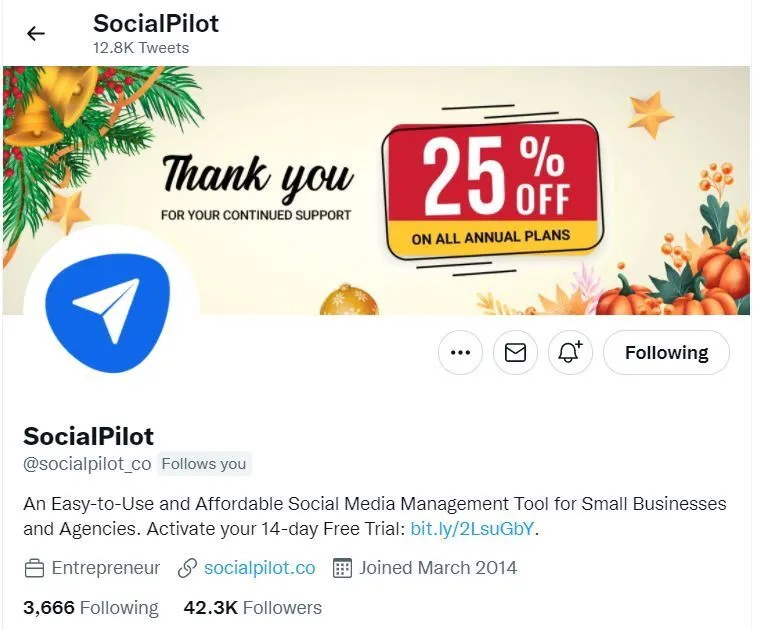 Have a look at the SocialPilot handle. There's a bitly link for the latest updates and offers. The brand logo helps the target audience to identify SocialPilot's profile quickly. The official website is also linked here. This might give you a concrete idea of how to use Twitter for your buisness.
Now that you have gotten the basics down pat, here are some important steps for you to successfully make use of your Twitter business profile.
Using Twitter For Business: 5 Steps To Get Started
Step 1: Build a Twitter Community
Who doesn't want millions of followers on Twitter? We all do. But this is only possible if we take the onus of connecting and engaging actively.
Now it doesn't imply that you start connecting with anyone. If you want to use Twitter for your business, follow the accounts that are pivotal to your niche. Furthermore, you can connect with your customers, friends, colleagues, competitors, relevant influencers, and those who provide you with exciting and valuable information.
Eventually, they'll start following you back. But this doesn't end here. A community is more than a bunch of people following each other. You must engage with them as well.
The best way to initiate a meaningful relationship on Twitter for business is to mention people in your posts when retweeting. You should be commenting on other tweets that revolve around your niche as well. Besides adding value to others, don't forget to tweet about your brand every now and then.
Here's a thread of Heinz tagging Oreo for their thoughts on this unique combination. Postings like this often get more engagement from respective brand followers. Hence, it's a killer strategy to build your Twitter community.
Useful Tips for Building Community
Start tweeting about a new product, feature, or customer feedback on Twitter for business build-up.
Follow people who are relevant to your brand.
Stay connected with people by replying, liking, mentioning, and retweeting their tweets.
Step 2: Share Interesting Content
Twitter is an excellent platform for sharing a wide range of information. You can tweet blog links, images, videos, GIFs, and quotes to engage your audience.
The only problem is, unlike other social media, Twitter demands a cartful of content each day. Creating so much content daily can be really time-consuming. Hence you need to tap into the power of curation.
Content curation is a great way to be consistent with your tweets in the best possible manner. Don't forget to add visual elements to your tweets, as they are a vital source of attention. Make sure you optimize social media images for Twitter before posting.
Let's say you are running a bakery, and you need to tweet videos or images of various products. During festivals, include the latest discount offers in your Twitter marketing strategy to redirect them to your products page for increased sales opportunities.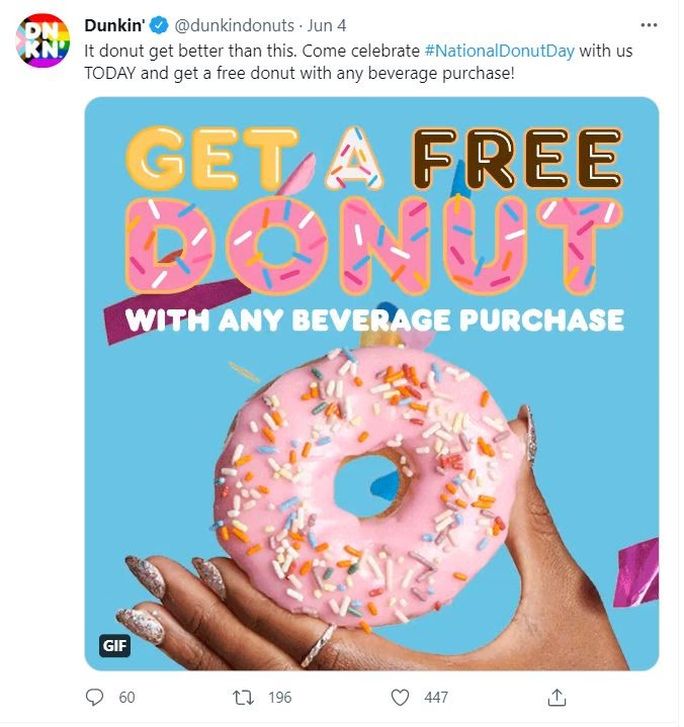 Dunkin celebrated National Donut Day by offering a free donut with any beverage purchase. They tweeted about this using a catchy gif featuring their delicious donuts. Now, who can say no to this one?
Useful Tips on Sharing Images
Think about your audience to share a creative tweet.
Share videos, quotes, product images for variations.
Add text to your images and videos for more shares, views, and clicks.
Step 3: Follow Conversations and Engage Proactively with Others
A conversation on Twitter is just like having a face-to-face meeting with your customers every day. Hence, you need to be careful and accurate with what you tweet!
Keeping track of what other people are doing on Twitter can be a great advantage. Observe the following:
How are they leveraging Twitter for business?
What are they tweeting about?
What time are they tweeting?
How are people responding to their tweets?
Experimenting with your Twitter marketing strategy based on these observations will add insightful perspective. Focus on building interactions with your followers in the forms of retweets, replies, mentions, and favorites.
When marketing on Twitter, brands should always respond to people who 'favorite', 'reply' or 'follow' them. This is a must for you to build a great image of your brand across the platform and grow your following even further.
The more you engage on Twitter, the more content you have on the platform to improve your overall visibility. If you are skeptical in the beginning, then start interacting with customers. It will benefit both parties.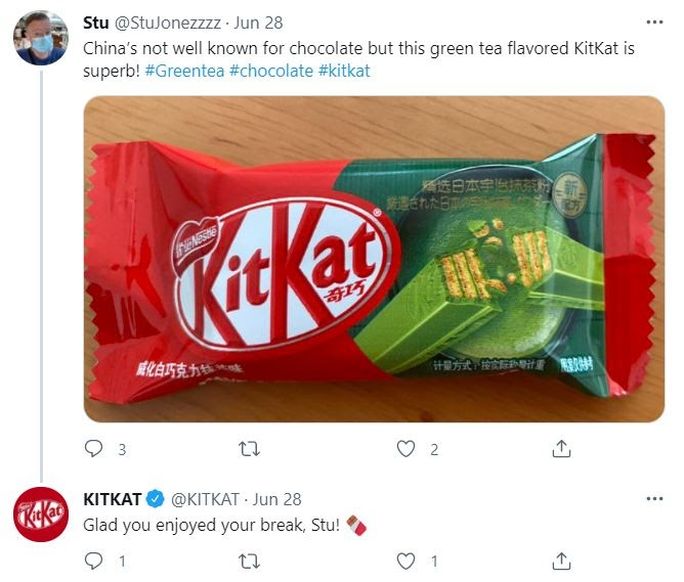 KitKat ensures to reply to every mention and retweets them. Here's an example of that. This courtesy makes a brand an instant favorite among customers.
Useful Tips for Being Actively Engaged on Twitter
Tweet varieties of posts multiple times in a day instead of tweeting just one.
Keep your tweet short as they get more engagement.
Start conversations in Twitter Chat and encourage people to respond.
Step 4: Include Relevant Hashtags in Your Profile and Tweets
Hashtags are the ultimate social listening tools. Including trending hashtags on Twitter, can make your tweet viral. However, ensure that you only use hashtags that are relevant to your tweet and brand.
Another advantage of using trending hashtags is that anyone on Twitter for business can see them. If a person searches for that specific hashtag, they will be able to see your tweet, and you end up having a trail of new followers.
Before you start adding hashtags to your tweets, have thorough research while figuring out your hashtag sets. They should resonate with the subject and have a decent search volume so your tweet can reach a larger audience.
For instance, digital marketers should use #marketingtips to reach a more focused audience than #socialmedia.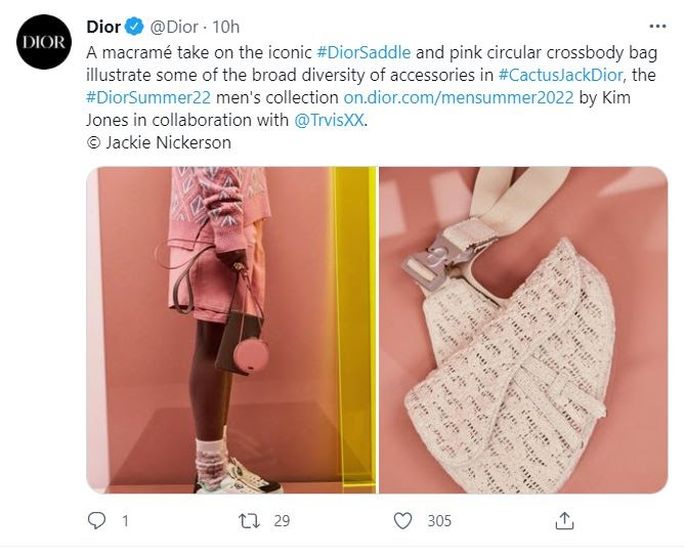 Dior often uses branded hashtags to showcase their different range of products and collections. Apart from generic hashtags, you can create such branded hashtags for your business and encourage your followers to use them.
Useful Tips on Using Hashtags
It is a great way to organize tweets around a specific keyword or topic. However, don't use more than two or three hashtags per tweet.
Use Twitter hashtags that are already popular and relevant for your business. Focus on the ones that are followed most by your target audience.
You can also use trending hashtags in your tweet to get more followers.
Step 5: Schedule Tweets and Analyze Their Performance
If you want to reap the benefits of Twitter marketing, it's imperative that you tweet often. The more you tweet, the more engagement you will see. So, you must tweet at least three times a day – in the morning, afternoon, and evening.
Also, it has been found that tweeting at 5 PM is the best time to get more retweets. On the other hand, tweeting between 12 PM and 6 PM will get you the highest CTR (Click Through Rate), especially at the end of a working day.
But tweeting multiple times a day can be quite difficult. So why not make things easier for yourself? You can use Twitter marketing tools like SocialPilot to schedule your posts on Twitter and make your task simpler.
Scheduling not only saves you time and effort but also helps you to increase engagement. You also get to know which tweets are getting more engagement so you can retweet them. Monitor such metrics to accomplish more.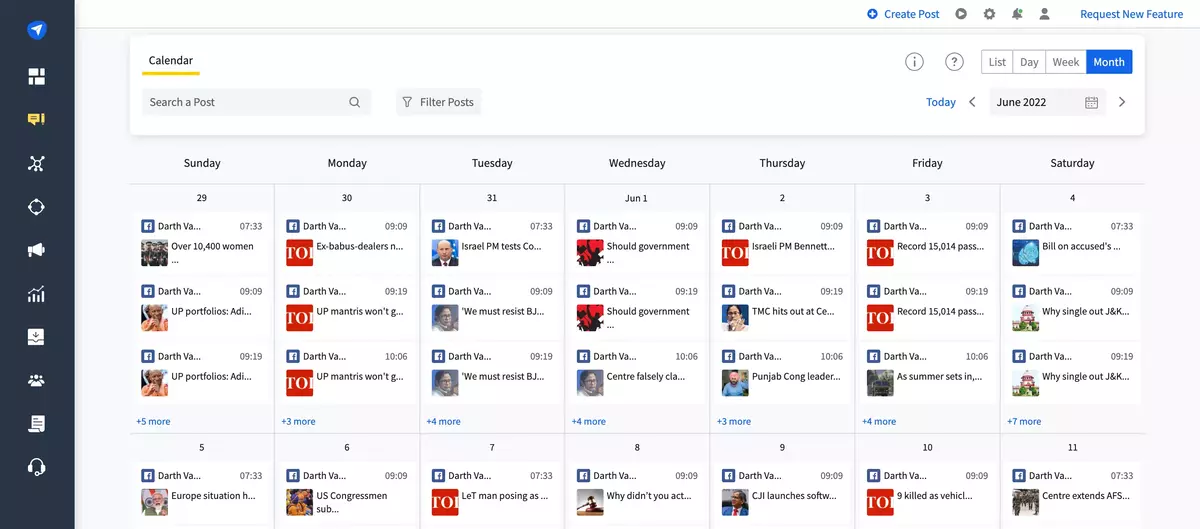 Useful Tips on Twitter Marketing
Optimize the timing of your tweets.
Posts at least three times a day for more engagement.
Scheduling posts on Twitter using Twitter tools boosts your presence.
Summing It Up
Though Twitter has umpteen benefits, even the best marketers get overwhelmed by the daily tweeting frequencies. Even though 75% of businesses use Twitter, if you do not know how to use Twitter for your business, your efforts will go to waste.
Marketers are trying their best to harness Twitter for business opportunities. Thanks to Twitter's stellar speed of making posts trend, giving them a chance to be an overnight sensation.
However, it takes months of effort to be consistent for that one tweet to go viral. A proper Twitter marketing strategy is all you need to make your business a huge hit. Couple it with a tool like SocialPilot and witness a dramatic surge in engagement.
Start your free trial today and see for yourself.